Baby Sleep Training and Tips – Check out this post full of services, tips and products to help parents sleep train and create healthy sleeping habits for their babies.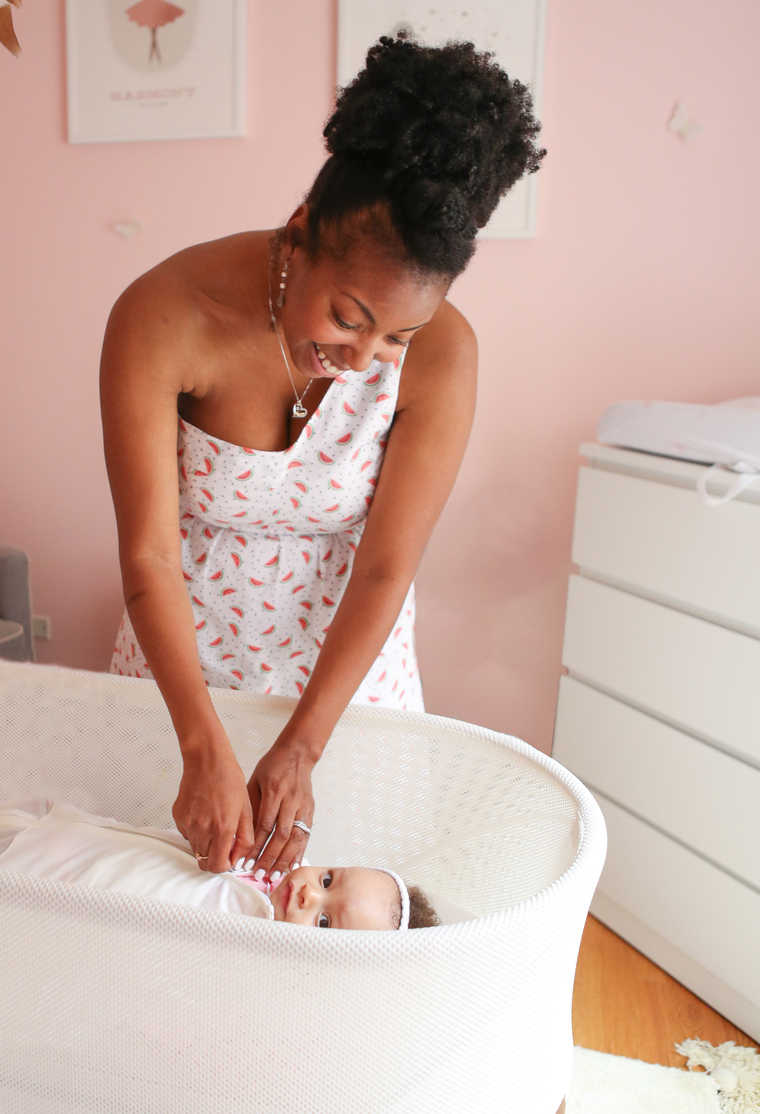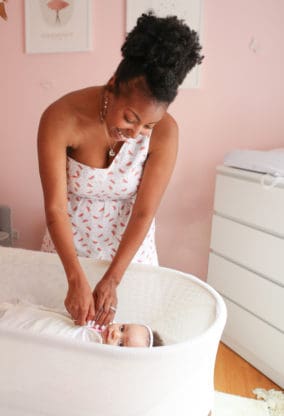 "Will I ever sleep again?" is the question most of us new parents ask ourselves when stuck in the newborn phase. This question plagued me for weeks when my Baby Cakes Harmony was first born.
I gotta tell you that the first days were dark days. Harmony totally had her nights and days completely confused. This had me in a sleep deprived daze for days on end. She was incredibly nocturnal like her daddy. I'm definitely not. I love going to sleep early and waking up early to start my days. I "was" a morning person. I have to say that it took a while to get to a routine that work for my busy schedule and baby.
Baby Sleep Training- When Do Babies Sleep Through the Night?
Changing my Baby Cakes' sleep habits has been quite an interesting feat over the last couple of months but we finally got Harmony together. First it started with Tiffany Jaeger of Eat Play Sleep. She she is the God sent that helped sleep train our baby from the very beginning. She is in California, and I'm in Illinois and she still managed to save my entire life. Most think you can't start the process right away to begin cultivating healthy sleep habits but you totally can. Tiffany has babies as young as 2-3 months sleeping through the night (I'm talking 10-12 hours through the night). Bliss!
When to Start Sleep Training Baby?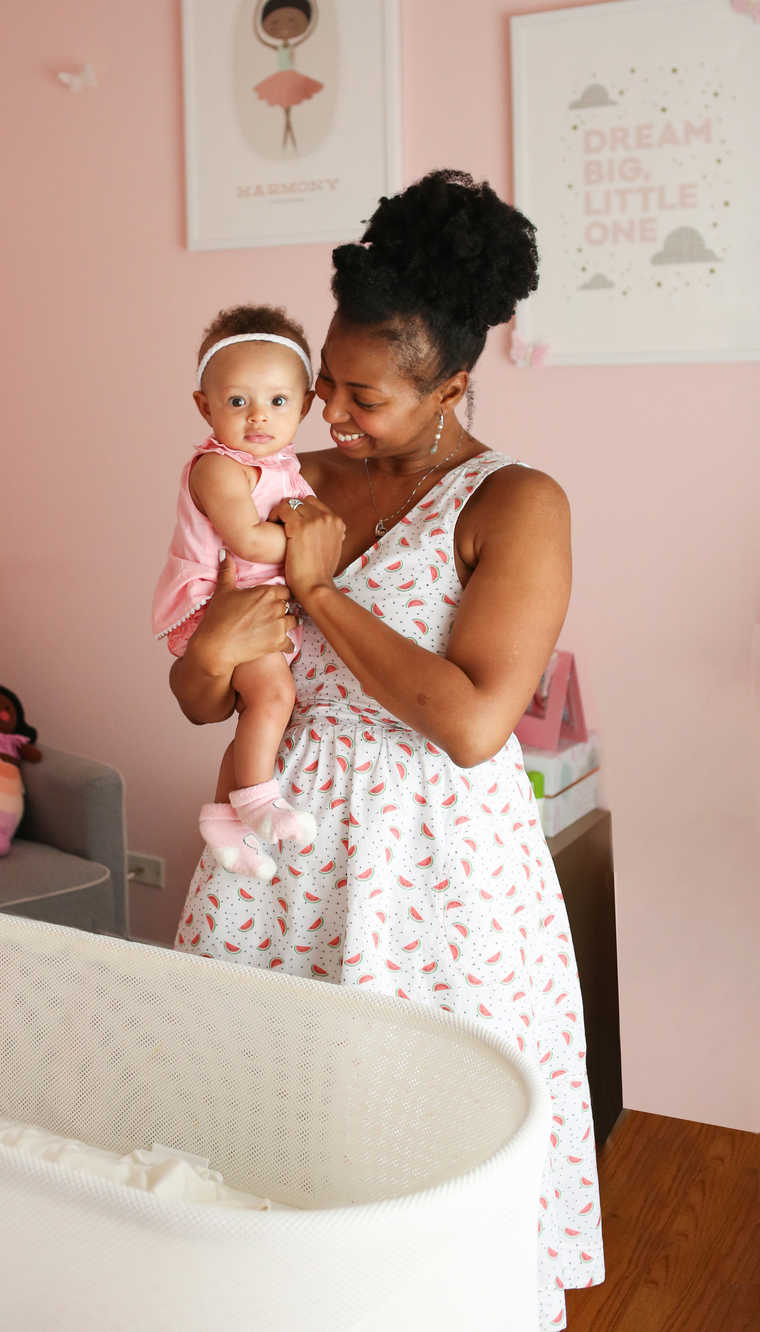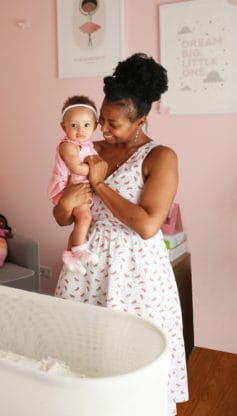 As soon as we got home from the hospital, we started on a sleep schedule of "eat, play, sleep" that really helped us get acclimated to the newborn life. As Harmony continued on this schedule, she started to naturally have a little bit of a longer stretch of sleep that we strategically moved to the evenings. At first this was always in the mornings due to her nocturnal nature. But we started to see a light at the end of the tunnel.
Each night, Tiffany helped us stretch the sleep time at night a bit longer and longer until Harmony was pretty much sleeping at least 7-8 hours per night by the time she was 3 months old. It was incredible.
The Dreaded Baby Sleep Regression
We had this bliss until she turned 4 months, and all hell broke loose. I'd heard about the dreaded four month baby sleep regression but it was worse than I could have imagined. It all started when I went back to work and traveling. Harmony was going between our house and my parents' home every other week or so, and I think that definitely disturbed her routine some. She also started teething and that changed things around too.
When we took our trip to Miami, Harmony literally woke up every hour in the hotel. I had to rock her back to sleep so she wouldn't disturb the guests. I think the travel totally threw her routine off. As soon as I had a break in my travel schedule, I let Tiffany know, and we started to get Harmony back on her consistent sleep plan. Since then she has been sleeping from 7-7:30 pm until about 6:30 am every day (about 11-12 hours each night). Life has been so much better. I never realized how sleep deprived I actually was until this all happened.
Along with Tiffany's assistance (she is incredible!), here were some products that also helped us gain some sleep.
Baby Sleep Sacks and Swaddles
Swaddles are absolutely necessary for newborns to have incredible sleep in my experience. Because of the startle reflex, babies tend to wake themselves up which means they wake you up too in the process. With the swaddles, it prevents them from startling themselves. And it also gives them that nice snug feeling like they had when they were in the womb.
The Ollie World Swaddle is my absolute favorite swaddle ever. It was the only swaddle that Harmony never wiggled out of before she was ready. It was also so easy to use because of the velcro. Sometimes the cloth swaddles are a bit intimidating but this one left her snug as a bug in a rug. I also loved the material.
The Halo Sleepsack is another great one. Harmony loved her legs a bit free since she was one tall newborn, and this helped give her a bit of freedom without too much.
Once Harmony started to roll over and break free from the swaddle more and more, I graduated her to the Baby Merlin's Sleepsuit. Soon I will graduate her to sleeping without it in the next couple of weeks.
White Noise for Baby Sleep
I am in love with white noise right now. In fact, I started napping with it when Frederick relieved me for a couple of hours from baby duty during the early months. It also helps Harmony mimic the womb as well since it was certainly loud in there!

This Marpac even has a soothing shush sound as well.
Other Amazing Products for Baby Sleep Training
This was awesome during Harmony's early colic filled days. Check out my full review of this product HERE.
When it came to "on the go" naps, this was my go to. I literally carried it in my trunk so that I could pull it out for Harmony to take her scheduled naps when I wasn't home. It was like a dream when it comes to offering her comfort. Unfortunately Harmony has outgrown it and I'm so sad about it!
Pacifier
The WubbaNub was fantastic and helped Harmony to pacify herself and put herself to sleep, which I loved. I'm definitely not looking forward to weaning her from the pacie but for now, it is awesome. It also stayed in her mouth because it is weighted so that meant she didn't wake herself when it fell out. It stayed put!
I really hope this look into infant sleep will help in the long run as you try to create habits that will help your little one sleep.