The BEST Chicken Fried Steak recipe on the internet. – Cube steak recipes are taken to a new level! Crunchy, crispy, flavorful and tender! This is how country fried steak should taste!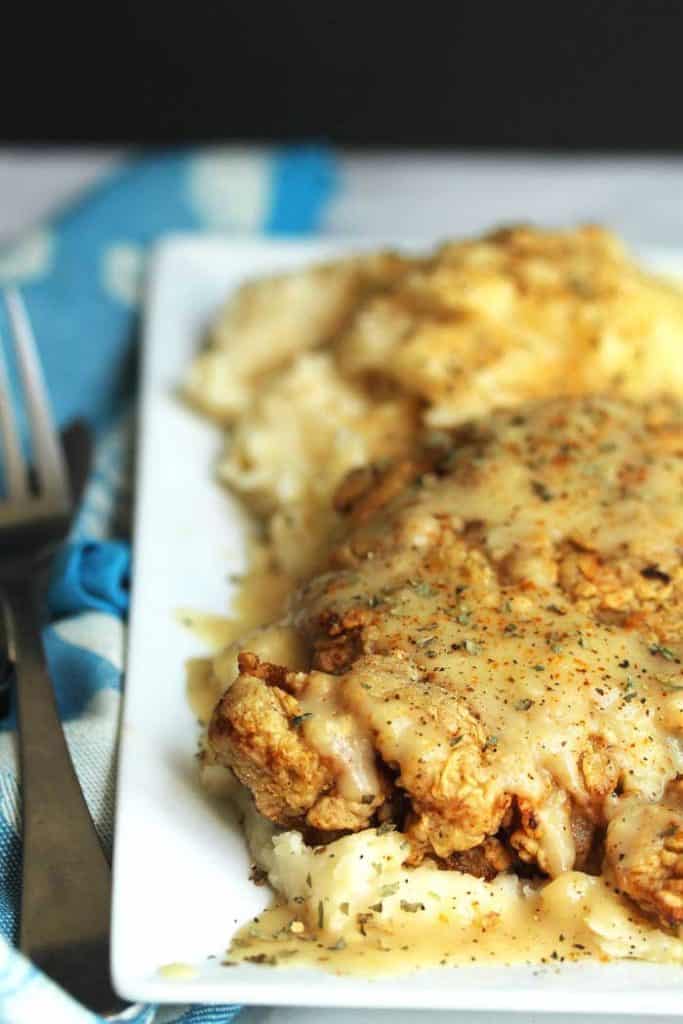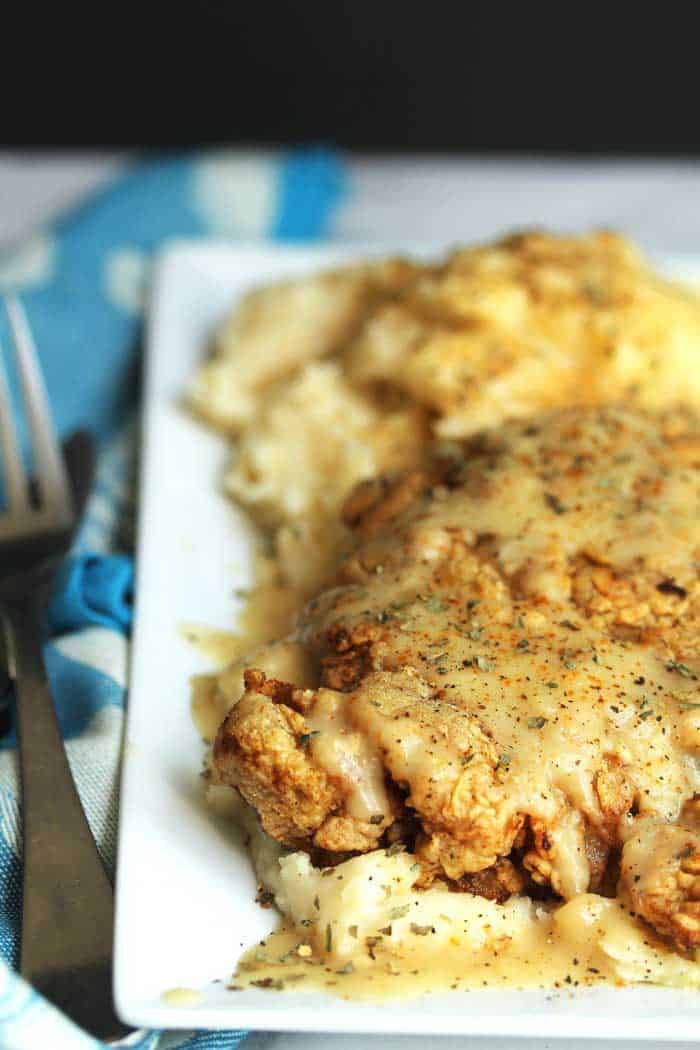 There are few things in this entire world that I remember loving more than Chicken Fried Steak (or Country Fried Steak if that's what you like to call it). I know that is a very lofty statement which you might think has a hint of exaggeration but I can't begin to tell you how true that statement indeed is.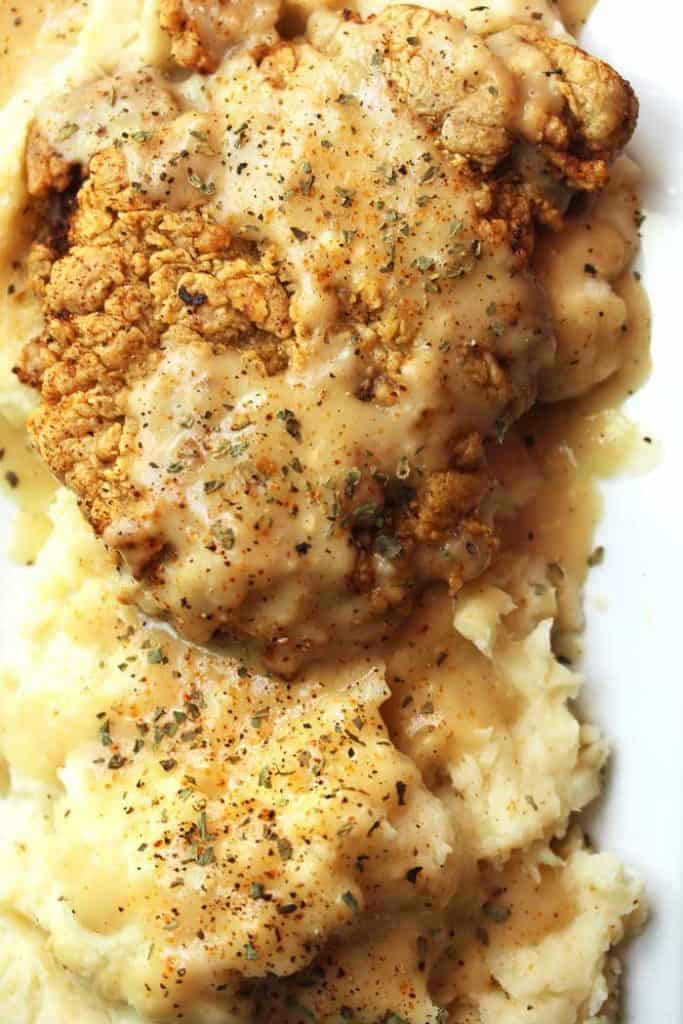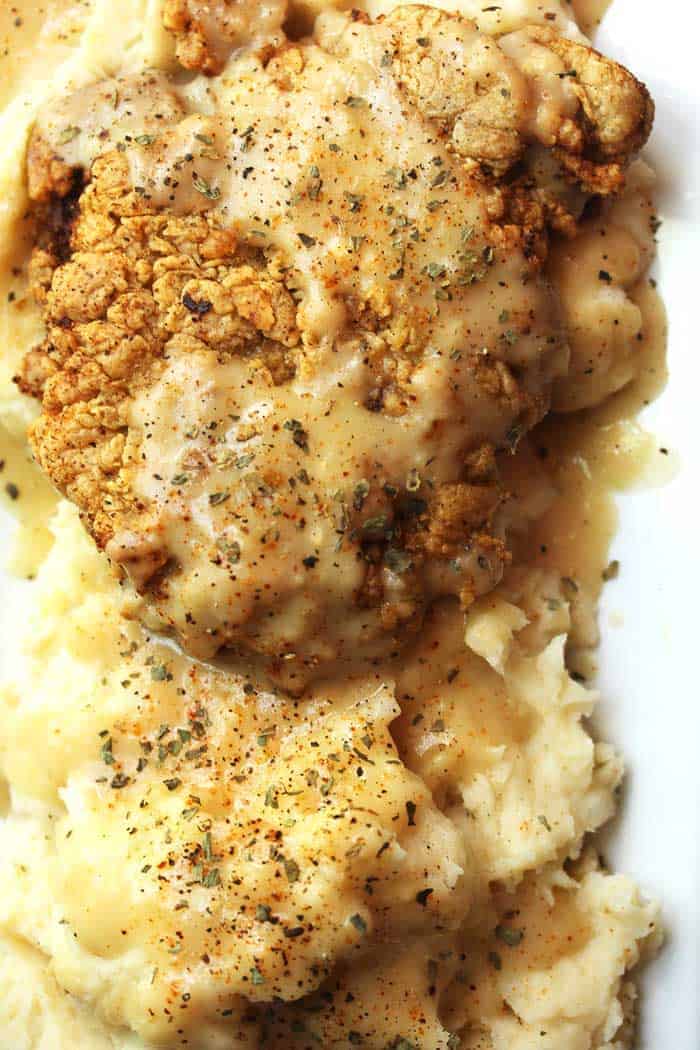 Where did Chicken Fried Steak come from?
The funny thing is my mother never made a chicken fried steak recipe. Neither did my big mama. So where did this obsession for chicken fried steak come from? Well it actually came from a random southern restaurant I had the dish at when I was a kid. The rest as they say is history. Each year after starting around the age of 7, I wanted chicken fried steak for my birthday so we went everywhere from Cracker Barrel to Chili's so I could have it.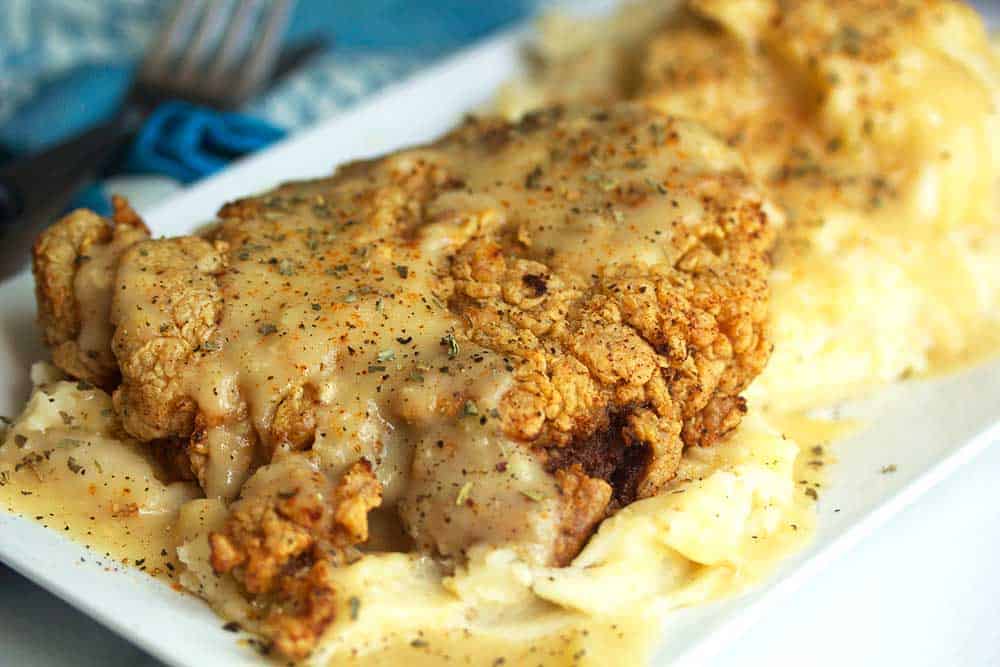 When I became an adult, I realized I could make it at home.
Fried Cube Steak Recipes
This is my favorite recipe which I developed a few years ago. If you have any cube steak lying around, this is a great way to use it. It is my dream Chicken Fried Steak recipe y'all.
With cube steak recipes, it must be tender and well seasoned with a perfectly golden brown crispy crust. You won't believe how great you can become at frying steak. I prefer a cube steak because it has already been tenderized by being beaten with a mullet. Each bite breaks down much easier this way.
How to Make Chicken Fried Steak Recipe Gravy (Country Fried Steak Recipe)
This country gravy has bits of onion, garlic and spice. Most chicken fried steaks have a white gravy and that's what you will mostly find here. Because I added additional spices, it tints the color just a bit. You can also brown the roux made here a bit more to add more flavor and color if you would like a brown gravy but the traditional way includes a lighter gravy like the one pictured here.
Add your favorite mashed potatoes along with my easy homemade garlic bread, and this is perfect chicken fried steak recipe in every sense of the phrase. I no longer crave this because I make it right at home whenever I want, and boy oh boy is it delicious! You can also make chicken fried chicken starting with this fried chicken recipe.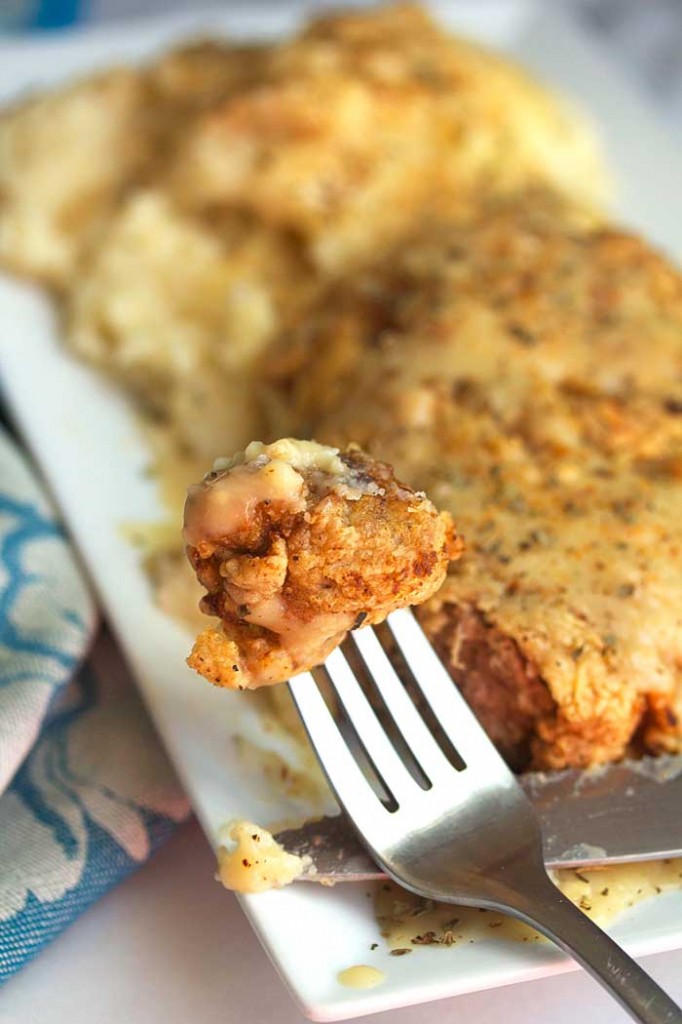 Find more Fried Chicken recipes HERE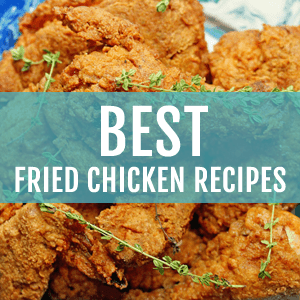 Chicken Fried Steak Recipe (Country Fried Steak Recipe)
Author:
Jocelyn Delk Adams of Grandbaby-Cakes.com
Ingredients
For the Steaks:
4 cube steaks
2 cups buttermilk
3 large eggs
2 teaspoons hot sauce
1 teaspoon worcheshire sauce
1 cup all-purpose flour
½ cup cornstarch
2 teaspoons salt
1 teaspoon garlic powder
½ teaspoon pepper
¾ teaspoon cayenne
4-5 cups oil for frying
For the Gravy:
¼ cup finely chopped shallots or onions
1 teaspoon minced garlic
3 tablespoons all-purpose flour
½ cup milk
1½ cups chicken or beef stock
pinch of cayenne
salt and pepper to taste
Optional: Ground pepper and parsley for garnish
Instructions
For the steaks:
To a large bowl, whisk together buttermilk, eggs, hot sauce and worcheshire sauce.
To another bowl, whisk together flour, cornstarch, salt, garlic powder, pepper, and cayenne.
Submerge steaks to buttermilk and marinate for at least 1 hour. (2 hours preferred.)
Dip steaks, one at a time, into seasoned flour mixture coating each side then back into marinade then back into seasoned flour then finally place on a baking sheet. Place in the refrigerator for 15 minutes.
Add oil to cast iron skillet or frying pan and heat oven medium high heat. Also preheat oven to 250 degrees.
Once oil is hot and ready, fry each steak on each side until golden brown. Drain on paper towels then place steaks on parchment covered baking sheets and put in the oven while you make the gravy.
For the gravy:
Add ¼ cup of the oil from frying to a saute pan over medium.
Add in shallots or onions and garlic and cook for 2 minutes while stirring.
Next stir in flour and cook creating a roux (think a delicious light brown color). Cook until browned (but not burned).
Stir in milk and stock and turn heat up to high heat until boiling then turn heat down to medium low and allow to thicken until it coats the back of a spoon.
Turn off heat and spoon gravy on top of steaks. Sprinkle with ground pepper and parsley and serve hot with mashed potatoes if you prefer.
Also remember if you aren't into country fried steak or chicken fried steak, try my fried chicken!!!
This one is a great one – Sweet Tea Fried Chicken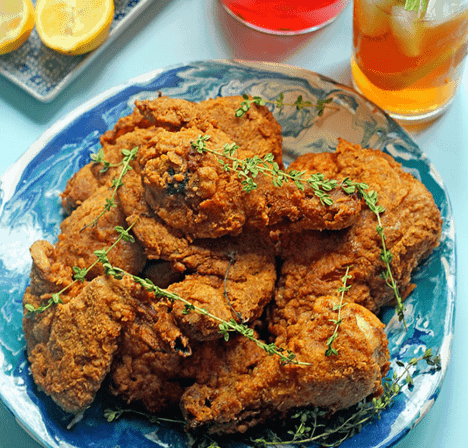 and so is this one- Big Mama's Fried Chicken