It is officially Cookie Dough Week, and I am beyond excited!! There are few things in life better than cookies except maybe cookie dough. When my blogger pals Julianne and Lindsay asked me to participate in Cookie Dough week, I was ready and armed to get to work with the rest of my pals below. I ended up creating this cookie dough cake roll.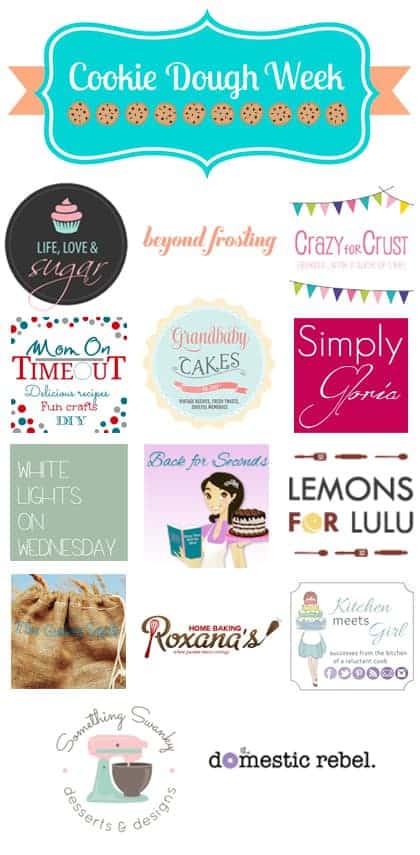 I adore cookie dough and most of us bloggers adore it too. We have stuck cookie dough in about every single possible recipe (except maybe spaghetti and martinis though I could be wrong about that too). I randomly saw a cake roll on Pinterest and thought it would be awesome if I stuck cookie dough inside it.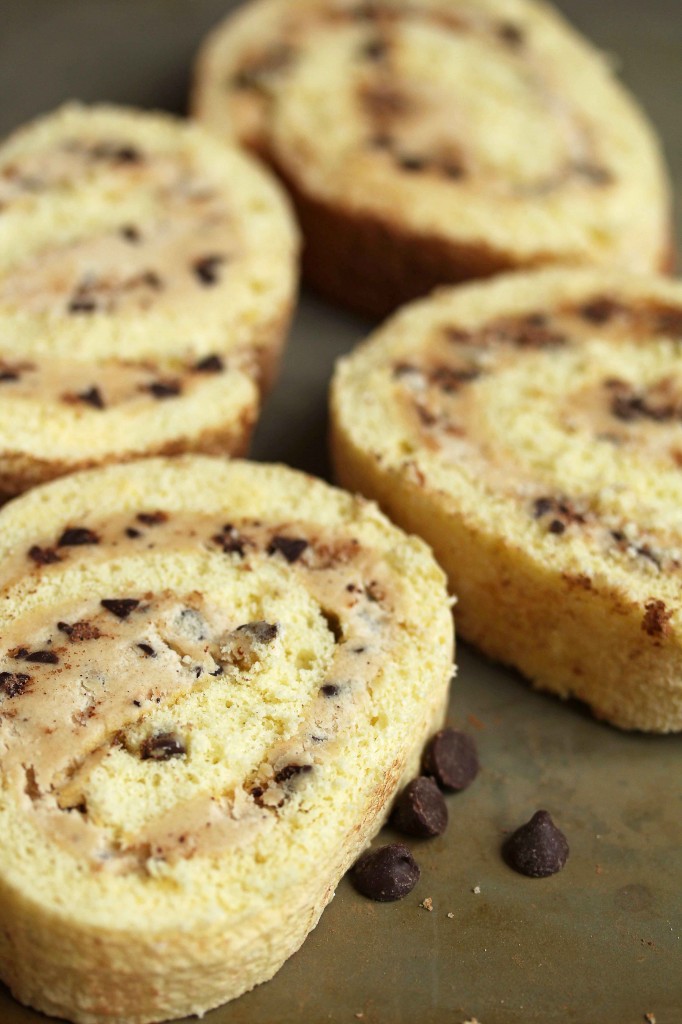 Cake always seems like the right and appropriate choice for me. I am Grandbaby "Cakes" after all. I have never really attempted a cake roll but for some reason I thought a sponge cake rolled up with chocolate chip cookie dough frosting might be the most amazing thing ever. I was right.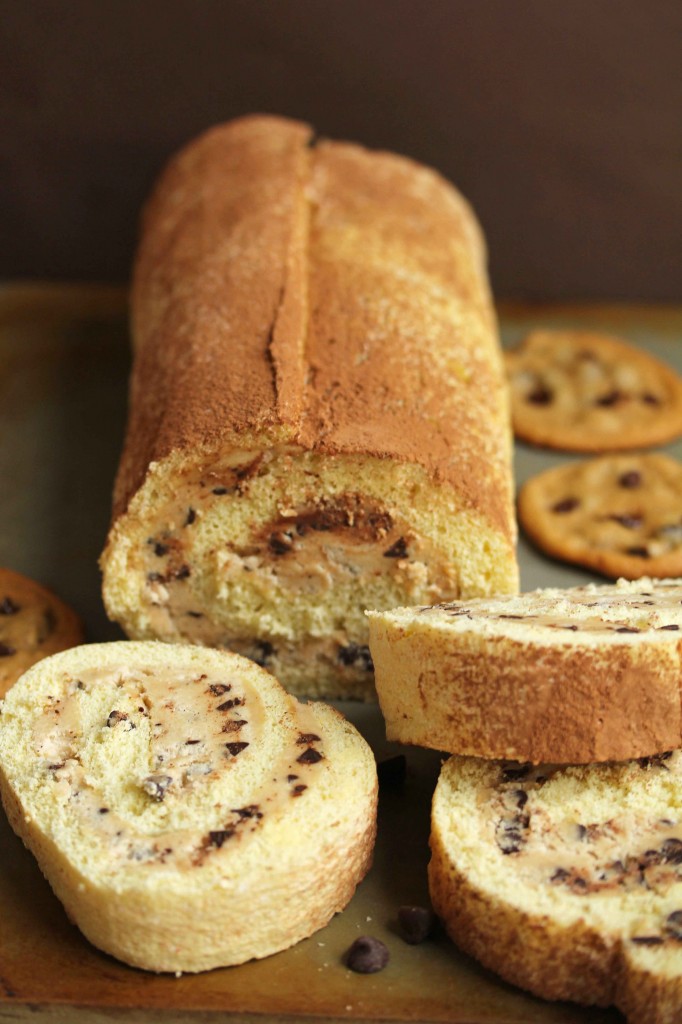 The cake portion is a yellow sponge cake that is fluffy, moist and light. Basically, it is what I like to term "cake happiness". It perfectly compliments the chocolate chip cookie dough frosting. This frosting is absolute perfection. First of all, the butter is browned. If you aren't up on the browned butter game, you need to be and fast!!! The nuttiness and extra flavor you get just from sauteing butter until golden brown is quite amazing. Then the rest of the recipe is the makings of an eggless cookie dough except I added in confectioner's sugar to create a frosting that was spreadable inside the cake roll. I simply sprinkled the top of the cake with powdered cocoa powder and confectioner's sugar and served. It was soft, moist, sweet and fun to eat. This is a great way to get your cookie dough fix in a fresh way!
P.S. After creating this roll, I was so in the mood for more cookie dough that I baked some chocolate chip cookies as well. I had a double dose of cookie, and it was well worth it.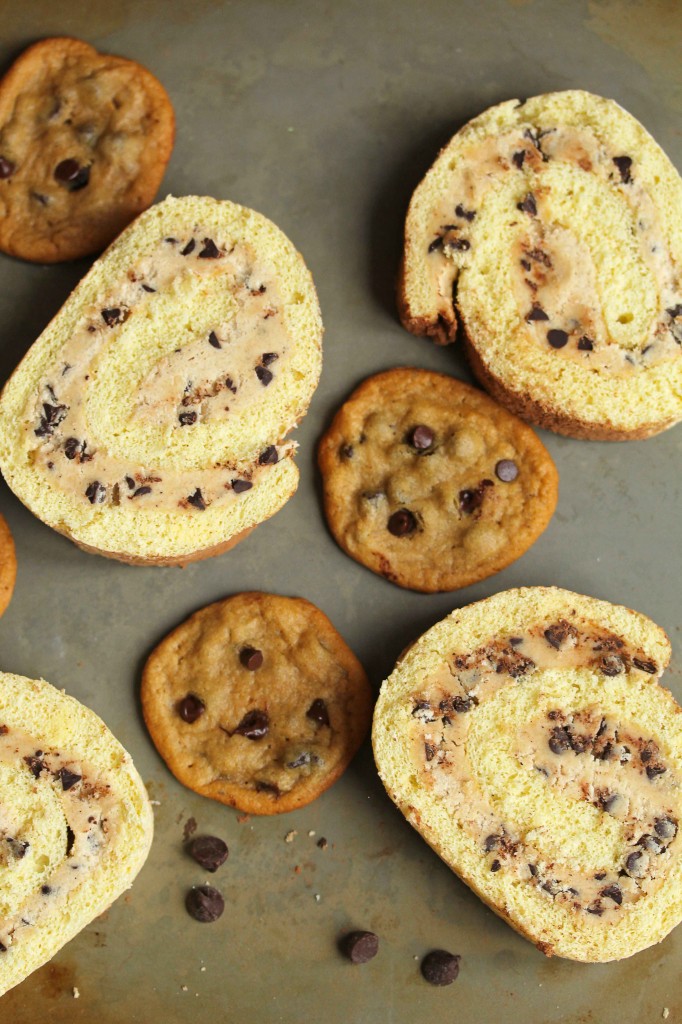 What more Cookie Dough Inspiration? Check out my friends recipes here:
[amd-zlrecipe-recipe:106]
Cookie Dough Cake Roll
Author:
Jocelyn Delk Adams of Grandbaby-Cakes.com
Ingredients
For the Cake:
5 large eggs, separated cold, then left at room temperature for at least 30 minutes
⅔ cup granulated sugar
1 teaspoon pure vanilla extract
1 cup cake flour, sifted before measuring
½ teaspoon kosher salt
Confectioners' sugar, for rolling and finishing
For the Filling:
1 cup unsalted butter
¼ cup brown sugar, packed
¼ cup granulated sugar
¾ cup all-purpose flour
1 cup confectioner's sugar
2 teaspoons pure vanilla extract
3 tablespoons milk
1 cup mini chocolate chips
Instructions
For the Cake:
Preheat the oven to 400 degrees. Liberally spray a 10x15" jelly roll pan with non-stick baking spray, line with parchment paper and set aside.
Beat the egg whites on medium speed in the bowl of your mixer until they hold soft peaks. Next add ⅓ cup of the granulated sugar in a slow, steady stream, then increase the speed to medium-high and continue to beat until the whites hold medium-firm peaks.
Set the stiff egg whites aside.
In a large bowl, using the mixer with the whisk attachment, beat together the egg yolks, vanilla, and the remaining ⅓ cup sugar on high speed until thick and pale, about 5 minutes with a standing mixer.
On low speed, mix in the flour and salt just until combined.
Fold the stiff egg whites into the egg yolk mixture until well combined and smooth.
Immediately pour the batter into the prepared pan and spread evenly.
Bake until the top feels dry and springs back when you press it lightly with your finger near the center, about 8 minutes. It should remain pale.
Transfer the pan to a wire rack, cover with a tea towel, and let cool for 5-7 minutes.
Then run a thin knife around the inside edge of the pan to loosen the cake sides.
Lightly sprinkle the top of the cake with confectioners' sugar, re-cover the cake with a towel, and invert onto a baking sheet.
Once the cake is removed from the jelly roll pan, remove the parchment paper.
Starting at the long side closest to you, begin to roll the cake while still warm with the towel until completely rolled into the cake roll shape. Leave until cool.
For the Filling:
Add butter to small sized pan over medium heat and melt.
Lower heat and continue to saute' until butter turns golden brown. Remove from heat and allow to cool completely.
Add cooled butter, brown sugar and granulated sugar to bowl of your mixer on medium high speed and mix together until smooth and fluffy.
Next turn down mixer speed to low and slowly add in all-purpose flour and confectioner's sugar until well blended.
Lastly add in vanilla extract, milk and mini chocolate chips and mix until batter is well incorporated.
For Assembly:
Carefully unroll the cake.
Spread the cookie dough frosting liberally and evenly over the full surface of the cake.
Starting at the original end closest to you, re-roll the cake carefully yet snugly.
Cut off the ends of the roll with a serrated knife to have smooth cake edges.
Cover the cake with plastic wrap and refrigerate for at least 1-2 hours and serve.
Notes
Cake Roll Recipe Adapted from
Grist