Learn how to meal prep like a pro using the Rubbermaid Brilliance line of food storage containers , featuring four of my favorite meal prep-worthy recipes. This post is meant to up your game and save you a whole lot of time (and stress) in the kitchen!!
Disclosure: I partnered with Rubbermaid for this recipe post, but all opinions expressed here are my own. I am grateful for authentic partnerships like this.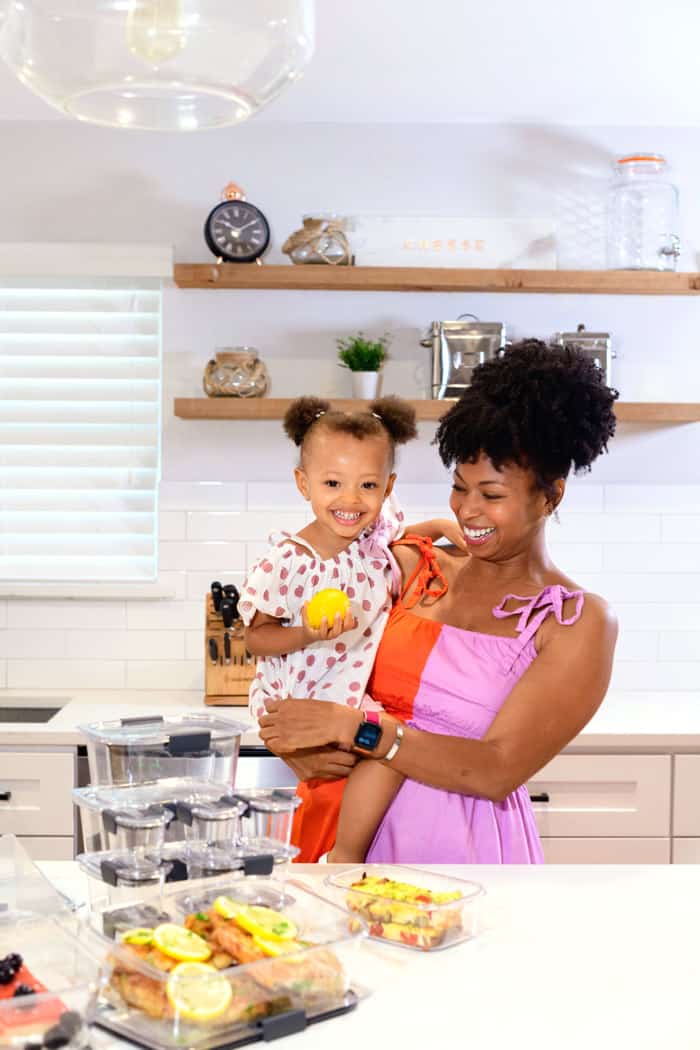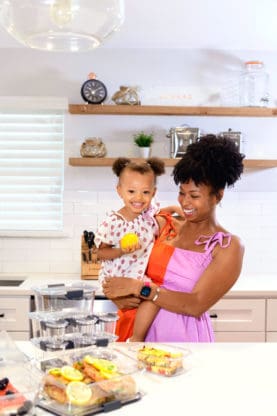 Nowadays, I'm busier than ever! Between working on my permanent move from Chicago to Dallas, raising a rambunctious toddler, and maintaining a full-time business, I am always on the go. And y'all, when you're constantly moving there isn't enough time in the day for cooking! Breakfasts are replaced with quick smoothies, lunches involve my toddler's leftover chicken fingers and dinner, well that's prepared by my best friend: Delivery.
But this week, I'm changing the narrative and it's all thanks to Rubbermaid! I had a blast doing an Instagram Live with Rubbermaid, along with my co-host Katherine Schwarzenegger, to showcase easy recipes and their Brilliance Food Storage Containers. They really take meal-prepping to the next level. We featured recipes paired with Brilliance products to make quick, straightforward meals that go right from the fridge to the microwave and onto the plate!
Let me show you how it's done!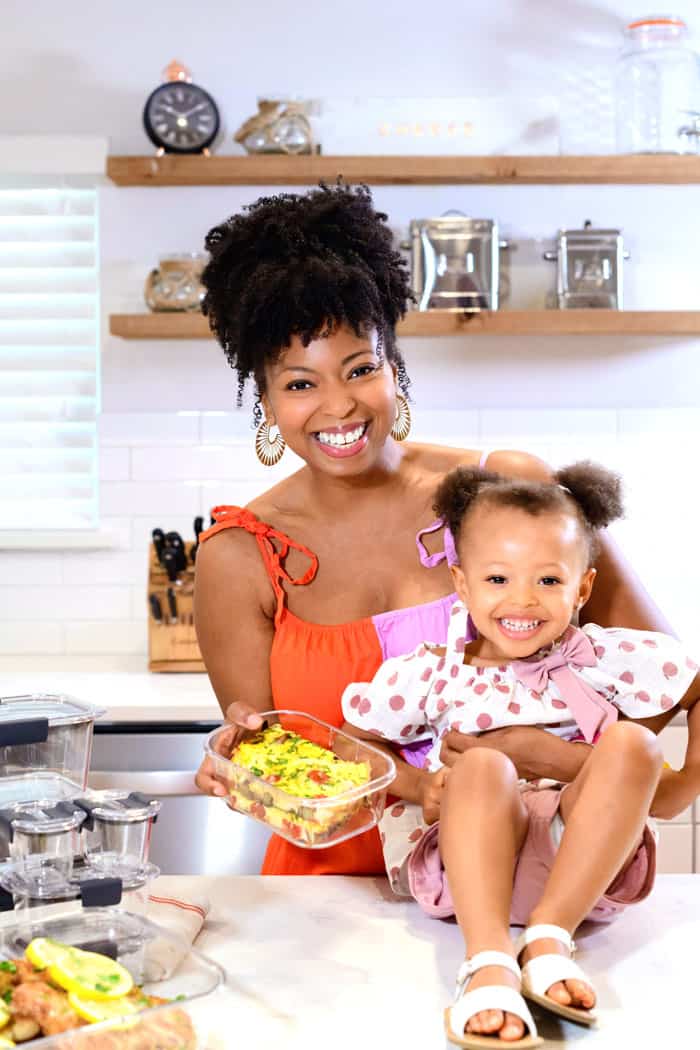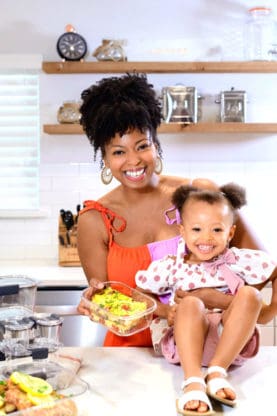 RUBBERMAID BRILLIANCE
For as long as I can remember, Rubbermaid products have been a staple in my home. Their innovative, high-quality products make for long-lasting, trustworthy household items. When I was asked to help highlight Rubbermaid's latest line of food storage containers, I didn't have to think twice!
Rubbermaid Brilliance is a line of crystal-clear food-storage containers that are 100% leak-proof and stain and odor resistant. Each piece features an innovative new design: high-quality material and vented lids that allow for splatter-free microwaving.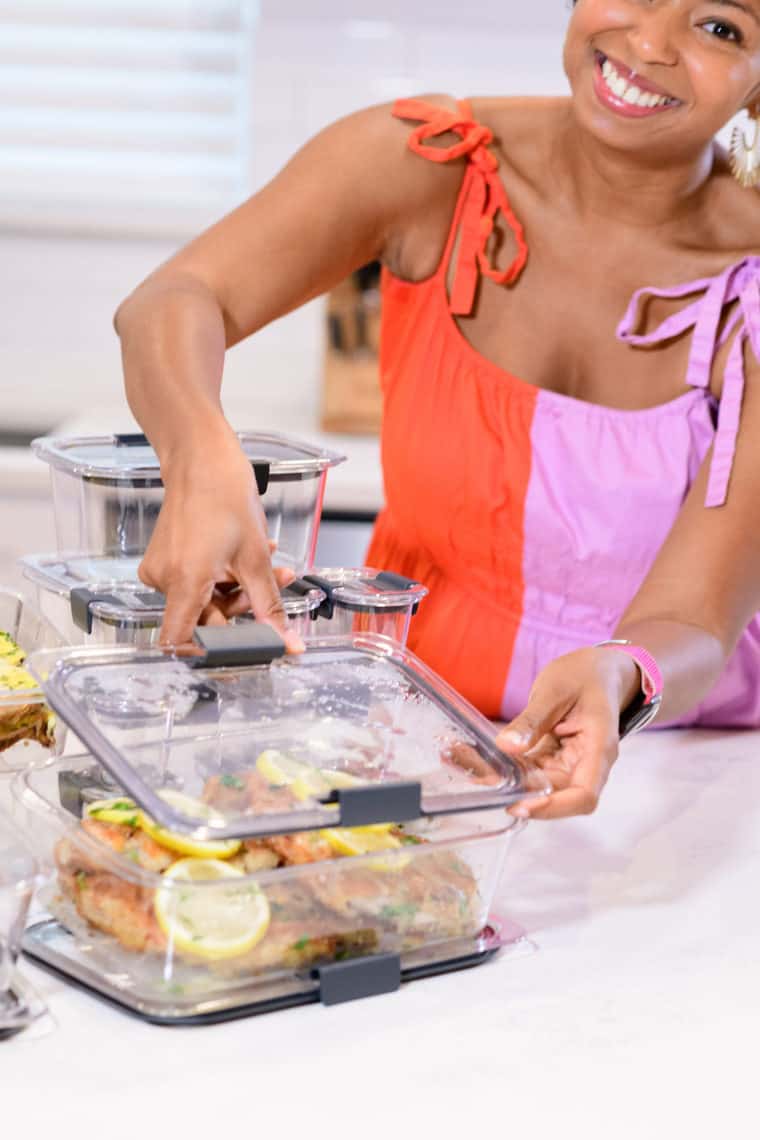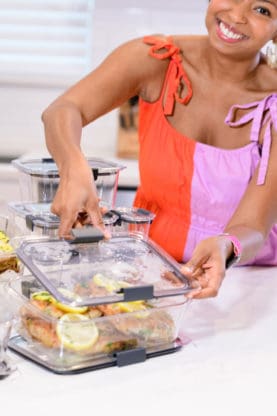 Did I mention the modular, space-efficient design for optimal refrigerator organization? Winning! These containers are available in five sizes (mini, small, medium, medium deep and large) and stack perfectly together. Honestly, it's a meal-prep dream come true!
Based on the ingredient staples that most of us have in our homes (Eggs, Chicken Breasts, Lemons, Potatoes, Onions), here are four recipes you can make already on my website that will prep perfectly with Rubbermaid Brilliance food storage products.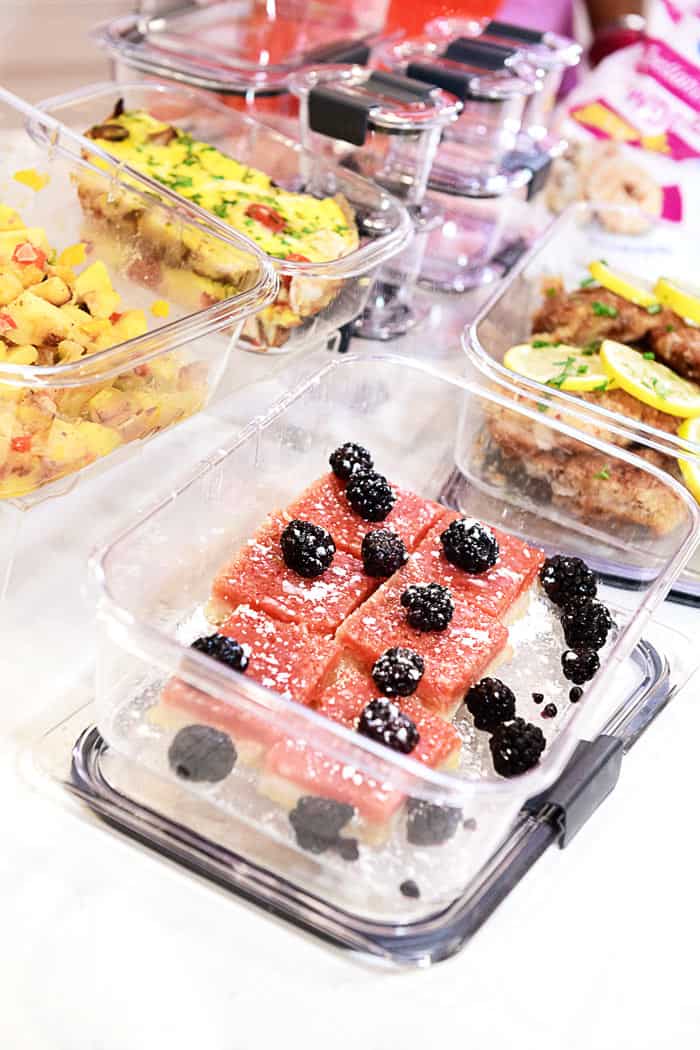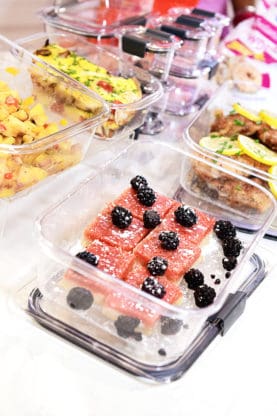 Want to try the Brilliance line for your meal prep and food storage? I have 5 sets to give away, so be sure to head to my latest Instagram post and comment using #PrepBrilliantly for a chance to win a Rubbermaid Brilliance set for yourself!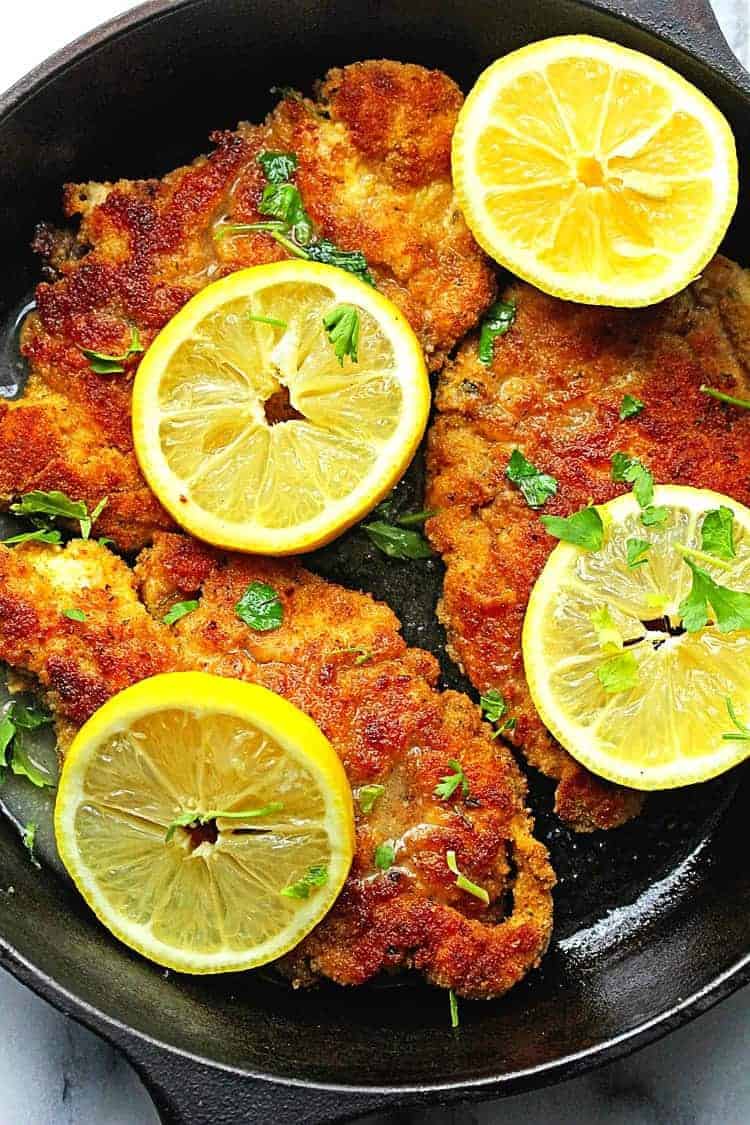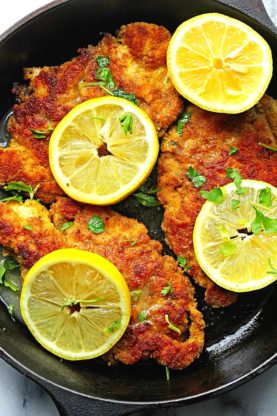 Ingredient Staples: Eggs, Chicken Breasts, Lemons
Chicken Piccata is a classic Italian-American recipe that everyone should know how to make! This one has a bit of my standard Grandbaby Cakes twist. Thin breadcrumb-crusted chicken, along with a citrusy wine sauce come together to create a sensationally delicious dish. My daughter especially loves the crunchy texture since it reminds her of chicken nuggets! A toddler's dream come true, I tell ya! Whether served with sides like pasta or mashed potatoes, layered into a sandwich or cut into a refreshing salad, this chicken is meal-prep perfect!
Storage: Use a Rubbermaid Brilliance Medium sized storage container to properly cache away this chicken without sauce so it stays nice and crispy for up to 4 days. I suggest storing extra lemon-wine sauce in a Mini Brilliance container for drizzling (after the chicken is reheated).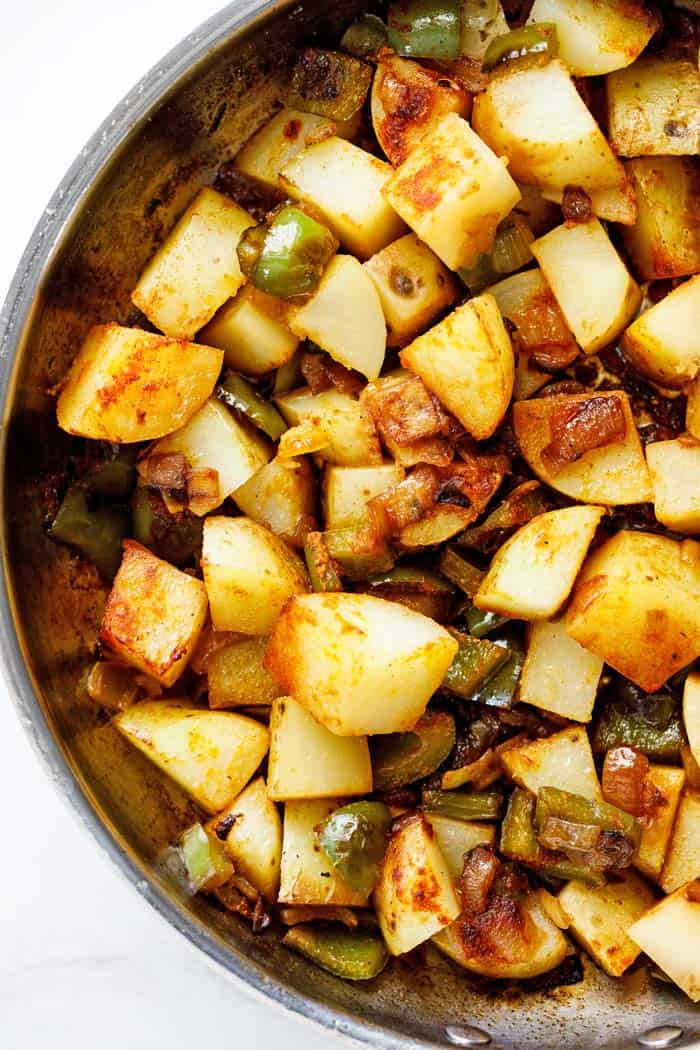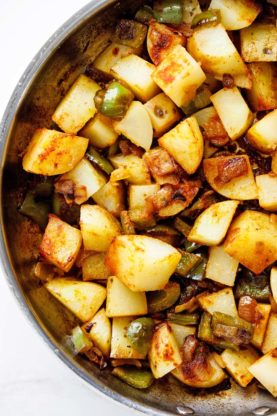 Ingredient Staples: Potatoes, Onions
These classic Southern spuds are soft, tasty and so darn easy to make! Made with sweet-starchy Yukon-Gold potatoes, butter, onions, peppers and aromatic spices, each bite is incredibly flavorful. I love serving these potatoes alongside quick breakfasts of bacon and eggs or with the Chicken Piccata for a simple, hearty family meal. Add a fresh vegetable side or salad for a well-rounded, nutritious dinner!
Storage: Tuck away your tots in a Rubbermaid Brilliance Large container! Once refrigerated, the potatoes will keep for up to 5 days. Avoid potatoes that are green, mushy, wrinkled or moldy.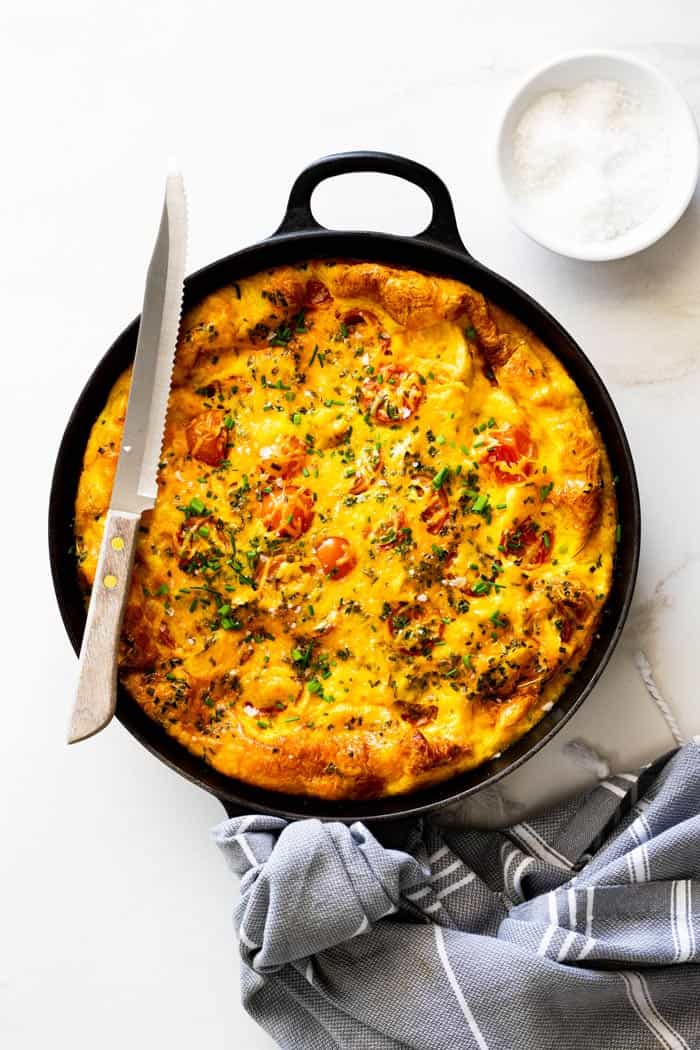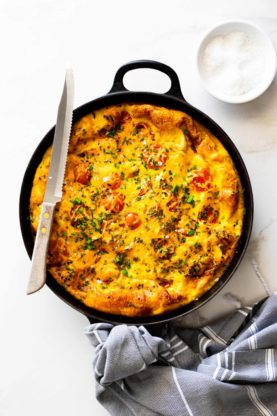 Ingredient Staples: Eggs, Chicken Breasts, Potatoes, Onions
If you ask me, frittatas are super underrated! This one can be made with whatever you have in the refrigerator. Take the leftovers from my Chicken Piccata the night before, shred the chicken and put it in this dish! Got leftover Smothered potatoes? Throw them in! Along with sweet cherry tomatoes and gooey cheddar cheese, this frittata is the absolute perfect way to start the day. I mean, who doesn't love creamy eggs layered with spice, fresh herbs and a hearty protein? Frittatas are a great way to ensure a healthy, robust breakfast without any hassle!
Storage: Once cooked and completely cooled, slice up the frittata and store in individual Rubbermaid Brilliance Small sized containers. The individual containers make for simple, quick reheating. Frittatas will last for up to 4 days in the refrigerator.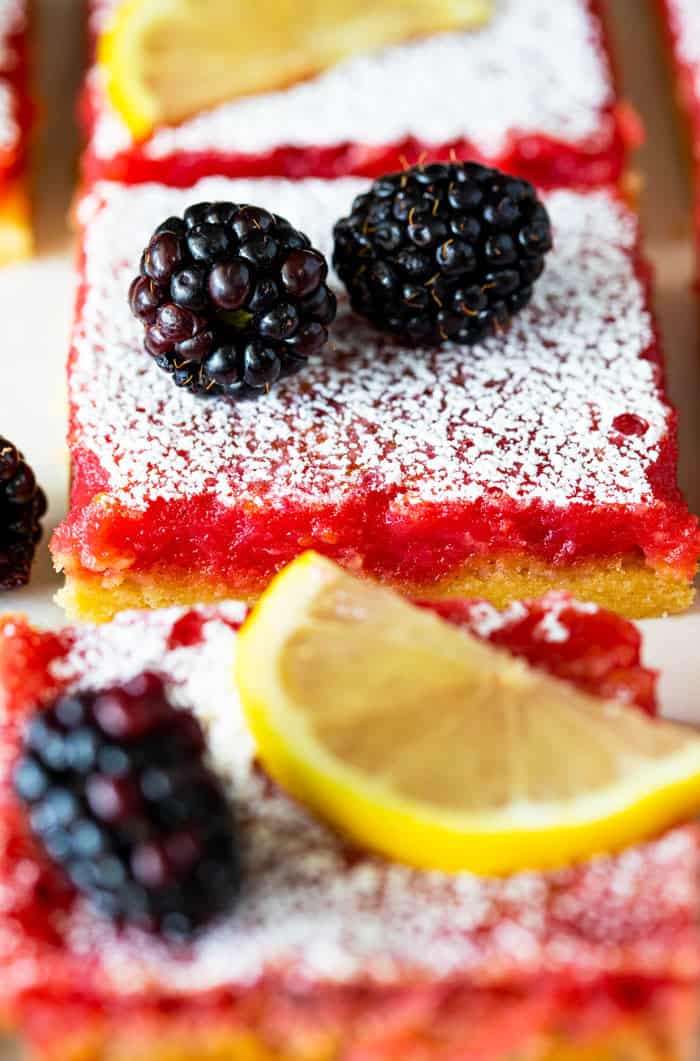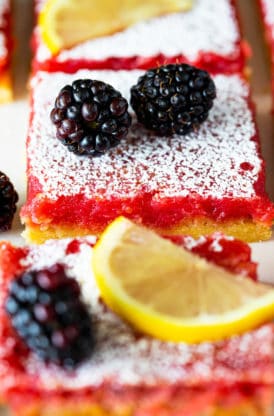 Ingredient Staples: Lemon, Egg
Now I wouldn't be Grandbaby Cakes if I didn't give you a little dessert too! Made with crisp, fresh blackberries, zesty lemon juice and a buttery shortbread crust, these Blackberry Lemon Bars transform the classic lemon bar into something a little sassy yet incredible. The added soft, succulent berries layer in sweet, tart flavor, with earthy undertones. Each bite is smooth, creamy and chock-full of bright flavors. Don't even get me started on that gorgeous magenta color!
Storage: Store these bars in a Rubbermaid Brilliance Medium or Medium Deep sized container. The airtight seal ensures freshness for up to 4 days! Just be sure to keep in the refrigerator to avoid spoiling.