This post may contain affiliate links. Please read my disclosure policy.
Grandbaby Cakes Gift Guide: The BEST 20 holiday gifts online for the cooks, bakers and foodies in your life! They will go crazy for these!! Happy Holidays!!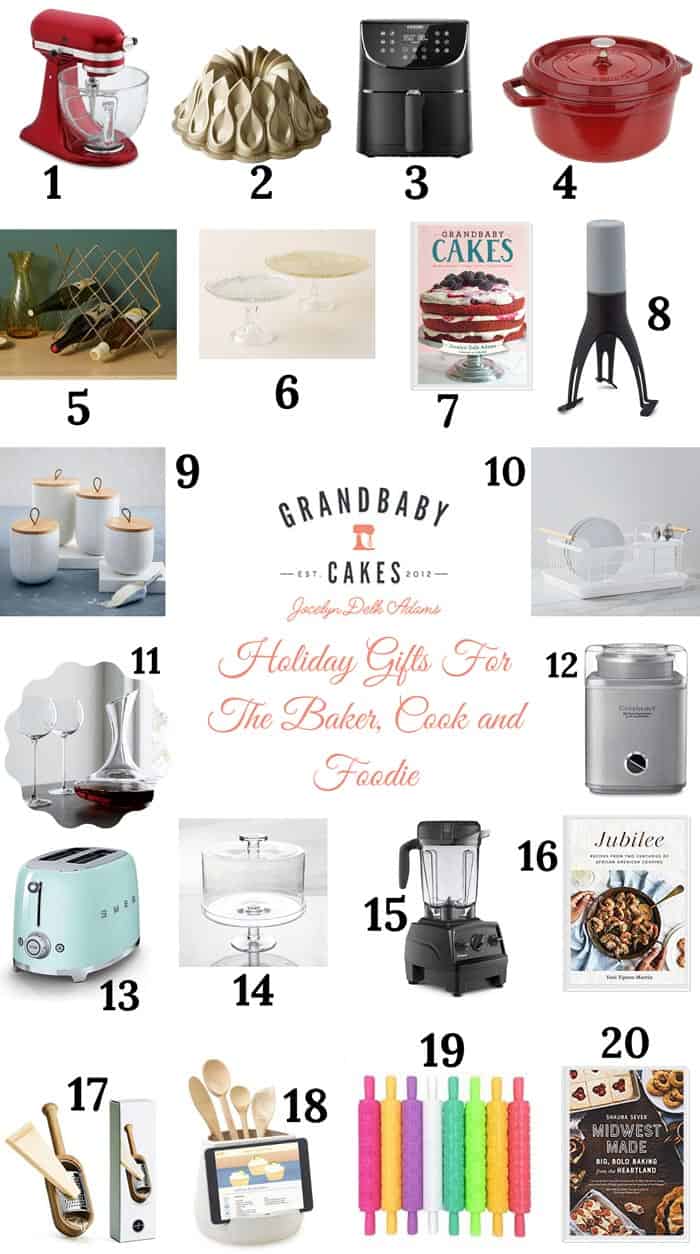 For years, I've been promising myself that I would get gift guides to you before the holidays, and each year starting from 2012, I've failed to do so hahaha. I think that's because the holiday season is insanely chaotic, and this is my busiest time of the year work wise as well.
So today, I'm finally celebrating the fact that I've got two gift guides ready for you just before you need them. Black Friday and Cyber Monday are coming, and this time of year is sure to speed up even more! However I've got you covered.
In this first gift guide, I have scoured the internet to find the absolute best gifts for any Cooks, Bakers or true Foodies on your present list. Hitting various price points, you are sure to find something insanely affordable or something extravagant to share with someone who is truly worth it!
1 KitchenAid Stand Mixer: Nothing says I love you like a KitchenAid Stand Mixer. This baby is the powerhouse of my kitchen, and I use it several times per week all through the year. I love this model, and it comes in gorgeous colors! $319.00
2 Crown Bundt Pan: If you are familiar with my website, you know how much I LOVE making pound cakes. This bundt pan is seriously so so gorgeous, and a stunning piece. $38.00
3 Airfryer: Seriously everyone is using an airfryer right now! Or they WANT TO! Do yourself or your loved one a favor, and get in on this fantastic trend! $119.99
4 Round Cocotte: This is truly a staple in my household. This classic french cooking vessel makes all of my roasts, stews and braises taste even better! It comes in various colors, and is seriously on sale right now for just $99.96
5 Wine Rack: This is the wine rack for those that have serious style. It is fabulous, and both classic and modern at the same time!! I'm in love! $68.00
6 Sarah Cake Stand: If you are making stunning centerpiece cakes this holiday season, you will need this gorgeous cake stand that is also reasonably priced! $38.00
7 Grandbaby Cakes Cookbook: You should already have a copy of my cookbook BUT if off chance you don't, this is truly the time to grab it!! It is perfect for the bakers in your family! $17.16
8 Automatic Pan Stirer: This is one of my fave gifts on this list! Who doesn't seriously need a pan stirer, especially during the crazy holidays when you have multiple dishes going at the same time! Genius! $25.00
9 Textured Kitchen Canisters: Storage is necessary in all kitchens, but stylish storage is a bonus. These sleek and gorgeous textured canisters will transform any kitchen. $24.00- $49.00
10 Dish Drainer Rack: This is so perfect for anyone on your list with a small kitchen in a condo or apartment. This Dish Drainer is designed impeccably to save space and also look wonderful in the process! $70.00
11 Wine Carafe: This carafe is a stunner! I think it is beyond gorgeous and the perfect gift for a new homeowner or wine collector who loves to entertain in style. $29.95
12 Ice Cream Maker: I seriously don't know what my kitchen would be without my ice cream maker. It makes my heart smile just thinking about it. I make ice cream all year round so this is a staple that your ice cream lovers will adore! $62.17
13 Retro Toaster: This is for the vintage lover on your list. Let them make their toast in style with this gorgeous retro styled toaster with all modern fixtures and features. $159.95
14 Cake Stand with Dome: I can't imagine any cake not looking immediately better under this stunning domed cake stand. Sleek, classic and just down right beautiful. $59.95
15 Vitamix: This Vitamix is truly one of the most expensive items on my list, but omg is it worth it! I literally use mine every single morning to make smoothies for my family and several times a week for other recipes like soup. Between that and my stand mixer, they are the most utilized counter appliances in my kitchen. $269.95
16 Jubilee Cookbook: I only have a few cookbooks on my gift guide this year, and this one is absolutely a must! Jubilee by Toni Tipton-Martin is filled with generations old recipes of African Americans, and the photos by Jerrelle Guy are works of art. This book is a must! $31.50
17 Cheese Grater: Grate your cheese in style my friends! This gorgeous cheese grater and server is reasonably priced and a wonderful stocking stuffer! $24.93
18 Kitchen Utensil and Tablet Holder: Now you can cook my recipes on your tablet in a convenient way! This Tablet holder and utensil holder does many things right! $60.00
19 Embrossed Rolling Pins: Take your pies and cookies for the holidays to the next level with these super fun and unique embrossed rolling pins! Your baking friends will love these! $24.99
20 Midwest Made Cookbook: This is another glorious cookbook by Shauna Sever that I just had to add to my list! If you love baking, you will adore this book. It is filled with all of the Midwest's best desserts, and the photography is stunning. Get at it! $21.60