This post may contain affiliate links. Please read my disclosure policy.
Grandbaby Cakes Gift Guide: Looking for the best gifts to give to your favorite home cook? Look no further than this incredible list of gifts sure to please everyone!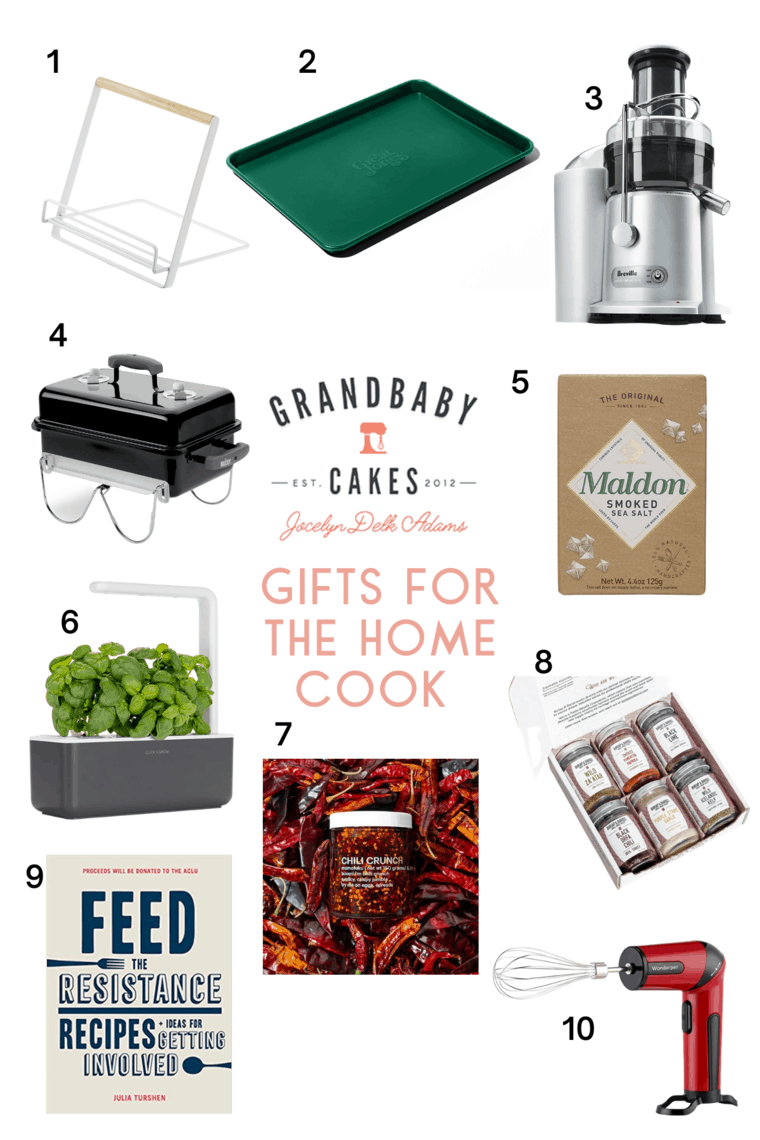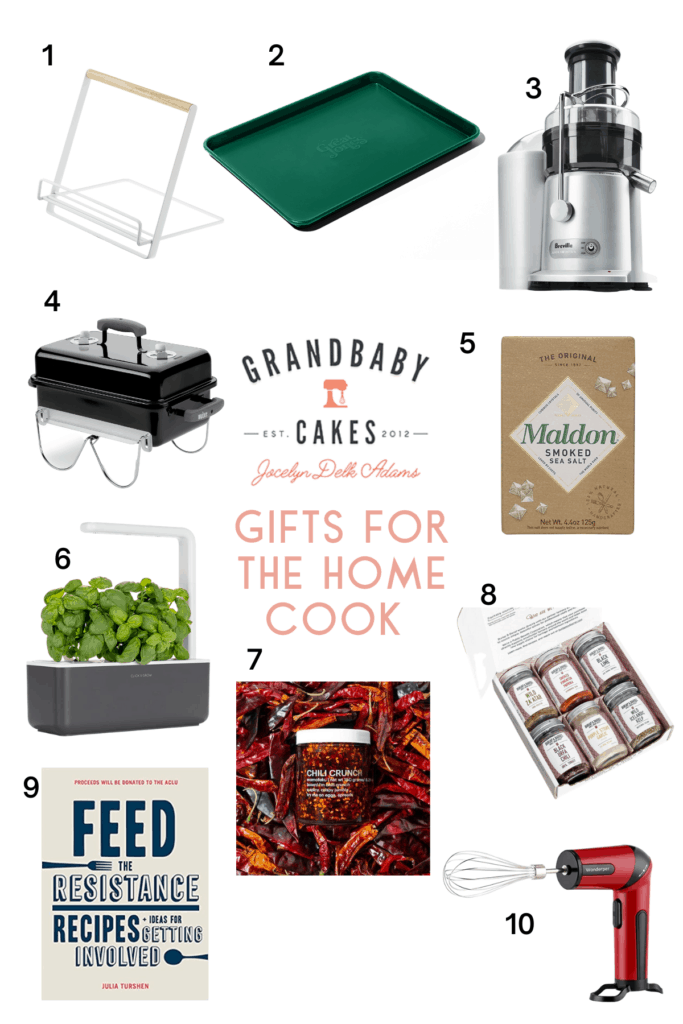 In this gift guide, I have scoured the internet to find the absolute best gifts for any Cooks or true Foodies on your present list. Hitting various price points, you are sure to find something insanely affordable or something extravagant to share with someone who is truly worth it!
1 Yamazaki Tosca Cookbook Stand – Use this recipe book stand to easily read while cooking in the kitchen. The small design won't take up too much space on the counter and is simple to store away when not using. – $24.99
2 Great Jones Holy Sheet – This is the ultimate baking sheet. It can withstand the ultimate of heats! – $35.00
3 Breville Juice Fountain Juicer – This baby can create 8 ounces of fresh juice in 5 seconds! – $149.95
4 Weber Go-Anywhere Charcoal Grill – While spending most days on your way to somewhere else, the Go-Anywhere portable charcoal grill brings a taste of home wherever you go. The lid locks for easy portability, and its rectangular shape fits perfectly in the back of most cars.- $54.99
5 Maldon Smoked Sea Salt Flakes – For such a cheap price, this packs a lot of flavor punch! – $5.89
6 Click & Grow Indoor Herb Garden – Grow Fresh Herbs and Vegetables Indoors easily! This has energy-efficient LED grow lights that ensure your plants thrive no matter the weather. – $63.95
7 Momofuku Chili Crunch – This is a flavor explosion that any cook will love to add to their spice arsenal – $10.00
8 Burlap and Barrel Fundamentals Spice Collection – This selection of spices are fundamental to any pantry, whether you're just getting started or upgrading to a new level of flavor.- $47.99
9 Feed the Resistance: Recipes & Ideas for Getting Involved – So happy I was part of this incredible book! It is filled with the most irresistible recipes so make sure you grab it because profits support the ACLU – $12.04
10 Wonderper Cordless Mixer – This is a perfect space saver and the head actually twists! – $34.99