This post may contain affiliate links. Please read my disclosure policy.
Grandbaby Cakes Baker Gift Guide: Looking for the best gifts to give to your favorite baker? Look no further!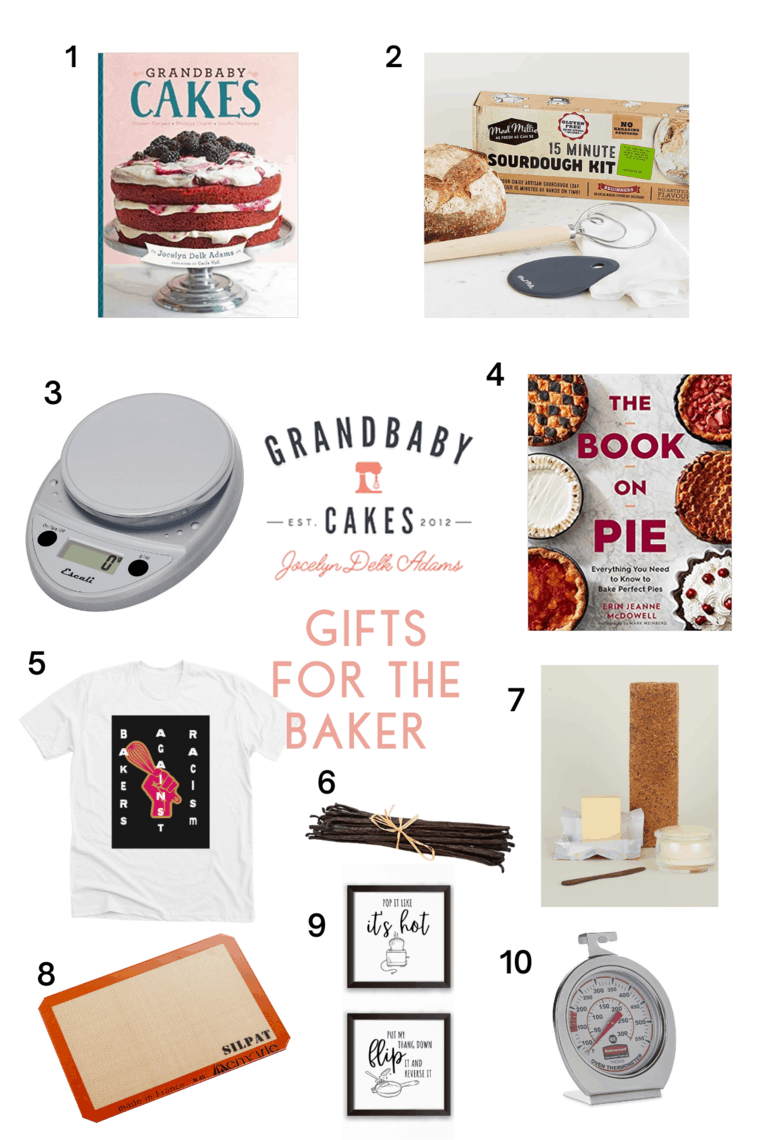 In this gift guide, I have scoured the internet to find the absolute best gifts for any bakers or pastry enthusiasts on your present list. Hitting various price points, you are sure to find something insanely affordable or something extravagant to share with someone who is truly worth it!
1 Grandbaby Cakes Cookbook – well you know my book had to be on this list. It is the best cake book out there. I might be bias but it is a fave! – $19.34
2 Homemade Sourdough Bread Kit – Everyone got on the sourdough train in 2020 and now is your turn too with this diy set! – $29.00
3 Escali Primo Precision Kitchen Food Scale – This scale comes in the most fun colors, and it has a Tare feature that subtracts a container's weight to obtain the weight of its contents – $24.95
4 The Book on Pie: Everything You Need to Know to Bake Perfect Pie – My friend Erin created the pie bible. You definitely need this in your cookbook library- $31.50
5 Radical Baking: Baker's Against Racism – I absolutely adore this shirt. This is how you bake and make a major statement that needs to be made. – $30.00
6 Madagascar Vanilla Bean Pods – Any baker knows that vanilla seeds are flavor packers in baked goods. Grab some here! – $24.99
7 Simple Butter Keeper – Now you can keep your butter fresh, creamy, and lookin' cute on your countertop with this hand-blown glass container. – $28.00
8 Silpat Half-Sheet Baking Mat – Made by a French baker in 1965, the Silpat non-stick oven mat frees your baking from parchment sheets and greasy coatings. – $25.00
9 Rap Lyric Kitchen Print Towel – No words for how fun this towel is! – $6.00
10 Rubbermaid Stainless Steel Oven Thermometer – We all should have one of these! This thermometer displays true oven temperature instantly to ensure safe food preparation- $7.00