This post may contain affiliate links. Please read my disclosure policy.
Grandbaby Cakes Gift Guide: Looking for the best reasonably priced gifts for the holiday season? Look no further than this foodie gift guide with presents all under $50!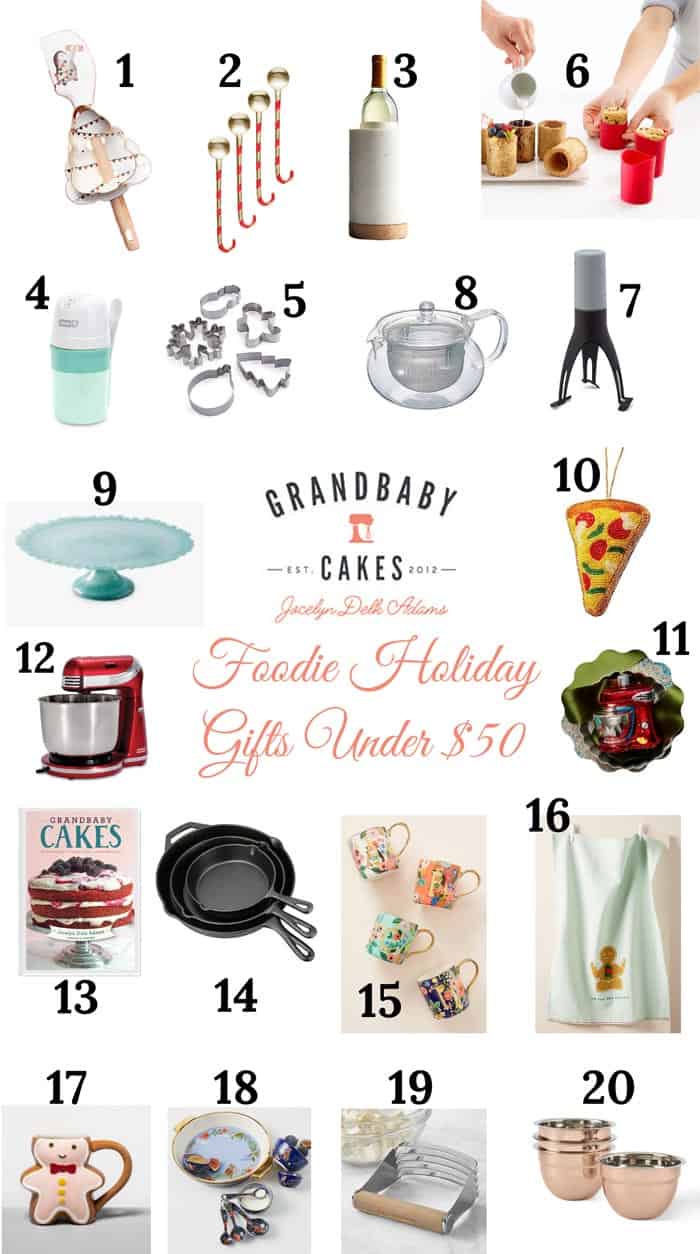 This is the gift list that you have been waiting on! We all have a laundry list of people we need to buy presents for but it can get super expensive. . That's why I'm here with this incredible list to help you not only pick the very best gifts for all of your loved ones, but also help you keep some money in your pocket.
All of these gifts are under $50, and 16 are priced under $25!!! That's right! Sixteen are under 25 bucks! And your gift recepients would never know you got a deal. These gifts are just that incredible. Grab these deals right away!
1 Penguin Cookie Set: This is the cutest stocking stuffer yet! Cookie lovers will adore this! $12.00
2 Candy Cane Spoons: How adorable are these spoons? OMG I swoon at the candy cane design on gold. Stunning! $32.00
3 Marble Wine Cooler: Cool that wine in style! I can't wait to get these for all of my wine lovers! $39.95
4 Pint Ice Cream Maker: Make ice cream in seriously 30 minutes in the cutest little ice cream maker under 20 bucks! Sold!! $19.95
5 Holiday Cookie Cutters: What are the holidays without fabulous sugar cookies in all shapes and sizes. Grab these perfect cookie cutters to fill all the stockings around! $12.95
6 Milk and Cookies Shot Glass Makers: Take your cookies up a notch this holiday season with these fun cookie shot glass makers! Genius and so fun! $18.00
7 Automatic Pan Stirer: This is one of my fave gifts on this list! Who doesn't seriously need a pan stirer, especially during the crazy holidays when you have multiple dishes going at the same time! Genius! $25.00
8 Maru Tea Pot: For those that want to make tea in style, this is the ticket! Sleek, stylist and oh so chic! $18.75
9 Alma Cake Stand: Cakes deserve a beautiful cake stand, and this one is both lovely and affordable! $18.00-$28.00
10 Pizza Beaded Ornament: For the pizza lover in your life, they deserve this beautiful ornament on their tree! $20.00
11 Stand Mixer Ornament: And seriously this ornament right here is the dream ornament for all bakers in your life! So dang on cute! Mix it up on the tree! $20.00
12 2.5 Qt Stand Mixer: Ever wanted a stand mixer but they just seem too expensive? Well here is your answer. This mixer is just $49.99
13 Grandbaby Cakes Cookbook: You should already have a copy of my cookbook BUT if off chance you don't, this is truly the time to grab it!! It is perfect for the bakers in your family! $17.16
14 Cast Iron Skillet Set: Cast iron skillets are a must for all Southern kitchens. This set is reasonably priced and you get a ton for your money. $32.77
15 Monogram Mug: This is a must for anyone you know that deserves to sip their morning coffee and tea in style. $14.00
16 Om For The Holidays Dish Towel: How dang on cute is this dish towel! This just screams holiday fun! $20.00
17 Gingerbread Mug: Another adorable mug that looks like a gingerbread man! Gosh its so cute, and it is perfect as a stocking stuffer or a work gift. $4.99
18 Winter Floral Pie Dish: This is pie dish to end all pie dishes! This is a stunning work of art. Your pie lover friends will adore it! $44.00
19 Pastry Blender: Speaking of pies, with lots of pies to make this holiday season, grab one of these perfect high quality pastry blenders! $19.95
20 Mini Cooper Mixing Bowls: I love a stylish mixing bowl set. And this copper set is literally so beautiful that I might not mix a thing in it! What a wonderful gift for cooks in your family . $31.80