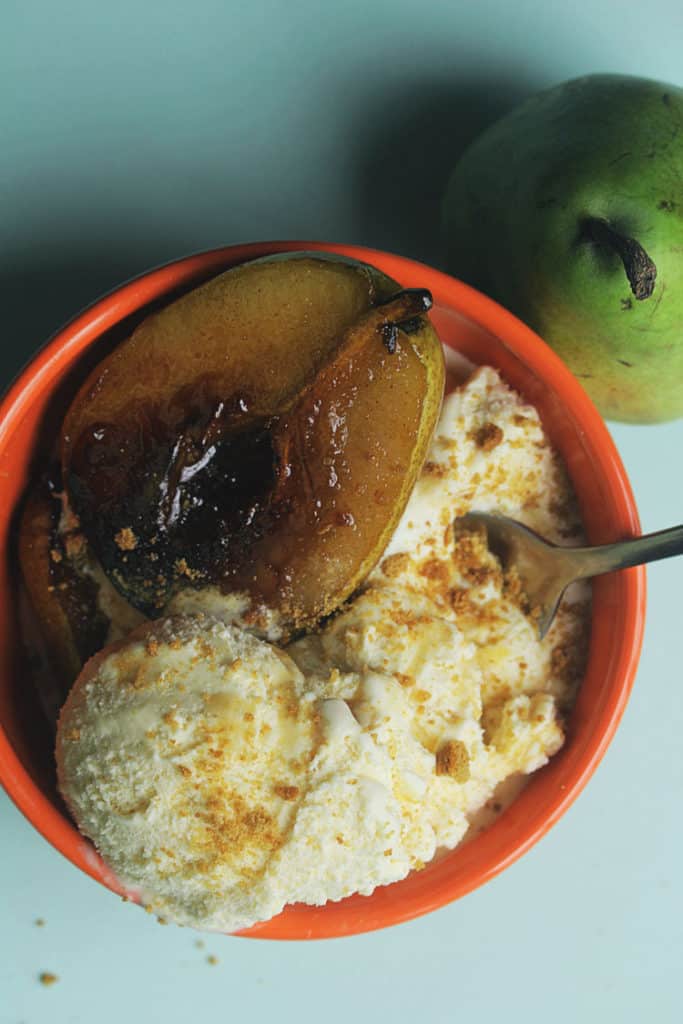 Ice Cream? In the winter? Why yes! Ice cream is necessary all times of the year in my opinion, particularly during this time of year. With the weather so dreary and sun hidden as far away as possible, ice cream can remind you of brighter days ahead. Especially this Maple Bourbon Ice Cream paired with caramelized pears. Get it? "Paired" with pears?? Funny right? Well… moving on.
This ice cream, which I made with a Limited Edition Bourbon Vanilla Pound Cake flavor from BAILEYS® Coffee Creamers, is so silky and smooth and has the beautiful texture of frozen custard. There isn't a hint of iciness thanks to the addition of the creamer. I was literally surprised by how delicious and incredible an ice cream could be with the help of a coffee creamer. The results are decadent, and something you should try again and again with different flavors.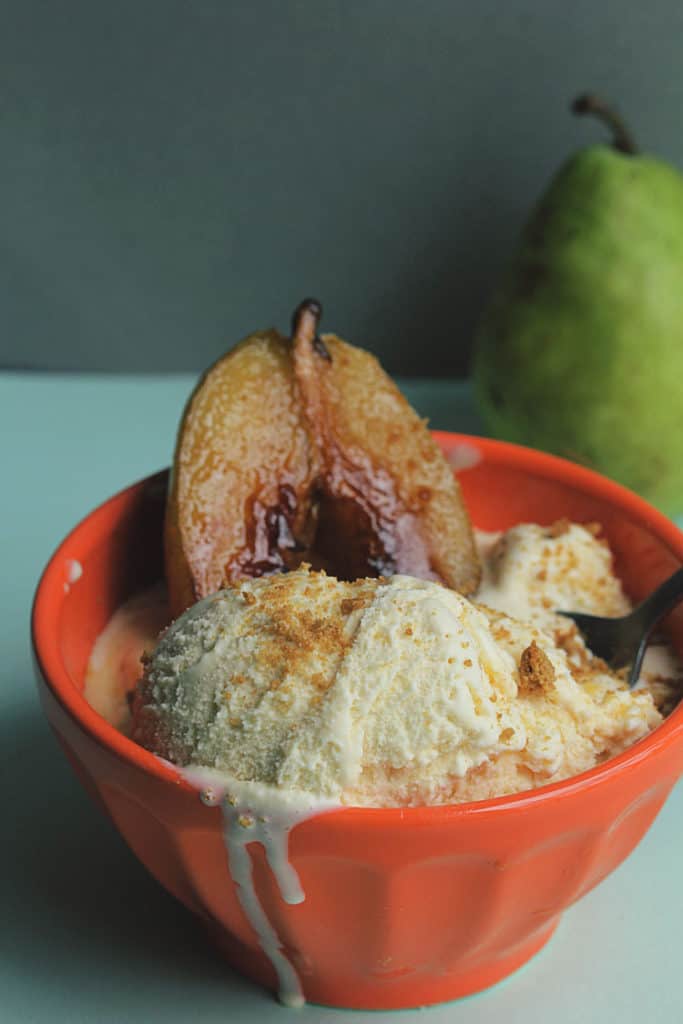 Because the Bourbon Vanilla Pound Cake flavor of the creamer is already a standout on its own, I only added the subtle addition of pure maple syrup. I adore the earthy combination of maple and bourbon, and it is just killer in this ice cream. Lastly, I sautéed some delicious pears in butter, sugar and maple syrup until sweet and tender and served both together with a sprinkle of gingersnap crumbs.
The final dessert is so sophisticated and delightful. I love this mature twist on ice cream but it still has the comfort and nostalgia of the classic childhood ice creams we remember. I imagine it being a sensational last course for your next winter dinner party, always reminding us of the brighter days ahead.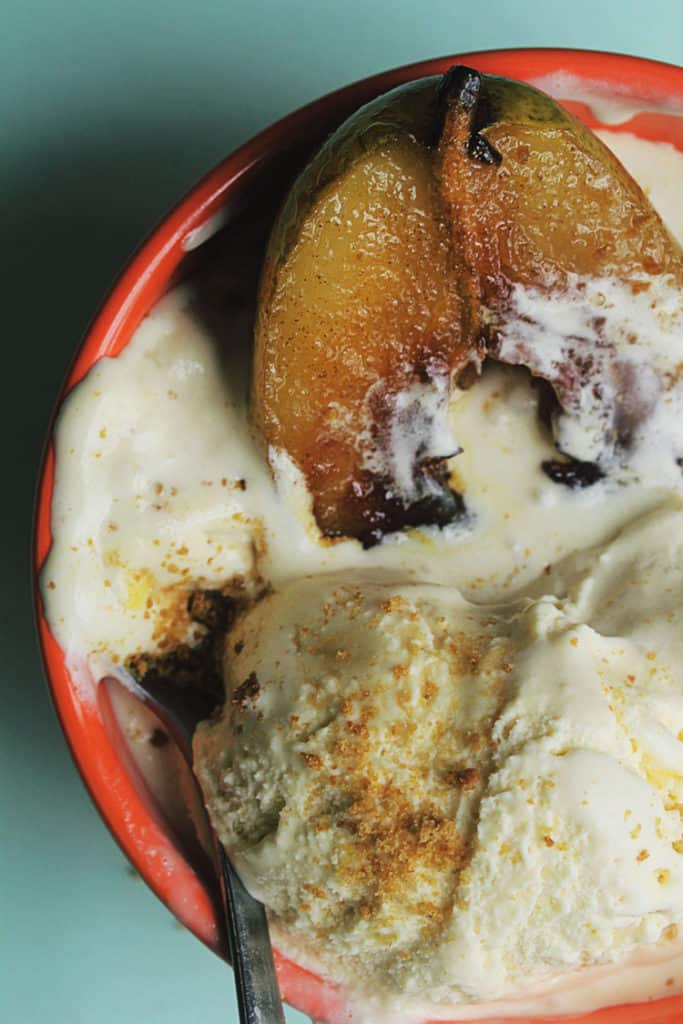 Disclosure: I was compensated by BAILEYS® Coffee Creamers for this post but all opinions expressed here are my own.

Maple Bourbon Ice Cream
Maple Bourbon Ice Cream made with hints of pure maple syrup, bourbon and Bailey's Coffee Creamer Bourbon Vanilla Pound Cake Flavor.
Author:
Jocelyn Delk Adams of Grandbaby-Cakes.com
Ingredients
For the Ice Cream:
3 large eggs plus 2 egg yolks
1⅓ cups granulated sugar
¼ cup pure maple syrup
2½ cups heavy whipping cream
1½ cups Bailey's Coffee Creamer Bourbon Vanilla Pound Cake flavor
1 tablespoon bourbon
1 tablespoon pure vanilla extract
For the Pears:
¼ cup butter
½ cup granulated sugar
⅓ cup pure maple syrup
2 pears, halved (I used anjou)
Garnish: Gingersnap Crumbs
Instructions
For the Ice Cream:
Beat eggs and egg yolks in a medium sized bowl. Next add sugar and maple syrup to the bowl and whisk together.
Add heavy whipping cream and the creamer to a large pot and heat to boiling level. Remove from heat.
Slowly add three tablespoons of the hot milk mixture to the egg mixture to temper it and whisk together to combine. Then slowly add in the rest of the milk mixture and continue whisk the entire time to make sure it doesn't scramble.
Stir in bourbon.
Place the mixture in the refrigerator for 2-3 hours to chill completely.
Remove mixture from refrigerator and stir in vanilla extract.
Add your mixture to an ice cream maker according to the manufacturer's instructions and freeze.
For the Pears:
In a skillet over medium low heat, melt butter.
Stir in sugar and maple syrup, and add pears face down in the skillet over syrup.
Cook pears until tender. If syrup thickens too much, add a bit of water to thin.
Serve pears with ice cream, maple syrup and sprinkle with gingersnap crumbs.