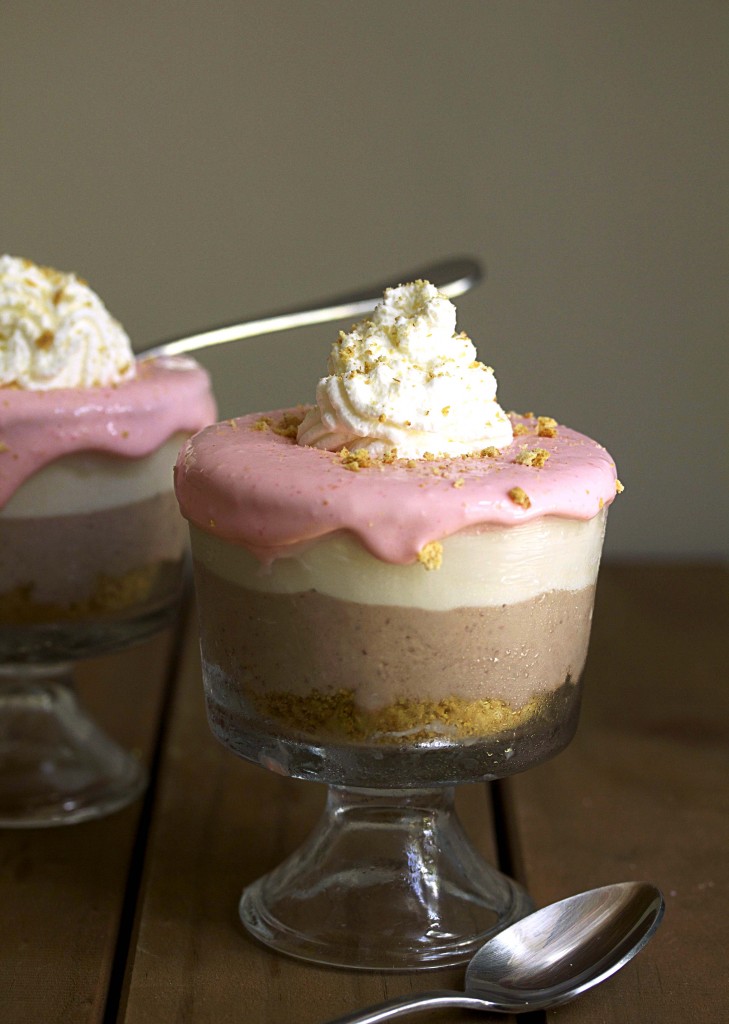 This neapolitan no bake cheesecake was a spur of the moment, last minute decision. Ever since the Blogger National Cheesecake Posting day was announced (make sure you check out the super impressive list of cheesecakes below the recipe), I haven't had any idea what I truly wanted to make. My motivation was a bit stuck.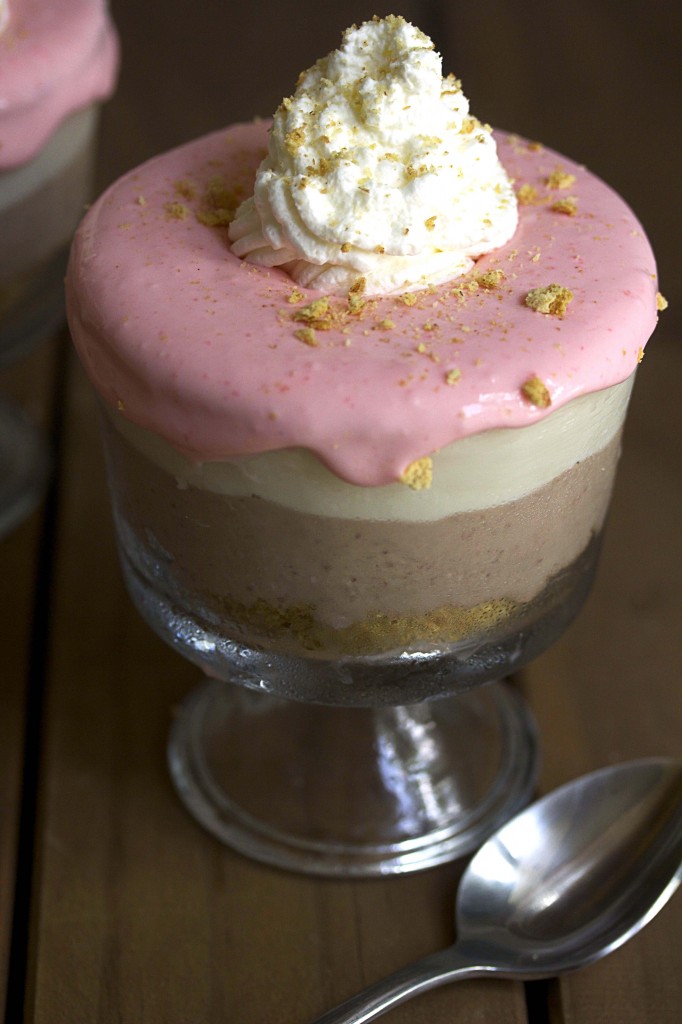 Did I want to bake a cheesecake? Did I want to keep it light and airy and low key with a no bake cheesecake since it was summer? I wasn't totally sure of what I was moving towards but in the end, my crazy schedule made the decision for me. I am the biggest fan of cheesecake but sometimes the time commitment can be insane! The long bake time with the pain of the water bath, followed by the "turn off the oven" bake time then the complete cooling, refrigeration and decorating can be a bit much. Gosh I simply don't have that type of time right now unfortunately but when I do I will definitely go all out.
This recipe is a nice compromise. It has some tricks up its sleeve with three different flavors that perfectly come together in a light, creamy and (here's the best part) quick/easy recipe that is so delicious people will think you spent hours pulling it together. This recipe requires some freezing and I skipped a few hours to photograph it (hence the sorta melting strawberry cheesecake along the sides of the glasses) but I kinda thought that was pretty so I didn't fret. Just make sure you freeze the glasses for at least 4 hours or overnight if you can for a nice firm product.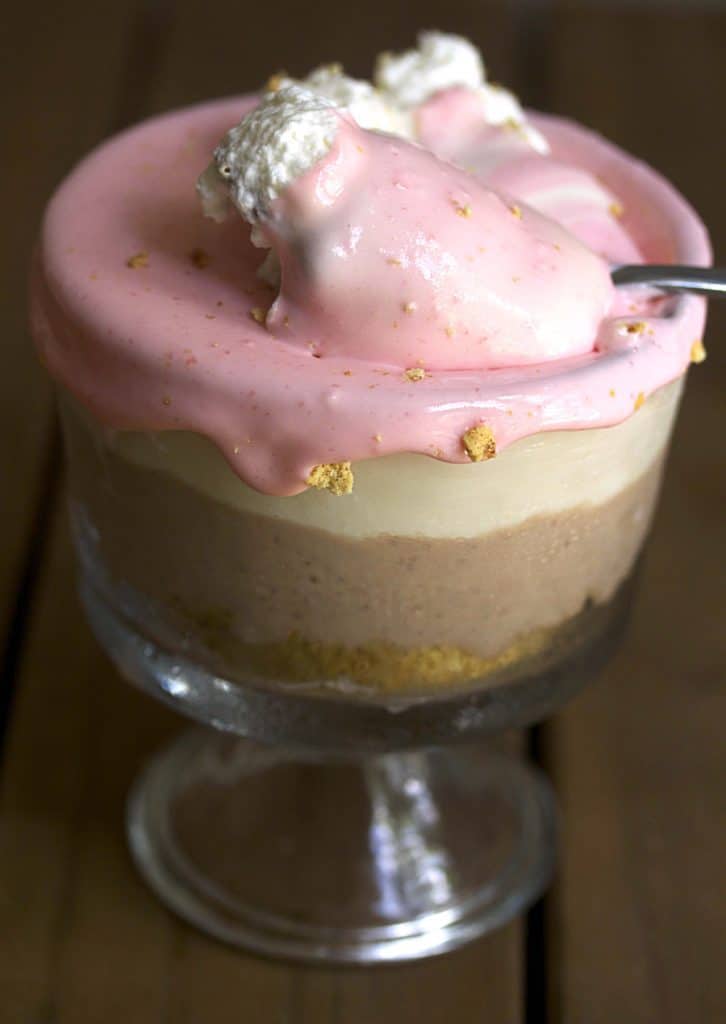 I have always been a fan of neapolitan flavors because it addresses my chronic indecisiveness. With this cheesecake, I can have vanilla, chocolate and strawberry in one package, not to mention an easy and delicious package at that.
Baked Cheesecakes:
No Bake Cheesecakes:
Cheesecake Beverages:
Cheesecake Cookies and Bars:
Cheesecake Desserts and Treats:
Frozen Cheesecakes and Treats:
Neapolitan No Bake Cheesecake
Author:
Jocelyn Delk Adams of Grandbaby-Cakes.com
Ingredients
1 (8 ounce) package cream cheese, room temperature
1 (14 ounce) can sweetened condensed milk
2 tablespoons sour cream
2 tablespoons milk
1 cup whipped cream
For the Chocolate:
For the Vanilla:
½ teaspoon pure vanilla extract
For the Strawberry:
2 teaspoons strawberry gelatin powder
1-2 drops red food coloring (optional)
For the Graham Cracker Bottom:
2 tablespoons butter, melted
½ cup graham cracker crumbs
Whipped cream and graham cracker crumbs for garnish (optional)
Instructions
In a medium sized bowl with a hand mixer or in the bowl of your stand mixer, add cream cheese, sweetened condensed milk, sour cream and milk and mix until mixture is completely smooth.
Gently fold in whipped cream then split the cream cheese mixture into 3 separate bowls.
For the Chocolate:
Add cocoa powder to one of the three bowls and whisk until smooth.
For the Vanilla:
Add vanilla extract to another separate bowl of cheesecake batter and whisk until smooth.
For the Strawberry:
Add strawberry gelatin and drops of food coloring (optional) to last bowl of cheesecake batter and whisk until smooth.
To Assemble:
Toss graham cracker crumbs with melted butter and split crumbs between two glass serving bowls.
Spoon or pipe chocolate pudding on top of graham cracker in each bowl..
Follow up with vanilla cheesecake mixture. Then place two flavors in freezer for 30 minutes. (the vanilla is a bit less firm so it needs to benmore solid before adding the strawberry).
After cheesecake has firmed, add strawberry cheesecake to top of vanilla and freeze for at least 4 hours or overnight before serving.
Optional: Pipe with whipped cream and sprinkle with graham cracker crumbs. Serve.