Delightful Oatmeal and Turbinado Cream Cookie Sandwiches from the wonderful cookbook Real Sweet by Shauna Sever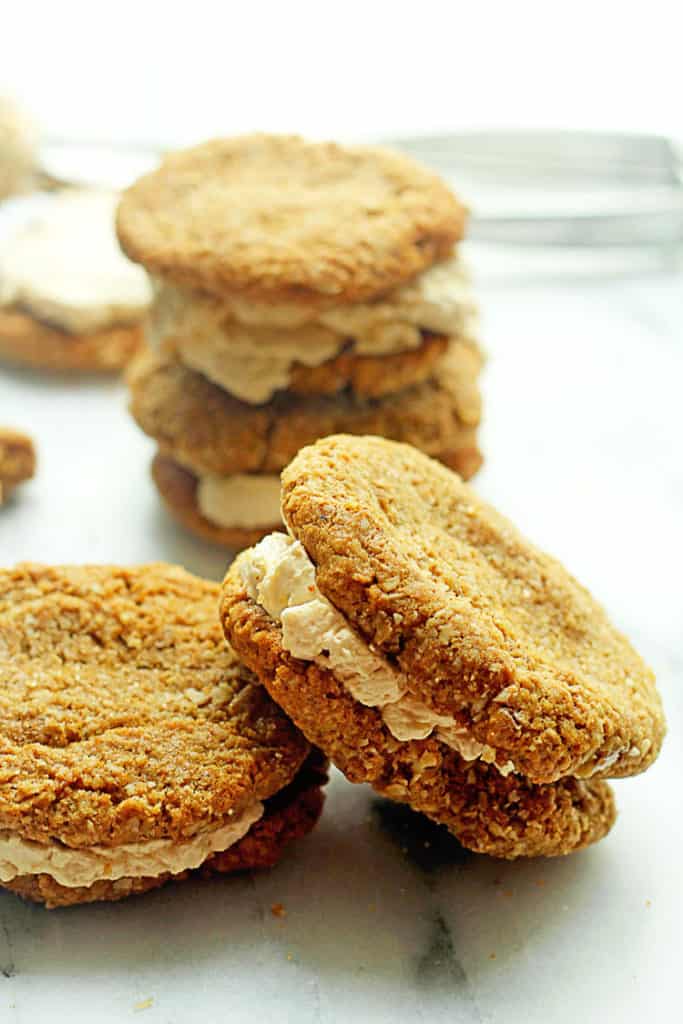 I'm addicted to refined sugar, and it's a darn shame. It isn't something I can control. As we all know, sugar addictions are serious serious stuff. For years, the only way I have been able to get control of my cravings has been through periodic juice fasts where all of them magically disappear after at least 3 excruciating, attitude having days without food.
Once those cleanses are over, I feel rejuvenated and filled with energy but after a while, my want for refined sugar creeps back in. I have wanted to try alternative sugars for a very long time but it wasn't until I received the cookbook Real Sweet by Shauna Sever that I really decided to take the plunge.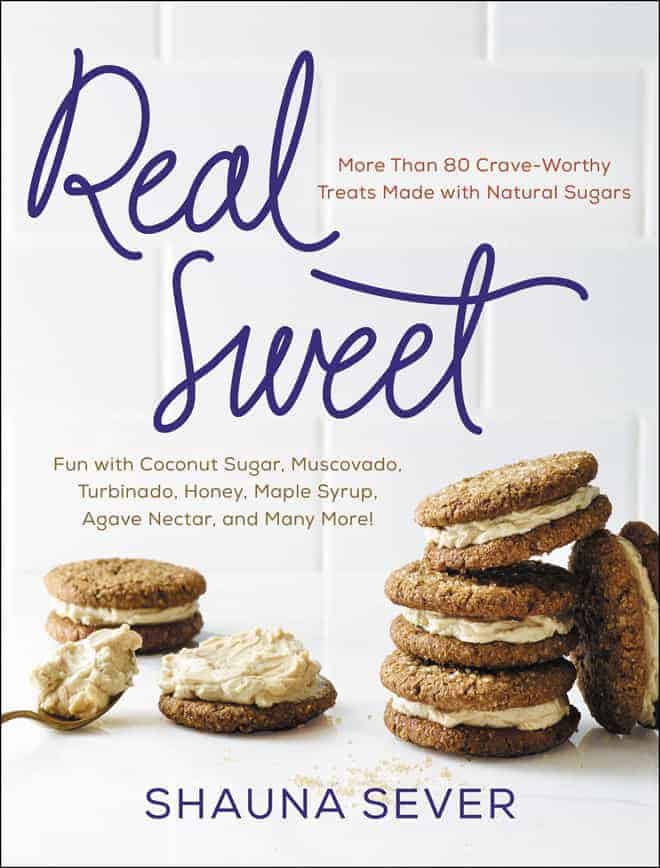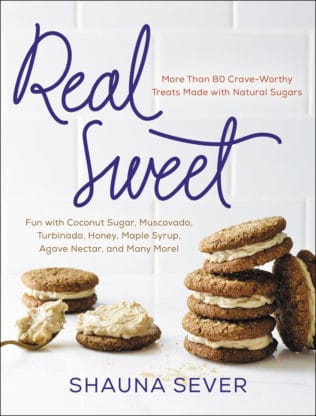 Shauna is a cookbook maven. You may know her popular books like Pure Vanilla and Marshmallow Madness because they are sensational. When I saw that Shauna was coming out with another book devoted to natural sugars, I was absolutely intrigued.
The book contains more than 80 dessert recipes made with various natural sugars like turbinado, coconut sugar, muscovado, agave nectar, maple syrup, honey and more! Sure, I have tried these items separately but never in my baking I'm afraid to say.
While I have always known the benefits of baking with natural sugars over refined, I have always had these lingering questions that have prevented me from going down that road. "What will it taste like?" "Will it even taste good?" "Will I waste a ton of money on natural sugars and create something absolutely inedible?" Well I have finally answered these questions starting with Real Sweet's oatmeal and turbinado cream cookie sandwiches recipe.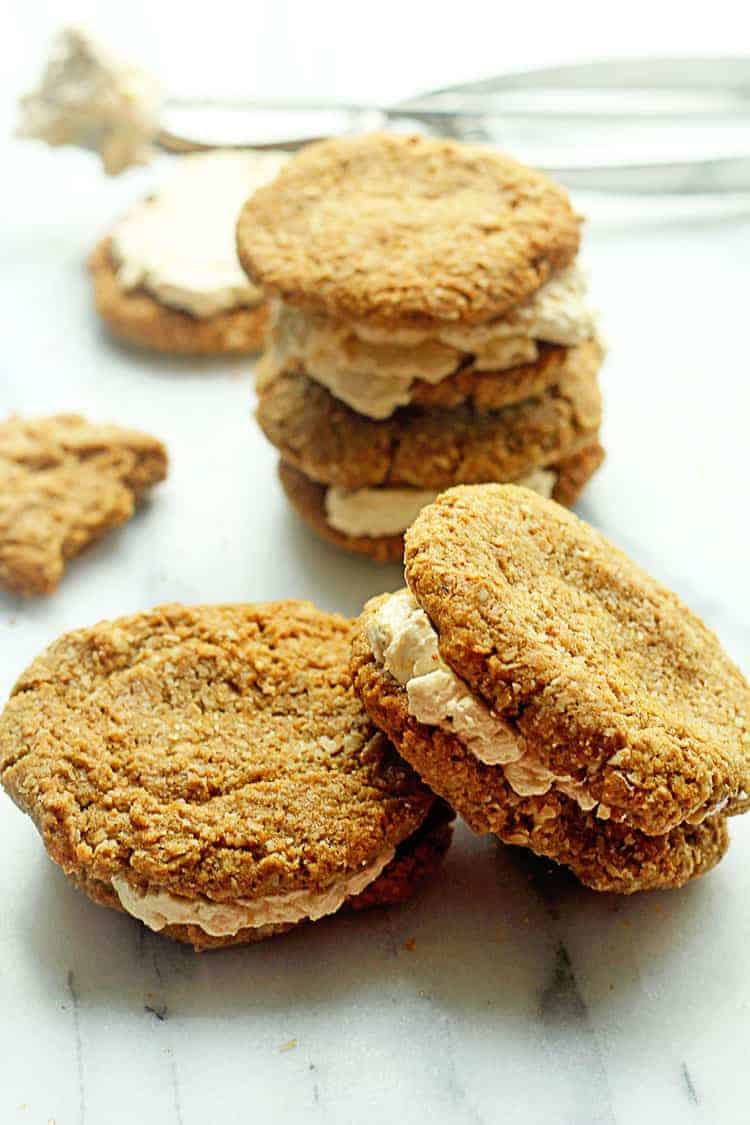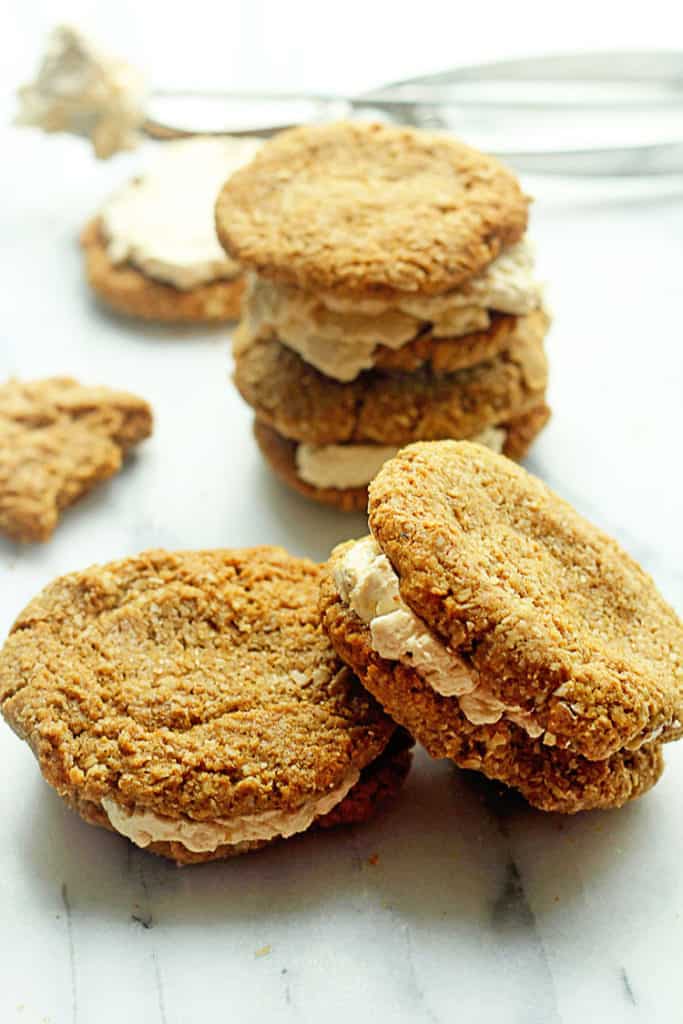 This is such a lovely treat that tastes like it should have a ton of guilt attached to it. The first thing I loved about this recipe was how easy the cookie dough is made. The recipe uses a food processor to bring it all together in a jiffy. I loved the convenience of this. By the time I was resting my dough in the refrigerator, I was amazed at how quickly I was able to make it and not break a sweat.
Next was the impressively smooth and silky cream filling which was a Swiss meringue buttercream. Made with turbinado sugar, it was insanely addictive. I ate many spoonfuls out of the mixer. The final cream sandwich cookies are so delightful and satisfying that your tummy will forever be grateful to you for not filling it with processed sugars. This is one incredible book which I cannot wait to continue baking from. Next on my list is Shauna's Next-Level Chocolate Chip Cookies. If anyone can make me a believer in natural sugar filled cookies, it's Shauna.
And because I want you to join in the fun, I am giving away one copy of this glorious book to one lucky baker! Enter below and get your natural bake on!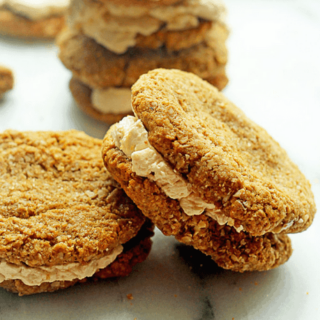 Oatmeal and Turbinado Cream Cookie Sandwiches
Delightful Oatmeal and Turbinado Cream Cookie Sandwiches from the wonderful cookbook "Real Sweet" by Shauna Sever
Print
Pin
Rate
Servings:
15
cookie sandwiches
Ingredients
Oatmeal Cookies:
1 1/2

cups

old-fashioned rolled oats

5 1/4 ounces/150 grams

1

cup

firmly packed dark muscovado sugar

8 ounces/227 grams

1/2

cup

whole wheat pastry flour, spooned and leveled

4 1/4 ounces/120 grams

1/2

teaspoon

fine sea salt

1/2

teaspoon

baking soda

1/4

teaspoon

baking powder

1/2

teaspoon

ground cinnamon

1/4

teaspoon

freshly grated nutmeg

1/2

cup

cold unsalted butter, cut into cubes

1 stick/4 ounces/113 grams

1

large

egg yolk
Turbinado Cream Filling:
2/3

cup

turbinado sugar

4 5/8 ounces/132 grams

3

large

egg whites

1/4

teaspoon

fine sea salt

1/2

cup

butter, cut into 1/2- inch cubes, soft but still cool

1 stick/4 ounces/113 grams

1

teaspoon

pure vanilla extract
Instructions
Make the cookies: In the bowl of a food processor fitted with the steel blade, grind the oats to a flour. Add the muscovado sugar, flour, salt, baking soda, baking powder, cinnamon, and nutmeg and process briefly to blend. Toss in the butter and process until the batter is well incorporated and the dough begins to clump and pull off the sides of the bowl. Add the egg yolk and pulse until the dough comes together with no dry pockets.

Line a work surface with a large sheet of plastic wrap. Turn out the dough onto the plastic wrap and form it into a log about 10 inches long and 1 1/2 inches to diameter. Wrap the dough tightly. Chill the dough until firm, at least 3 hours in the refrigerator.

When you're ready to bake, position a rack in the center of the oven and preheat the oven to 350. Line 2 baking sheets with parchment paper. use a thin, sharp knife to slice the dough log into 30 rounds, each about 1/2 inch thick. Transfer the rounds to the prepared baking sheets. Bake until golden and firm, about 15 minutes. Transfer the cookies to a wire rack and cool completely.

Make the filling: Combine the turbinado sugar, egg whites, and salt in a metal bowl of a stand mixer. Set the bowl over a pan of gently simmering water. Whisk until the mixture is slightly foamy and the sugar has completely dissolved - rub a bit of the mixture between your fingertips to make sure no coarse bits of sugar are lurking in the bottom of the bowl. Attach the bowl to the mixer fitted with a whisk attachment. Beat on high speed until the meringue is stiff and glossy and the bowl is cool to the touch, 8 to 10 minutes depending on your mixer.

Reduce the speed to medium and beat in the butter a tablespoon at a time, giving each knob of butter ample time to incorporate into the filling before adding the next. About the time that all the butter has been added, the filling will look like a curdled and separated mess and you might start to panic, but don't - it will come together with another minute or so of whipping time. When the filling is smooth, beat in the vanilla extract. (Hooray, you've just made Swiss meringue buttercream!)

To fill the cookies, either load the filling into a piping bag fitted with a large round tip or use a small scoop or 2 spoons. Flip half the cookies over and top each with 2 teaspoons of the filling. Sandwich with the remaining cookies and press gently to adhere. Store at room temperature for the first day, and refrigerate them for longer storage, up to 3 days.
Nutrition
Calories:
252
kcal
|
Carbohydrates:
31
g
|
Protein:
2
g
|
Fat:
13
g
|
Saturated Fat:
7
g
|
Cholesterol:
44
mg
|
Sodium:
224
mg
|
Potassium:
83
mg
|
Fiber:
1
g
|
Sugar:
23
g
|
Vitamin A:
395
IU
|
Calcium:
27
mg
|
Iron:
0.6
mg