Packed with nutrient rich chickpeas and creamy peanut butter, then rolled in shimmery-sweet sugar these Peanut Butter Cookies have the perfect balance of salty and sweet! These incredibly soft, melt in your mouth cookies are also vegan! If you love these cookies, you will also love Oatmeal Chocolate Chip Cookies, Butterfinger Brown Butter Cookies, and Sugar Cookies.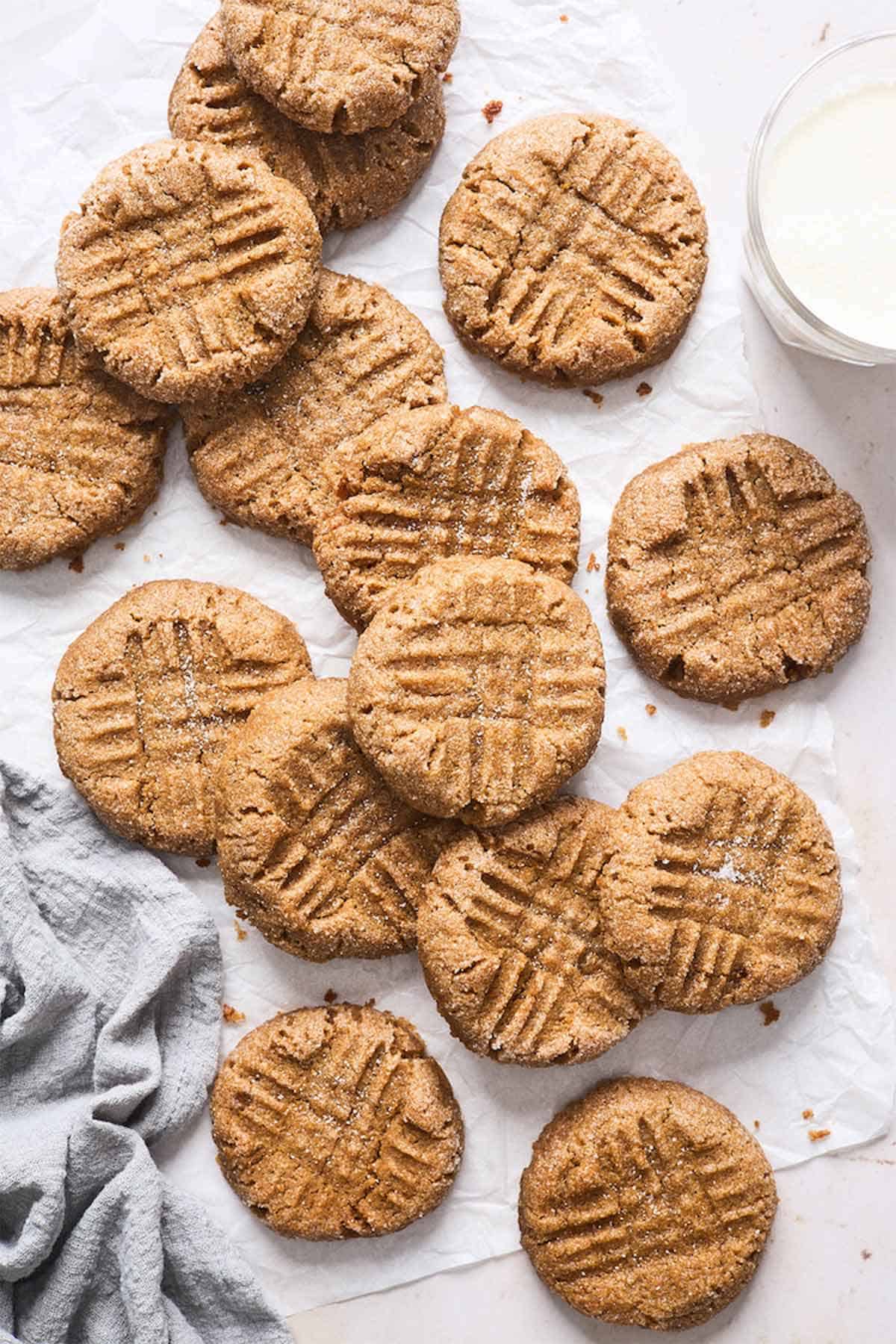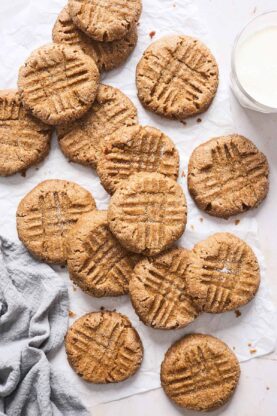 From the moment I spot a cookie with those signature fork marks on top, I'm making a beeline for 'em. Those perfect hatch marks almost always indicate a peanut butter cookie. And y'all, I love a salty-sweet PB-infused treat!
Today, I'm sharing my newest obsession: Nikki Dinki's "healthy" Peanut Butter Cookies. Made with vitamin rich chickpeas and protein packed peanut butter, these cookies are guilt-free without lacking in flavor.
Tuck them into lunchboxes, serve 'em up as an after dinner dessert, or keep them all to yourself! You won't regret it one bit.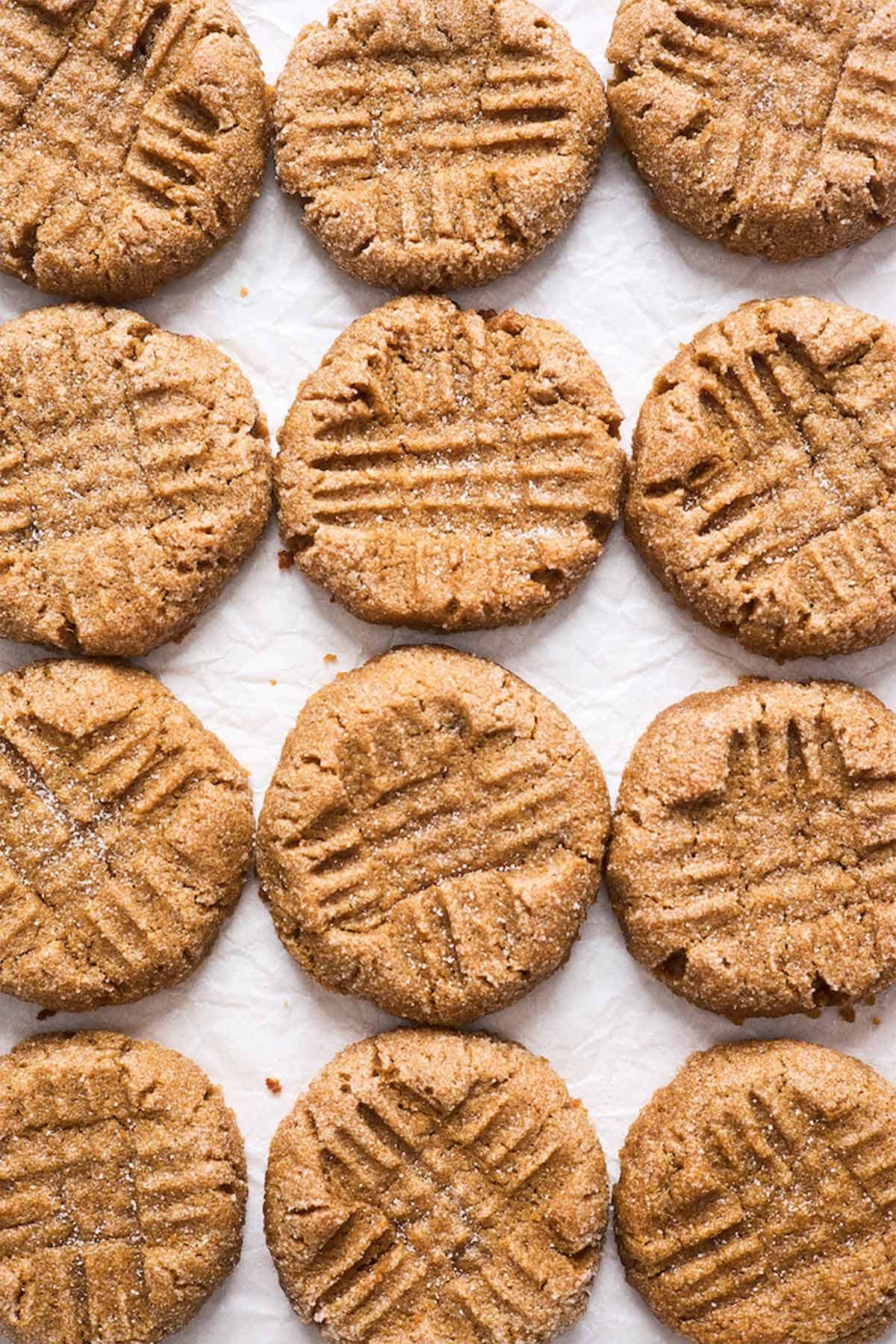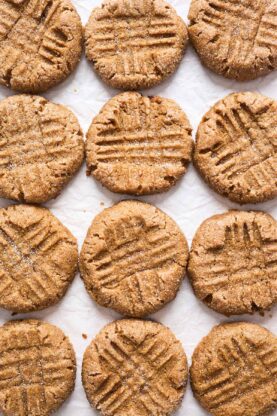 MORE VEGGIES PLEASE
As a mom of a very sassy toddler, I know how hard it can be to get kiddos to eat their veggies. Heck, I even struggle to squeeze in my own greens! Luckily for me (and now you too), my good friend Nikki is here to save the day.
Chef and cookbook author Nikki Dinki loves veggies. In fact, she prides herself on transforming fruits and veggies into deliciously nutrient-dense recipes the whole family will love!
Nikki's latest release, More Veggies Please, is packed with creative, yet accessible recipes that will wow picky eaters and foodie parents alike.
Today's recipe comes straight out of Nikki's newest collection of tried-and-true recipes that I've found myself coming back to time and time again!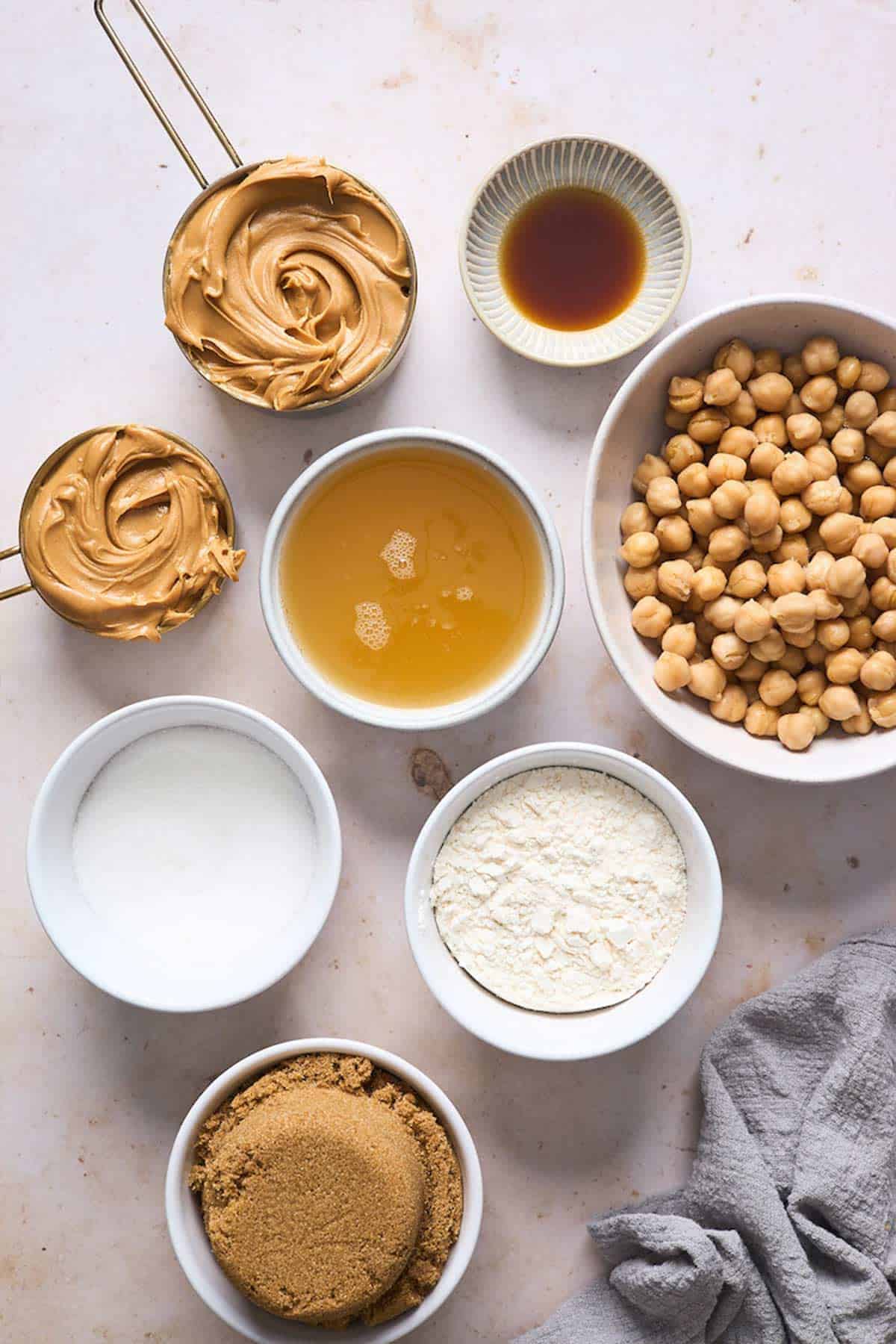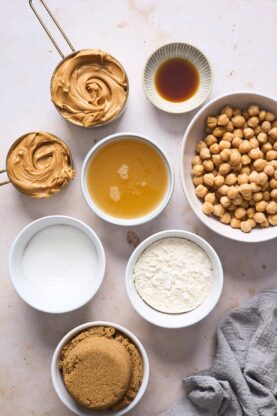 PEANUT BUTTER COOKIE INGREDIENTS
All of the ingredients in this recipe are simple, pantry-staple items. That means no extra trips to the market or stressful substitutions!
Here's what we'll need today:
CHICKPEAS- Believe it or not, peanut butter and beans were meant to be together! Chickpeas make for a cookie with a moist, dense center that's not too cakey or crumbly. The liquid in the bean can, called Aquafaba, is also used in place of the egg to emulsify, bind, and thicken the dough.
SMOOTH PEANUT BUTTER- PB is the star of this show! Creamy, nutty, and salty, peanut butter is a delicious baking staple. For the best result, use a PB that does not separate, like Jif or Skippy.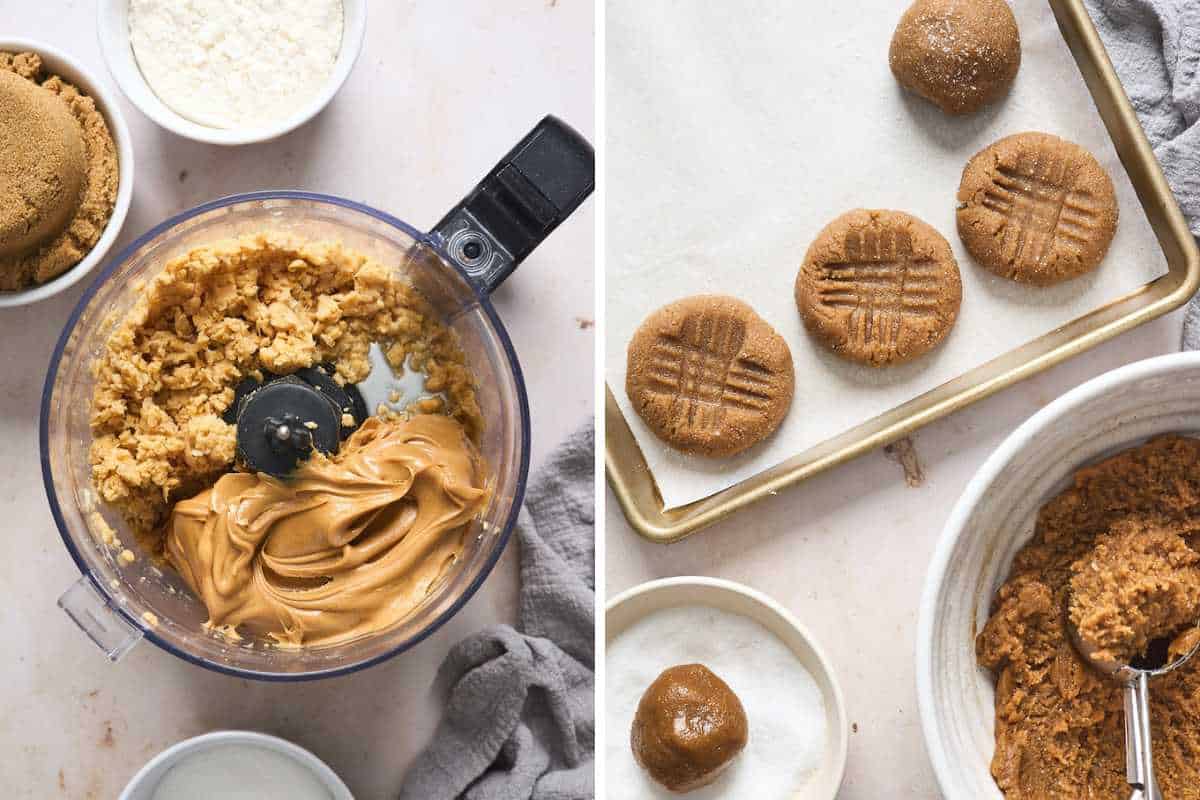 VANILLA EXTRACT- Vanilla is used to enhance flavor and add aroma. Pure vanilla is best!
BROWN SUGAR- Both dark or light brown sugar will work here. Just be sure to pack the measuring cup tightly either way.
AP FLOUR- For this recipe, I'd recommend sifting the flour; it's a dense cookie and any bit of added weight can make it too heavy.
GRANULATED SUGAR- I love that these cookies are the perfect balance between sweet and salty. The added sugary crust on the outside is both chewy and crisp, a welcome textural bonus.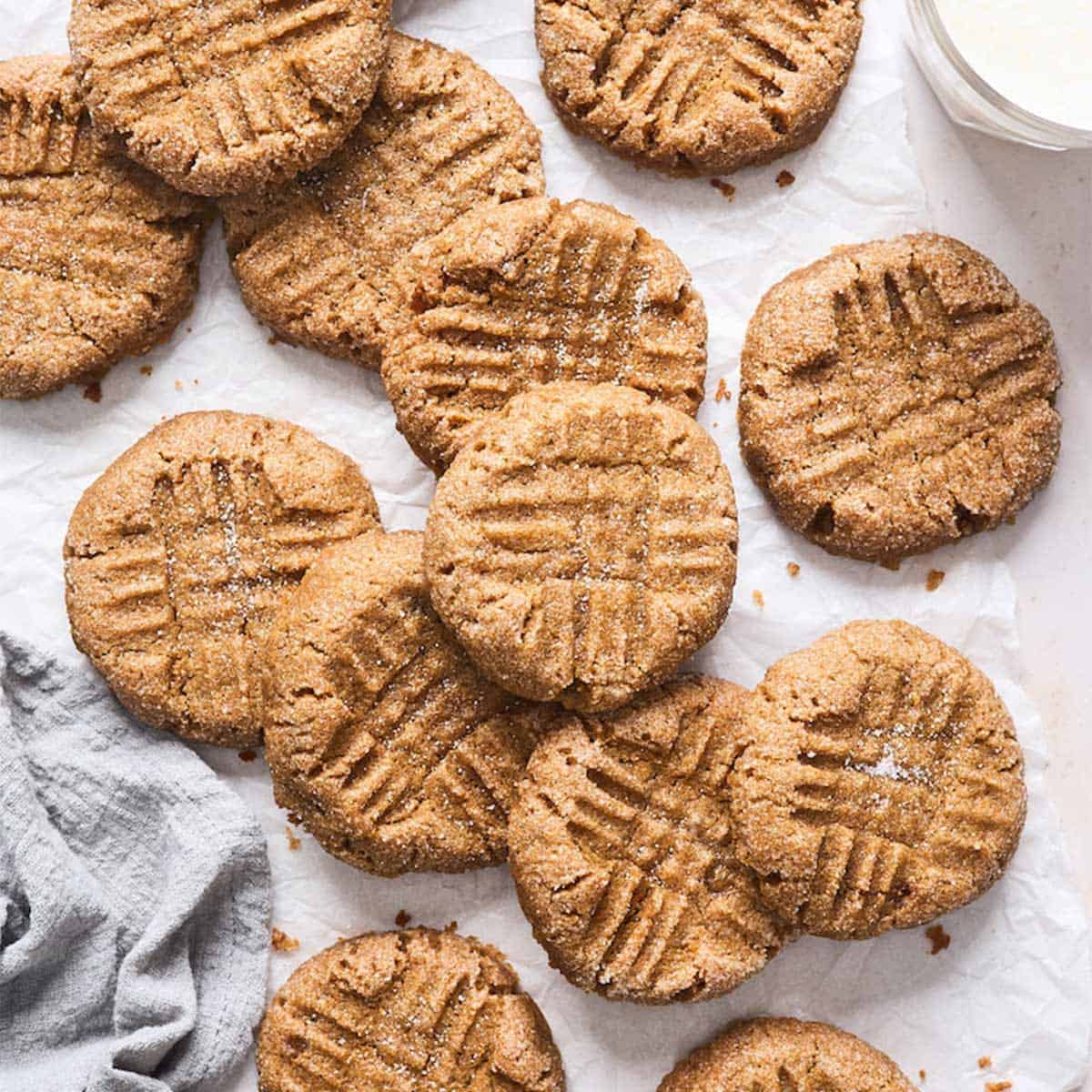 TIPS FOR MAKING HOMEMADE PEANUT BUTTER COOKIES
Don't use too much flour!

Adding too much all purpose flour will cause these cookies to be dry and crumbly. Avoid this by using the spoon and level method to properly measure your dry ingredients.

Use good quality baking sheets.

Thin, low-quality sheets absorb too much heat, making for burnt bottoms and raw tops. Investing in a better baking sheet will ensure even cooking.

Double check your oven temperature.

It's possible that your oven runs hotter or cooler than most, which can affect the overall texture and baking time. Try using an oven-safe thermometer and adjusting the temperature accordingly.
LEFTOVER STORAGE
As soon as they're cool, transfer leftover cookies to an airtight container or resealable bag. Peanut Butter Cookies will stay fresh for up to 2 weeks at room temperature.
Alternatively, this recipe can be frozen either as already baked cookies, or as cookie dough. If you're freezing baked cookies, layer them in a container with parchment paper so they don't stick together.
If you're freezing the dough, scoop out the balls and place them on a baking sheet. Put the baking sheet in the freezer for an hour. Then move the balls to an airtight container, with parchment paper between each layer, and put them back in the freezer. Peanut Butter Cookie dough will freeze for up to 3 months.
The cookie balls can go straight from the freezer to the oven to bake. The already baked cookies can either be defrosted and served, or reheated in the oven at 300 degrees F for about 5 minutes.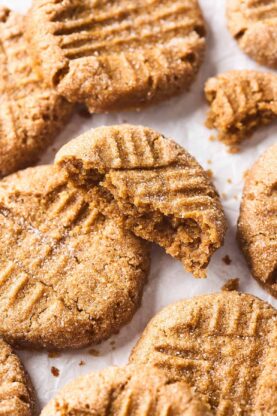 GRANDBABY CAKES' BEST PEANUT BUTTER RECIPES
Love this recipe? Check out a few more of my FAVORITE peanut butter-filled treats:
CARAMEL PEANUT BUTTER DIP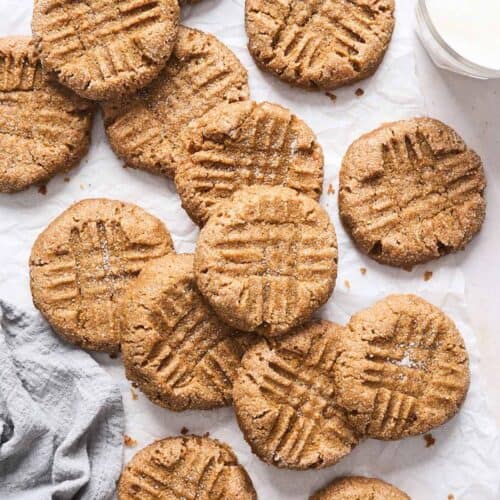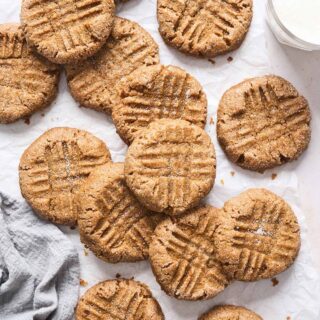 Peanut Butter Cookies
Packed with nutrient rich chickpeas and creamy peanut butter, this chewy Vegan Peanut Butter Cookies recipe has the perfect balance of salty and sweet!
Print
Pin
Rate
Ingredients
15

oz

chickpeas

canned

1 1/2

cup

smooth peanut butter

13 oz

2

tsp

vanilla extract

1 1/2

cup

packed brown sugar

3/4

cup

all purpose flour

plus more if needed

1/3

cup

granulated sugar

for topping
Instructions
Preheat the oven to 350F. Line two rimmed baking sheets with parchment paper. Drain the chickpeas, reserving 1/4 cup fo the liquid from the can (aquafaba coming at you!), rinse them, then add them to the bowl of a food processor. Process the chickpeas until they are very finely chopped, stopping a couple of times to scrape down the bowl.

Add the peanut butter, reserved aquafaba, and vanilla and blend until smooth; if the mixture is too thick for your food processor to handle, don't stress- just continue mixing by hand.

Transfer the mixture to a large bowl, add the brown sugar, and stir until the ingredients are well combined and smooth. Stir in the flour until well combined. The dough will be soft and oily, but you should be able to roll it into a ball; if you are unable to do so, add more flour, 2 tablespoons at a time, until you get there.

Place the granulated sugar in a small bowl. Using your hands, roll about 2 tablespoons of the dough into a ball, roll it in the sugar, and place it on one of the prepared baking sheets. Repeat this process until all the dough has been used, placing the balls about 1 inch apart. Use a fork to lightly press down on each ball, flattening the cookies to about 1/2 inch thick and creating a crisscross pattern. If your fork sticks to the batter, dip it in water before creating the crisscross on each cookie.

Bake the cookies until they are mostly firm and lightly browned- 17 to 22 minutes. Transfer to a cooling rack to cool completely.
Notes
Peanut butters that do not separate like Jif or Skippy work best here.
Nutrition
Calories:
153
kcal
|
Carbohydrates:
21
g
|
Protein:
4
g
|
Fat:
7
g
|
Saturated Fat:
1
g
|
Polyunsaturated Fat:
2
g
|
Monounsaturated Fat:
3
g
|
Sodium:
56
mg
|
Potassium:
124
mg
|
Fiber:
2
g
|
Sugar:
14
g
|
Vitamin A:
4
IU
|
Vitamin C:
0.2
mg
|
Calcium:
21
mg
|
Iron:
1
mg