This 5-ingredient Raspberry Banana Nice Cream is the perfect low-calorie treat! Vegan, gluten-free, and naturally sweetened, this healthy yet still rich dessert makes for the sweetest scoop ever! If you love this recipe, you will also love my Skinny Banana Pudding Milkshake and Skinny Chocolate Milkshake!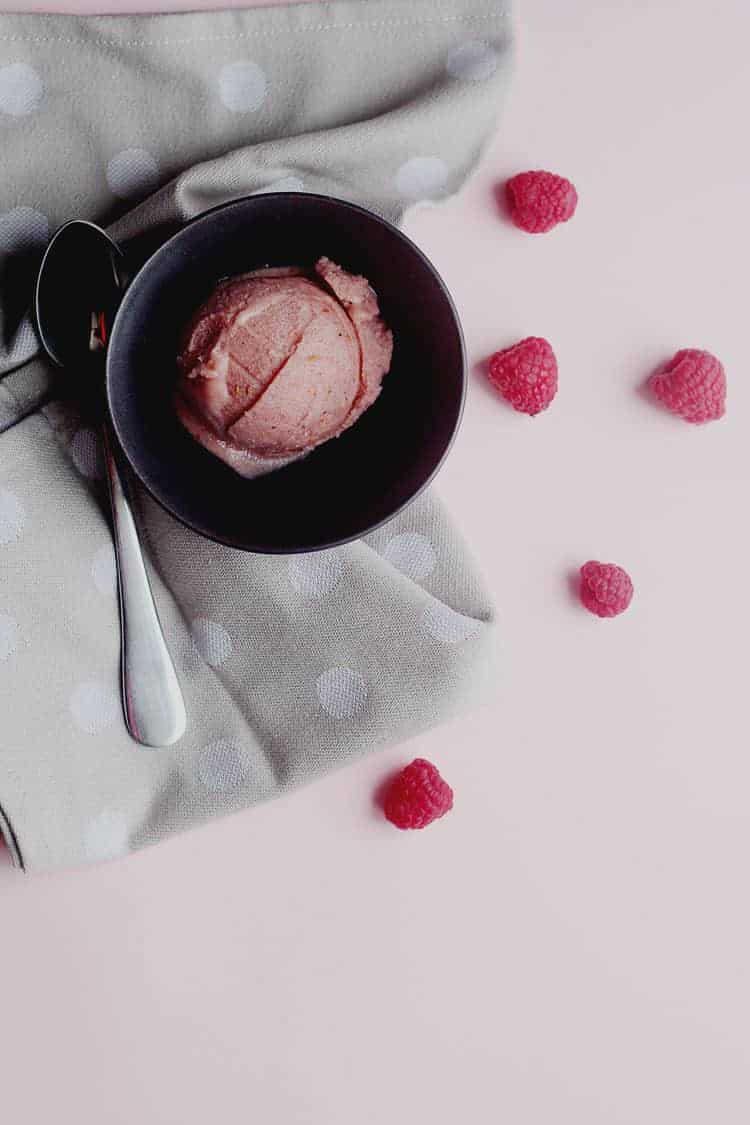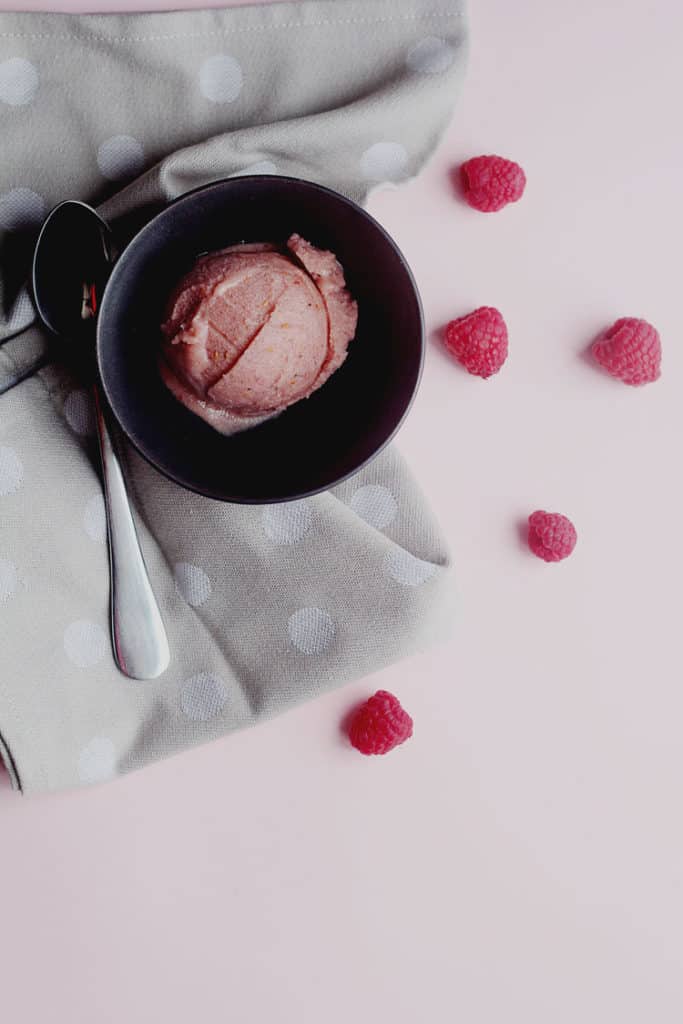 There is something to be said about light desserts when they're done right. Take the infamous banana "nice" cream for example. A while back, I came across a new fad where folks were transforming frozen bananas into a creamy, decadent ice cream substitute. The texture is quite similar to traditional ice cream, and because banana is naturally sweet, the flavor is already there.
Not gonna lie, I was skeptical at first but, once I gave it a try, I was hooked. I love the original version as is, but have tinkered with it for years coming up with variations to switch it up. This Raspberry Banana Ice Cream is one of my favorite variations!
With just a few additions like fresh raspberries, coconut milk, vanilla extract and a bit of sweetener (totally optional), this recipe can be thrown together so quickly that you can crave homemade ice cream and have a soft serve version within minutes. Let it freeze for a few hours, and you have parlor-like scoops ready to go!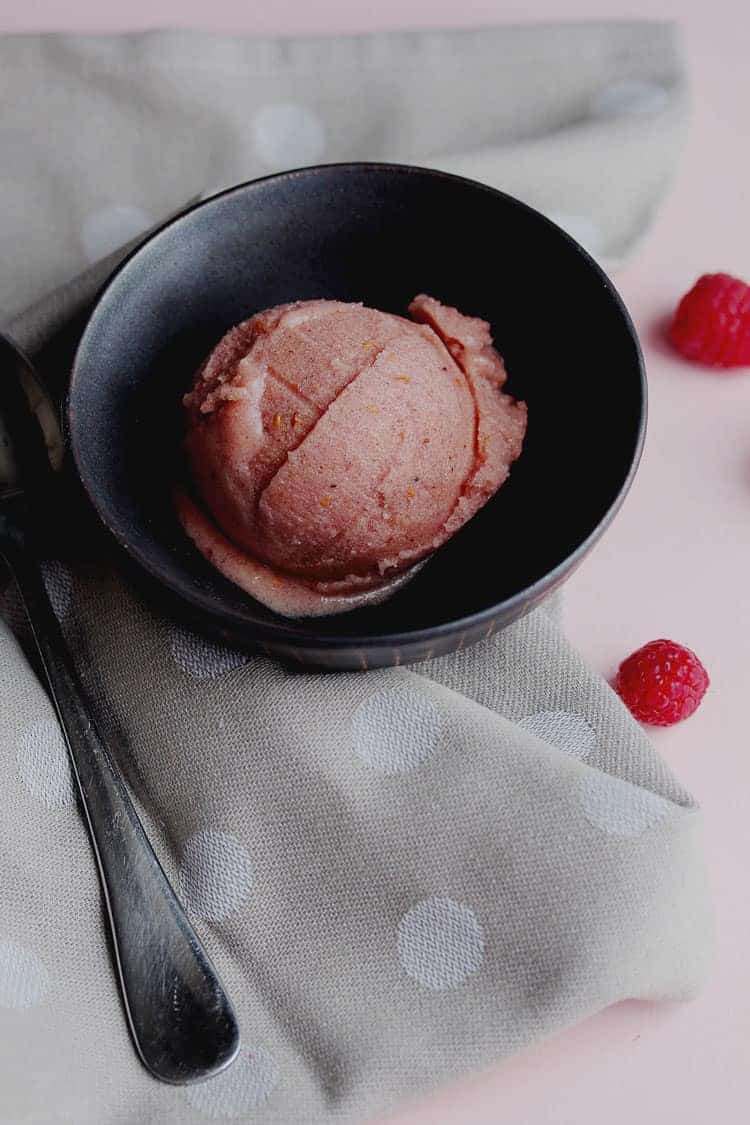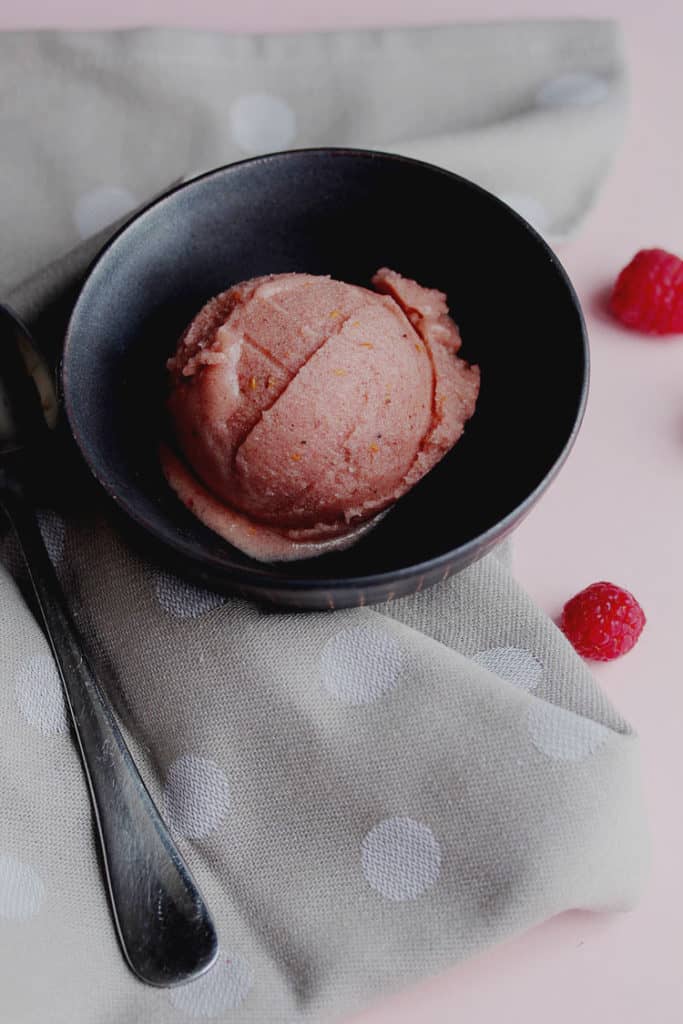 HOW TO MAKE BANANA NICE CREAM WITH RASPBERRIES
If you ask me, we all deserve to end our days with a little something sweet. Sometimes I stick to a chunk of dark chocolate, other times I go for a full slice of cake. It's all about balance y'all! No matter what I choose to have, I always make sure it's something straight-forward and easily accessible.
Bananas are something we always seem to have on hand, same for berries. This Raspberry Banana Ice Cream can be made in about 5 minutes, that means you get your dessert that much faster and it's guaranteed to be delicious, nutritious, and so much fun to eat!
Here's what you're gonna need:
BANANAS– Naturally rich in potassium, Vitamin B6, and Vitamin C, bananas are an incredible source of nutrients. Bananas contain natural sugar, and when frozen, then blended, they transform into a decadent, creamy treat. To ensure the best result, be sure to use fully frozen, slightly over-ripened bananas.
RASPBERRIES– These little bites of juicy heaven are full of natural fiber, Vitamin C, and antioxidants. I love raspberries; their tart, almost citrusy flavor adds a unique contrast to the sweet bananas.
COCONUT MILK– Full-fat coconut milk is creamy, rich, and freezes super well. Just a little bit helps to smooth out the bananas and create a more "ice-cream-like" texture.
VANILLA EXTRACT– I want to imitate the use of vanilla ice cream, so adding some vanilla extract helps to do that.
AGAVE NECTAR, HONEY, OR MAPLE SYRUP– If I'm trying to cut back on the sugar, I skip this one. But, most of the time I add a tablespoon or so, just to add a bit of floral sweetness.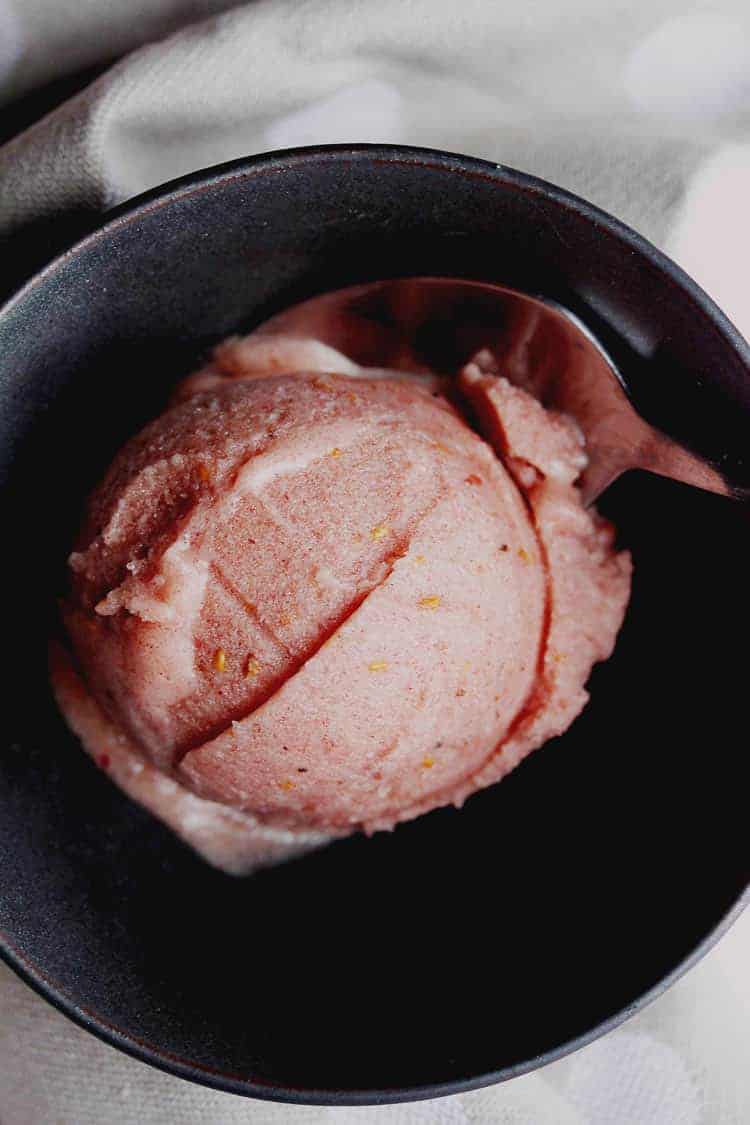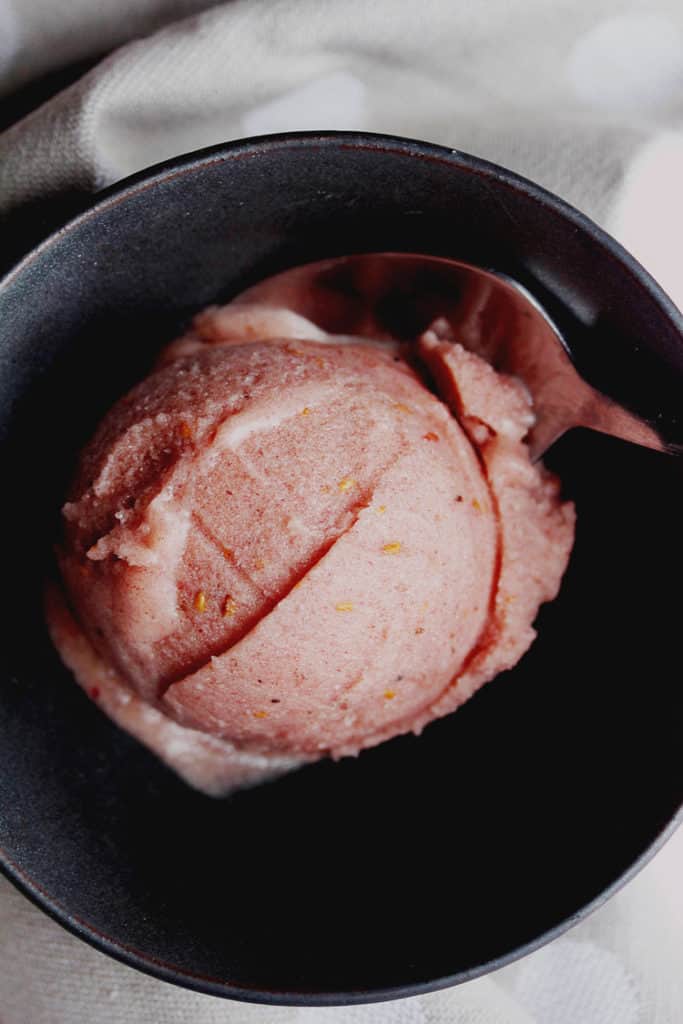 FLAVOR VARIATIONS
This recipe is completely customizable! Whether you're not a fan of raspberries, or you're in the mood for something a little different, ingredient changes are welcome. I love mixing things up by using strawberries, blueberries, or even blackberries. Swirl in some peanut or almond butter, add in some shredded coconut or even throw in some chocolate chips. How you choose to indulge (or not), is up to you!
HOW TO STORE LEFTOVER BANANA ICE CREAM
To store banana "nice" cream, cover it in plastic wrap (or transfer to an airtight container), and freeze. If stored properly, this recipe will keep in the freezer for up to 3 months. When ready to eat again, let it soften on the counter for 5-10 minutes before scooping.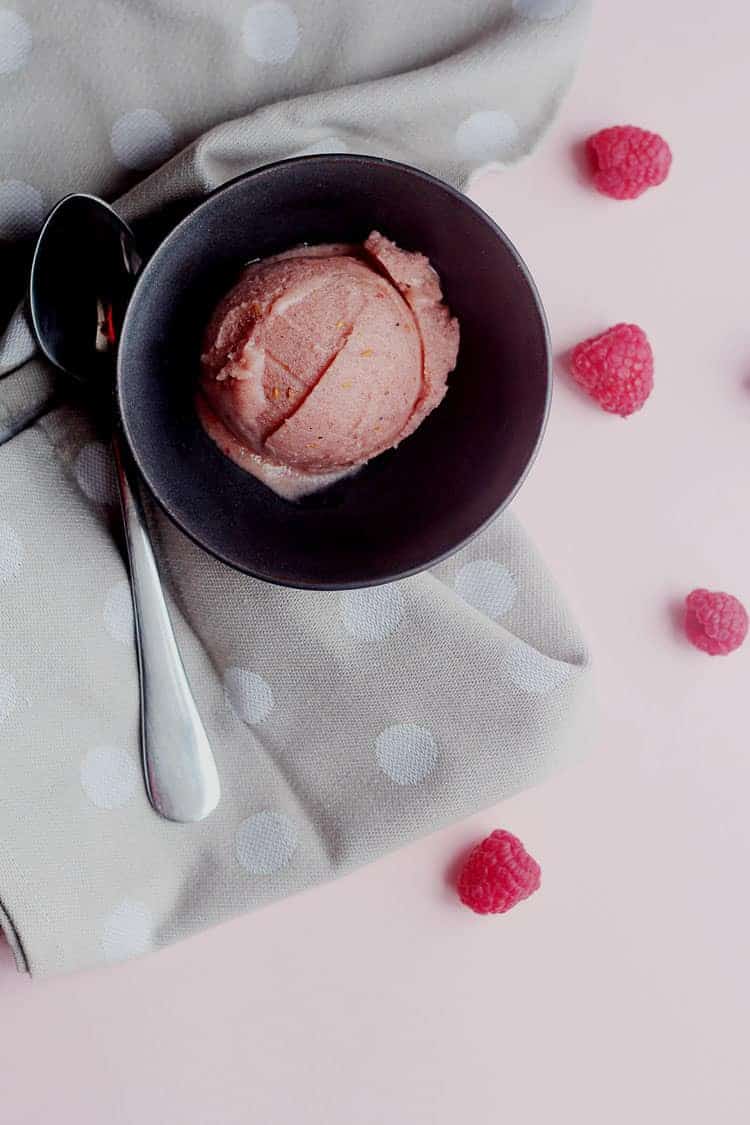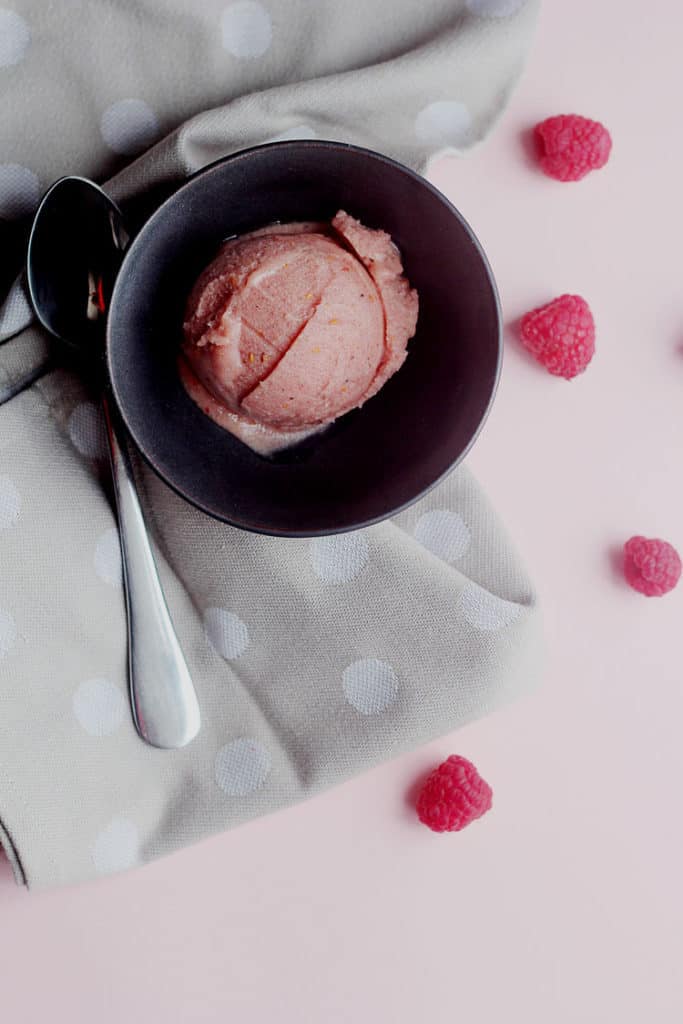 GRANDBABY CAKES' BEST LIGHT FROZEN FARE
One thing I truly love about this ice cream recipe is how indulgent it can feel without being a cheat! It's the equivalent of the "Have my Cake (or ice cream) and Eat it Too" adage.
After you've had just about every ounce of this, give a few of my other favorite frozen desserts a try!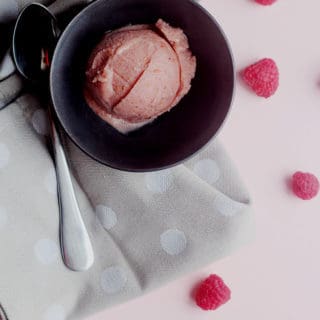 Raspberry Banana Ice Cream
Deliciously light raspberry banana ice cream made with just frozen bananas, raspberries and a couple more ingredients.
Print
Pin
Rate
Ingredients
2

medium

bananas

frozen and cut in 2 inch slices

1/2

cup

raspberries

2

tablespoons

coconut milk

1

tablespoon

pure vanilla extract

Optional: Agave Nectar, Honey or Maple Syrup to taste for additional sweetener
Instructions
Add all ingredients into a heavy duty blender or food processor and grind until smooth. Store ice cream in freezer safe container for 3 hours then serve.
Nutrition
Calories:
168
kcal
|
Carbohydrates:
31
g
|
Protein:
1
g
|
Fat:
3
g
|
Saturated Fat:
2
g
|
Sodium:
4
mg
|
Potassium:
500
mg
|
Fiber:
5
g
|
Sugar:
16
g
|
Vitamin A:
75
IU
|
Vitamin C:
18.2
mg
|
Calcium:
13
mg
|
Iron:
1
mg