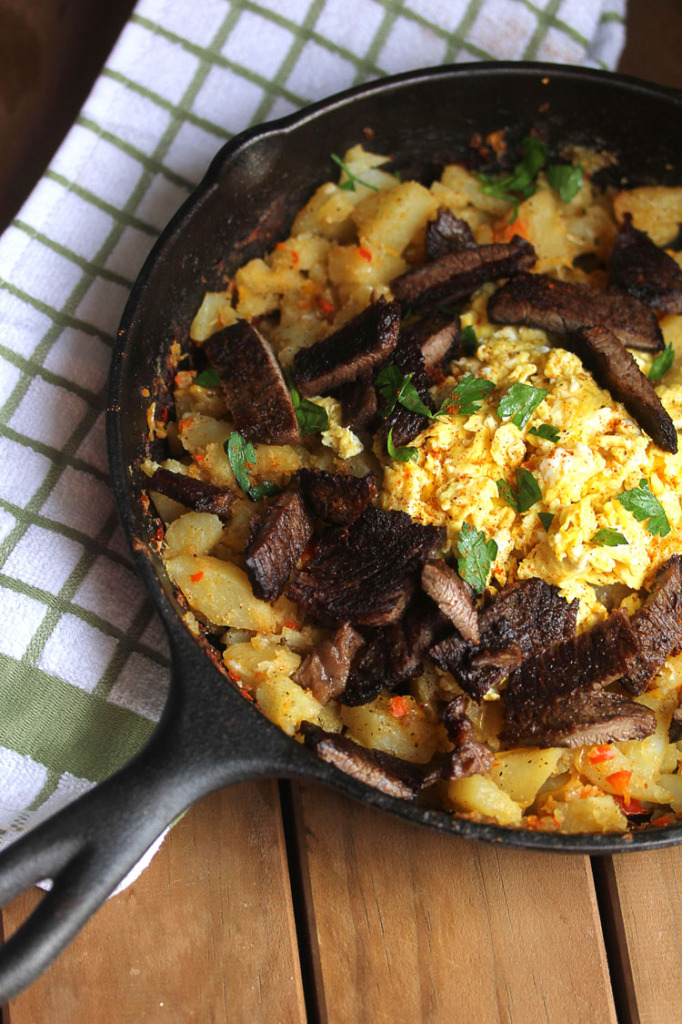 Steak Hash has landed everyone!! It is here because breakfast for dinner is my favorite thing ever! If you have ever read my blog, you know that I have quite the fixation on pancakes. I like to think that I never chose pancakes but that they chose me, and together we have created a beautiful friendship in this thing called life. Some think my addiction has been taken too far so I have been introducing myself to new and exciting breakfast favorites.
Who doesn't love scrambled eggs (especially Safest Choice scrambled eggs), or potatoes (carbs are the best!) ? And who doesn't love steak? There is nothing like a good steak, nothing. Put all of these lovely things together, and you have the most delicious Steak Hash ever which ends up being the perfect Breakfast or Breakfast for Dinner meal.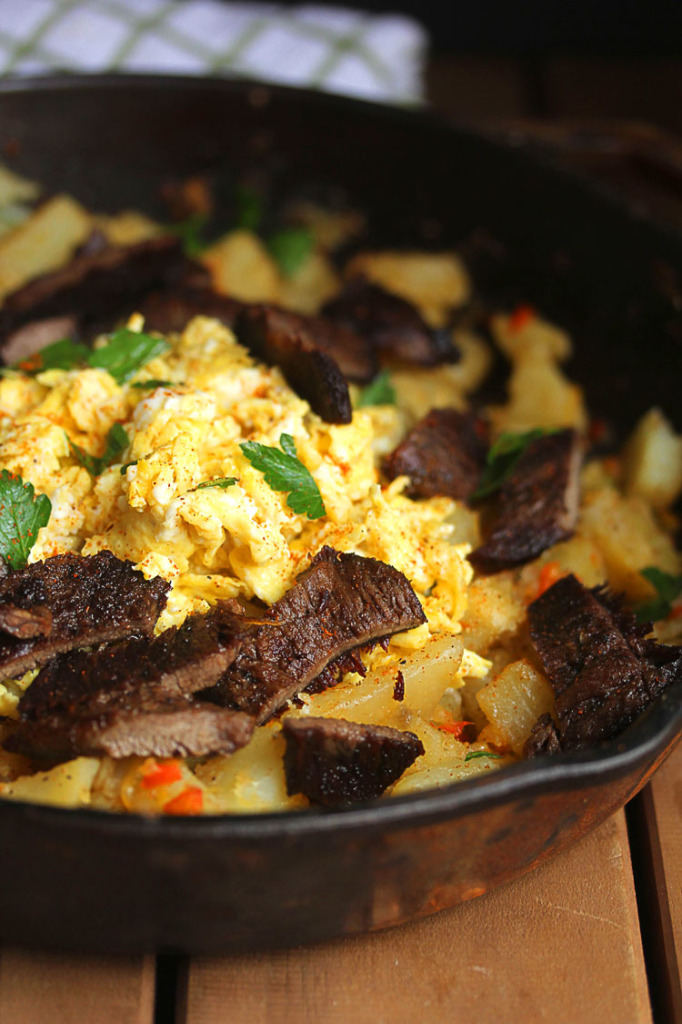 This recipe is super simple and homey. I like to think of breakfasts as easy to throw together, and this one falls in that category. I did use three skillets but this recipe can easily be done in just two. For the actual potato hash, I cut two potatoes into small cubes and added in some finely chopped sweet peppers and onion and salt and pepper, then cooked them in my cast iron skillet until crunchy and golden on the outside but soft on the inside. Then I sprinkled the potatoes with a handful of shredded cheddar cheese and allowed it to melt away.
While the potatoes were going, I sauteed seasoned thinly sliced steak and allowed it to get super tender, then I sliced them. The steak really should be very easy to chew and should melt in your mouth.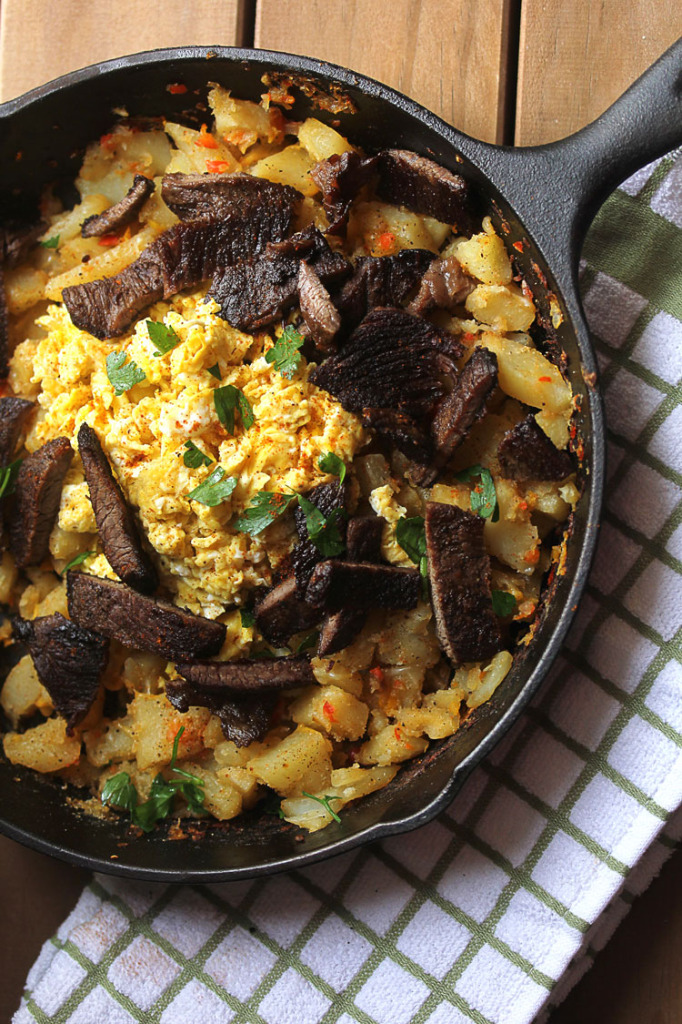 Lastly, I scrambled three Safest Choice eggs, placed them on the potato hash and topped with the steak slices and some fresh herbs. This was the perfect breakfast for dinner treat in my house. I will be making it for both meals for months to come.
Disclosure: This post is sponsored by Safest Choice Eggs but all opinions expressed here are my own.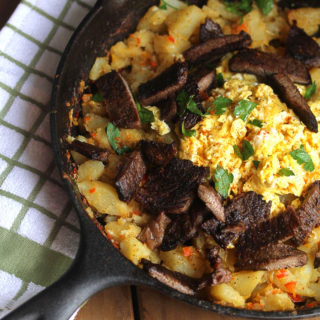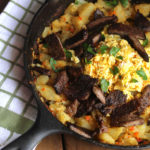 Steak Hash
Delicious breakfast skillet with steak and potatoes guaranteed to change your morning routine.
Keyword:
cast iron, classic recipes, easy recipes
Ingredients
For the Potato Hash:
1/2

medium

onion

4

small

sweet peppers

2

medium

potatoes

cut in small cubes

1

teaspoon

garlic powder

Salt and pepper to taste

1

cup

shredded cheddar cheese
For the Steak:
3/4

pound

thinly sliced steak

Salt and pepper to taste
Instructions
For the Potato Hash:
In a 9 or 10 inch skillet, add 2 tablespoons olive oil and heat over medium heat.

Add onion and sweet peppers to a food processor and grind until thinly chopped and mixed together.

Once skillet is heated, add onions and peppers, potatoes, garlic powder and salt and pepper to taste.

Continue to cook, stirring frequently until the potatoes brown on the outside. Once browned, cover with a lid and allow to cook the potatoes on the inside until tender.

Turn off heat and sprinkle with cheese and cover with lid to melt and keep potatoes warm.

In another pan, heat 2 teaspoons of olive oil over medium heat. Salt and pepper steak slices and cook in pan until cooked to the temperature you prefer. Drain steak on paper towels.

Lastly, either use steak pan or add 1 teaspoon of olive oil and 1 teaspoon of butter to a separate pan over medium heat and stir in whisked eggs and season with salt and pepper.

Scramble eggs then add eggs over completed potato hash then top with steak.

Sprinkle with herbs and serve.
Nutrition Facts
Steak Hash
Amount Per Serving
Calories 751
Calories from Fat 450
% Daily Value*
Total Fat 50g 77%
Cholesterol 442mg 147%
Sodium 553mg 23%
Potassium 985mg 28%
Total Carbohydrates 13g 4%
Protein 59g 118%
* Percent Daily Values are based on a 2000 calorie diet.