Sweet Potato Pie Tiramisu – a tasty tiramisu recipe combined with the classic flavors of Thanksgiving sweet potato pie. It's down home traditional and super sophisticated all at the same time! If you love this tiramisu, you will also love Sweet Potato Pie, Sweet Potato Chess Pie, and Sweet Potato Pecan Pie.
Thanksgiving is almost here and I simply cannot wait! Every year, I pull out all the stops when it comes to mouth watering desserts. I definitely try to keep some items on the holiday table a bit more traditional, like apple pies and pound cakes. But, I do love a good Southern inspired twist that inspires the oohs and ahhs. That's where this Sweet Potato Pie Tiramisu recipe comes in!
This year, I was inspired by my trip to Italy in more ways than one. When I visited my local market to begin shopping for ingredients, I found the most perfect mascarpone cheese which made me immediately think of tiramisu. With a menu item of sweet potato pie always on the dessert table, I knew blending the two would be perfect. And y'all, it certainly was!
This Sweet Potato Tiramisu recipe does not require a lot of time to create, making it ideal for Thanksgiving! Make this ahead and spend more time with the people you love.
WHAT IS TIRAMISU?
Tiramisu literally translates to, "pick me up" in Italian. One of Italy's most popular desserts, Tiramisu is a rich treat that blends the flavors of cocoa, coffee, cream, savory mascarpone, and delicate ladyfingers. Trust me, this stuff is addictive!
At most Italian dinner tables, a meal is often finished with fresh fruit. More intricate desserts are reserved for special occasions, which often means the recipes used are a bit more lavish than usual.
Tiramisu is elegant and gloriously delicious! The next time date night takes you to an Italian restaurant or you just so happen to be in Italy, go ahead and order a slice for dessert. You won't regret it!
SWEET POTATO TIRAMISU INGREDIENTS
MASCARPONE CHEESE-

The taste of mascarpone is similar to that of cream cheese, ricotta cheese, creme fraiche, or clotted cream, but with a little more sweetness and acidity. It lends itself super well to desserts, including this one right here!

GRANULATED + BROWN SUGAR-

both are used to integrate sweetness without being too overpowering. Remember that the sweet potato will add its own sugar! Cane sugar and dark brown sugar will also work.

SWEET POTATO (IN SYRUP)-

using a canned variety is a great way to save time without sacrificing flavor. But, if you'd like to go the extra mile, homemade mashed sweet potatoes will take this recipe to the next level!

GROUND CINNAMON + NUTMEG-

both add warmth and aroma. Feel free to experiment with adding cardamom, cloves, or even allspice.

VANILLA EXTRACT-

pure vanilla extract or vanilla bean paste (if you're feeling fancy) works best.

FRESH WHIPPED CREAM-

again, if you'd like to cut a quick corner, a tub of store bought whipped cream won't hurt. But I would strongly recommend making a quick homemade whipped cream for a fresher, lighter flavor.

COFFEE-

if you know me, you know I'm not a coffee drinker (I don't need the extra energy) but, in this recipe, it just works. If you're trying to avoid the extra caffeine, you can use decaf. Or, for a stronger flavor, try using Italian espresso.

LADY FINGERS-

ladyfingers are low density, dry, egg-based, sweet sponge cake biscuits roughly shaped like a large finger. The sponge texture quickly soaks up the coffee while still retaining its cake-like shape.

GINGER SNAPS-

these crisp cookies are packed with a sweet yet slightly bitter molasses flavor that compliments the sweet potato perfectly! The added crunch doesn't hurt either.
HOW TO MAKE HOMEMADE SWEET POTATO TIRAMISU
I think there's a misconception that Tiramisu is a super involved recipe when it's really not! The majority of active baking time is actually spent layering your ingredients, which is kind of therapeutic. You can totally throw on some earbuds and zone out while you overlay biscuits, cream, and coffee!
To kick things off, beat together the marscapone cheese, both sugars, sweet potato, spices, vanilla, and a portion of the whipped cream to create your filling. Once it's done, go ahead and indulge in a spoonful! It's smooth, sweet, warm, and tangy!
Next, bust out that springform pan and start building. First down is the ladyfingers soaked with a ½ cup of coffee. Smooth half of the sweet potato filling over the top of that, then repeat the previous step. It's seriously that easy.
Top the tiramisu off with the remaining whipped cream, crushed ginger snaps, and a heavy sprinkle of cinnamon! Cover the springform pan with plastic wrap and refrigerate for at least 4 hours.
Voila! Just like that you've got a Sweet Potato Tiramisu that's ready to knock the socks off even your most critical of aunties. And y'all can quote me on that!
STORING LEFTOVER TIRAMISU
Tiramisu should be kept cold no matter how it's stored. It tastes best that way and the ingredients should be kept cold so they don't spoil before eating. Store any leftovers by transferring them to an airtight container or by tightly wrapping the dish in plastic wrap. Refrigerated tiramisu will keep for up to 4 days.
If you're planning to make this recipe ahead of time, I'd recommend serving it within the first day or two.
CAN I FREEZE TIRAMISU?
Surprisingly enough, yes! Tiramisu can be frozen for several weeks and still maintain its trademark high-quality.
To do so, wrap the tiramisu carefully, but tightly, in a layer of plastic wrap. This can be done either in the dish you made it in or in individual portions. Then, wrap it for a second time in another layer of plastic wrap and one last layer of aluminum foil. This will contain all of the liquids and prevent freezer burn.
The trick is to wrap the tiramisu as tightly as possible to prevent any additional air pockets from forming. Once you've done that, tuck the tiramisu away in the freezer for up to 3 months.
When you're ready to dig back in, thaw the tiramisu in the refrigerator overnight and serve chilled.
GRANDBABY CAKES' BEST TIRAMISU RECIPES
Tiramisu is one of my all time favorite desserts! So much so that I've gone ahead and created not one but several different varieties of this creamy, decadent recipe.
Go ahead and check 'em all out: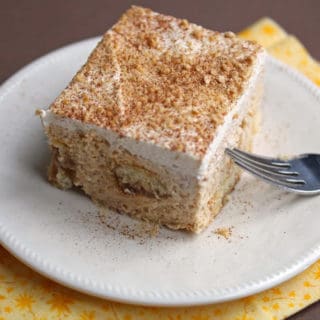 Sweet Potato Pie Tiramisu
Thanksgiving is almost here and I simply cannot wait! Every year, I pull out all the stops in dessert land. I definitely attempt to keep some items traditional like your standard apple pies and pound cakes as part of our holiday meals but I love a good Southern inspired twist that creates lots of ohhs and ahhs just the same. That's where this Sweet Potato Pie Tiramisu recipe comes in.
Print
Pin
Rate
Ingredients
8

ounces

mascarpone cheese, softened

1/2

cup

granulated sugar plus one tablespoon

separated

1/3

cup

brown sugar

packed

15

ounces

sweet potato in syrup, drained and mashed

or homemade if you have time which makes it taste even better!

1/2

teaspoon

ground cinnamon plus more for garnish

1/4

teaspoon

ground nutmeg

2

tablespoons

pure vanilla extract

separated

2 1/2

cups

fresh whipped cream

separated

1/4

cup

warm coffee

17.5

ounces

ladyfingers

6

gingersnaps

crumbled
Instructions
To Make Filling:
Add mascarpone cheese and 1/2 cup of granulated sugar and all brown sugar to stand mixer and beat until smooth.

Next add in mashed sweet potato, cinnamon, nutmeg and 1 tablespoon of the vanilla extract and beat until well incorporated.

Lastly, fold 1 1/2 cups whipped cream into the sweet potato mixture and set aside.
To Assemble the Tiramisu:
Add remaining teaspoon of vanilla extract to a bowl with coffee and stir together.

Arrange a full row of ladyfingers at the bottom of a 9 inch springform pan.

Pour 1/2 of warm coffee mixture over ladyfingers to soak them.

Next take half of the sweet potato mixture and smooth over the top of the ladyfingers.

Next create another layer by repeating all steps starting with adding another row of ladyfingers, pour coffee sauce on ladyfingers, and finally add the rest of the sweet potato mixture.

Lastly, take remaining 1 cup of whipped cream and whisk in remaining tablespoon of granulated sugar and spread over the top of the tiramisu.

Garnish the top of the tiramisu with crumbled gingersnaps over whipped topping and a little ground cinnamon.

Place the springform pan in the refrigerator for at least 4 hours before serving.
Nutrition
Calories:
282
kcal
|
Carbohydrates:
38
g
|
Protein:
5
g
|
Fat:
11
g
|
Saturated Fat:
6
g
|
Cholesterol:
89
mg
|
Sodium:
78
mg
|
Potassium:
192
mg
|
Fiber:
1
g
|
Sugar:
13
g
|
Vitamin A:
5545
IU
|
Vitamin C:
5.2
mg
|
Calcium:
60
mg
|
Iron:
1.5
mg