At the beginning of the year, everyone has committed to their healthy resolutions, and we inevitably become surrounded by smoothie and other healthy drink recipes. While I'm not a big health nut, I am big on smoothies. In fact, I have one every morning for breakfast. I have been doing this for over 8 years. From my standard spinach filled green smoothies to seasonal fruit smoothies with my favorite mango and berry combinations, I have done them all and I can do it with my eyes closed.
While I love smoothies, I haven't posted too many "recipes" on my site. I may post one here and there but overall I don't post them because I feel like smoothies are really one of those whatever you love goes type of things. There are no rules and that can sometimes frighten people. So this post is all about the whatever smoothie. It's about giving you the tools to just look in the fridge and see what you have available so you can build your smoothie on your likes and preferences.
Without further adieu, I would like to introduce The Whatever Smoothie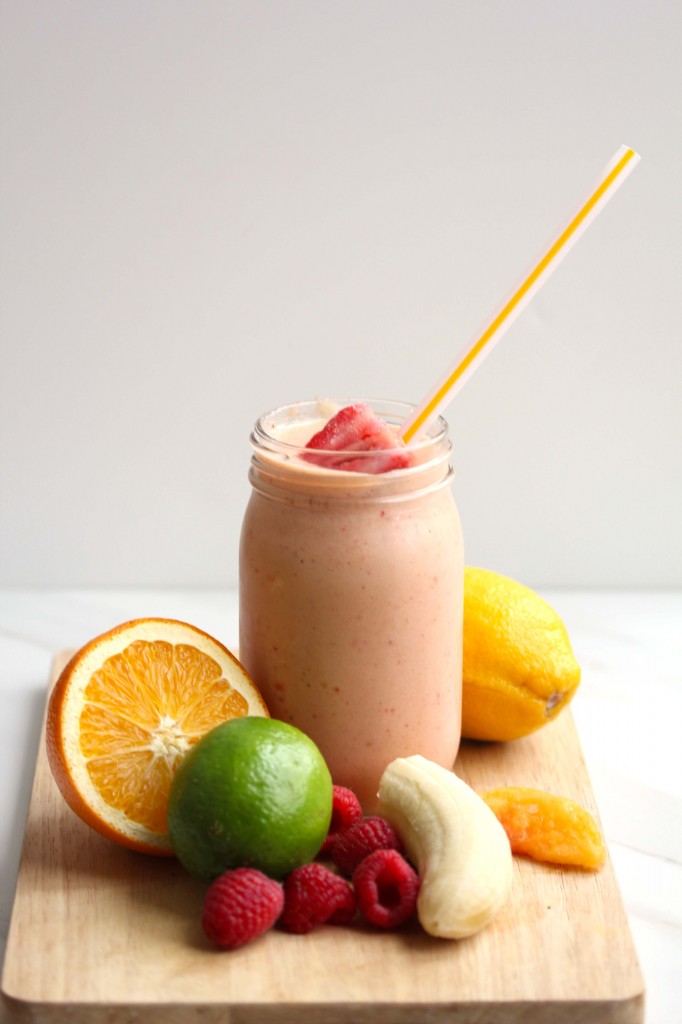 Basic Ingredients- Pull from each of these categories to build your smoothie
Fruit and veggie stars: I love using peaches, bananas, mango, pineapple, berries, pears, apples, spinach, kale and collard greens. I don't use citrus fruit as it doesn't usually do well in smoothies but I do use them as juices which brings me to…
Different stars: Peanut Butter, chocolate, avocado, other nut butters and so much more can give a totally
Liquids and Bases: I use mostly water believe it or not. I like to let the base ingredients shine. But if I am feeling a bit risky, I will add coconut milk, coconut water, real fruit juice or even greek yogurt to give it a nice base. I never add more than a cup because I don't want my smoothie to become too thin.
Flavors: I have added in vanilla extract, cinnamon, even nutmeg can give your smoothie a lovely dimension.
Add ins: From green powders (I love Garden of Life), flaxseed and ground ginger to oatmeal and protein and other vitamin powders, I have tried them all and you should too!
Sweeteners: Agave, honey, syrup, and stevia all work if you have a sweet touch and want to add in a bit more sweetness. I however have gotten used to absolutely not extra sweetener so I usually skip this.
Smoothie Tips
Freeze your ingredients. I either buy organic frozen fruit at Trader Joe's or Whole Foods or I just buy fruit and freeze it. If you don't, add some nice and subtract a bit of the liquid.
Keep it healthy. Avoid adding sugars, premade frozen yogurts, and other unhealthy ingredients that make a smoothie into something as calorie laden as a full fat milkshake.
Don't overblend. I can't stress this enough but I have certainly left my blender going a bit too long and my entire mixture has turned into juice.
Drink your smoothies right away. They taste better fresh and they also lose nutritional value the longer they sit around.
Have fun: Enjoy trying new flavors. Start with maybe two flavor combos and go up to three to see what works and what flavors blend well.
So try adding something from almost or every single category you have and have fun with it.
Here is a cool example: I could take apples from my top category, peanut butter from the next, milk from the next, a little ground cinnamon for flavor, a bit of protein powder for health and tiny bit of honey and I've got an awesome peanut butter apple smoothie on my hands!
So try out everything and have a blast. What is your favorite smoothie?