I'm Jocelyn Delk Adams. Welcome to Grandbaby Cakes, a brand inspired by my grandmother which shares classic recipes in a modern and accessible way. I hope to inspire a new generation of bakers and cooking enthusiasts to learn kitchen skills and not feel guilty about enjoying dessert. At an early age, I loved visiting Mississippi to watch my grandmother, or "big mama" Maggie as my family affectionately calls her, bake. Big mama bakes cakes that literally have her neighbors lined up around the block waiting for a taste. She not only invents (yes, she developed all of her own recipes) the most delicious melt-in-your-mouth desserts I've ever tasted, but she also infuses them with so much love.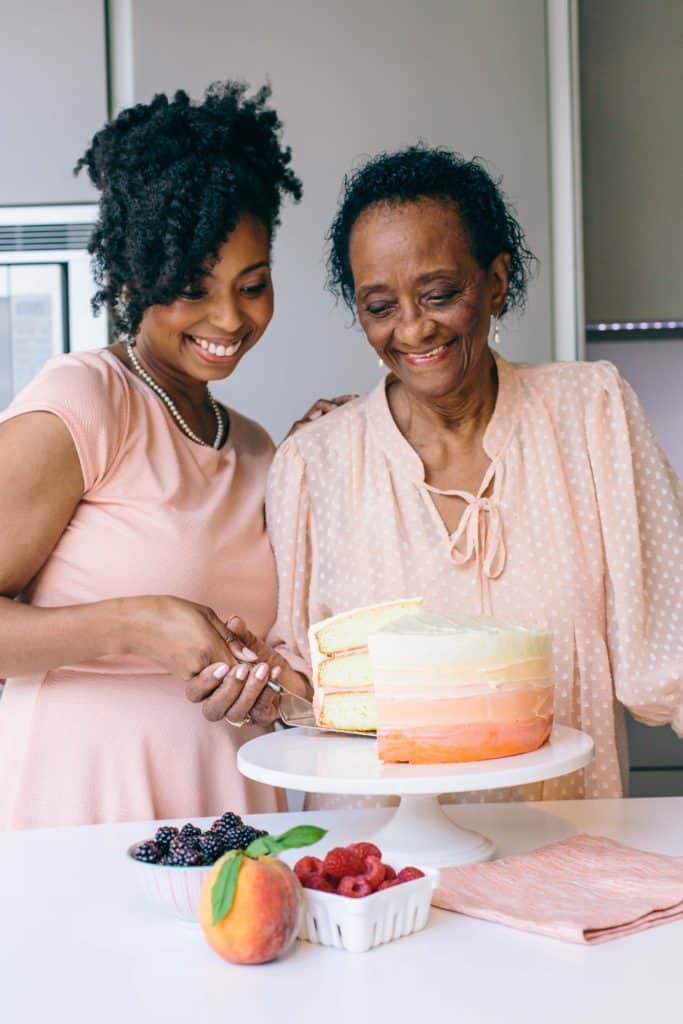 Jocelyn Delk Adams is the founder, author, national television personality and brand ambassador behind the award winning cookbook Grandbaby Cakes and the food website Grandbaby-Cakes.com, which gives her family's, particularly her grandmother's, cherished generational recipes her modern spin while preserving the most important ingredient- tradition. Jocelyn is a TODAY Show Tastemaker, a Food Network judge on the popular series "Santa's Baking Blizzard" and "Beat Bobby Flay", and cast member of such shows as "Food Fantasies on OWN Network and the Cooking Channel's longest running most popular shows, "Unique Sweets". In addition to being a regular on the TODAY Show and Good Morning America, she is regularly featured on The Rachael Ray Show, Food Network's "The Kitchen", Dr. Oz, The Cooking Channel, People Magazine, ABC World News Now, Hallmark Channel, Better Homes and Gardens Magazine, O (The Oprah) Magazine, The Thanksgiving Day Parade on CBS, Essence Magazine, Huffington Post, Bon Appetit, Southern Living Magazine, and many others.
She also recently gave a TED Talk in 2017 about Brand Authenticity and has been a top brand ambassador and writer for several top brands such as Coca-Cola, Land O' Lakes, Audi, Dole, James Beard Foundation, Pillsbury, State Farm, HomeGoods, McCormick and many more.
Jocelyn's first cookbook Grandbaby Cakes was released in September 2015 and was featured as a top fall cookbook by People Magazine, Vanity Fair, Yahoo! and Epicurious. It also won the Gourmand World Award 2016 for Best Blogger Cookbook USA and was nominated for an NAACP Image Award 2016- Outstanding Literary Instructional Work. Jocelyn was also a contributor to 2017 Eater's Cookbook of the Year Feed the Resistance. Jocelyn hopes Grandbaby Cakes will continue to deliver inspired recipes shaped by the past but reinvented for the present which will encourage new generations of dessert enthusiasts to learn how to bake and create new family memories for years to come.
Press
National and Local Television Appearances
TODAY Show
March 7, 2017 – National Cereal Day Recipes Appearance

January 31, 2017- Super Bowl Appearance- Sweet and Salty Treats
November 2016- All Star Chef Thanksgiving Appearance – Thanksgiving Tips
November 4, 2016- All Star Chef Thanksgiving Appearance- Cornbread Appearance
September 16, 2016- One Bowl Desserts Appearance
August 3, 2016- Summer Blueberry Treats Appearance
May 21, 2016- Cookies and Cream Gooey Cake from Grandbaby Cakes Cookbook
March 2, 2016- Cinnamon Roll Pound Cake from Grandbaby Cakes Cookbook
The Rachael Ray Show
Dec 2015 – Christmas baking episode

September 2016 – Episode co-starring Katie Lee and Marc Murphy
The Kitchen – Food Network – September 2016
Unique Sweets – Cooking Channel
Hallmark Channel- Home and Family – December 2015
CBS Thanksgiving Day Parade – Pillsbury – November 2015
ABC World News Now – November 2015
Several local appearances on:
Fox News Chicago

WGN Chicago

CBS Chicago

WCIU Chicago

Morning Blend Milwaukee
Awards and Nominations
Gourmand World Cookbook Award- Best Blogger Cookbook 2016

NAACP Image Award Nomination- Outstanding Literary Instructional 2016
The Kitchn Homies – Best Recipe Blog Nominee 2013
Black Weblog Awards 2013 Best Food Blog Nominee
Yahoo! Shine Club Best Holiday Recipes Winner Article – 2012
National and Local Print Magazines Press
Relish Magazine – January 2017

Taste of the South Magazine- Dec 2016
Southern Lady Magazine – September 2016
Southern Living Magazine – March 2016
O (The Oprah) Magazine – February 2016
FW Magazine (Top 20 women in food in Chicago) February 2016
Southern Lady Magazine – January 2016
Essence Magazine – December 2015
Chicago Magazine – December 2015
Chicago Social Magazine- December 2015
Southern Weddings Magazine- Fall 2015
Mississippi Magazine Sept/Oct 2015
Celebrate Magazine – Sept/Oct 2015
Taste of the South Magazine – Sept/Oct 2015
Michigan Avenue Magazine – Sept 2015
Better Homes and Gardens Feature – December 2014
Better Homes and Gardens – Bloggers We Love- August 2014
Ebony Magazine- August 2014
Chicago Social Magazine – June 2014
Newspaper Press
Chicago Tribune

Chicago Sun-Times
Splash Magazine
Milwaukee Journal Sentinel
Online Press
Bon Appetit Featured Essay

–

How My Grandmother Taught Me The Rules of Baking and Life 2016

People Magazine – Top Fall Cookbooks 2015
Country Living Magazine
Yahoo! Cookbook of the Week
Design Sponge
Vanity Fair – Top Fall Cookbooks 2015
Essence Magazine
Ebony Magazine
NBC
The Everygirl
Buzzfeed
Today Food
Parade
MSN
Jet Magazine
Groupon
The Everygirl
New York Times Online
GB Facts!