This classic southern Fried Catfish recipe is dredged in a perfectly seasoned and spiced cornmeal breading and fried until tender on the inside and crispy golden brown on the outside!! Serve up this delicious fish fry with my Fried Shrimp and serve with a side of lemon wedges, remoulade or tartar sauce and coleslaw for good measure! If you love this catfish, try this tutorial on How To Fry Fish and these recipes for Oven Fried Catfish and Fish and Chips!!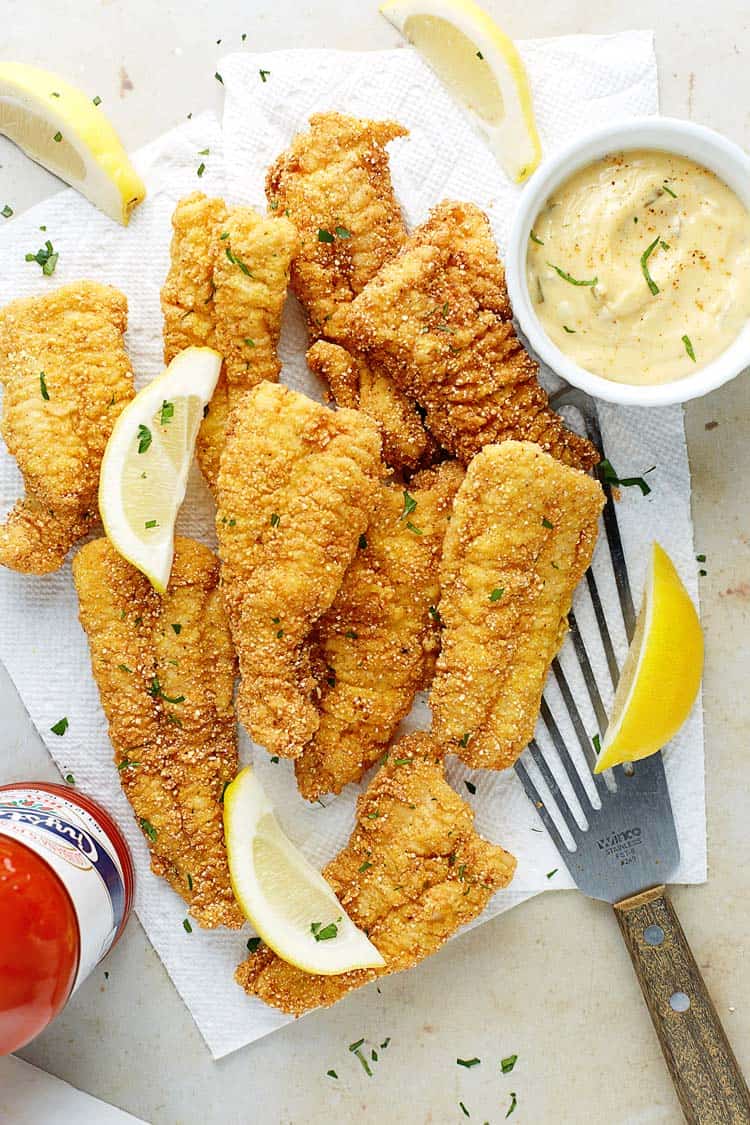 Learn To Make the Perfect Southern Fried Catfish Recipe
Since the beginning of the New Year, I've been going through quite the "fish phase". Almost everyday I find myself craving tender, moist and flaky fillets of just about any seafood I can lay my hands on. I mean, what's there to not like? It can be baked, sauteed, grilled and best of all, fried.
A Southern girl knows her fried fish: shrimp, snapper and catfish alike. I grew up attending church sponsored fish frys and watching my grandmother and family members dredge fillets in spicy-seasoned cornmeal. The fish was always served hot and crisp with just enough oil to coat your fingertips. Just how I like it.
Today's recipe is the ultimate Southern Fried Catfish: a quintessential Southern recipe passed down from my Big Mama. Get ready for spicy, crunchy, salty fish that is begging to be served for dinner tonight!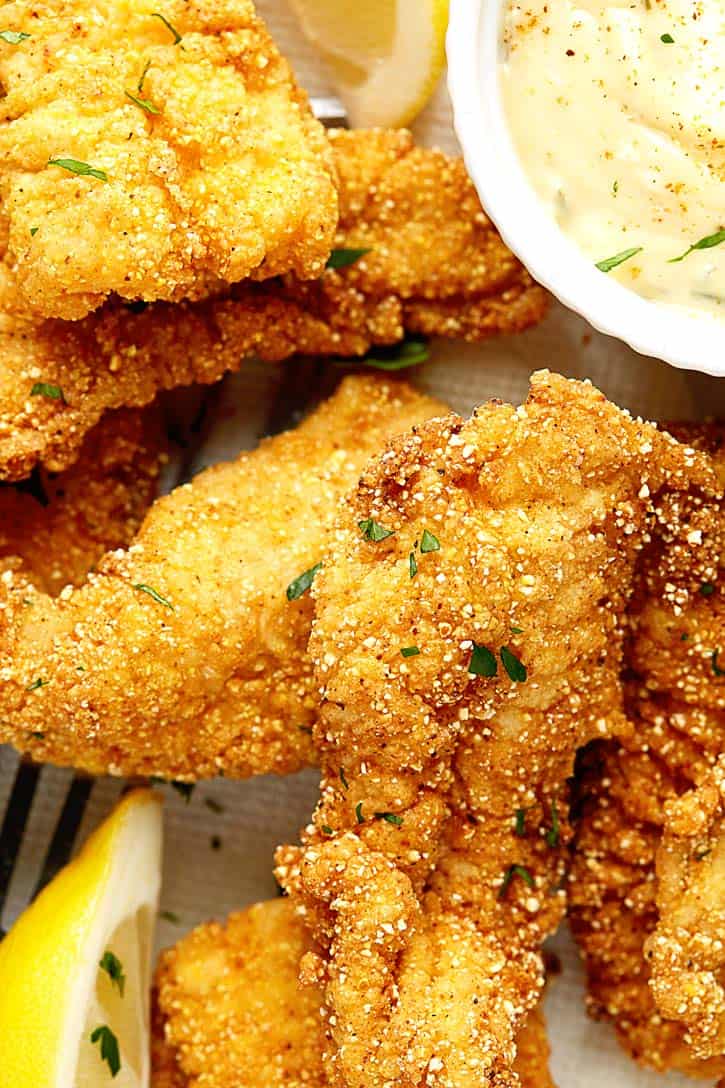 What Is FRIED CATFISH?
Fried Catfish brings up daydreams of finger-licking, crispy-crunchy fried delight. My mouth waters at the thought of that initial first bite: the flavorful crust that gives way to tender, flaky fish. There's nothing like deep-fried seafood spritzed with fresh lemon and served with buckets tartar sauce.
In the South, Catfish is a popular source of protein that's low in both fat and calories. Farmed catfish is also a sustainable, clean source of Omega-3 fatty acids. Although frying your fish isn't the healthiest option, you still get the majority of its health benefits (and a delicious meal).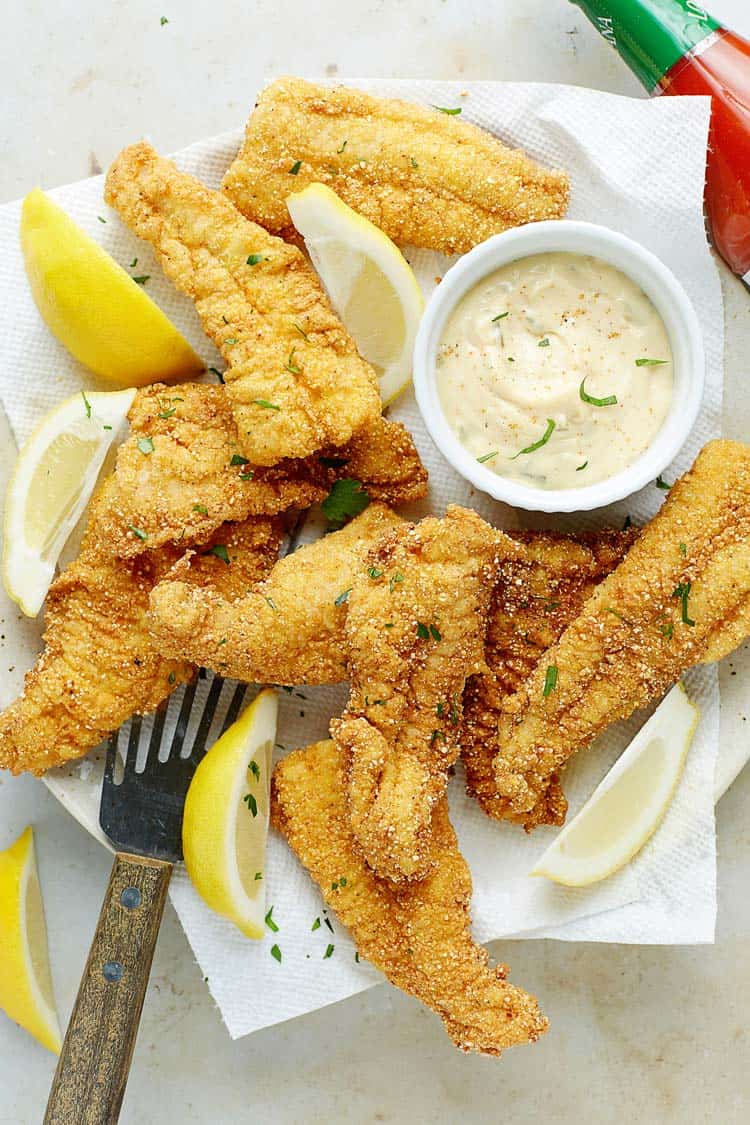 HOW TO FRY CATFISH
This may be a shock to you, but fried catfish is not very hard to make. It's truly as simple as buying fresh fish, making a well-seasoned crust and brushing up on a few frying skills. From start to finish, this recipe takes no longer than an hour to whip up.
Here's how you get it done:
Use Fresh Fish
Avoid any fish that has a fishy odor; a fresh fish should smell like clean water. Trust me, the odor is an indication of old, ill-tasting fish. I personally prefer fillets but you can use anything for this recipe from whole catfish to catfish steaks. It comes down to a preference.
Heat Your Oil to the Correct Temp
If you haven't invested in one yet, now is the time to buy a deep-frying thermometer. Heating the oil to the correct temperature ensures that the batter will create a barrier between the oil and the fish. If the temp is too low, the fish will soak up oil. If the temp is too hot, the exterior will burn before the fish cooks.
Don't Overcrowd the Oil
Be patient. Only place 2-3 pieces of fish in the oil at a time. Overcrowding your fryer will lower the oil's temperature and make for soggy fish. P.S. You can deep fry or pan fry this in a cast iron skillet.
Set Up a Wire Rack
I'm sure you're used to the classic plate piled high with paper towels used to soak up grease. Though this may be a tried and true method, I've got a better one. Place a metal cooling rack on top of a sheet pan and place it on the side of your fryer. Once out of the fryer, plop the fish right on there and prepare for the crispiest fish you've ever had.
WHAT DO I SERVE WITH CATFISH?
I'm a huge fan of a good 'ole fashioned fish fry. There's something so wonderfully classic about a few fillets of fried fish served with french fries, fried pickles, fried onion rings, coleslaw or thick-cut, vinegary potato chips and ice cold sweet tea.
Tip: Do it Chicago style and serve with Spaghetti! Fried fish and spaghetti are a delicacy where I come from!
Want to create a little balance? Serve up a fresh salad or a vegetable heavy succotash.
CAN YOU STORE AND REHEAT CATFISH?
Fried catfish will keep in the refrigerator for about 2 days. If you would like to store your fish for longer, you can freeze the leftovers for up to a month. Just be sure to put the fish in an air-tight container or ziploc bag.
To reheat, allow the catfish to come to room temperature while you preheat the oven to 350 degrees. Place the catfish on a baking sheet and bake for 10-15 minutes (or until heated through). The oven is the best way to keep that crispy exterior.
GRANDBABY CAKES BEST SEAFOOD
Why stop the party here? Keep it going with a few of the BEST seafood recipes ever! Enjoy.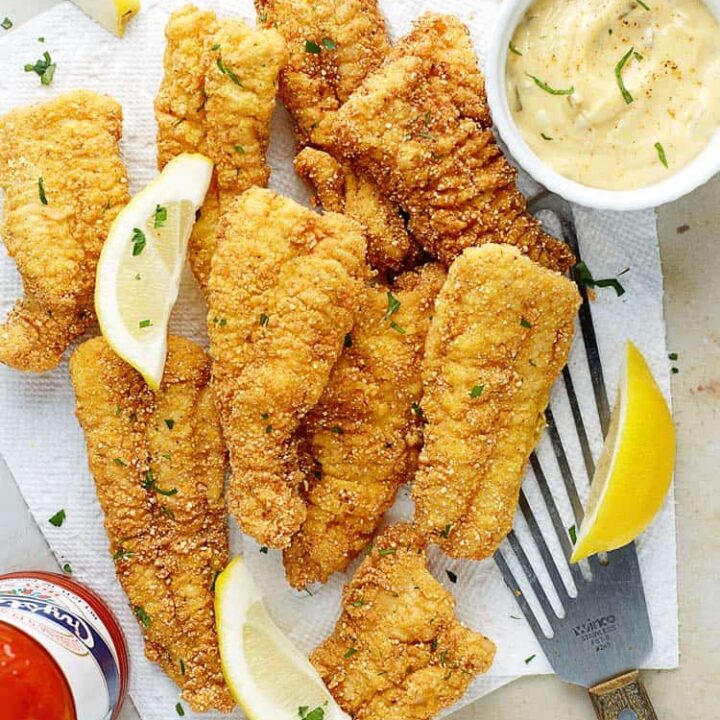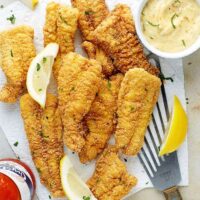 Fried Catfish Recipe
This classic southern fried catfish recipe is dredged in a perfectly seasoned and spiced cornmeal breading and fried until golden brown and tender.
Print
Pin
Rate
Ingredients
2/3

cup

yellow cornmeal

1/4

cup

all purpose flour

1 1/2

tsp

seasoned salt

up to 2 teaspoons/ taste the seasoned cornmeal and adjust

1/2

tsp

black pepper

1/2

tsp

cayenne pepper

1/2

tsp

lemon pepper

1/4

tsp

paprika

2

large eggs

2

tsp

hot sauce

1

lb

catfish fillets

lemon wedges, tartar sauce and hot sauce for serving
Instructions
In a brown bag or ziploc bag, add cornmeal, flour, salt, pepper, cayenne, lemon pepper, and paprika and shake together.

In a deep pie plate or large shallow bowl, whisk together eggs and hot sauce.

Add each filet into beaten eggs on both sides then add to the cornmeal breading and shake liberally to coat well. Place the fillet on the coated baking sheet. Repeat with each fillet.

Let fish set for about 10-15 minutes in the refrigerator then remove.

In a large dutch oven, pot or deep fryer, pour in about 4 inches of oil and heat over medium high heat until the temperature reaches approximately 340 degrees.

Working in batches, fry fillets until golden brown then remove and drain on racks or paper towels.

Cool for 5-10 minutes then serve with lemon and chopped parsley.
Nutrition
Calories:
136
kcal
|
Carbohydrates:
13
g
|
Protein:
12
g
|
Fat:
4
g
|
Saturated Fat:
1
g
|
Cholesterol:
74
mg
|
Sodium:
508
mg
|
Potassium:
261
mg
|
Fiber:
1
g
|
Sugar:
1
g
|
Vitamin A:
170
IU
|
Vitamin C:
1
mg
|
Calcium:
14
mg
|
Iron:
1
mg