Flames meet stone fruit in this simple, unique recipe for Grilled Peaches drizzled with spiked caramel sauce.
Disclosure: I partnered with Barefoot Wine for this recipe post, but all opinions expressed here are my own. I am grateful for authentic partnerships like this.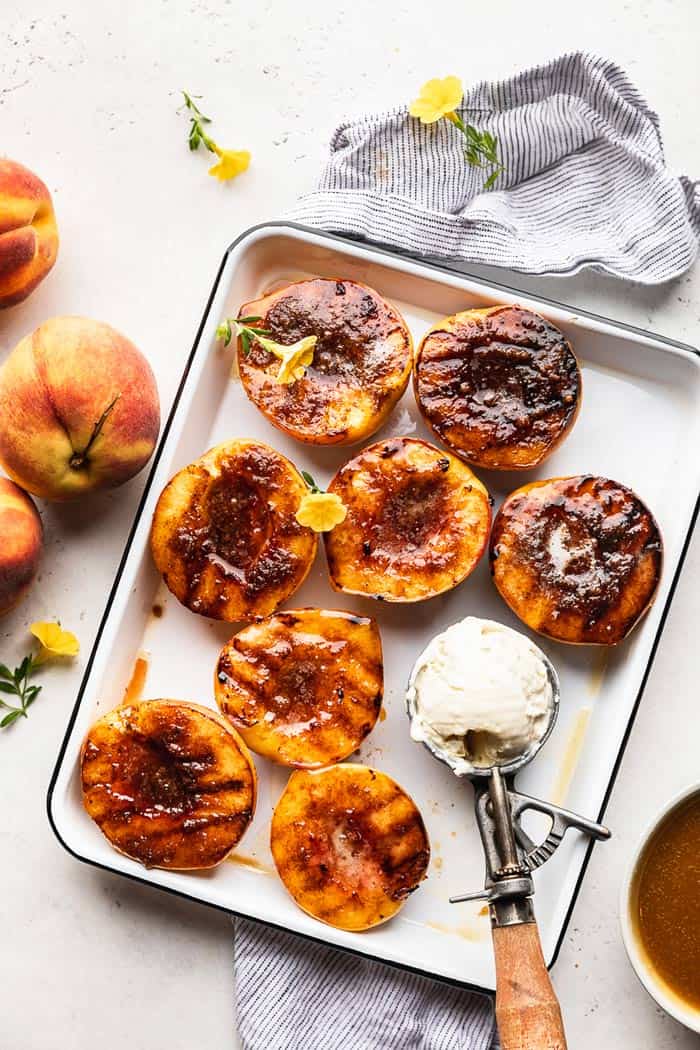 It's hot, humid and gloriously sunny here in Dallas! If you can't tell, I am obsessed with Summer. Moisture on my skin, sunshine on my face and cool breezes bring me such joy. With each day I find myself expressing gratitude for these brilliant Summer days spent with family. Such a blessing.
Because of my deep love, I don't let a day go by without celebration. Whether it's an icey margarita or a rack of grilled BBQ ribs, I always find a way to make the most of what this season has to offer.
Peaches are my absolute favorite Summer treat! Perfumed, sweet and juicy, peaches make for countless delectable recipes. Today's recipe is one I'm pretty proud of: Grilled Peaches with Boozy Caramel Sauce! It's sinful, indulgent and invigorating in all the best ways.
Heat up the grill, it's time to get this party started!
How to Make Wine Infused Caramel Sauce
If you've never had a wine (or liquor) infused caramel, it might strike you as being a bit strange. But, I promise you that Barefoot Peach Fruitscato and Caramel go together like two birds of a feather.
Barefoot's Peach Fruitscato is one of my absolute favorite Summer sips! Bursting with all the flavors of perfectly-ripe peaches, Peach Fruitscato is the sweetest way to treat yourself. Each sip ends with a delightfully bright, crisp finish. I love pairing a chilled glass of this wine with cheese plates, hearty BBQ dinners and just about everything else in between!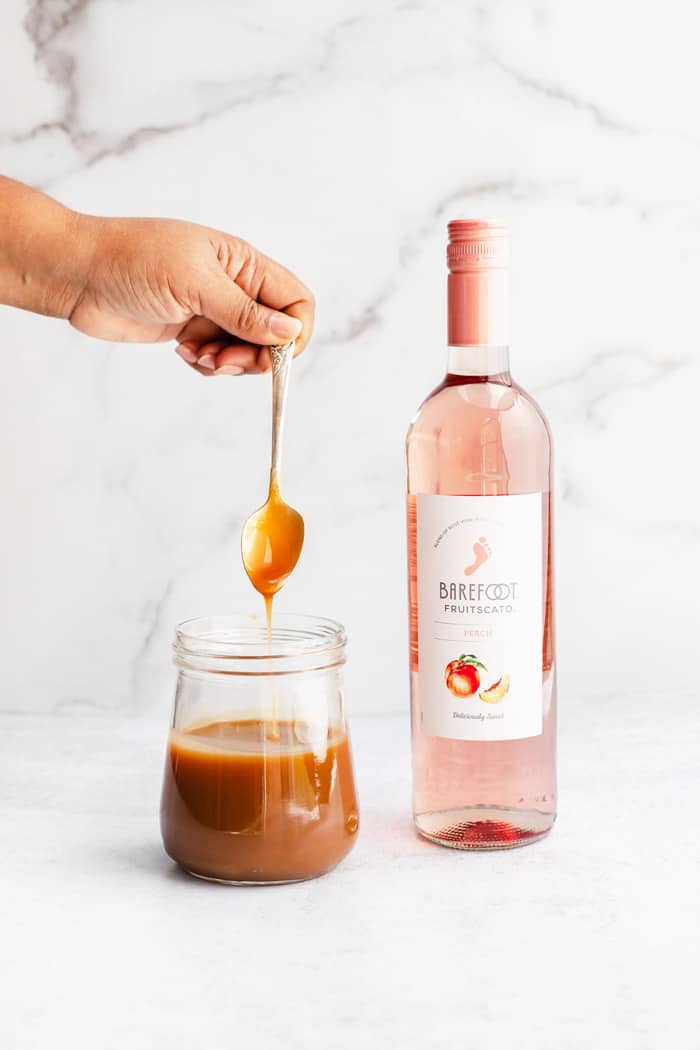 Ingredients
Here's what else you'll need:
Unsalted Butter- caramel should be thick, smooth and buttery. Starting with butter creates a stable base for the succeeding flavors to develop while creating a buttery mouthfeel.
Light Brown Sugar- when slowly cooked, brown sugar melts and caramelizes, creating a deep, molasses-like flavor.
Heavy Cream- cream thins out the mixture without sacrificing any of the rich texture.
Barefoot Peach Fruitscato- the added sweetness compliments the brown sugar and layers in a fragrant, fruitiness. The peach flavor works with the fresh peaches to create an unbelievably enchanting Summer-ey zing.
Vanilla Extract- vanilla is earthy and floral, just like peaches. Together they heighten each other's flavors.
Pinch of Salt- salt creates balance. I suggest using sea salt; add more or less to fit your preference.
TIP: Don't move! Caramel is something that needs to be carefully watched and constantly whisked. Whisking will ensure a smooth, creamy texture while watching will prevent burning.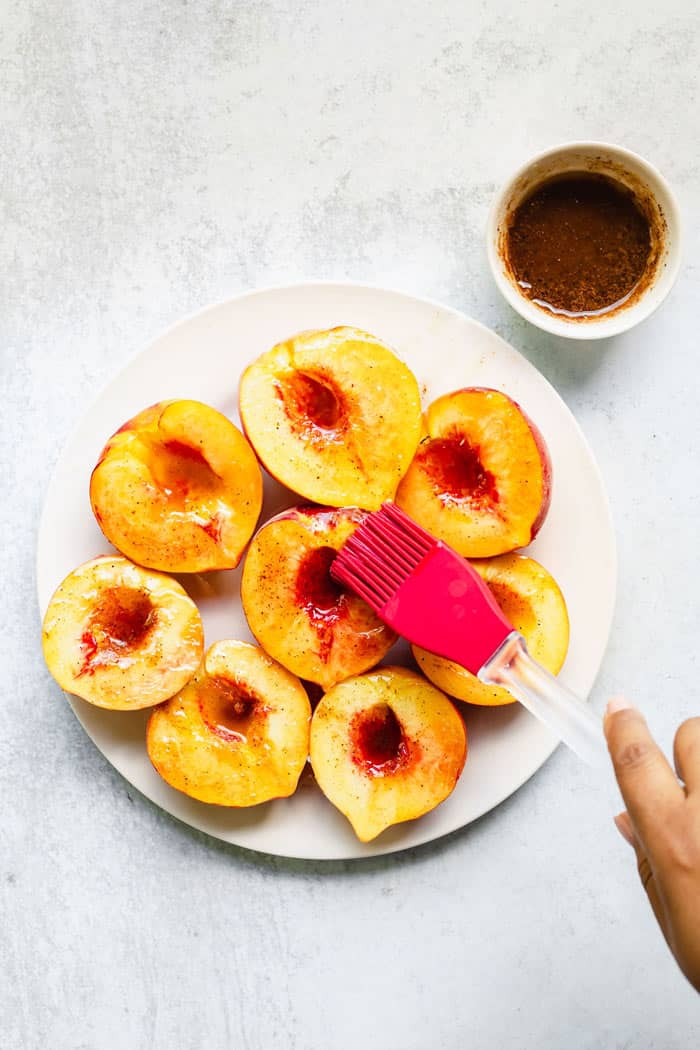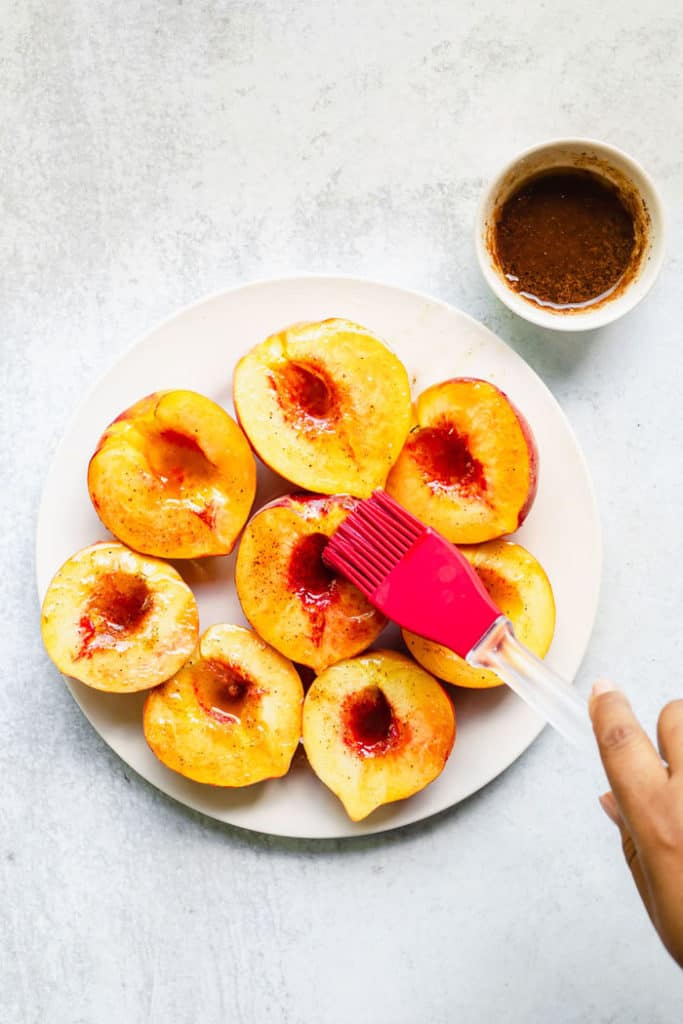 Picking the Perfect Peach
There are few things more satisfying than biting into a perfectly ripe, refreshing, fragrant peach. From the fuzzy skin to the sticky juice that drips down your chin, it's a gratifying experience from start to finish.
When buying fresh peaches, look for vibrant tones and colors on the skin: orange, pink and red. Avoid peaches with patches of green coloration. Take a whiff! A ripe piece of stone fruit will give off a sweet, floral aroma. Finally, be sure to give them a squeeze; they should have a slight give to them.
There you have it, a perfect peach!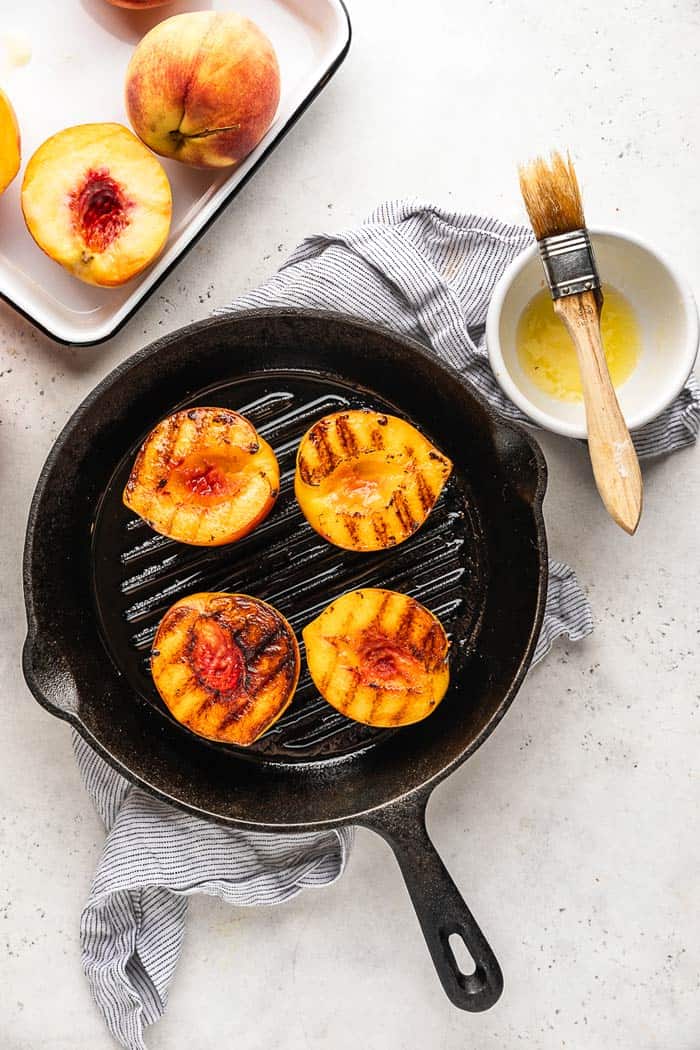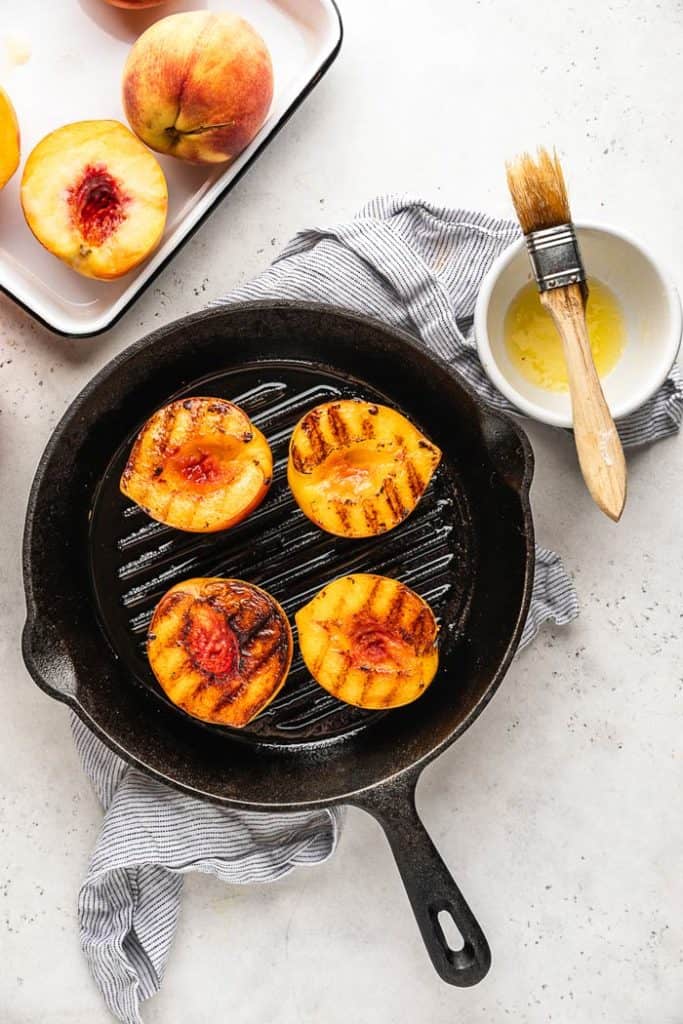 How to Make Grilled Peaches
Grills are magical; they have the ability to transform juicy peaches into a dazzling dessert or side dish. When dinner is nearly done and the sweet tooth is starting to tingle, I find myself slicing farmer's market peaches and tossing them on the grill. The slight char and warm juice make for something quite special.
Use the ingredients below:
Brown Sugar– spicing up our peaches creates depth of flavor and almost caramelizes their natural juices. Brown sugar melts into the fruit and accentuates the caramel.
Cinnamon– woodsy spice welcomes in a gorgeous warmth.
Nutmeg- a little extra kick!
Peaches– I'd suggest using freestone peaches which tend to be a bit firmer and less juicy than others. They prevent extra juice from leaking out and burning on the grill.
Unsalted Butter– we don't want the peaches to dry out and burn, so we coat them in butter to add moisture.
TIP 1: Grilled Peaches are super versatile! Serve them in salads or as a stunning side dish with other grilled fare. Have leftovers? Use them to top oatmeal or yogurt parfaits for breakfast.
TIP 2: You can also make these WITHOUT a grill using a grill pan over your stovetop to get those gorgeous grill marks.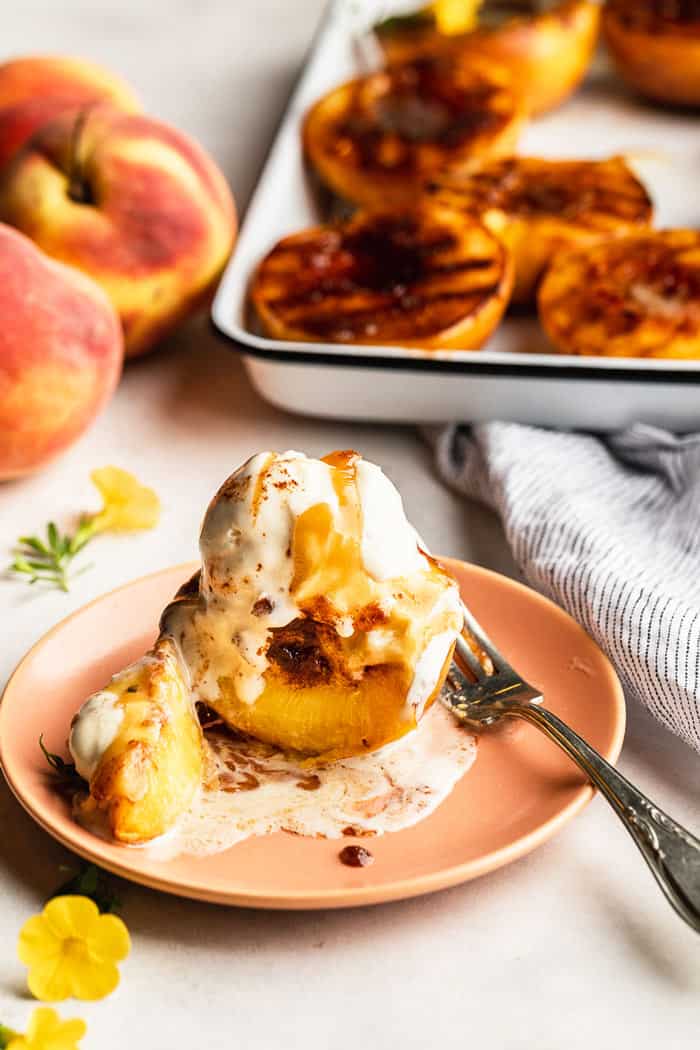 Assembly
Alright y'all, here comes the best part: putting it all together! This part of the recipe is where I invite you to let loose. Enjoy the process of placing the peaches, dolloping the ice cream and swirling on caramel with personal flare. Treat it like a piece of art, a personal masterpiece!
TIP: If you're looking to change the recipe to fit your preferences, try using fresh whipped cream or pineapples instead of peaches. Add a crumble or sprinkle on fresh herbs. Don't be afraid to make it yours.
Peach Recipes
Best season of the year? Peach season! Starting in the beginning of May and continuing through late September, peaches are at their absolute best. Take advantage of these sweet, aromatic pieces of stone fruit by whipping up a few of my most delightful peach recipes!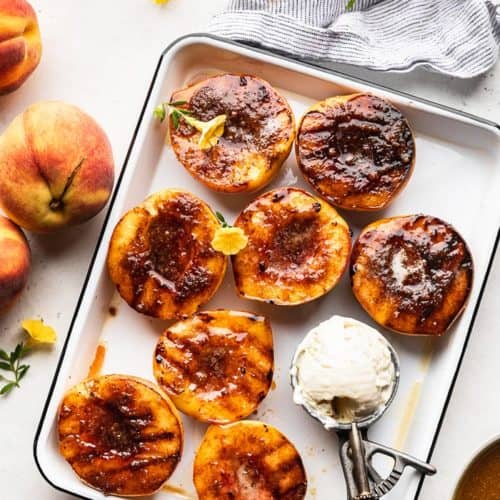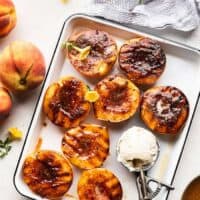 Grilled Peaches with Caramel Sauce
These brown sugar Grilled Peaches are drizzled with a fruity, wine spiked caramel sauce. Top with vanilla ice cream to make the ultimate summer sundae!
Print
Pin
Rate
Ingredients
For the Grilled Peaches
2

tbsp

brown sugar

1/2

tsp

ground cinnamon

1/4

tsp

ground nutmeg

4

small peaches

2

tbsp

salted butter

melted
For the Spiked Caramel Sauce
1/2

cup

unsalted butter

1

cup

brown sugar

packed

3

tbsp

heavy cream

3

tbsp

Barefoot Peach Fruitscato

1/2

tsp

vanilla extract

pinch of salt
Instructions
For the Grilled Peaches
Heat your grill and grease grill grates with vegetable oil or spray. If using a grill pan, heat on the stove with medium heat.

Whisk together brown sugar, cinnamon, and nutmeg in a small bowl and set aside.

Cut the peaches in half and remove the pits.

Brush butter over the cut sides of each peach then add peaches cut side down to grill once hot. Cook until grill marks appear (about 2-3 minutes) then turn over and cook an additional 2 minutes.

Flip back over the peaches cut side up and sprinkle on the sugar mixture. Drizzle more melted butter on top of the sugar to allow it to begin to melt down.

Continue to cook until peaches are soft and sugar has transformed into a glaze consistency.

Remove and serve with vanilla ice cream and caramel sauce below.
For the Caramel Sauce
Melt butter in a saucepan.

Add brown sugar, heavy cream and Barefoot Peach Fruitscato and whisk constantly over medium heat until sugar is dissolved.

Bring to a boil and allow to boil for 3-4 minutes. Don't go over that time.

Remove from heat, stir in a pinch of salt and allow to cool. Store in the refrigerator when not using.

Serve grilled peaches with vanilla ice cream and caramel sauce.
Notes
TIP 1: Grilled Peaches are super versatile! Serve them in salads or as a stunning side dish with other grilled fare. Have leftovers? Use them to top oatmeal or yogurt parfaits for breakfast.
TIP 2: You can also make these WITHOUT a grill using a grill pan over your stovetop to get those gorgeous grill marks.
Nutrition
Calories:
298
kcal
|
Carbohydrates:
38
g
|
Protein:
1
g
|
Fat:
17
g
|
Saturated Fat:
10
g
|
Cholesterol:
46
mg
|
Sodium:
38
mg
|
Potassium:
179
mg
|
Fiber:
1
g
|
Sugar:
36
g
|
Vitamin A:
769
IU
|
Vitamin C:
5
mg
|
Calcium:
39
mg
|
Iron:
1
mg