Made with 5 simple ingredients, this Southern Sweet Peach Tea combines two classically delicious Southern flavors in one glass! Homemade peach simple syrup is mixed with fresh brewed tea and poured over mint-studded ice to make a chilled, refreshing treat. If you love this, you will also love my Classic Southern Sweet Tea and Southern Lemonade!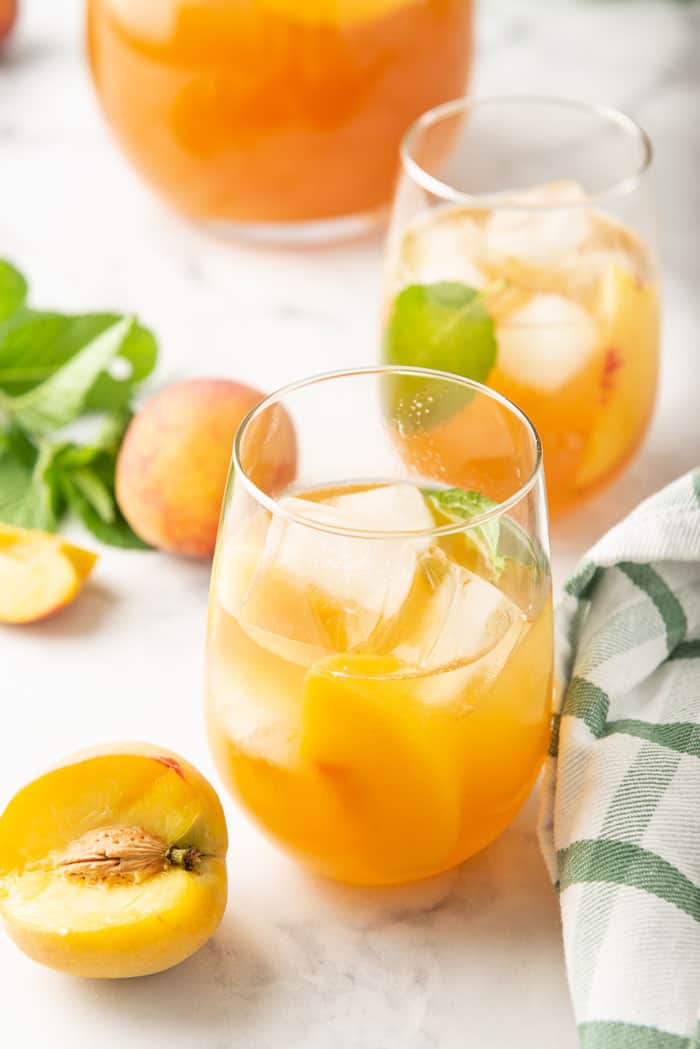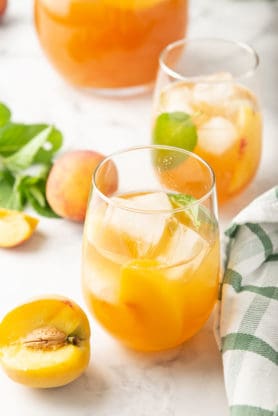 As many of you know, I recently relocated to Dallas, Texas! Though the first few months have been full of unexpected life moments, I'm thrilled to be back in the South. From juicy, sizzling BBQ to golden-brown, crisp fried chicken, Dallas is packed with savory, sweet and downright yummy Southern fare. Trust me, the waistline has expanded to no return.
If you know Southern food, you know an indulgent meal is never without an ice-cold beverage. The drink of choice? Sweet Peach Tea! Simple, sweet and refreshing, Iced Peach Tea is the perfect way to cleanse the palate, balance out salty food and find relief from the Southern sun.
Dust off the pitchers, fill the ice tray and let's sip on something sweet today!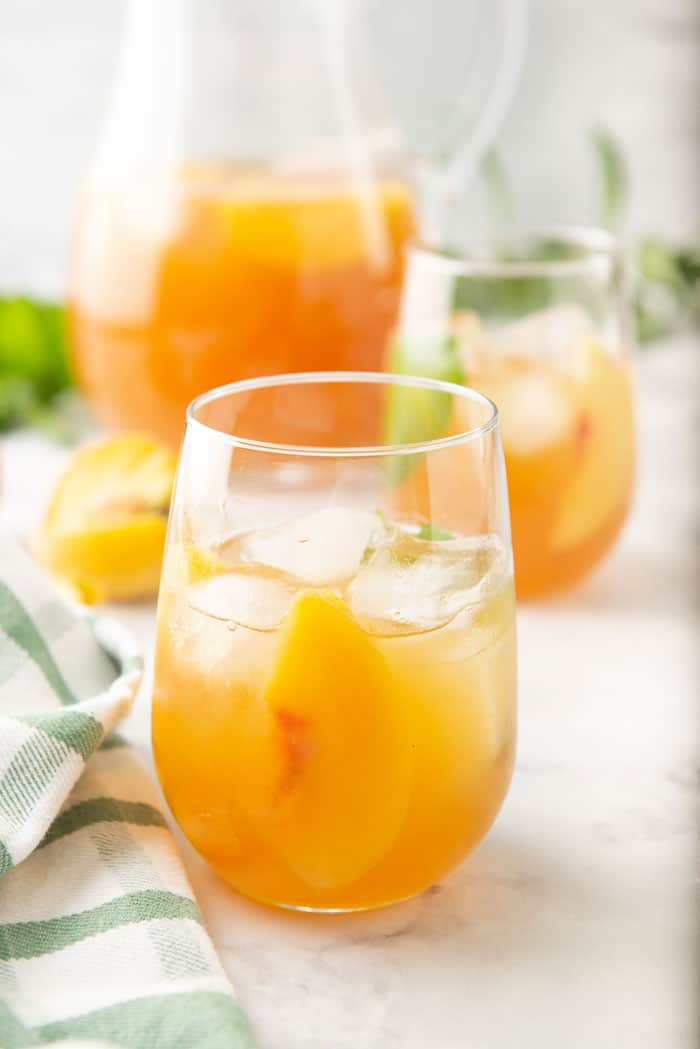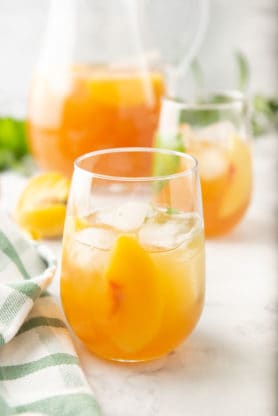 HISTORY OF SOUTHERN SWEET TEA
While hot tea has been enjoyed for thousands of years by cultures from around the world, the iced, sweetened variety has only been around since the 19th century. Referred to as the "house wine of the South", iced tea has been synonymous with states below the Mason-Dixon line since the rise of the South's thriving tea-growing industry. Because agricultural proximity, iced tea is a cheap, easy to come by beverage throughout the South.
The South is hot, like sweltering, can't-stand-it hot. The invention of ice boxes and modern day refrigeration was a near miracle for those who suffered through brutal, Southern Summers. The moment icy beverages became available, Southerners grabbed on tight and never let go. For the last century, sweetened iced tea has remained a steady fixture of Southern life. I wouldn't have it any other way!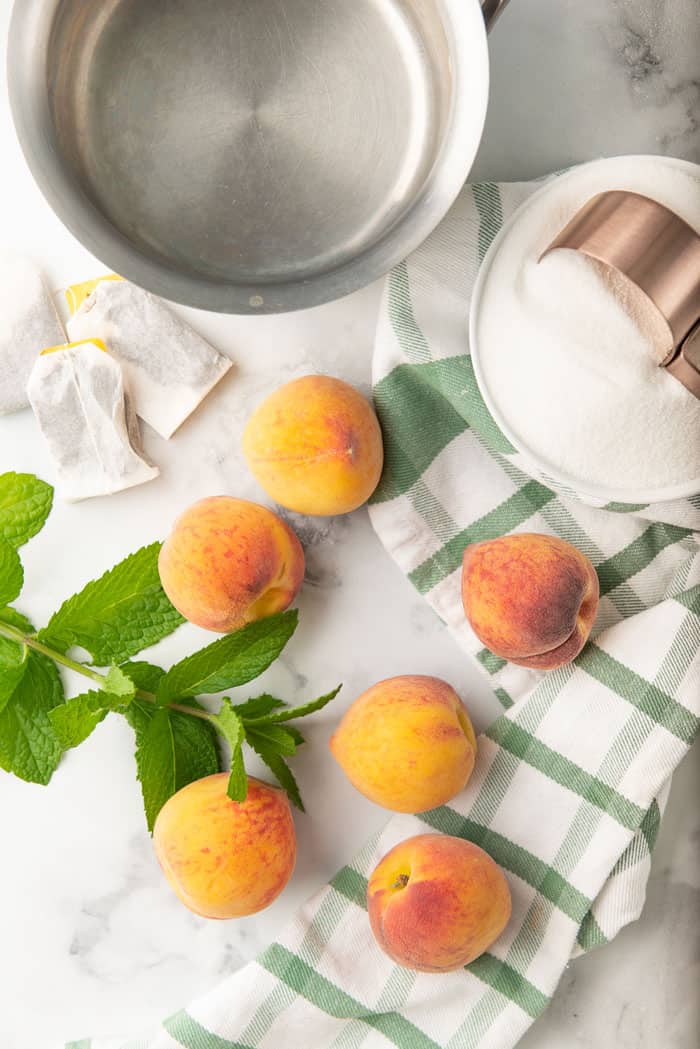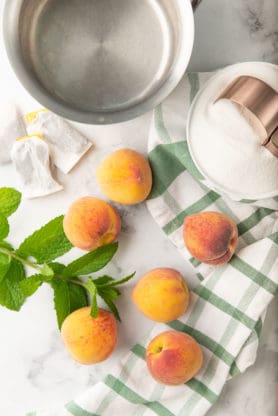 PICKING THE RIGHT PEACH
From the beginning of May through the month of September, peaches are ready, ripe and beautifully in-season. One of the best Summer experiences you can have is biting into a juicy, fragrant piece of stone fruit. The sticky juice that runs down the lips and through the fingers is an absolute Godsend!
If using perfectly ripe fruit, this tea is laden with sweet, peachy flavor. So, what do you say we pick some peaches? While a fragrant odor is a good sign, it's not the main indicator of whether or not the peaches will be any good. Look for vibrant red, pink and orange colors with no patches of green coloration. When pressing into the shoulder and tip of the fruit (where the stem was), there should be a generous amount of give.
Avoid peaches that are too firm, bruised or wrinkly! Follow these simple guidelines and you're guaranteed the freshest, most luscious fruit EVER.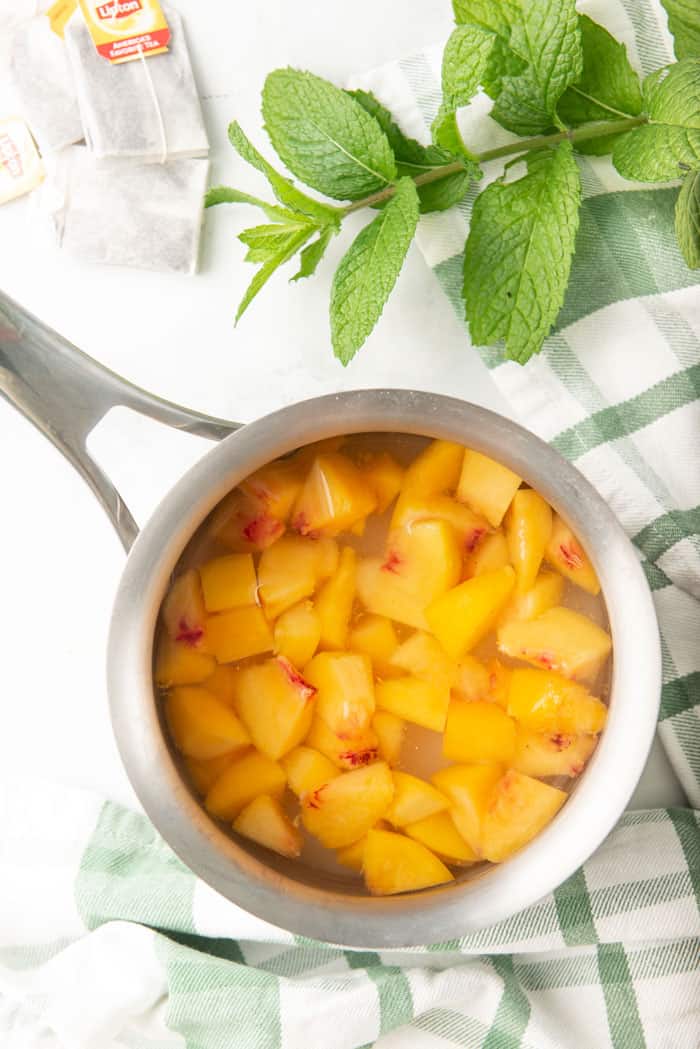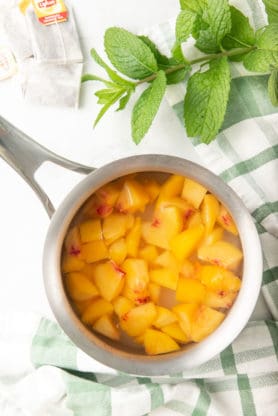 HOW TO MAKE SWEET PEACH TEA
Take a peek into my fridge and I'll tell ya what you'll see: a big, tall pitcher of Sweet Tea. Seriously, I rarely go a Summer day without a few sips of gratifyingly chilled tea. In just a few simple steps, you can create the ultimate drink to keep you cool all Summer long.
Let's take a closer look at our ingredients:
Peaches
Peaches are abundantly full of sweet juice that pairs perfectly with herbal tea. Their fragrant nature and floral qualities are the perfect way to enhance this drink.
Water
Kinda obvious, huh?
Granulated Sugar
This is sweet tea y'all! We need fructose to boost the natural sugars in the peaches and get each sip to truly sing.
Lemon
An acidic, citrusy juice is key to creating a balanced beverage.
Tea Bags
I'd suggest using black tea. Luzianne or Lipton works great!
Mint Leaves (optional)
This cool, herbal addition is the perfect way to top off this ridiculously refreshing drink.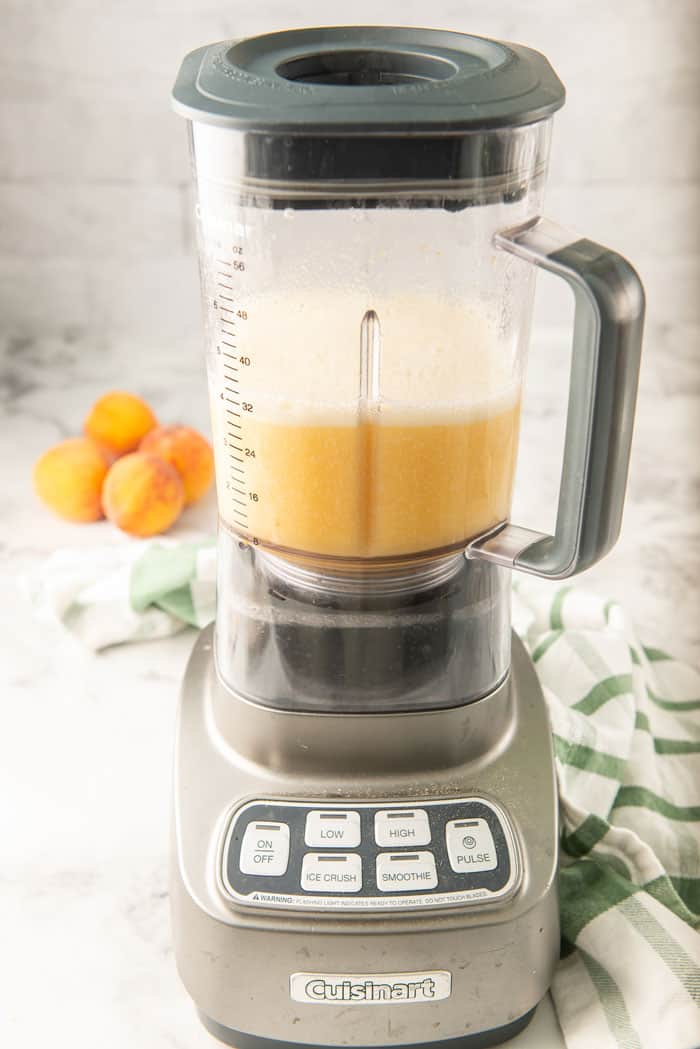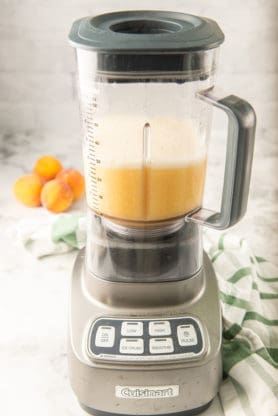 GRANDBABY CAKES' SWEETEST SIPS
If you're looking for me this Summer, I'll be posted on the porch, cool drink in one hand and a fan in the other. Beat the heat with me by pouring out a glass of one of my most refreshing libations!
Check 'em out: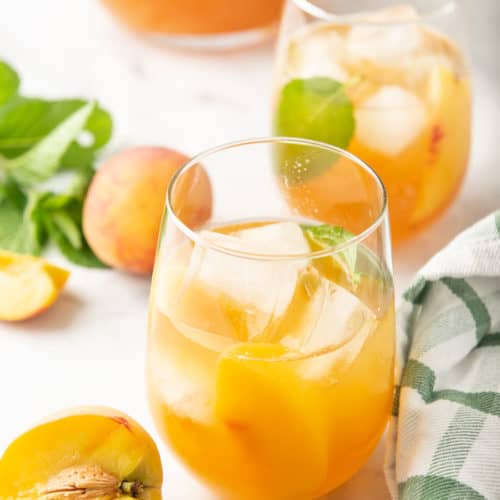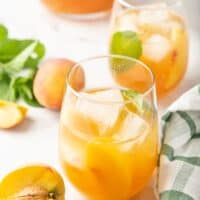 Sweet Peach Tea
Homemade peach simple syrup is mixed with fresh brewed tea and poured over mint-studded ice to make the best refreshing Sweet Peach Tea recipe.
Print
Pin
Rate
Ingredients
3

peaches

with skin removed, in small dices

5

cup

water

divided

2 1/2

cup

granulated sugar

1

juiced lemon

3

family sized tea bags

Additional peach slices and mint leaves

for garnish
Instructions
In a saucepan combine peaches, 2 cups of water and sugar over medium heat.

Allow the peaches to simmer for about 15 minutes.

Using a heavy duty blender or food processor, pulse for 15-30 seconds until mixture becomes smooth.

Strain the peach mixture through a small strainer, extracting only the syrup.

Boil the remaining 3 cups of water.

After water is boiling, steep 3 bags of tea in the boiling water for 15 minutes.

Pour tea mixture, lemon juice and peach mixture into a pitcher. Taste for sweetness. If you need more sugar, start with ¼ cup of granulated sugar until you reach desired sweetness.

Serve over ice and add slices of peaches and mint for garnish.
Nutrition
Calories:
268
kcal
|
Carbohydrates:
69
g
|
Protein:
1
g
|
Fat:
1
g
|
Saturated Fat:
1
g
|
Sodium:
8
mg
|
Potassium:
126
mg
|
Fiber:
1
g
|
Sugar:
67
g
|
Vitamin A:
183
IU
|
Vitamin C:
11
mg
|
Calcium:
11
mg
|
Iron:
1
mg