Disclosure: I partnered with Room & Board for this post, but all opinions expressed here are my own. I am grateful for authentic partnerships like this. 
Hey, my grandbabies! The latest sweet addition to my home isn't a mouth-watering cake or a decadent pie, but instead a sprinkle of fabulous interior decor. Let me whisk you away on a delightful journey (that will also, hopefully, inspire you when dreaming up your perfect living room design) through selecting the most divine seating for my new home – the Astaire three-piece curved sectional from Room & Board.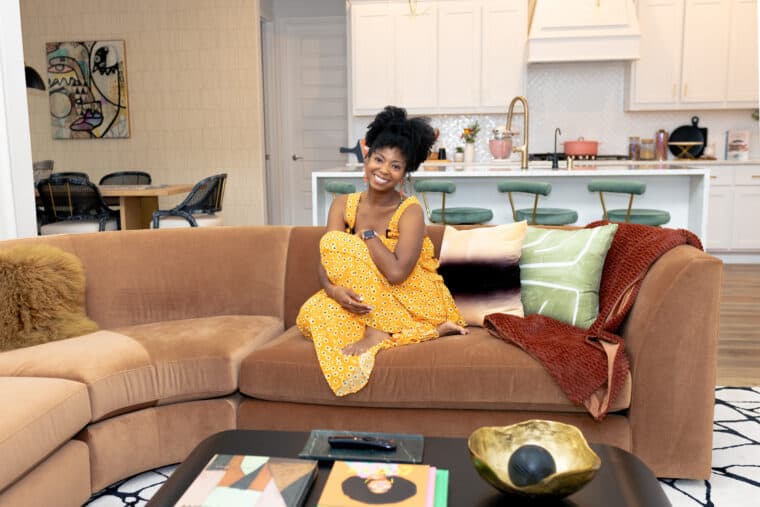 My recent move to the Dallas, TX area meant I needed furniture, and lots of it! Venturing into the Dallas Room & Board, I was immediately surrounded by a feast of exquisite furnishing choices. Think of it as a buffet of design. With a newly designed modern-style family room, courtesy of the spectacular minds at Forbes Masters with Decorist, I needed a centerpiece as tantalizing as the frosting on my signature cakes. And oh boy, did Room and Board deliver.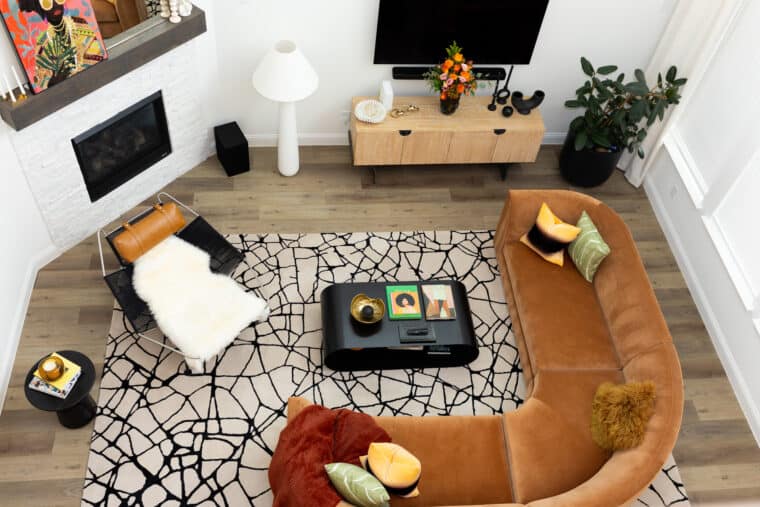 Selecting the perfect sofa is quite like baking. It requires the right ingredients, patience, and of course, that flair of creativity. The bevy of fabric samples Room & Board graciously offered me so many options that would fit our lifestyle. We wanted something that felt elegant yet suitable for relaxing and having a child in the house.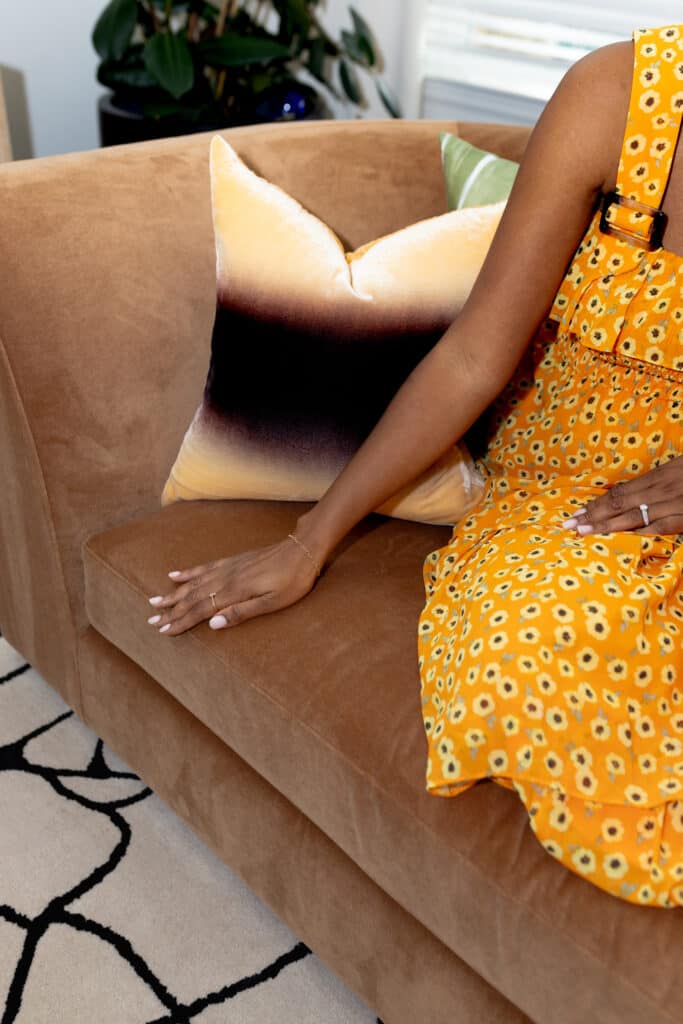 Among the array, one particular option stood out – the Banks Cognac Velvet. Forbes Masters selected this, and trust me, it's as rich and luscious as it sounds.
But here's the cherry on top: This fabric isn't just about looks. It's practical, reliable, and oh-so-beautiful. With stain resistance, fade resistance, and a family-friendly tag, it ensures that any occasional mess or mishap won't compromise the integrity of this chic piece.
Balancing between timeless elegance and modern sophistication, the Astaire seamlessly blends into my space. Classic yet contemporary – just like the fusion flavors in some of my beloved recipes. The gentle curves and plush texture, bathed in the warm hue of cognac, echo the design language established by Forbes Masters.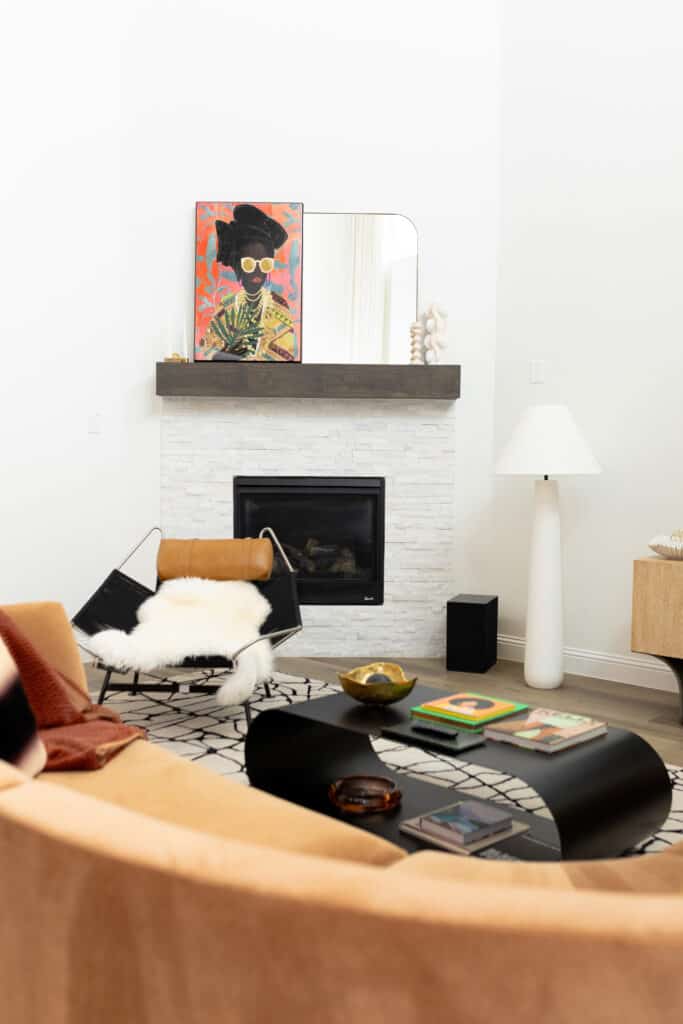 It was a wonderful anchor to the cream and black abstract rug design by Nikki Chu. It is also offset perfectly by the Flag Halyard Chair which is seriously one of my favorite chairs of all time in the space. It is comfortable yet unique, and the perfect compliment to the sofa. I am still working on adding more finishing touches to this family space like perhaps a gallery wall on the currently empty wall space but right now, it feels really sophisticated yet lived in when people visit.
It also transitions so nicely and seamlessly to the dining room space. Even though our floor plan throughout the home is very open, we wanted each space to have its own personality.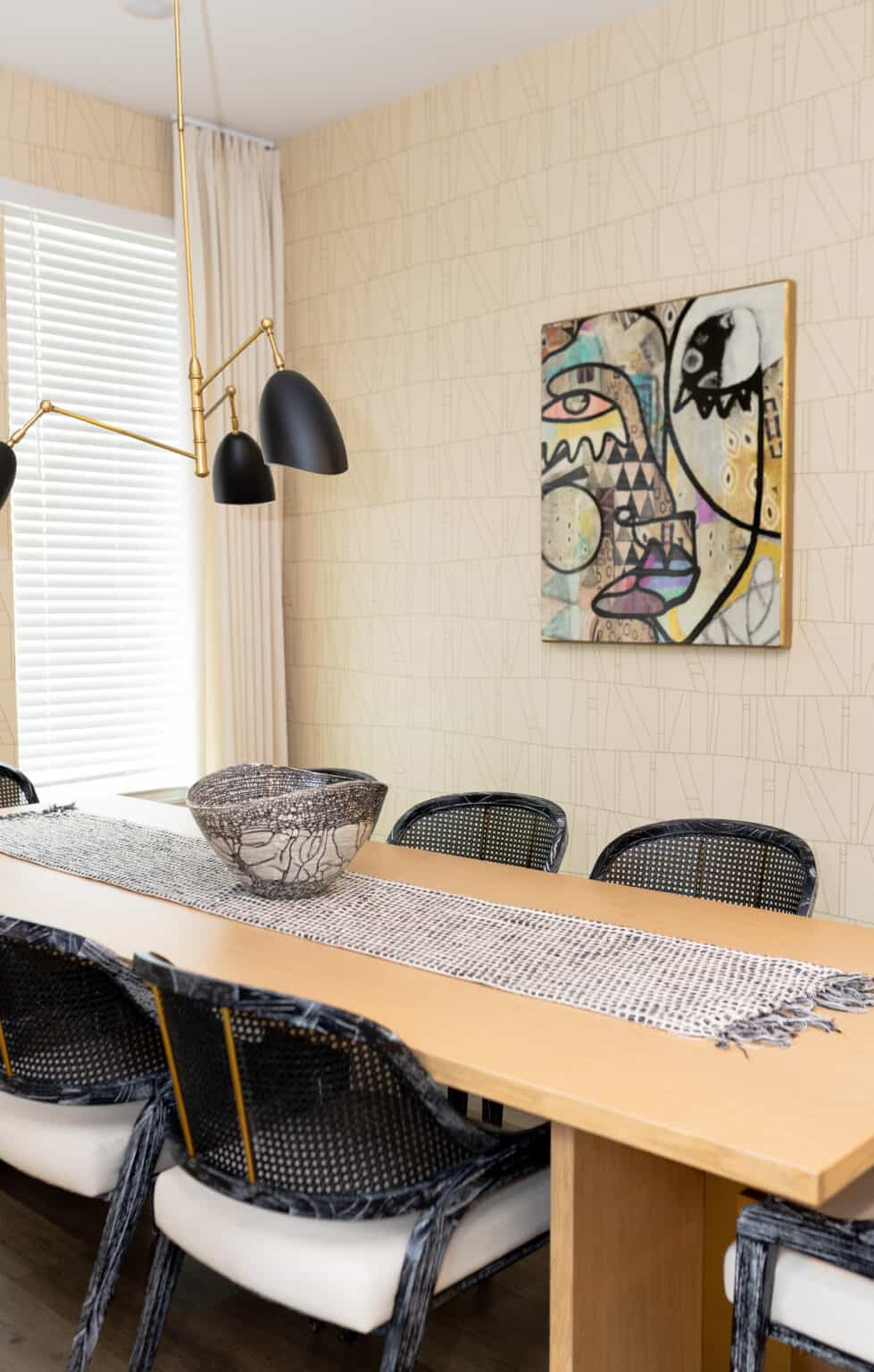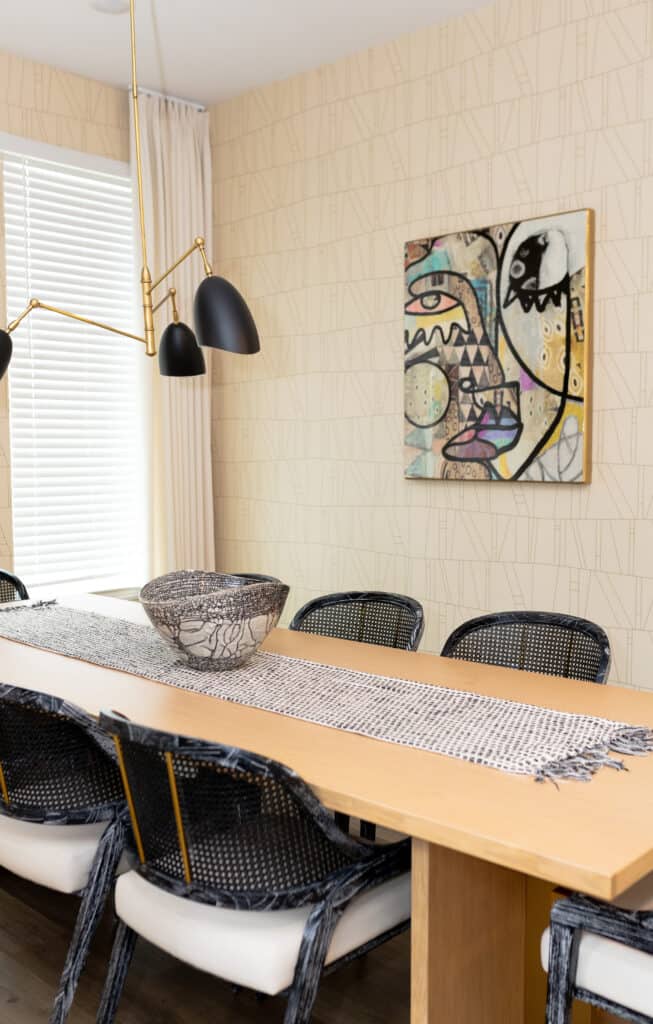 Forbes Masters had such a wonderful idea about adding wallpaper that would really provide a different vibe to that room. And I seriously adored it so so much in the end.
The dining space screams luxury with its hints of gold on the incredible Edward dining chairs by Burke Decor.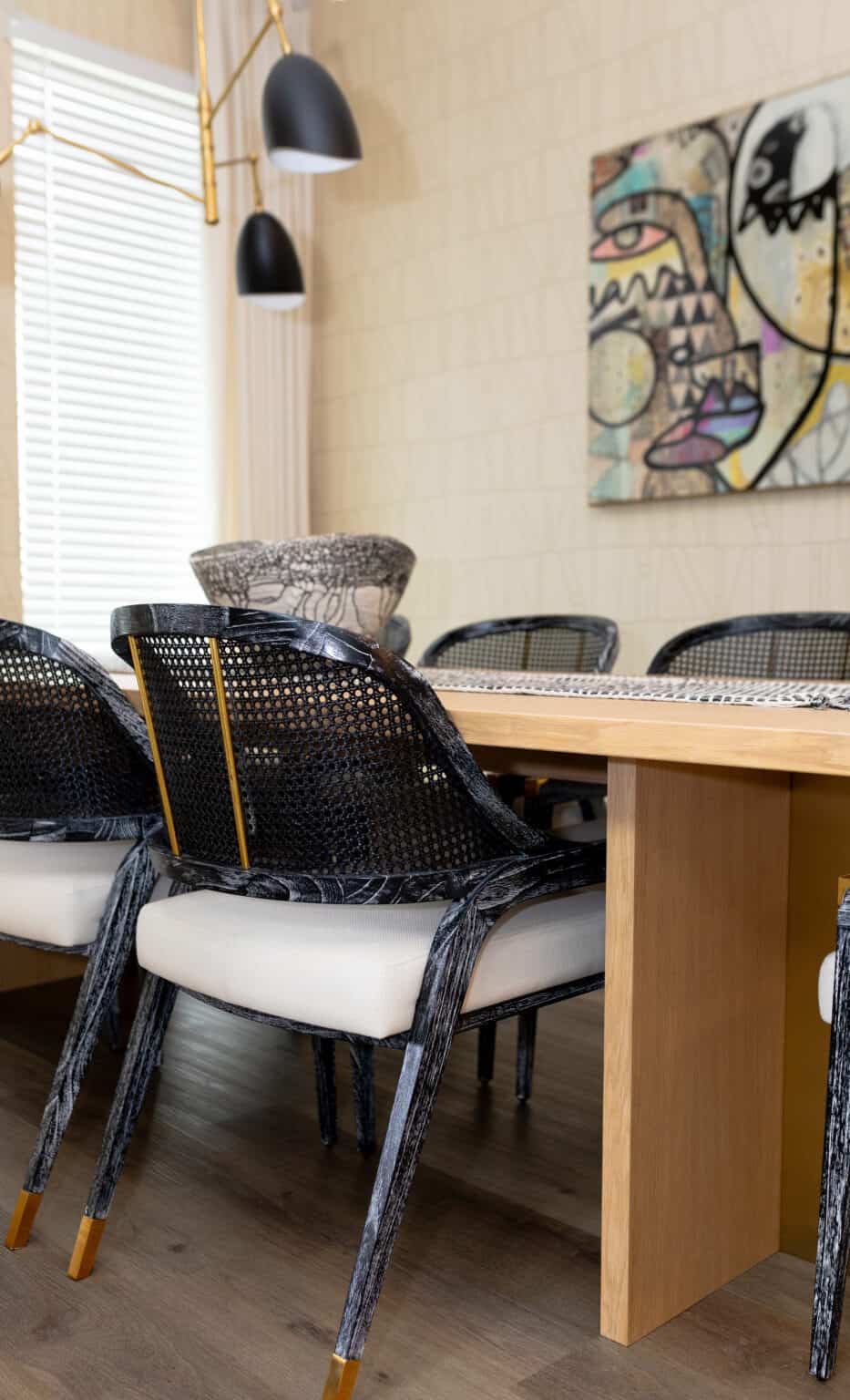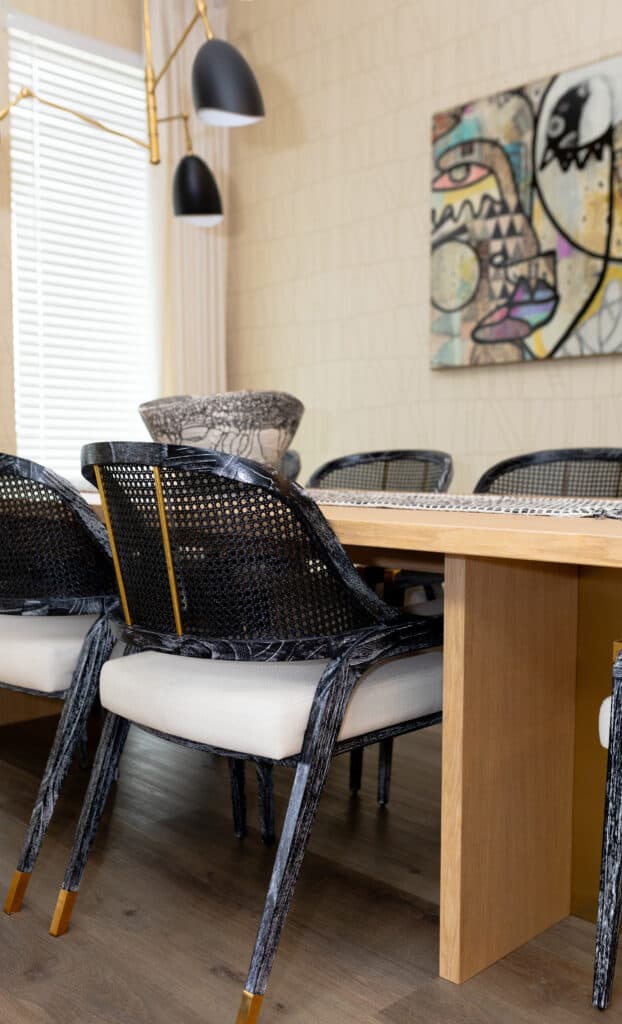 In the end, each piece of furniture tells a story in this space.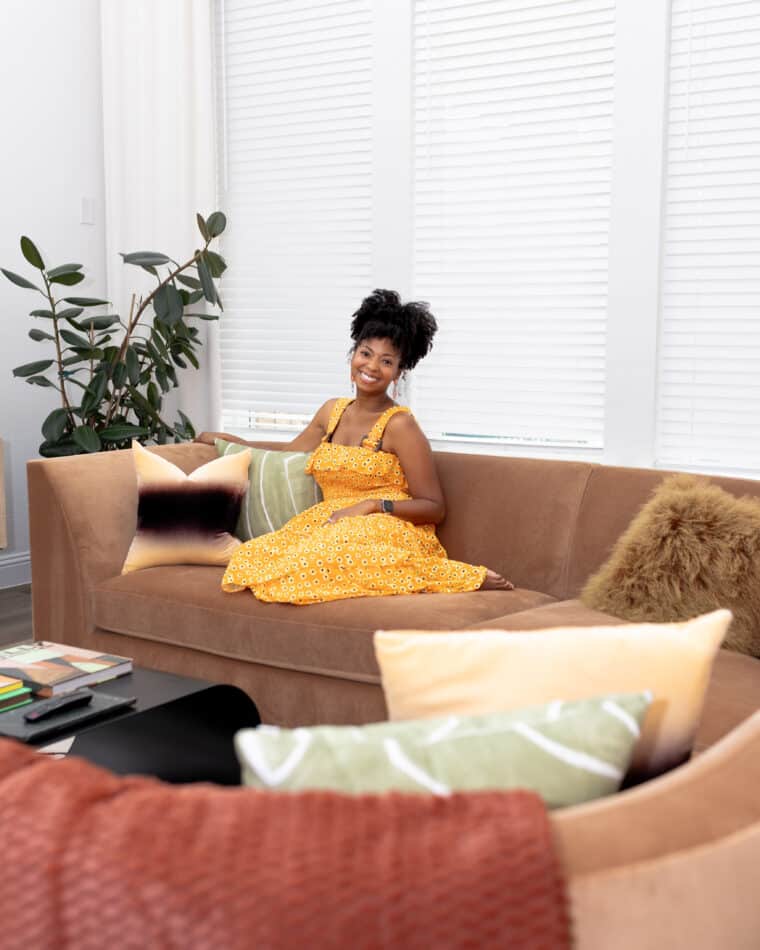 As I lounge on this new sofa, I can't wait to create beautiful memories with family and friends, laughing, chatting, and maybe even spilling a little red velvet cake here and there (thank goodness for that stain resistance!). Stay sweet and chic, y'all! 🍰🛋️✨