Embrace Southern cooking at its finest with this Crispy Fried Green Tomatoes recipe. This delicious southern gem transforms the humble green tomato into a savory, crunchy delight that will have your taste buds singing praises. The tangy green tomatoes are coated in a seasoned cornmeal and panko breadcrumb mix and then fried to a beautiful golden-brown.
I am going to teach you how to make the best fried tomatoes for pairing with a simple dipping sauce or to use sandwiched in a hearty BLT! So, whether you're using up an end-of-season harvest or just craving something different, dive into this easy-to-follow green tomato recipe for a touch of Southern charm to your table.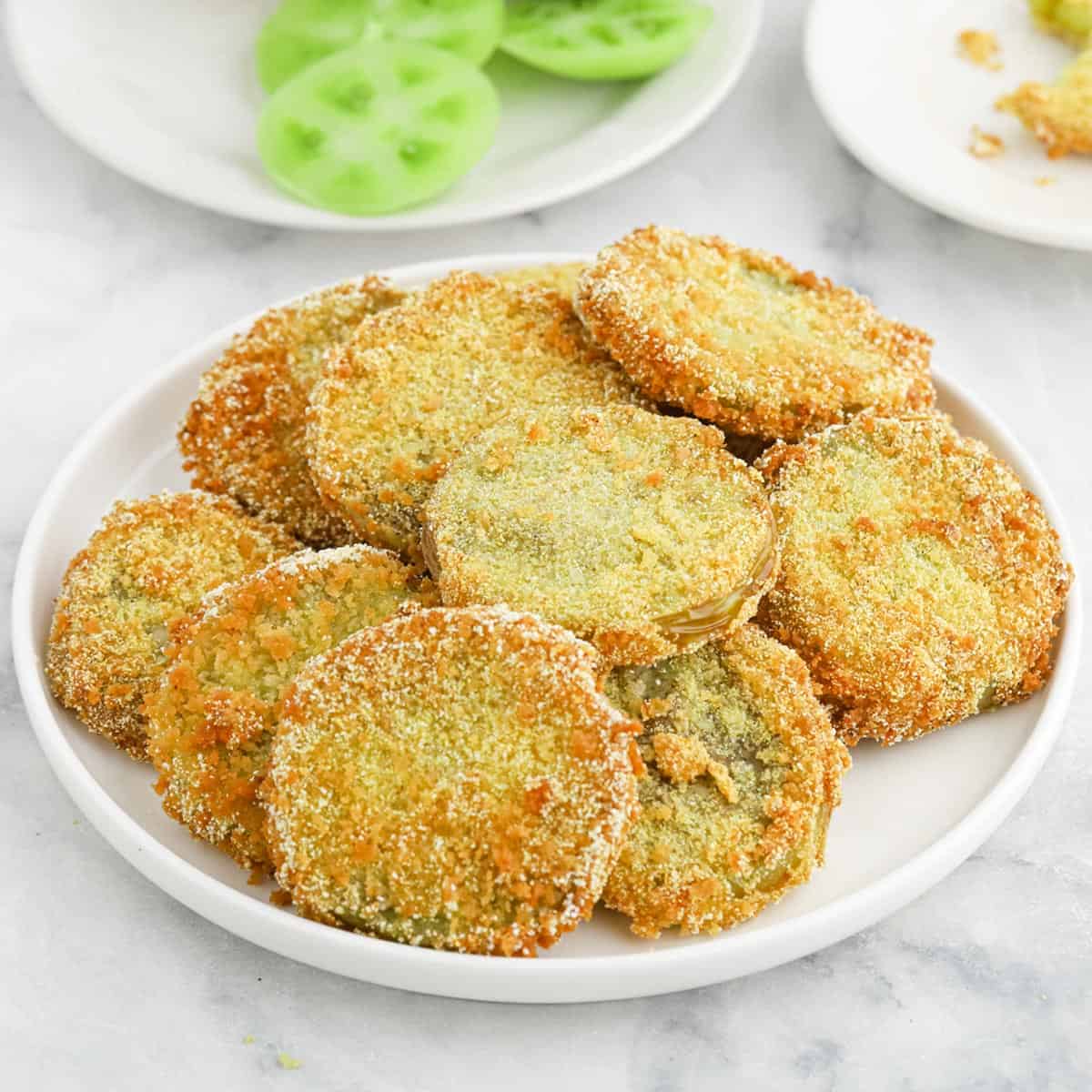 This is one of the best Southern appetizers ever made! This recipe for fried green tomatoes along with other fantastic southern appetizers like fried chicken gizzards, really wet your appetite!
This Southern fried green tomato recipe is simple and so delicious. It allows the green tomato flavor to shine through but marries the tomatoes with a fantastic golden breading that crunches every single time you take a bite.
Why You'll Love This Fried Tomato Recipe
Simple Ingredients, Big Impact: This recipe doesn't require any fancy ingredients. With just some green tomatoes, a handful of pantry staples, and a little love, you can make a dish that's positively bursting with flavor.
Perfect for any Occasion: Whether you're looking for a unique appetizer, a picnic-friendly snack, or a tasty side dish to complement your mains, these fried green tomatoes are sure to hit the spot!
Bold and Tangy Flavor: The natural tartness of the green tomatoes, combined with the savory spices and the golden crispy coating, creates an unmatched flavor profile that is simply irresistible.
Crispy Outside Soft on the Inside: Who doesn't love a good crunch? The contrast between the firm, juicy tomato, and the crispy, golden crust is a mouthwatering textural treat.
Versatile Dish: Fried green tomatoes are perfect on their own, or paired with a dipping sauce of your choice. Also, they make for a great topping on burgers and sandwiches or can be served atop a bed of greens for a Southern-style salad.
Ingredients to Make Fried Green Tomatoes
Here's a look at the simple ingredients you need to gather to make this recipe.
Green tomatoes: You want a full-sized tomato that is firm, not hard to the touch. I prefer my tomatoes completely green, but it's ok if it has a slight hint of yellow. This might ensure that the tomato is at its full size but still unripe.
All-purpose flour: This soaks up the moisture on the tomatoes to make sure the breading sticks to it.
Eggs: The stickiness of the eggs helps the breadcrumb and cornmeal stick to the outside.
Panko bread crumbs: These Japanese-style breadcrumbs have a more coarse texture that makes the outside crispier.
Yellow cornmeal: Improves the crunch on the breading.
Cooking oil: I suggest using vegetable or canola oil for cooking the fried tomatoes. They have a neutral flavor and high smoke point making them great for frying.
Paprika and cayenne: Adds a nice punch of flavor to the crunchy exterior of the tomatoes.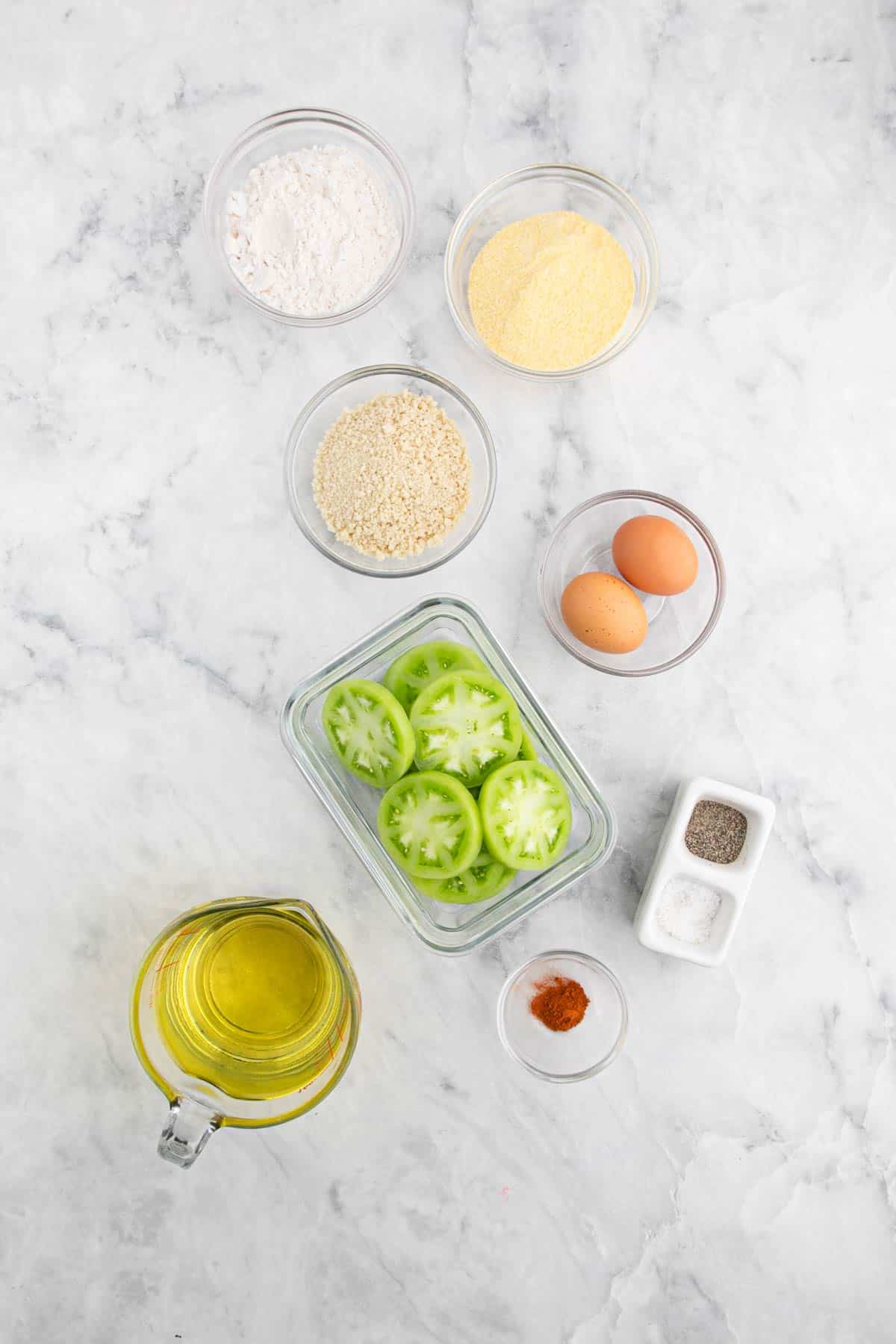 How to Make Fried Green Tomatoes
Here's a look at the main steps to making perfectly crispy tomatoes.
Start by seasoning the green tomato slices with salt and pepper on both sides.
Combine the cornmeal, panko crumbs, paprika, and cayenne in a small bowl and whisk together. Add the flour and whisked eggs to two separate small bowls.
PRO TIP: Use wide, shallow bowls so that's easier to dip the tomatoes into each ingredient.
Dip each seasoned tomato slice into the flour to coat both sides. Then dip each into the egg mixture and finally into the breadcrumb mixture making sure to cover both sides of the tomato slice.
Place each finished slice on your baking sheet and continue the dredging process until all the slices are coated.
Heat the oil in a frying pan over medium-high heat. Fry the tomato slices on both sides until golden brown and drain on paper towels.
Transfer to a platter and serve the fried green tortillas warm.
PRO TIP: Set up your breading station using three different small bowls for each component of the breading. Use one hand for dipping into the dry components and the other hand for the liquid. That way you don't get sticky fingers.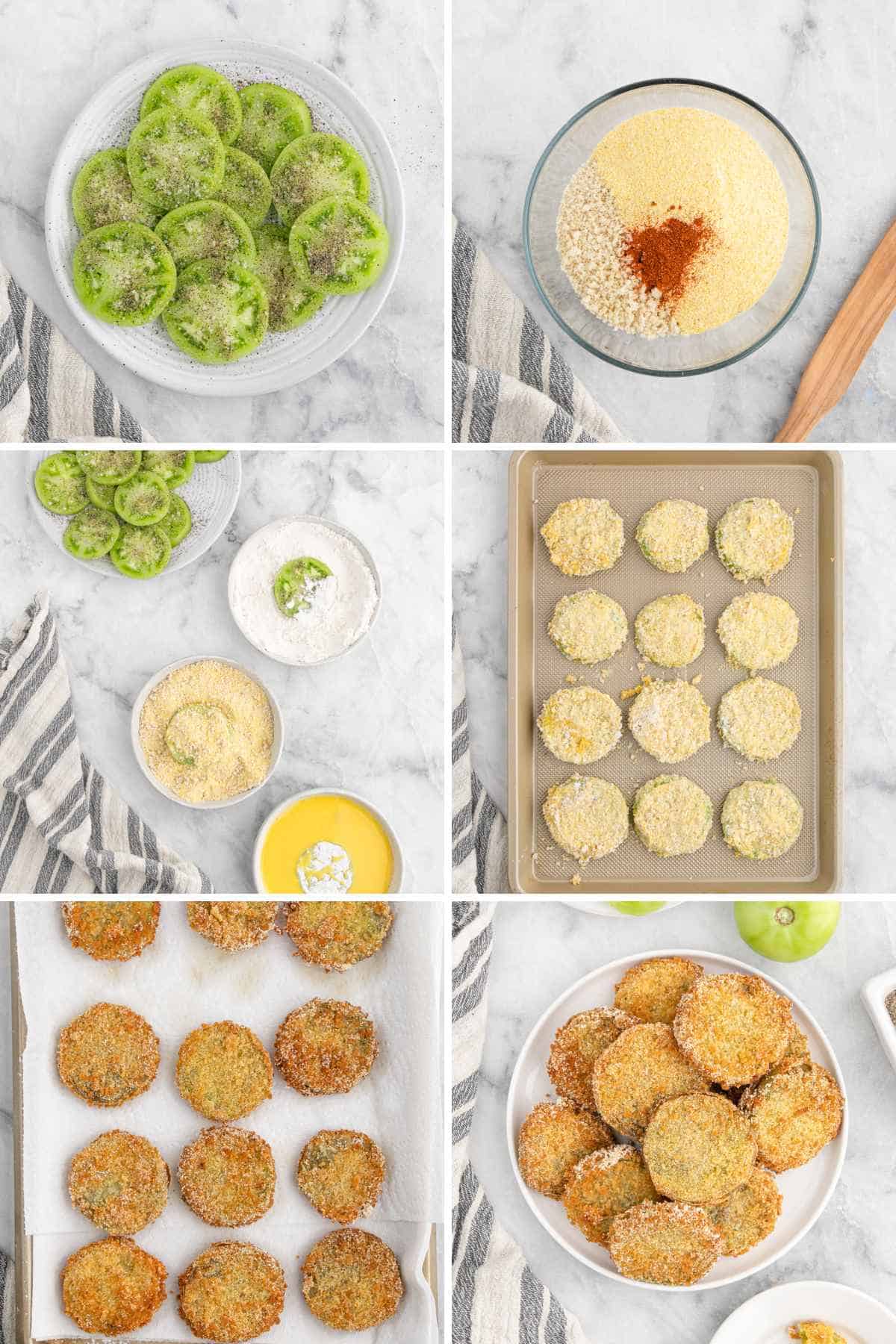 Tips for Making them
Selecting Tomatoes: Choose firm, green tomatoes for this recipe. Overripe or red tomatoes will be too soft and won't hold up to the frying process.
Slice Thickness: Aim for a consistent 1/4-inch thickness when slicing your tomatoes. This ensures that they cook evenly and have the perfect balance of crunchy coating and juicy tomato in every bite.
Seasoning: Don't forget to season your tomatoes before you start the dredging process. The salt and pepper will help bring out the natural flavor of the tomatoes.
Double Dredge: For an extra crunchy exterior on your fried green tomato, consider double-dredging your tomato slices. After the first coat of flour, egg, and breadcrumb mixture, repeat the process for a second coat.
Maintain Oil Temperature: Keep the oil at the right temperature (medium-high heat) for frying. If it's too hot, the tomatoes will burn on the outside before they're cooked inside. If it's too cool, they'll absorb too much oil and become greasy.
Drain Excess Oil: After frying, be sure to drain your fried green tomatoes on a paper towel-lined plate. This helps remove excess oil and keeps the coating crispy.
Popular Substitutions & Additions
Gluten-Free: For a gluten-free version, use gluten-free flour and replace panko crumbs with gluten-free bread crumbs.
Spices: Feel free to add or change the spices to your liking. Some delicious additions could include garlic powder, onion powder, or even a Cajun spice blend for a kick.
Vegan Option: Replace the eggs with a vegan-friendly binder like a flaxseed or chia seed "egg" (mix 1 tablespoon of ground flaxseed or chia seeds with 2.5 tablespoons of water and let sit for 5 minutes to gel).
Cornmeal Alternatives: If you don't have cornmeal, you can use all panko crumbs for the coating. It will still result in a lovely crispy exterior.
Cheesy Twist: For an added burst of flavor, consider adding a bit of grated Parmesan to the breadcrumb mixture. It will add a wonderful savory note and make the crust even crispier.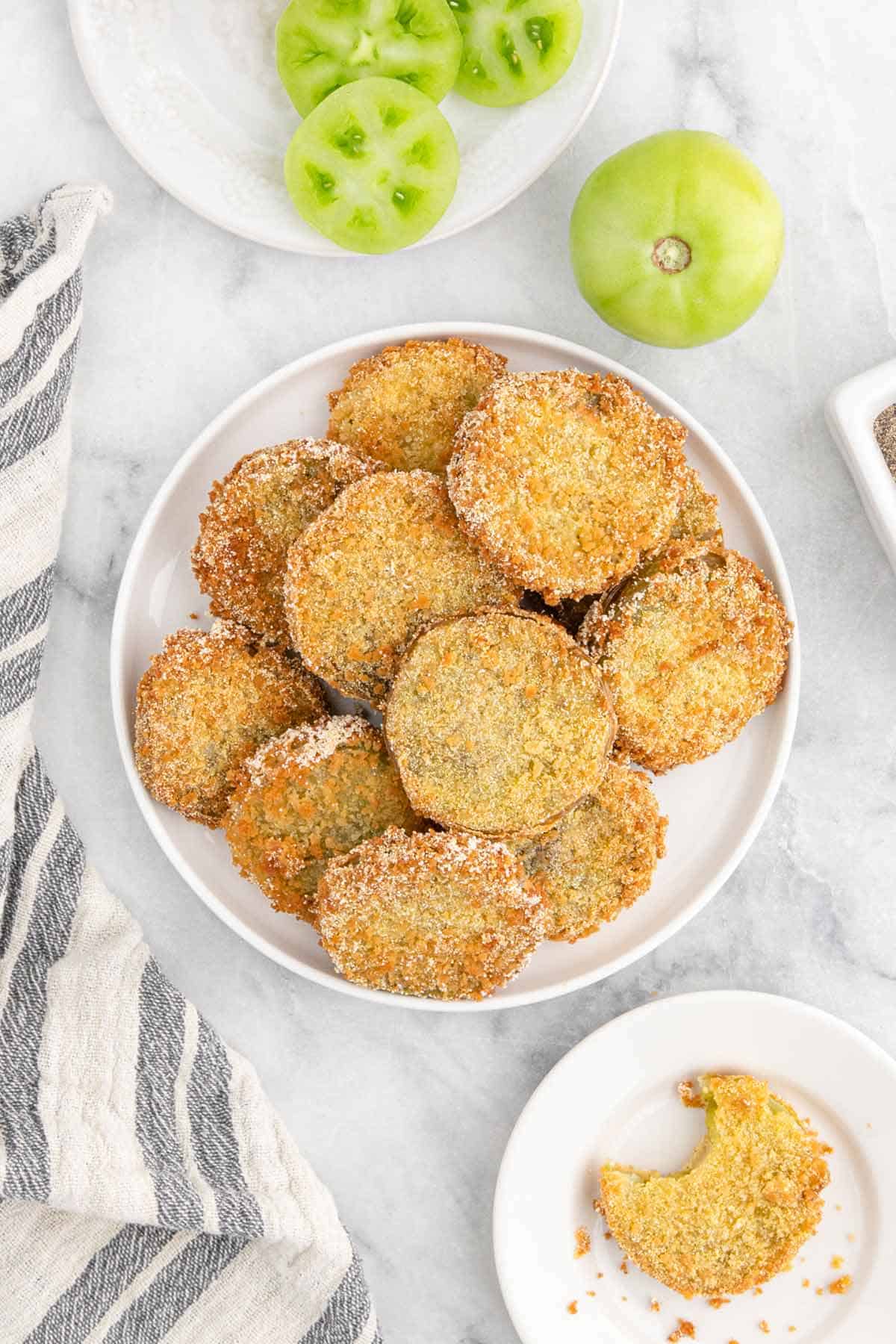 What to Serve with Fried Green Tomatoes
Serve them up for your next party as an appetizer like fried pickles! They're great alone or served with a tasty dip such as marinara sauce, remoulade sauce, or salsa verde.
For meals, they make a tasty side dish with all your Southern favorite dishes. I love them with Southern baked chicken, smothered chicken, or chicken fried chicken.
They also go great with blackened catfish, fried pork chops, and meatloaf.
How to Store & Reheat Fried Green Tomatoes
Store leftovers in the fridge in a single layer in an airtight container or bag. If you need to stack them, add a piece of parchment paper between the layers.
Reheat the tomatoes by laying them out in a single layer on a baking tray and heat in the oven at 400° F for 8-10 minutes or until heated through. Flip them halfway over during cooking to crisp up both sides.
How long will fried green tomatoes last in the fridge?
When stored properly, they should last up to five days.
Can I freeze fried tomatoes?
I don't recommend freezing them. They will end up quite soggy when thawed out, and likely the breading will fall off them.
Frequently Asked Questions
Why fry green tomatoes instead of red?
During my first encounter with fried green tomatoes I asked my mom why people fry the green tomatoes instead of the red. She told me that the red ones were too ripe, soft and seedy and they simply do have the right texture to sustain the frying process.
What do fried green tomatoes taste like?
Long before "Fried Green Tomatoes" was a feature film, it was a culinary staple in my household while growing up. I actually didn't start eating them until I became a preteen, saw the movie and got curious of how they tasted since so many of my family members loved them. With that first bite, I learned they're crunchy on the outside and soft and slightly tangy in the middle. They simply tasted divine to me even at the age of eleven.
Why are my fried green tomatoes soggy?
If your fried green tomatoes come out soggy, that means your cooking oil was not hot enough. Try the recipe again using a thermometer to make sure the oil reaches 350° F.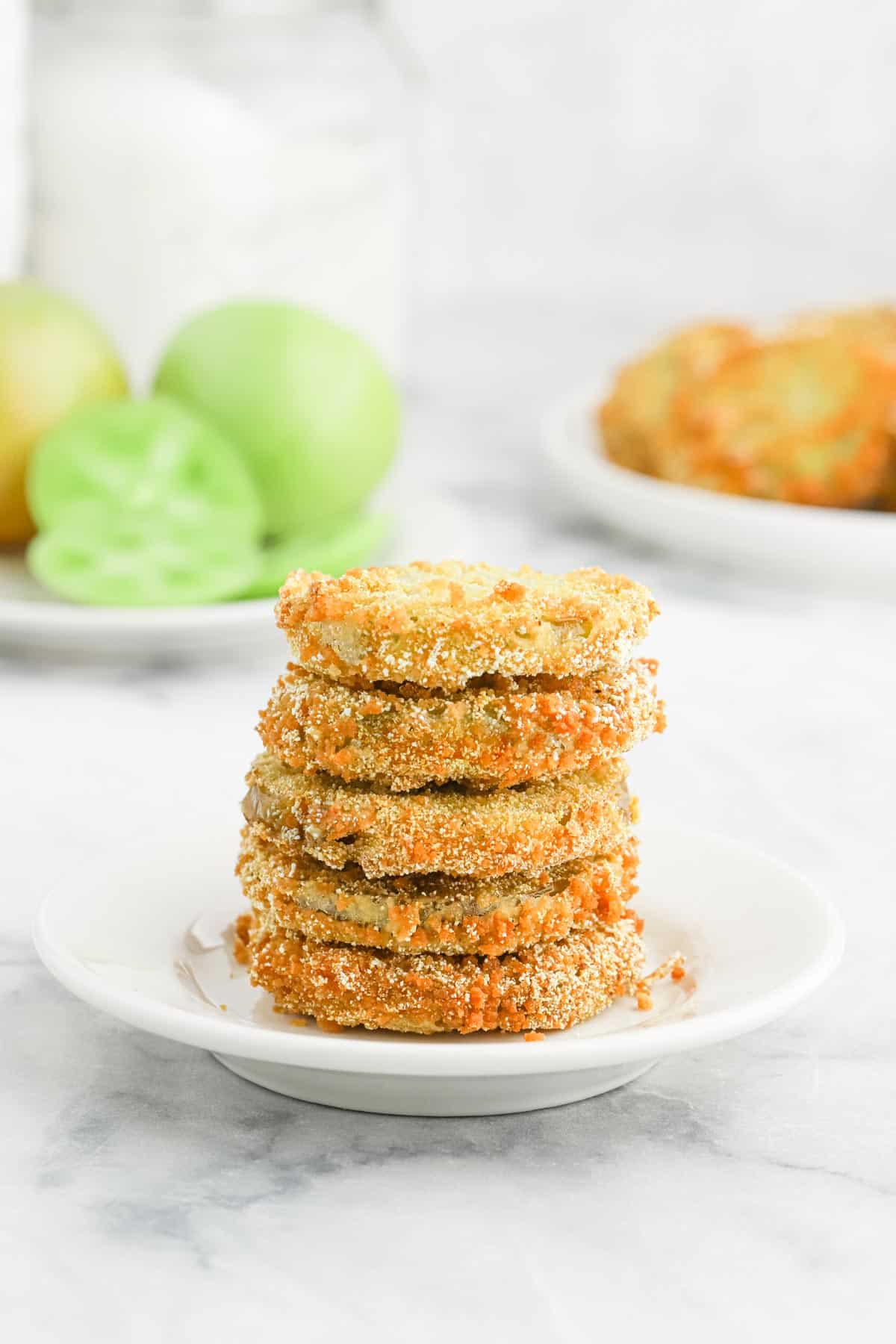 Whipping up these Fried Green Tomatoes at home is like bringing a sunny, Southern picnic right into your kitchen. They're a fun way to use those green tomatoes and bring a splash of excitement to your everyday meals. Whether they're served as a side, an appetizer, or just a snack for the movie night – they are sure to become a favorite. So, go ahead, get your hands a bit messy, have a blast frying up, and enjoy every bite of your homemade fried green tomatoes!
More Fried Vegetable Recipes
*Did you make this recipe? Please give it a star rating and leave comments below!* Post a photo of how your version of the recipe came out on Instagram (using #grandbabycakes)!!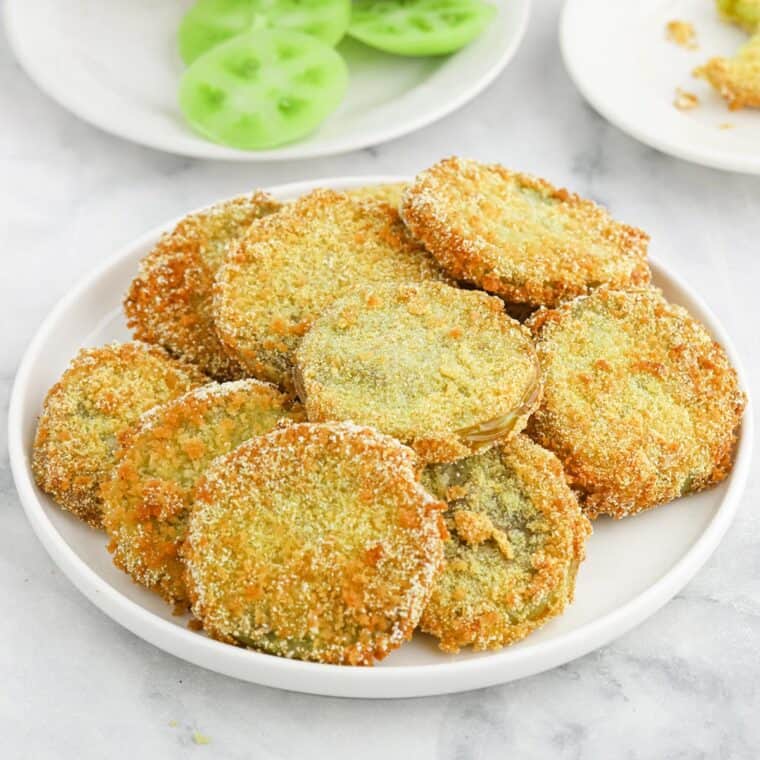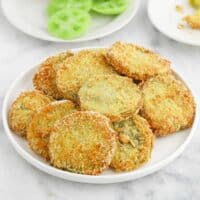 Southern Fried Green Tomatoes Recipe
Simple, classic and absolutely delicious. The crunchy golden batter of this fried green tomatoes recipe is the epitome of Southern charm and cuisine.
Print
Pin
Rate
Ingredients
3

fresh green tomatoes

cut into 1/4 inch slices

Salt and pepper to taste

½

cup

all-purpose flour

2

large

eggs

beaten with 1 tablespoon water

½

cup

yellow cornmeal

½

cup

panko crumbs

¼

teaspoon

paprika

a pinch of cayenne

optional

oil for frying
Instructions
Liberally season green tomato slices with salt and pepper on both sides.

Add flour and eggs to two separate small bowls.

Combine cornmeal, panko crumbs, paprika and cayenne into another small bowl and whisk together.

Begin by dipping each seasoned tomato slice into flour coating on both sides.

Next add floured tomato slice to eggs coating on both sides.

Lastly dip into cornmeal and crumb mixture and set aside finished slice on baking sheet.

Repeat dredging process, starting with flour, until all slices are coated.

Heat oil in a frying pan over medium high heat.

Fry tomato slices on both sides until golden brown and drain on paper towels.

Serve warm.
Video
Notes
Make sure you are using unripe green tomatoes. If they're too ripe they won't fry up properly.
Be sure your oil is hot before frying your tomatoes.
Slice the tomatoes into even-sized slices for even cooking.
Serve immediately for the best flavor!
Nutrition
Calories:
146
kcal
|
Carbohydrates:
24
g
|
Protein:
5
g
|
Fat:
2
g
|
Cholesterol:
62
mg
|
Sodium:
69
mg
|
Potassium:
212
mg
|
Fiber:
2
g
|
Sugar:
3
g
|
Vitamin A:
505
IU
|
Vitamin C:
14.4
mg
|
Calcium:
26
mg
|
Iron:
1.7
mg