These Southern Green Beans are the best thing you'll make this week! Slow simmered green beans and potatoes are made that much more flavorful using smoked turkey necks in this classic southern green beans recipe! Southern Style Green Beans are a simple side dish that can be served at any holiday table or weeknight dinner!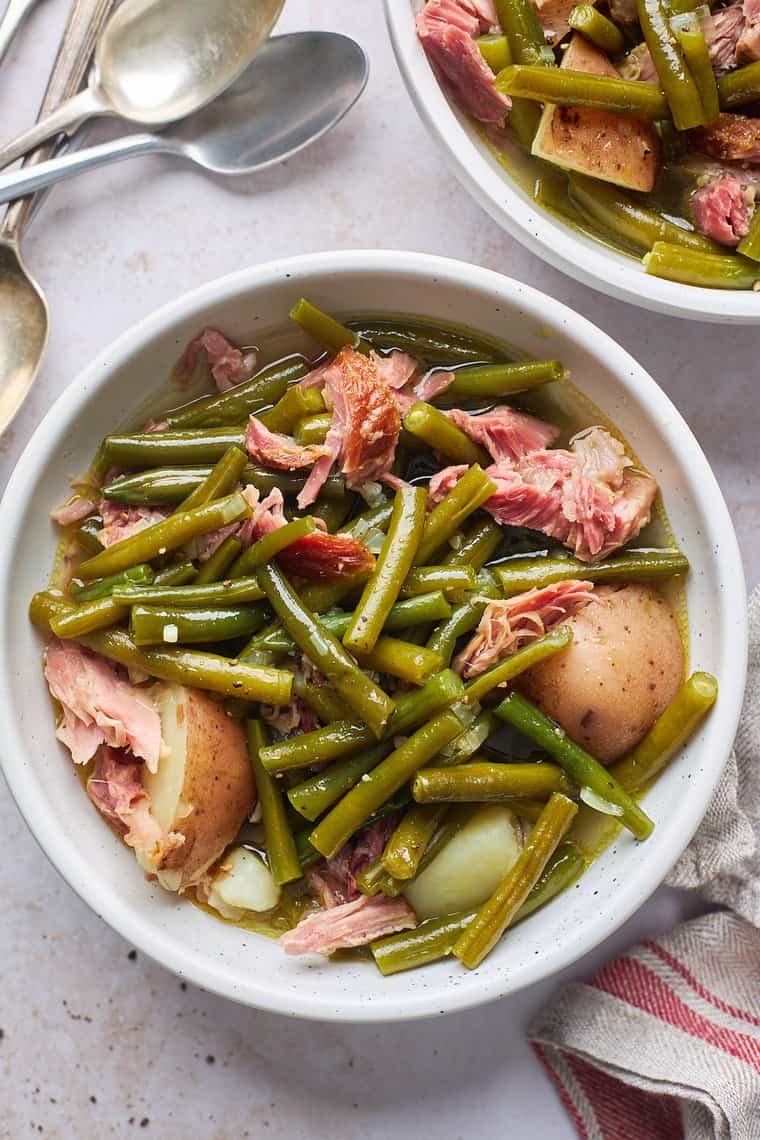 It's worth making a big pot of simmered string beans just for the aroma alone. The smell of those smoky turkey necks and sweet garlic fill up your house and have family racing each other to the dinner table!
Southern Green Beans have always been a staple side dish in my home. Though they often only ever come out at the holidays or on a special occasion, I consider them to be a crucial part of my country girl diet.
Made of homemade smoked turkey stock, fresh string beans, pungent onion and garlic, and lots of seasoning, these slow-cooked green beans are comfort food at its finest!
Perks and Highlights of Southern Green Beans
Perks & Highlights of This Southern Green Beans Recipe
Cuisine Inspiration: Southern American
Primary Cooking Method: Simmering/Stewing Dietary
Info: Gluten-Free, Low-Calorie Key
Flavor: Savory with a hint of natural sweetness and smokiness
Skill Level: Medium
Special Perks:
Authentic Southern Flavor: This recipe stays true to its roots, offering a genuine taste of the South in every bite. The perfect blend of savory, smoky, and a hint of sweetness is reminiscent of traditional Southern kitchens.
Nutrient-Rich: Green beans are a powerhouse of nutrition, packed with vitamins, minerals, and fiber, making this dish not only tasty but also incredibly healthy.
Quick and Simple: Despite its complex flavors, this recipe is straightforward and easy to follow, perfect for cooks of any skill level. It's an ideal side dish when you need something quick yet delicious.
Versatile Pairing: While these Southern Green Beans hold their own, they also pair beautifully with a wide range of main dishes, from fried chicken to grilled steak, making them a versatile addition to your culinary repertoire.
Comfort Food: There's a hearty dose of comfort in each serving, making it a dish that's perfect for family dinners, holiday gatherings, or any occasion calling for a warm, comforting side.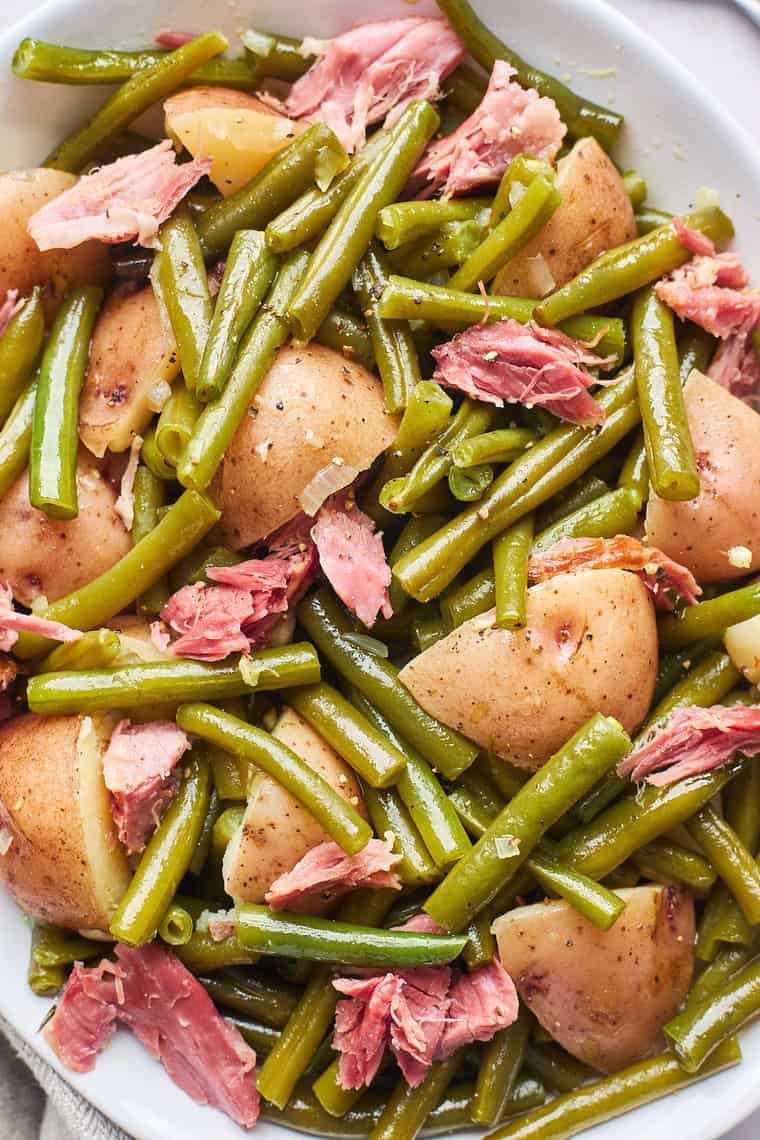 What Are Southern Green Beans?
Southern, or country-style green beans are fresh string or green beans that have been simmered in a smoky broth made with smoked meat. There are lots of different varieties of this classic recipe. It's not uncommon for most southern families to have their own treasured version of this common dish.
Today's recipe comes to us from Kevin Bludso's new cookbook: Bludso's BBQ Cookbook: A Family Affair In Smoke And Soul. Full of personal family stories, food, and passion, this fantastic new cookbook is truly an ode to Bludso's dedication to bbq and southern tradition.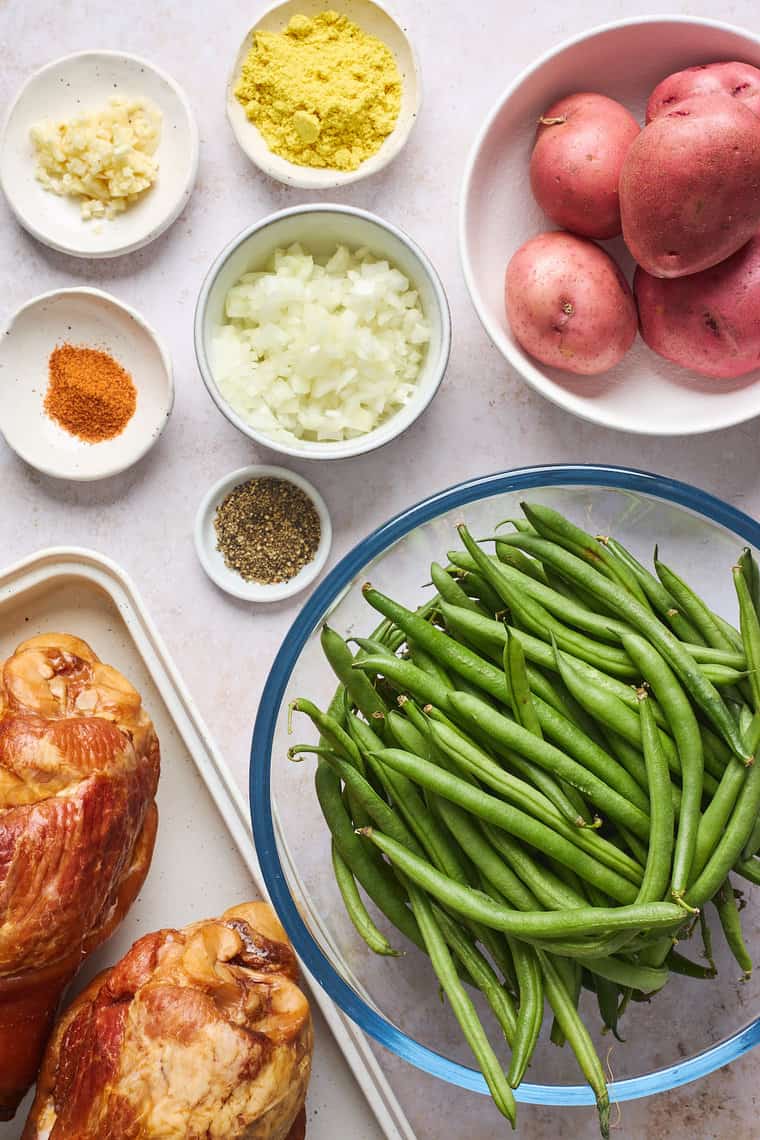 Ingredients
Made with less than 10 ingredients, this green bean recipe is just as accessible as it is delicious. We're not using anything today you couldn't easily swipe at the market or pull out of your own cabinets!

STRING BEANS

are best when bought fresh. Look for ones that are firm, not wilted, and without discoloration. They will need to be properly washed, stemmed, and halved crosswise before use.

WATER

is used here to create a stock. As the turkey necks boil, the water soaks up flavor and transforms into a rich, salty broth.

SMOKED TURKEY NECKS

have an intensely rich, woody flavor. If you're having trouble finding necks, you can replace them with smoked turkey wings or legs. You can even use a ham hock!

WHITE ONION + GARLIC

are both sweet yet acidic aromatics that work together to create depth of flavor and aroma.

CHICKEN BOUILLON POWDER

is a granulated mix that blends the flavors of chicken, onion, parsley, and various other spices. It works with the turkey to make that hearty, meaty base.

SEASONING SALT

is also a granulated mix of seasonings! It's an easy way to quickly and efficiently add flavor to these green beans.

RED POTATOES

have a subtle, sweet flavor and they also absorb seasoning super well. You could use just about any potato you have on hand though!

BLACK PEPPER

is spicy, bright, and warm. Add as much or as little as you'd like.


How to make Southern Green Beans
Homemade green beans with smoked turkey necks is very easy to make but it does require a bit of time. Time is what makes flavor here.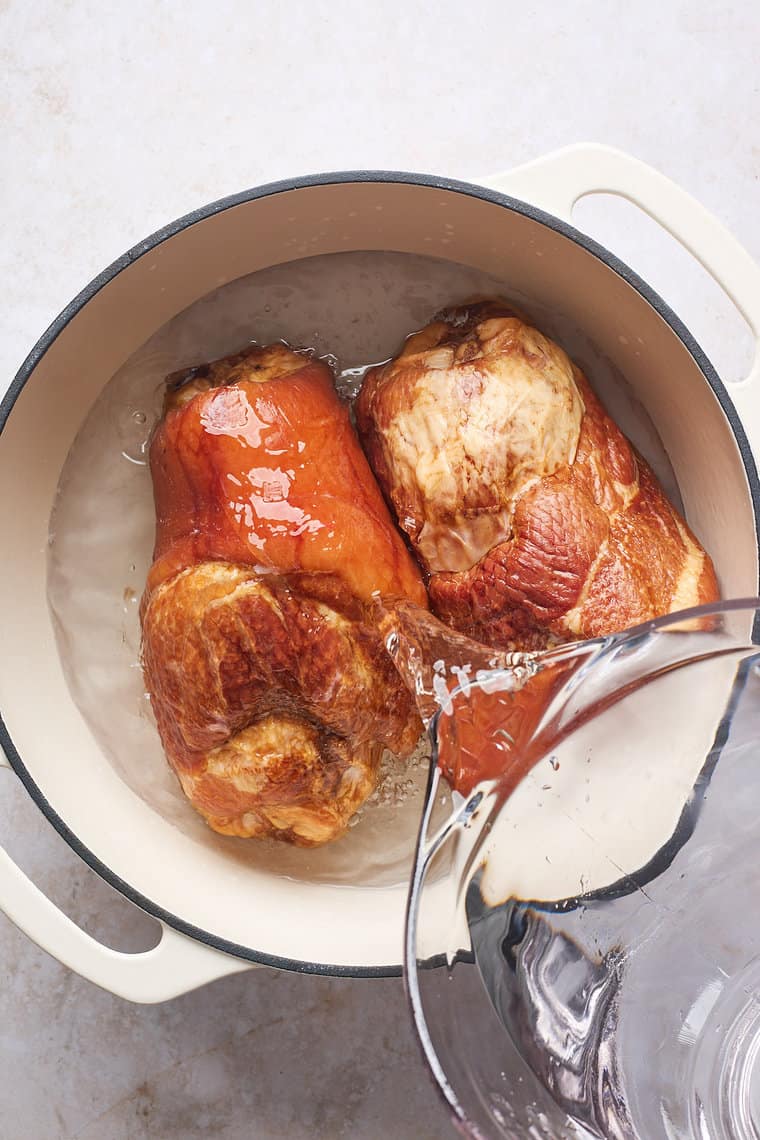 The recipe starts by using water and turkey necks to make a stock. This part is as easy as boiling the necks in water for a couple hours. Don't worry about needing to stir, just be sure to maintain a low boil. You don't want the water to reduce too quickly.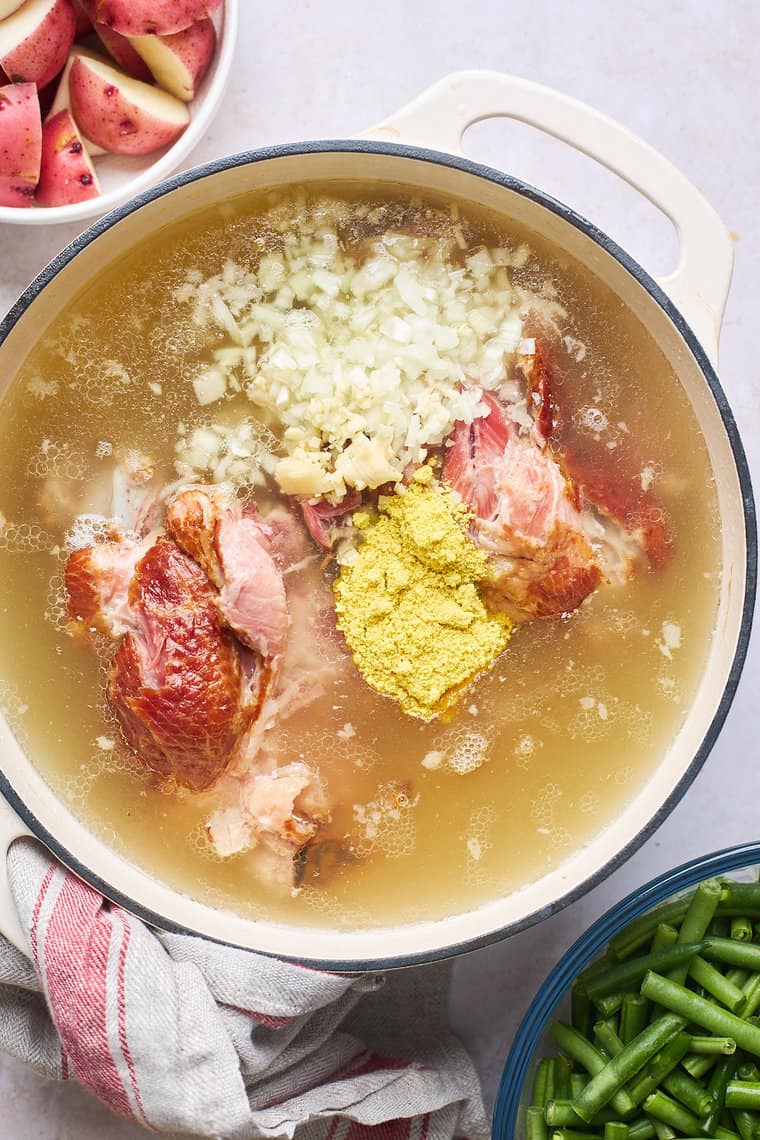 After that, you'll need to mix the onion, garlic, and bouillon powder into the pot. Carefully give the hot broth a taste and add seasoning salt if you think it needs it. Totally up to your discretion.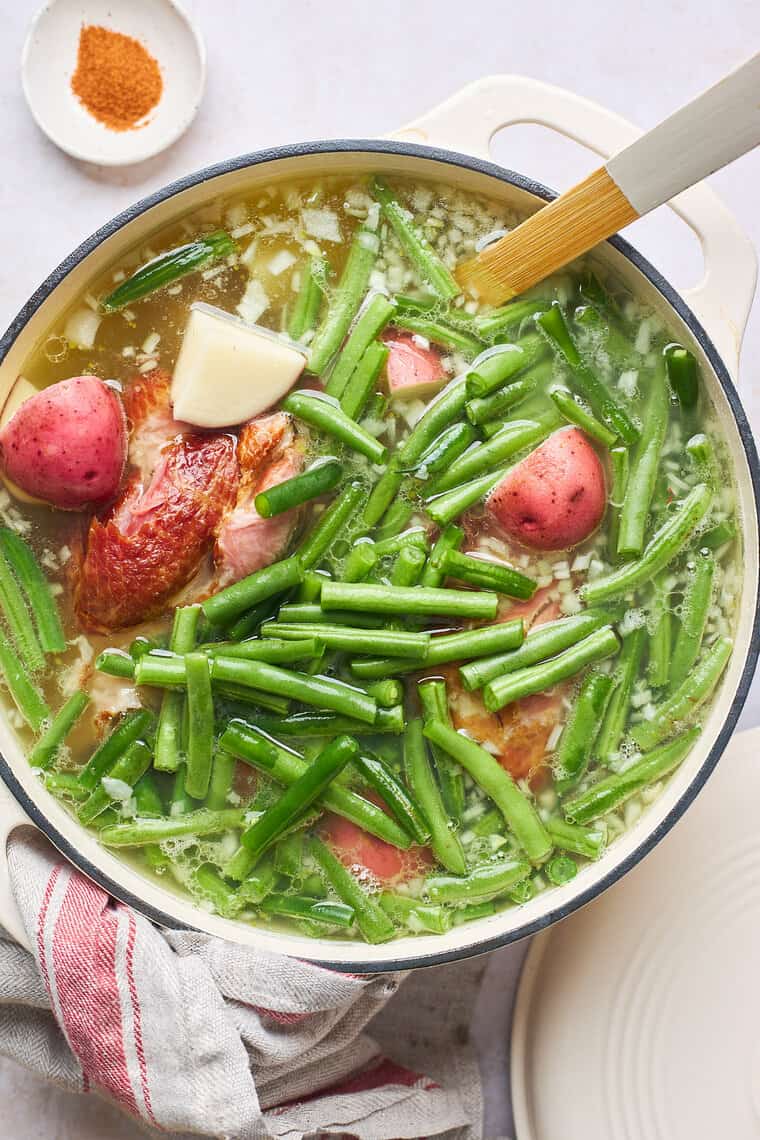 Add the potatoes and string beans to the pot, cover it, and let it cook at a low boil again until the spuds are tender and the beans are soft. Season with the ground pepper, give it another taste, and see what you think!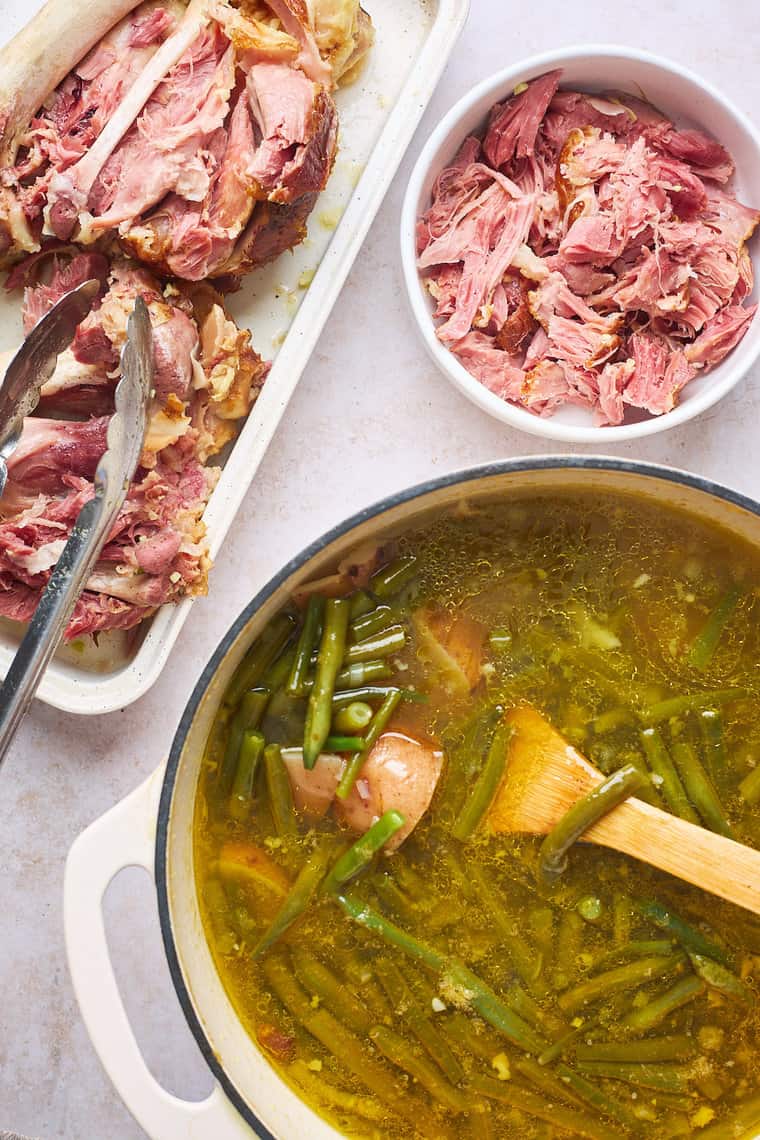 The last thing you'll need to do is remove the smoked necks from the pot and then pull the turkey meat so it can be added back. Be very careful! You'll probably want to let them cool for a few minutes so you don't get burned.
And that's it! A super simple, one pot recipe that requires minimal babysitting. I call that a winner in my book!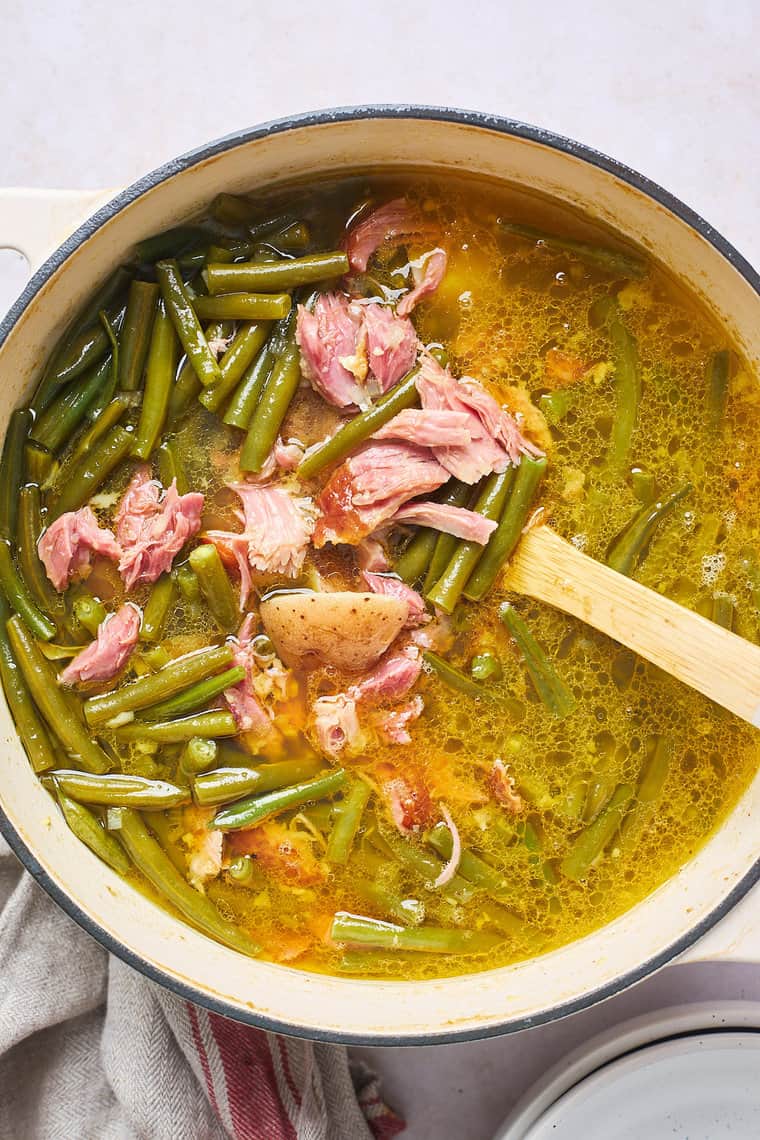 What to serve with green beans and potatoes
Bludso is a big fan of BBQ and so am I! I'd be hard pressed to find a more suitable main to serve alongside these flavorful green beans than some smoky, saucy barbecued meat.
I highly recommend picking up a copy of Kevin's book and trying out this recipe as a side to his incredible Buffalo Rib Tips or BBQ Lamb Leg!
If you'd like to stay a little closer to home, GBC has got plenty of delicious food that would pair perfectly with these southern green beans too.
Check these out:
Although these are all amazing main dish options, keep in mind that there is both smoked turkey meat and potatoes in this recipe too. A pot of southern style string beans can be eaten as a meal all on its own! Even just a side of white rice or biscuits to sop up the juices is a great idea.
How long do cooked green beans last in the fridge?
Any leftover southern string beans should be cooled completely and transferred to an airtight container. Tuck the beans away in the refrigerator for up to 5 days.
How to reheat string beans
Southern-style green beans reheat really well because you don't have to worry about maintaining a crisp texture. You don't want to dry out the beans or make them mushy either, so it's important to warm them up properly.
To do so, place the leftovers in a saucepan set over medium-low heat. Stir frequently and wait for the beans to come up to your desired temperature, adding a splash of water if need be. You could also reheat them in a crockpot on low.
Best Southern Veggie Recipes
Love these saucy, southern-style green beans? Check out a few more of our favorite southern-inspired vegetable recipes: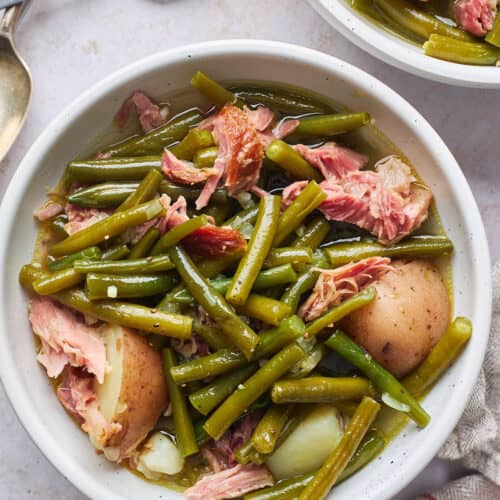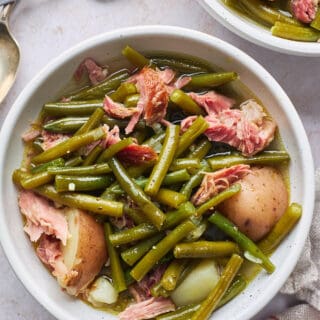 Southern Green Beans
These Easy Southern Style Green Beans are the best thing you'll make this week! Slow simmered green beans and potatoes are made that much more flavorful using smoked turkey necks in this classic southern recipe!
Print
Pin
Rate
Ingredients
8

qt

water

or as needed

6

meaty

smoked turkey necks

or smoked ham hocks

1/2

cup

finely chopped white onion

1

tbsp

finely chopped garlic

2

tbsp

chicken bouillon powder

seasoning salt

1

lb

small to medium red potatoes

quartered

2

lbs

string beans

stemmed and halved crosswise

1

tbsp

ground black pepper
Instructions
In a large stockpot over high heat, combine the water and turkey necks and bring to a rolling boil. Turn the heat to a low boil, cover and cook for 2 hours.

After the 2 hours, add more water if needed just to cover the necks, then add the onion, garlic and bouillion powder and stir to combine. Taste for seasoning and add seasoning salt if needed. The liquid should taste like an excellent, slightly salty broth.

Add the potatoes and string beans, re-cover, and continue cooking at a low boil until the potatoes are quite tender and the beans are soft, about 45 minutes. Add the pepper and stir to combine. Taste for seasoning and adjust if needed. Take off heat but leave covered.

Pull the turkey necks from the broth and set them aside just until they are cool enough to handle. Pull the meat from the necks, discarding the skin and bones, and add the meat back to the broth. If you are using ham hocks, you can simply break them up with a cooking spoon in the pot, or remove them, pull the meat, and add it back into the broth, discard the bones and skin.

Serve the beans and potatoes in bowls along with some of the broth and meat.
Notes
Leftovers will keep in an airtight container in the refrigerator for up to 5 days.  Be careful not to overcook the vegetables or reduce the liquid when reheating.
Nutrition
Calories:
115
kcal
|
Carbohydrates:
25
g
|
Protein:
5
g
|
Fat:
1
g
|
Saturated Fat:
1
g
|
Polyunsaturated Fat:
1
g
|
Monounsaturated Fat:
1
g
|
Cholesterol:
1
mg
|
Sodium:
487
mg
|
Potassium:
708
mg
|
Fiber:
6
g
|
Sugar:
7
g
|
Vitamin A:
1055
IU
|
Vitamin C:
26
mg
|
Calcium:
115
mg
|
Iron:
2
mg