Made with broiled tomatillos, chiles, onion, garlic, and cilantro, Salsa Verde makes for a bright, flavorful addition to enchiladas, tacos, guacamole, elote dip, tamales, and so much more!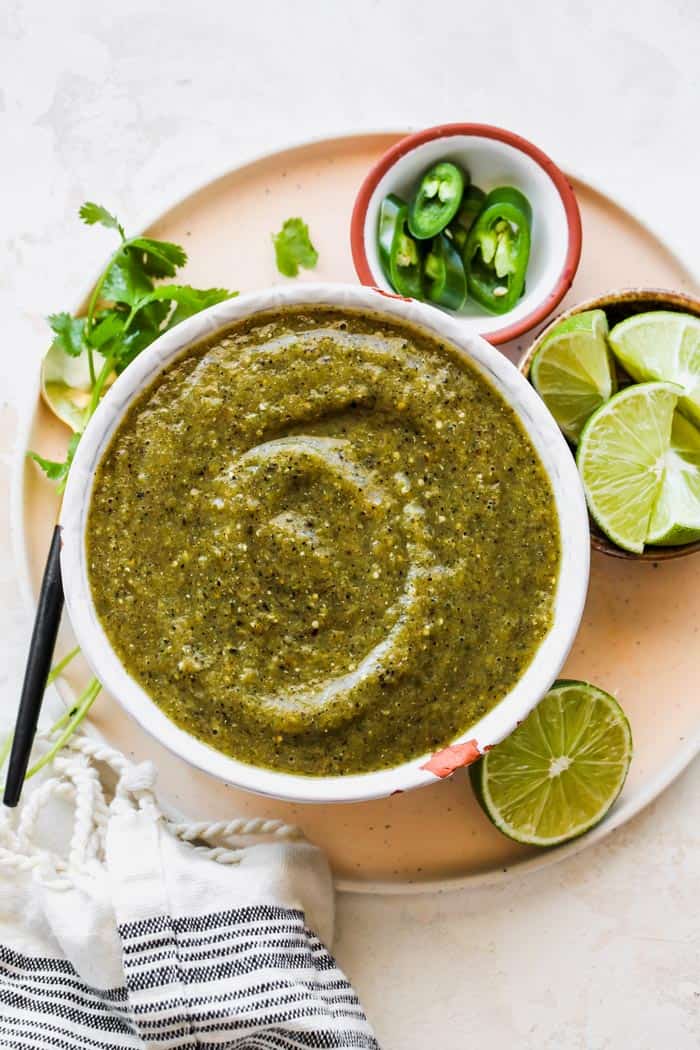 Whenever I go to a Mexican restaurant, I look forward to a bottomless supply of crispy tortilla chips, spicy salsa and guacamole (occasionally elote dip).From the moment my bottom reaches the seat, my hand sets off in an automatic chip, dip, and munch motion. I don't stop until the waiter comes back and asks if we want seconds, and yes, I always want them.
I've got no shame in my love for this iconic combo, in fact I'm proud of it. So much so that I've developed my very own salsa recipe! This is not authentic Mexican Salsa Verde but it is truly an ode to the incredible Mexican culture and food that I adore! Salsa Verde is tart, peppery, vibrant, and addictive. Y'all, I could eat this stuff on everything from scrambled eggs to pizza because it's just that good.
Whether you've never had Salsa Verde before, or you're a diehard fan, I'm here to offer you an option to try.
Perks and Highlights for the Best Salsa Verde Recipe
Cuisine Inspiration: Authentic Mexican
Primary Cooking Method: Blending/Roasting
Dietary Info: Vegan, Gluten-Free, Low Calorie
Key Flavor: Tangy, Zesty, and Slightly Spicy
Skill Level: Easy Peasy
What is Salsa Verde?
There are actually two different kinds of salsa verde: a Mexican one and an Italian one. The Italian version is made with parsley, olive oil, garlic, capers, vinegar or lemon juice, and occasionally anchovies; the sauce is left uncooked and used as a flavor base for vegetables, pasta, and meat. Mexican salsa verde is something completely different; it's made with tomatillos, chiles, and cilantro. Both varieties are tart, vibrant, and full of bold flavor.
Today, we're making a roasted Mexican Salsa Verde that's fresh and incredibly versatile!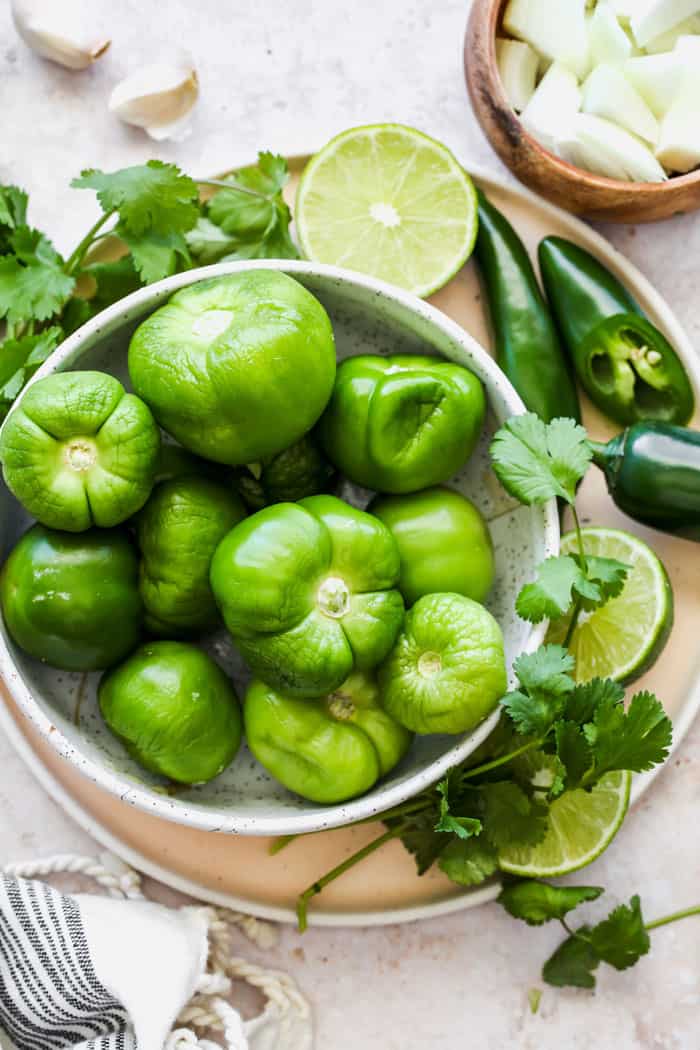 Ingredients
Salsa Verde utilizes simple ingredients to make a zesty sauce like none other. With just under 10 ingredients, you and I are going to whip up something super impressive!
This is what you'll need:
TOMATILLOS are at the heart of most Salsa Verde recipes; they look like little green tomatoes wrapped in thin, paper-y husks. Be sure to buy firm, smooth ones that aren't too loose in the husk. The smaller the tomatillo the more flavor! Remove husks and rinse before using.
JALAPEÑO OR SERRANO PEPPERS introduce heat into the salsa! Jalapenos will be milder and serranos spicier, so go with your desired spice level. Regardless of which you use, you'll need to remove the veins and seeds, otherwise your salsa will be too spicy.
CILANTRO is included for freshness and balance.
ONION & GARLIC bring deep, savory notes to the salsa. I love the sweet, pungent aroma too!
LIME JUICE adds tartness that compliments the slightly sour-sweet taste of the tomatillos.
SALT & PEPPER is non-negotiable! Kosher salt and freshly cracked black pepper all the way!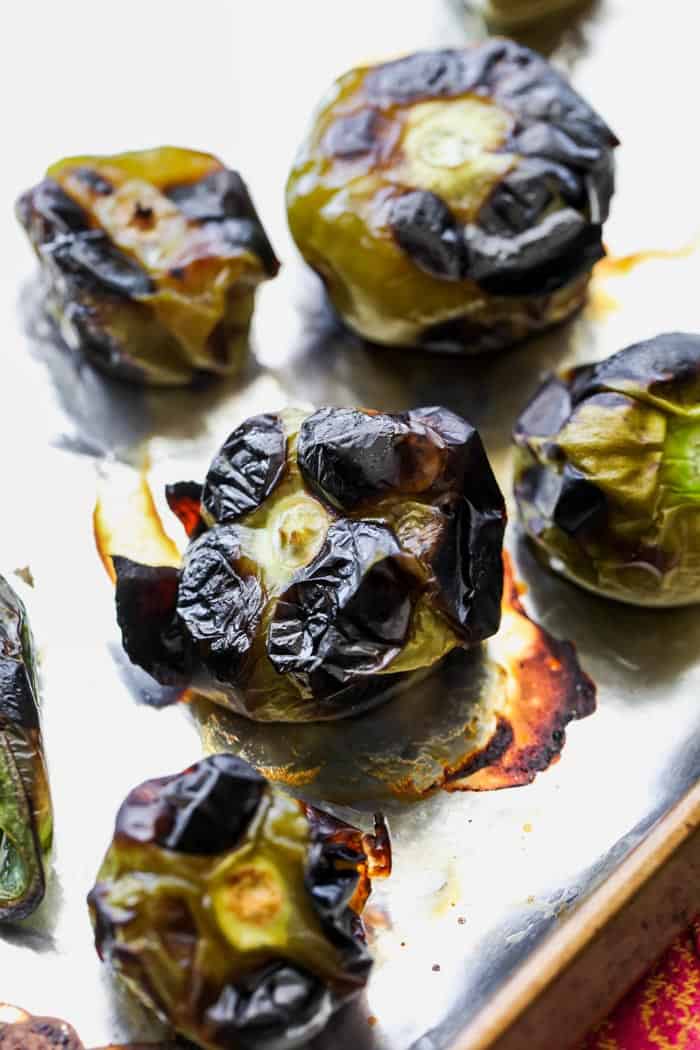 How to Make Salsa Verde
Believe it or not, Salsa Verde is made in 3 easy steps! You read that right. The whole process only takes about 15 minutes, that means you've got time to do that face mask today or take a midday nap.
Here's how it's done:
Broil the Tomatillos, Pepper, and Garlic.

Broiling the tomatoes, pepper, and garlic for a few minutes tame their bite, softens them, and adds some tasty char-roasted flavor. Alternatively, you can boil these ingredients for about 15 minutes, but I'd recommend the broiling method.

Soak the Onion.

If you find raw onion to be abrasive, cold water is the solution. Roughly chop the onion, then place the pieces in a small bowl of ice water. Drain after 5 minutes.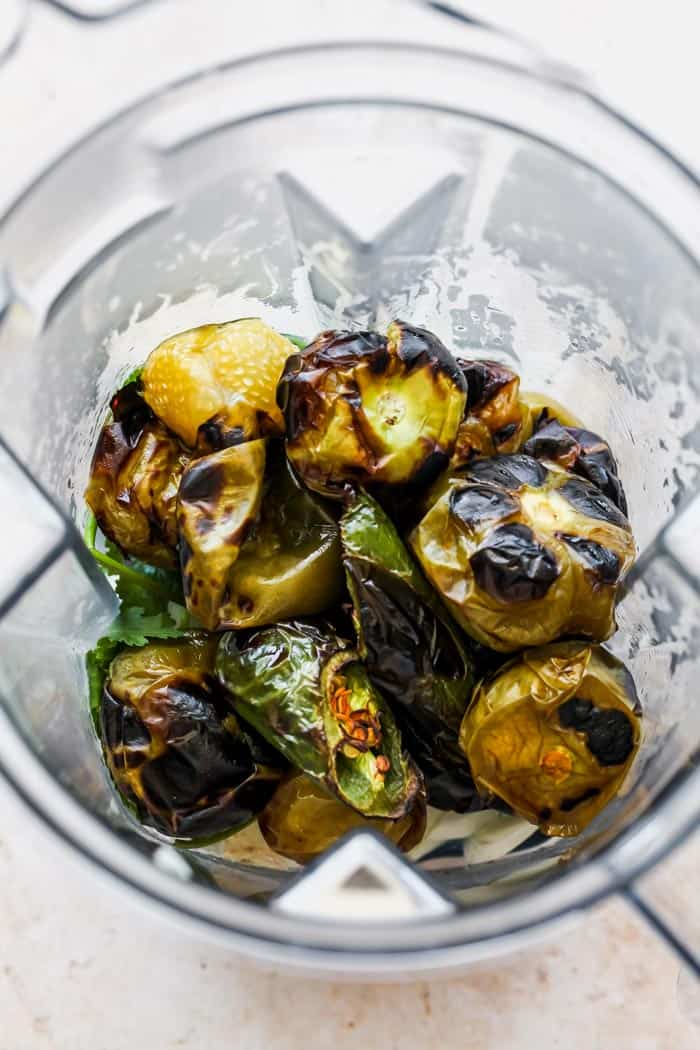 Blend!

Purée until combined and fully-blended. Taste and season as needed!
Storage
Roasted Salsa Verde can be stored in an airtight jar in the refrigerator for up to 2 weeks. To freeze, transfer the salsa to a freezer-safe container and store for up to 6 months. Frozen salsa verde can be defrosted in the refrigerator overnight.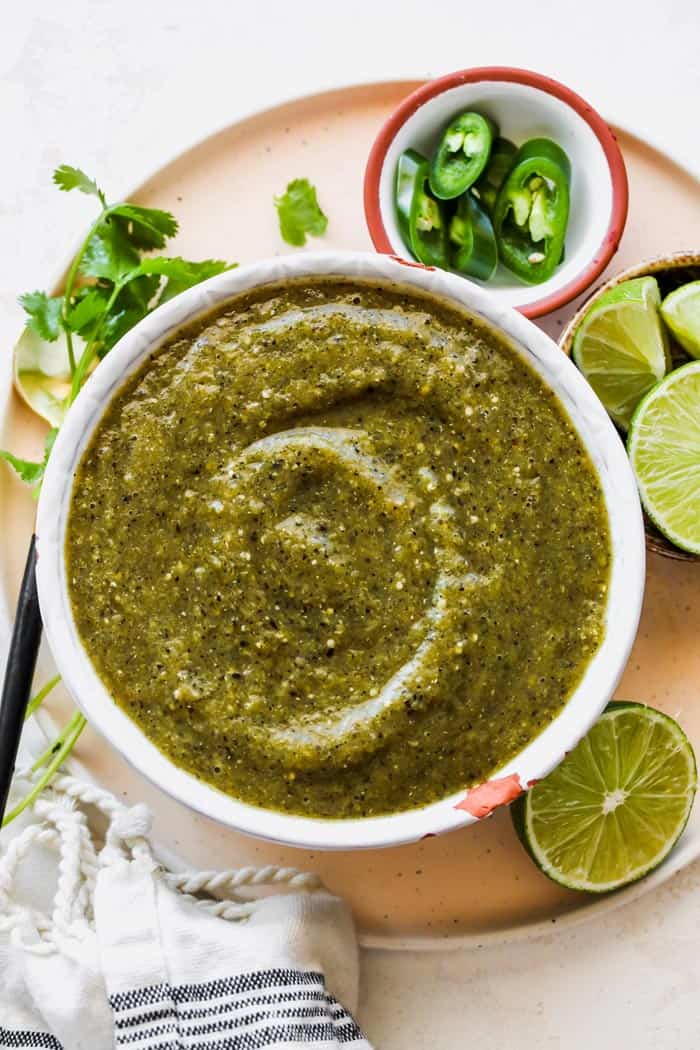 How to Serve It
The simplest way to enjoy the fruit of your labor is with a bag of crunchy, salted tortilla chips, but I also love drizzling this stuff on tacos or tamales.
Here are a few more recipes that could use a little Salsa Verde love: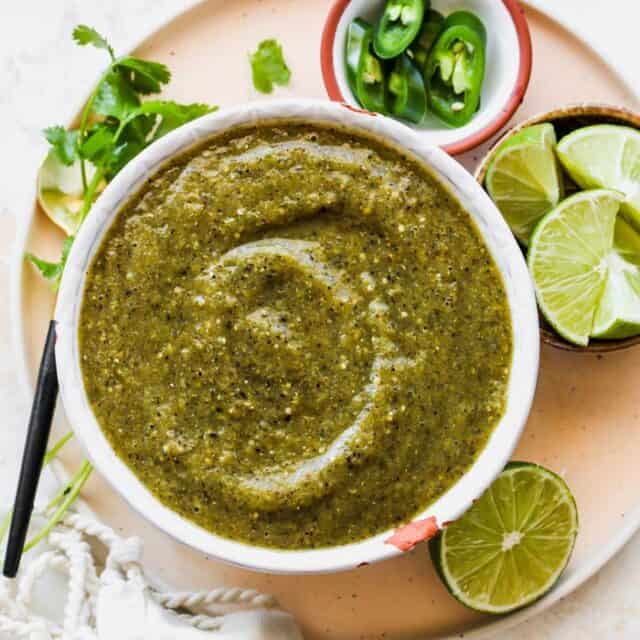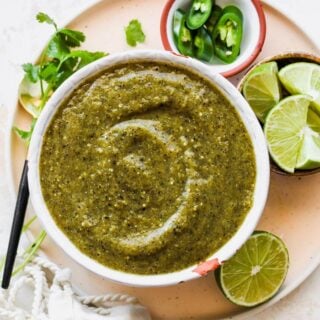 Salsa Verde
Made with broiled tomatillos, chiles, onion, garlic, and cilantro, Salsa Verde makes for a bright, flavorful addition to enchiladas, tacos, tamales, and so much more!
Print
Pin
Rate
Ingredients
1 1/2

lbs

tomatillos

with husks removed and rinsed

1/2-1

jalapeno

with stem removed (to be safe, have the whole jalapeno ready so you can adjust based on your preference. And for more heat, 1 serrano chile pepper/ To be safe

1/3

cup

cilantro

packed

1/2

cup

onion

chopped

4

tsp

fresh lime juice

2

garlic cloves

salt to taste

I start with ½ tsp for reference
Instructions
To Bake Tomatillos and Peppers OR
Set the broiler on your oven and move the rack about 4 inches from the top so you can get some good heat.  Line a 9×13 inch baking sheet with parchment paper and add your tomatillos and jalapeno (or serrano) to the top and broil until they begin to blacken on the top (no more than 5-6 minutes).

Take the baking sheet out and flip over the peppers and broil again for another 4 minutes. The peppers should be pretty charred.
Or to Boil Tomatillos and Peppers
Add tomatillos and jalapeno to a medium sized pot and fill with just enough water to cover the tops of them. Place over high heat.

Once water is boiling, reduce heat to medium low and simmer for just an additional 15 minutes.

Remove the tomatillos and jalapenos from water using a slotted spoon.
Then after prepping tomatillos and peppers
Next, in a heavy duty blender or a food processor or blender, add the cilantro, onion, lime juice and ½ teaspoon (or less) salt.

Once peppers are done broiling or boiling, add all of them to the processor or blender. You may want to start with half of the jalapeno for blending and see what you think of the heat level before adding the entire thing because it can be hot.

Puree until combined and blended. Taste and season with additional salt or even lime juice if needed (or add additional amount of jalapeno or serrano for more heat). Set aside.
Video
Nutrition
Calories:
53
kcal
|
Carbohydrates:
10
g
|
Protein:
2
g
|
Fat:
1
g
|
Saturated Fat:
1
g
|
Sodium:
3
mg
|
Potassium:
407
mg
|
Fiber:
3
g
|
Sugar:
6
g
|
Vitamin A:
245
IU
|
Vitamin C:
21
mg
|
Calcium:
17
mg
|
Iron:
1
mg