In under 20 minutes, you can get your hands on this tender, flaky, and flavorful Air Fryer Salmon with Honey Garlic flavor! This simple weeknight salmon is deliciously healthy and super easy to throw together! If you love this, you will also love this Sheet Pan Salmon, Air Fryer Fried Chicken, Air Fried Jerk Wings, and Maple Glazed Salmon recipe.
By Leidi Rodriguez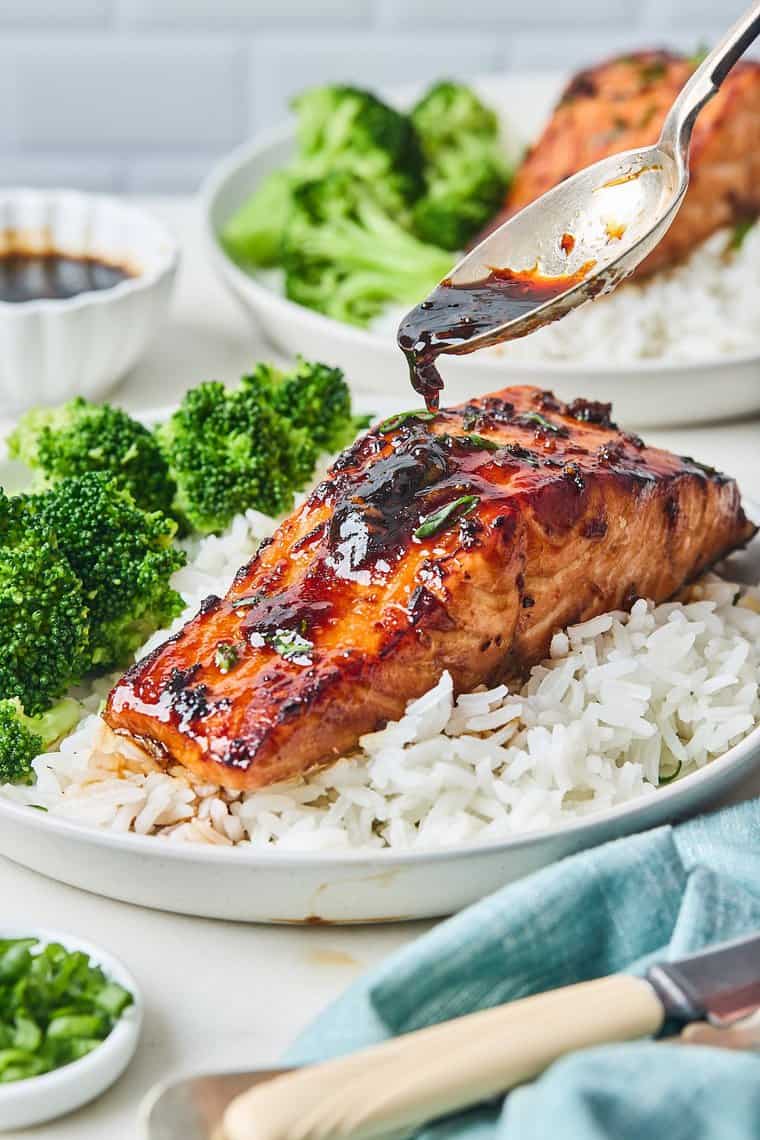 AIR FRYER SALMON
I always keep salmon in my freezer. I'll pick up an extra pack at the grocery store and tuck it away for nights like tonight.
It's been a long week y'all! Mama is tired and I simply do not have the energy for long ingredient lists and lots of whisking. So, I'm calling on my new best friend to take care of things: my air fryer.
The air fryer cooks the salmon so quickly without any of the oven preheating. And no skillet messiness like when you pan-fry it. Not only does the salmon get flaky and perfectly cooked but the honey garlic glaze is so tasty!
Air fryer salmon is so easy to whip up and pairs well with so many sides. This recipe for honey garlic salmon is bound to be your go-to weeknight dinner!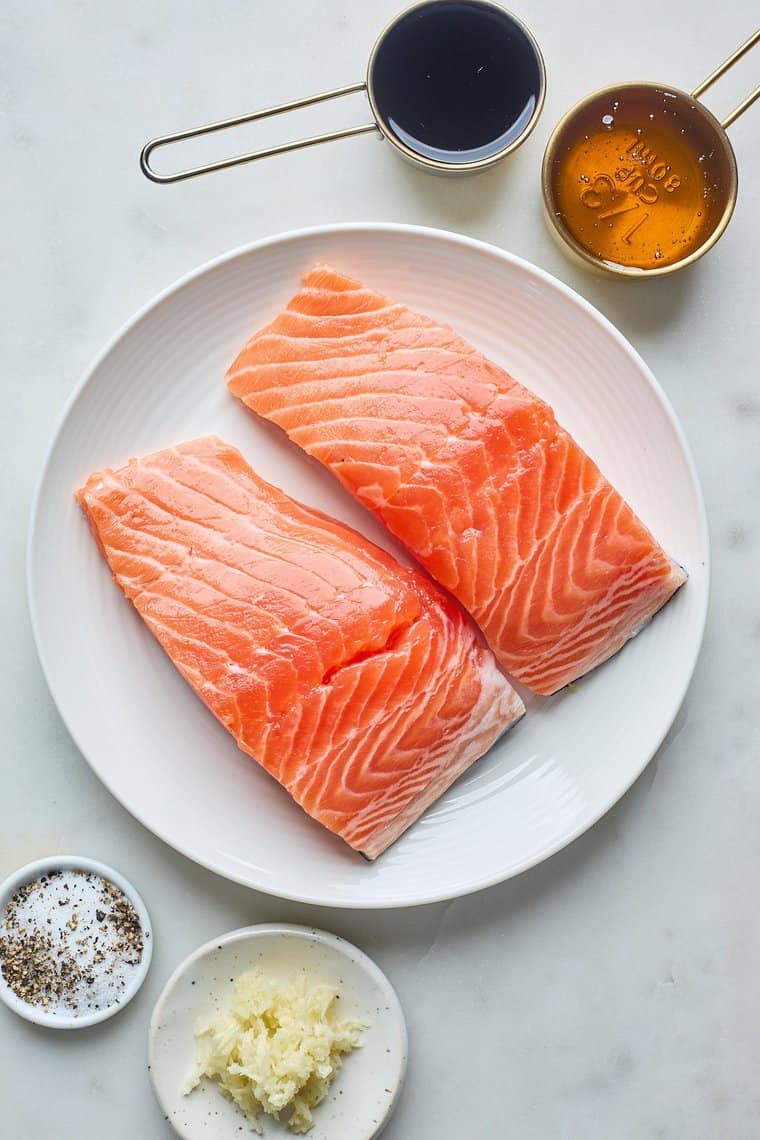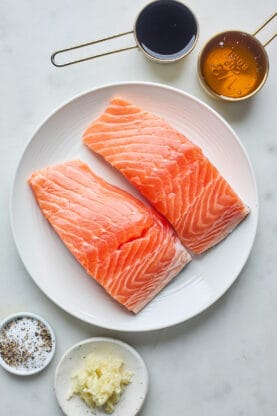 HONEY GARLIC SALMON IN AIR FRYER INGREDIENTS
Air Fryer Salmon or this Honey Garlic Salmon in air fryer is made with less than 5 ingredients. Yup, you read that right! This means less mess, less time, and more time doing whatever the heck you want.
Here's all you gotta pull together:
Salmon Filets-

you can use just about any kind of salmon you'd like. I prefer to use 6-8 ounce Atlantic salmon filets but sockeye or coho are also delicious options!
Honey-

the better the quality of honey you use, the tastier the salmon will be. Honey adds an irresistible sticky sweetness and a slightly floral taste. If you don't like or have honey, use maple syrup instead!
Soy Sauce-

I know you might assume soy sauce will impart a distinctly Asian-style flavor to this salmon but you shouldn't. Soy sauce adds salt, depth of flavor, and an umami-like quality to this recipe. For a gluten-free version, you can use tamari. Coconut aminos is also a fun healthy twist!
Garlic-

I prefer to fresh grate the garlic; it releases all the flavor and creates a sort of paste that coats the salmon more evenly.
Salt + Pepper-

everything needs salt and pepper so don't skimp out here! If you wanna add some kick, throw a little cayenne into the mix.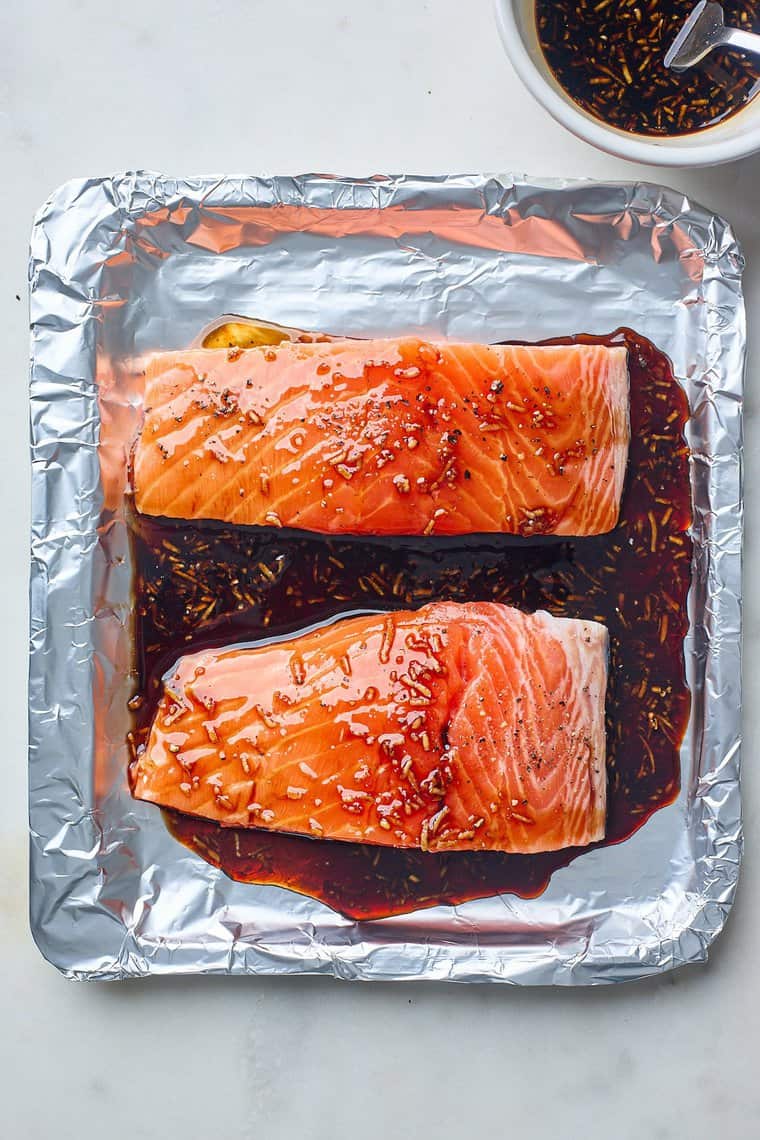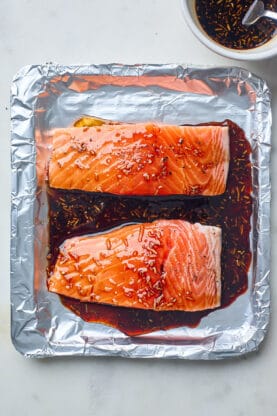 HOW TO COOK SALMON IN AIR FRYER
Made in less than 20 minutes, this air fryer salmon recipe seriously couldn't be easier to make! All you need is a few simple ingredients, an air fryer, and a few easy steps to follow:
RINSE + DRY THE SALMON-

you don't have to but I always prefer to thoroughly rinse my salmon filets, then pat them dry with paper towels. I find that this helps to create a clean, dry base for the seasoning.

LINE THE AIR FRYER + PREHEAT-

for easier cleanup, go ahead and line the air fryer basket with heavy duty foil. Preheat the air fryer to ensure even cooking and accurate timing.

MIX UP THE GLAZE-

while you wait for the fryer to get hot, go ahead and stir up the glaze in a small bowl.

COAT + COOK-

season your filets with salt and pepper, then coat them in that sticky goodness of a glaze! Cook the salmon until tender and fully cooked through.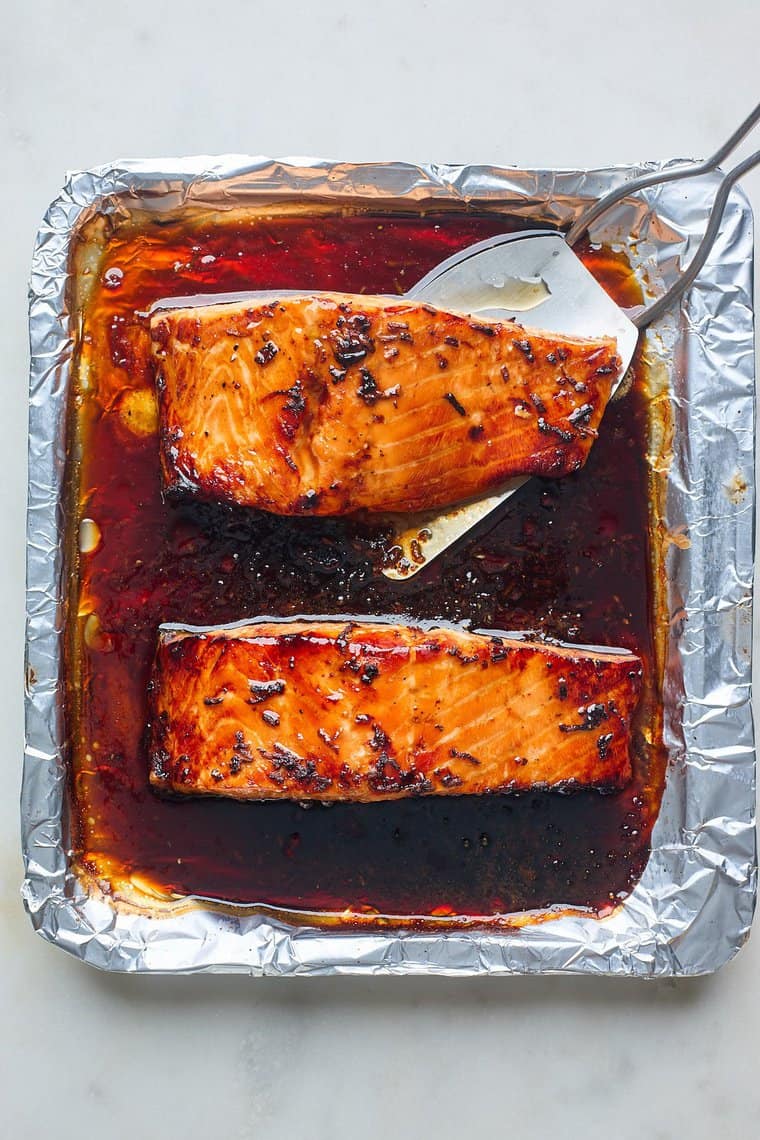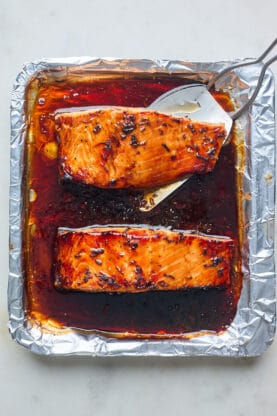 CAN I BAKE THE SALMON INSTEAD?
Absolutely! If you don't have an air fryer at home, you can totally make baked honey garlic salmon instead. To do so, prepare the salmon as instructed while preheating the oven to 400 degrees.
Next, add salmon to the direct center of a large piece of greased or non-stick foil with enough on the sides to fold over when baking. Spoon the honey garlic glaze over the top of the salmon, then fold the sides of the foil. If you need more foil, just layer over the top and close.
Bake the salmon for about 15 minutes, or until the salmon is a minute or two shy of being fully cooked. Change your setting to broil, uncover the foil and place salmon under the broiler for about 2 minutes, or until golden and glazed.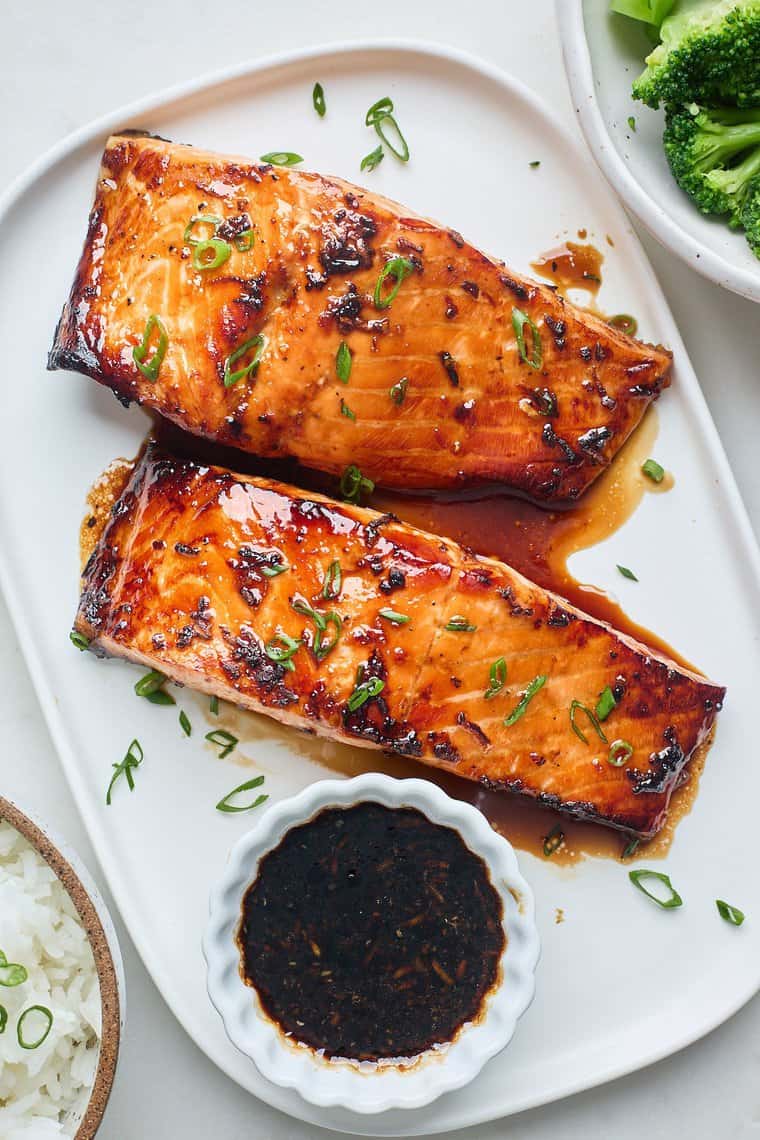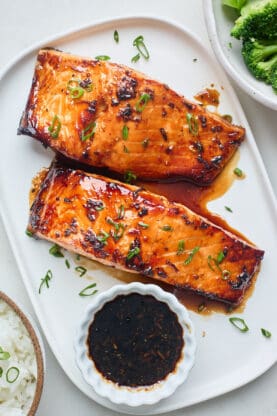 WHAT TO SERVE WITH HONEY GARLIC SALMON RECIPE
This part is all up to you! Honey Garlic Salmon made in the air fryer can be served a million different ways. Serve your tender filet over a bed of salad, with a side of steamed rice and veggies, or use it as a base for some yummy tacos!
Still unsure? Try serving this recipe with a few of my own favorite sides:
STORING LEFTOVER AIR FRYER SALMON
To maximize the life of your Honey Garlic Salmon, store any leftovers in shallow airtight containers or wrap them in heavy duty foil. Keep the salmon in the fridge for 3-4 days.
CAN I FREEZE SALMON AFTER COOKING?
Yes! Cooked salmon can be frozen as long as it's stored properly. However, you should keep in mind that the flavor and texture of the fish might change a bit. The longer the salmon is frozen the more noticeable the difference will be.
Whether baked, cooked, or steamed, air fryer salmon will keep for approximately 4-6 months in the freezer. To store it, wrap each individual piece of salmon in plastic wrap, then tuck them away in a freezer-safe bag or airtight plastic container.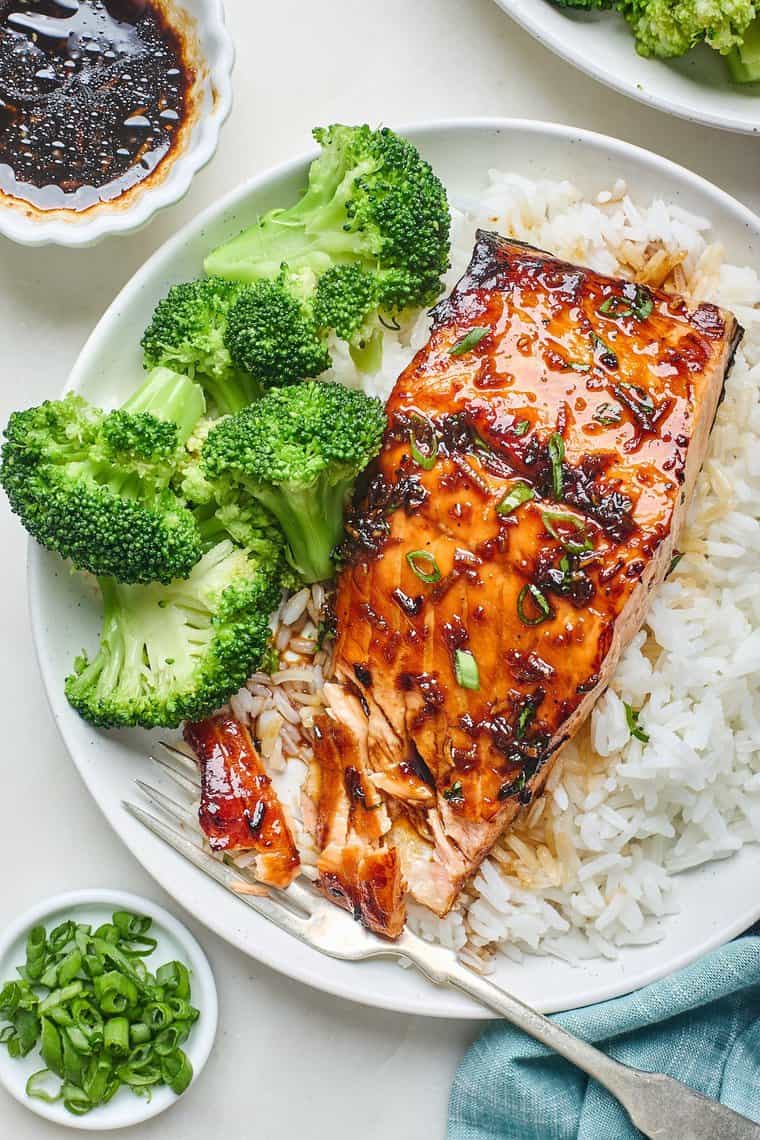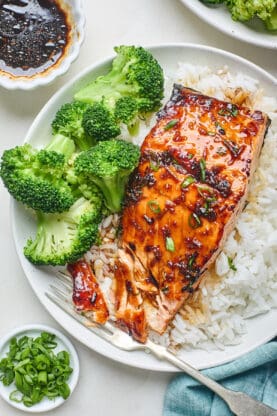 HOW TO REHEAT SALMON IN AIR FRYER
Reheating honey garlic salmon in air fryer is easy. All you gotta do is place the salmon in the air fryer basket, set the air fryer to 360 degrees F, and reheat the salmon for 3-5 minutes. This is the best way to reheat salmon or any fish without drying it out!
If reheating from frozen, you will first need to thaw out the filet in the fridge overnight or at room temperature for a couple hours.
Cooked salmon can also be reheated in an oven set to 350 degrees for about 5-10 minutes. I'd recommend first wrapping it in foil to prevent dryness.
TRY ALL OF GRANDBABY CAKES' BEST SALMON DINNERS!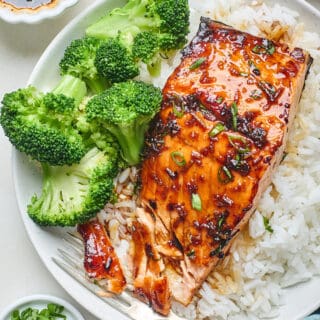 Air Fryer Salmon (Honey Garlic Salmon)
Looking for the best air fryer recipe in the game? Stop right here! In under 20 minutes, you can get your hands on this tender, flaky, and flavorful Honey Garlic Glazed Salmon! Made in the air fryer, this simple weeknight salmon is deliciously healthy and super easy to throw together!
Print
Pin
Rate
Ingredients
2

salmon filets

6-8 ounces each

1/3

cup

honey

1/4

cup

soy sauce

or tamarind for gluten free

4

garlic cloves, minced

or 1 tsp garlic powder

Kosher salt and fresh ground black pepper

to taste
Instructions
In a small bowl, whisk together the honey, soy sauce, and garlic or garlic powder. Set aside.

Pat dry the salmon filets and season each with salt and pepper.

Line your air fryer basket with foil. This will help with cleanup later. Preheat the air fryer to 400 degrees for 3 minutes.

Place the salmon filets into the air fryer basket and evenly pour the glaze over the top. Make sure if using minced garlic that the garlic stays around it and not on the top as it will have a tendency to burn. Replace the lid and cook for 4-8 minutes, or until cooked through. This will depend on your air fryer so check along the way.

Carefully remove the salmon from the air fryer and serve with the remaining sauce in the foil. It's great to pour over the filet!
Notes
My air fryer only fits 2 filets. The recipe can easily be doubled if you have a larger basket.
Nutrition
Calories:
439
kcal
|
Carbohydrates:
50
g
|
Protein:
37
g
|
Fat:
11
g
|
Saturated Fat:
2
g
|
Polyunsaturated Fat:
4
g
|
Monounsaturated Fat:
4
g
|
Cholesterol:
94
mg
|
Sodium:
1698
mg
|
Potassium:
948
mg
|
Fiber:
1
g
|
Sugar:
47
g
|
Vitamin A:
69
IU
|
Vitamin C:
2
mg
|
Calcium:
40
mg
|
Iron:
2
mg