This Blackened Salmon packs incredible flavor, and couldn't be easier to make! Cajun seasoning with hints of citrus coat the salmon then it is seared creating the perfect crust! If you love this, you will also love this Blackened Catfish, Cajun Salmon Cakes, Honey Blackened Catfish and Blackened Shrimp Nachos!
Thank you Chef Curl Ardee for sharing this wonderful recipe!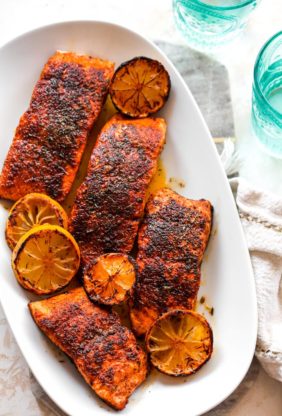 Flavor is key! As a connoisseur of great flavor, I believe the flavor of food can leave such an imprint on us that we can recall the best of any dish we've ever eaten, who was sitting across from us, who cooked it.
Flavor means memories and it's much more than a fusion of bold herbs and spices, but rather a gift someone has given us that makes our day a little bit brighter and we all deserve great tasting food! I started Chef Curl Ardee, a seasoning and spice company, to chase after those feelings and memories. By fusing together some of my favorite flavors, I've worked to make it easy for the chef at any level to curate and master dishes through bold flavors, low sodium, and salt free options.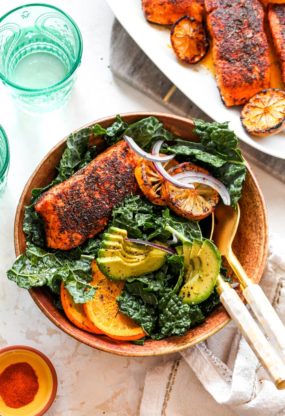 Enter Chef Curl Ardee's Blackened Citrus Salmon!
The beauty of salmon is all about its versatility. Adding Cajun Seasoning with citrus means flavor on flavor and with a dish that soaks up just about anything you add to it, Chef Curl Ardee's Blackened Citrus is an easy and clear winner.
What does 'Blackened' mean?
It's the process of searing with heat and herbs as the right combination of the two produce a nice char (not burn)!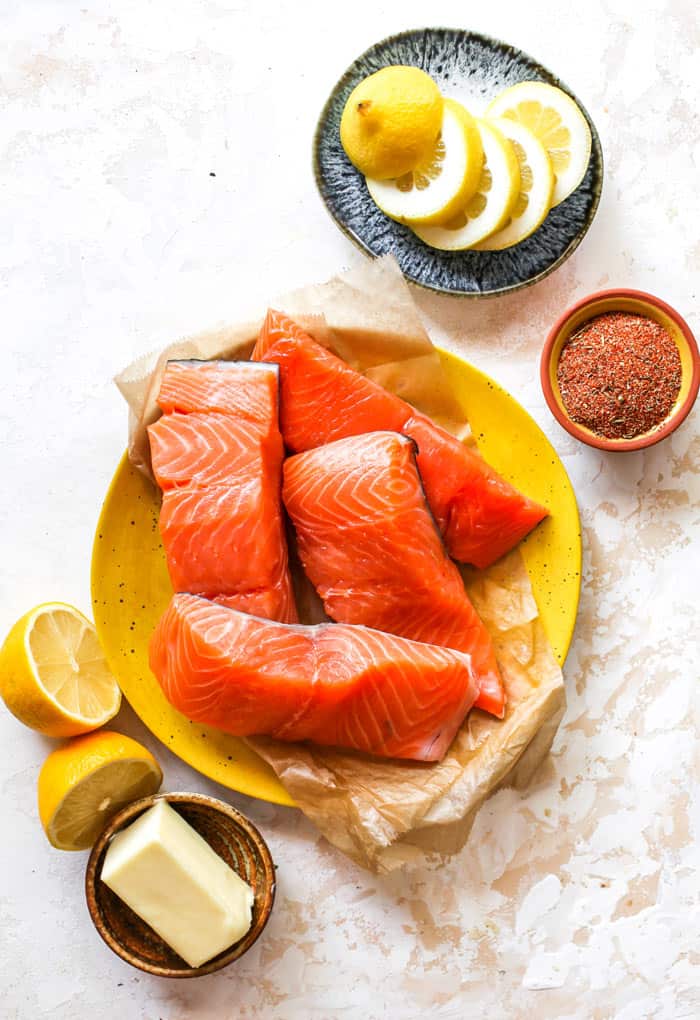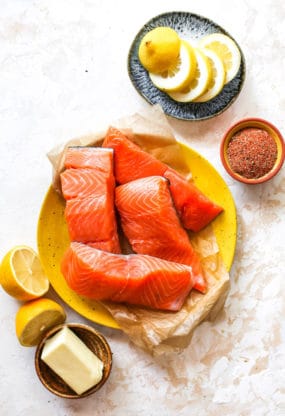 HOW TO BLACKEN SALMON
Blackening salmon is a cooking technique commonly used in Cajun cooking. The process is quick, easy and makes for some of the most delicious fish you've ever had. All you need is a cast-iron skillet, melted butter and plenty of seasoning.
Follow these 3 easy steps for the perfect blackened salmon:
GET THAT CAST IRON HOT
When using a blackened season, it's super important to watch the heat. You will want the skillet hot enough to produce a nice sear on the salmon but not so hot that the butter/oil will burn while preheating.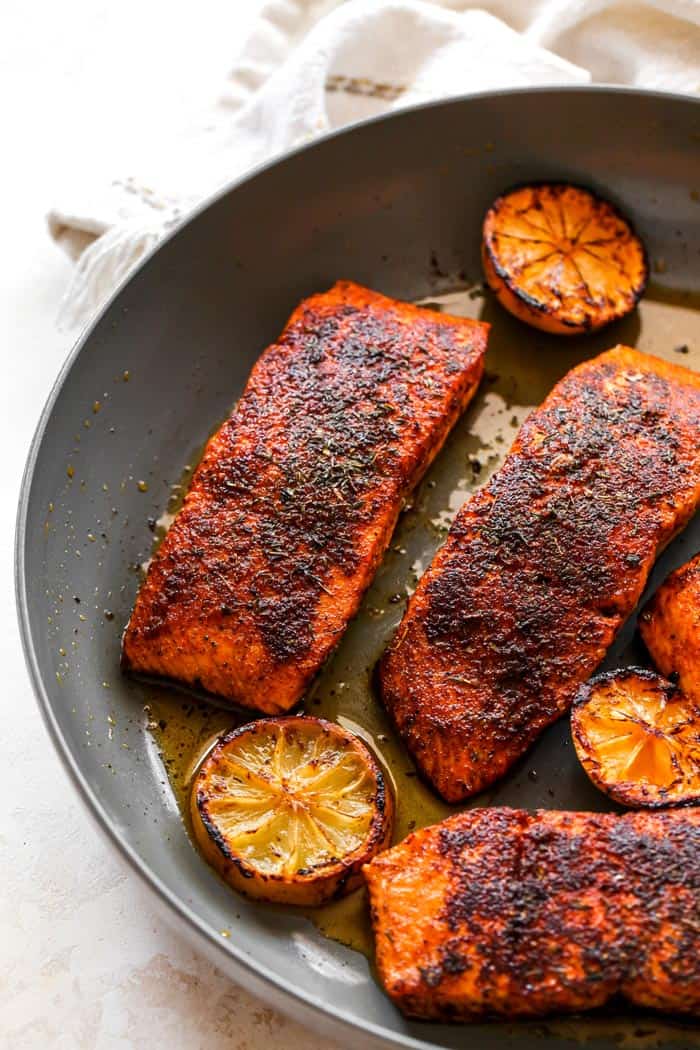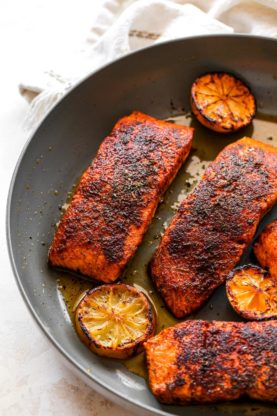 DREDGE IN BUTTER & SEASONING
I've found that butter is the best way to keep fish moist and help the seasoning to stick. We want every bit of delicious spice to adhere.
Cajun Seasoning is a smoky, spicy and herbaceous blend of spices meant to go with just about anything. Don't be afraid to heavily coat the salmon. More flavor never hurt anyone.
COOK & WATCH CAREFULLY
Cook each side for no more than 4 minutes; don't walk away, keep an eye out! If the flesh/skin is browning too quickly, lower the heat.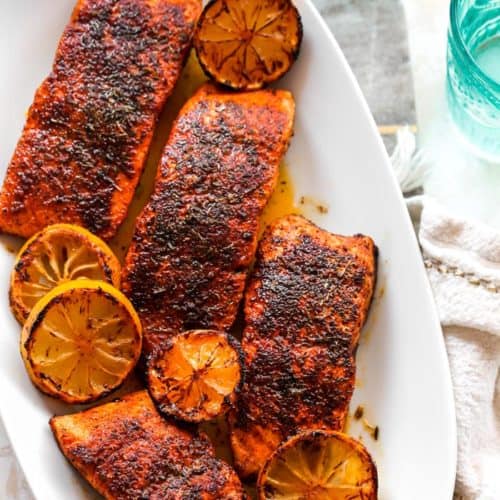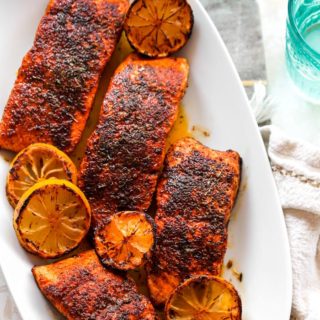 Blackened Salmon
This Blackened Salmon packs incredible flavor and is so easy to make!  Cajun seasoning with hints of citrus coat the salmon then it is seared to perfection!
Print
Pin
Rate
Ingredients
Cajun Seasoning

to taste, you will be using a lot of this to coat the salmon

4

(4 oz) fresh salmon fillets

also see note below on skin

1

medium lemon

1/3

cup

unsalted butter

or olive oil (or you can use a mix of both) if concerned about burning
Instructions
Prep salmon by patting it dry first with a paper towel and then spreading a little butter and lemon juice directly on top. Allow the salmon to sit for 3-5 minutes. Salmon shouldn't be super moist so brushing the lemon on will help not to over saturate the fish. Adding the lemon juice first will also help provide additional flavor as the blackened portion of this recipe will come from the Cajun Seasoning and heat.

Preheat skillet with butter and a few additional drops of lemon juice. Cutting a thick slice off the lemon will allow you to squeeze juice directly from the slice! Also, feel free to leave the slice in the butter throughout the duration of the recipe. Medium to high heat is perfect to start melting the butter without overheating/burning. If the butter starts to get smoky or burn, remove the skillet, clean residue, and start over with step 2.

Add enough Cajun seasoning to cover the salmon filets. Liberally adding seasoning will help with the flavor but also the blackening as the process is complete with blackened spices AND heat.

Once skillet is hot, add seasoned filets (with the seasoned side down directly into the butter). As soon as it starts to sear, bring the heat to a low to medium heat as to not burn the fish. The skillet will be hot enough to finish searing the top of the salmon filets.

After approximately 4 minutes, carefully flip the salmon over. The top of the salmon should be blackened and ready to finish cooking with either the skin side or non blackened side down. Reduce the heat to a low to medium heat as the remainder of the salmon can finish cooking without the higher temperature.

Allow salmon to finish cooking for approximately 4 to 7 minutes depending on the cut and thickness of the salmon. Once the salmon starts to release the albumin (it seeps out when salmon is exposed to heat) monitor to make sure that it's not drying out. Salmon should still be pink when it's completely done cooking and easily flake. A little translucency in the middle is also a good indicator that the salmon is done cooking.

Remove salmon from skillet and serve hot (or not) and enjoy! Feel free to add additional lemon juice as a finish!

Plate with your favorite veggies, flake off for tacos, or add to leafy greens for an amazing and flavorful salad.
Notes
Note on salmon skin: Skin on salmon is a preferred but not mandatory as the skin helps keep the fish together
Nutrition
Calories:
385
kcal
|
Carbohydrates:
3
g
|
Protein:
34
g
|
Fat:
26
g
|
Saturated Fat:
11
g
|
Cholesterol:
134
mg
|
Sodium:
77
mg
|
Potassium:
870
mg
|
Fiber:
1
g
|
Sugar:
1
g
|
Vitamin A:
541
IU
|
Vitamin C:
14
mg
|
Calcium:
32
mg
|
Iron:
2
mg