These delicious Southern Salmon Croquettes are a quick and easy soul food classic done right! Nice and tender on the inside full of salmon flavor and aromatics, yet crunchy and delicious on the exterior from an irresistible cornmeal breading, you will make these time and time again.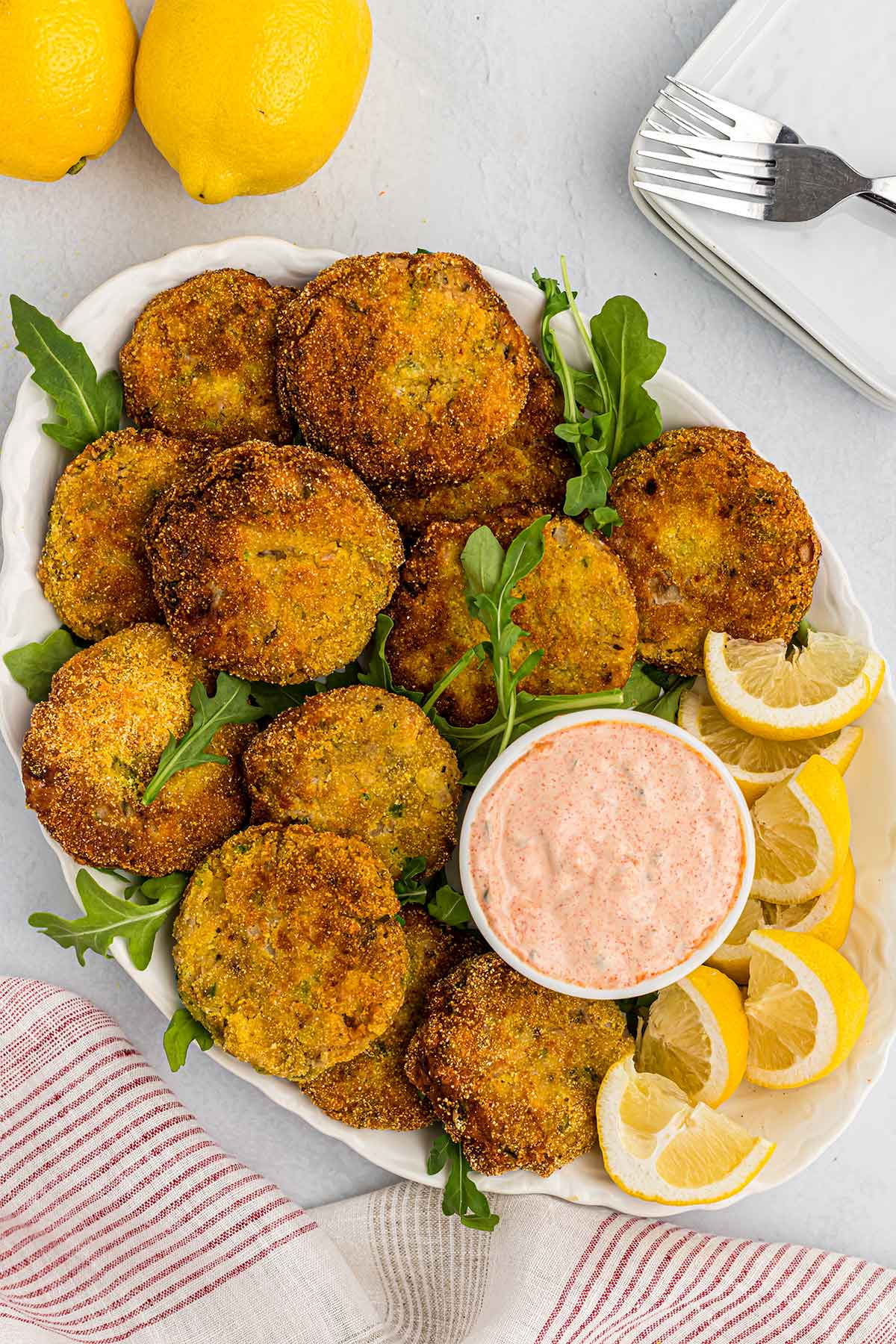 This is definitely a Southern classic if I've ever known one. I grew up on Salmon Croquettes. We had them at least once a week growing up.
My mama was what I would call a croquette queen (hey that sorta rhymes). She would throw these together so quickly on a weeknight, yet we would feel like she had been slaving over a stove for hours like it was Sunday dinner.
She learned to make them from her mama, my Big Mama, and now I am passing them on to you with a few small updates.
Why You Will Love This Recipe
Simple recipe. They're easy to make and so fast to throw together.
Budget-friendly. They're made with just a few pantry pulls that are sure to keep your grocery receipts nice and light.
A classic home-cooked meal. Serve this soul food comfort dish for dinner along with my collard greens, fried okra, and biscuits.
What Are Salmon Croquettes?
Salmon croquettes with cornmeal are basically a southern version of salmon cakes or salmon patties. They can be fried or baked.
The main ingredient is usually canned salmon though there are quite a few newer recipes that use fresh salmon that has been either chopped finely or ground to mold into patties. A thickener is added to help the patties form.
Ingredients You Need
Nothing makes salmon better than enhancing the flavors of the simple ingredients. These ingredients are key for making the best southern salmon patties: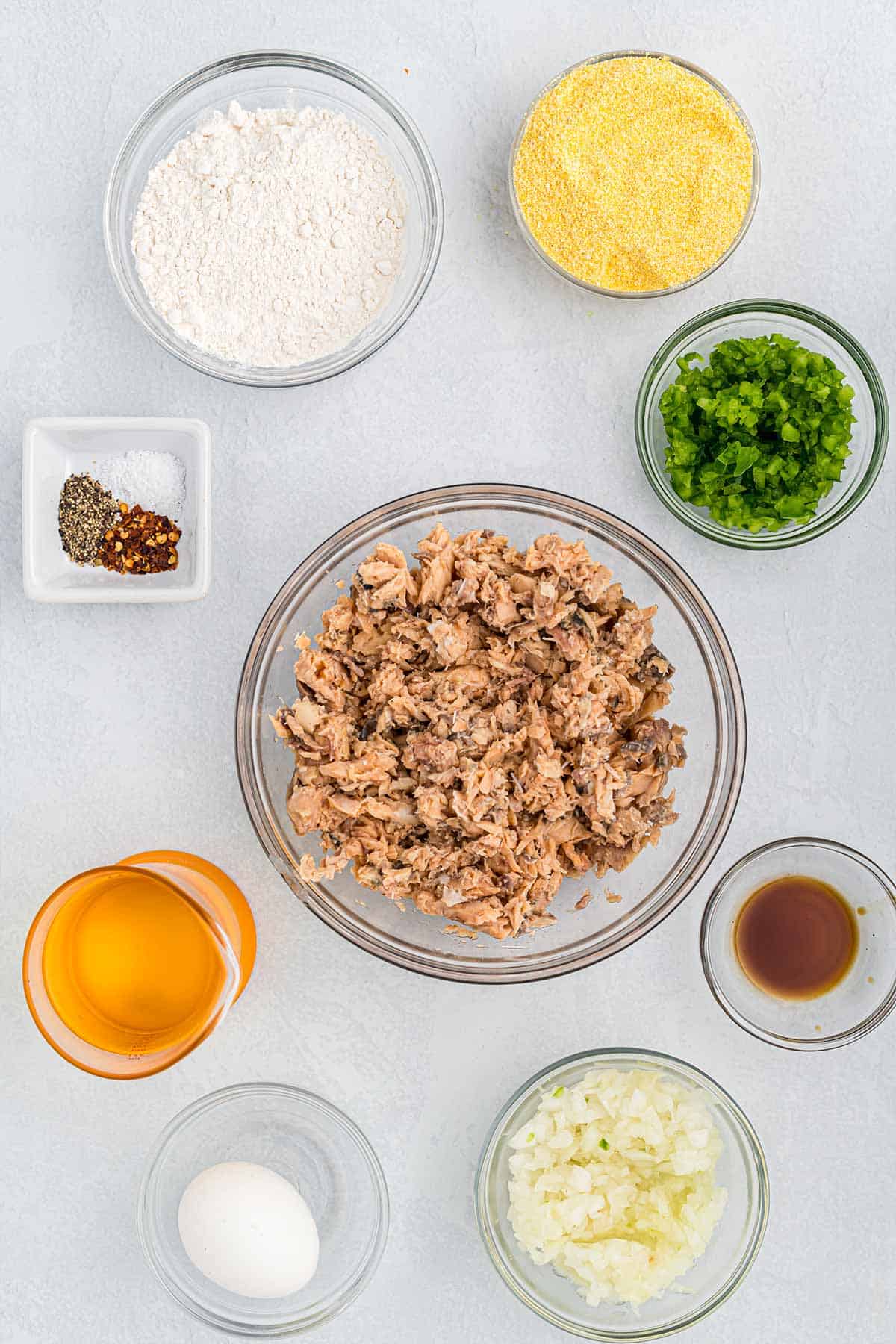 Canned Salmon: Make sure you begin with high-quality canned salmon. It will make a big difference in the final flavor. My mother particularly likes Pillar Rock salmon. The flavor is milder and isn't as fishy as some other brands. It also tastes quite fresh. You will want to remove bones as well.
Aromatics: Onions and peppers really make the salmon shine.
Egg
Flour: Instead of all-purpose flour, my mama uses self-rising flour. She likes to use this type of flour because it is enhanced with flavor (salt), and also gives the croquettes a slight lift with the leavening as they fry.
Cornmeal: It's optional but yellow cornmeal really gives the croquettes a nice crunchy exterior.
Seasonings: Worchestershire and red pepper flakes bring a nice kick to the final bite.
How to Make Salmon Croquettes
This salmon croquettes recipe couldn't be easier. The filling can be mixed easily in one bowl. Just do it as my mama does, throw everything into the bowl and mix together with a fork or even your clean hands to combine the ingredients well.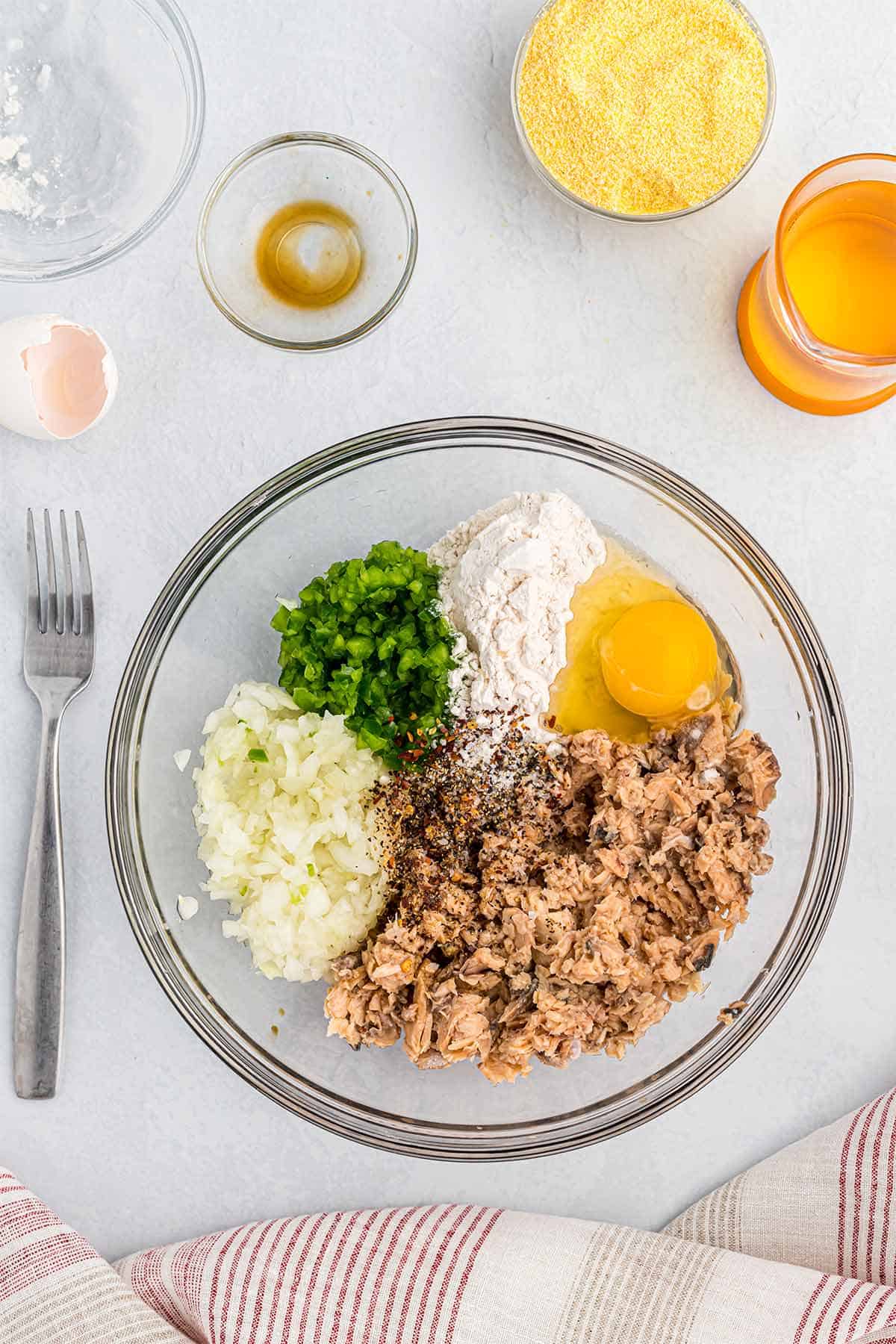 HINT: This croquette filling is a little looser because we like our salmon croquettes very tender on the inside. However, if you want to stiffen them up, you can add a bit more flour. Don't overdo it as your croquettes may taste more like flour than salmon!! Honestly, I would just leave the ratios the same and handle the croquettes with care.
After mixing the salmon and other ingredients, gently shape them into medium-sized patties. I don't make them too big because the bigger you make the patties, the harder it is to maneuver them.
After they are shaped, you will carefully roll them in a light breading of cornmeal.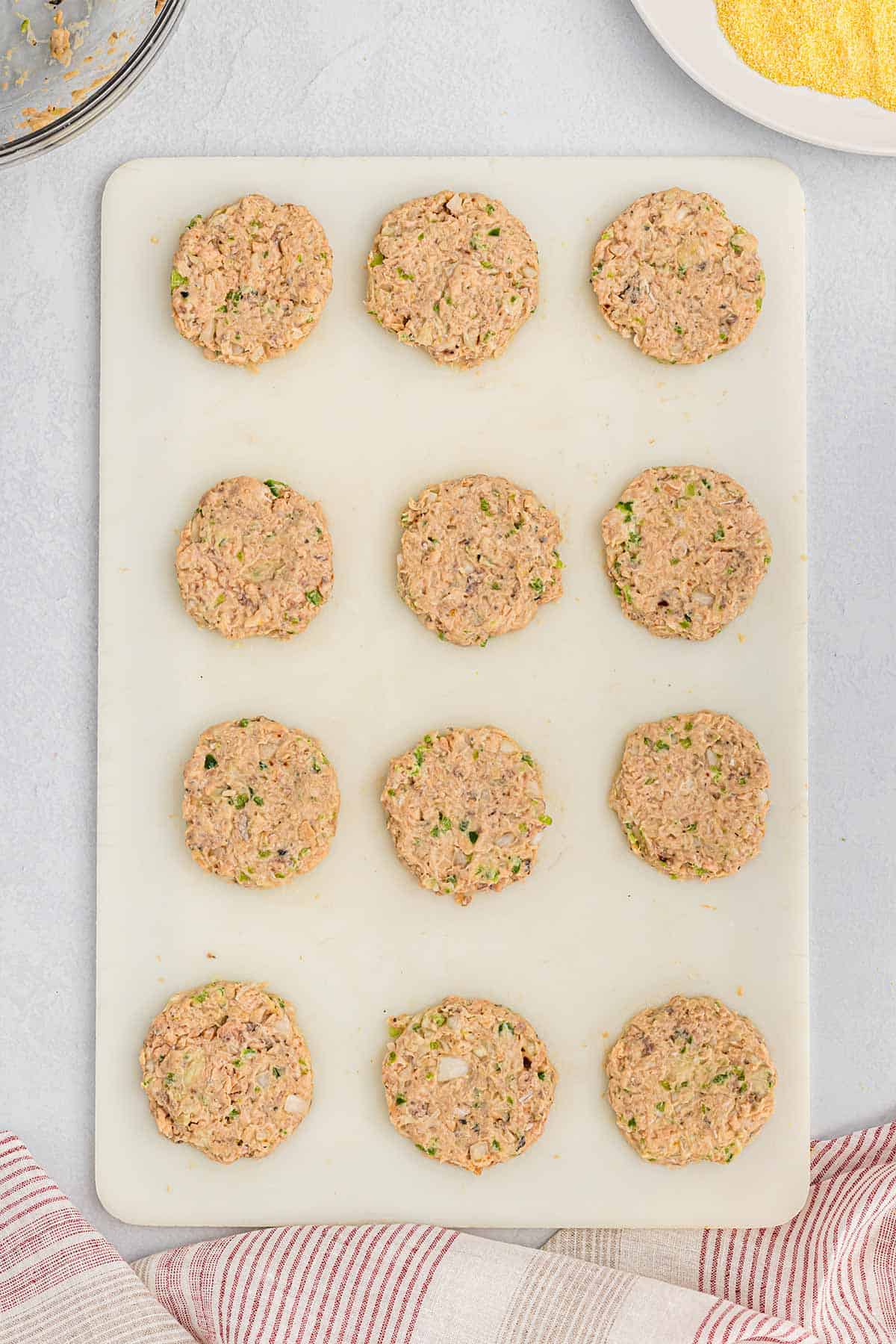 Next comes the fun part! You fry these babies up. Not too much oil is needed since you aren't deep frying them but more pan frying them.
Golden brown is what you are looking for and it doesn't require a lot of time.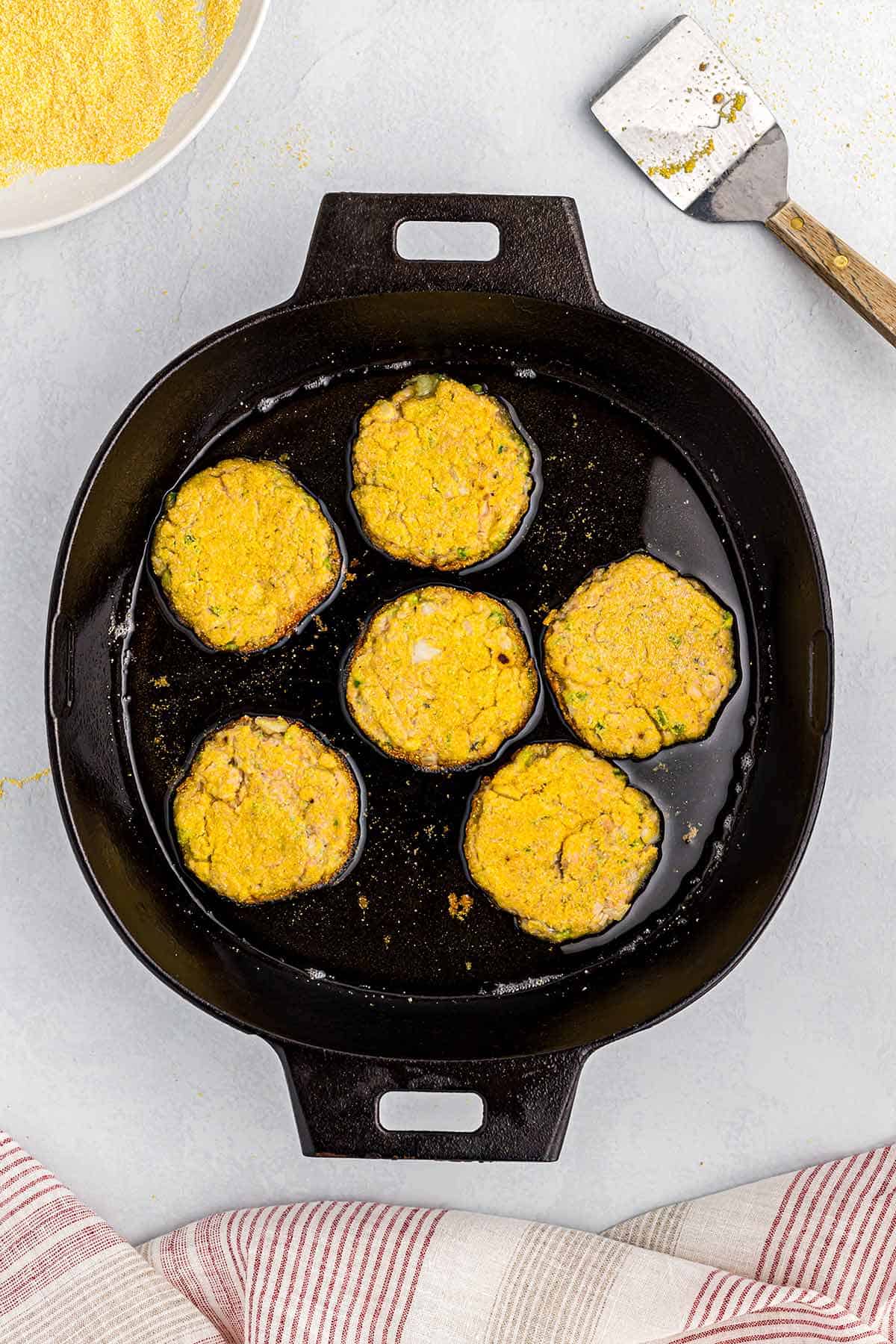 When the croquettes are finished cooking, remove them from the pan and let them drain a bit on a piece of paper towel. This will make them less greasy when serving.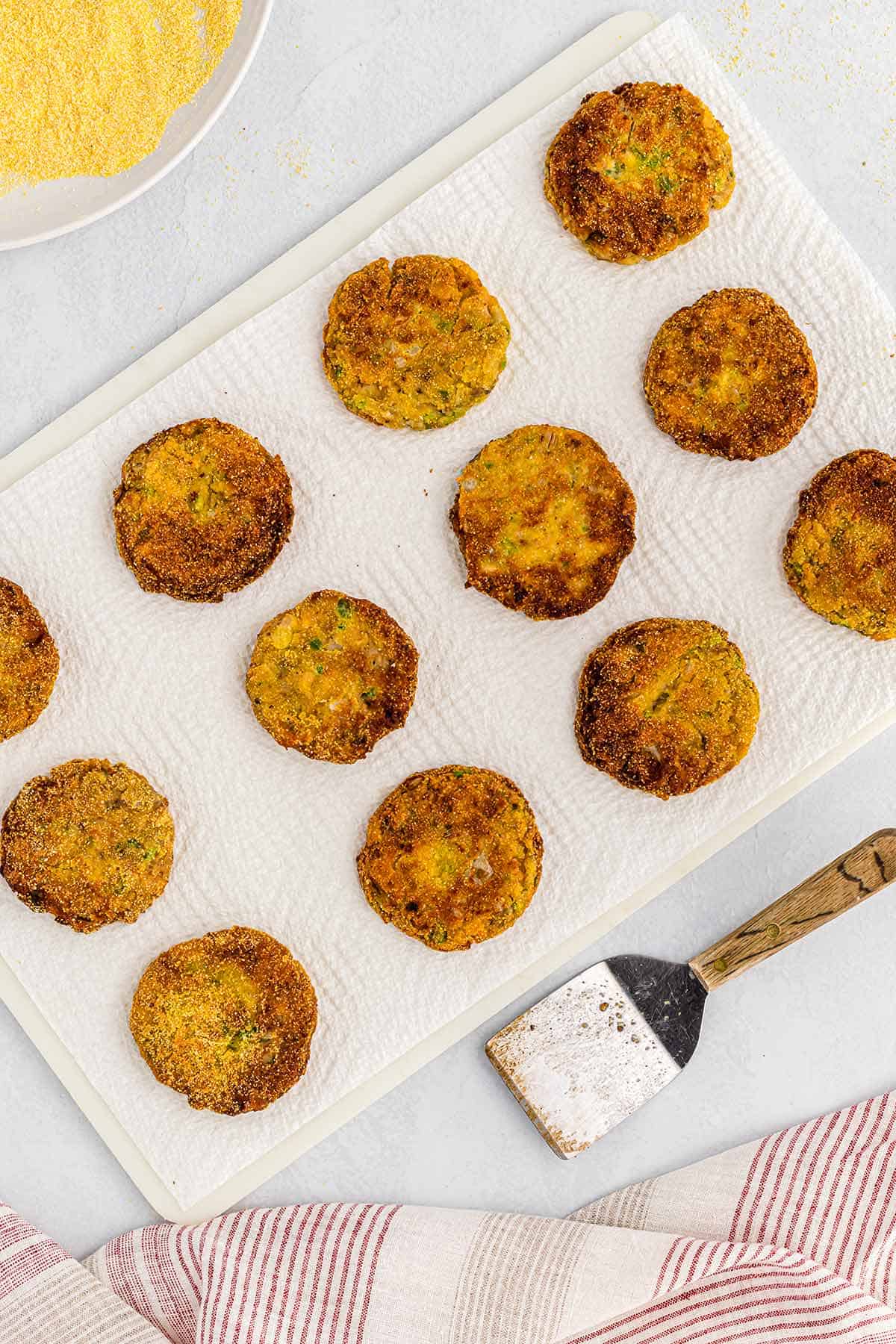 Store
Leftovers: These salmon croquettes are best served immediately after cooking. If you happen to have leftovers, gently place them in a container in a single layer or with a piece of parchment between the layers. Store them in the refrigerator for up to three days.
Make ahead: I don't recommend making these ahead of time but if you need to save some time, you can make the croquette mixture 24 hours in advance and them shape and cook the croquettes when you're ready.
Freeze: Store leftovers as outlined above and then freeze for up to one month.
Reheat: To reheat, lay them out on a baking sheet lightly sprayed with oil and heat in a 350° F oven for 10-15 minutes or until heated through.
What to Serve with Salmon Croquettes
Tartar sauce. This easy sauce is my go-to when serving up southern salmon croquettes. It's easy and the tart, tangy flavors make the perfect pair for the canned salmon croquettes.
Remoulade Sauce. This cajun-style sauce makes a slightly zesty and bold sauce to serve up with crispy croquettes.
Cocktail Sauce. Not a traditional dip for croquettes, but it will work if you prefer a tomato-based sauce rather than a creamy one.
Need some salmon croquettes sides? Turn these into a meal by serving up your favorite vegetable sides! Try southern collard greens, fried corn, or homemade cornbread.
Party appetizer inspiration? If serving these for a party, add on a few other fun appetizers such as chicken wings, bbq meatballs, or these yummy pizza rolls.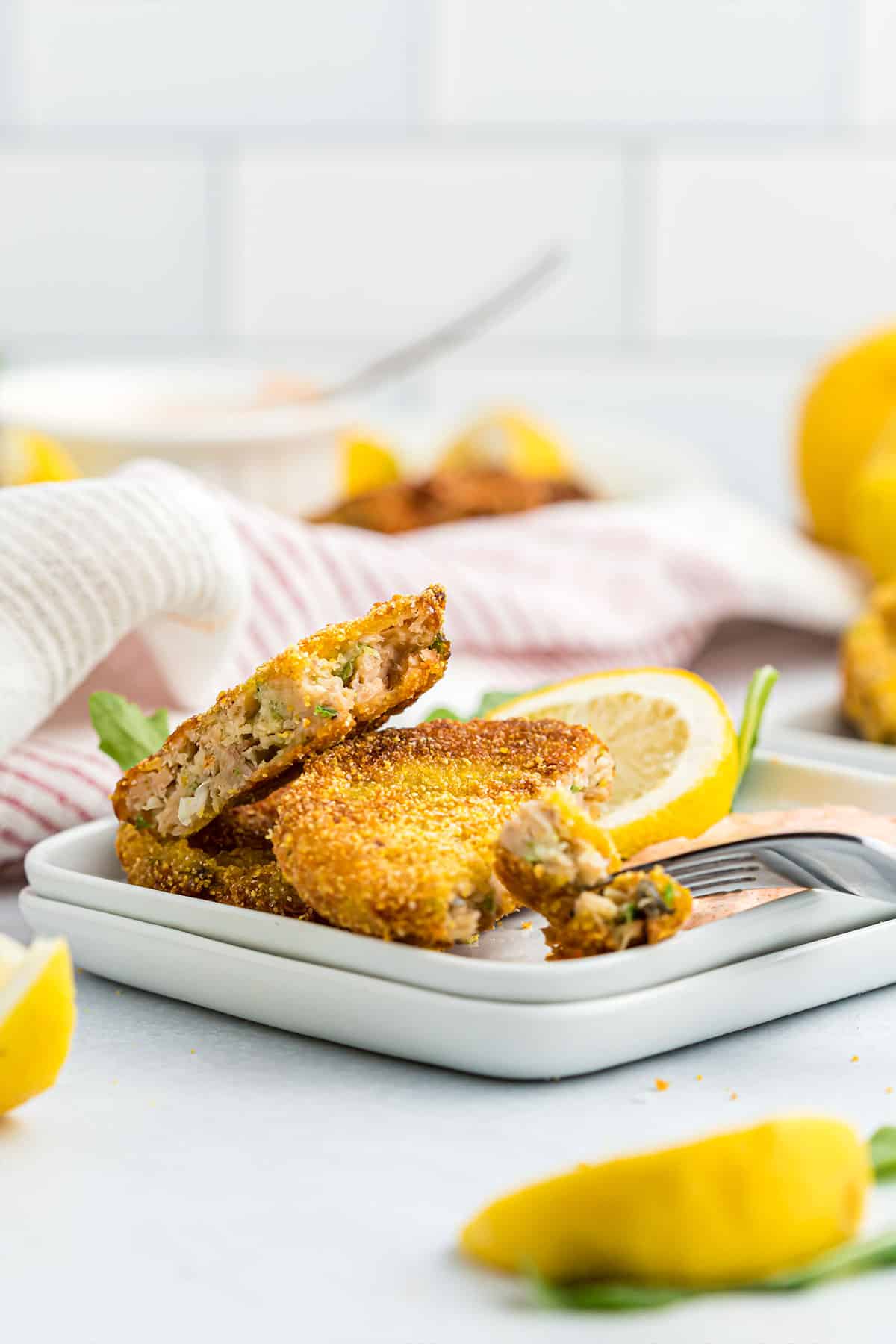 Can You Make Baked Salmon Croquettes?
If you aren't into frying these, you can certainly bake these at 375° F for about 15 minutes. For best results, I spray the baking pan with non-stick cooking spray and then spray the outside of the croquette to help with browning.
What to Serve With
You can serve these up for a fun Southern fish fry with my Fried Shrimp, Fish and Chips, and Oven Fried Catfish.
As far as side dishes, serve with my Grits, Fried Corn, Fried Green Tomatoes, or other southern classics for a complete down-home meal.  My mama for one never eats salmon croquettes without biscuits and maple syrup. That's a true Southern thing y'all.
Expert Tips and FAQs
Handle with care while cooking. They are a bit delicate but that's what makes them so light and crispy in texture.
Serve immediately. The flavor is best hot and freshly cooked.
Salmon quality. Choose a high-quality brand of canned salmon.
How do you keep salmon croquettes from falling apart?
The trick to making salmon croquettes that don't fall apart is making sure they have ingredients to bind them together. In this recipe, egg and flour keep them together. They are still a bit fragile but if you handle with care they will cook up perfectly.
Is canned salmon cooked?
Yes, canned salmon is already cooked. Cooking the croquettes gives them a crunchy texture and heats them up.
Are salmon croquettes better with flour or cornmeal?
This is really a personal preference. If you prefer to roll your croquettes in flour for a less crunchy bite and more of a fried chicken taste, this is the way to go. You can simply replace the corn meal in my recipe with flour. However, if you like a nice crunch, I would recommend going with the yellow cornmeal. The grittiness really serves the tender filling really well giving you two very distinct textures of taste. Also, you don't have to roll them in anything!  I am making the cornmeal optional for you.  You can simply fry the patties.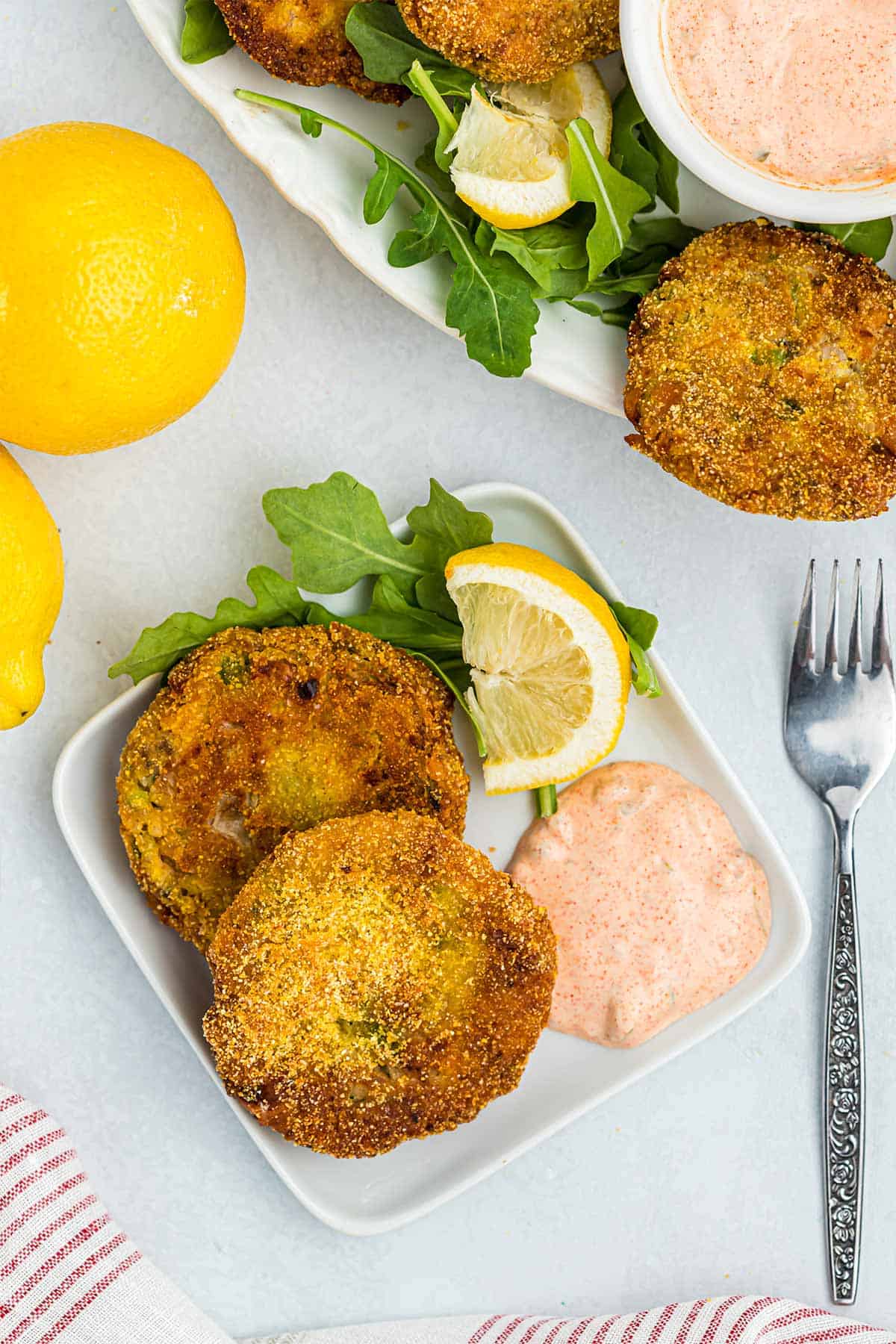 More Southern Seafood Recipes
*Did you make this recipe? Please give it a star rating and leave comments below!* Post a photo of how your version of the recipe came out on Instagram (using #grandbabycakes)!!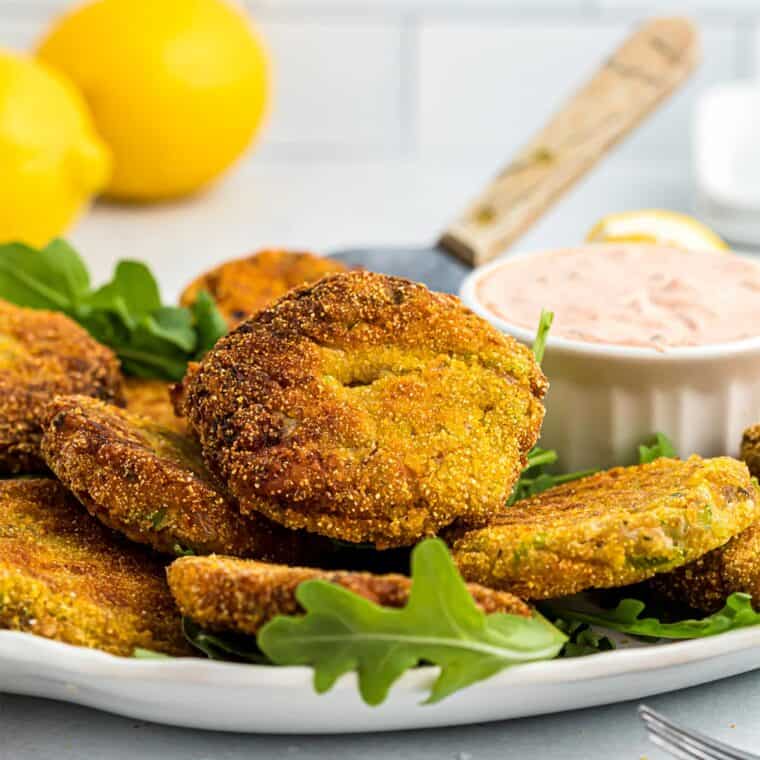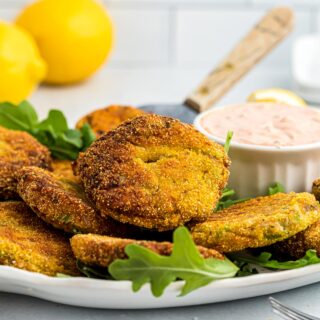 Southern Salmon Croquettes
Nice and tender on the inside full of salmon flavor and aromatics, yet crunchy and delicious on the exterior, you will make these salmon croquettes time and time again. 
Print
Pin
Rate
Servings:
12
medium sized croquettes
Ingredients
1

(14.75) pink salmon can

with bones removed

1/2-3/4

cup

self rising flour

1/2

cup

finely diced onion

we use the food processor, this was about ½ an onion for us

1/4

cup

finely diced green pepper

1

large egg

1/2

tsp

worcheshire sauce

1/4

tsp

seasoned salt

1/4

tsp

red pepper flakes

1/4

tsp

black pepper

1/2

cup

yellow cornmeal

optional (you can omit or use flour if you prefer)

3/4

cup

vegetable oil
Instructions
In a large bowl, add salmon, flour, onion, green pepper, egg, worcheshire sauce, salt, pepper flakes and black pepper and mix until well combined. The mixture will be somewhat softer and looser so you will have to handle with care but don't worry, they will fry up just fine.

Add cornmeal to a plate and set aside.

Shape medium to small sized patties then carefully roll in cornmeal and set aside. (If you want to make them easier to work with, add to the refrigerator for about 15 minutes to firm up more).

Add oil to cast iron skillet and heat until oil reaches 375. Fry croquettes until golden brown on both sides, about 2-3 minutes on each side, and drain on paper towels then serve.
Video
Notes
Handle with care while cooking. They are a bit delicate but that's what makes them so light and crispy in texture.
Serve immediately. The flavor is best hot and freshly cooked.
Salmon quality. Choose a high-quality brand of canned salmon.
Nutrition
Calories:
180
kcal
|
Carbohydrates:
11
g
|
Protein:
2
g
|
Fat:
15
g
|
Saturated Fat:
11
g
|
Cholesterol:
14
mg
|
Sodium:
58
mg
|
Potassium:
49
mg
|
Fiber:
1
g
|
Sugar:
1
g
|
Vitamin A:
45
IU
|
Vitamin C:
3
mg
|
Calcium:
5
mg
|
Iron:
0.3
mg
This post was originally published July 2019 and republished in July 2022 for new photos and content.