Brown Sugar Peach Shortcake Recipe – Buttery flaky shortcake biscuits get topped with brown sugar soaked ripe peaches and fluffy whipped cream for the ultimate summer delight. If you love this, you will also love my Peach Pound Cake recipe.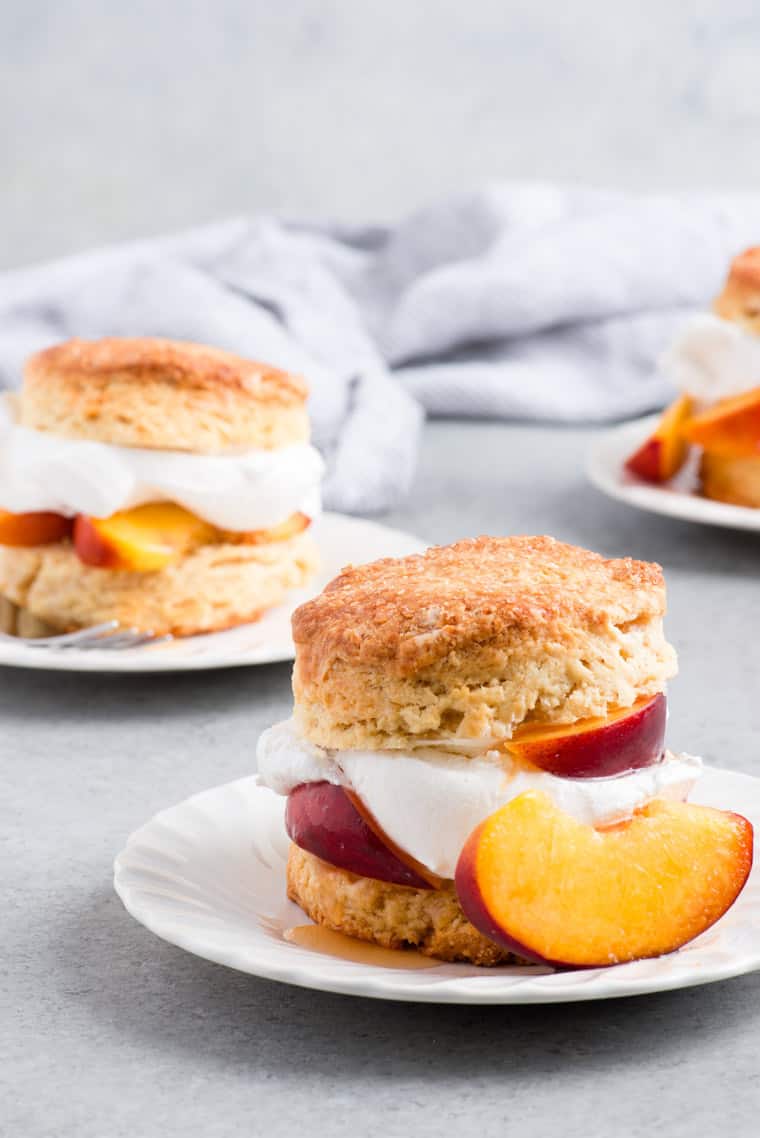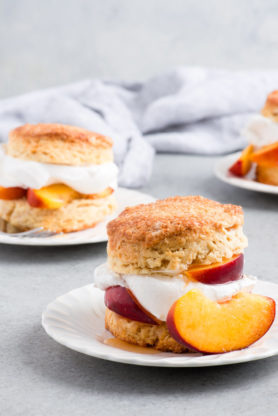 Let's talk about sweet summer peaches: their pale pinkish-yellow coloration, the soft fuzz that coats the exterior and a sweet but slightly tart flavor. If I close my eyes, I can imagine its texture coating my palm and my anticipation for a big juicy bite starts to grow. The first bite is truly the best. Initially, you break through the crisp outer layer and a burst of sweet juice gushes out and drips down your chin. Eating a peach is messy, its liquid trickles down your hands and before you know it your sticky all over. I find myself feeling like a child all over again as I scrub away at my gummed fingers. For some, this might be unpleasant but I find it nostalgic. I mean, how often as adults do we get to feel like children again?
BROWN SUGAR PEACH SHORTCAKES
As much as I love peaches in their natural form, I also love introducing them into my desserts. What's better than fresh Georgia or South Carolinian peaches in the summertime? How about taking those sweet, juicy peaches, combining them with a few classic and rich Southern ingredients, and whipping up an even sweeter peach dessert? So today I'm sharing with you one of my favorite peach creations: Brown Sugar Peach Shortcakes!
BROWN SUGAR PEACH SHORTCAKES RECIPE
Tender sour cream biscuits, brown sugar peaches swimming in a natural juice, and soft whipped cream spell summer on a plate. A couple of weeks ago, I made this incredible brown sugar peach shortcake recipe on the Today Show, and everyone raved about these biscuits. They could not get enough of them and neither will you.
HOW TO MAKE SHORTCAKES
I have seen quite a few versions of shortcakes ranging from sponge cakes to biscuits. Biscuits are the traditional foundation, and they are perfect for a few reasons:
First, they are sturdy enough to hold up to whatever you fill them with.

Secondly, they add a savory yet sweet touch to a dessert classic.

Lastly, they are absolutely wonderful for soaking up the juices and flavors of the fruit stacked inside. Incredible!
The thing about this brown sugar peach shortcake recipe is it provides the perfect shortcake base. They are tender and flaky due to the super cold butter and sour cream. Remember, the cold butter is absolutely key for perfect biscuits. If your butter is even somewhat warm, pop it back in the refrigerator to get the flakiness your biscuits deserve. Now most would not use sour cream in a biscuit but you should try it because the results are so impressive.
I also love the additional sugar I have added to this biscuit so it is a bit sweeter than a savory biscuit but it is also pretty wonderful on its own slathered with butter or some jam.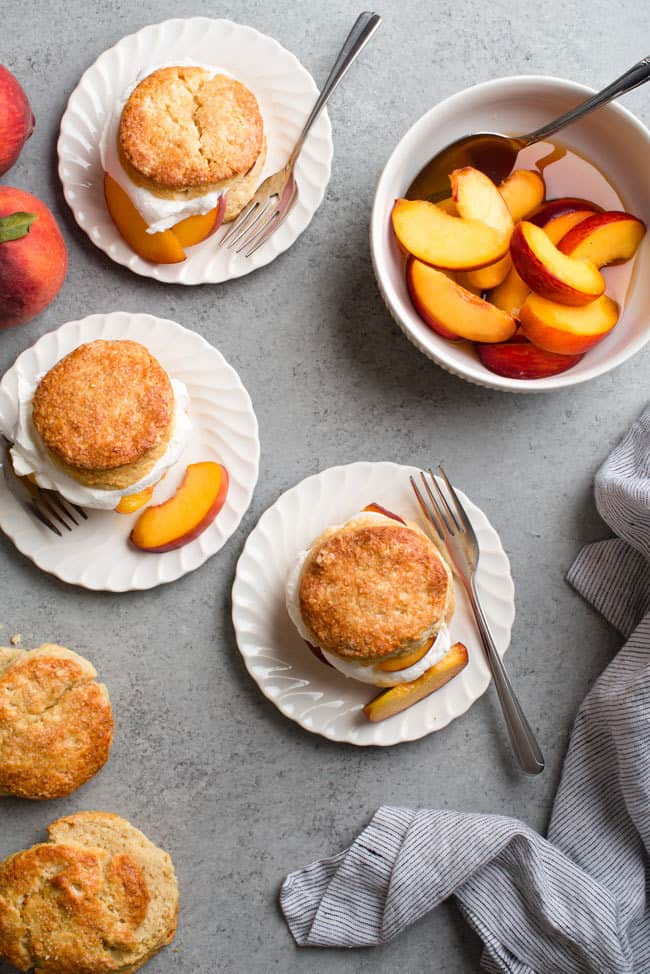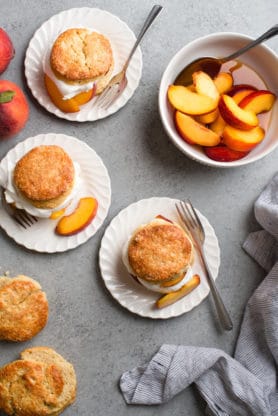 WHY IS THIS SHORTCAKE RECIPE SO DELICIOUS
With peaches in season during the later summer months, this is the perfect recipe to showcase its ripe sweet and juicy texture. For these shortcakes, it really helps if you can find wonderfully ripe peaches because it makes such a difference in each and every bite.
SELECTING THE PERFECT PEACH
I'd like to offer you a helping hand when it comes to selecting the perfect peach because it's a bit trickier than you might think. I love to buy my peaches locally, at a farmers market if possible. There are so many incredible spring through summer markets in Chicago. But don't worry there are great options at your local grocery stores too. All you've gotta do is pay attention to the tips and tricks I'm about to lay down for you.
HOW TO TELL WHEN PEACHES ARE RIPE
Don't be fooled by a pink, rosy blush on a peach. That is actually not a sign of ripeness. Look for the yellow undertone on the fruit's skin. Ripe peaches will have a warm, creamy yellow or yellow-orange undertone. Just make sure there are no hints of green on the peach, which is a sign that the peach was picked too early. Be sure to check the fruit for bruises or broken skin and pick the unblemished ones. Don't be afraid to use your nose too. Peaches should have a mild scent, if it's too fragrant then your peach is overripe. If you follow these simple tips I've provided then you're guaranteed to always find the absolute best peaches.
TWO SPECIAL INGREDIENTS
I love to let pure nature shine with this recipe. If I'm going through all the trouble to find the best peaches then I want to do what I can to allow them to shine. Just two ingredients in addition to the peaches allow the natural flavors to really amplify. A bit of brown sugar and orange juice tossed makes the recipe even better. Let those juices develop and turn into something really special.
A dollop of whipped cream with each and every bite makes it even more fantastic. Soak up every last bit of summer with these.
SHORTCAKE RECIPES
If you like this brown sugar peach shortcake recipe, you'll probably love some of my other shortcake recipes.
STRAWBERRY SHORTCAKES with STRAWBERRY BISCUITS
PEACH COBBLER SHORTCAKE CAKE
*Did you make this recipe? Please give it a star rating and leave comments below!*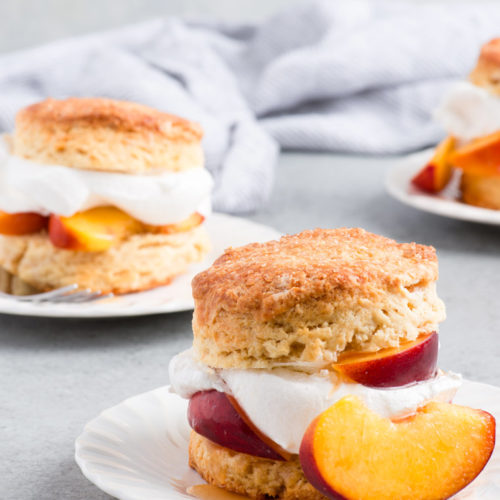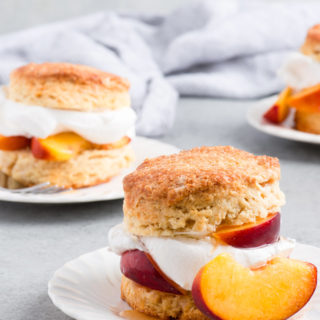 Brown Sugar Peach Shortcake Recipe
Brown Sugar Peach Shortcake Recipe - Buttery flaky shortcake biscuits get topped with brown sugar soaked ripe peaches and fluffy whipped cream for the ultimate summer delight.
Print
Pin
Rate
Ingredients
For the Shortcake Biscuits
3

cups

all-purpose flour

1/4

cup

granulated sugar

2

tsp

baking soda

1

tsp

salt

3/4

cup

unsalted butter

very cold cut into cubes

1 1/3

cup

sour cream

cold

1

tbs

pure vanilla extract

1

large egg plus 1 tsp water

whisked together

Turbinado Sugar

for garnish

Whipped Cream

for serving
For the Peaches
4

cups

ripe peach slices

8-9 medium peaches

1/3

cup

light brown sugar

2

tbsp

orange juice
Instructions
For the Shortcake Biscuits
Preheat oven to 400 degrees and line a baking pan with parchment paper.

Add flour, sugar, baking soda and salt to bowl of a food processor. Pulse a few times to combine.

Add butter cubes to flour mixture and pulse until small and medium sized crumbs form.

Lastly add sour cream and vanilla and pulse until it is just combined.

Turn biscuit dough out onto floured board and knead just to combine everything but do not overmix.

Press the dough out with your hands to about 1 inch thickness and cut using a round biscuit cutter. Next place the biscuits on the parchment paper lined baking pan and refrigerate for 20-25 minutes.

Just before baking, brush the tops of the biscuits with egg wash and sprinkle with turbinado sugar.

Bake shortcake biscuits for 16-19 minutes or until golden brown. Remove from oven and allow to cool completely.
For the Peaches
Add peaches to a medium sized bowl. Sprinkle sugar and pour orange juice over peaches and toss together.

Allow peaches to sit for 15-20 minutes or until juices develop.
To Assemble Shortcakes
Cut completely cooled biscuits in half horizontally. Add peaches to bottoms of each biscuit and top with whipped cream. Add biscuit tops then add a few berries and whipped cream to top of biscuit and serve.
Video
Nutrition
Calories:
500
kcal
|
Carbohydrates:
60
g
|
Protein:
7
g
|
Fat:
26
g
|
Saturated Fat:
15
g
|
Cholesterol:
86
mg
|
Sodium:
649
mg
|
Potassium:
283
mg
|
Fiber:
2
g
|
Sugar:
23
g
|
Vitamin A:
1060
IU
|
Vitamin C:
7.6
mg
|
Calcium:
70
mg
|
Iron:
2.6
mg