Take a taste of the best of both worlds with this Butter Pecan Cheesecake! Crisp graham cracker crust, salted brown sugar cheesecake filling and buttery pecan pie topping come together to create a unique, flavorful holiday dessert! If you love this cheesecake, you will love this Caramel Apple Cheesecake, Banana Pudding Cheesecake Blondies or Sweet Potato Cheesecake.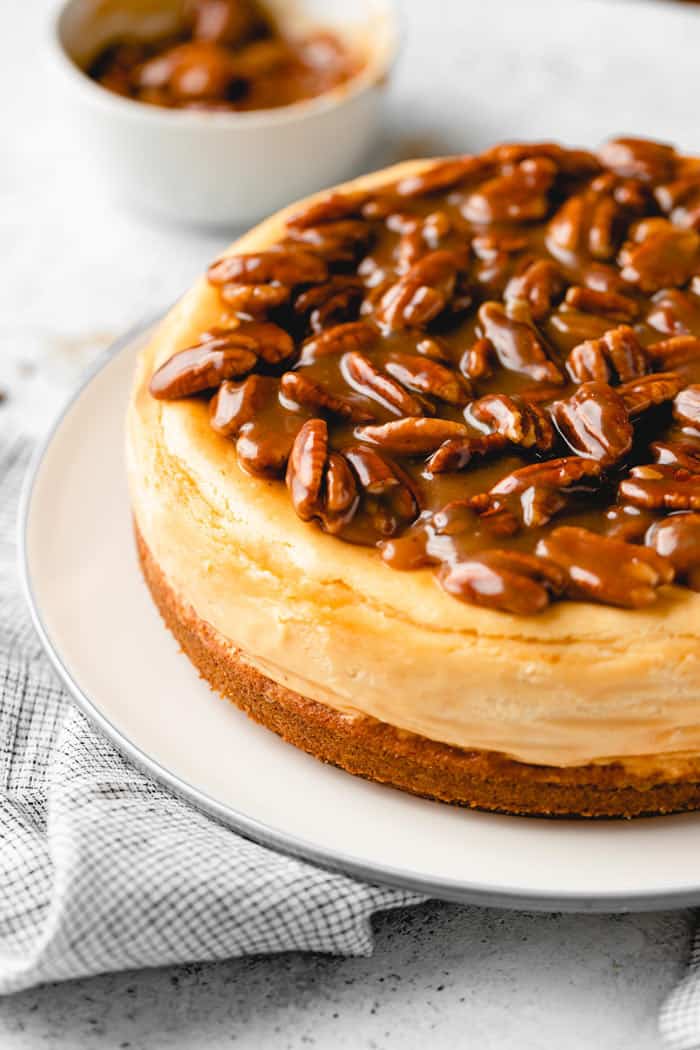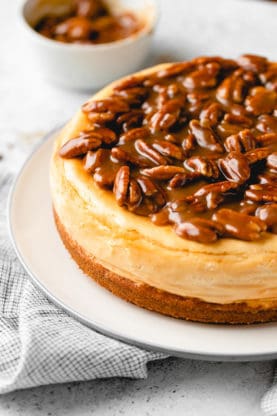 Happy Thanksgiving to all! The holiday season is officially upon us and I can't think of a better way to celebrate than with rich cheesecake, pecan pie and rich butter pecan flavor. But, not just any cheesecake or pecan pie, I'm talking about a Butter Pecan Cheesecake.
What's better than a creamy cheesecake filling sitting on a crisp graham cracker crust and topped with a pecan pie filling? I'll answer that for you, nothing. This recipe is an incredibly delicious (and quite fun) way to take two Fall classics and combine them into one glorious dessert.
Butter Pecan is, and always has been, one of my go-to ice cream flavors: the salty-sweet combination gets me every time! I recently had the thought, "what if butter pecan ice cream and cheesecake had a baby?". And y'all, this crazy good recipe was born.
If you're looking for something new to bust out at this year's holiday table, try out this undeniably good, smack your lips and melt-in-your-mouth, Butter Pecan Cheesecake like this Pecan Pie upside down cake!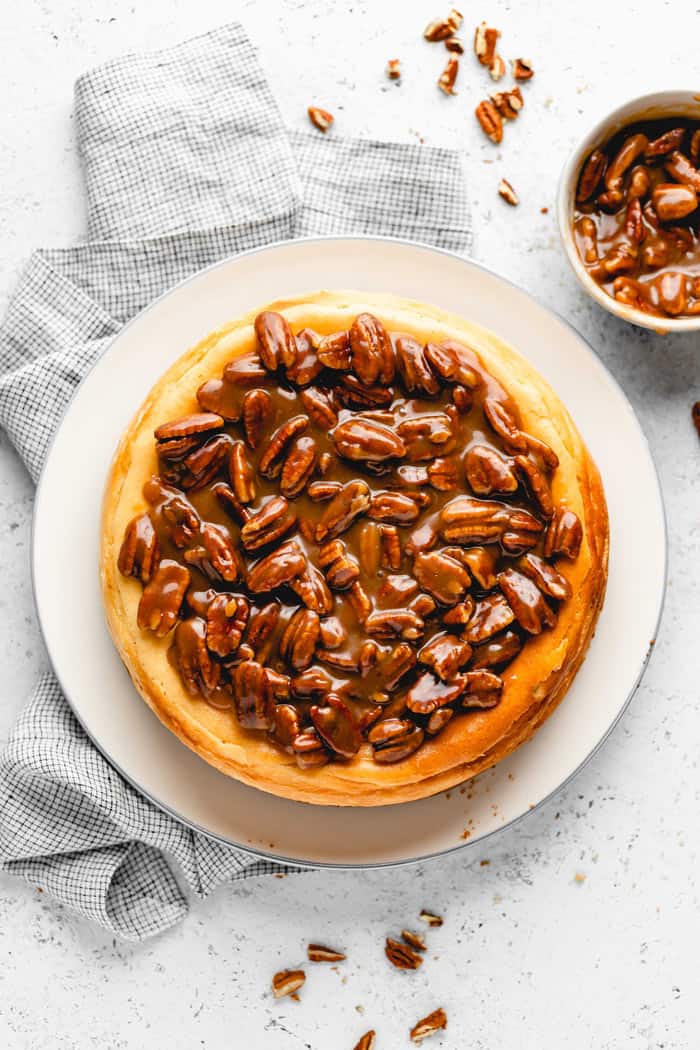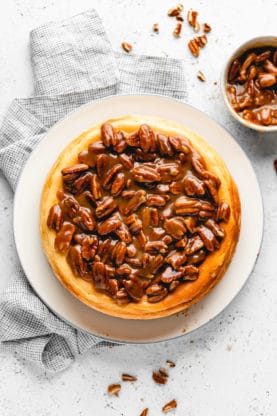 HOW TO MAKE A BUTTER PECAN CHEESECAKE
While the ingredient list is long, most of the ingredients are repeated throughout the recipe. Most of the ingredients are simple, pantry-staple items. I recommend pre-measuring/organizing everything to save time!
Here's everything we're working with today:
Graham Cracker Crust requires about 1 1/2 – 2 whole sleeves of graham crackers to make enough crumbs. If you'd like to add a fun twist, replace a ¼ cup of crumbs with crushed pretzels or even more pecans.
Pecans should be fresh, raw and unsalted. Pecans have a uniquely sweet and buttery flavor that lends itself well to our rich, salty cheesecake.
Sugar, in both regular granulated and light brown form, are used in this recipe. Granulated sugar sweetens our filling while light brown sugar makes for that sticky-sweet pecan topping. If you don't have light brown sugar on hand, dark brown sugar can be used.
Salted Butter introduces creaminess while also adding necessary salt. Salt enhances flavor and creates a fun, delicious contrast.
Cream Cheese is best when in full-fat, brick-style form. It is ESSENTIAL that your cream cheese is at room temperature! To soften quickly, microwave on high powder for 10-15 seconds.
Sour Cream adds tang and body. I suggest using a full-fat option. Don't have any? Try greek yogurt.
Vanilla Extract acts as a flavor enhancer. I recommend using a high-quality extract for the best result.
Eggs are used as a binding in the cheesecake layer.
Heavy Cream is added to the topping to help create the rich, gooey texture of pecan pie. It's also added to the filling to incorporate more fat.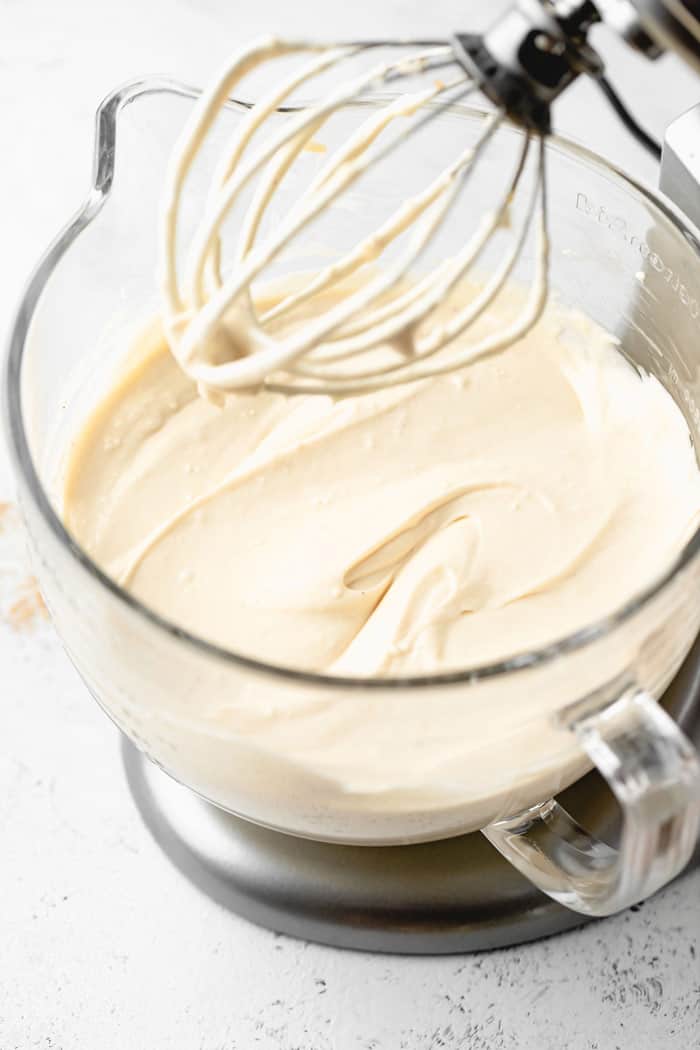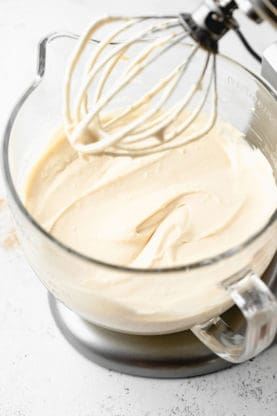 TIP: Start with room temperature ingredients! This ensures that your cheesecake does not have lumps. And believe me, you don't want that.
DO I NEED ANY SPECIAL EQUIPMENT TO MAKE CHEESECAKE?
No, you can totally make due with a simple cake pan and a whisk. But, there are a few things I would highly recommend having in your tool belt.
Springform Pan: This recipe's batter will completely fill a 9" springform pan. These pans make for easy, no-mess release after refrigeration.
Electric Mixer (Hand or Stand): If you have a stand mixer on hand, great. Otherwise, do yourself a favor and invest in a trusty hand mixer.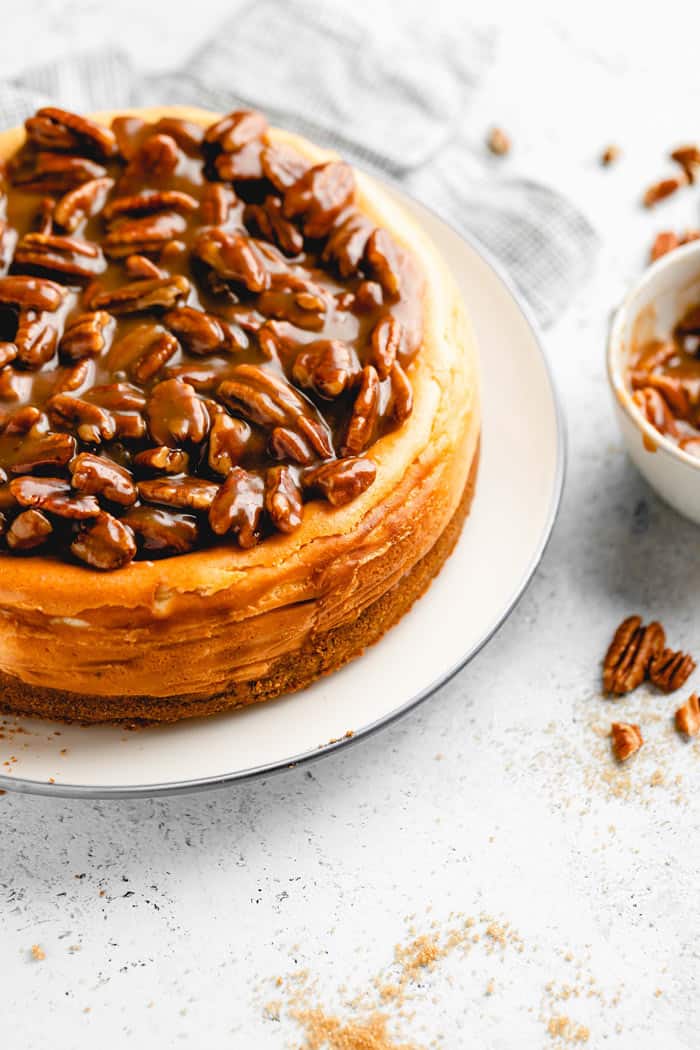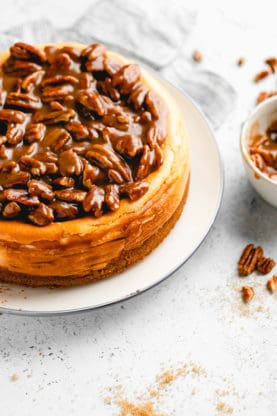 DOES CHEESECAKE NEED TO BE REFRIGERATED OVERNIGHT?
As with all cheesecakes, this one needs time for preparation and refrigeration. Plan accordingly. Butter Pecan Cheesecake does need to be refrigerated for at least 4 hours before serving but it's better if you let it chill overnight.
When you're ready to serve it, remove the sides of the pan and transfer to a large plate or serving platter.
To cut the cheesecake, run a sharp knife under hot water. Using a paper or cloth towel, wipe the water off the blade, then slice away! Repeat these steps with each slice.
TIP: For even neater slices, I suggest freezing your cheesecake for 1-2 hours before slicing. Just allow the slices to sit out for at least 30 minutes before serving.
HOW LONG DOES LEFTOVER CHEESECAKE KEEP FOR?
Leftover cheesecake should never be wasted! Instead, tightly wrap your leftovers with plastic (or saran) wrap or store them in an airtight container. Kept in the refrigerator, cheesecake will last for up to 5 days.
If you don't plan to eat your leftovers within that time frame, I suggest freezing instead. See instructions below.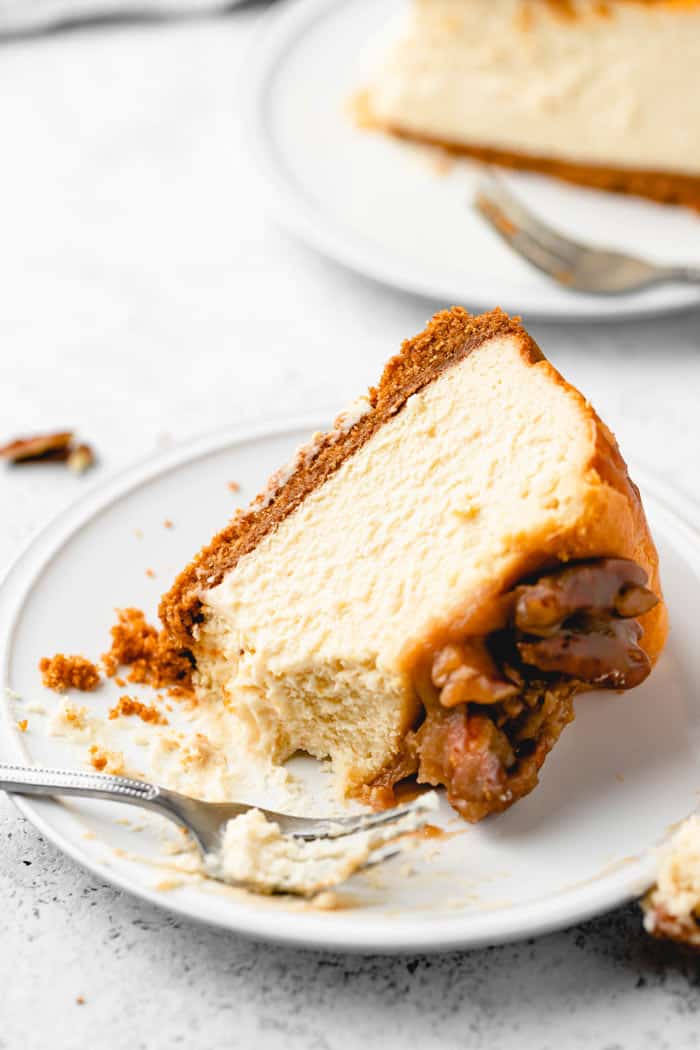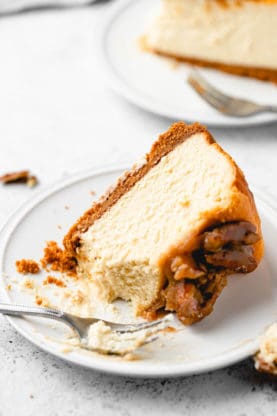 CAN PECAN PIE CHEESECAKE BE FROZEN?
Heck yeah! After it has set in the refrigerator, remove the springform pan and wrap the cheesecake tightly with plastic wrap and a layer of aluminum foil. It can be frozen for up to 2 months. Before serving, thaw the frozen cheesecake overnight in the refrigerator.
Alternatively, the cheesecake can be frozen in individual slices for a quick-dessert or a midnight snack!
MORE GRANDBABY CAKES CHEESECAKE RECIPES YOU'LL LOVE
Cheesecake is one of my absolute FAVORITE Fall desserts! In any shape, flavor or form, cheesecake is always a creamy, delightfully delectable good time.
What do you say we enjoy the best of the season by churning out a few of my BEST Autumn-inspired cheesecake recipes?
Check 'em out: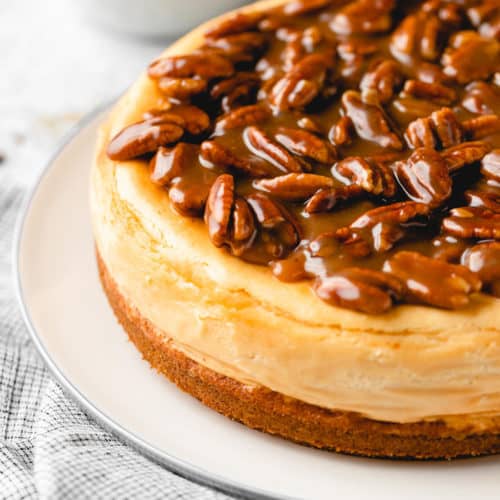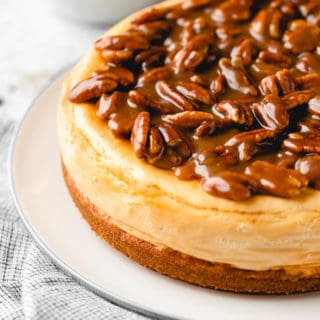 Butter Pecan Cheesecake
Take a taste of the best of both worlds with this Butter Pecan Pie Cheesecake! Crisp graham cracker crust, salted brown sugar cheesecake filling and buttery pecan pie topping come together to create a unique, flavorful Thanksgiving dessert!
Print
Pin
Rate
Ingredients
For the Crust
1 1/2

cup

graham cracker crumbs

3

tbsp

granulated sugar

5

tbsp

melted butter
For the Cheesecake Filling
1/4

cup

salted butter

32

oz

cream cheese packages

room temperature (4 8 oz packages)

1

cup

granulated sugar

1/2

cup

light brown sugar

1/2

cup

heavy cream

4

large

eggs

room temperature

1

cup

sour cream

room temperature

1

tbsp

vanilla extract

1/4

cup

all purpose flour
For the Pecan Topping
1 1/2

cup

pecan halves

5

tbsp

salted butter

1/2

cup

light brown sugar

packed

1/2

cup

heavy whipping cream

1

tbsp

corn syrup

1/2

tsp

vanilla extract
Instructions
For the Crust
Preheat the oven to 350 degrees F (175 degrees C). Spray a 9 inch springform pan with at least 2 ¾ inch sides or a 10 inch springform pan with non-stick baking spray. Make sure it is properly secured too!

Whisk together graham cracker crumbs, sugar and melted butter. Press mixture into the bottom of the springform pan and bake in the oven for 10 minutes.
For the Cheesecake Filling
In a small saucepan, add butter and melt over medium heat. Once the butter has fully melted, white foamy bubbles will begin to appear over the top of the butter. Watch carefully as the butter's color changes to brown and the smell of the butter becomes somewhat nutty.

As soon as the butter is an amber brown color, remove from heat and cool in the refrigerator for 20-25 minutes or until it reaches room temperature.

In the bowl of your stand mixer, beat together cream cheese and both sugars until completely smooth. Next add heavy cream and browned butter then add eggs one at a time, mixing until incorporated.

Next add sour cream, vanilla extract and flour and mix until smooth.

Pour cheesecake filling into baked crust.

For extra insurance against cracks, USE A WATER BATH!

Bake cheesecake for 50-65 minutes then turn the oven off and allow the cake to cool in the oven with the door propped open for 1 hour. If using a water bath, bake a little less time.

Remove cheesecake from the oven and allow it to come to room temperature for an additional 30-60 minutes then store in the refrigerator overnight before serving.
For the Pecan Topping
Preheat the oven to 325°F and spread the pecans on a parchment lined baking sheet. Roast them for about 8-10 minutes or until just fragrant.

In a medium saucepan, combine the butter, brown sugar, heavy cream, corn syrup and vanilla extract. Cook until bubbly, then stir in the toasted pecans. Cool to room temperature before pouring over the cooled cheesecake.
Video
Notes
Start with room temperature ingredients. This will ensure that your cheesecake does not have lumps. And believe me, you don't want that.
For extra insurance against cracks, USE A WATER BATH!
Nutrition
Calories:
627
kcal
|
Carbohydrates:
58
g
|
Protein:
17
g
|
Fat:
38
g
|
Saturated Fat:
17
g
|
Cholesterol:
136
mg
|
Sodium:
768
mg
|
Potassium:
371
mg
|
Fiber:
2
g
|
Sugar:
47
g
|
Vitamin A:
952
IU
|
Vitamin C:
1
mg
|
Calcium:
345
mg
|
Iron:
1
mg