This Baileys Chocolate Bundt Cake Recipe is moist, insanely chocolatey and filled with a surprise Irish Cream flavored Cream Cheese Filling. Then a decadent caramelized white chocolate glaze poured over it takes it over the top! It doesn't get more heavenly. If you love chocolate cake, definitely try my Chocolate Birthday Cake, Peppermint Chocolate Pound Cake, German Chocolate Cake and this Perfect Chocolate Cake.
Disclosure: I partnered with Baileys Original Irish Cream for this post, but all opinions expressed here are my own. I am grateful for authentic partnerships like this.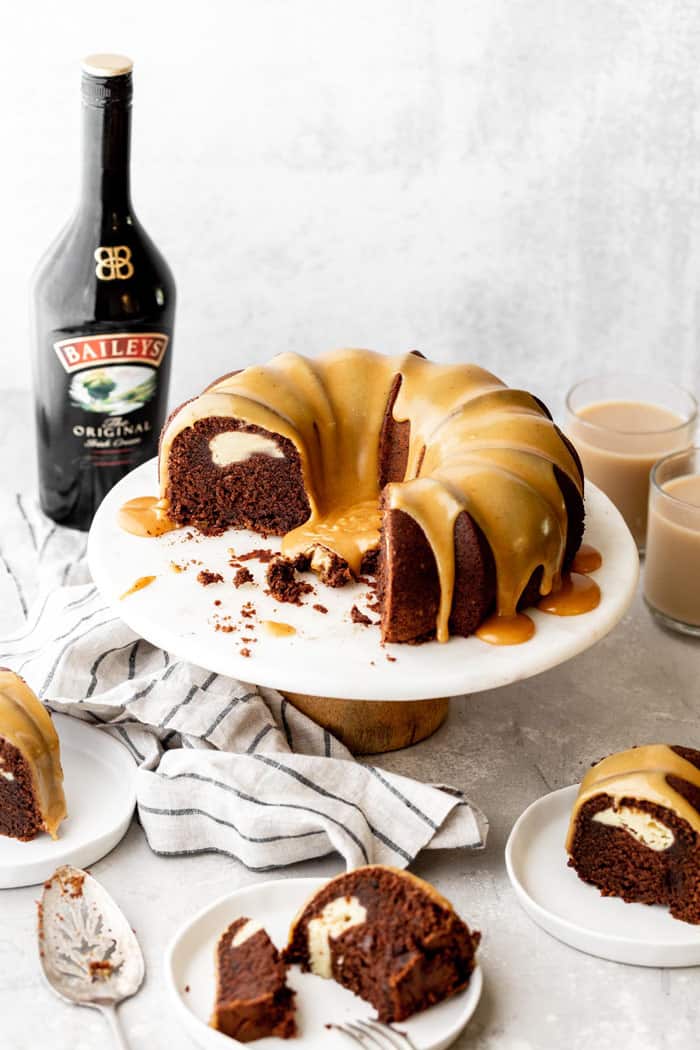 The Most Heavenly Baileys Chocolate Bundt Cake Recipe EVER!
Now, I know I've shared my general indifference to the Fall season with you before but let's chat about what comes after it. Not long after the leaves hit the ground and the pumpkins start to lose their shape, Winter rears its head. The air becomes much colder, the days are shorter and our thoughts are consumed by all things Holiday related. String lights and warm candles brighten up dark days and homemade soups and pies make the cold nights just a bit warmer.
I may not love the cold weather (I mean, who does?) but Winter is so much more than that. Holiday decorations bring such joy and family gatherings mean creating new memories over delicious food. Each year I look forward to Thanksgiving and Christmas dinner because it's a time meant for just family. No work, no distractions and no worries.
Everyone contributes to the meal we share in some form or another. You may have already guessed it but I'm the dessert queen. Cakes, pies or cookies, I am your girl. I mix it up every year not only to keep everyone on their toes but also to keep it interesting for myself. This year I'm spiking my dessert with a bit of Baileys to spread a little more holiday cheer. Believe me, you want a slice of this!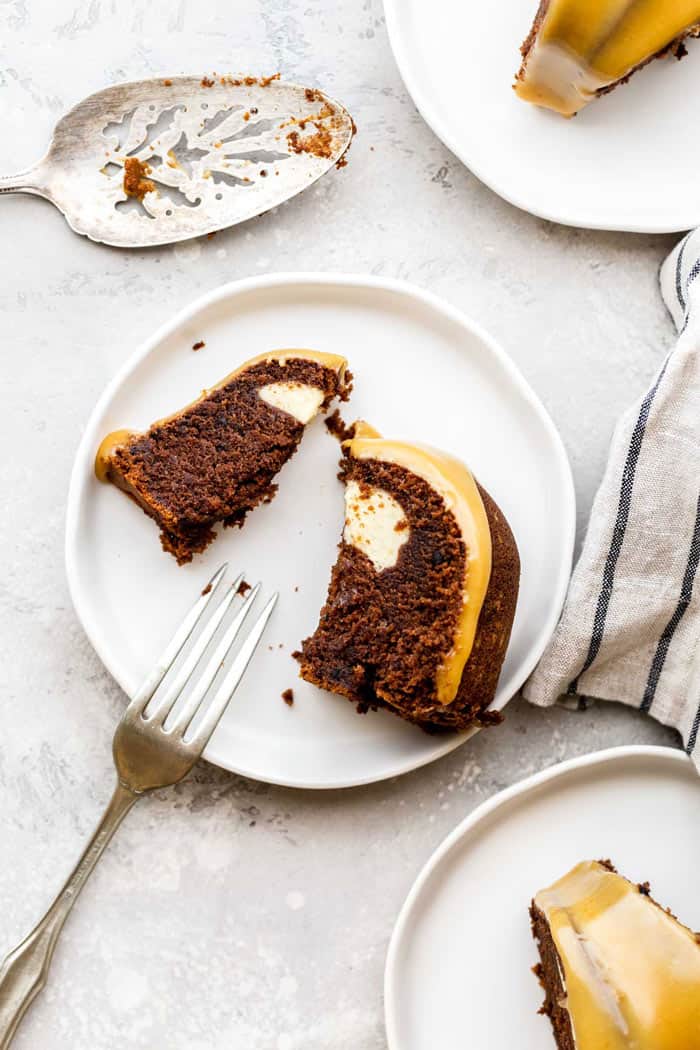 Ingredients for Chocolate Bundt Cake Recipe
This cake gets its extreme moistness and rich chocolate flavor from a few key ingredients:
Semisweet Chocolate Chips
Butter
Cocoa Powder
Instant Coffee
Buttermilk
Baileys Irish Cream
The addition of both semisweet chocolate chips and cocoa powder gives double the chocolate flavor and intensity. Chocolate in two forms also adds more complexity to the flavor. To make this even more intense, I added coffee. It gives it a deeper mocha flavor.
Butter is always added to cakes to add moistness, richness and additional flavor. There is no flavor like it, and nothing can ever duplicate it. Use the best butter you can because it truly makes a difference.
Finally the keys that make this cake super moist are buttermilk and Irish cream. Buttermilk is such a wonderful ingredient for cakes. It coats the crumb in such a wonderful way and adds that lovely tang we all know and love. Finally Baileys Irish Cream is just delicious whenever you drink it. So just imagine how irresistible it is throughout this cake. But that's just the beginning….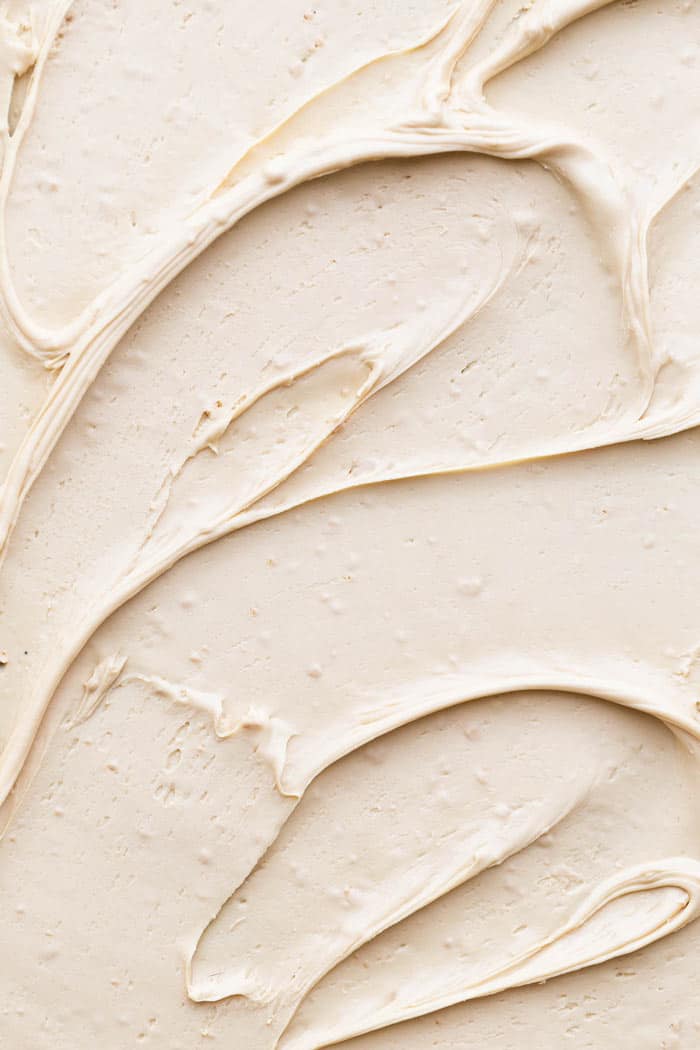 Cream Cheese Filling for Baileys Cake
Adding Baileys to this cream cheese filling seemed like an obvious addition. One spoonful and I wondered why I'd never done it before.
On its own, Baileys is decadent. Baileys is an Irish Cream Liqueur flavored with cream, cocoa and Irish Whiskey. Each sip coats the tongue beautifully then goes down more smoothly than you can imagine. The flavors are delicate, never too overpowering.
Not only does the Baileys give this filling a slight tan coloration, but it makes for a warmer flavor that accentuates the chocolate cake.
Baileys also comes in a few different flavors such as caramel, chocolate cherry and espresso. Feel free to play with the flavors and create your own unique filling!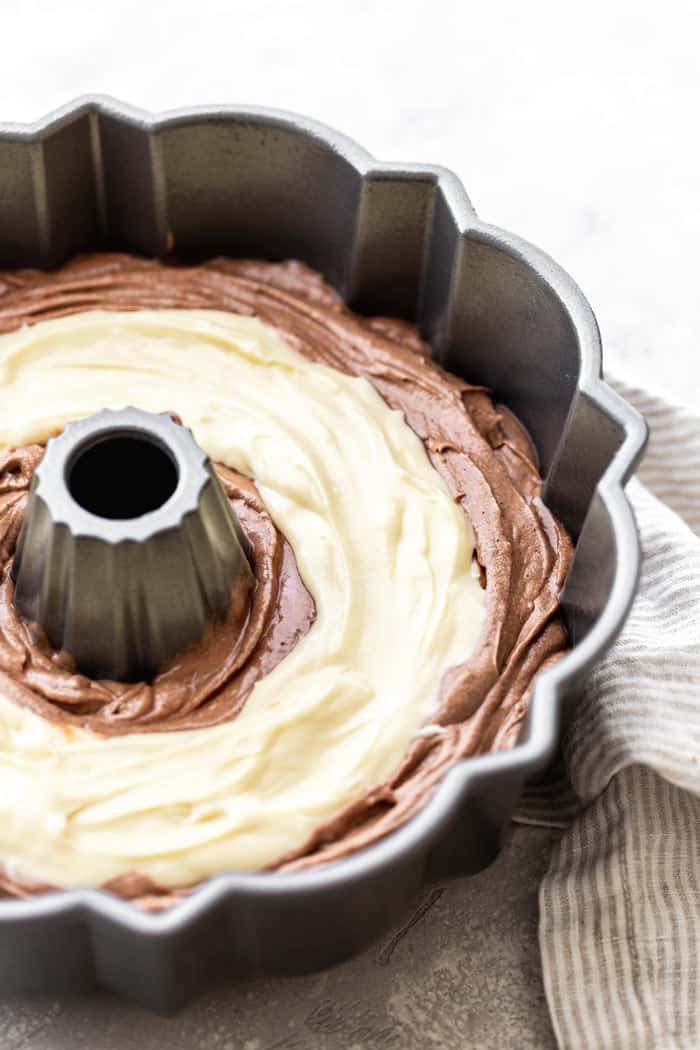 Ingredients for Cream Cheese Filling
To make the best cream cheese filling that stabilizes as it bakes but still stays soft and tender inside providing a play on textures, you will need the following ingredients:
Cream Cheese
Granulated Sugar
Egg
Baileys Irish Cream
Flour
Tip: Make sure that the cream cheese is completely at ROOM TEMPERATURE! If not, you will have some lumpy filling and not a completely smooth and tender cheesecake like texture.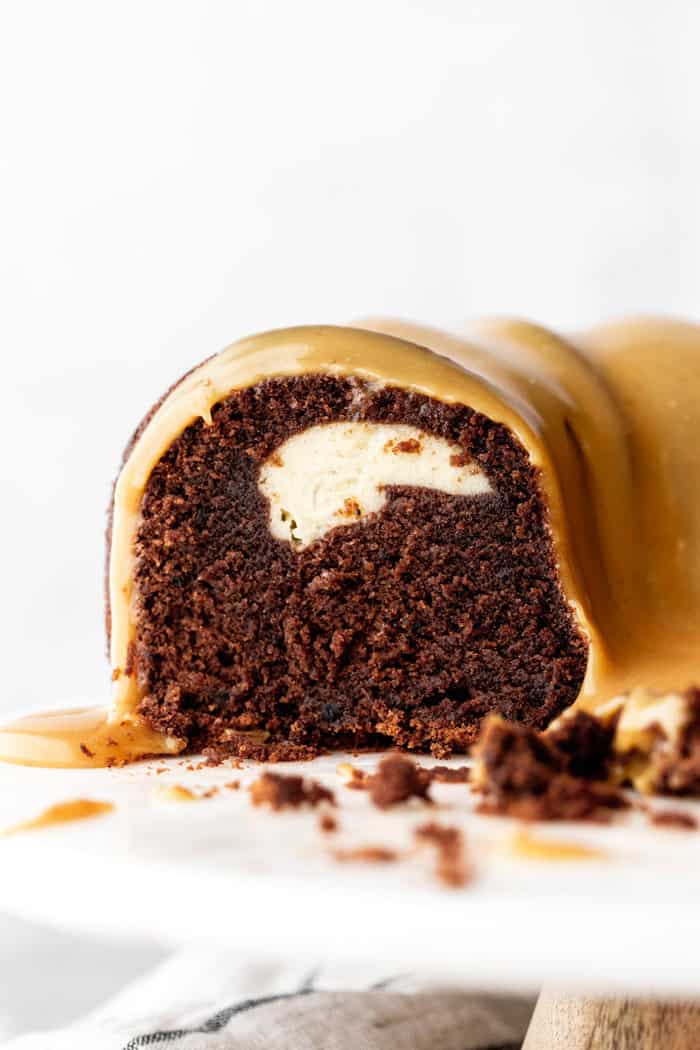 Tips to Make A Perfect Chocolate Bundt Recipe
If anything can come between a Southern baker and her love of mile-high layer cakes, it would be the Bundt Cake. It's mountain-range like curves, fluffy texture and buttery consistency makes for the perfect ending to a Southern meal. Especially, a Southern Holiday meal.
Bundt cakes are almost just as complicated as they are simple. Let me explain that. Preparing and baking a bundt cake is fairly easy because there are typically few steps and never too much clean up. But there are a few key steps in the process that can quickly go wrong. Here are a few tips that'll make the process that much easier.
Tip 1: Preparing the Pan
Bundt cakes are notorious for sticking to the pan and causing a disaster. By taking the time to properly prepare your pan you can avoid all of that mess. Use wax paper or a gloved hand to grease the pan thoroughly with softened butter. Sprinkle some flour in the pan, hold it over a sink, and tilt the pan in a circular motion in order to distribute the flour evenly. Then flip the pan over and tap out excess flour to prevent a buildup of grease and flour on the finished cake.
Tip 2: Alternate Wet and Dry
To prevent the batter from curdling, always add the dry ingredients alternately with the liquid, beginning and ending with the dry ingredients. Mix just until blended after each addition; overmixing at this point can create a tough, rubbery cake.
Tip 3: Checking for Doneness
Don't open the oven door until it's time to check the cake for doneness. Heat escapes each time the door is open, which lengthens the baking time. Use a wooden pick to check for doneness. If your cake requires more time, close the oven door to prevent loss of heat which can cause the cake to fall if it's not done.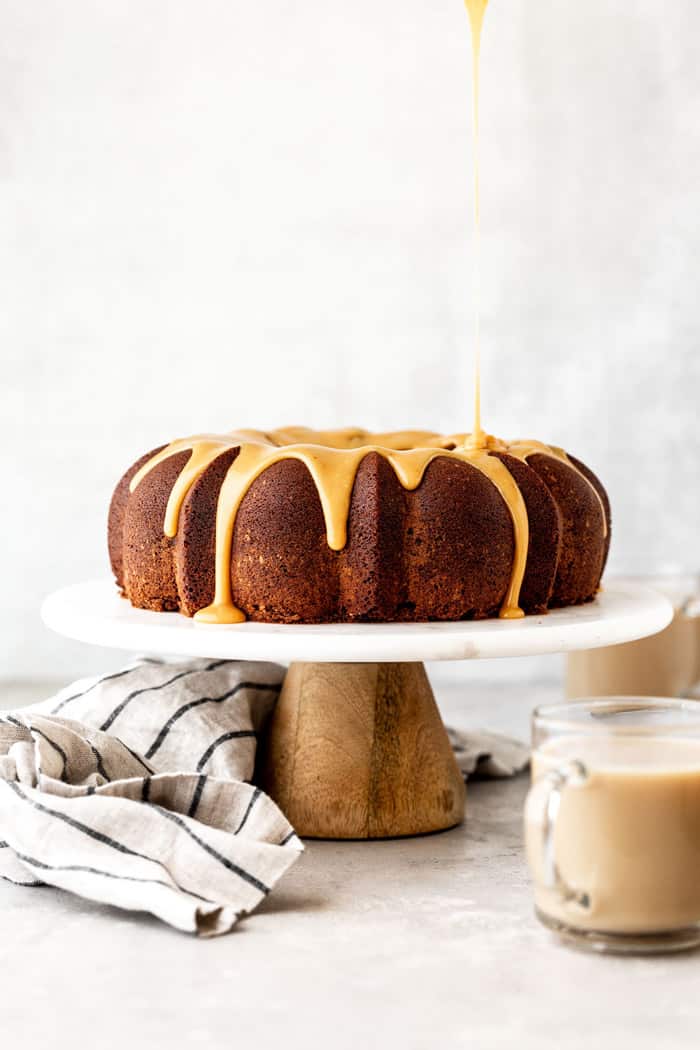 Chocolate Glaze for Bundt Cake: Caramelized White Chocolate Ganache
The final note of incredible chocolate flavor comes in the form of white chocolate but not just any white chocolate, caramelized white chocolate. It is truly something special.
The glaze is just irresistible. It has all of the delicious notes that white chocolate has but has the notes of everything you absolutely love about caramel or butterscotch. It is the best combination in desserts to me.
Quick tip: While making this white chocolate ganache, make sure you are carefully watching and checking after 10 minutes. Don't let it go longer than that. You have completely control here and can decide when it reaches the color you prefer. Make sure you use a timer after each 10 minute increment.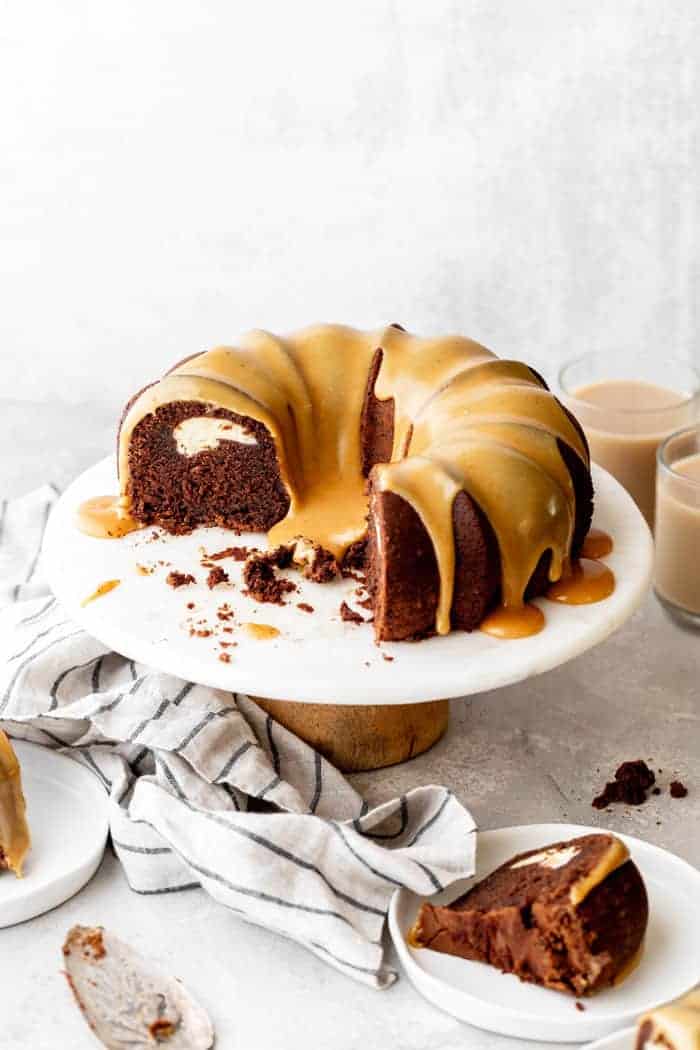 Is Baileys Chocolate Cake Safe for Kids?
With Baileys being an alcoholic beverage I would discourage sharing this cake with children. Instead, I 'd encourage you to have a different dessert available for children attending your gathering. For example, these Perfect Chocolate Cupcakes are a great kid-friendly option to serve instead.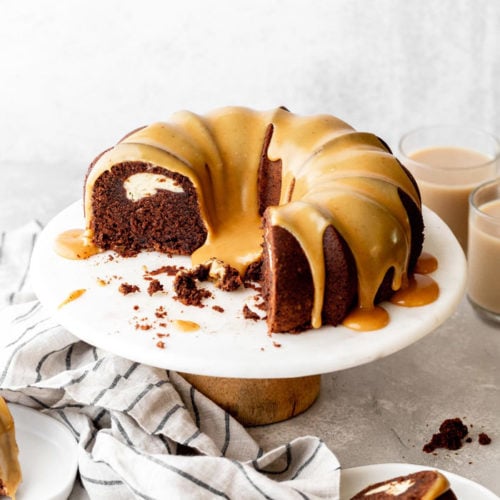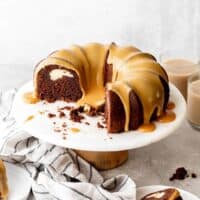 Baileys Chocolate Bundt Cake Recipe with Cream Cheese Filling
This Baileys Chocolate Bundt Cake Recipe is moist, insanely chocolatey and filled with a surprise Irish Cream flavored Cream Cheese Filling. Then a decadent caramelized white chocolate glaze poured over it takes it over the top! It doesn't get more heavenly.
Print
Pin
Rate
Ingredients
For The Cake
1/4

cup

semisweet chocolate chips

1 1/2

cups

unsalted butter

room temperature

2 3/4

cups

granulated sugar

5

large eggs

room temperature

2 1/4

cups

sifted all purpose flour

3/4

cup

unsweetened cocoa powder

1/2

tsp

instant coffee powder

1/2

tsp

baking powder

1/2

tsp

salt

1

cup

buttermilk

room temperature

1/3

cup

Baileys Irish Cream

1

tbsp

pure vanilla extract
For The Cream Cheese Filling
8

oz

cream cheese

room temperature

1/2

cup

granulated sugar

1

large egg

1

tbsp

plus 1 teaspoon Baileys Irish Cream

2

tsp

all purpose flour
For The Caramelized White Chocolate Ganache Glaze
12

oz

white chocolate chips

1/4

cup

heavy cream

pinch of sea salt
Instructions
For The Cake
Preheat your oven to 325°F. Liberally prepare a 12-cup Bundt pan with the nonstick method of your choice.

Pour the chocolate chips into a medium microwave-safe bowl. Microwave on high for 15 seconds at a time, stirring after each heating interval, until the chocolate is melted.

In the bowl of your stand mixer fitted with the whisk attachment, beat the butter for 2 minutes on high speed. Slowly add the granulated sugar. Cream together for an additional 5 minutes, until very pale yellow and fluffy. Add the eggs 1 at a time, combining well after each addition and scraping down the sides and bottom of the bowl as needed.

Turn your mixer down to its lowest speed and slowly add the flour in 2 batches. Be careful not to overbeat. Add the cocoa powder, coffee powder, baking powder, and salt. Lastly, add the melted chocolate, buttermilk, Baileys Irish Cream and vanilla extract. Make sure the melted chocolate has cooled so it does not curdle the buttermilk. Scrape down the sides and bottom of the bowl and mix the batter until just combined. Be careful to not overmix.
For the Filling
Add cream cheese and sugar to stand mixer and mix on high until completely smooth with absolutely no lumps.

Next mix in egg, Irish Cream and flour until completely smooth. Set aside.
To Assemble
Pour about 60% of the batter into the prepared pan. Going around the center of the pan, create a well then pour filling into the well making sure the batter doesn't touch the sides of the pan.

Finally pour remaining batter on top of the filling. Bake for 75 to 85 minutes or until inserted into the cake comes out clean.

Let the cake cool in the pan on a wire rack for 10 minutes, then invert onto a serving plate. Let cool to room temperature. Lightly cover the cake with foil or plastic wrap so it does not dry out.
For the Caramelized White Chocolate Ganache Glaze
Preheat oven to 250F & place all your white chocolate to a piece of parchment paper on a baking sheet.

In increments of 10 minutes, bake white chocolate then smooth and re-spread on the parchment with a spatula as it melts.

Repeat the increments 3-4 times (or up to 6 times - one hour if you want a very deep caramelized color). Once complete, scrape all chocolate into a bowl and whisk until completely smooth.

Next pour chocolate into a pot over low heat and whisk in heavy cream and salt. Once glaze is incredibly smooth and pourable, set aside to allow it to firm a bit then pour over room temperature cake to serve.
Notes
It is crucial that you have room temperature ingredients in this recipe.  Once you microwave the chocolate chips, make sure they are room temperature.
For the cream cheese filling, it is essential that the cream cheese is room temperature or you will have a lumpy filling.
Nutrition
Calories:
631
kcal
|
Carbohydrates:
74
g
|
Protein:
8
g
|
Fat:
35
g
|
Saturated Fat:
21
g
|
Cholesterol:
134
mg
|
Sodium:
182
mg
|
Potassium:
243
mg
|
Fiber:
2
g
|
Sugar:
57
g
|
Vitamin A:
897
IU
|
Vitamin C:
1
mg
|
Calcium:
107
mg
|
Iron:
2
mg