Fill your kitchen with the smell of freshly baked Southern Cornbread in just about an hour!! This classic recipe from my Auntie Rose creates a super moist, buttery and fluffy Cornbread that makes for the perfect snack or side.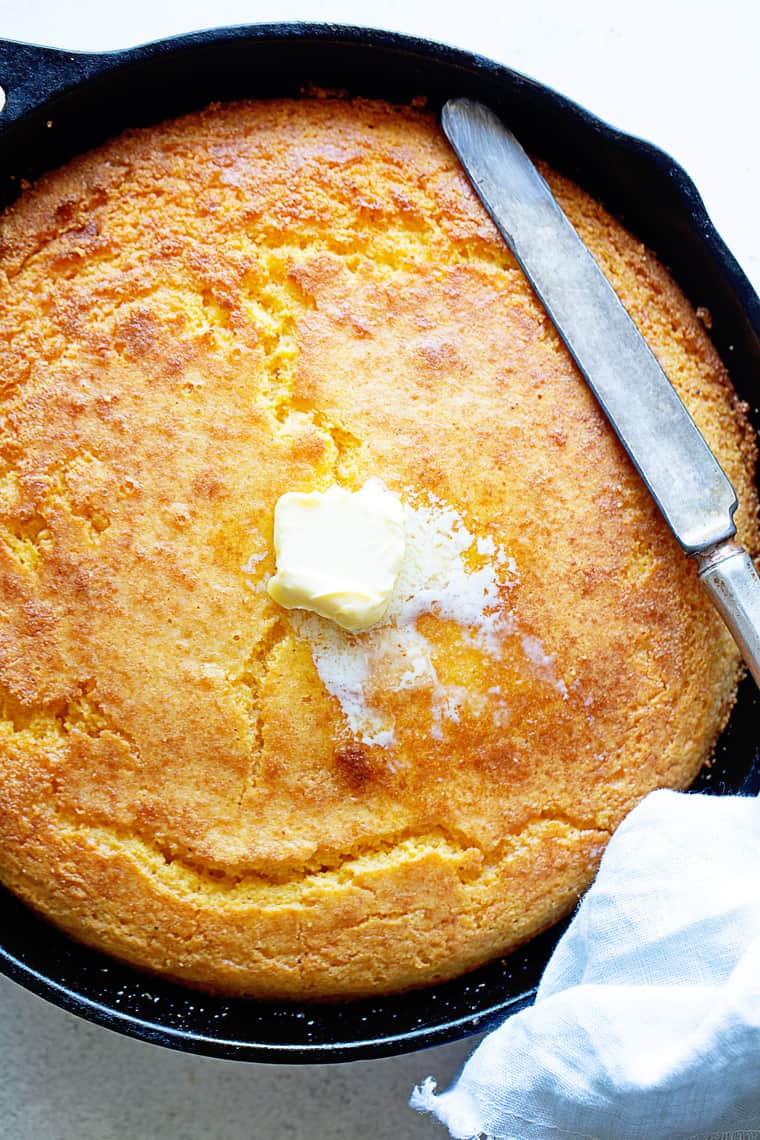 The Heart and Soul of this Southern Cornbread Recipe
Cuisine Inspiration: Southern American
Primary Cooking Method: Baking
Dietary Info: Vegetarian
Key Flavor: Savory with a hint of Sweetness
Skill Level: Easy
Sweet Highlights:
Moisture Magic: Melted butter and sour cream work together to create an exceptionally moist crumb.
Easy Peasy: Using self-rising cornmeal simplifies the process, making this recipe a breeze.
Golden Glory: Expect a beautiful golden crust with a soft, tender interior.
Versatile Companion: Perfect alongside a bowl of chili, under a pile of pulled pork, or just slathered with butter and honey.
Time-Honored Tradition: This recipe pays homage to the classic Southern cornbread, embodying a rich culinary heritage.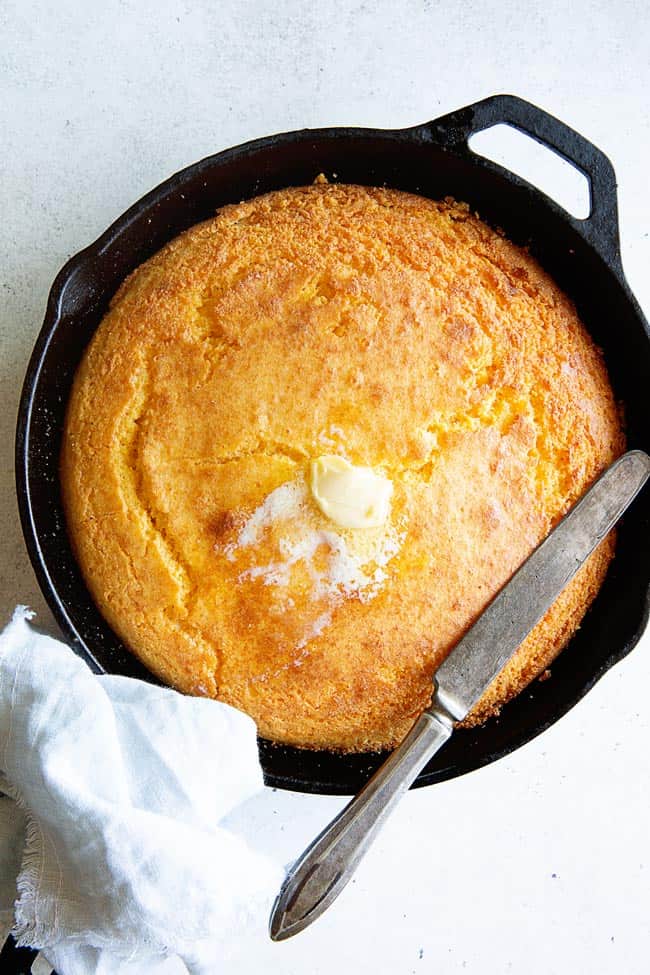 Ingredients
Now let's start off by saying that this cornbread is a work of genius from my Auntie Rose. At this point, she literally wings this recipe but I got her to the point where we were actually able to write it down! Seriously write it down!!
Here are the key ingredients in her cornbread:
Cornmeal
Flour
Sugar
Milk
Eggs
Sour Cream
Butter
Oil
For this cornbread, the cornmeal isn't just any cornmeal. We use self rising cornmeal to add a nice lift to this cornbread. It bakes up beautifully because of it.
We also add some flour so the texture isn't too grainy. However we want it to be true Southern cornbread so it is much more cornmeal than flour.
Now comes the ingredient that causes a huge stir: Sugar. A lot of Southerners don't like sugar in their cornbread. They don't believe cornbread should be sweet so this is really just to balance the savory of this bread. You won't really taste the sweetness here.
For milk, we use whole milk. It makes a huge difference. Don't go for skim for this. The whole milk makes this much more moist, in addition to the oil and sour cream added. The combo of all of it is amazing and makes the cornbread melt in your mouth.
And finally we use melted butter as well and love it! It gives it that lovely hint of buttery flavor!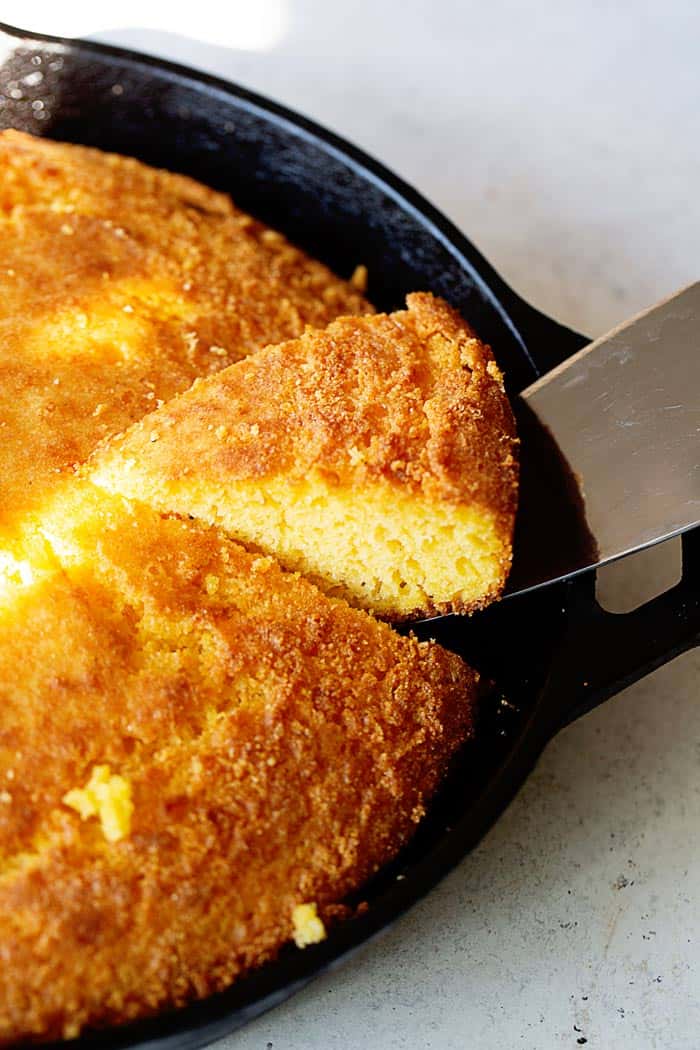 How to Make Southern Cornbread
Making cornbread is simple because it requires few ingredients and even fewer steps. But as with any simple recipe, the key to its success is following instructions.
The key to this particular recipe is making sure you get those crispy edges that add an extra layer of both texture and flavor. To ensure your bread gets its crunchy, buttery crust you gotta get that skillet sizzling hot.
Tip: While you are preparing your batter, heat your skillet on the stove with a few drops of water inside. Once the water starts dancing, you're ready!
This method works much faster than heating your skillet in the oven.
If you don't have a cast iron skillet there are plenty of other options. An ovenproof skillet, baking dish or even a pie dish will work just fine! Just be sure to heat it up too. However I would recommend getting a cast iron skillet since it has so many uses and is a staple in Southern homes.
Ideal Texture
A good cornbread recipe is hard to come by but today is your lucky day. Traditional Southern Cornbread is going to be super moist and buttery with crispy golden edges and the perfect crumb. My recipe creates just that.
The result of this recipe should be a wonderfully light cornbread that has a distinct, almost grainy, texture. The corn flavor itself is light and slightly sweet but nothing too overpowering. Absolutely perfect.
How to Serve
My absolute favorite way to eat cornbread is on its own, straight out of the oven and smothered in salted butter. Each bite is sweet but salty, crumbly yet firm and just so perfectly delicious. I have, on many occasions, eaten cornbread for dinner without any shame.
But cornbread makes for an incredible side dish that can be served with just about anything. Bowls of chili and full plates of soul food are this recipes best friend. Dip it in your gumbo and let it soak up the juices from your collard greens. No matter how you serve it, this cornbread is amazing.
You will also use this recipe along with my Chicken Stock to make my Southern Cornbread Dressing.
Other recipes you can serve this cornbread with are:
Other Amazing Cornbread Recipes
If you want to try other amazing cornbread recipes, check out my Jiffy Cornbread, Corn Pone, Mexican Cornbread, Classic Corn Muffins and Hot Water Cornbread.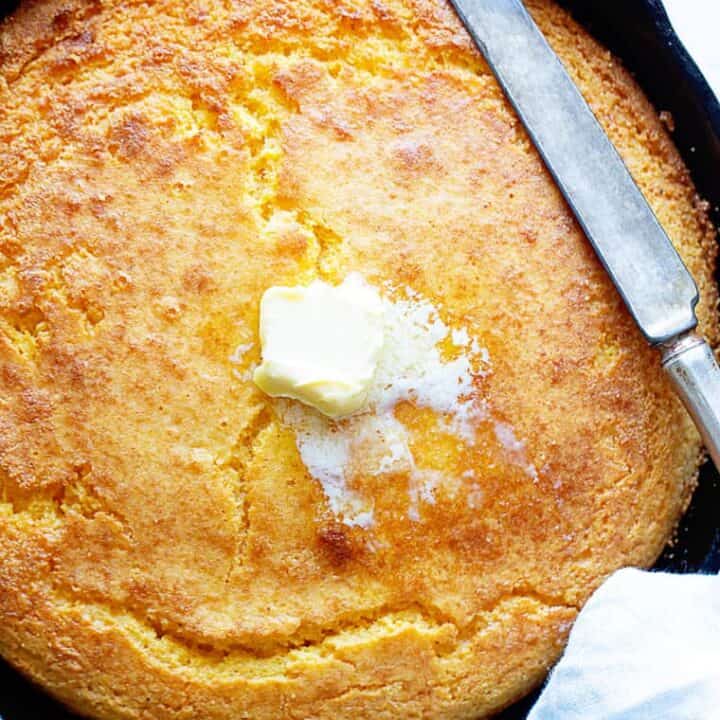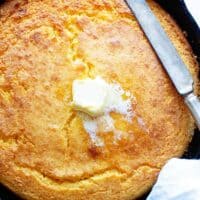 Southern Cornbread Recipe
Fill your kitchen with the smell of fresh-baked Southern Cornbread in just about an hour! This classic recipe creates a super moist, buttery and fluffy Cornbread that makes for the perfect snack or side.
Print
Pin
Rate
Ingredients
5

cups

self rising cornmeal mix

I use Pearl Milling Company

5

tbsp

all purpose flour

5

tsp

granulated sugar

2 1/2

cups

whole milk

room temperature

6

large eggs

room temperature and beaten

8

oz

sour cream

room temperature

1/2

cup

salted butter

melted

1/3

cup

vegetable oil
Instructions
Preheat oven to 375 degrees.

To a large mixing bowl, whisk together cornmeal, flour and sugar.

Add milk to beaten eggs then add egg mixture to dry ingredients.

Next add sour cream and whisk together and finally add melted butter and whisk until well combined. Consistency will be slightly runny.

Heat very large 17 inch cast iron skillet over high heat on the stove. Tip: Add a few droplets of water and once the water dances in skillet, it is ready!

Once ready, add vegetable oil to skillet then remove pan from heat.

Pour cornbread mixture into skillet (oil will bubble) and bake for 35-45 minutes or until toothpick inserted in center comes out slightly clean (make sure not to overbake and dry out the cornbread too much) and is golden brown.

Remove skillet from oven and let cool for 20 minutes before releasing from pan.

Allow cornbread to cool to room temperature.
Notes
While a cast iron skillet will yield the best results, make sure you use a very large baking dish or oven proof skillet.
Nutrition
Calories:
421
kcal
|
Carbohydrates:
48
g
|
Protein:
10
g
|
Fat:
22
g
|
Saturated Fat:
12
g
|
Cholesterol:
100
mg
|
Sodium:
119
mg
|
Potassium:
292
mg
|
Fiber:
5
g
|
Sugar:
5
g
|
Vitamin A:
476
IU
|
Vitamin C:
1
mg
|
Calcium:
83
mg
|
Iron:
2
mg