Simply made with fresh corn, flour, buttermilk, a bit of sugar and spice and a whole lot of love, these Corn Fritters fry up quickly and taste amazing!! Each bite of fritter is a touch sweet and a bit savory in all the best ways. If you love these, you will adore my Homemade Corn Dogs, Elote Corn Dogs, Creamed Corn, Southern Fried Corn and Corn Spoonbread.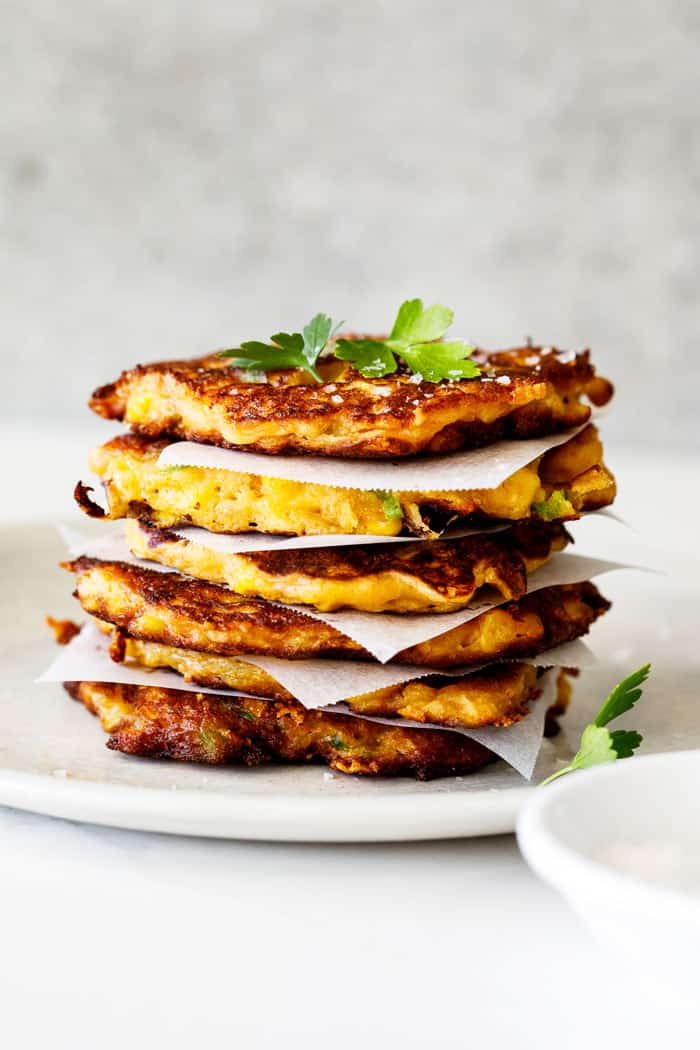 Stop what you're doing and get in the kitchen! Seriously, you're not gonna want to miss this one. I've shared fritter recipes with y'all in the past but, I think this might be the best one. Big talk, I know. There are many variations of fritters, most sweet rather than savory. Sweet, fried sugar is undeniably infamous across the South (and beyond).
Though I'm a BIG fan of berry, pear and apple fritters alike, I'm an even bigger advocate of savory fritters. Adding a salty, seasoned component to a sweet treat is a great way to change things up. Corn Fritters are a classic Southern offering; they're light, fatty, cheesy and golden. Need I say more?
Follow along with me as we fry up today's dose of pure Southern joy!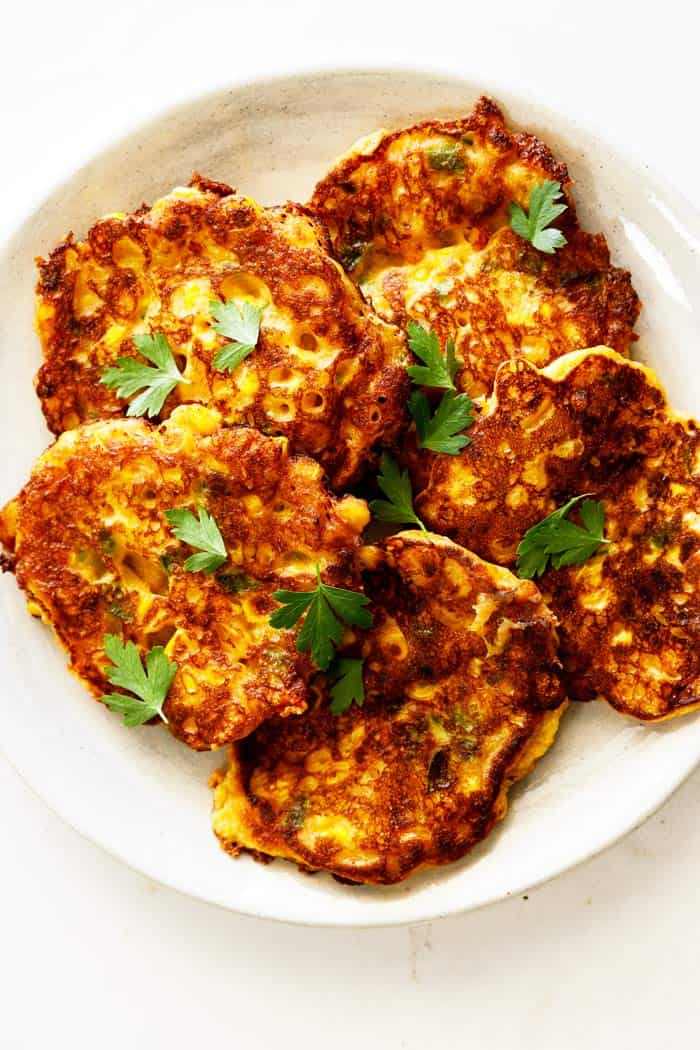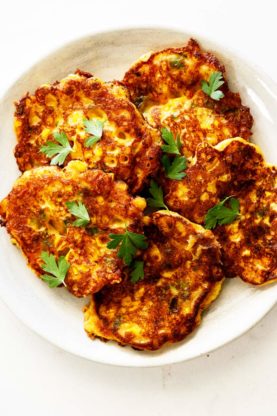 HOW TO MAKE CORN FRITTERS
Fritters are simply the easiest thing you'll ever fry. Honestly, all you need is one bowl and a hot pot of oil! What do you say we make a batch together?
Here's our shopping list:
Fresh (or Frozen) Corn – corn is mildly sweet, crunchy and simply put, delightful. Their addition mellows out the fritters and layers in a texturally pleasing component.
Diced Onion & Green Pepper – both are mildly acidic and bitter yet, sweet. They count as a vegetable too, right?
Minced Garlic – pungent and aromatic, garlic is always necessary.
All-Purpose Flour – flour creates the structure of our fritters.
Yellow Cornmeal – cornmeal is made from dried maize (corn) that has been finely ground. Its taste is similar to that of fresh corn, just with a more earthy element.
Granulated Sugar – I like to highlight the sweetness of the corn by using sugar to boost its potency.
Salt & Cayenne Pepper – seasoning is key people! Both salt and cayenne will bring flavor and heat. It's a nice balance to the sweetness.
Buttermilk – tangy and slightly acidic, buttermilk will add in a pleasant zippiness while also creating a more tender fritter.
Egg – just a binder. No biggy.
Shredded Cheddar Cheese – cheddar is sharp with a superb meltiness. Just a handful balances out the sweetness and adds a wonderfully pungent flavor.

WHAT DO I SERVE WITH CORN FRITTERS?
To be honest, my favorite way to eat a fritter is straight out of the fryer. Yes, they're devilishly hot. Yes, I often burn my mouth. But, I'm OK with that! I've enjoyed these fried pockets of sweet corn and cheese as both a snack and as a side to a classic Southern dinner.
I find that fritters are best served with fried or fresh seafood; the flavor just works. Don't take my word for it, try for yourself using a few of my favorite Grandbaby Cakes recipes:
CAN I SAVE LEFTOVER BATTER OR FRITTERS??
Any fritter batter can be made up to a day in advance and stored in the fridge. I wouldn't recommend saving leftover batter; it's intended to be made fresh to avoid any funky flavors.
Finished fritters freeze well. Store them in a large airtight freezer bag. When ready to reheat, place the fritters in the toaster oven for about five minutes. Alternatively, you could let them sit out on the counter for an hour and quickly reheat in a non-stick pan. Avoid the microwave at all costs!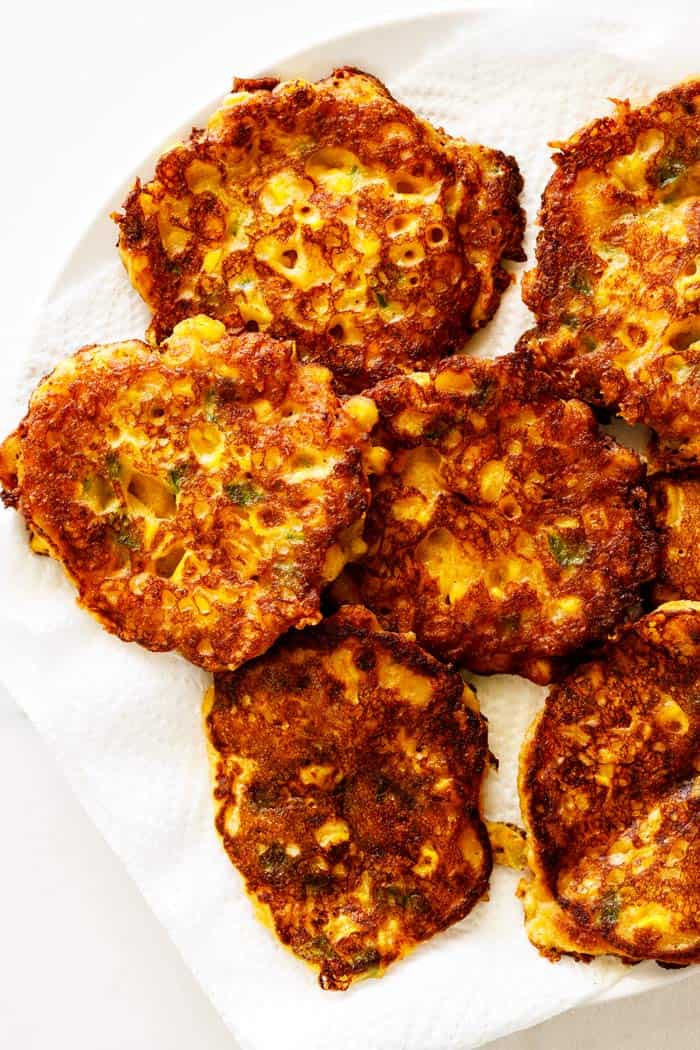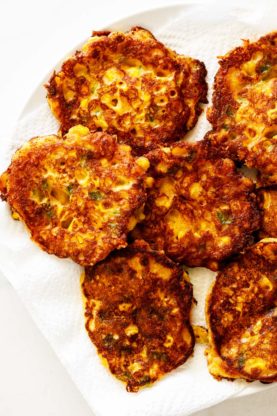 MORE GRANDBABY CAKES FRITTER FARE
Whether savory or sweet, fritters are delectable nuggets of Southern heaven! Do yourself a favor and step up your snack, appetizer, side or dessert game by frying up a few of my BEST fritter recipes: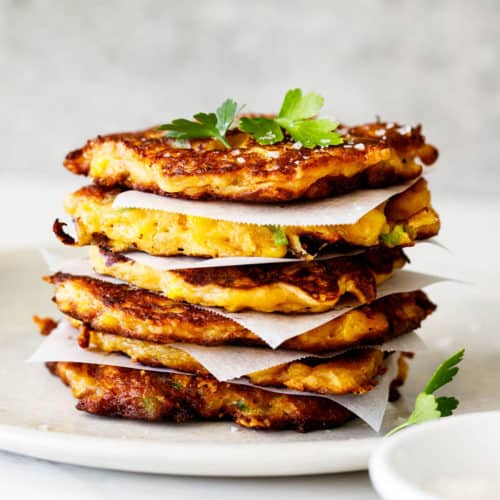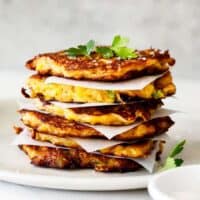 Corn Fritters
Simply made with fresh corn, flour, buttermilk, a bit of sugar and a whole lot of love, these Corn Fritters fry up quickly and taste amazing! Each bite of fritter is a touch sweet and a bit savory in all the best ways. Don't pass up on these crisp, fried rounds of deliciousness!
Print
Pin
Rate
Ingredients
2

tsp

olive oil

1

cup

fresh corn kernels

(or frozen corn kernels that have been thawed)

1/4

cup

finely diced onion

1/4

cup

finely diced green pepper

1/2

tbsp

minced garlic

7

tbsp

all purpose flour

1

tbsp

yellow corn meal

1 3/4

tsp

granulated sugar

1/2

tsp

baking powder

1/2

tsp

salt

1/4

tsp

cayenne pepper

1/3

cup

buttermilk

1

large egg

1/4

cup

shredded cheddar cheese
Instructions
Heat olive oil in a medium skillet over medium heat. Add corn, onion and green pepper and cook until softened (about 4-5 minutes) then add garlic and cook for an additional 30 seconds. Set aside.

In a large bowl, add flour, corn meal, sugar, baking powder, salt and cayenne pepper and whisk until combined.

Next add buttermilk and egg and combine with dry ingredients. Fold in sauteed corn and veggies and then add cheese.

Heat enough oil to cover the bottom of a cast iron skillet or dutch oven skillet and heat until about 365 degrees.

Scoop 2-3 tablespoons of fritter batter to the skillet and spread out like a small pancake and fry until golden brown (about 2 minutes or so) then flip and do the same. Remove from oil and drain on paper towels and sprinkle with salt and serve.
Notes
These taste absolutely incredible in the summer with fresh corn when it is in season however you can use frozen corn when it is out of season and it tastes just as wonderful!
Nutrition
Calories:
29
kcal
|
Carbohydrates:
4
g
|
Protein:
1
g
|
Fat:
1
g
|
Saturated Fat:
1
g
|
Cholesterol:
8
mg
|
Sodium:
61
mg
|
Potassium:
41
mg
|
Fiber:
1
g
|
Sugar:
1
g
|
Vitamin A:
51
IU
|
Vitamin C:
2
mg
|
Calcium:
17
mg
|
Iron:
1
mg