These perfect Southern Hush Puppies taste like little morsels of fried cornbread. Tender and fried until golden brown, they are perfect served along with your fish fry all year round! Definitely serve these with my Fried Catfish and Fried Shrimp recipes!
If there's one thing that has stood true through my childhood and into my adulthood, it's this: I love a good ole' fish fry. I grew up spending Summer's in Mississippi where we held an annual family reunion. I can still recall feeling the Summer heat while I watched the grown-ups fry up catfish to the tune of classic soul music. Joyous family and food-filled moments like those are the ones I remember the most about my childhood. Such a blast!
We'd always return from our Southern excursion with a massive box of fresh catfish from down in the Delta. In the weeks that followed we'd continue to enjoy a weekly fish fry. While many are familiar with Fish Fry Friday, my family did our on Wednesdays. Though it might seem strange, Wednesdays were the only day of the week that my dad had off from work. He dedicated his time off to cooking up our favorite fried fare and more importantly, spending time with us.
Dad's hot, fresh catfish fillets are legendary! Not only was the fish delicious but it was always served with Hush Puppies! The combination of flaky, seasoned fish and morsels of fried cornbread was absolutely astounding. I do my best to keep the tradition alive by hosting regular fish frys of my own and trust me, I never forget to include the Hush Puppies!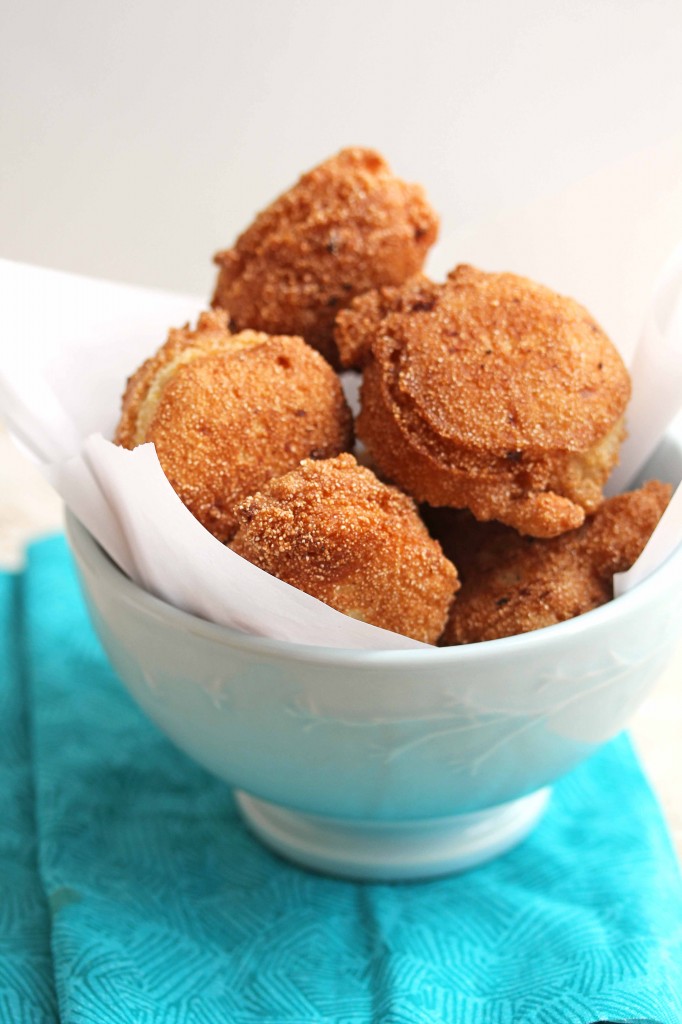 WHAT ARE HUSH PUPPIES?
Hush Puppies are to fried fish what peanut butter is to jelly. Seriously. A Hushpuppy is a small, savory, deep-fried round made from a cornmeal-based batter. There are variations of the recipe that can include scallions, garlic, whole kernel corn or peppers.
The texture of a Hushpuppy is crisp with a moist, tender middle. I would compare the flavor to that of buttery, salty cornbread. It's almost too good to be true!
WHY ARE THEY CALLED HUSH PUPPIES?
The first recorded use of the word "hushpuppy" dates back to 1899! Back then, hunters and fishermen would fry up a simple corn mixture and feed it to their dogs. The mixture was often leftover from having bread-coated or battered their own food. These easy, cheap treats were known to "hush the puppies".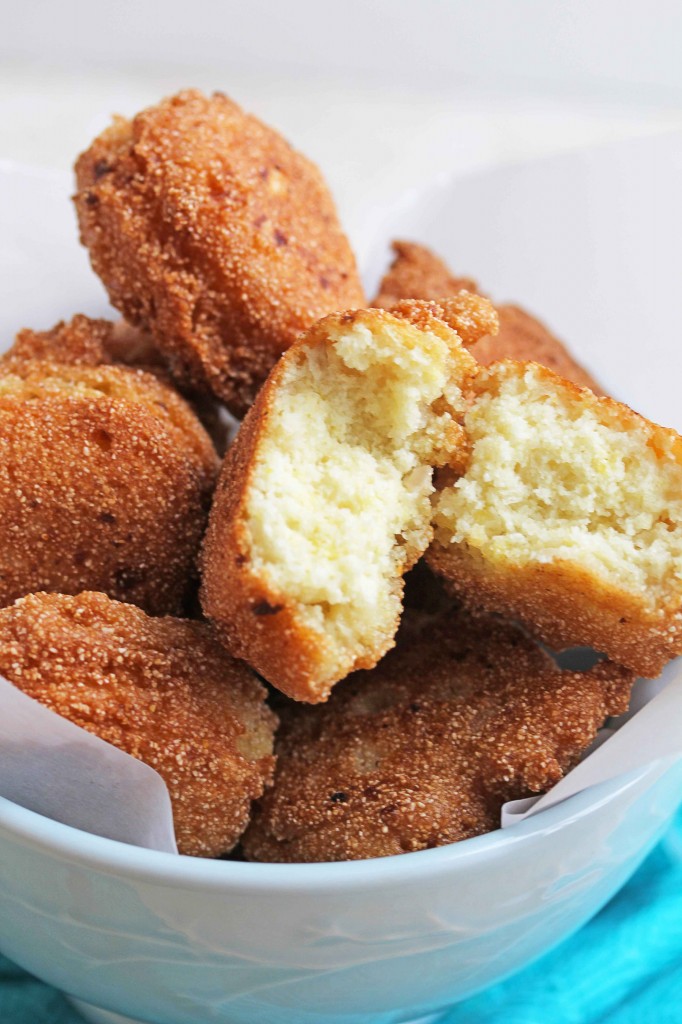 HOW TO MAKE HUSH PUPPIES
Wanna know how to whip up a batch of hush puppies like a pro? Well, I've got the insider tips that make for the most flavorful, well-cooked puppies around!
These are my top 3 secrets for a great hushpuppy batter:
Don't Overmix. Overworking the batter will make for dense, tough hush puppies. Stir the batter only up until the dry ingredients become moist.
Add Sugar. When added to a batter, sugar encourages browning and deepens flavor. Even if you're not a fan of a sweeter cornbread, I would encourage you to still add the sugar.
Rest the Batter. Allowing the batter to sit at room temperature for about 10 minutes is key! During that time the batter will set and thicken.
Warning: Freshly cooked Hush Puppies are delightful but, they can be dangerously hot when they come out of the fryer. To avoid injury, please wait at least 5 minutes before popping one in your mouth.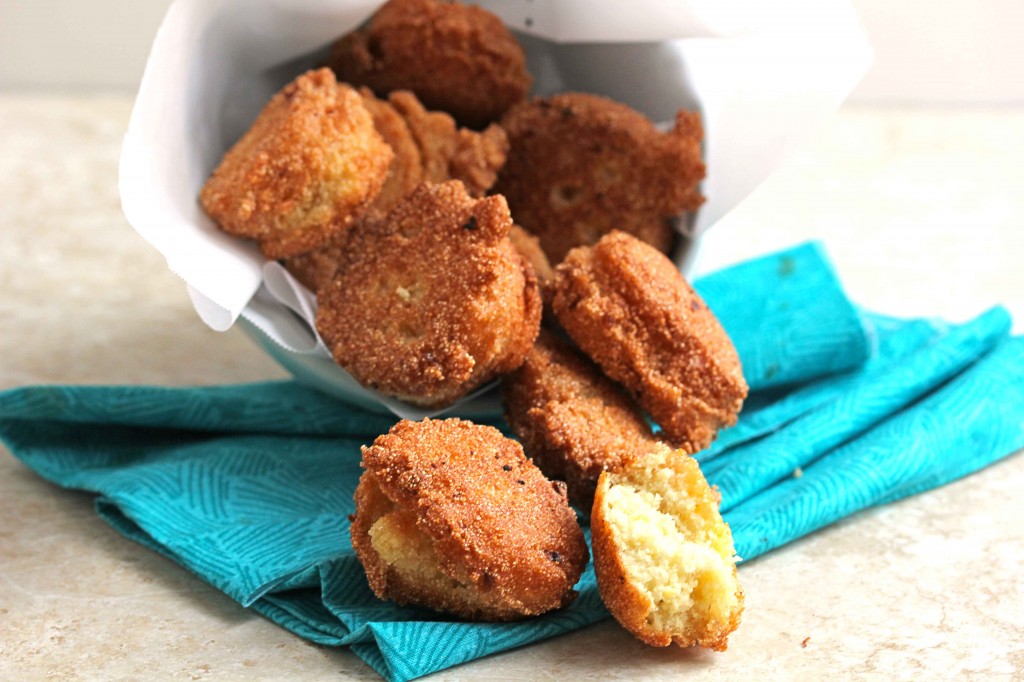 WHAT DO I SERVE WITH HUSH PUPPIES?
Most, if not all, plates at a Southern fish fry (or even barbecue joints) come with hushpuppies. These two-bite, piping hot pieces of fried cornbread are beloved in the South. Though they can be enjoyed as a snack or served with just about anything, I would encourage you to first enjoy them with some classic Southern fare.
Here are a few tasty, fried options:
Whatever you choose to serve these bad boys with, it's guaranteed to be a huge hit!
Hush Puppies
Good ole fashioned hush puppies are to fried fish what peanut butter is to jelly. This is the perfect hush puppy recipe too because they taste like little morsels of fried cornbread. Sounds utterly delicious right? I whip up the batter for these in about 5 minutes flat, fry them up golden brown and serve them along side some fried catfish, tilapia, perch, flounder, whiting, shrimp or whatever else we may have in the house.
Print
Pin
Rate
Servings:
12
hush puppies
Ingredients
3/4

cup

white corn meal

4

tablespoons

all-purpose flour

1

teaspoon

baking powder

1/2

teaspoon

salt

1

tablespoon

granulated sugar

1

large

egg

2

tablespoons

finely chopped onion

6

tablespoons

milk
Instructions
In a skillet, add frying oil and heat.

In a medium sized bowl, add corn meal, all-purpose flour, baking powder, salt and granulated sugar and whisk together to combine.

Next add in egg, onion and milk and whisk until batter is thick and well combined.

Over hot heat, drop in tablespoons of batter and fry until golden brown on all sides.

Remove hush puppies once golden brown and drain on paper towels. Serve hot.
Nutrition
Serving:
3
g
|
Calories:
64
kcal
|
Carbohydrates:
11
g
|
Protein:
2
g
|
Fat:
1
g
|
Cholesterol:
16
mg
|
Sodium:
106
mg
|
Potassium:
93
mg
|
Fiber:
1
g
|
Sugar:
1
g
|
Vitamin A:
35
IU
|
Vitamin C:
0.1
mg
|
Calcium:
26
mg
|
Iron:
0.6
mg