Served hot and golden, Banana Fritters are the perfect way to satisfy a sweet tooth! Made with sweet, fruity bananas and aromatic vanilla, then fried to perfection, these fritters are yummy all the way to the last bite! If you love these, you will definitely love this Bananas Fosters or for more fritters, these Beignets or Apple Fritters or Peach Fritters!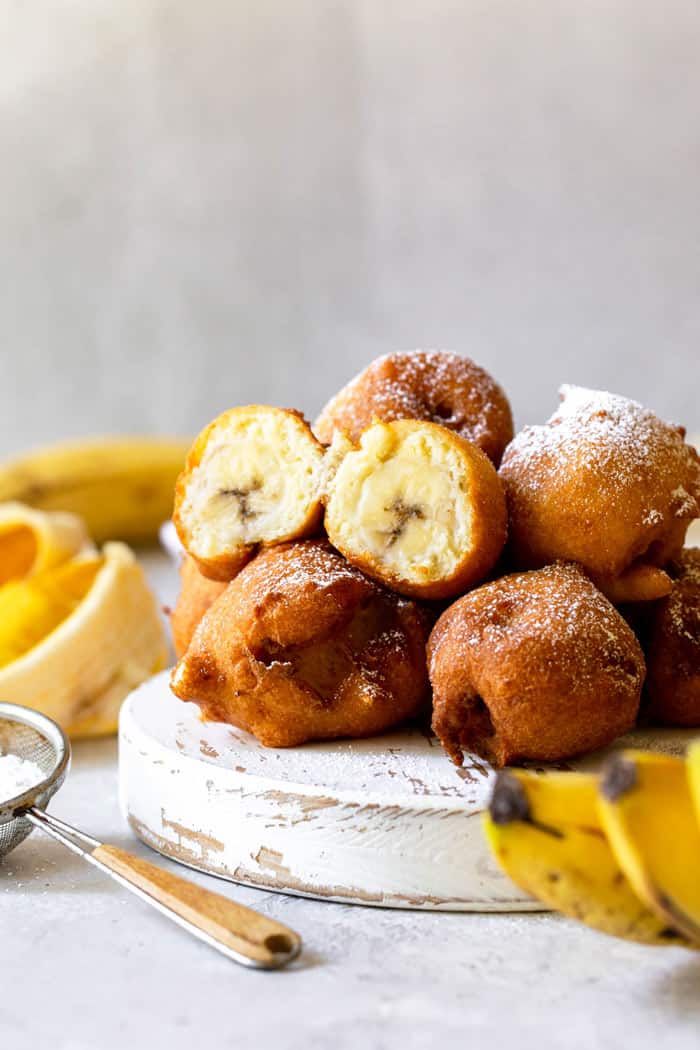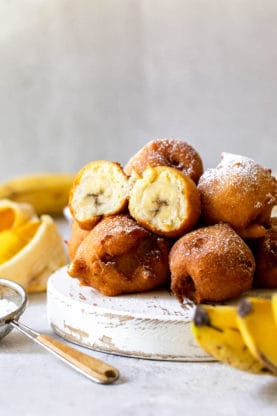 Today, I find myself seated on the sofa typing away as my daughter sings along to Frozen for the 100,000th time. Harmony dances around the living room in her pajamas and to be honest, I'm still in mine too. We're adjusting to a new normal that, for all intensive purposes, is not normal. Some days are harder than others but still, we find ways to laugh, rejoice and tap into that inner Queen Elsa (or Princess Anna, depends on the day).
It is also exciting because I think about the joy I feel as a newer parent, and feel it is so appropriate to congratulate my friend Julianne of Beyond Frosting who is due super soon with her baby boy! Becoming a parent is so exciting, hard, and seriously so crazy but it is the best thing that ever happened to me. Julianne is a seriously wonderful soul that I've known for what seems like forever. Her heart is so pure, and I know she is going to be the best mother to her baby. I can't wait to see her holding her baby, and see her step into this new role. My heart leaps for her! Today my friends and I celebrate her with a Virtual Baby Shower! See all of the glorious posts below!
So, now that you know where I'm at, let me share with you today's sliver of joy! This time last year Harmony, Fred and I were getting ready for our first Carnival Cruise to the Cayman Islands. With plenty of sunscreen in hand and lots of excitement we sailed the seas, making a few stops along the way. My favorite pitstop? Jamaica. Jamaica's beautiful beaches and delicious street foods stole my heart!
We ate the most incredible Jerk Chicken, Beef Patties and best of all, Banana Fritters. Made with sweet bananas, aromatic vanilla and a whole lot of love, these fritters are deep-fried heaven.
Today, I'm taking it back to warmer days spent on pristine beaches by frying up my version of a Jamaican classic. Let's take a vacation y'all!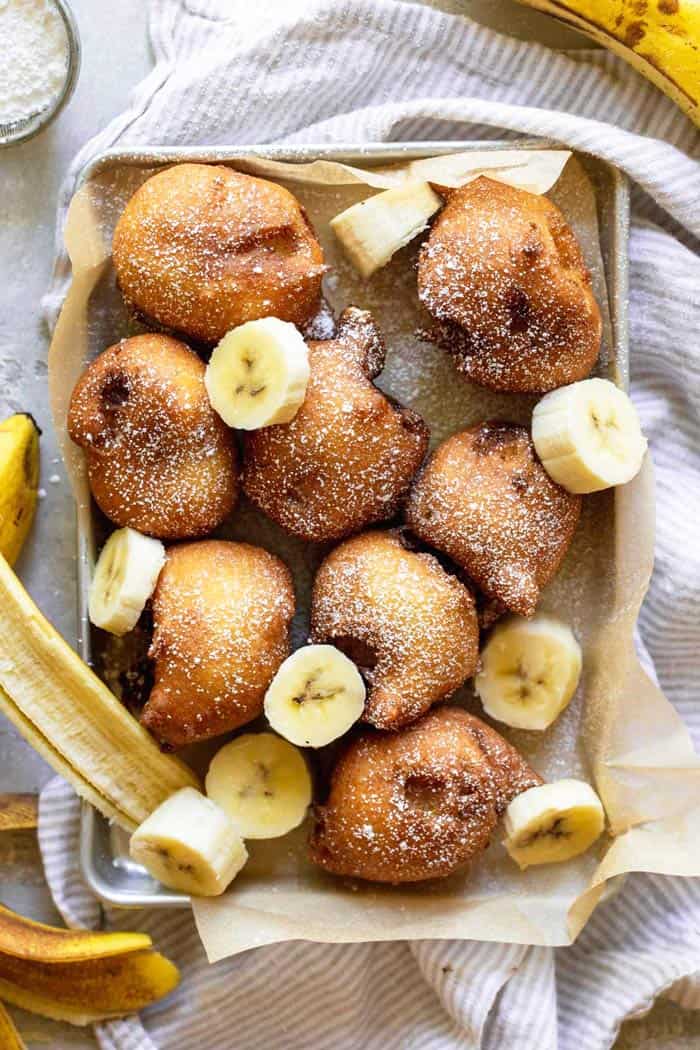 HOW TO MAKE BANANA FRITTERS
Although I had my first Banana Fritter experience in Jamaica, this popular Caribbean treat can be found around the world! Whether in West Africa or Indonesia, Vietnam or South America, deliciously unique fried banana variations are a staple recipe.
Ingredients or method of cooking may differ, but the core idea remains the same: they're sweet, crispy and oh, so good. My preferred variation is inspired by my island adventure and the ingredient list goes a little something like this:
Firm Bananas
Because we're using bananas in whole pieces, it's important to make sure they've got structural integrity. By using firm bananas we ensure that they will be able to withstand being fried.
TIP: Look for bananas that are a deeper yellow in color but, be sure they aren't yet spotted or bruised.
Sifted All-Purpose Flour
Taking the time to sift your flour is going to be the difference between a light, fluffy fritter and a dense, oil-ridden fritter. Trust me, it's worth it.
Vanilla
Vanilla has a sweet, perfumed aroma that starts to release as soon as you start frying. The added woody-smokey flavor creates a beautiful contrast as well.
Frying Oil
It's important to use an oil that has a high smoke-point as well as little to no flavor. Vegetable, canola, peanut or safflower oil are all great options!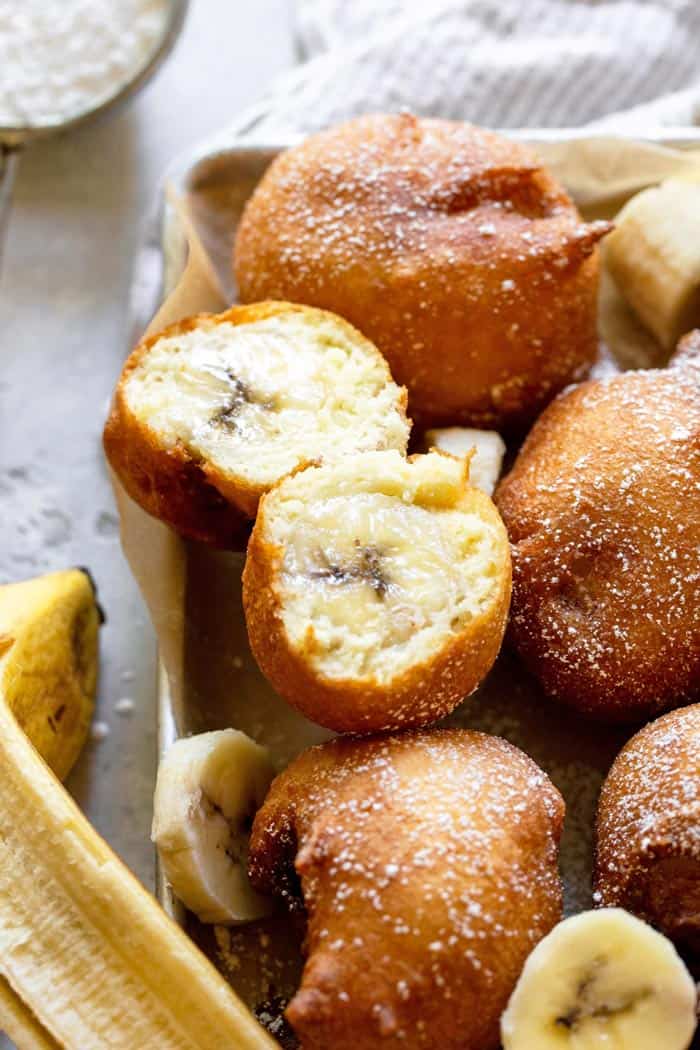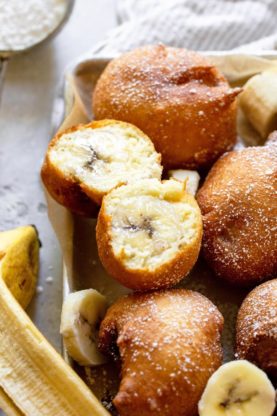 TIPS FOR MAKING THE BEST BANANA FRITTERS
From start to finish, I can whip up a batch of these fluffy-fried bites in about 20 minutes! While developing this recipe, I made a couple mistakes and from them, fritter perfection was born.
I'm inviting you to learn from my mistakes by listing a few tips that will guarantee the BEST Banana Fritters ever!
Use an oil thermometer! You want that oil to be as close to 375 degrees as possible. Any higher your risk burning the fritters burning before they're cooked. Go lower and they'll soak up too much oil.
Don't fry too many at once! Overcrowding the oil will cause the temperature drop. Aim for 4-5 in one batch.
If making a larger batch, preheat the oven to 200 degrees and use a baking sheet with a wire rack fitted on top to keep the fritters warm. Do this AFTER draining on paper towels to avoid sogginess.
And feel free to sprinkle with powdered sugar or you can drizzle this Easy Caramel Sauce or my Classic Real Deal Caramel Sauce over the top for extreme decadence!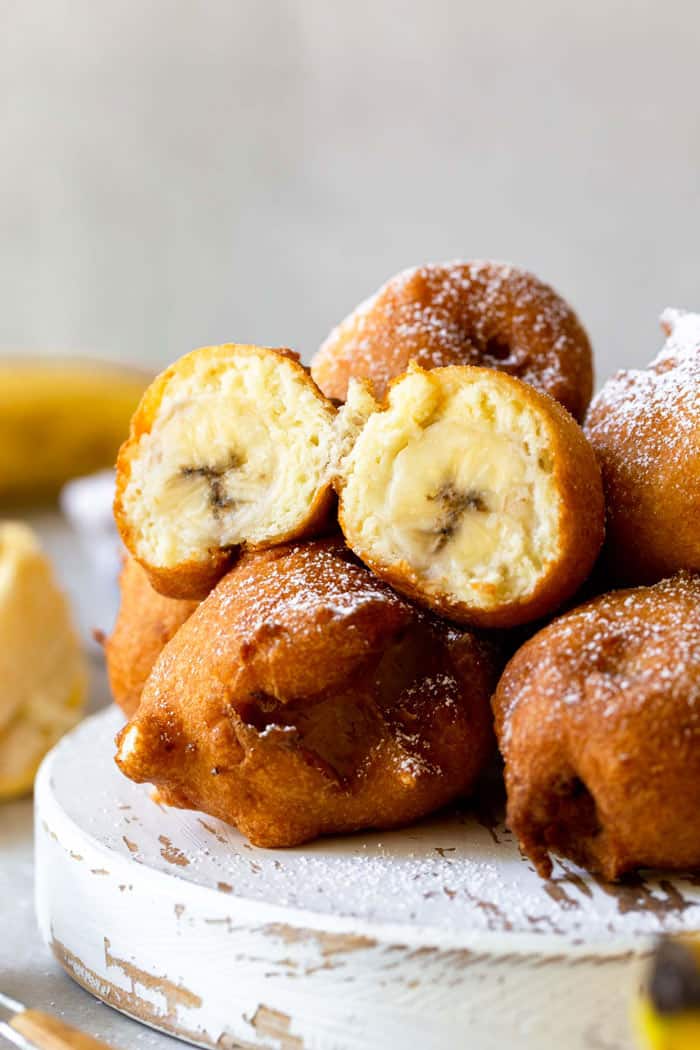 GOT BANANA ON THE BRAIN? TRY OUT A FEW OF GRANDBABY CAKES' BEST BANANA RECIPES:
And try my other friends amazing recipes celebrating Julianne's beautiful baby boy!
Mama's Best Banana Pudding from The Novice Chef
Snowy Mountain Baby Shower Cake from Life, Love and Sugar
Fruity Pebbles Muffins from Crazy for Crust
Mountain Baby Shower Cookies from Glorious Treats
Instant Pot Cheesecake from Dinners, Dishes and Desserts
No Bake Turtle Dream Bars from 365 Days of Baking and More
Churro Cupcakes from Spoonful of Flavor
Classic Lemon Bars with Shortbread Crust from A Classic Twist
Peanut Butter Chocolate Poke Cake from The First Year Blog
Chocolate Raspberry Layer Cake from A Dash of Sanity
Potato Chip and Pecan Sandies from Simple Joy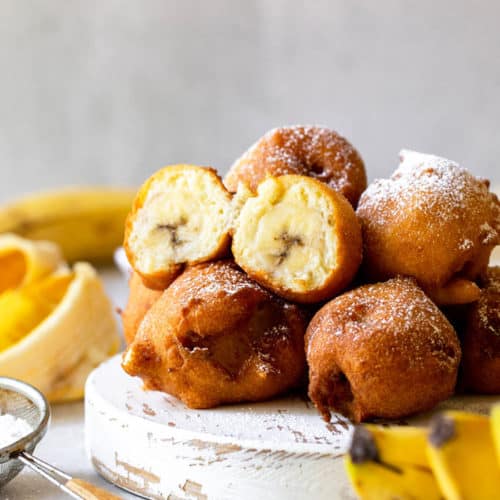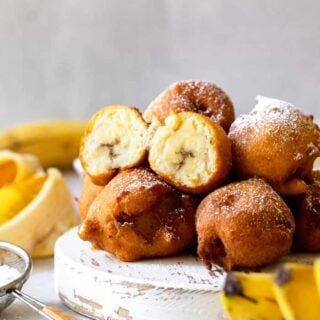 Banana Fritters
Served hot and golden, Banana Fritters are the perfect way to satisfy a sweet tooth! Made with sweet, fruity bananas and aromatic vanilla, then fried to perfection, these fritters are yummy all the way to the last bite!
Print
Pin
Rate
Ingredients
1 1/4

cup

sifted all purpose flour

divided

2

tsp

baking powder

1 1/4

tsp

salt

1

tbsp

granulated sugar

1

large egg

beaten

1/3

cup

milk

plus 3 tbsp

1/2

tsp

vanilla extract

2

tsp

melted butter

2

firm bananas

peeled and cut into 4 pieces

1 1/2

cup

oil for frying

Powdered sugar for garnish
Instructions
Sift one cup of flour with baking powder, salt and granulated sugar.

Combine egg, milk and melted butter until smooth then add to dry ingredients and mix until batter is smooth yet stiff.

Roll banana pieces in remaining ¼ cup of flour then shake off (the extra flour helps to create an adhesive before dipping into the batter); dip into fritter batter, completely coating pieces with batter.

Fry in oil at 375 degrees until golden brown, turning fritters to brown evenly on all sides; drain on paper towels; sprinkle when hot with powdered sugar and serve with caramel sauce if you so desire!!
Nutrition
Calories:
220
kcal
|
Carbohydrates:
32
g
|
Protein:
4
g
|
Fat:
8
g
|
Saturated Fat:
2
g
|
Cholesterol:
32
mg
|
Sodium:
515
mg
|
Potassium:
331
mg
|
Fiber:
2
g
|
Sugar:
8
g
|
Vitamin A:
128
IU
|
Vitamin C:
3
mg
|
Calcium:
83
mg
|
Iron:
2
mg