As easy as it is impressive, this dessert "charcuterie" board is made of all things festive and delicious: nuts, jams, crackers, and, best of all, Cranberry Cinnamon Goat Cheese Truffles! Offer a variety of sweet treats and impress your guests with this gorgeous, yet simple dessert platter! If you love truffles, you will love these Orange White Chocolate Truffles, Cheesecake Cookie Dough Truffles and Eggnog Truffles.
Disclosure: I partnered with Montchevre for this recipe post, but all opinions expressed here are my own. I am grateful for authentic partnerships like this.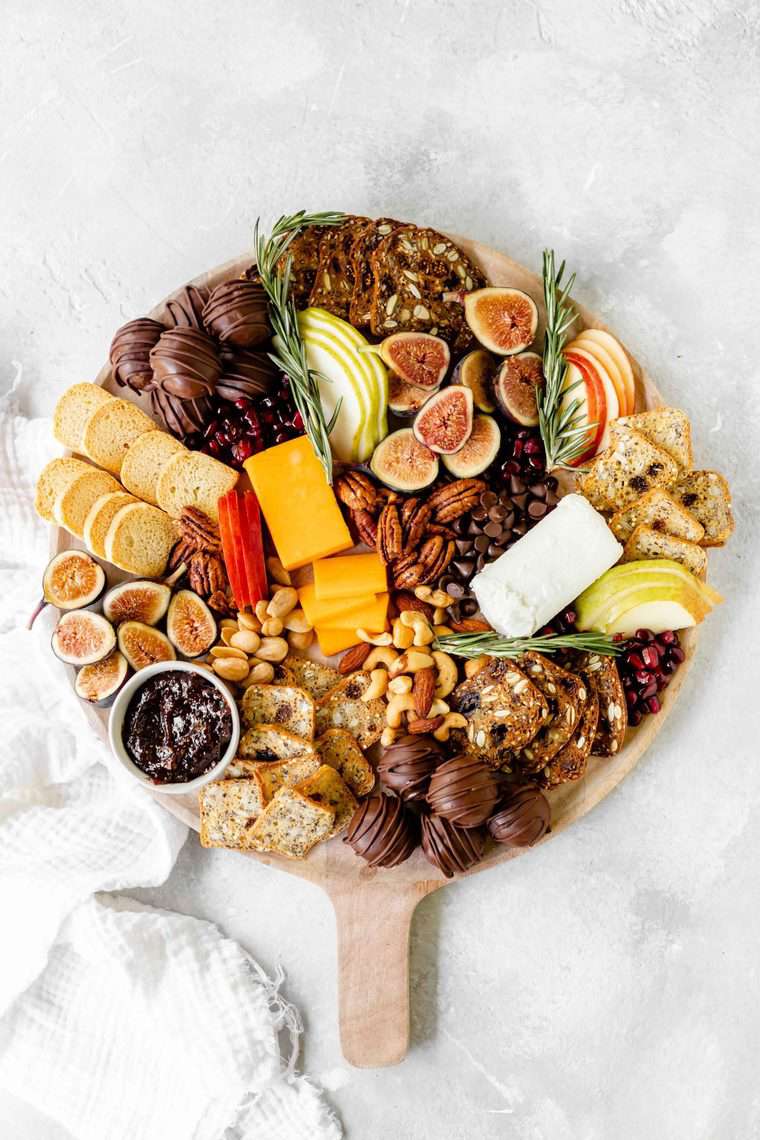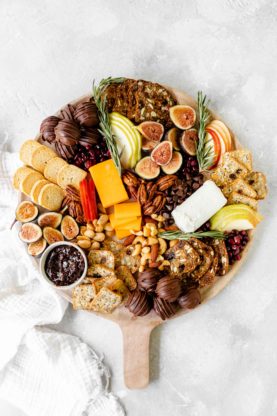 'Tis the season of holiday baking, gifting and décor! Y'all just know I can't resist sharing tons of fun tips and recipes for your own festive celebrations. And this year, I am WAY too excited about this holiday dessert charcuterie board.
Holiday parties are fun but can also be exhausting if you're stuck hosting them. This is where cheese boards, charcuterie plates and this holiday snack platter come in handy. Boards allow you to pick and choose what you want to eat and how much of it to consume. If you want an entire board of cookies and cheese, that's your business.
If you've been stressing over what to bake for your holiday parties these next couple of weekends, I've got you covered. Skip the hot oven, shop the pantry and make this Montchevre Holiday Dessert Board instead!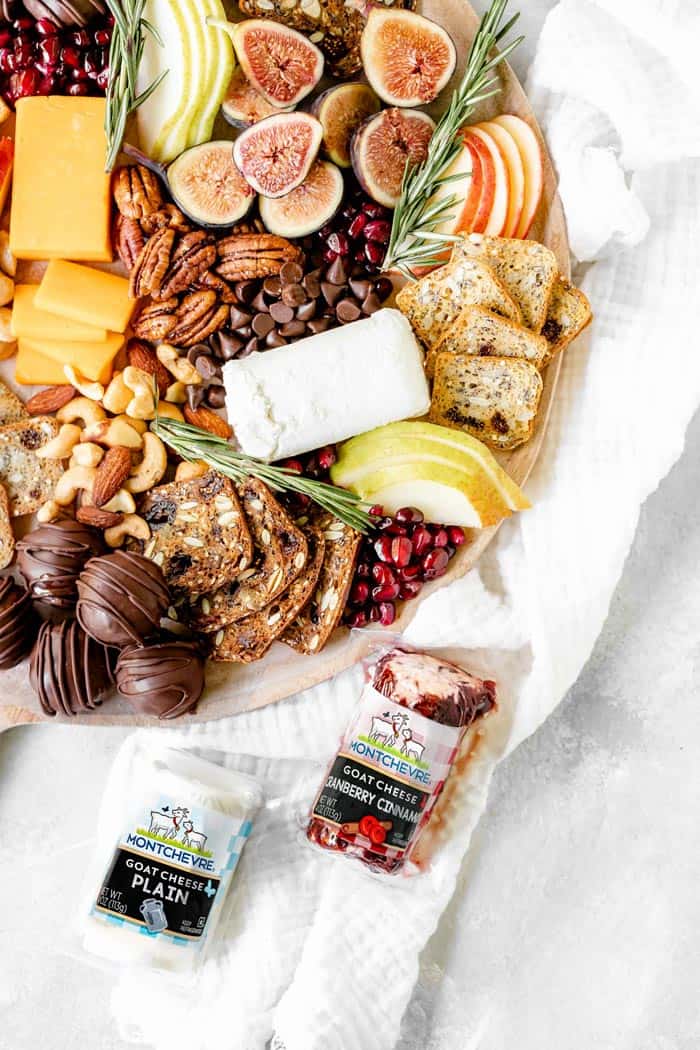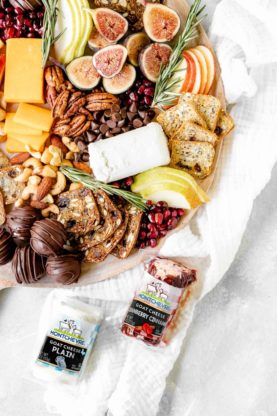 WHAT IS A (DESSERT) CHARCUTERIE BOARD?
A charcuterie board, simply put, is a platter or board filled with snacks. All snacks are arranged on a board (a cutting board, marble slab, wooden cheese board, etc.), a large baking sheet or a short-sided open box.
A savory board will usually include items like cheese, deli meat, crackers, jams and nuts. A dessert board is exactly like a savory charcuterie board except that it leaves room for items that are on the sweeter side.
The best part about a charcuterie board is its customizability! Want to throw on a few pickles? Do it. In the mood for peanut butter cups? Throw 'em on!
Today's board is a creation of my own sweet-salty obsessed madness. Using a mixture of savory components, funky sweets and fresh fruit, I architected the ultimate little-bit-of-everything holiday dessert (or appetizer or snack or, whenever you please) charcuterie board!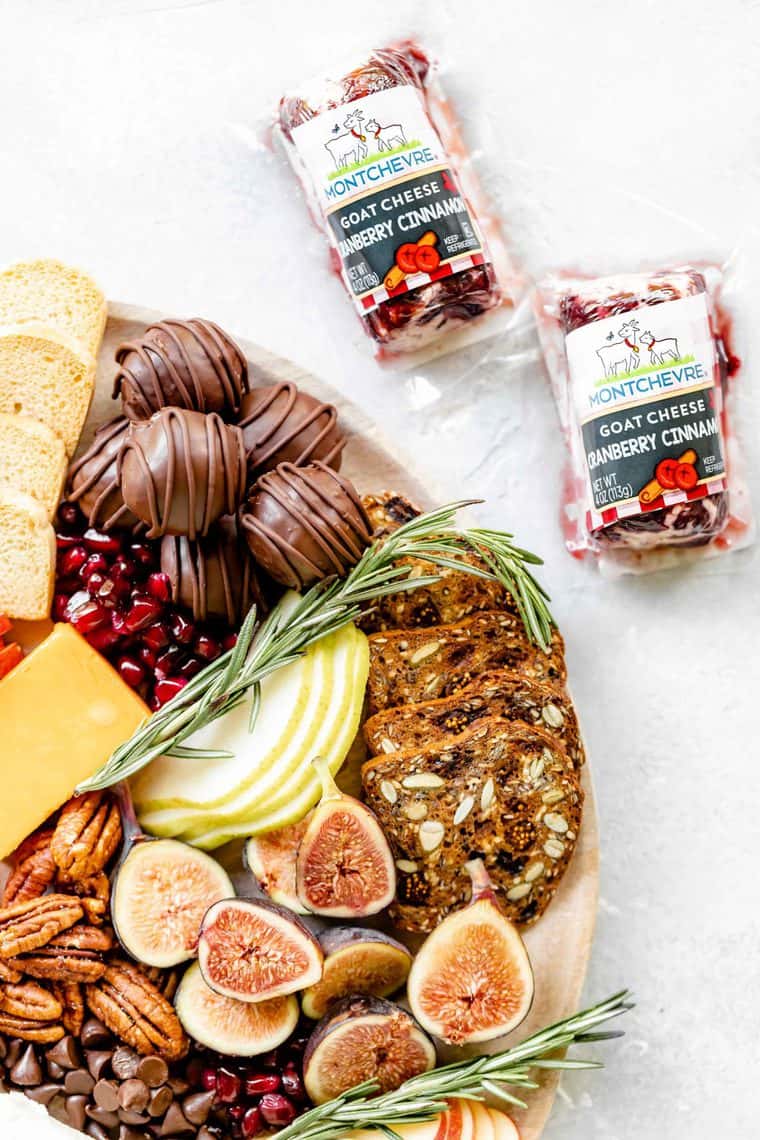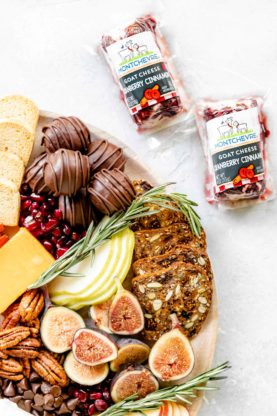 WHY MAKE A DESSERT BOARD?
Charcuterie boards are a major holiday game changer! Boards are a WILDLY easy way to make a beautiful dessert for a big crowd and, because there's such an incredible assortment of food, it's guaranteed to please everyone.
A board like this doesn't require a lot of effort. Buy some items, make some items and bust out a few random pantry finds. It's a busy time of year and, y'all, I don't always have time for all that cookie-baking, pie-crust filling mess! I know you feel me on that.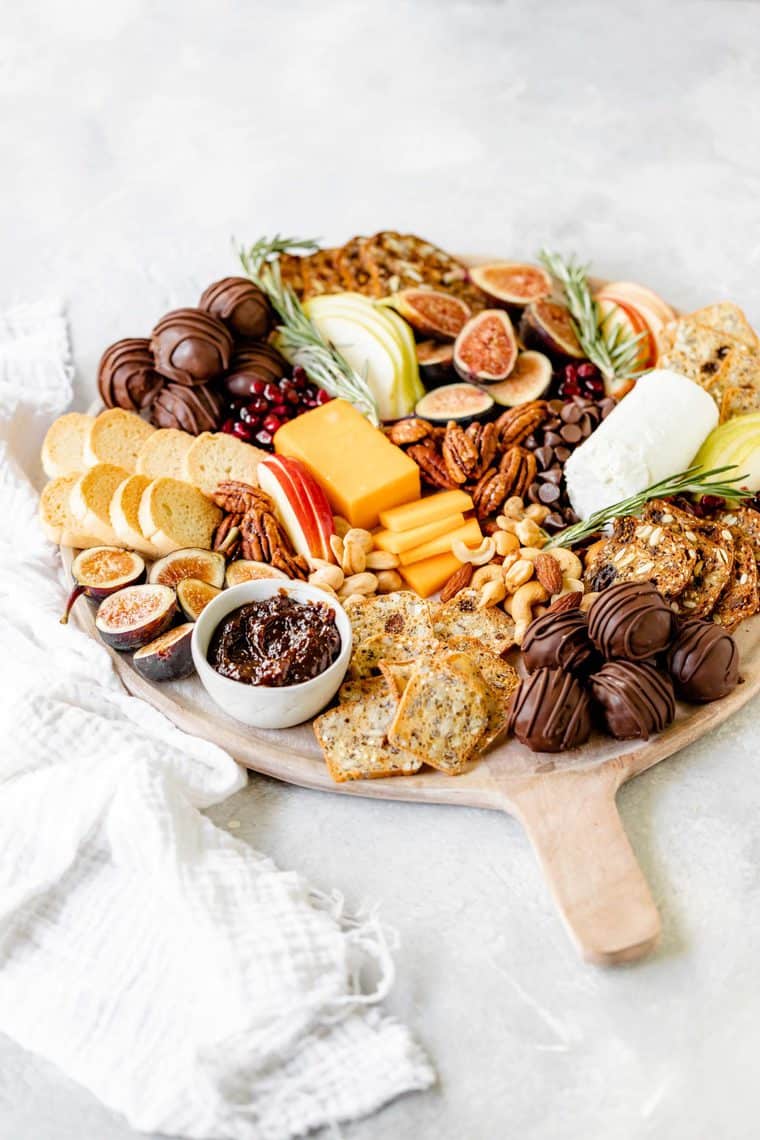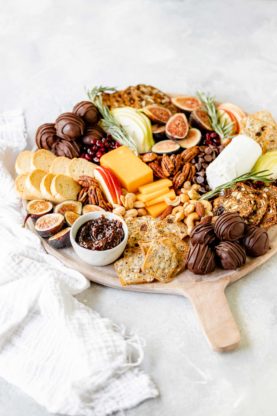 BUILDING YOUR BOARD (Part One)
Let's do ourselves a favor and start with the good stuff, shall we? Building a charcuterie board is equivalent to letting a kid loose in the candy store. I mean, we're talking snacks on snacks on snacks. Each one a treat of your own choosing. I could eat one of these bad boys anytime, any day!
Gather Your Fruit
Fruit on a charcuterie board is a must. Assorted fruit adds color, acidity, moisture and straight-up fun. Try to include both crisp and softer options. Dried fruit can be mixed in here too!
Start out with a few of my favorites and add in more of your own:
Sliced Pears & Apples
Figs (you can even dip them in chocolate if you can find them)
Red or Green Seedless Grapes
Kumquats
Sugared Cranberries
Pomegranate
Dates
Choose Your Spreads & Cheeses
Aim to create a balance between sweet and salty with your sauces, dips and cheeses. You want a solid mix of brininess, sweetness and sharpness. If you're struggling with this part, think about combinations, create mental pictures and try to pair similar, complementary flavors.
These are some guaranteed team-playing items:
Montchevre Plain Goat Cheese (a centerpiece on this board)
Fig, Apricot & Raspberry Preserve or Jam
Hot (or Sweet) Honey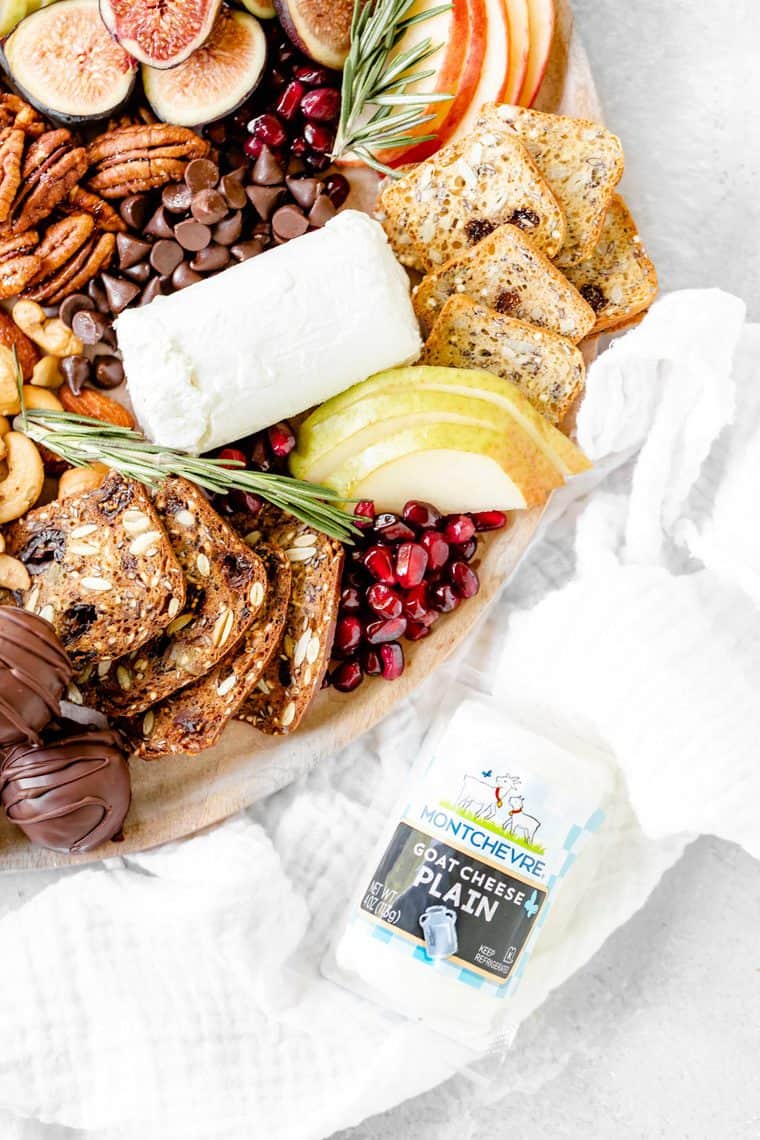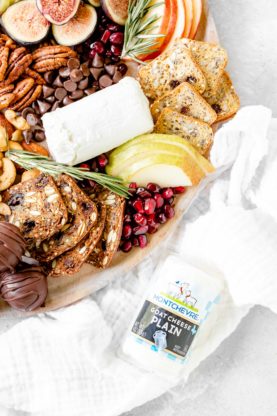 Nuts, Crackers and Herbs, Oh My!
These small, but mighty, elements layer texture, color and aroma. I invite you to really play around here: spice the nuts, decorate with herbs or create mosaics with crackers.
We're at the playground, here are your toys:
Candied Pecans, Walnuts & Almonds
Rosemary & Thyme Sprigs
Assorted Entertainment Crackers
Fig & Olive Crisps
Don't Forget the Sweet Stuff
Get creative with the treats you want to include on your board! It can be an assortment of cookies or a variety of favorite festive desserts. Not only am I offering up a few ideas here but I'm also sharing the recipe for this year's hottest dessert board addition. Keep reading to find out what it is!
Butter Ricotta Cookies
Flourless Chocolate Orange Cookies
Cranberry Cinnamon Goat Cheese Truffles (See recipe below)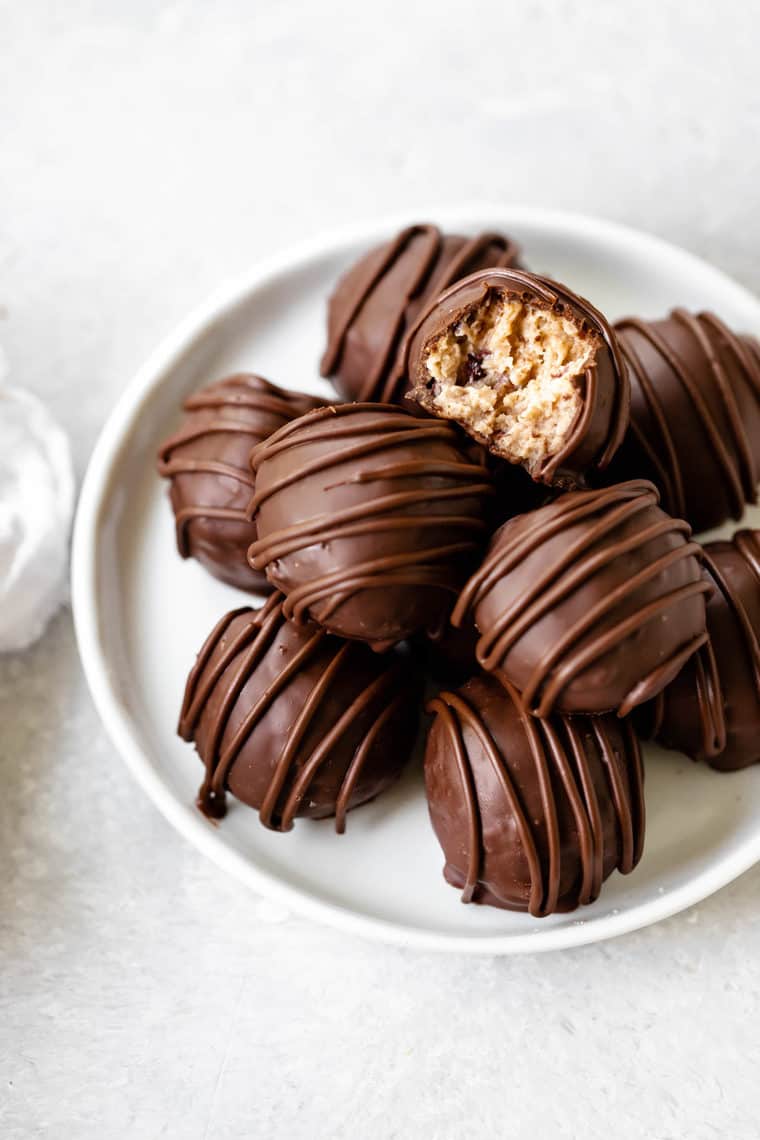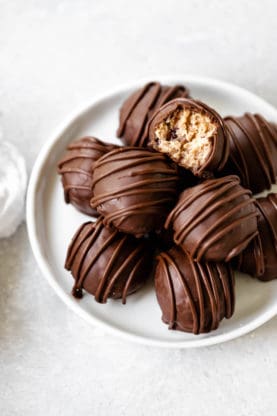 USING MONTCHEVRE GOAT CHEESE ON YOUR BOARD
Montchevre is the largest goat cheese brand in the United States. Made in Wisconsin using traditional French cheese making techniques, Montechevre is the highest quality goat cheese available. Today's recipe features Montechvre's Cranberry Cinnamon Goat Cheese; rich, sweet and tangy, it's the perfect addition to our sweet and salty holiday board! You can find Montchevre at a store near you here.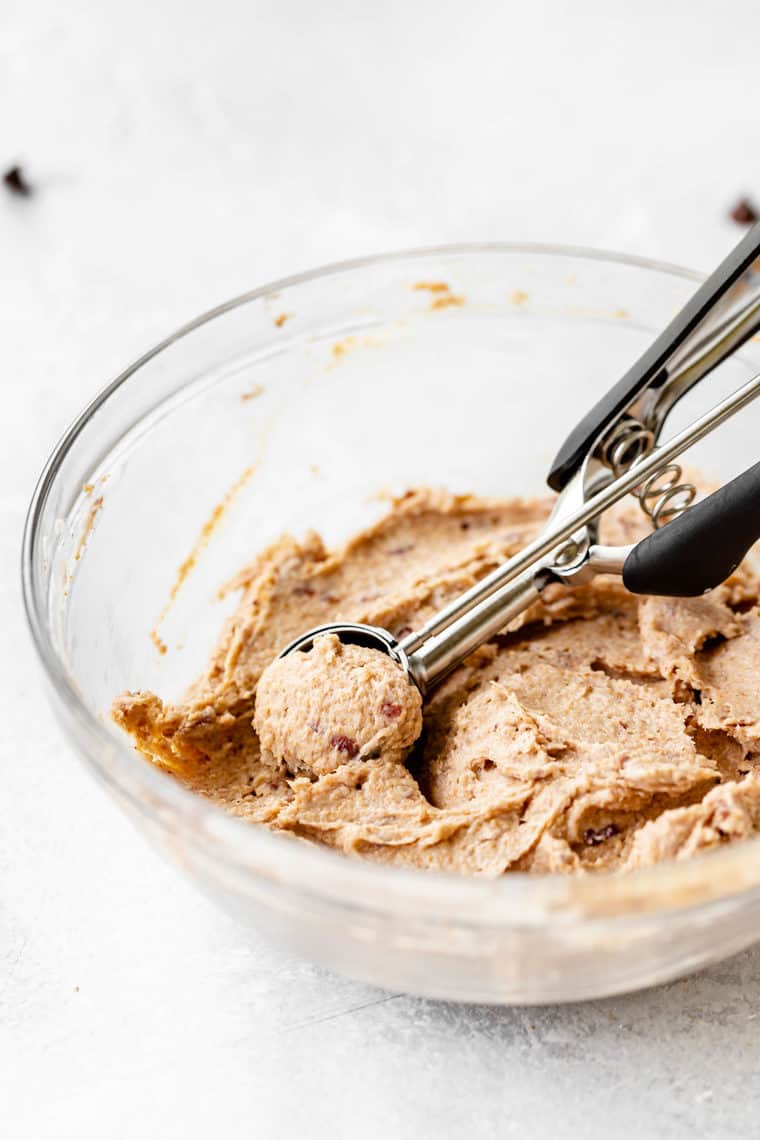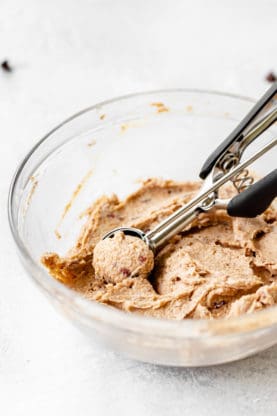 HOW TO MAKE CRANBERRY CINNAMON GOAT CHEESE TRUFFLES
Now, there's nothing wrong with going 100% store-bought when it comes to a charcuterie board. Been there, done that (a lot). But, being as extra as I am, I like to add a personal touch to my boards. Homemade truffles are a creamy, chocolatey delicious way to take things up a notch.
Montchevre Cranberry Cinnamon Goat Cheese– this special edition holiday goat cheese is incredibly creamy and decadent. The added cranberries add bursts of tart yet sweet flavor. Cinnamon layers in warmth and zesty spice. You haven't had goat cheese until you've had this.
Cream Cheese– if you're a fan of cheesecake, you're gonna love these. Each truffle is like popping a chocolate-dipped cheesecake bite straight into your mouth. SO good.
Vanilla Extract– vanilla is a flavor enhancer that always makes for a "dessertier" experience.
Graham Cracker Crumbs– try to shoot for a mixture of large chunks and fine crumbs for a more balanced texture. What's a cheesecake with a graham cracker crust?
Dark or Semi-Sweet Chocolate (Melted)– both goat and cream cheese are quite rich; dark chocolate cuts through the fat and adds a sharp bite while still being rich and chocolatey. If you're not a fan of dark chocolate, semi-sweet or milk will work, just expect a sweeter outcome.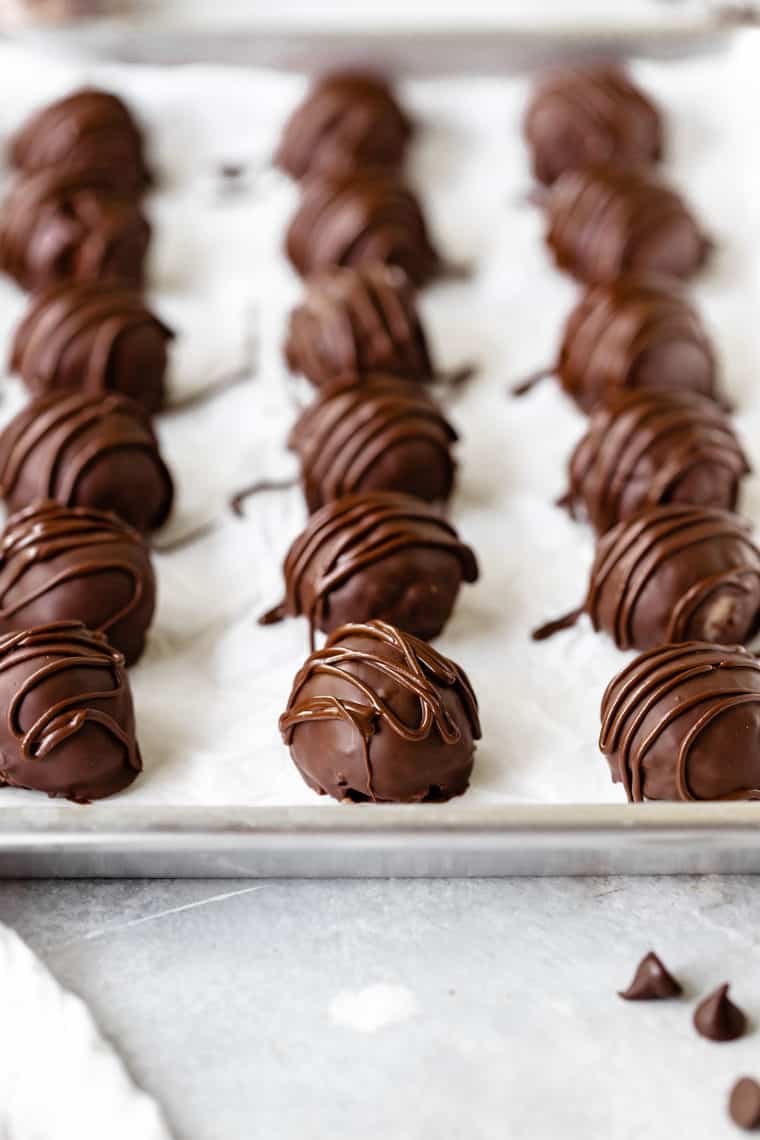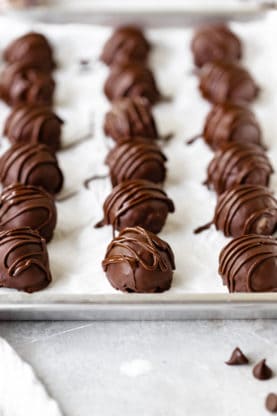 BUILDING YOUR BOARD (Part Two)
Alright, let's get to the technical stuff, shall we? Think of building your board as a piece of art: create a vision, take your time and allow the fun, holiday spirit to take over. When I layer together a board, I look to add height, dimension, color and texture, just like one we have here today!
Enough talk, let's get this party started!
Choose a Board
First off, take inventory of what platters and trays you have on hand and decide what will work best displaying your treats. I find that large, rectangular cutting boards, baking sheets or cheese boards work best for large crowds.
I recommend a board or dish with no raised edges. It's easier to arrange ingredients on a flat surface.
Place A Small Bowl on the Board
Small bowls help to create levels and visual interest. Depending on the size of your board, add at least one small bowl for nuts, seeds or dips. Not only do these small bowls add height to your board, but they also serve as an anchor you can arrange other ingredients around.
Don't Overcrowd!
Avoid the temptation to pile ingredients on top of each other! Start with flat ingredients like crackers, cookies, and sliced fruit (think pears, apples, etc.), and fan them out across different areas on the board. Fill open gaps with smaller items like cheese, herb sprigs, small fruit or jam jars.
Remember, you can always replenish as the party goes on, so don't feel like you have to overcrowd your board with every treat at the beginning. Give the people something they wanna keep coming back for!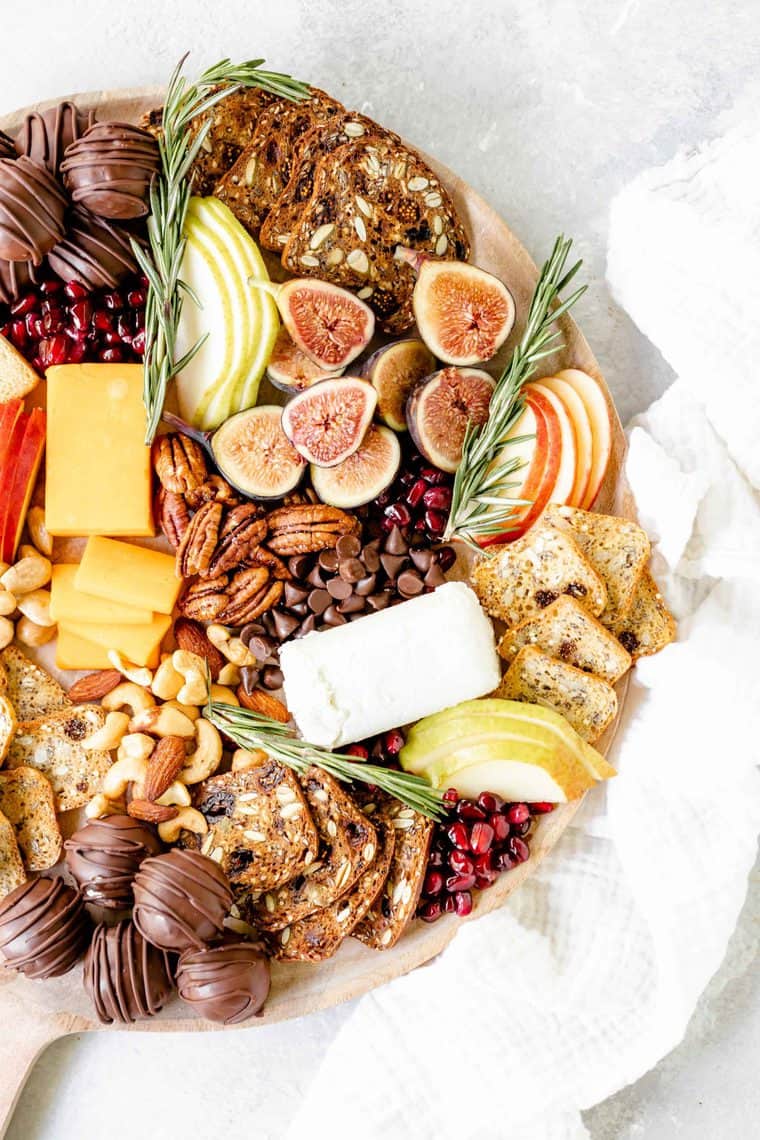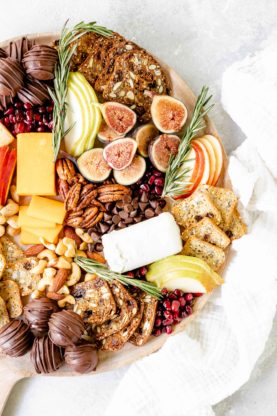 WHAT TO SERVE WITH A HOLIDAY CHARCUTERIE BOARD
If you're going to make this dessert board for a party, you're going to need some fun sips! Whether they're boozy or non-alcoholic, a festive drink enhances the entire experience.
Need a few ideas? Check out my Holiday Party DIY Tips and Bubbly Cocktails Guide!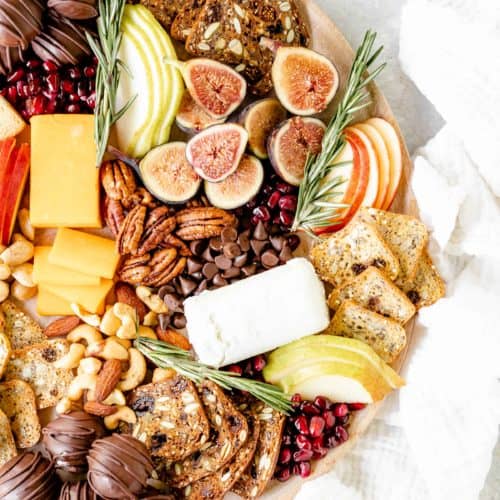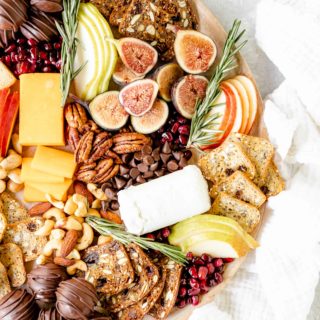 Cranberry Cinnamon Truffles
As easy as it is impressive, this dessert "charcuterie" board is made of all things festive and delicious: nuts, jams, crackers, and, best of all, Cranberry Cinnamon Goat Cheese Truffles! Offer a variety of sweet treats and impress your guests with this gorgeous, yet simple dessert platter!
Print
Pin
Rate
Ingredients
4

oz

cream cheese

room temperature

4

oz

Montchevre cranberry cinnamon goat cheese

room temperautre

1/4

cup

granulated sugar

1/2

tsp

vanilla extract

1/2

cup

graham cracker crumbs

8

oz

milk or semisweet baking chocolate
Instructions
In your stand mixer, mix cream cheese and cranberry cinnamon goat cheese until smooth.

Add in the sugar, vanilla extract, and graham cracker crumbs.

Line a 9x13 sized baking sheet with parchment paper. Scoop 1 tablespoon sized balls of the mixture onto the cookie sheet.

Melt chocolate according to package directions. Dip each truffle in the chocolate, gently tap off the excess chocolate, then place on a parchment lined baking sheet.

Drizzle with additional chocolate in a decorative pattern if desired. Chill to set, about 10-20 minutes.
Notes
Feel free to use whatever goat cheese flavor you prefer.  Store in the refrigerator if not serving right away or you have any leftover.
Nutrition
Calories:
119
kcal
|
Carbohydrates:
10
g
|
Protein:
2
g
|
Fat:
8
g
|
Saturated Fat:
4
g
|
Cholesterol:
10
mg
|
Sodium:
54
mg
|
Potassium:
76
mg
|
Fiber:
1
g
|
Sugar:
7
g
|
Vitamin A:
140
IU
|
Calcium:
22
mg
|
Iron:
1
mg