These Frozen S'more Cookie Bars are everything you want in a Summer treat!! Layers of chocolate chip cookie, graham crackers, vanilla and chocolate frozen dessert and roasted marshmallows all come together to create these rich, creamy sandwiches!
Disclosure: I partnered with Planet Oat for this recipe post, but all opinions expressed here are my own. I am grateful for authentic partnerships like this.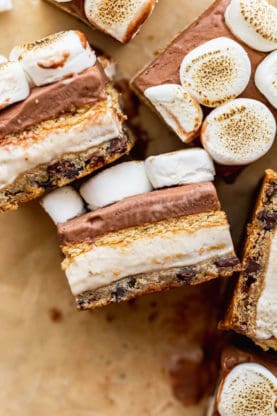 Confession: I eat dessert every single night. No, I'm not exaggerating. Whether it's a simple bowl of fruit or a full-blown decadent brownie, I always make sure to enjoy a delightfully sweet nightcap. Why? Because I deserve it and trust me, so do you!
During the Summer months, I prefer desserts of the frozen variety: milkshakes, sorbets, yogurt bark etc. These hot Dallas days are no joke and frosted delicacies keep me cool and sane. As of late, my dessert of choice has been these Frozen S'more Cookie Bars! Crunchy, creamy, delicious and cool, these bars are too good and oh so gratifying.
Celebrate Summer by layering together the frozen dessert you 100% need! And guess what, they're a bit more guilt-free than you might think.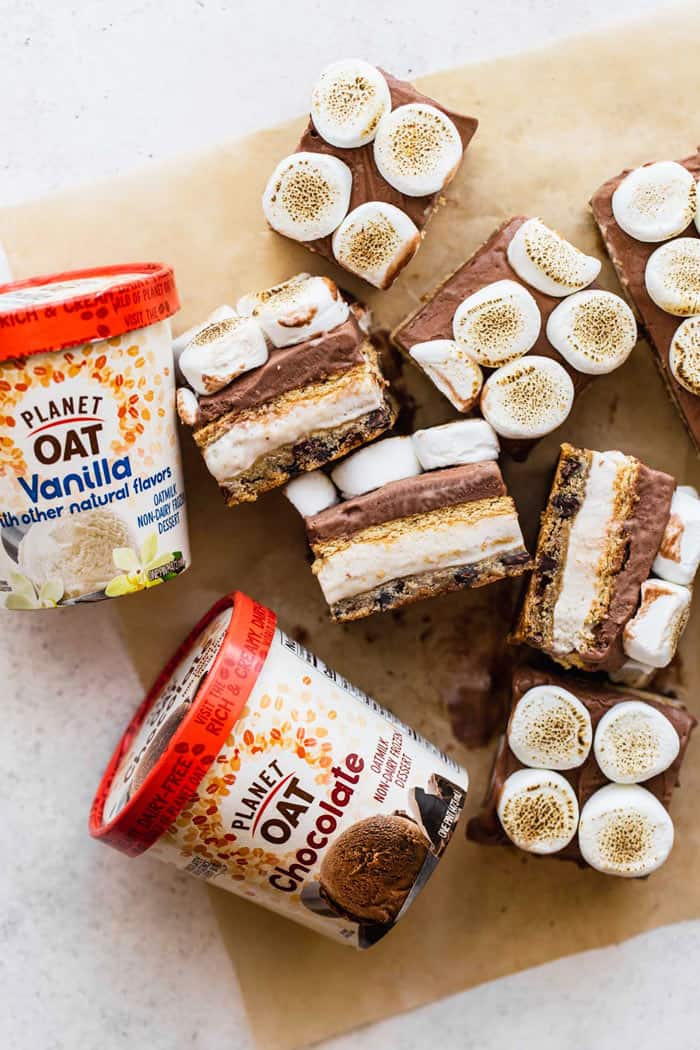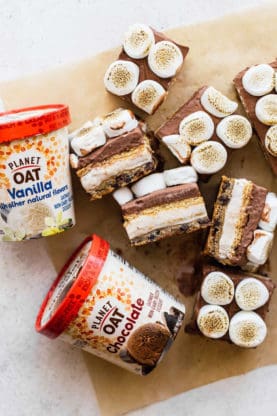 Known for their incredibly rich, full-bodied oat milk, Planet Oat, the #1 brand of Oat Milk, is a company that truly celebrates the mightiness of oats. Packed with essential nutrients, oat milk serves as an incredible alternative to its more traditional counterparts. Oats are rich in fiber and vitamins A, B12 and D!
Recently, Planet Oat has hit the frozen aisle with a brand new line of Non-Dairy Frozen Desserts. Dairy-Free, Peanut-Free, Soy-Free and Gluten-Free that also have no added sugar, these creamy pints make for the perfect treat. Available in six flavors: Vanilla, Chocolate, Blueberry Oat Crumble, Cookies and Creme, Coffee Fudge Swirl and Chocolate Peanut Butter Swirl, there is a tasty option for everyone.
So what're you waiting for? Run to the nearest frozen food aisle!
Perks and Highlights of Frozen S'more Cookie Bars
Cuisine Inspiration: American Campfire Classic
Who said s'mores were only for the campfire? We're bringing this American classic from the fire pit to the freezer, and trust us, it's a game-changer. Imagine the nostalgia of gooey s'mores meeting the cool rush of ice cream. Yup, it's a year-round, anytime treat that's about to become your new tradition.
Primary Cooking Method: Freezing (with a little bit of baking!)
No campfire? No problem! Your freezer is about to do the heavy lifting, making these treats perfect for hot summer days, cool evenings, or honestly, whenever the craving hits. And with just a dash of baking, your kitchen will smell like a dream!
Dietary Info: Contains Dairy, Gluten, and Sugars
Heads up, these frozen delights are a full-on indulgence. They're packed with dairy goodness, gluten-full graham and cookie joy, and the sweet life thanks to sugars. It's a treat-yourself kind of dessert that's worth every. single. bite.
Key Flavor: Sweet, Creamy with a Chocolatey Crunch
Get ready for a flavor rollercoaster! We're talking the creamy dreaminess of vanilla ice cream, the rich boldness of chocolate, and that unmistakable sweet graham cracker crunch. And let's not forget the star of the show – marshmallows bringing the sugar rush!
Skill Level: Easy Peasy
Nope, you don't need to be a gourmet chef for this. If you can mix, layer, and freeze, you're in business. It's as easy as pie (but cooler!).
Special Perks:
No Campfire Needed: Get that summertime s'mores feeling without singeing your eyebrows. It's all the flavor without the fire hazard!
Customizable: Not a vanilla fan? Swap it for chocolate, strawberry, or heck, rocky road. The world is your ice cream oyster!
Great for Parties: Slice 'em up and watch them disappear. Whether you're hosting kids or adults, everyone's eyes will light up at these.
Make-Ahead Magic: Whip them up, freeze, and forget them until it's dessert time. They're the ultimate prepare-in-advance sweet treat.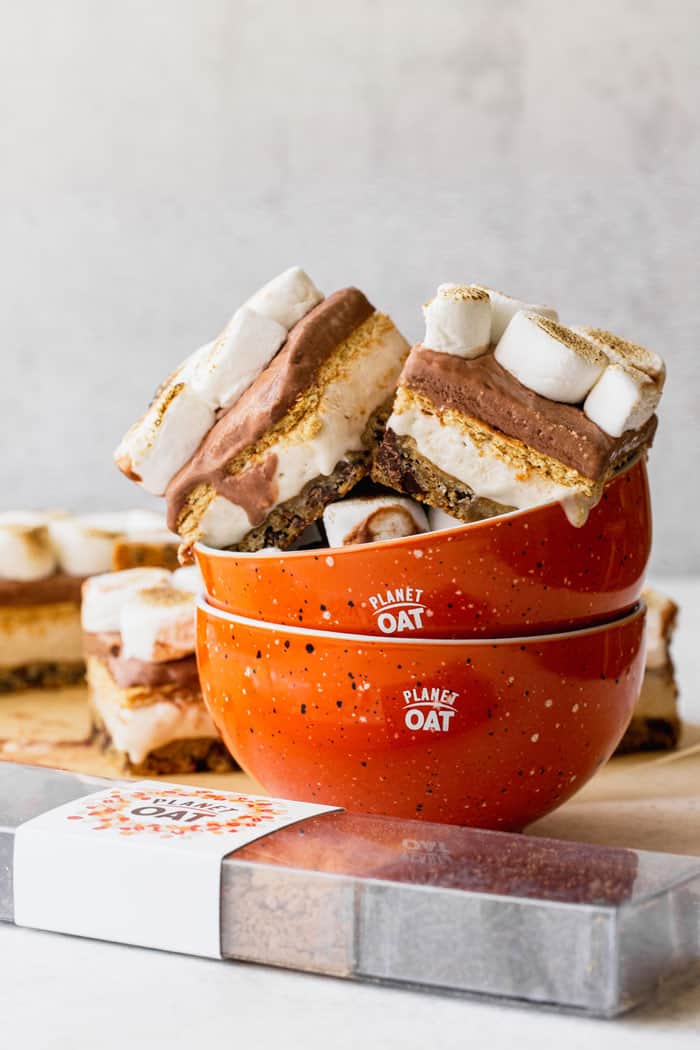 Not only can you grab this delicious treat, Planet Oat has also created the most incredible Summer website with Frozen Dessert coupons, recipes and Summer inspo! Click here to check it out.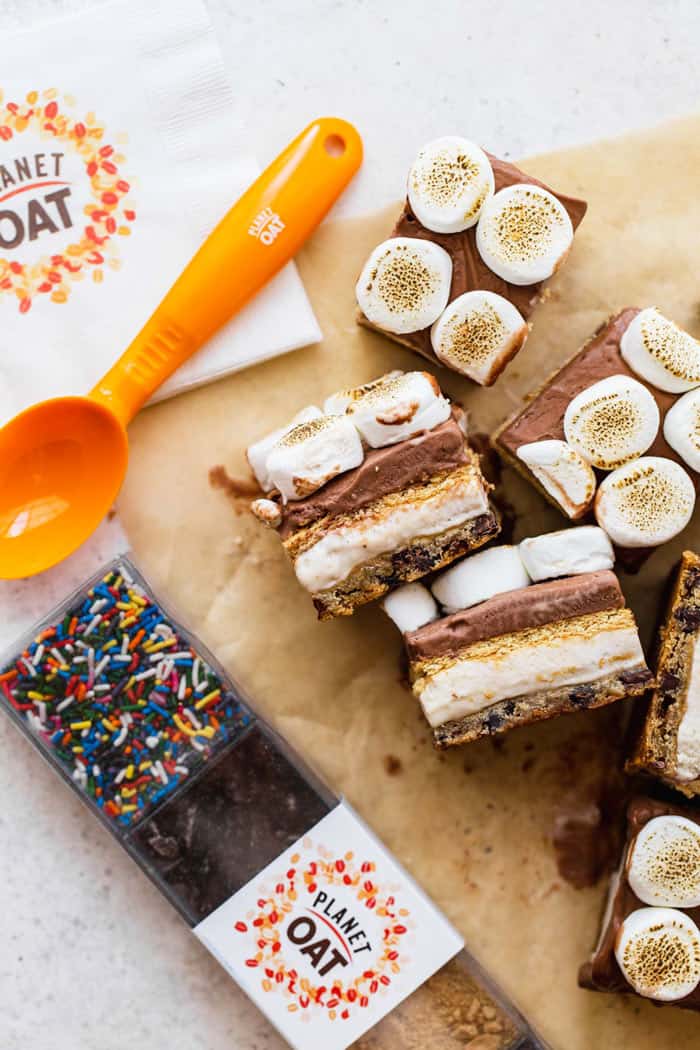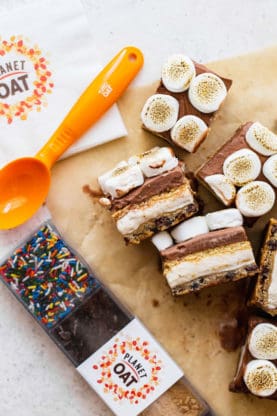 Ingredients
Listen, don't be fooled by the fact that I write recipes for a living. I appreciate a lazy recipe just like everyone else! Sometimes, I need something sweet and satisfying without any accompanying hassle or mess. I'm talking 5 ingredients and less than 30 minutes of work, is that not amazing?
This is all you need:
Chocolate Chip Cookie Dough– this may be surprising but I almost always have a store-bought cookie dough on hand. Who doesn't care to cut a couple corners and still enjoy a buttery, sweet dessert?
Graham Cracker Squares– s'mores aren't possible without crisp, honey-sweetened graham crackers.
Planet Oat Non-Dairy Vanilla or Cookies and Creme Frozen Dessert– classic vanilla flavor combined with delicious creaminess to make the ultimate frozen dessert. Either flavor option is great, just decide how crazy you're trying to get!
Planet Oat Non-Dairy Chocolate Frozen Dessert– with unmistakable rich, indulgent chocolate in each bite, this frozen dessert is essential to creating our s'mores chocolate layer.
Marshmallows- Marshmallows are fluffy, vanilla-ey and perfect when roasted to a charred crisp.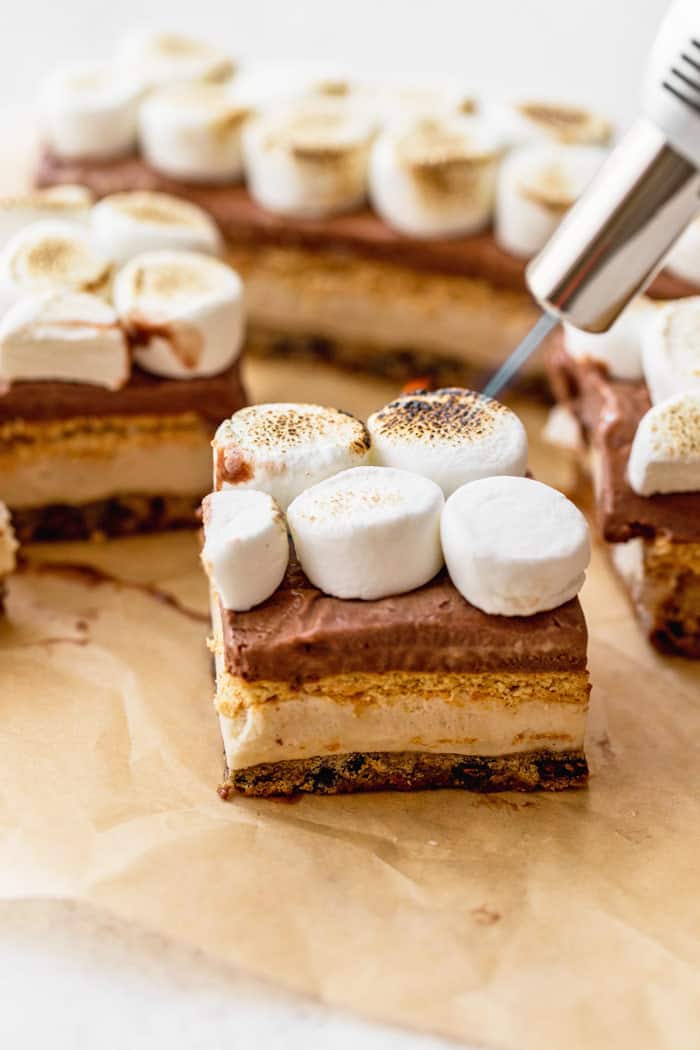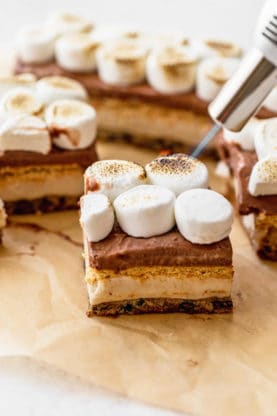 Storage
As mentioned in the instructions below, these bars should be kept frozen; the marshmallow topping should only be torched when ready to serve. I suggest only slicing as many bars as you'll immediately need and storing the rest in an airtight container. Alternatively, you can also wrap the bars using plastic wrap or aluminum foil.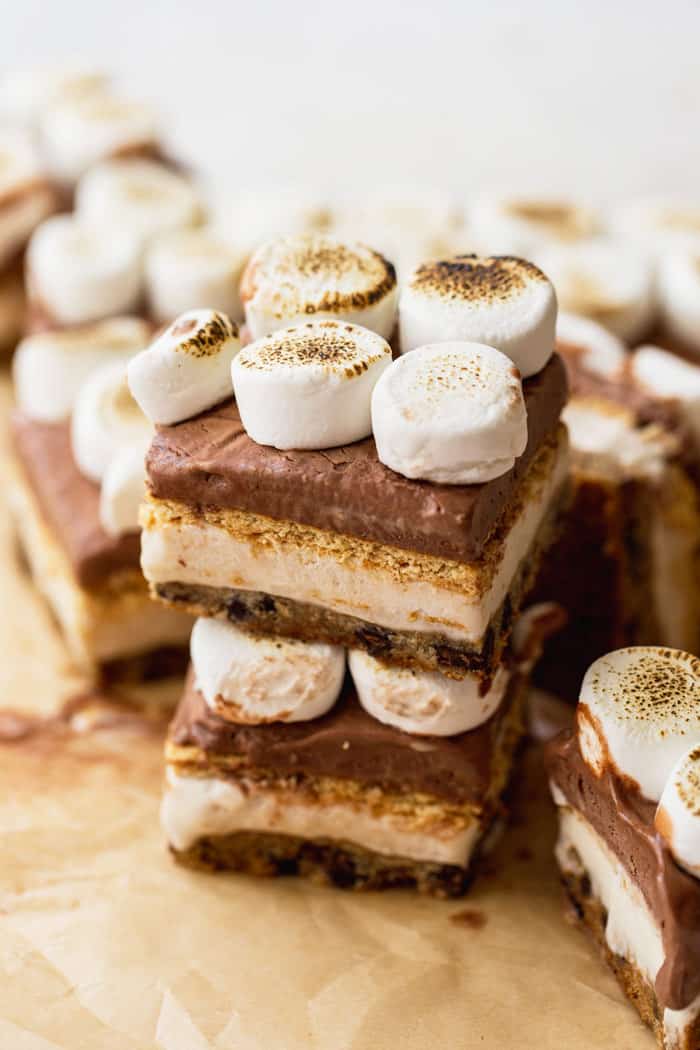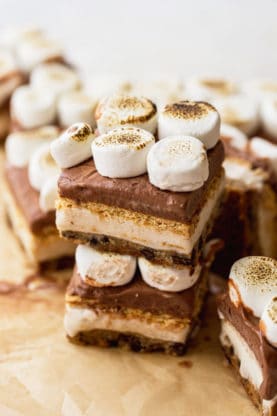 Once frozen, these bars will maintain their best quality for about 3 months, although they will typically remain safe to eat after that.
If you love these, you will love these Chocolate Chip Cookie Bars and this Raspberry S'more Pie!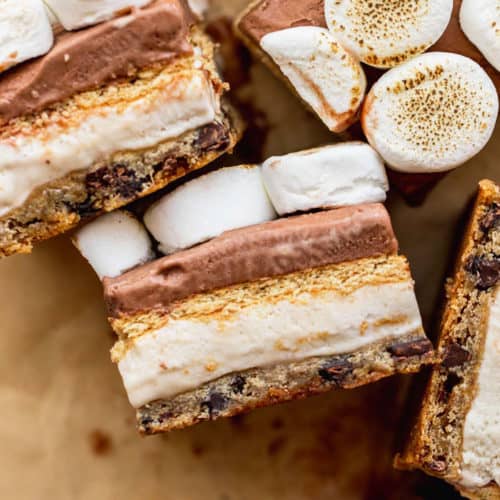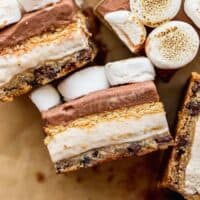 Frozen S'more Cookie Bars
These Frozen S'more Cookie Bars are everything you want in a Summer treat! Layers of chocolate chip cookie, graham crackers, vanilla and chocolate frozen dessert and roasted marshmallows all come together to create these rich, creamy sandwiches!
Print
Pin
Rate
Ingredients
16.5

oz

package chocolate chip cookie dough

1 1/2

pints

Planet Oat Non-Dairy Frozen Dessert Vanilla

softened

14-16

graham crackers

1 1/2

pints

Planet Oat Non-Dairy Frozen Dessert Chocolate

softened

Marshmallows to use
Instructions
Preheat the oven to 350 degrees.

Completely line a 8x8 inch baking pan with parchment paper. Make sure the parchment overlaps on all sides of the pan (so you can lift your dessert out later) and set aside.

Using a bit of flour on your fingers, evenly press the cookie dough into the bottom of the pan.

Bake for 14-16 minutes then cool completely. You can even put the pan in the fridge to speed this up.

Once cooled, evenly spread 1 ½ of the vanilla (or cookies and cream) frozen dessert pints over the cookie dough crust using a spatula then add graham crackers in an even layer over the vanilla frozen dessert (if you need to split the crackers in half to fit, it's totally fine) and place the pan in the freezer for about 1-2 hrs or until layer is firm.

Next layer 1 ½ pints of the chocolate frozen dessert over the graham crackers evenly. Finally layer with marshmallows and add to the freezer for at least 5 hours or best if overnight.

When ready to serve, gently remove the ice cream bars from the baking pan by lifting using the hanging parchment carefully. Using a sharp knife that has run under hot water and been dried, cut into squares using the marshmallows to guide you.

Only when ready to serve, torch the tops of the marshmallows and eat immediately. Store remaining untorched bars in the freezer and only torch when ready to serve them.
Notes
Feel free to try any flavors of frozen dessert here you like!  This is a really adaptable recipe.
Nutrition
Calories:
622
kcal
|
Carbohydrates:
111
g
|
Protein:
9
g
|
Fat:
16
g
|
Saturated Fat:
7
g
|
Cholesterol:
37
mg
|
Sodium:
348
mg
|
Potassium:
310
mg
|
Fiber:
2
g
|
Sugar:
76
g
|
Vitamin A:
531
IU
|
Vitamin C:
1
mg
|
Calcium:
207
mg
|
Iron:
2
mg