Made with sweet-starchy Yukon gold potatoes, creamy butter and smoky, aromatic spices, Smothered Potatoes make for the most incredibly flavorful side dish. These classic Southern spuds are soft, delicious and so darn easy to make! If you love potatoes, definitely try these Garlic and Chive Smashed Potatoes, Garlic Mashed Potatoes , Roasted Fingerling Potatoes, and Cheesy Scalloped Potatoes!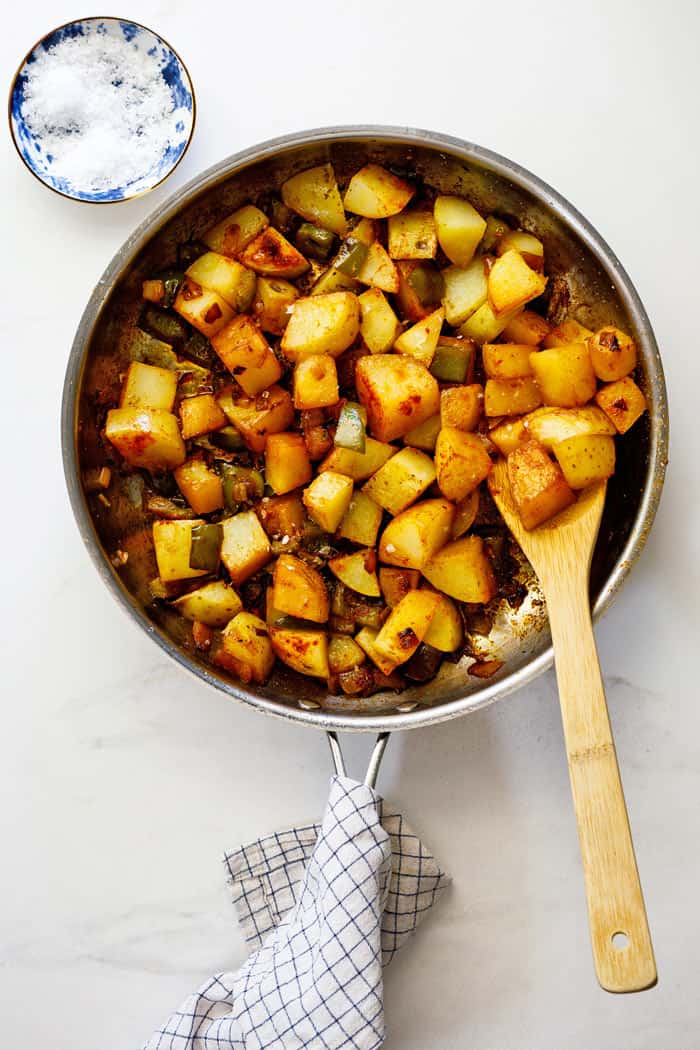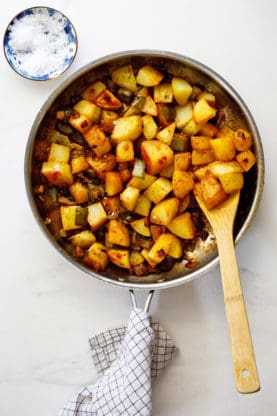 I find it hard to believe there was ever a moment in my life where there were no potatoes in my kitchen. I always seem to find them strewn about the counter, hiding in large bags in dark cupboards or just sitting atop the refrigerator waiting to be rediscovered.
Don't get me wrong, I LOVE potatoes; their versatility, affordability and endless varieties never cease to amaze me. But, I do often neglect my spuds because I've forgotten that I even bought them. Oops!
This week, in an effort to avoid the eventual discovery of green-ish tinged potatoes growing gnarly sprouts, I'm changing my habits. I've scoured the kitchen's nooks and crannies, searching for abandoned taters, and committed to giving them the redemption they deserve!
Have a few extra potatoes of your own? Come along for the ride with me!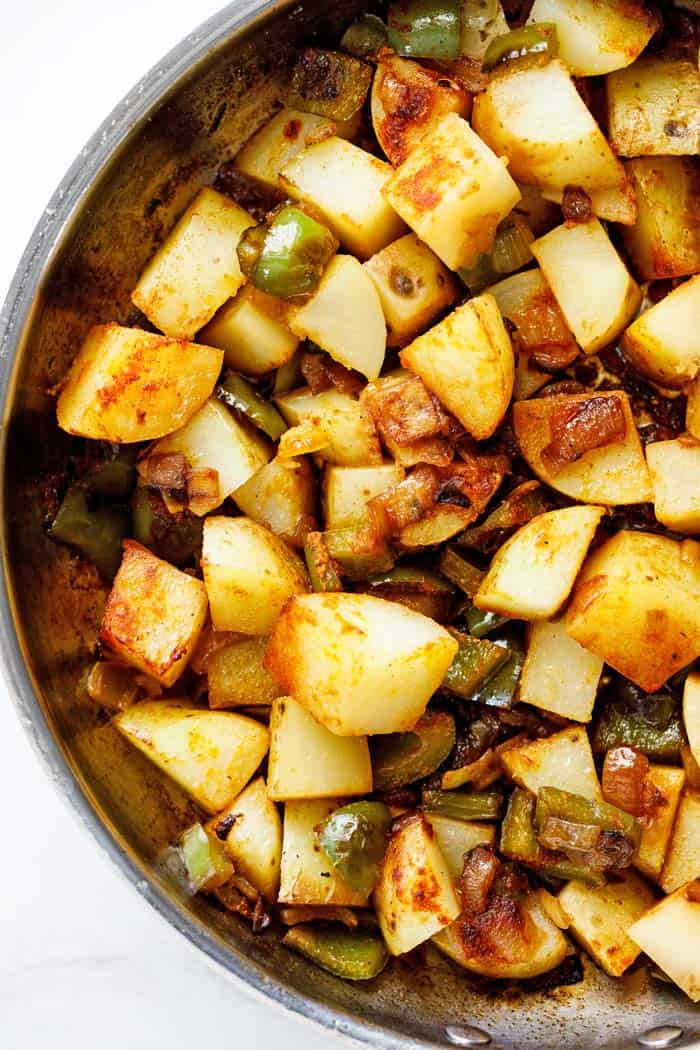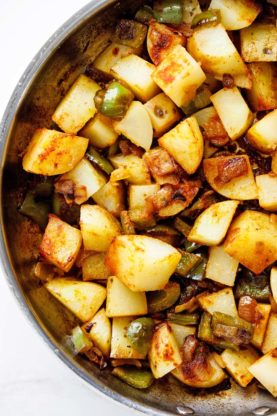 WHAT ARE SOUTHERN SMOTHERED POTATOES?
Southern Smothered Potatoes are a historical mystery; no matter how much I search I can't seem to find out how exactly this dish came to be! But, just like most other Southern classics, this recipe is humble and delicious.
I grew up eating Smothered Potatoes as a side to roasted chicken, pork chops, catfish or with eggs for breakfast. Made by simply cooking chopped onions, green peppers and potatoes in a mixture of vegetable oil and butter, this dish couldn't be any easier to make.
After they're done cooking, the potatoes become tender on the inside and crisp on the outside, forming a layer of delectable crust. The almost caramelized onions add in a sweetness that perfectly compliments the salty potatoes.
You guys, this food is the South on a plate!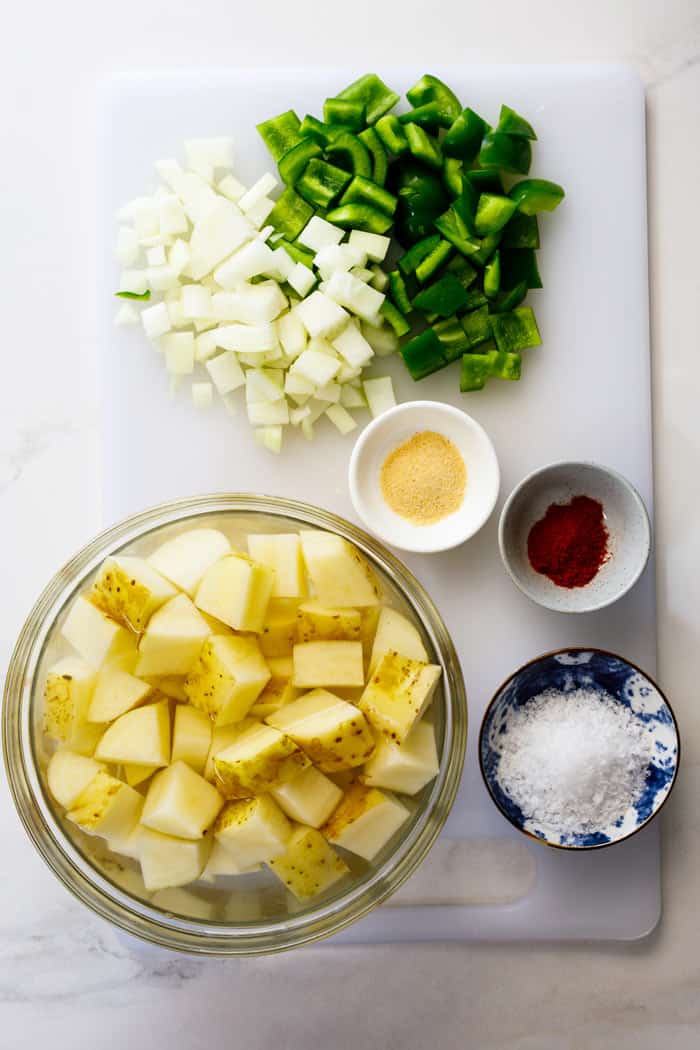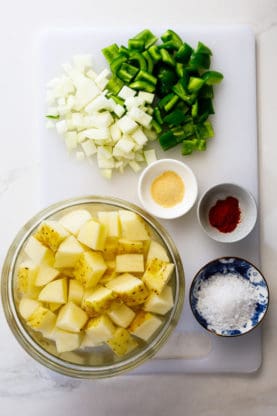 HOW TO MAKE SMOTHERED POTATOES
I often find that simple recipes leave the most room for mistakes. Relying on few ingredients and even fewer steps to make something tasty can be our downfall. I encourage you to be patient, vigilant and fully-present when cooking or baking anything. In doing so, you can almost always guarantee a darn good result!
Here are few tips that will make for the BEST Smothered Potatoes:
Prevent Oxidation
Potatoes are jam-packed with starch and, when exposed to fresh air, they undergo a process called oxidation. If left for too long, the potatoes will be left with a grayish-brown tint to its flesh. Though still safe to eat, it's unpleasant to look at and often makes for mushy potatoes.
After chopping, place the potatoes in a bowl of cold water. Water will prevent the oxidation and pull starch from the potatoes which makes for a crispier texture.
Don't Be Afraid of Browning
Folks often hesitate to give foods enough time to develop that beautiful deep, brown color. The fear of burning prevents many people from achieving that perfect caramelized look and taste.
Be patient, watch carefully and don't be afraid of those crispy, dark bits. If things get a bit too dry, add a splash of water or stock/broth.
Season to Personal Preference
This specific recipe calls for the use of paprika, garlic powder and of course, salt and pepper. But, you don't have to stop there! Taste along the way and adjust accordingly.
Add in cayenne for heat, chili powder for smokiness or even mustard seed for an exciting kick!
Don't Overmix
When over handled, these potatoes can fall apart easily and turn into quite the disaster! Do your best to mix gently and infrequently.
I suggest using a wooden spatula and stirring only to incorporate ingredients or to scrape up those delicious brown bits.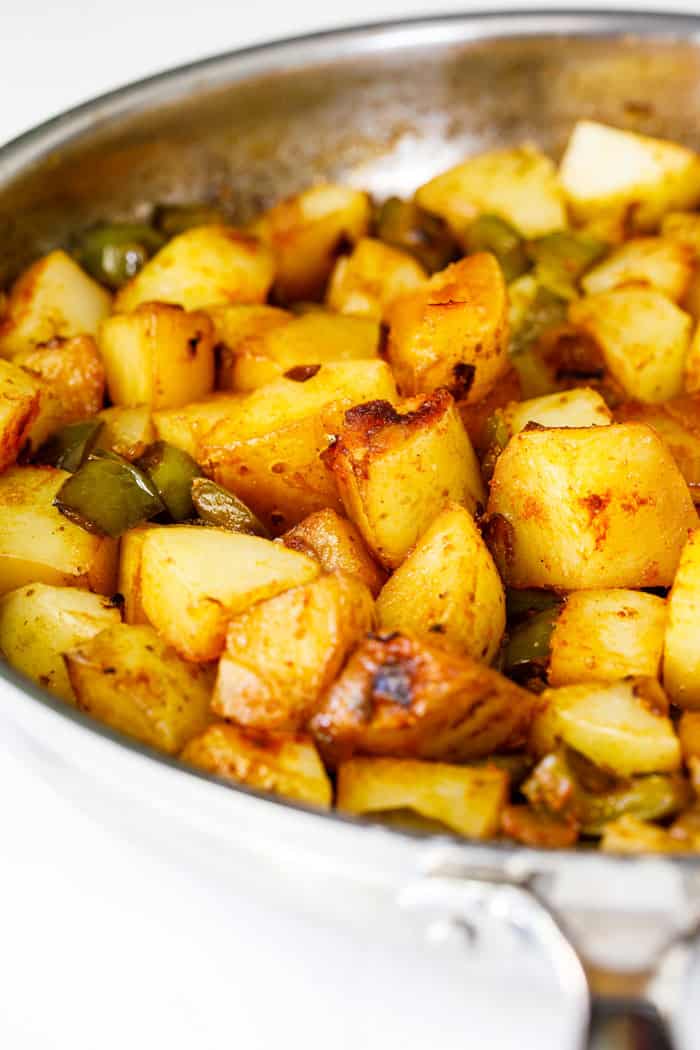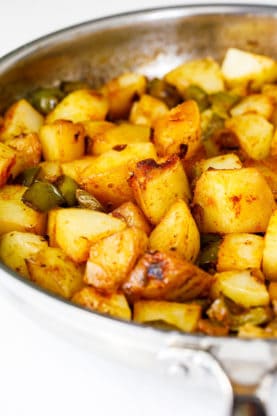 WHAT KIND OF POTATOES TO USE
Feel free to use just about anything you've got on hand! White, Red, Russet and Yukon Gold are all great options. I chose Yukon Gold for their bright, vegetal and slightly sweet flavorings. Once cooked, I find that Yukons also have a wonderfully smooth texture.
Just be sure to properly clean the potatoes to remove all dirt. I prefer keep the skin on for this recipe but, if that doesn't float your boat, skin 'em!
VARIATIONS
This is an incredibly simple recipe that leaves quite a bit of room for personalization. If you're looking to make this recipe your own, try out a few variations of your choosing!
Here are a few suggestions:
Cheese (Feta, Goat and Cheddar all work great!)
Sliced Sausage or Ground Beef
Sour Cream
Broccoli
Tomatoes
TIP: Be sure that any added ingredients are cooked properly and layered evenly throughout the potatoes. Only add toppings after the potatoes have been cooked to avoid overcooking or burning.
NEED MORE POTATO RECIPES?
Making a grocery run this week? Go ahead and pick up an extra bag of spuds to experiment with! If you loved this recipe, you're sure to be a fan of a few other Grandbaby Cakes potato laden recipes.
Here's a few to try out: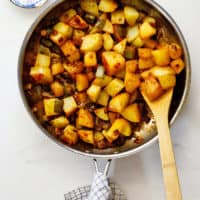 Southern Smothered Potatoes
Made with sweet-starchy Yukon gold potatoes, creamy butter and smoky, aromatic spices, Smothered Potatoes make for the most incredibly flavorful side dish.
Print
Pin
Rate
Ingredients
5

medium Yukon gold potatoes

chopped

2

tbsp

butter

1

medium onion

chopped

1

medium green pepper

cored, seeded and chopped

2

tbsp

vegetable oil

1/2

tsp

garlic powder

1/4

tsp

paprika

Salt and pepper to taste
Instructions
Place the potatoes in a bowl of cool water to keep them from browning.

Melt butter in a large skillet over medium heat. Add the onions and bell pepper and cook until golden brown, 4 to 5 minutes. Remove the onions with a slotted spoon to a plate.

Add the oil to the skillet, add the potatoes and cook until lightly browned, 2 to 3 minutes, then turn them over and cook until browned on the other side.

Return the onions to the pan and spread them on top of the potatoes. Season well with salt, pepper, garlic and paprika and add ¼ cup water. Cover the pan and reduce the heat to low.

Cook for 20 minutes, or until the potatoes are tender. Serve.
Notes
You can use other potatoes if Yukon gold aren't available.  White, Red, Russet and Yukon Gold are all great options. 
If you want to vary flavor, add in cayenne for heat, chili powder for smokiness or even mustard seed for an exciting kick!
Nutrition
Calories:
194
kcal
|
Carbohydrates:
28
g
|
Protein:
3
g
|
Fat:
9
g
|
Saturated Fat:
6
g
|
Cholesterol:
10
mg
|
Sodium:
44
mg
|
Potassium:
658
mg
|
Fiber:
4
g
|
Sugar:
2
g
|
Vitamin A:
239
IU
|
Vitamin C:
45
mg
|
Calcium:
23
mg
|
Iron:
1
mg