In these crispy Garlic Smashed Potatoes, tender potatoes are smashed, baked until golden-brown, and smothered in homemade garlic chive butter in this unbelievably easy yet indulgent recipe!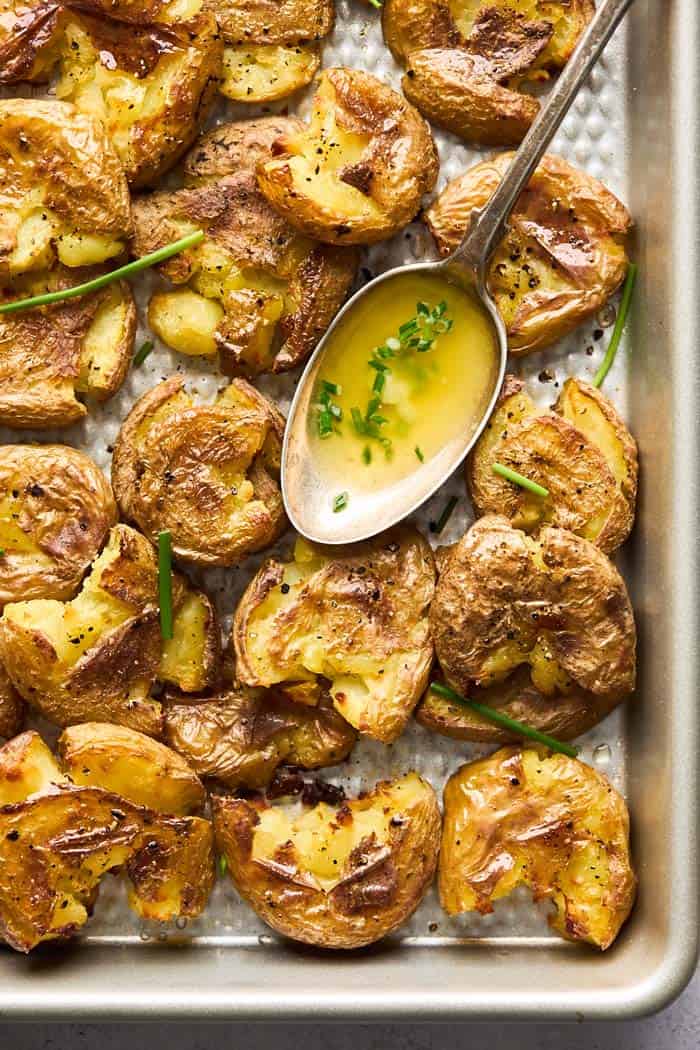 If you've never had smashed potatoes before, you're in for a real treat today! I can't recall the first time I was presented with these gloriously crisp, buttery potatoes, but I can tell you that I haven't stopped eating them since.
Today's smashed potato recipe is one I've been keeping on heavy rotation lately and I just had to share it with y'all. Straight out my friend and colleague Jessica Merchant's latest release, Everyday Dinners, these Garlic Smashed Potatoes are pretty much the best potato side dish you could ask for.
Fluffy on the inside, crisp on the outside, and smothered in herby, salty butter, these potatoes are good enough to devour all on their own! Trust me, you're gonna want this recipe up your weeknight dinner sleeve.
Perks and Highlights of the Best Smashed Potatoes
Cuisine Inspiration: Comfort Food Classics
Primary Cooking Method: Boiling and Baking
Dietary Info: Vegetarian, Gluten-Free
Key Flavor: Buttery Goodness with a Crispy Edge
Skill Level: Easy enough for beginners, delicious enough for all!
Special Perks:
Crispy and Fluffy: Who said you have to choose between crispy and fluffy? These smashed potatoes are the best of both worlds, with a golden, crunchy exterior and a soft, pillowy interior.
Butter Infusion: These potatoes aren't just brushed with butter; they're practically marinated in it. Every nook and cranny is infused with buttery bliss, making each bite sinfully good.
Versatility is Key: Feeling fancy? Add some garlic, rosemary, or parmesan. Keeping it simple? A dash of salt and pepper will do. These taters adapt to your mood and meal.
Easy-Peasy Process: No complex techniques, no obscure ingredients. Just your good ol' potatoes transformed into golden perfection with a few simple steps.
Crowd Magnet: Whether it's a side dish at a festive feast, a must-have at your summer BBQ, or a comfort food on a casual night in, these smashed potatoes steal the show wherever they go.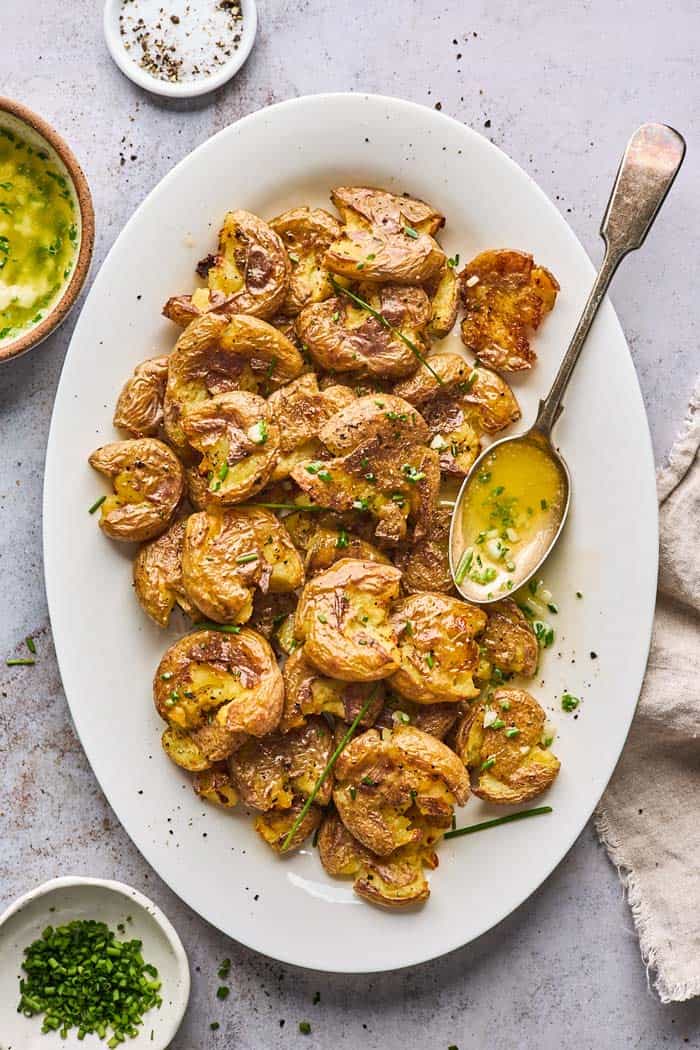 Looking for your go-to guide to meal-prep? Look no further. Jessica Merchant, founder of the iconic food blog How Sweet It Is, has just released her best cookbook yet: Everyday Dinners. Filled with plant-based, one-pot, and slow-cooker recipes, as well as countless plans, ideas, and tips, Jessica's life-saving book makes it possible to create nourishing meals with limited time.
Whether you're a meal-prep pro or a newbie, Everyday Dinners offers something new for everyone. You and your family will be thrilled and satisfied by Jessica's simple, undeniably delicious recipes!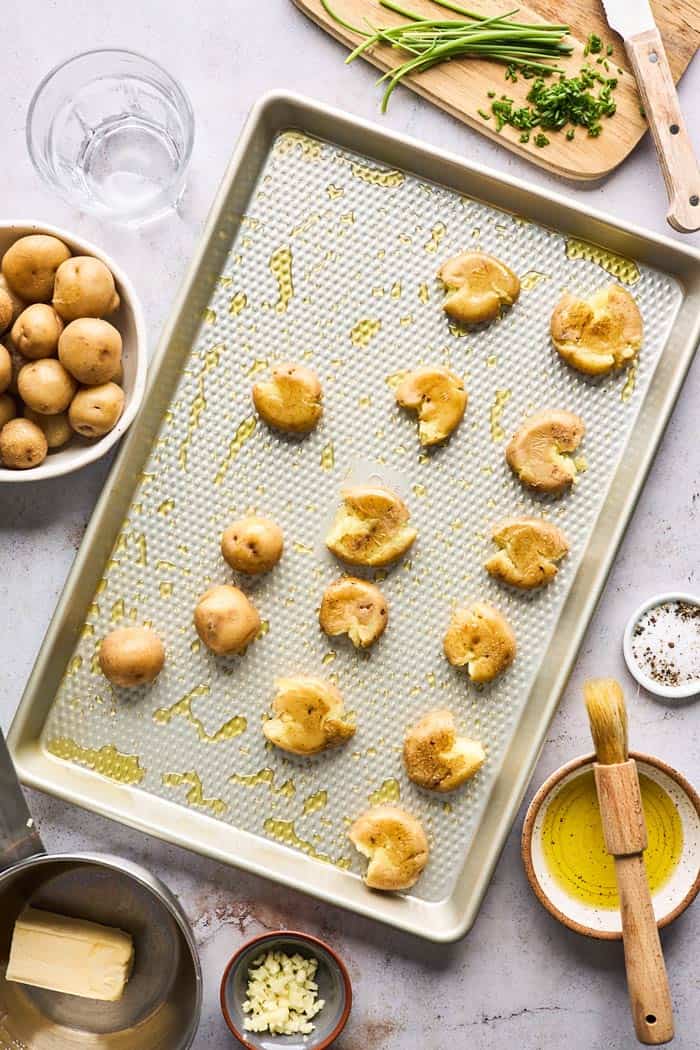 Ingredients
Baby Yukon Gold Potatoes (2 lbs): The real MVPs here. Yukon Golds are like the buttery gold standard of the potato world. Their naturally creamy texture and sweet flavor mean they're destined for smashing success!
Extra Virgin Olive Oil (2 tbsp): Not just for salad dressings, folks! This liquid gold gets drizzled over our spuds to give them that iconic crispy skin and an added depth of flavor.
Kosher Salt (1/2 tsp): This isn't your average table salt, oh no! Kosher salt has coarser grains, meaning it distributes more evenly, giving every bite the perfect touch of seasoning.
Freshly Cracked Black Pepper (1/2 tsp): Fresh is the name of the game! Cracking your pepper just before use releases aromatic oils, bringing a zesty kick to each golden, crispy potato morsel.
Unsalted Butter (4 tbsp): This is where we introduce indulgence. Unsalted butter lets the natural flavors of the potatoes shine and adds a rich creaminess that'll have you reaching for seconds (or thirds!).
Garlic Cloves, Minced (2): Garlic and potatoes are like the dynamic duo of the culinary world. These minced morsels of goodness infuse your taters with a zing that's nothing short of irresistible.
Chopped Fresh Chives (2 tbsp): Fresh chives bring a mild, onion-like flavor with a hint of garlic. They're here for more than a pop of green color; they add a fresh vibrancy that takes these potatoes to a whole new level.
How to Make Smashed Potatoes
BOIL THE POTATOES-

It's obvious that 'smashing' the potatoes is pretty much impossible in their raw state, so we gotta soften them up a good deal. Boil the potatoes until they are fork-tender, about 10-15 minutes (it'll depend on the size of the potatoes). Do not attempt to smash the potatoes immediately! Instead, allow them to cool about halfway to room temperature.

SMASH & BAKE-

Arrange the potatoes on an olive oil greased baking sheet, then use your hand or the bottom of a small glass to smash them down. I like to smash the potatoes to varying degrees of thickness; this makes for some super crisp ones and some more soft.

MAKE THE GARLIC CHIVE BUTTER-

As the potatoes bake, make the buttery herb topping. In a small saucepan, melt the butter over medium heat. Once melted, stir in the garlic and chive, then remove from the heat and set aside.

DRIZZLE & SERVE-

Remove the potatoes from the oven (take a moment to ooh and ahh at their golden-brown glory) and drizzle the garlic chive butter over the top. Serve immediately!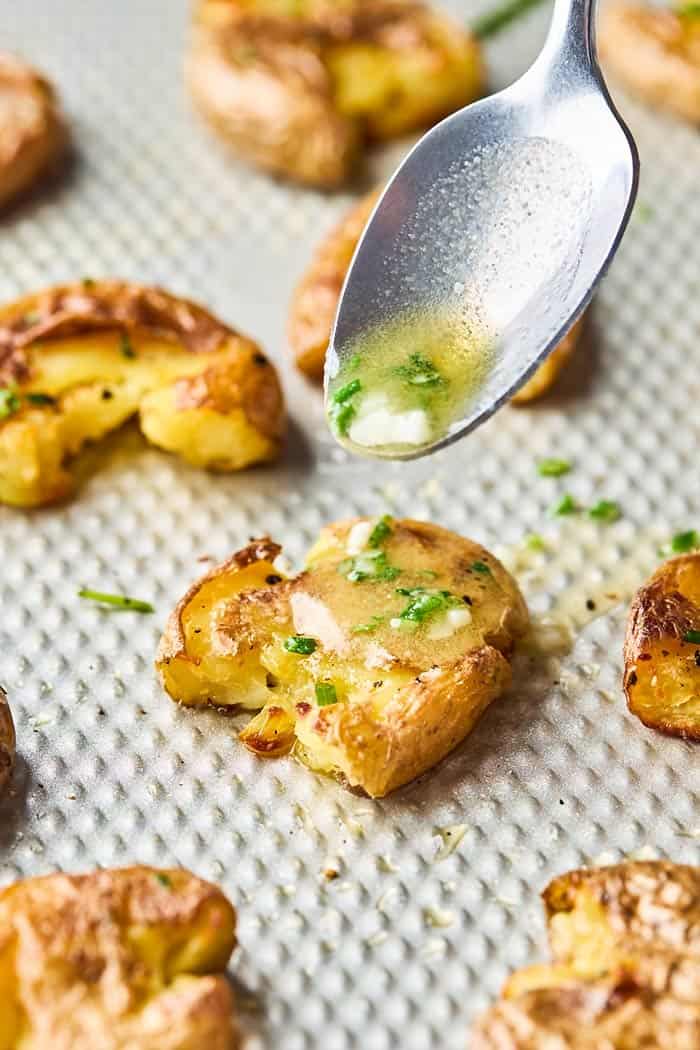 How to Serve
I could seriously eat a giant plate of these on their own: they're that good! But, if you prefer a more well-rounded dinner (for the record, so do I), pair this recipe with your favorite protein and veggie, serve it as a brunch side, or incorporate them into a salad.
Here are a few recipes I like to serve alongside these potatoes:
Storage and Reheating
Store any leftover potatoes in an airtight container for 3-5 days. Smashed potatoes are best reheated in a conventional or toaster oven at 350 degrees for about 10-15 minutes, or until completely warmed through.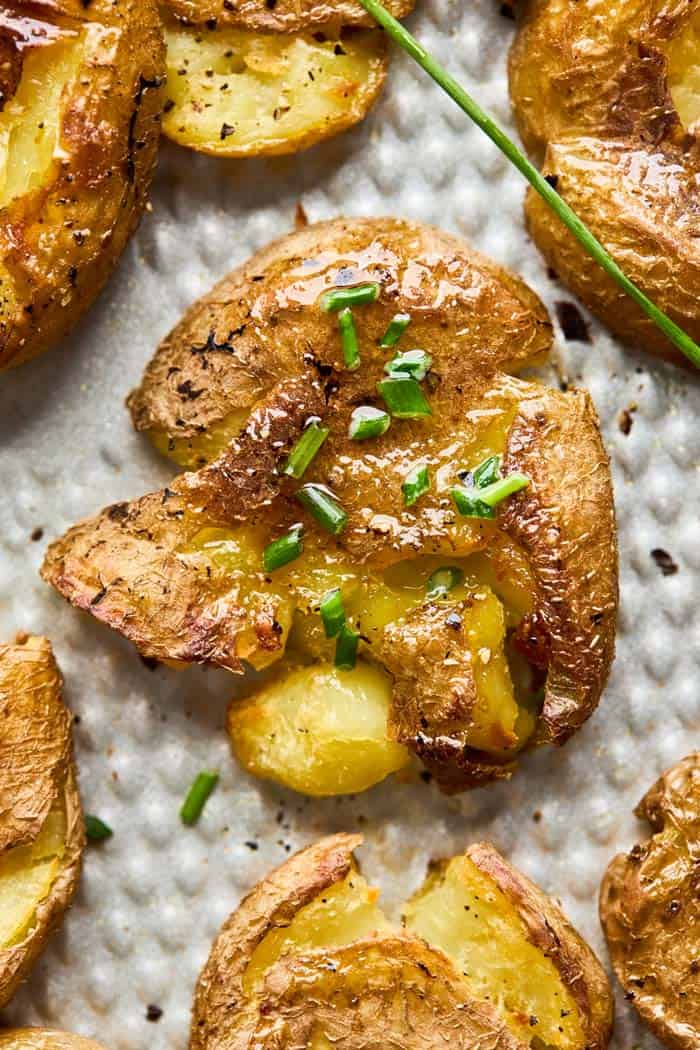 My Favorite Potato Recipes
It's safe to say that potatoes are the most common side dish in my kitchen. There are few meals that can't be complimented by a mountain of boiled, baked, fried, steamed, or smashed taters!
If you don't agree, you just haven't had one of my FAVORITE potato recipes yet: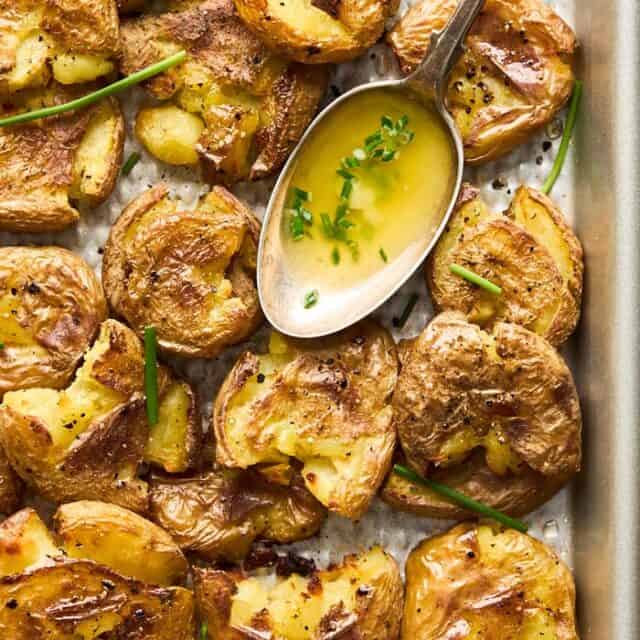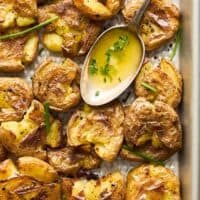 Garlic Chive Smashed Potatoes
In these crispy Garlic and Chive Smashed Potatoes, tender potatoes are smashed, baked until golden-brown, and smothered in homemade garlic chive butter in this unbelievably easy yet indulgent recipe!
Print
Pin
Rate
Ingredients
2

lbs

baby Yukon Gold potatoes

2

tbsp

extra virgin olive oil

1/2

tsp

kosher salt

1/2

tsp

freshly cracked black pepper

4

tbsp

unsalted butter

2

garlic cloves

minced

2

tbsp

chopped fresh chives
Instructions
Place the potatoes in a large pot and fill it with cold water. Bring the water to a boil. Simmer the potatoes until they are just barely fork-tender, about 10 minutes. Strain the potatoes and let them cool slightly.

Preheat the oven to 450 F.

Brush a baking sheet with 1 tablespoon of olive oil. Place the potatoes on the sheet. Use your hand or the bottom of a small glass to smash them down, trying to keep them in one piece.

Drizzle the remaining tablespoon of olive oil over the potatoes. Sprinkle the potatoes with the salt and pepper.

Place the sheet in the oven and roast the potatoes for 25 to 30 minutes, until golden and crispy.

While the potatoes are roasting, make the garlic chive butter. In a small saucepan, melt the butter over medium heat. Once melted, stir in the garlic and chives. Turn off the heat.

Remove the potatoes from the oven and brush with the garlic chive butter. Serve immediately.
Notes
10 Minute Meal Prep- Boil the potatoes, then let them cool completely.  Store them in a sealed container or bag in the fridge for up to 3 days until you're ready to use.
Nutrition
Calories:
340
kcal
|
Carbohydrates:
40
g
|
Protein:
5
g
|
Fat:
19
g
|
Saturated Fat:
8
g
|
Trans Fat:
1
g
|
Cholesterol:
30
mg
|
Sodium:
306
mg
|
Potassium:
972
mg
|
Fiber:
5
g
|
Sugar:
2
g
|
Vitamin A:
421
IU
|
Vitamin C:
46
mg
|
Calcium:
36
mg
|
Iron:
2
mg