Try Blackened Catfish for a quick, healthy, and flavor-packed weeknight dinner. Catfish is coated with butter and Cajun spices, then pan-seared until charred and flaky. You won't believe how easy it is to make this restaurant-quality dish at home. If you love this, you need to try my Cajun Salmon Cakes, Honey Blackened Catfish, and Blackened Shrimp Nachos!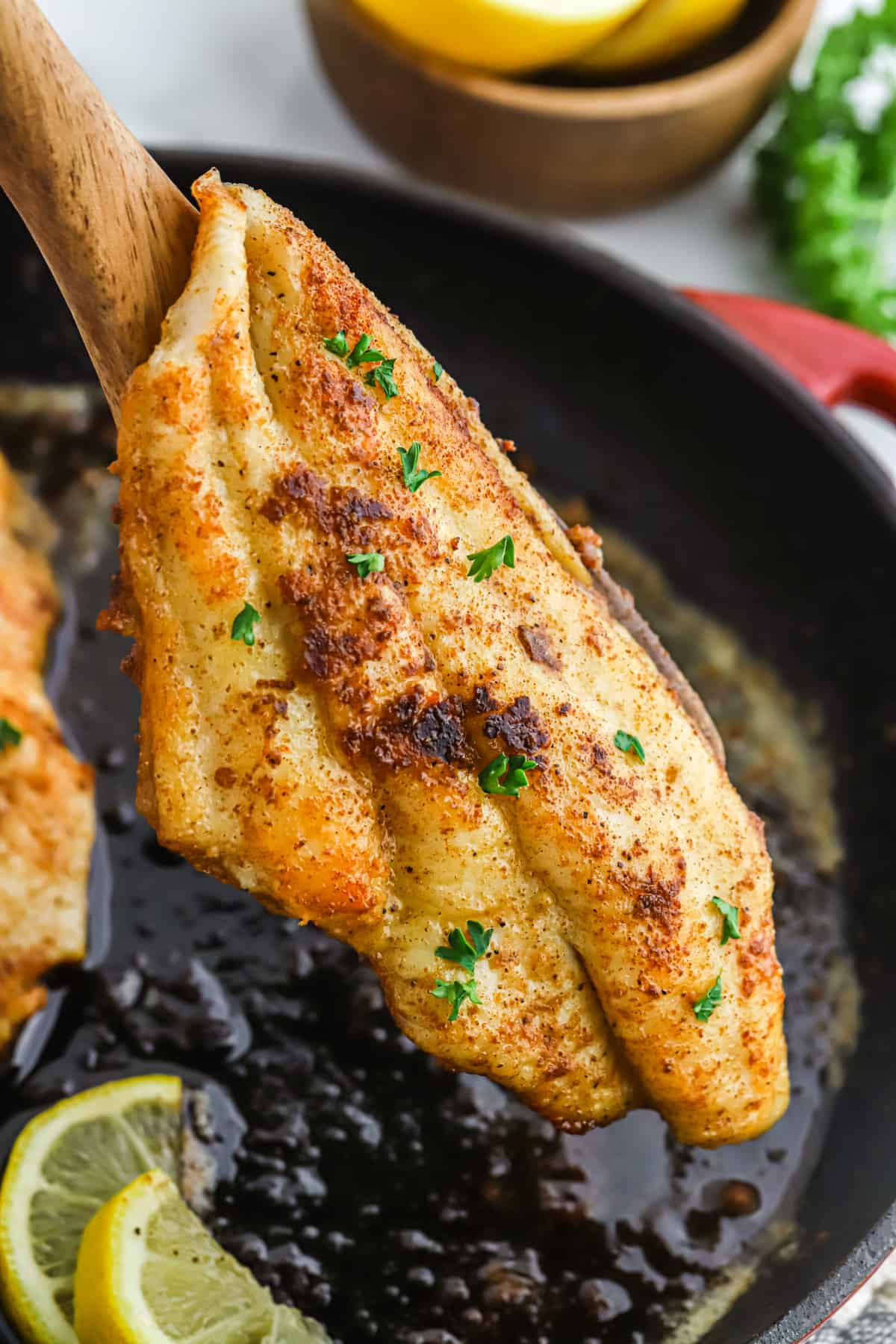 Growing up in a Southern household meant catfish was a staple in my diet. A visit to my Big Mama was never complete without some hot and crispy fried catfish. If you're from the South, you'll know exactly what I mean!
I had my first experience with blackened catfish when I was in New Orleans, and to tell you that it was a revelation is an understatement. If you are new to the idea of catfish, I promise this recipe will not disappoint y'all.
What is blackening?
Blackening is a Cajun and Creole cooking technique that involves dredging proteins in a blend of spices and butter (or a butter and oil mixture). The protein is then cooked over high heat until a crisp, charred crust forms.
The crust shouldn't be mistaken for burnt food but rather a perfect balance of spicy, savory, and smoky flavors. Typical protein choices for blackening include options like catfish, shrimp, salmon, and chicken, but you can use almost anything!
What is blackened catfish?
The technique of blackening was first invented in the 80s by Cajun chef Paul Prudhomme. In his New Orleans restaurant, he first debuted the dish using redfish fillets.
From there, catfish quickly became another popular choice due to its availability in the South. Compared to frying or grilling, blackened catfish requires a butter and spice coating to achieve its signature color and crust.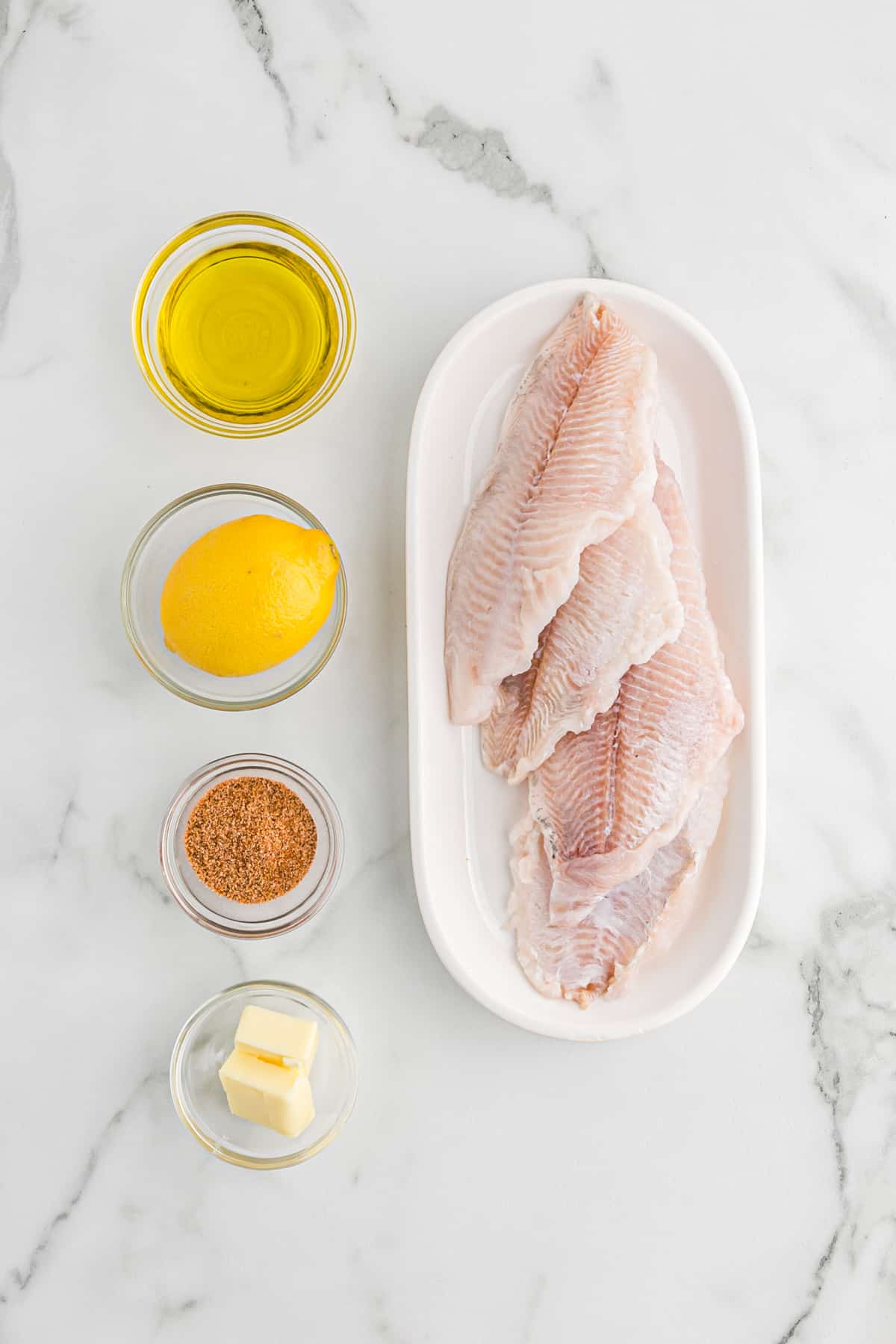 Ingredients
Cajun seasoning: Use store-bought or homemade Cajun seasoning. You can also try Creole seasoning or my favorite blackened seasoning blend.
Olive oil, butter: I prefer to use a mixture of olive oil and melted butter for my blackened catfish. The addition of oil prevents burning, but you can use all melted butter. You will just need to keep a closer eye on it!
Catfish fillets: Unlike other fish varieties, farmed catfish are more consistent in flavor and taste cleaner. But, don't worry if you can't find catfish! Replace it with trout, snapper, perch, flounder, walleye, black bass, or seabass.
Lemon: Brings a necessary brightness that balances the smoky, fiery flavors. Make sure it's freshly squeezed for the best taste!
How to make blackened catfish
Step 1: Dry the catfish
Prep the catfish fillets by patting them dry with a paper towel first. You don't want to rinse the fillets otherwise they won't crisp up properly.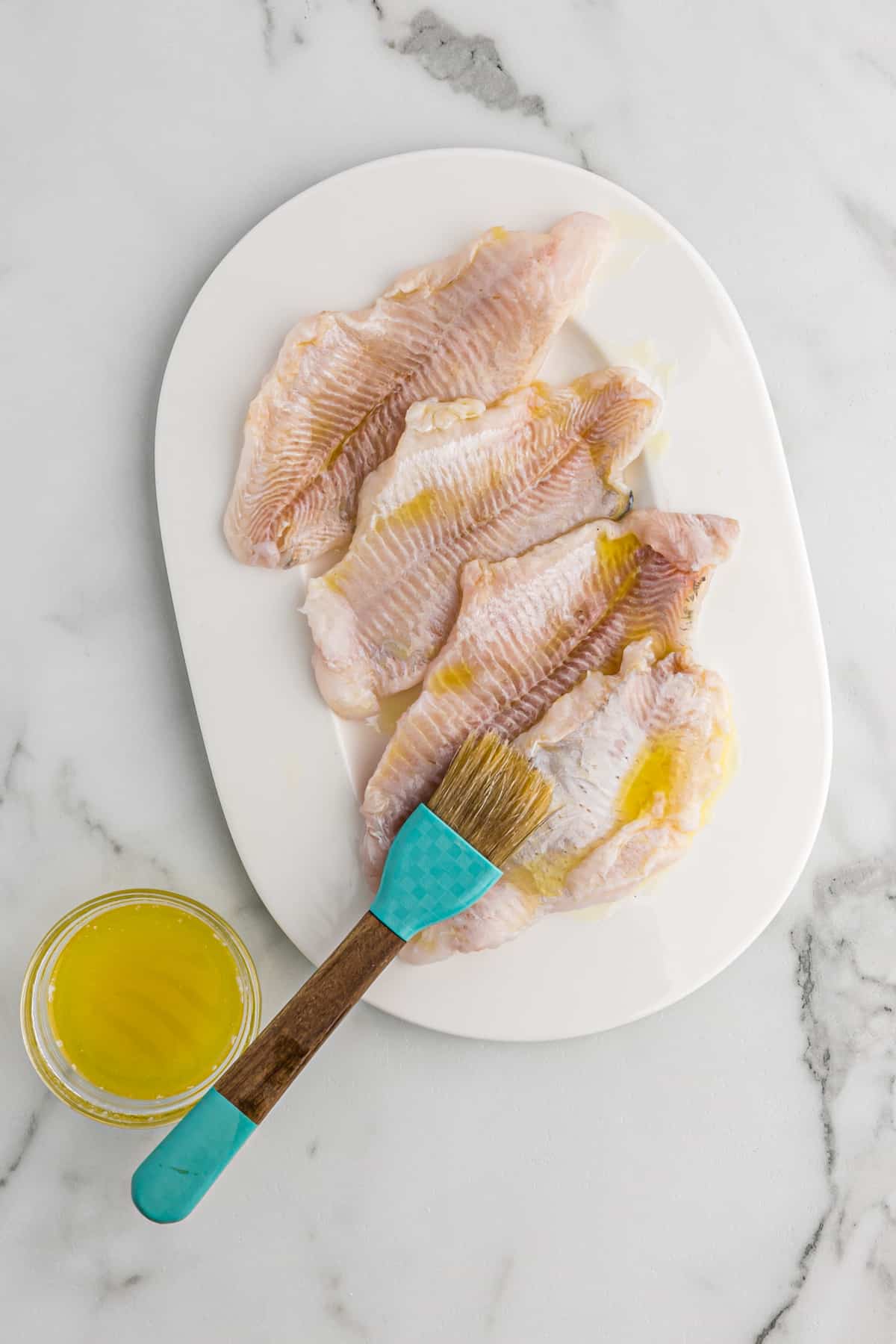 Step 2: Brush the catfish
Mix the olive oil and melted butter together, then brush the mixture all over the catfish fillets. Make sure to coat them well!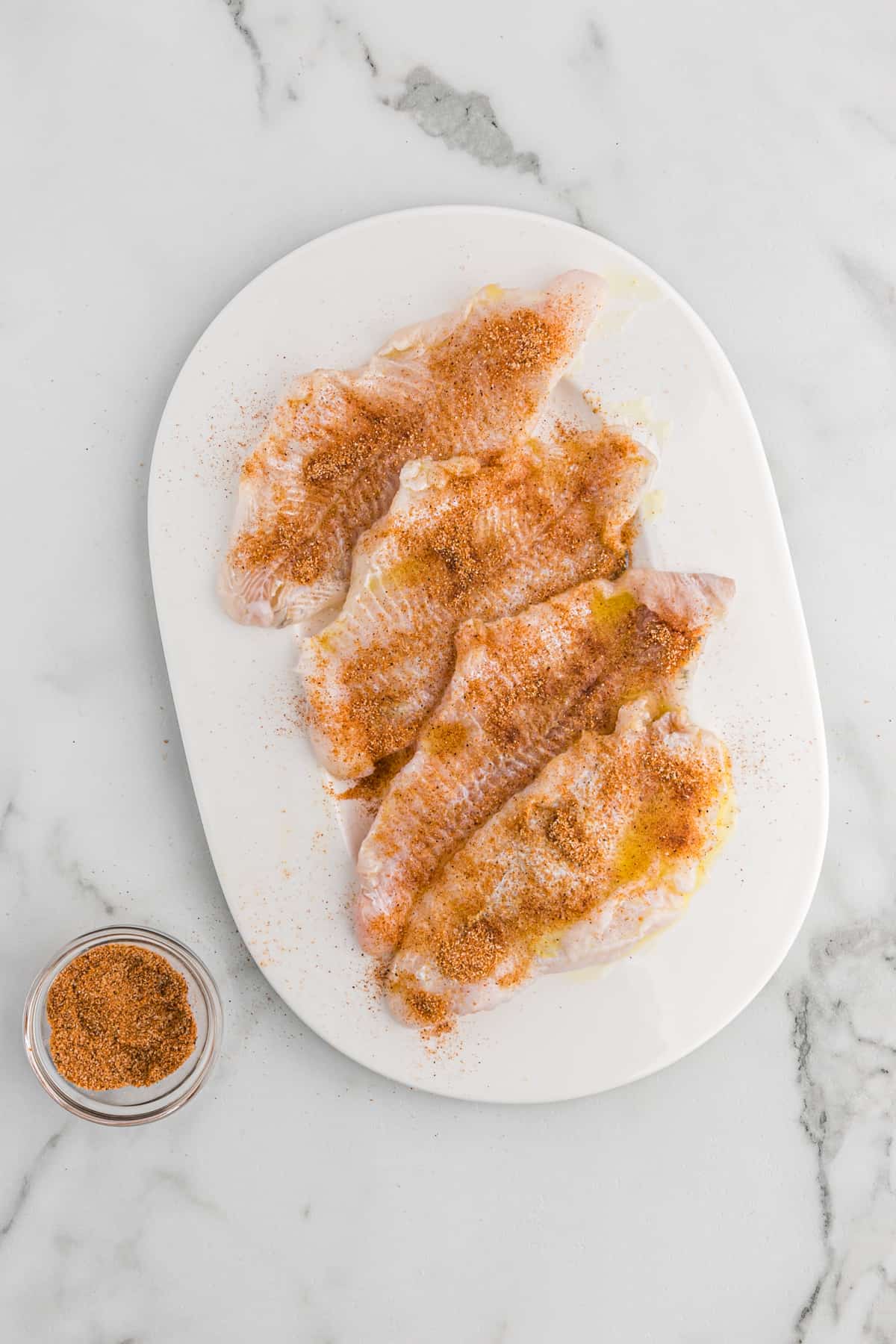 Step 3: Add the spices
If you're making your own Cajun, Creole, or blackened seasoning, combine it now. Dredge the catfish with the spice mixture, then allow it to sit for 3-5 minutes.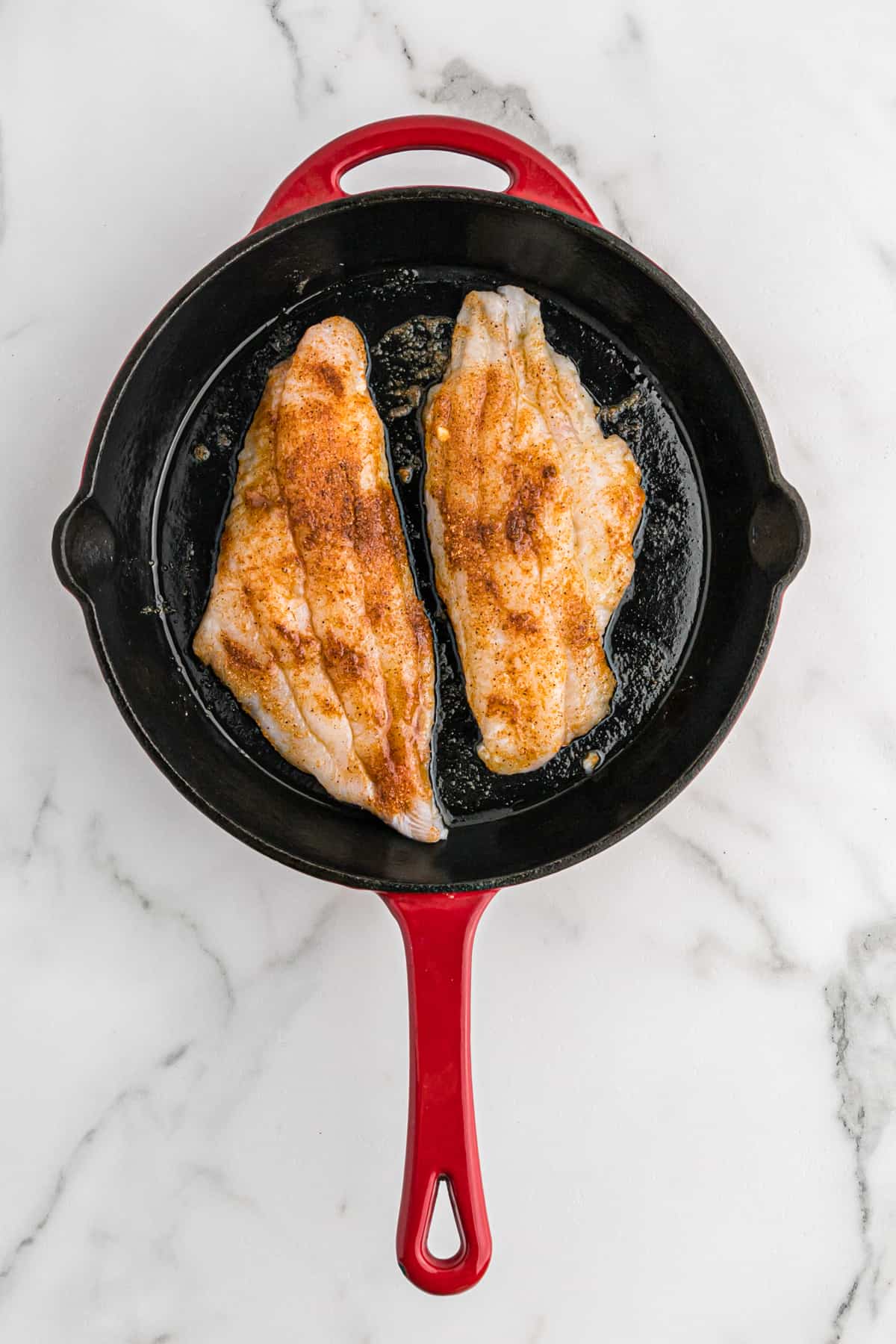 Step 4: Blacken the catfish
Preheat a cast-iron skillet with an extra tablespoon of olive oil. Once the skillet is very hot (and I mean hot), add the seasoned fillets. As soon as they start to sear, turn the heat to low-medium.
Step 5: Add the finishing touches
After approximately 3-4 minutes, carefully flip the catfish and cook on the other side until they are opaque and perfectly flaky. Serve your blackened catfish with additional lemon wedges and a squeeze on top.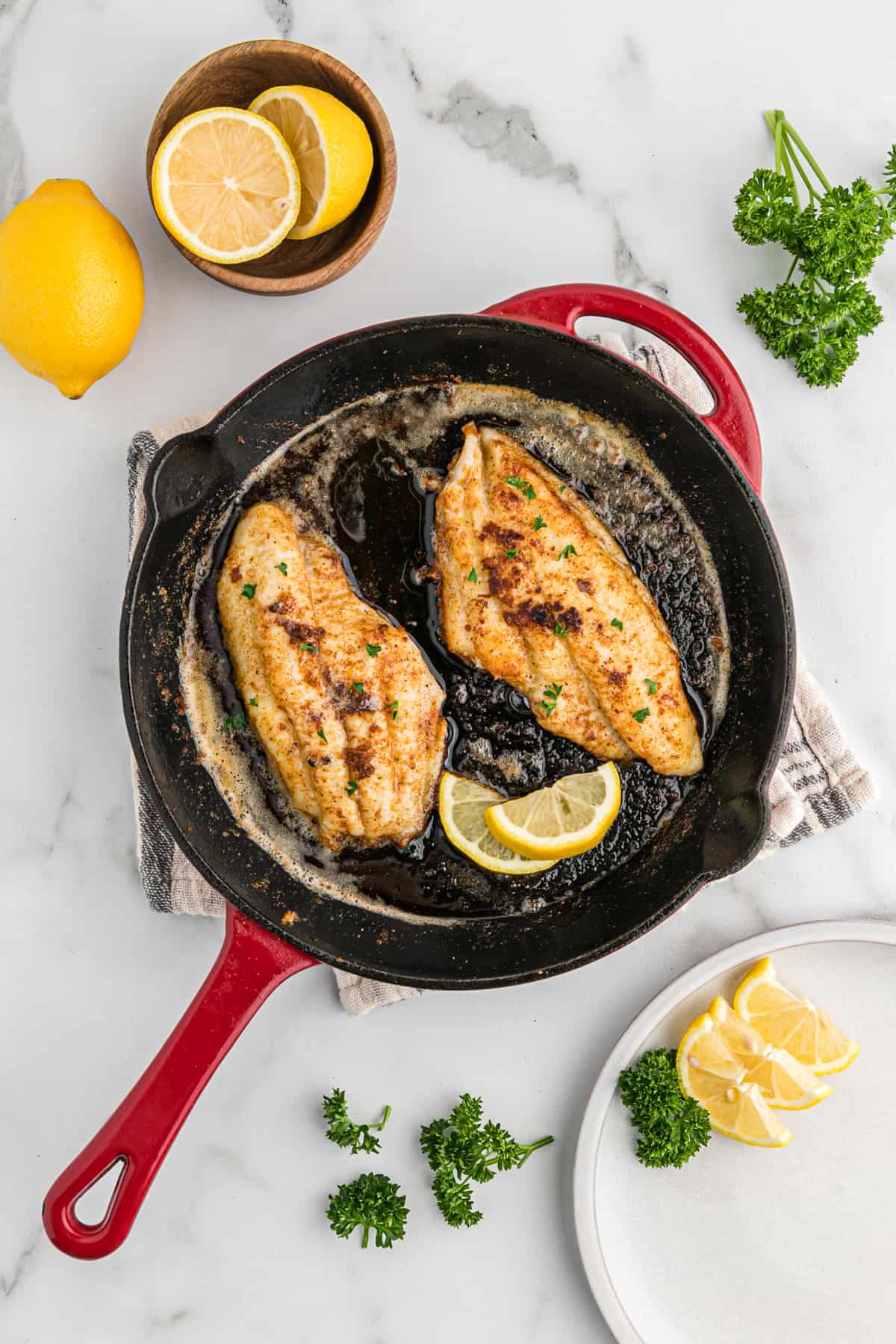 Serving suggestions
If you're searching for a side dish that will hold up against blackened catfish, look no further. Here are some of my favorite options:
Tips and tricks
Hot pan: Give the skillet time to preheat so the catfish hits it when it's scorching hot.
Use oil: Since butter has a very low smoke point, I recommend adding olive oil to the mix. It makes it easier to prevent burning, especially if it's your first time making blackened catfish.
Don't move the fish: When you first add the fish to the pan, don't try to move it around. You want it to form a crust on the bottom by leaving it for a few minutes.
Watch the fish: If your catfish appears to be browning too quickly, turn the temperature of the burner down. If it's not turning brown and crispy, turn up the heat and add a little more oil and butter.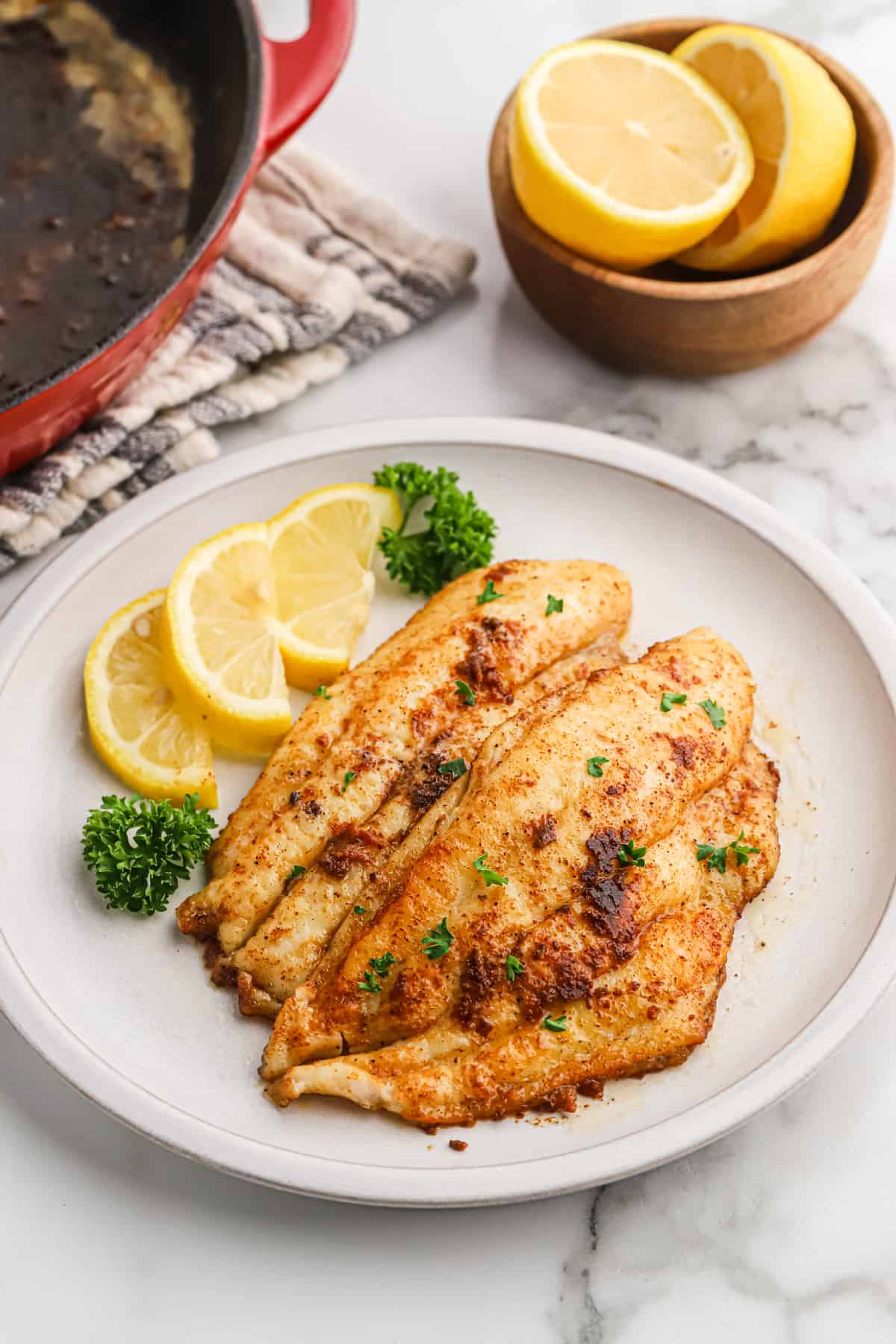 What to do with leftovers
For any leftover blackened catfish, follow these storage and reheating instructions:
Fridge: Keep leftovers refrigerated for up to 2-3 days. It's best to store them in an airtight container to prevent flavor seepage.
Freezer: Once cooked, you can refreeze catfish safely. Make sure it's completely cooled, then transfer it to a freezer-safe container or bag. Store it for up to 1 month in the freezer. Just note, the texture will change slightly once thawed.
Reheating
Reheating blackened catfish couldn't be easier! If frozen, let it thaw in the fridge overnight.
Once thawed, heat it on the stovetop over medium-low until the catfish is just hot enough. You need to be careful not to dry out the catfish when rewarming it.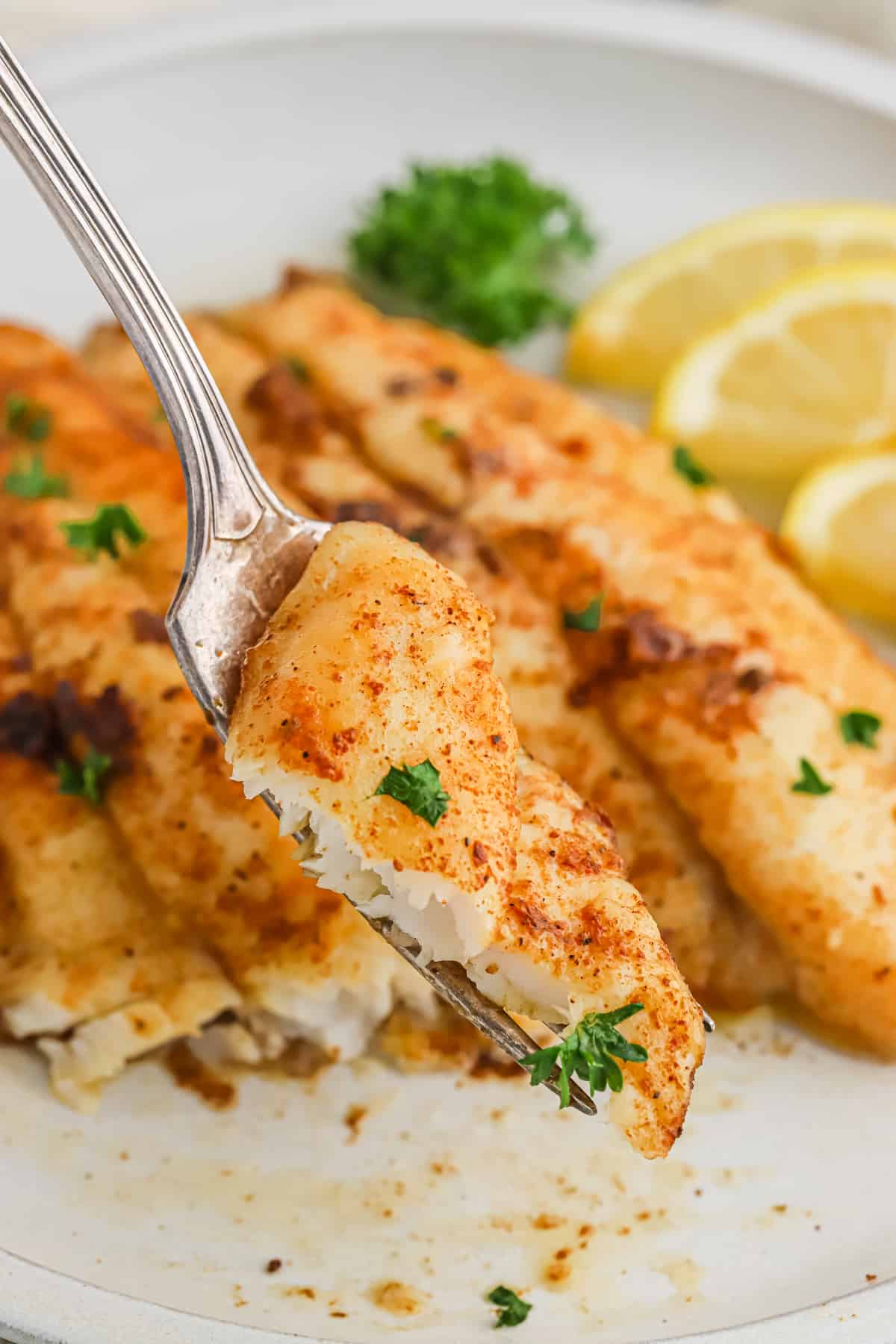 Additional recipes
If you enjoy this blackened catfish recipe, you'll love these other GBC recipes featuring catfish:
Grilled Catfish
Spicy Oven-Fried Catfish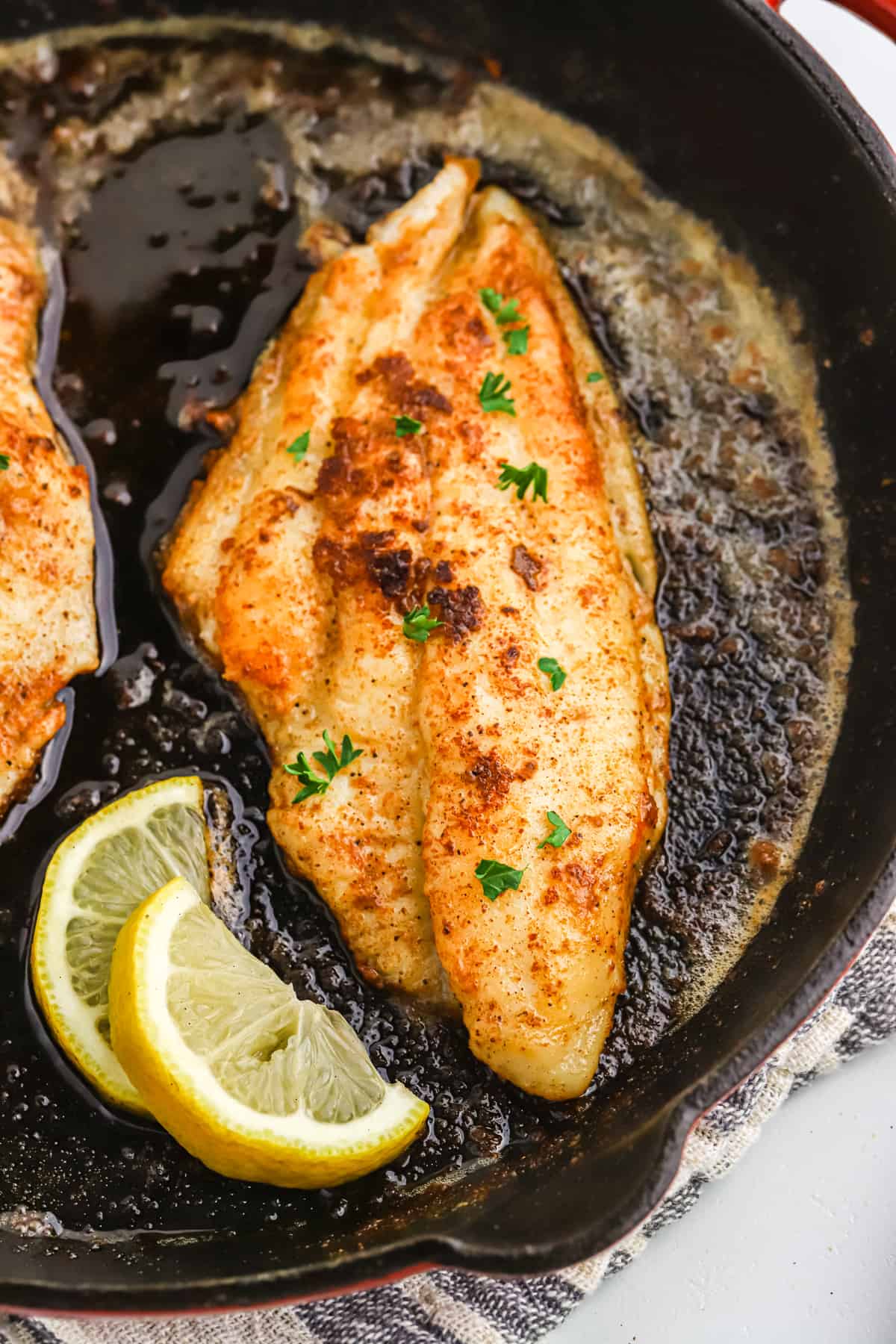 Frequently asked questions
How do you know when catfish is fully cooked?
The best way to tell if your catfish is fully cooked is by measuring the internal temperature with a thermometer. Fish is considered done when it reaches 145 degrees F. The other way is by observing a flaky texture and a change in color from translucent to opaque.
Can you blacken fish without a cast-iron skillet?
Yes, it's possible to blacken fish without a cast-iron skillet. The best method is to use a heavy-bottomed pan, add plenty of oil or butter, and heat it over high.
What does catfish taste like?
Catfish has a mild, slightly sweet flavor with a relatively firm texture. It's comparable in texture to other white fish varieties like cod or tilapia. Due to where catfish live, some describe the flavor as "earthy" or "muddy." These flavors can be changed based on whether it's farmed or wild-caught, the preparation, and the cooking method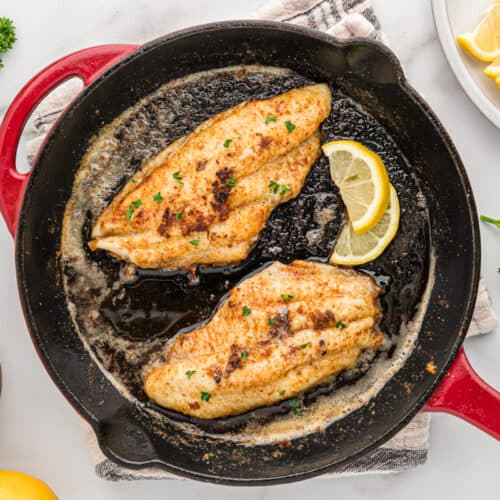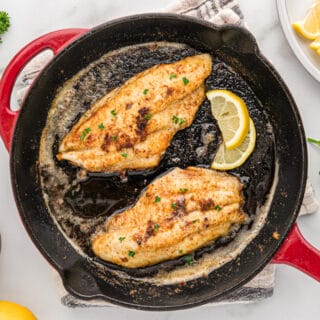 Ingredients
Cajun Seasoning to taste

make my blend or pick some up at the store

1/4

cup

extra virgin olive oil

2

tablespoons

salted butter

melted

4

fresh catfish filets

1

medium

lemon
Instructions
Prep catfish filets by patting it dry first with a paper towel.

Mix together olive oil and melted butter then using a brush, brush on catfish filets then coat with cajun seasoning.

Allow the fish to sit for 3-5 minutes.

Preheat a cast iron or heavy skillet with 1 tablespoon of olive oil.

Once the skillet is very hot, add seasoned filets. As soon as it starts to sear, bring the heat to a low to medium heat.

After approximately 3-4 minutes, carefully flip the catfish over. Cook on the other side until the fish filets are opaque and perfectly flaky.

Serve with additional lemon wedges and squeeze on top.
Nutrition
Calories:
339
kcal
|
Carbohydrates:
3
g
|
Protein:
28
g
|
Fat:
24
g
|
Saturated Fat:
7
g
|
Polyunsaturated Fat:
3
g
|
Monounsaturated Fat:
13
g
|
Trans Fat:
0.2
g
|
Cholesterol:
114
mg
|
Sodium:
119
mg
|
Potassium:
648
mg
|
Fiber:
1
g
|
Sugar:
1
g
|
Vitamin A:
266
IU
|
Vitamin C:
16
mg
|
Calcium:
33
mg
|
Iron:
1
mg