Rich, dense and buttery, this Caramel Pie is every caramel lover's dream! A homemade flaky pie crust and a luscious, sugary caramel, made with sweet Land O Lakes® Unsalted Butter, come together to create a Southern classic! If you love this, you will also love my Butterscotch Pie, Southern Caramel Cake, these Salted Caramel Cookies and Caramel Sauce.
Disclosure: I partnered with Land O'Lakes for this recipe post, but all opinions expressed here are my own. I am grateful for authentic partnerships like this.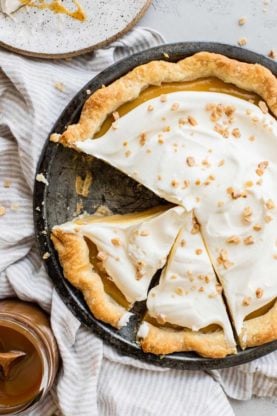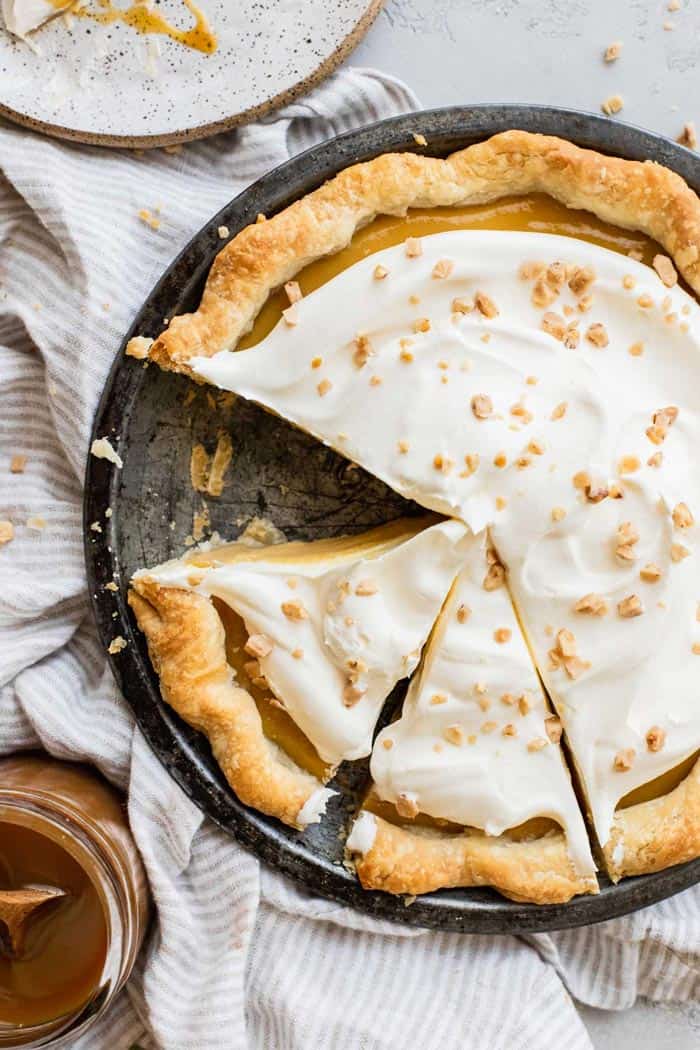 If there's one thing my Big Mama taught me it's this: from-scratch pies are always better than shortcut ones. Since I was a little girl, my grandmother taught me the importance of gentle hands, patience and hard work. Pies can be time-consuming to make and honestly, they don't always work out the way you want them to. But it's all a part of the process, the process that makes the experience so magical. Because, when it comes out right, you get a slice like no other!
Caramel Pies are not for the faint of heart; they're buttery, sweet and overall, quite decadent. I learned to make caramel from scratch right in Big Mama's kitchen. I can still recall sticky fingers and lots of giggles! When we finally finished (it felt like forever), we'd sit at the table and she'd pour herself a cup of coffee. We'd split an irresistible slice of hot-out-of-the-oven Caramel Pie and, sometimes, sneak seconds.
Today, I'd love to share that sacred, vintage recipe with you! So, do like Big Mama, pour yourself a cup of joe and let's get to work.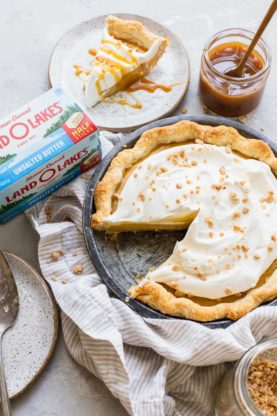 LAND O LAKES® UNSALTED BUTTER
The key to a perfect pie is balance. Harmonious flavor and texture come from using uncomplicated and well-proportioned ingredients. Enter Land O Lakes® Unsalted Butter! Made with two simple ingredients, sweet cream and natural flavoring, Land O Lakes® signature Unsalted Butter guarantees the sweet cream flavor we love while still giving you the flavor control you need!
True statement: I have been exclusively using this butter for years! Seriously y'all, nothing beats smooth, lush Land O'Lakes® Butter – You can use the half sticks which I used here or the full sticks. Either will work fine in this recipe..
Get you some, you won't regret it!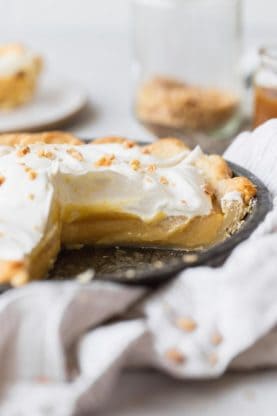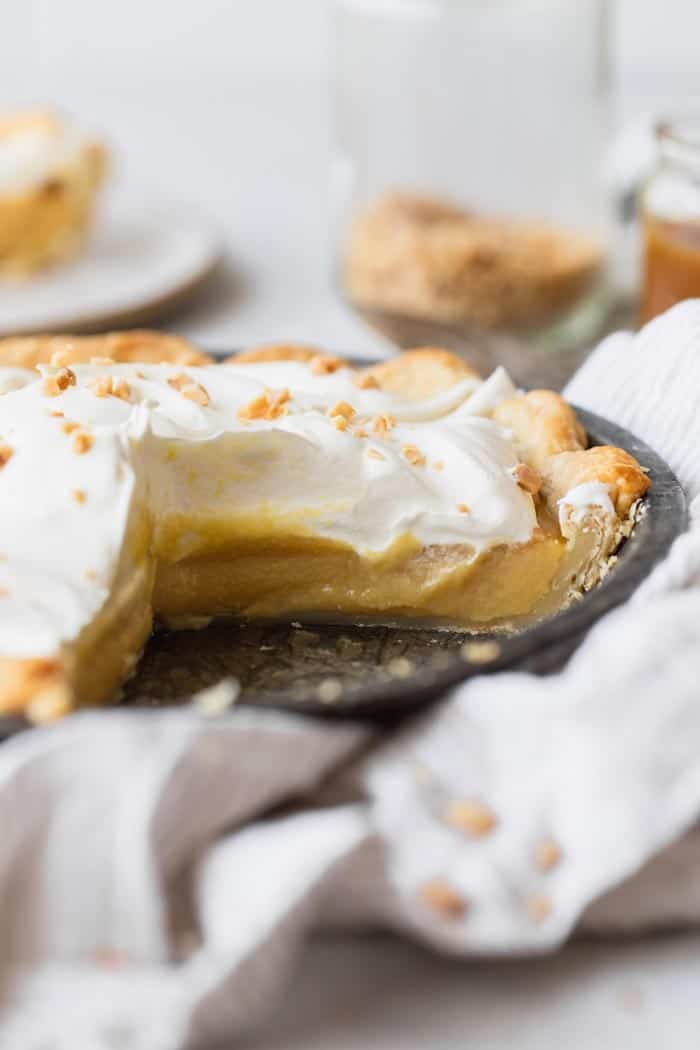 HOW TO MAKE THE PERFECT PIE CRUST
Still struggling to make the perfect pie crust? I've got you! Practice makes perfect when it comes to crust making but, luckily, I've done the practice for you.
Follow my BEST PIE CRUST RECIPE for a guaranteed delicious, flaky result. There's even a step-by-step video! Don't say I never gave y'all nothin'.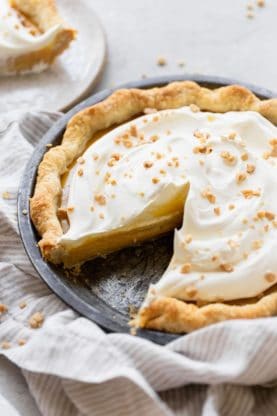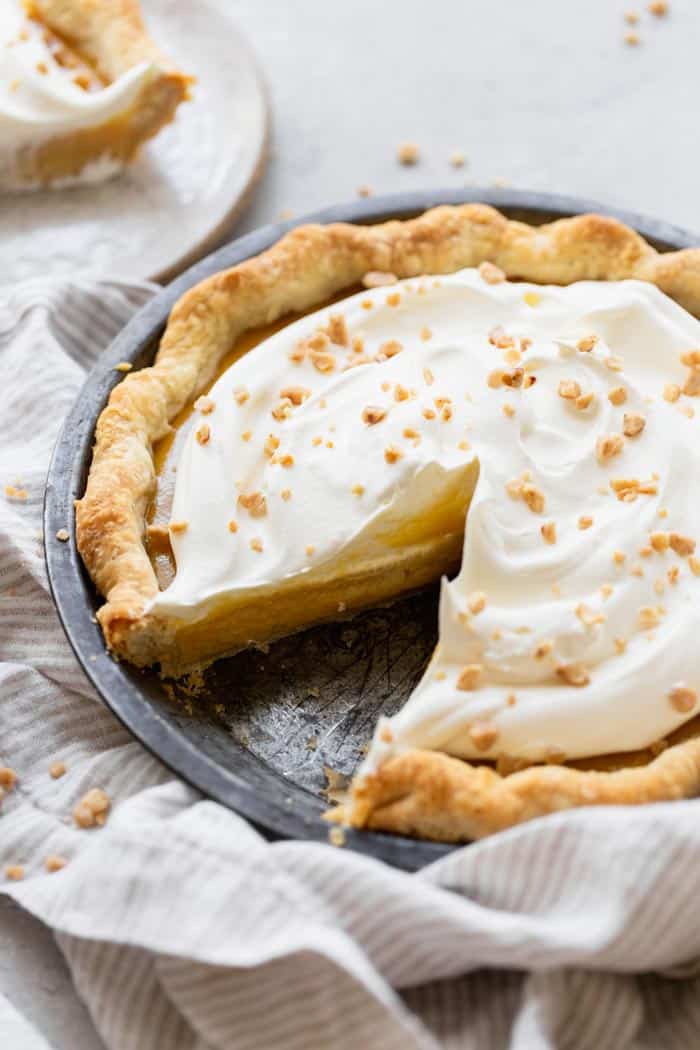 HOW TO MAKE CARAMEL PIE FILLING
You might be surprised to find out that Caramel Pies are made with pantry-staple ingredients. Yup, you heard me right! No supplemental trips to the grocery store, no expensive, hard-to-find items. Just simple, smooth sailing.
Here's what you'll need today:
Granulated Sugar– ain't no caramel without a cup or two of sugar! It sweetens the filling and helps to create that rich, gooey caramel you know and love.
All-Purpose Flour– flour helps to add firm structure and keep the caramel from being too runny.
Large Egg & Egg Yolks– eggs serve as a binder and their protein structure also makes for a more fluid, polished caramel.
Whole Milk– cream and sugar are best friends. When mixed together, they form a caramel that is smooth and luxurious.
Vanilla– if not only for the fact that it will make your house smell like heaven, vanilla is necessary to add a floral, earthy flavor.
Land O Lakes® Unsalted Butter– again, ain't no good caramel made without butter. Sweet cream butter adds exactly that, sweetness and creaminess. Land O Lakes® Butter is the only way to go.
Hot water– just thins out the filling so there's a little more to go around and it doesn't pull out one of your fillings. You're welcome.
Salt– salt balances sweetness and adds a whole new dimension of flavor. Add as little or as much as you prefer!
Pie Crust- the base for all that heavenly homemade caramel!

SERVING SUGGESTIONS
I highly recommend serving this pie warm; it's ooey-gooey, buttery and melt-in-your-mouth luscious. After it's cooled for 15-20 minutes, slice up the pie and serve with either cool, fresh whipped cream or frosty ice cream. There's just no other way to eat it!
LEFTOVER STORAGE
As a general rule of thumb, if a pie contains eggs or milk in its filling it should be refrigerated. Although you can warm it up for serving, this pie should be wrapped in aluminum foil or stored in an airtight container then placed in the refrigerator. Leftover Caramel Pie will keep for up to 4 days.
Alternatively, this pie can also be frozen. It might lose a bit of its integral structure but it's better than letting it go to waste. Wrap tightly in plastic wrap, place in a freezer bag and freeze for up to 2 months. When ready to eat, thaw in the fridge.
GRANDBABY CAKES BEST SOUTHERN PIES
It's a simple fact that all the best pies come from the South; each one is as legendary as the Southerners who developed them. A good ol' Southern pie has the ability to transport you back to your childhood, remind you of cozy kitchens and moments spent with mamas, grandmamas and aunties.
Travel back in time with me by layering together more of my Big Mama's famous pies: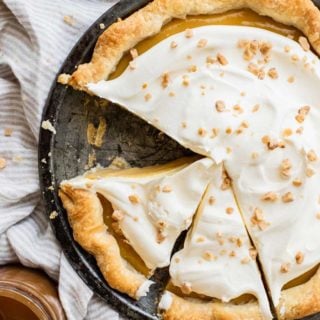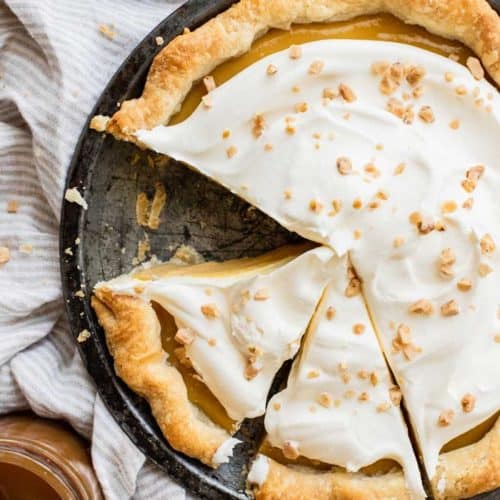 Caramel Pie
Rich, dense and buttery, this Caramel Pie is every caramel lover's dream! A homemade flaky pie crust and a luscious, sugary caramel, made with sweet Land O Lakes® Unsalted Butter, come together to create a Southern classic!
Print
Pin
Rate
Ingredients
For the Pie Crust
1 1/4

cup

all purpose flour

1

tsp

granulated sugar

1/2

tsp

salt

1/2

cup

Land O Lakes® Unsalted Butter in Half Sticks

very cold, cut in cubes

1/4

cup

very cold water

up to 1/3 cup
For the Filling
1

cup

granulated sugar

divided

1

tbsp

all purpose flour

1

large egg

2

large egg yolks

1 1/4

cup

whole milk

pinch of salt

1

tbsp

hot water

2

tsp

vanilla extract

1

tbsp

Land O Lakes® Unsalted Butter in Half Sticks

fresh whipped cream for serving
Instructions
For the Crust
In a medium sized bowl, add flour, sugar and salt and whisk together to combine.

Next add your butter cubes to flour and using your pastry cutter, cut the butter into the flour mixture until various sized crumbs appear.

Slowly add the cold water into the flour until a ball of dough forms. Start with 1/4 cup and add more water if you need it. Knead the dough quickly to bring it together. Don't worry if there is any flour left in the bowl.

Remove the dough from the bowl and round into a ball. Cover the ball tightly with plastic wrap and place in the refrigerator for 45-55 minutes to rest.
For the Filling
Mix ½ cup sugar with flour. Mix egg and egg yolks and add to sugar mixture. Add milk, and salt and beat well with a whisk then set aside.

Brown ½ cup of sugar in a heavy pan over medium heat. Allow the sugar to melt slowly. When completely dissolved, continue to cook until syrup is a golden color.

When sugar is browned, add 1 tbsp of very hot water, whisking constantly. Continue whisking as you slowly add in the egg-milk mixture into the browned sugar. Cook until it thickens.

Remove from heat and add vanilla and butter.
To Assemble
Preheat the oven to 425 degrees.

Remove dough from the fridge and add a bit of flour to a working surface or clean counter and place dough on it. Using a rolling pin, quickly roll dough out to about 1/4-1/3 inch thickness and place in your pie plate.

Line the dough with parchment paper and add pie weights to your crust then bake for 15-20 minutes.

Next remove pie crust from the oven and lower the temperature to 350.

Pour filling into baked pie crust. Brush the outside crust with a little egg wash (just 1 egg whisked with 1 teaspoon of water).

Bake at 350 degrees for 15-20 minutes then allow to cool, then top with fresh whipped cream and serve.
Video
Nutrition
Calories:
335
kcal
|
Carbohydrates:
43
g
|
Protein:
5
g
|
Fat:
16
g
|
Saturated Fat:
10
g
|
Polyunsaturated Fat:
1
g
|
Monounsaturated Fat:
4
g
|
Trans Fat:
1
g
|
Cholesterol:
108
mg
|
Sodium:
173
mg
|
Potassium:
97
mg
|
Fiber:
1
g
|
Sugar:
28
g
|
Vitamin A:
555
IU
|
Calcium:
63
mg
|
Iron:
1
mg