Vanilla Buttermilk Pie Recipe – This classic Southern pie is perfection! The creamy custard filling is made with rich tangy buttermilk and flavored with wonderful vanilla bean essence.
Disclosure: This Buttermilk Pie post is a collaboration with AncestryDNA. I received compensation, but all opinions are my own. I am grateful for authentic partnerships like this.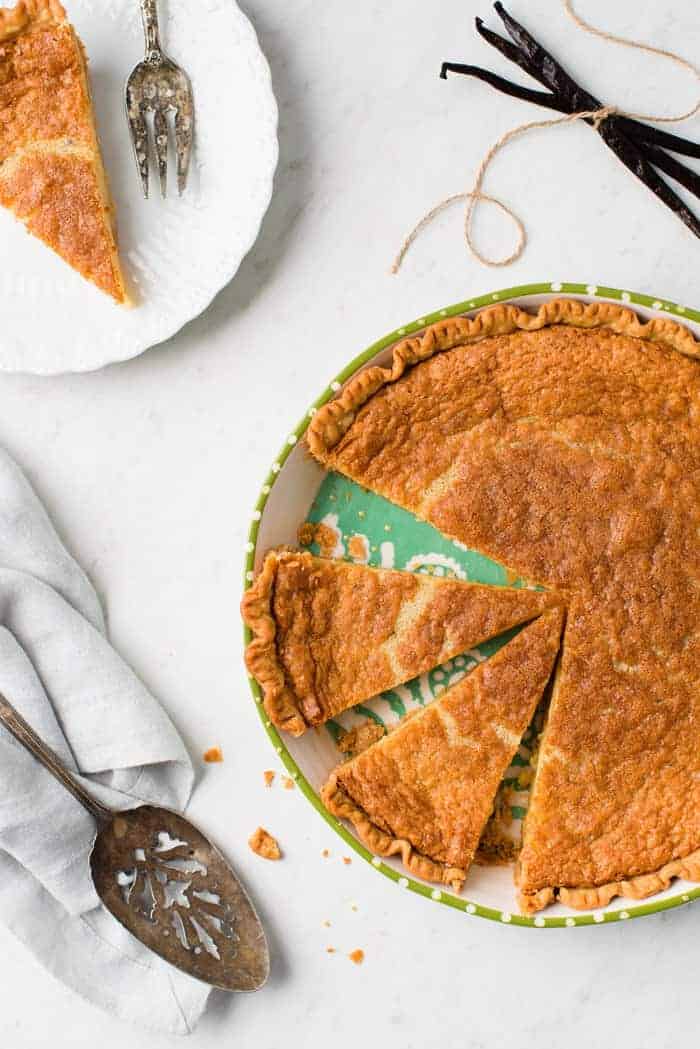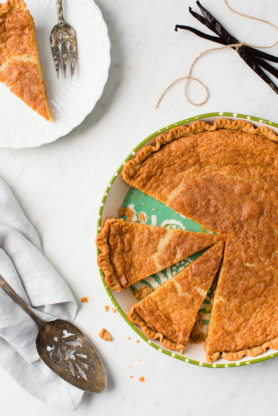 FAMILY TRADITIONS
There is seriously nothing in the world that gives me the joy of keeping my family traditions. Our traditions come in many forms but the most prevalent are the recipes we share. For generations we have imagined, developed and shared countless recipes, most of which I learned to make in my Big Mama's Mississippi kitchen.
As the holiday season approaches, my excitement revolves around the thought of a table crowded with dishes I've enjoyed for as long as I can remember. Fried Turkey, Mama's Macaroni and Cheese, Collard Greens and so much more fill the table. However, the best part of it all is family. Generations of mothers, fathers, daughters, sons, uncles, aunts and cousins gather around to cook and eventually eat all the familiar flavors of our past.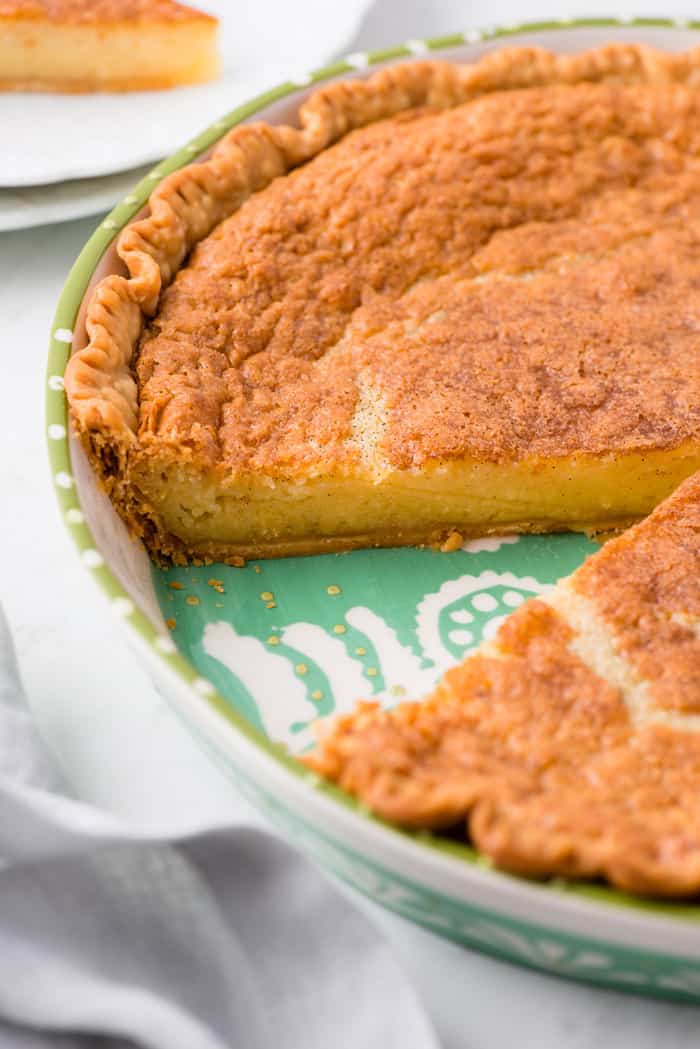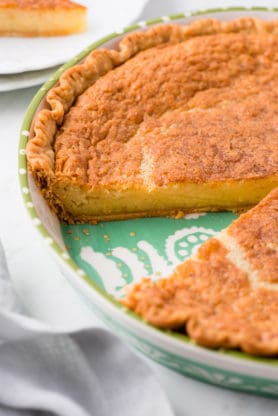 VANILLA BUTTERMILK PIE
Today I'd love to share with you one of my favorite traditional family recipes. Two words: Buttermilk Pie. No holiday season is complete without it. The rich, creamy custard along with the tart taste of fresh buttermilk are what this pie is known for. It's incredibly crunchy topping coupled with a smooth textured filling make each bite complex and delicious.
Some people get Chess pie and Buttermilk pie confused with each other, but there is a difference in how they are made. Only buttermilk pie uses buttermilk where chess pie does not. Chess pie also uses corn meal as one of the ingredients where buttermilk pie does not. Both pies are delicious Southern classics but personally, I prefer that irresistible buttermilk tang.
BUTTERMILK PIE ORIGINS
Just as with almost every other food, Buttermilk Pie carries its own rich history. Vinegar pie, buttermilk pie, mock apple pie—where the filling, rather than being made of seasonal fruit, is made of mashed up and seasoned crackers—are known as "make-do," pies. They've been part of the American culinary tradition since the beginning of the country, when resourceful farming families put together dessert with whatever they had on hand.
Buttermilk Pie is believed to have been invented in England. The recipe was brought to the United States by Southern settlers. It was predominately made in Texas where they were very resourceful with buttermilk because it was in large abundance and inexpensive. When fruit was not in season, this pie could be made all year round with ingredients from the pantry.
The buttermilk pie recipe itself comes from my grandmother "Big Mama", the matriarch of my family. Since I was a little girl Big Mama always taught me the importance of understanding our past through carrying on tradition. She dedicated her time to taking me into the kitchen and walking me through the same cakes and pies her grandmother taught her. We shared what we made with family or simply sat and enjoyed them together. Baking with my Big Mama taught me patience, skill and most of all, true joy. To this day I carry the values I learned in that kitchen with me so that they may be passed on to my children. The recipes we make are more than just food; they represent those before us who valued the importance of love and family.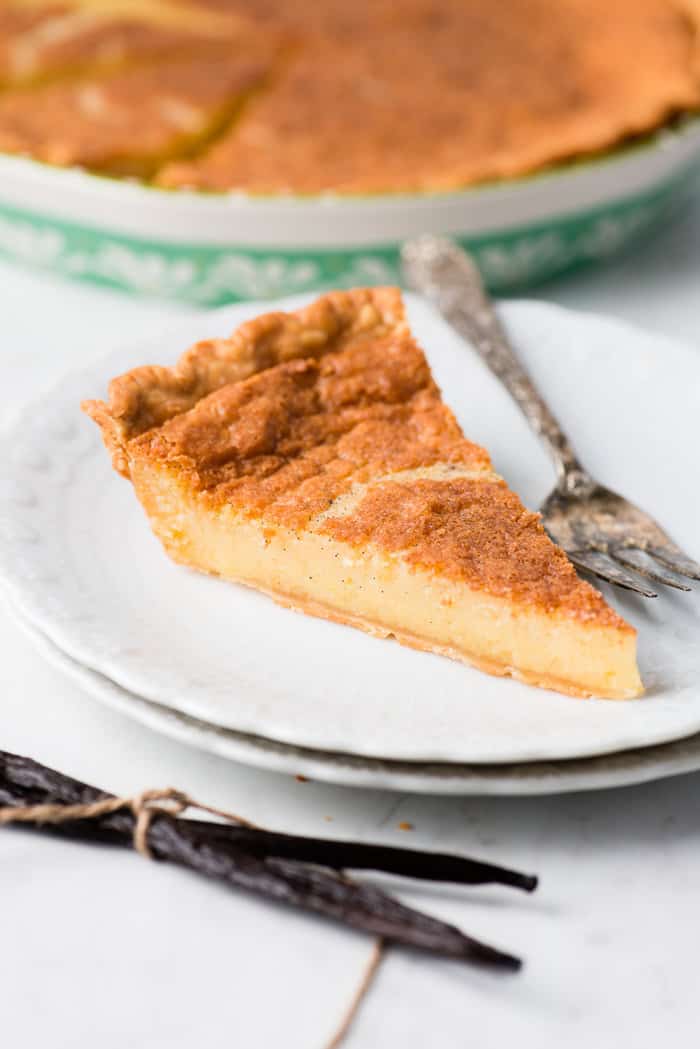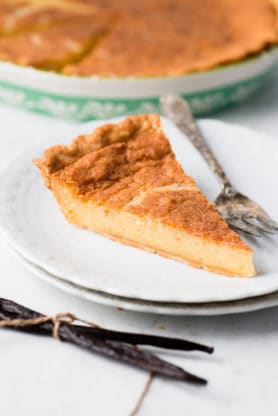 TRACING YOUR ROOTS
This year, I have truly felt the need to understand more about my family's history, so I've partnered with Ancestry to do so. Ancestry gives people the best tools to discover a deeper family story because of their dedication to generational heritage.
I must tell you about my seriously new favorite feature: AncestryDNA Traits. It is so cool! It connects us users with our family history in more detail. It includes 18 traits experiences that help us discover even more about ourselves. Think appearance traits like eye color, hair color, hair type, skin pigmentation and even earwax type or even things like what we like to eat! I think that's my favorite detail!
Also the new "Around the World" feature will link back to your traits on a more global scale. Not only can you connect to immediate family and to those who lived before you here in the United States but you can also connect with those around the world who have influenced the traditions you adhere to today.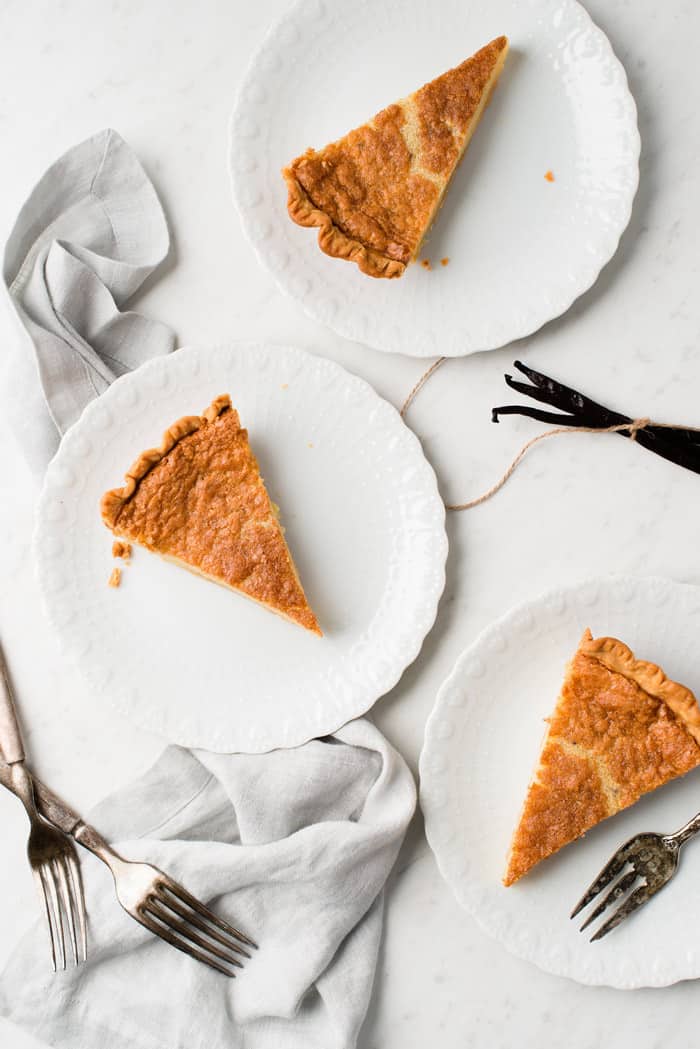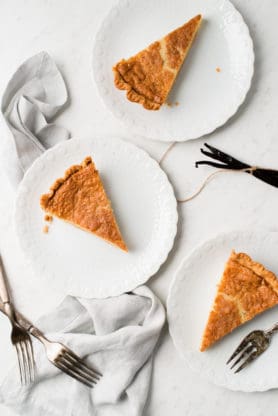 If you want to gift your family with the opportunity to learn more about their traits this holiday season, definitely head to Ancestry.com on Cyber Monday or during the incredible holiday sale and purchase a kit that includes the Traits option. It is the gift that keeps on giving.
So as you slice into my Big Mama's Buttermilk Pie recipe, and enjoy your own families delectable dishes around your holiday table, take a second to reflect on the many people came together to make each recipe possible.
*Did you make this recipe? Please give it a star rating and leave comments below!*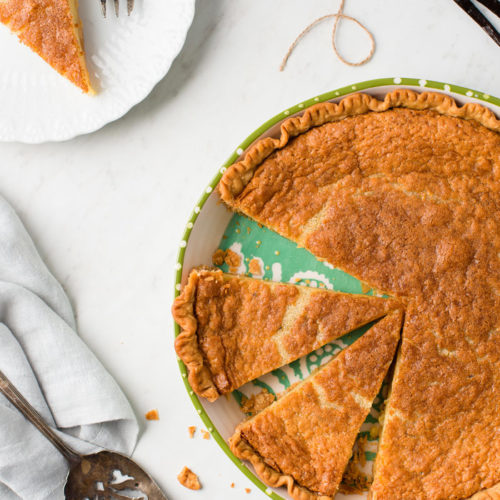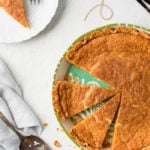 Vanilla Buttermilk Pie Recipe
This classic Southern pie is perfection! The creamy custard filling is made with rich tangy buttermilk and flavored with wonderful vanilla bean essence.
Keyword:
buttermilk pie, buttermilk pie recipe, pie rcipes, vanilla buttermilk pie, vanilla pie
Ingredients
1/2

cup

unsalted butter

melted

1 1/2

cups

granulated sugar

3

large eggs

room temperature and beaten

1

tbsp

vanilla paste (or vanilla extract)

2

tbsp

all-purpose flour

1

tbsp

plus 1 teaspoon cornstarch

Pinch of salt

1

cup

buttermilk

room temperature

1

pie crust in pie plate
Instructions
Preheat oven to 400°F.

Add butter and sugar to bowl of your stand mixer and beat together until light on medium speed for about 5-6 minutes.

Add the eggs and vanilla paste in increments and mix together until incorporated.

Next add flour, cornstarch and salt then buttermilk and mix until well combined.

Pour pie filling into pie crust shell and bake at 400F for 10 minutes, reduce heat to 350F and bake for 60-70 additional minutes then turn off the oven and allow to sit in oven for 30 minutes. Pie should turn a nice golden brown and a knife inserted should come out clean.
Recipe Notes
Recipe Tip: Make sure all of your ingredients are room temperature. It will help the custard set up.
Nutrition Facts
Vanilla Buttermilk Pie Recipe
Amount Per Serving
Calories 404
Calories from Fat 171
% Daily Value*
Fat 19g29%
Cholesterol 95mg32%
Sodium 143mg6%
Potassium 83mg2%
Carbohydrates 52g17%
Protein 4g8%
Vitamin A 495IU10%
Calcium 51mg5%
Iron 0.9mg5%
* Percent Daily Values are based on a 2000 calorie diet.