This Banana Pudding Pie features caramelized bananas, homemade vanilla pudding, lots of sweet, crunchy vanilla wafers and a classic torched meringue topping. Today's pie recipe is a delicious reinvention of a classic! If you love this recipe, you will also love this banana pudding ice cream, banana pudding layer cake, classic banana pudding, banana pudding cheesecake blondies and skinny banana pudding milkshakes.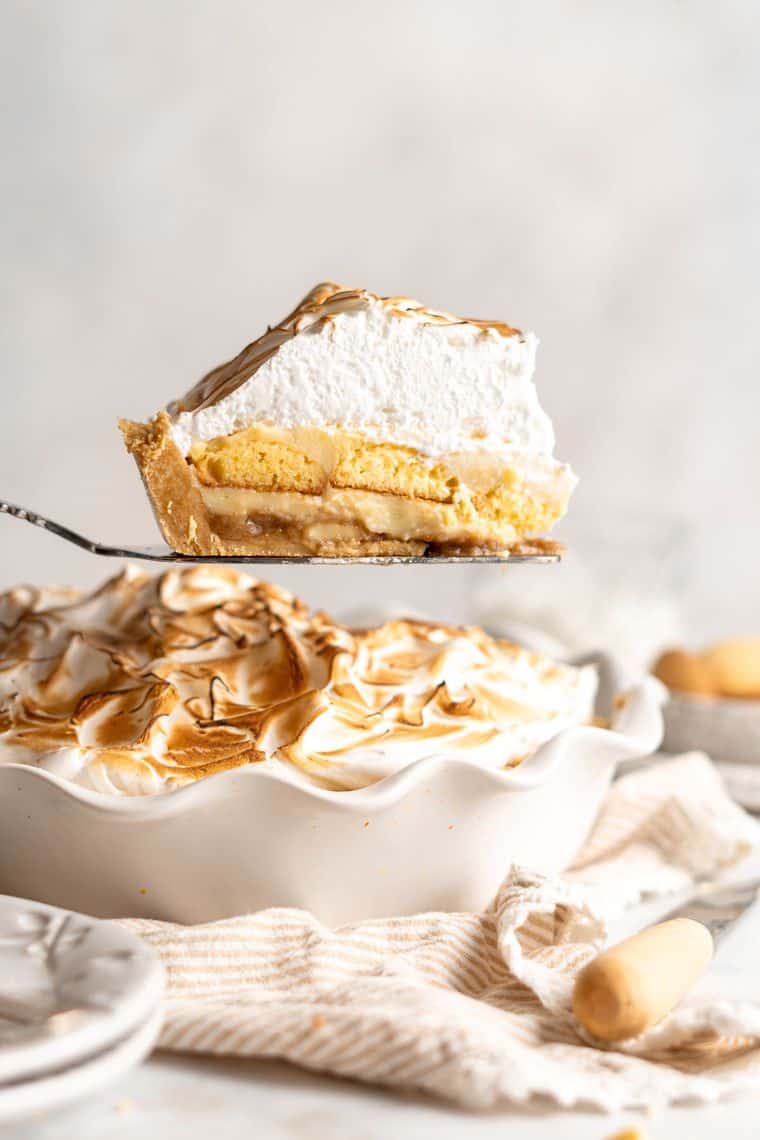 Southern Banana Pudding is an heirloom family recipe and a classic Southern dessert! Usually, I'm not a huge fan of bananas unless they're baked into bread or sitting on either side of a few scoops of ice cream. But, when it comes to a good 'ole fashioned banana pudding, I change my tune.
I've shared a Homemade Banana Pudding recipe here on GBC before but today we're remixing things a bit. Why? Because y'all know I just can't help myself!
Banana Pudding Pie is my take on an iconic Southern treat. A buttery wafer crust is filled with creamy vanilla pudding, caramelized bananas, and fluffy meringue to create the dreamiest bite you've ever had!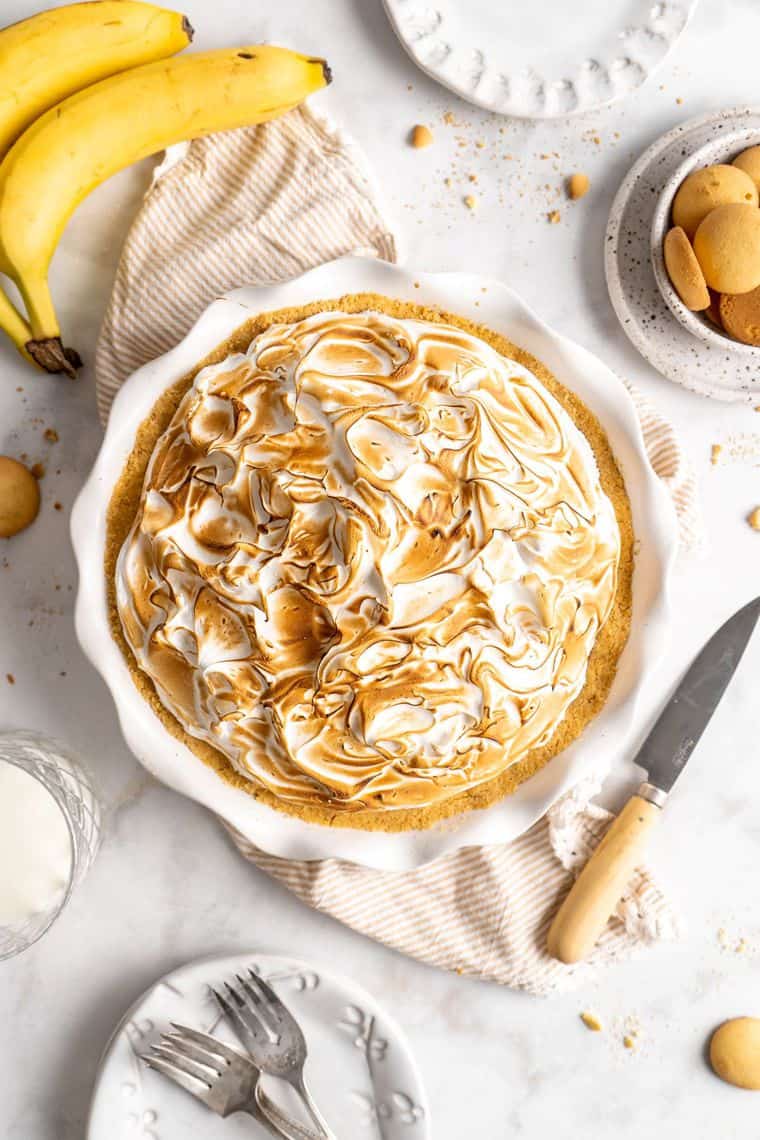 BANANA PUDDING PIE
I recently featured a Homemade Banana Pudding recipe on my website that I got from Carla Hall's book, Soulfood. It reminded me of the first version of any type of banana pudding I ever made, which is this banana pudding pie. I can remember my family making banana pudding a few times when I was growing up, but it was never my favorite. Well, it's definitely a favorite of my husband's family. While growing up, banana pudding was a mainstay dessert for any holiday or family get together in the 70's, 80's and 90's. I wanted to put a twist on the clichéd banana pudding recipe and that's how I came up with this pie.
BANANA PUDDING PIE INGREDIENTS
VANILLA WAFERS-

of course, any brand of wafer will work but I used the most common brand. I'll give ya a hint, it rhymes with

Willa Nafers!
UNSALTED BUTTER-

if you want to add a salty-sweetness to this recipe, go ahead and use salted butter instead.
BANANAS-

for the best result, you'll want to use bananas that are fully yellow with a light speckle of brown. Riper than that and you'll have a mushy mess. Greener and you won't get enough banana-ey goodness.
LIGHT BROWN SUGAR-

dark brown sugar is a great choice too!
GROUND CINNAMON-

a little warm spice goes a long way in adding flavor to this recipe.
GRANULATED SUGAR-

cane sugar will also work!
AP FLOUR-

flour thickens the pudding.
EGGS-

egg also works as a thickener in this recipe; they stabilize the pudding and help to develop a thick, decadent vanilla cream filling.
WHOLE MILK-

I've not attempted this recipe with anything other than full-fat milk. If you choose to do so, let me know how it went in the comments! Otherwise, use whole milk for a smooth, creamy pudding.
VANILLA EXTRACT-

pure vanilla extract works best.
HOW TO MAKE BANANA PUDDING PIE
If you've made homemade pie in the past, then making this pie recipe will be a snap!
Here's how you're gonna do it: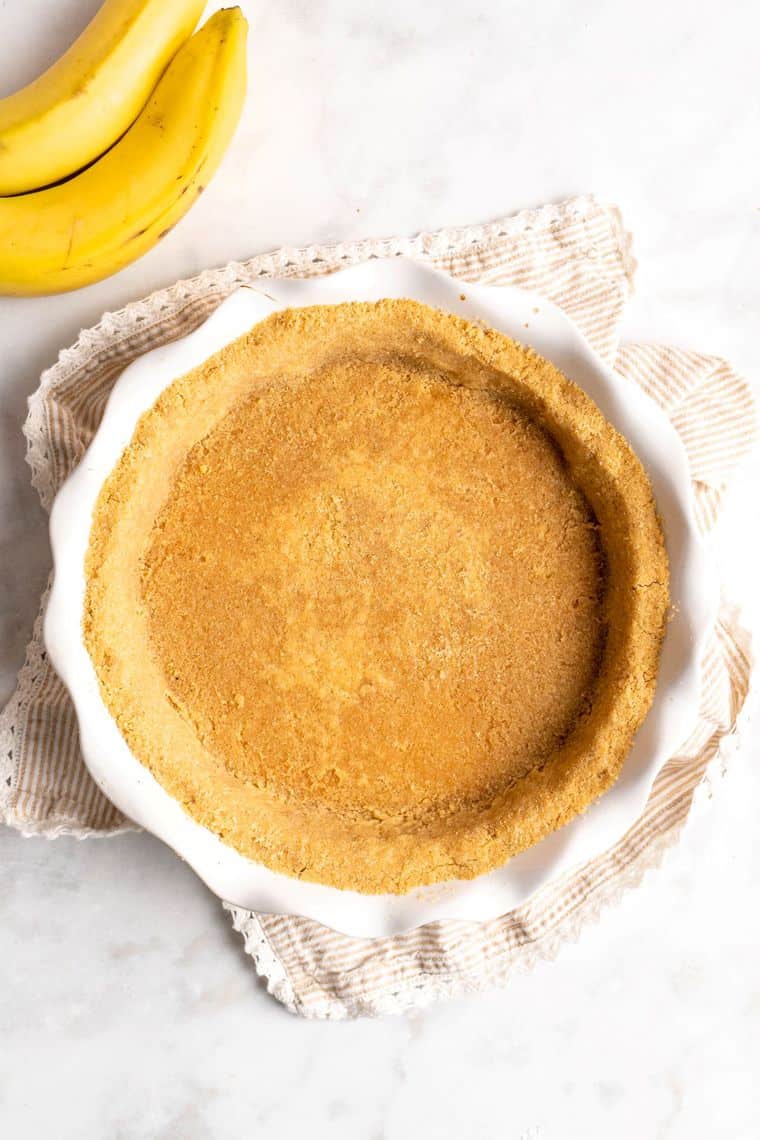 Make the crust-

first, you gotta make the pie crust which consists of a combination of crushed vanilla wafers and melted butter. This sweet, crunchy, buttery base is where it's at y'all!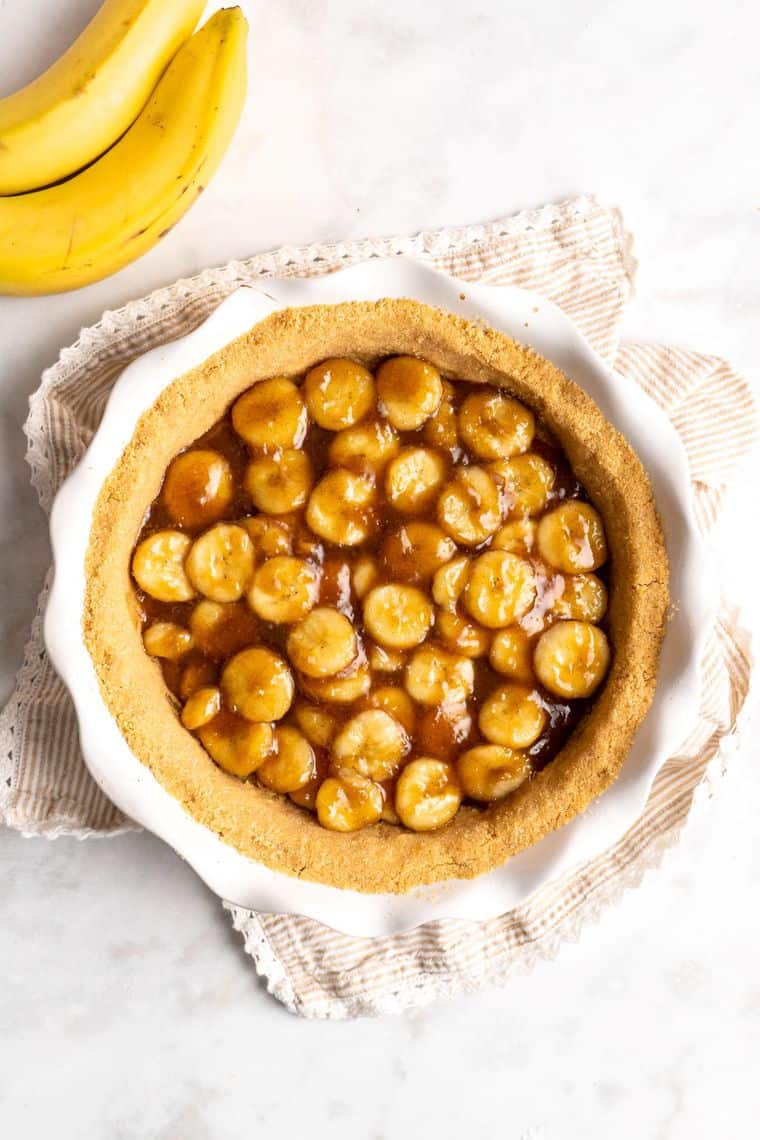 Caramelize the bananas-

to add a bit of a caramel touch to this pie, I cooked down the bananas with brown sugar, cinnamon, and butter. The result is similar to a banana foster recipe. YUM! Once cooked, place the bananas on top of the crust.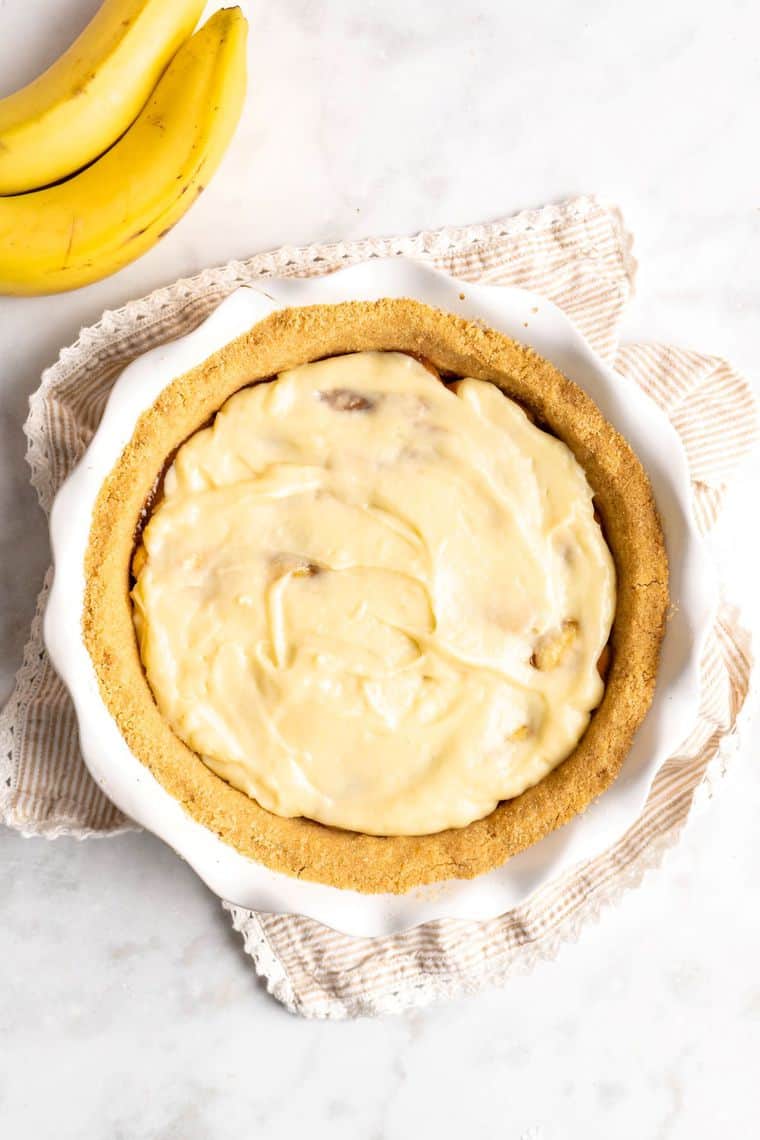 Cook up a cream filling-

homemade vanilla pudding was the only way to go. It's creamy, smooth, indulgent, and wonderfully aromatic. Layer your vanilla cream filling on top of the caramelized bananas.

Vanilla Wafers- Add a layer of more vanilla wafers, then spoon on the rest of the filling.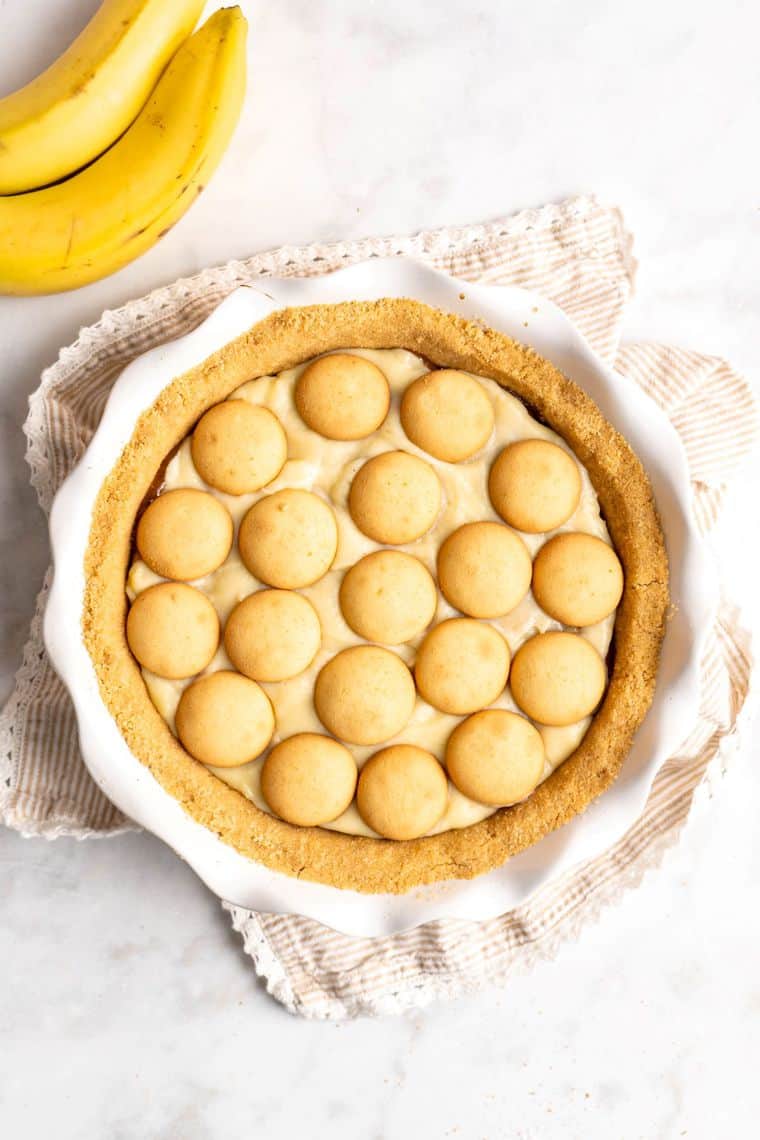 Whip up the meringue-

rather than the traditional whipped cream, I chose to go with a whipped meringue. Similar to fluff, this light and airy topping is sweet and sticky in all the best ways! Spread your homemade meringue over the top of the pie.
Bake, chill, and serve-

bake this pie for 10-12 minutes at 350 degrees, then remove it from the oven to let it chill for an hour. Crush a couple handfuls of vanilla wafers and sprinkle over the top before you cover the pie with plastic wrap and chill it in the fridge for at least 4 hours.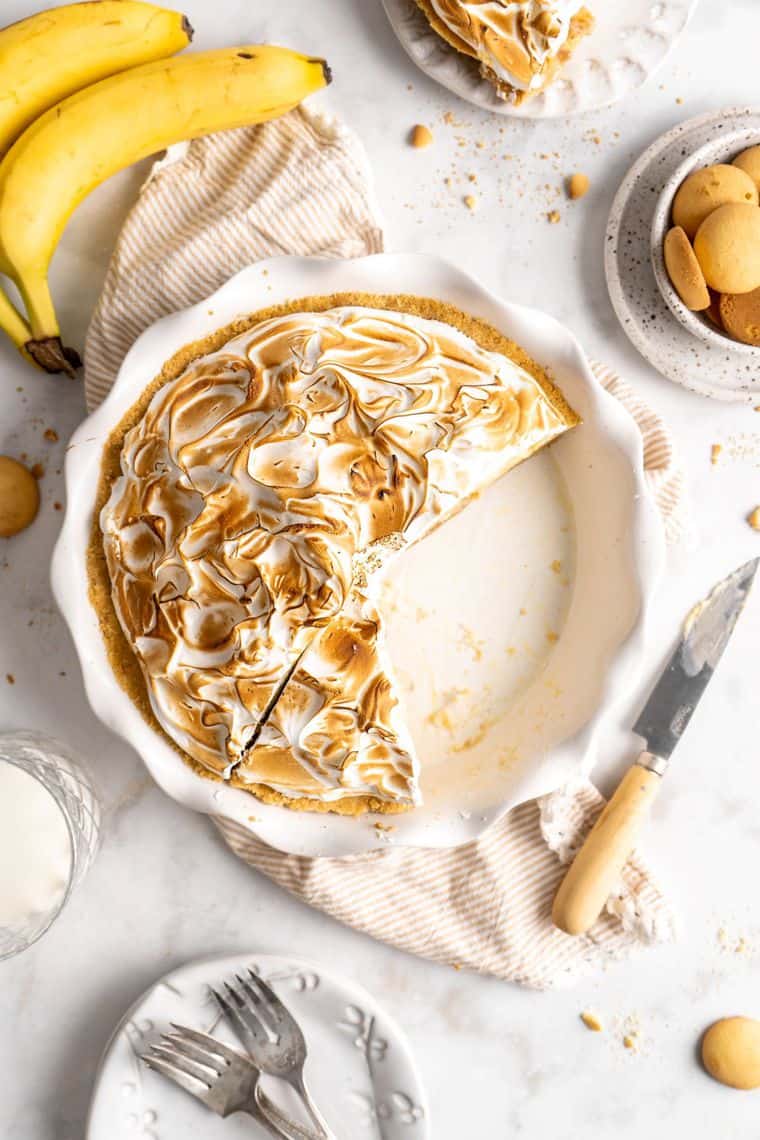 STORING LEFTOVER BANANA PUDDING PIE
Any leftover Banana Pudding Pie can either be covered with plastic wrap or transferred to an airtight container, then refrigerated for up to 3 days. Note that the longer you keep pudding in the fridge, the more it loses its flavor and texture. I would not recommend attempting to freeze this pie.
MORE GRANDBABY CAKES BANANA PUDDING INSPIRED RECIPES
There are more ways than one to enjoy some banana pudding! Try out a few more of my FAVORITE recipes to find your go-to:
*Did you make this recipe? Please give it a star rating and leave comments below!*
Recipe adapted from Southern Living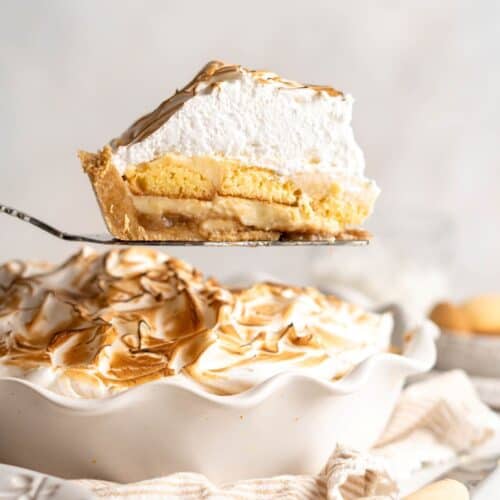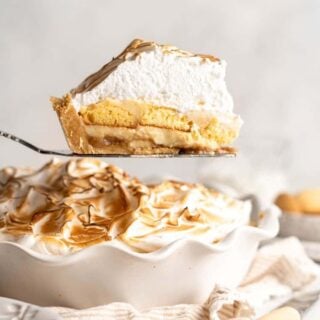 Banana Pudding Pie
Banana Pudding Pie - Adapted from a Southern Living recipe, this banana pudding pie recipe has caramelized bananas along with a pudding filling to die for!
Print
Pin
Rate
Ingredients
1

box

vanilla wafers

divided

1/2

cup

butter

melted

4

large bananas

sliced

1/2

cup

light brown sugar

firmly packed

1/4

cup

butter

1/4

tsp

ground cinnamon

3/4

cup

sugar

1/3

cup

all-purpose flour

2

large eggs

4

egg yolks

2

cups

milk

2

tsp

vanilla extract

4

egg whites

1/2

cup

sugar
Instructions
Set aside 30 vanilla wafers; pulse remaining vanilla wafers in a food processor 8 to 10 times or until coarsely crushed. (Yield should be about 2 1/2 cups.) Stir together crushed vanilla wafers and 1/2 cup melted butter until blended. Firmly press on bottom, up sides, and onto lip of a 9-inch pieplate.

Bake at 350° for 10 to 12 minutes or until lightly browned. Remove to a wire rack, and let cool 30 minutes or until completely cool.

Cook brown sugar, cinnamon and 1/4 cup butter in a large skillet over medium heat, stirring constantly, 2 to 3 minutes or until bubbly. Add banana slices; cook 2 to 3 minutes or until thoroughly heated. Remove from heat.

Arrange caramelized banana slices evenly over bottom of crust.

Prepare Vanilla Cream Filling. Whisk together 3/4 cup of sugar, 1/3 cup of flour, 2 large eggs, 4 egg yolks, and 2 cups of milk in a heavy saucepan. Cook over medium-low heat, whisking constantly, 8 to 10 minutes or until it reaches the thickness of chilled pudding. (Mixture will just begin to bubble and will be thick enough to hold soft peaks when whisk is lifted.) Remove from heat, and stir in vanilla. Use immediately.

Spread half of hot filling over bananas in pie plate; top with 20 vanilla wafers. Spread remaining hot filling over vanilla wafers. (Filling will be about 1/4 inch higher than top edge of crust.)

Beat egg whites at high speed with an electric mixer until foamy. Add remaining sugar, 1 Tbsp. at a time, beating until stiff peaks form and sugar dissolves. Spread meringue evenly over hot filling, sealing the edges.

Bake at 350° for 10 to 12 minutes or until golden brown. Remove from oven, and let cool 1 hour on a wire rack or until completely cool. Coarsely crush remaining 10 vanilla wafers, and sprinkle evenly over top of pie. Chill 4 hours.
Nutrition
Calories:
3506
kcal
|
Carbohydrates:
419
g
|
Protein:
56
g
|
Fat:
182
g
|
Saturated Fat:
106
g
|
Cholesterol:
1523
mg
|
Sodium:
1823
mg
|
Potassium:
1230
mg
|
Fiber:
1
g
|
Sugar:
384
g
|
Vitamin A:
6560
IU
|
Calcium:
826
mg
|
Iron:
6.2
mg