Sweet, earthy Yukon Gold Potatoes are sautéed until golden brown then layered with shredded chicken, cheese, cherry tomatoes and eggs to create the ultimate Cheesy Chicken Potato Frittata. Spiced and well-balanced, this frittata is a delightful way to start any day!!
Disclosure: I partnered with Rubbermaid for this recipe post, but all opinions expressed here are my own. I am grateful for authentic partnerships like this.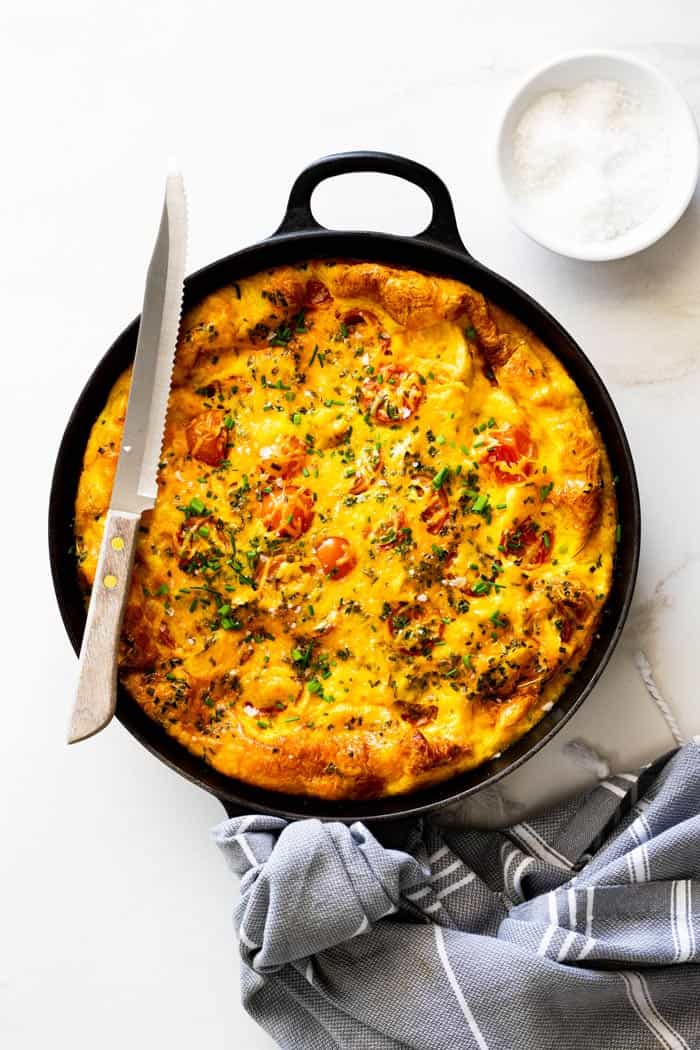 With four adults and one very hungry toddler to feed, my house is always in need of food. Seriously, groceries go faster around here than I ever thought possible. With that being said, if I'm making food, I'm making A LOT. And that is where quick, simple and bulky recipes come into play!
Our household is one that is BIG on breakfast. We simply can't start the day without a boost of caloric energy. But y'all, I don't have time to be flipping flapjacks and kneading biscuits on random Tuesday mornings. You feel me? So instead, I bust out the cast-iron skillet and toss together an easy, delicious Cheesy Chicken and Potato Frittata!
Each luxurious bite of this frittata is full of sharp, rich cheese, tender chicken and sweet, nearly-caramelized potatoes. Can you imagine a better way to start your day? I can't.
What do you say we kick off our morning on a hearty, savory note?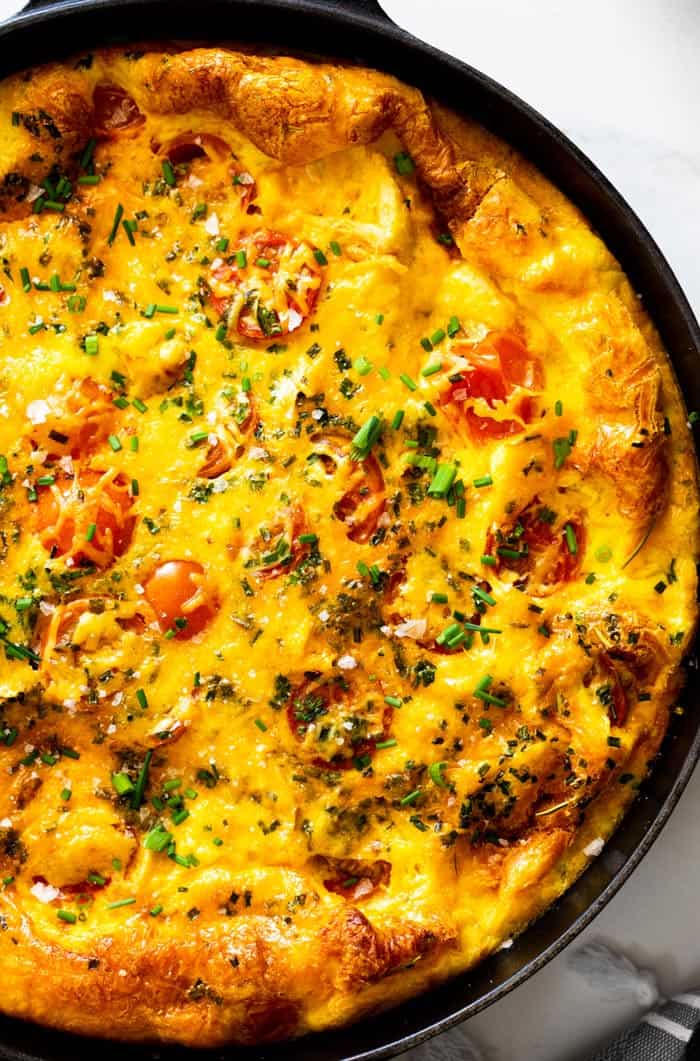 What is a Frittata?
A Frittata is an Italian dish similar to an omelette or crustless quiche. The dish is then enriched with added meat, cheese and assorted vegetables. The beauty of a frittata is in its ability to tackle just about anything you throw in it! Whether you've got goat cheese, asparagus, tomatoes or a few handfuls of leftover rotisserie chicken, your frittata is guaranteed to be delicious.
Ingredients
Now that we've covered what exactly a frittata is, let's talk about how it's made. I prefer to use a large cast-iron or non-stick (oven-safe) skillet to build and bake my frittatas. From the ground up we're using simple, pantry-staple ingredients that layer to form a big 'ole breakfast pie.
This recipe works quickly so be ready to standby, spatula and oven mitts in hand! But first, get out your ingredients:
Vegetable Oil– using a neutral, high-heat oil allows for proper browning (of the potatoes) without any added flavor.
Eggs– the base of a frittata is made with eggs. It's important to use fresh, room-temperature eggs to achieve a light, airy texture.
Shredded Chicken Breasts– if you're in a bind, shredded leftover rotisserie chicken works great! Season any chicken to taste with salt, pepper and any other spice of choice.
Cherry Tomatoes– each tomato is a burst of sweet, slightly acidic juice that cuts through the heavier ingredients.
Sharp White Cheddar Cheese– is there anything that can't be made better with pungent, rich cheese? I don't think so!
Yukon Gold Potato– gold potatoes are tender, sweet and downright delightful when perfectly browned.
Sweet Onion– once cooked, the bright, crisp onions become caramelized and pair beautifully with the sweetness of the potatoes.
Unsalted Butter– pads of butter are added to layer in richness and make for creamier eggs.
Heavy Whipping Cream– just like the butter, cream helps to add decadence. Believe me, you deserve it.
Chopped Chives– fresh herbs add a brightness that lightens up the entire dish.
Smoked Paprika & Dried Rosemary– just a pinch or two flavors the potatoes to perfection. The aromatic spices travel throughout the frittata and create something magical.
How to Make a Chicken Potato Frittata
1. Sizzle, Sizzle, Potato Crisp!
Fire up your 13" cast iron skillet (or any oven-ready buddy) to medium heat, and make it rain with vegetable oil. We're starting this food party right!
Toss in those diced potatoes, and hit 'em up with salt and pepper. Cook 'em until they're the talk of the town: crispy, golden, and just tender enough. We're talking 10-15 minutes of flavor town magic.
2. Onion's Grand Entrance & Preheat Alert!
With your oven getting lit to 400 degrees, it's time for the onions to join the skillet soiree. Cover and cook for about 10 minutes, giving 'em a stir now and then. It's not a party without a little mingle!
3. Flavor Layering Like a Boss:
Take off the lid, dial down the heat, and welcome smoked paprika and dried rosemary to the mix. Stir to get everyone acquainted.
Next, layer on that tasty shredded chicken, followed by cherry tomatoes and pats of butter sitting pretty on top. Flavor layers? Yeah, we went there.
4. Egg Mixture Extravaganza:
In a bowl big enough to party in, whisk those eggs and heavy whipping cream together. Then, pour this creamy dream into your skillet. It's all coming together now!
5. Cheese, Please:
Sprinkle a generous handful (or two) of shredded white cheddar and chopped chives right on top. Because cheese is life, obviously.
6. Bake & Wiggle Test:
Cover your masterpiece with a lid or foil and bake for 10-15 minutes. You're looking for light, fluffy, and golden perfection around the edges.
Now, the wiggle test: don your oven mitts, give the skillet a gentle shake, and check the frittata's dance moves. No wiggling in the middle? Then, chef, your frittata is ready for the spotlight!
7. The Grand Finale:
Let it cool for 5-10 minutes. Hit it with a dash of fresh black pepper and kosher salt to taste. Then slice, serve, and watch those slices disappear!
Leftover Storage and Reheating
Frittatas are a great option for meal-prep! Lately, I've been obsessed with starting the week by making this frittata and packing away the leftovers for that week's breakfasts'.
Be sure to allow the potato frittata to completely cool then, cut into individual portion sizes. Store each piece in an airtight container and place in the fridge. Once refrigerated, leftover frittatas will keep for 3-4 days.
I prefer to use Rubbermaid Brilliance Food Storage containers; they are tightly sealed with vented lids for easy fridge-to-microwave reheating. That means no-hassle mornings! When ready to reheat, move your container to the microwave and blast for 15-20 seconds.
Prefer to use the oven? Preheat the oven to 350 degrees, place the frittata in an oven-safe dish and reheat for 10-20 minutes (based on the size of the slice).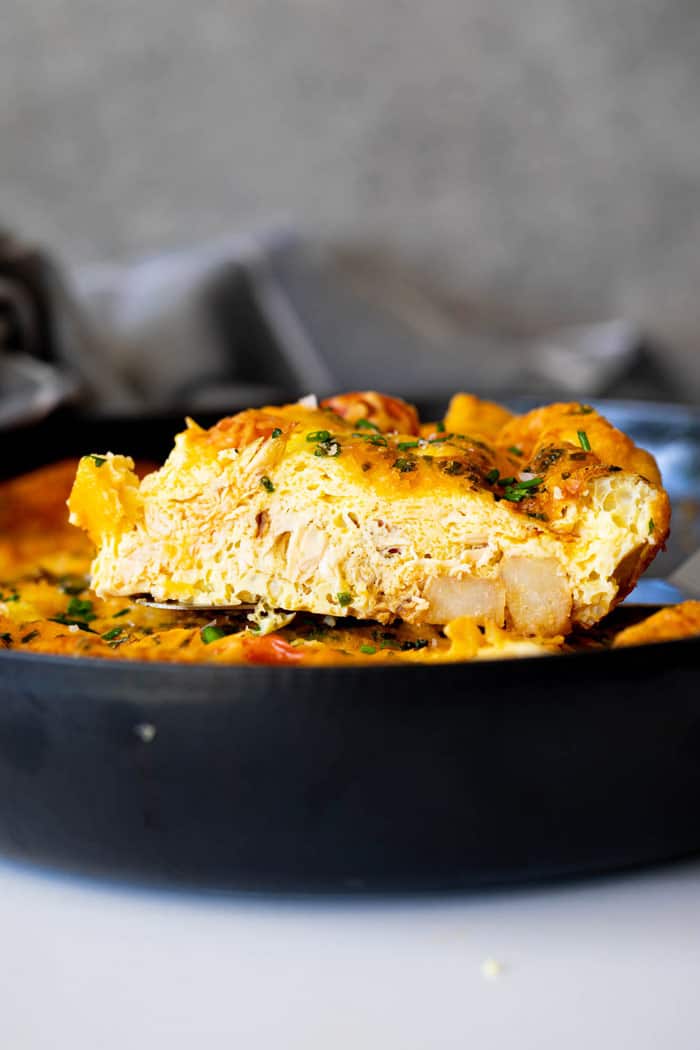 Best Breakfast Recipes
I'm not one to be corny (that's a lie) but I will say, breakfast is the most important meal of the day. Honestly, you don't want to witness a morning in my house where I haven't had a nibble before noon. From a simple smoothie to a couple fried eggs, I'll eat just about anything!
But, when I'm looking for something zippy and fun, I whip up one of these recipes: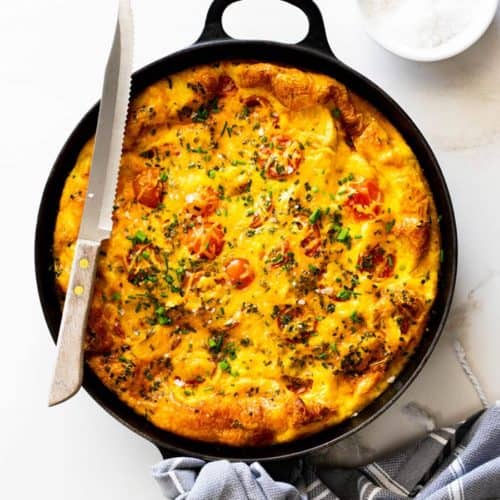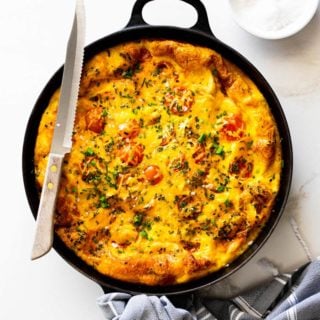 Cheesy Chicken Potato Frittata
Sweet, earthy Yukon Gold Potatoes are sautéed until golden brown then layered with tender shredded chicken, sharp white cheddar, juicy cherry tomatoes and fresh eggs to create the ultimate Cheesy Chicken and Potato Frittata. Spiced and well-balanced, this frittata is a delightful way to start any day!
Print
Pin
Rate
Ingredients
1

tbsp

vegetable oil

1

medium yukon gold potato

kosher salt and pepper

to taste

1/2

cup

diced sweet onion

about 1/2 an onion

1/4

tsp

smoked paprika

1/4

tsp

dried rosemary

1

cup

shredded cooked chicken breasts

1/2

cup

small cherry tomatoes

4

tbsp

unsalted butter

cut in pats

10

large eggs

3 1/2

tbsp

heavy whipping cream

1/2

cup

shredded white cheddar cheese

3

tbsp

chopped chives
Instructions
Heat a 13" cast iron (or any deep, oven-safe) skillet to medium heat. Drizzle in vegetable oil to coat the bottom of the pan.

Once heated, add in diced potatoes and season with salt and pepper. Cook for 10-15 minutes, stirring occasionally. Potatoes should be crisp, golden brown and slightly tender.

Preheat the oven to 400 degrees.

Add diced onions and cover with lid. Let cook for 10 minutes, occasionally removing the lid to stir.

Remove the lid, turn heat on low and add smoked paprika and dried rosemary. Stir to combine.

Layer on shredded chicken, spread out the cherry tomatoes on top of chicken then add pats of butter on top of that.

In a large bowl, whisk together the eggs and heavy whipping cream. Carefully pour mixture into the skillet.

Top with shredded white cheddar cheese and chopped chives.

Cover with a lid or aluminum foil and bake for 10-15 minutes or until light, fluffy and golden around the edges.

Do the wiggle test! Carefully (with mitten hands) hold the skillet and slightly giggle the frittata. If the middle doesn't wiggle, you're good to go!

Cool for 5-10 minutes. Top with fresh ground black pepper, kosher salt then, slice and serve!
Notes
Feel free to use whatever you have on hand.  You can replace chicken with another cooked protein you like.  You can use other types of potatoes even hash browns and use diced tomato as well.
Nutrition
Calories:
246
kcal
|
Carbohydrates:
6
g
|
Protein:
14
g
|
Fat:
19
g
|
Saturated Fat:
10
g
|
Cholesterol:
249
mg
|
Sodium:
142
mg
|
Potassium:
249
mg
|
Fiber:
1
g
|
Sugar:
1
g
|
Vitamin A:
774
IU
|
Vitamin C:
7
mg
|
Calcium:
94
mg
|
Iron:
1
mg