This Apple Crisp French Toast has decadent layers of moist French bread, rich creamy custard, buttery spiced apples and crumbly streusel that bake together to perfection! If you love other amazing breakfast and brunch recipes like this, try my Best Bread Pudding, Apple Brown Betty, Pumpkin Spice French Toast, French Toast Pancakes, This Easy Breakfast Casserole, Lemon Ricotta Pancakes or Chicken and Waffles.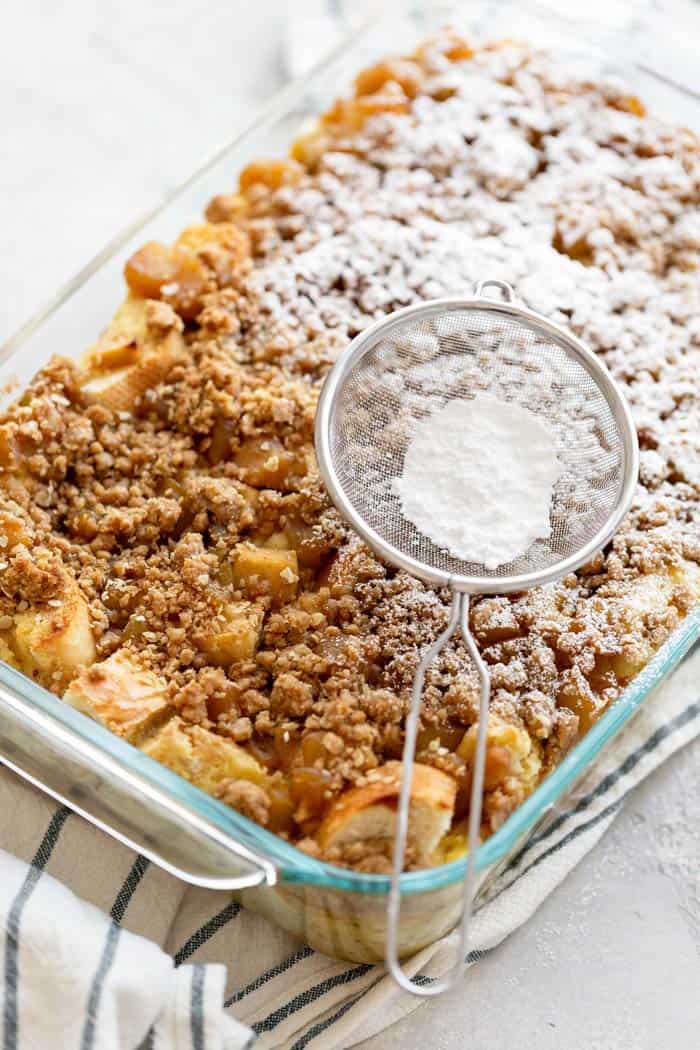 The Most Delicious Fall and Winter Breakfast: Apple Crisp Overnight French Toast!
We all know the age old adage that "breakfast is the most important meal of the day" and I will be the first one to endorse it. Whenever I visited my Big Mama, she made the biggest breakfast every single morning. We are talking grits, eggs, bacon, salmon croquettes, biscuits and everything in between.
Nowadays, I cannot survive a day without having breakfast. When I first get up in the morning I find myself starving and in need of fuel: the kind of fuel that will keep me going all day. Most mornings, it is a smoothie but during the holiday season especially on Thanksgiving and Christmas, I put a little extra effort in for the ones I love. That's where this Apple Crisp Overnight French Toast comes in! (It's a mouthful I know haha). I made this Overnight French Toast in a Pyrex Deep.
My current obsession with Pyrex's new deep baking dishes is fierce. Their latest line of glass dishware holds up to 50% more than your current glass bakeware. Yes seriously 50% more! I can't think of a better baking dish for family gatherings during the holidays. That's why I rely on Pyrex to help me create recipes that I choose to pass down from my family to yours.
This recipe makes for the perfect fall brunch menu item that will make the whole family feel like their having dessert for breakfast!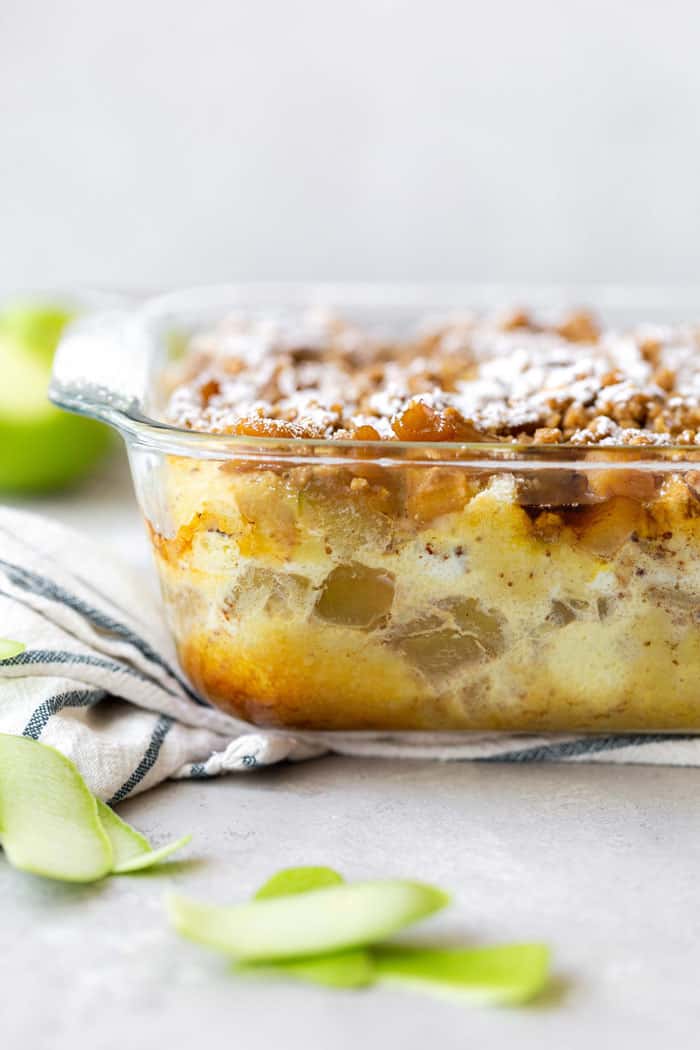 What Is Apple Crisp?
Most know that a classic apple crisp recipe is basically sliced apples that are baked and topped with a crumbly and buttery streusel topping. They bake into absolutely perfection. Most people top them with caramel, fresh whipped cream or delicious vanilla ice cream.
An Overnight Apple Crisp French Toast is the ultimate combination of two different sweet treats into one. You take the tender, spiced apples and the crunchy streusel topping from the crisp and the moist, caramelized bread from French toast to make this delicious mutant breakfast.
French Toast and Apple Crisps are already very similar in that they contain a few of the same spices and evoke a beautifully warm feeling in your belly. Creating a recipe where the two could come together seemed like such a natural thing to do. Just as you would add cinnamon apples to your morning oatmeal, adding a layer of apple crisp onto your French toast is natural. Right?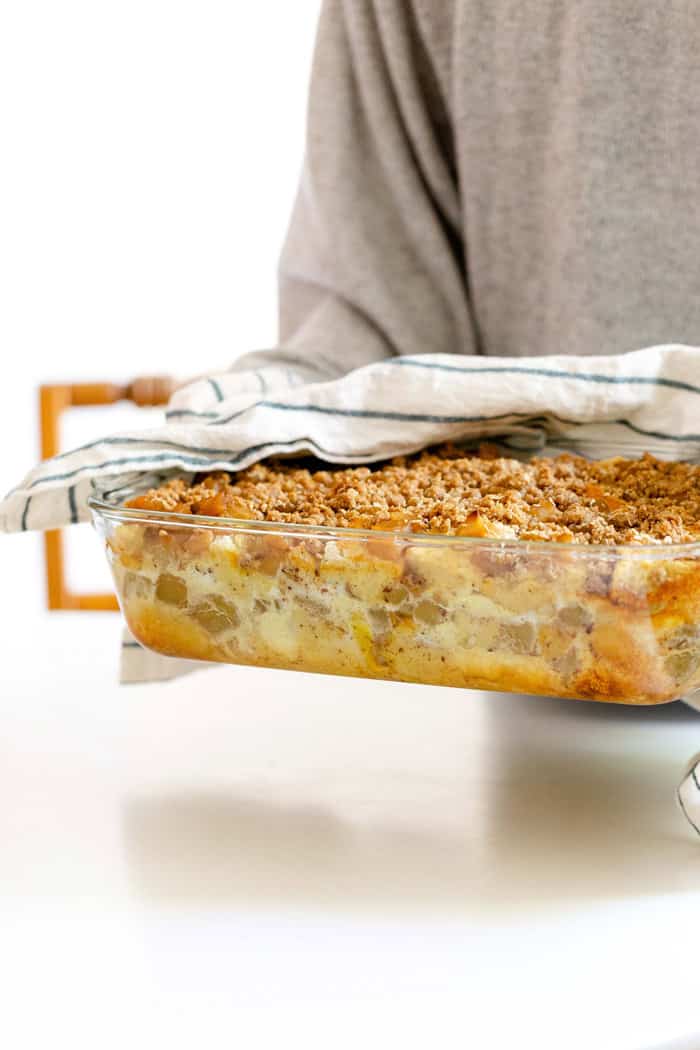 How To Make Overnight French Toast Recipe
This recipe is all about layering, spices and overnight resting. If you can nail those three elements then you are golden. From start to finish (not including the overnight resting) this recipe takes just over an hour to complete with only about 20 minutes of that being active work. Easy!
Start by selecting your apples! Granny Smith Apples are currently in season and they supply the perfect balance of sweet and tart while also maintaining a wonderful texture after being cooked. But Pink Lady, Honeycrisp or Braeburn will work as well!
Tip 1: Taste every element of this recipe as it's being made!
This way, you will make sure that the balance of spices is to your liking. Add more brown sugar for a stronger molasses flavor or layer on warmth with a touch of more nutmeg. It's yours to play with!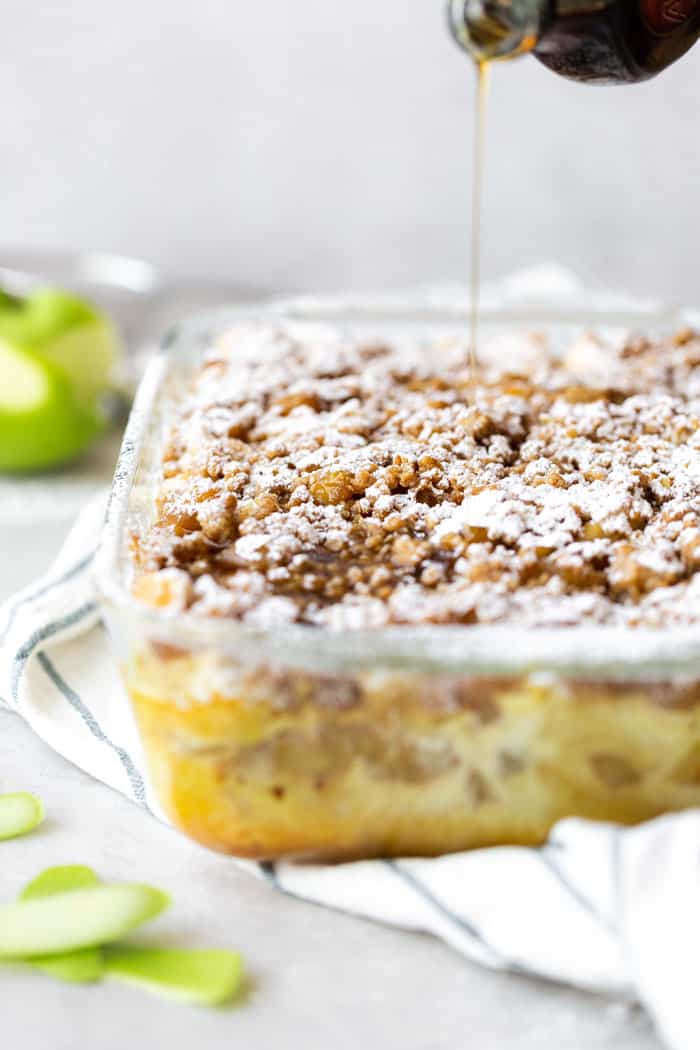 Tip 2: Use day old French bread for your French toast mixture!
This will help create a more substantial base that won't succumb to your liquid ingredients. You could even slightly toast the bread in the oven at a low temperature before use. Toasting the bread will dry out some of its moisture.
Tip 3: Keep watch during the last 10 minutes of baking!
This recipe can dry out quickly if left in the oven too long. The middle should be completely set. Lots of eggs in this one so be sure not to under bake either!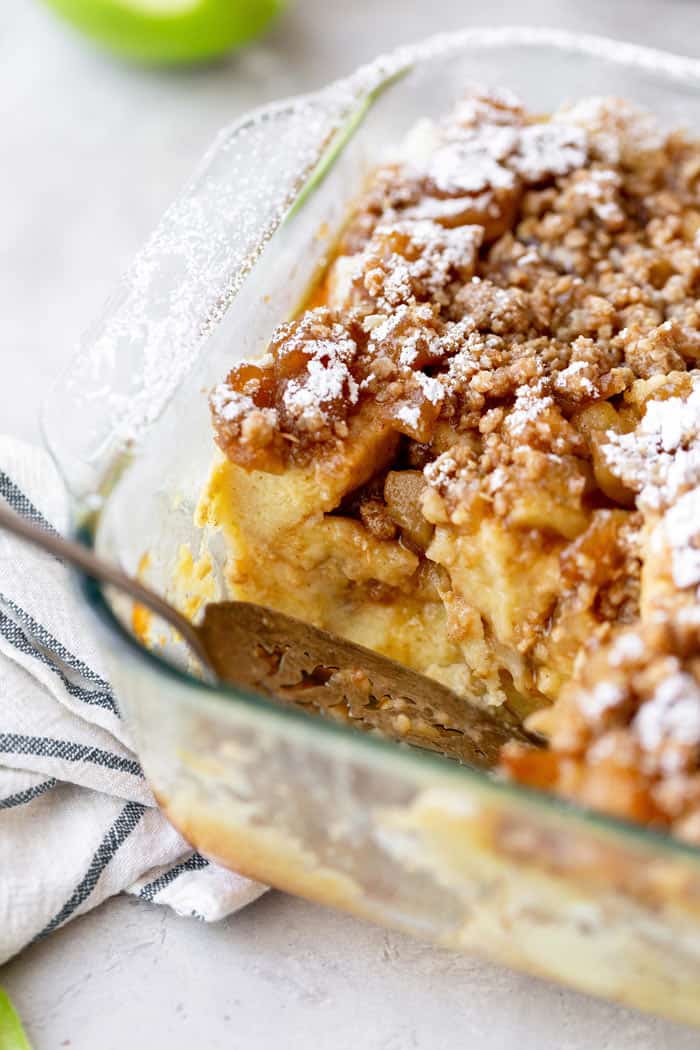 Using Pyrex for Overnight French Toast Casserole
An overnight recipe is the best way to make your morning just a little less hectic and even give you some extra time to sleep in. While you're fast asleep your crisp is soaking up all those spices and getting ready to be devoured warm and smothered with caramel. Is there anything better than that?
Okay, so you guys know I always keep you in the loop when it comes to my favorite kitchen gadgets. I'm a big believer in investing in your kitchen. The tools you choose to use are often what determines the ease of the recipe and ultimately, its outcome.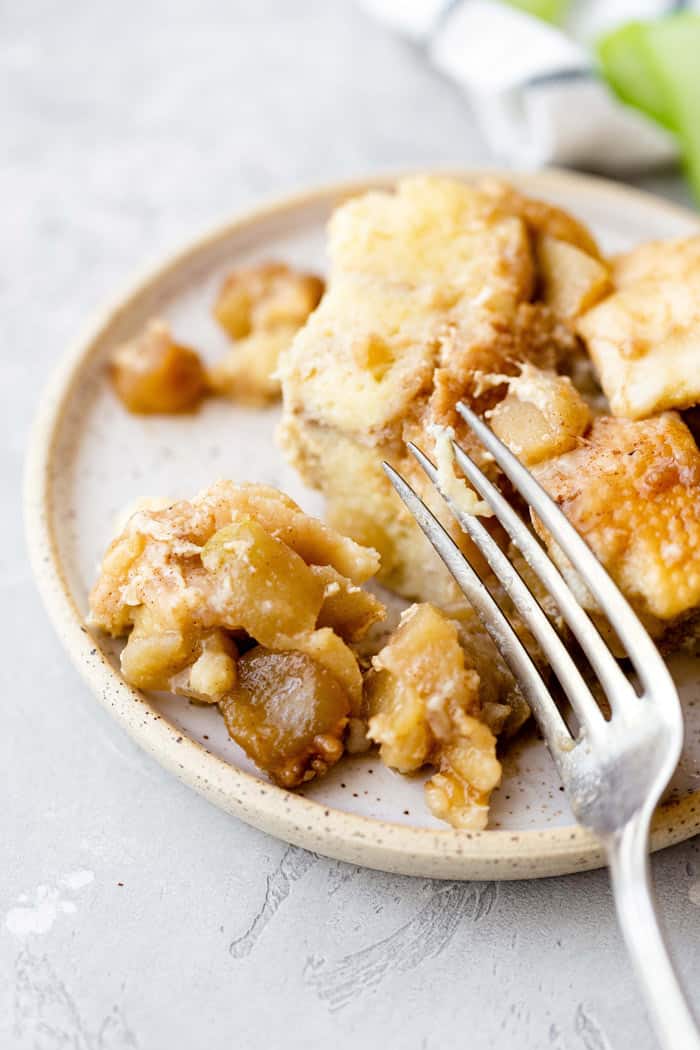 Pyrex Deep is perfect for recipes like this or my Baked Spaghetti and Punch Bowl Cake. They help you feed plenty, especially during the holiday season. Pyrex is a company that prides itself on quality cookware made to withstand the trials and errors that happen in every kitchen.
When baking or storing anything overnight, (especially anything sticky) you run the risk of staining your dish or having odors and flavors absorbed into the dish. Pyrex's high-quality tempered glass resists all of that while also being easy to clean. That means less work for me and just a little bit of work for my dishwasher. So if you don't have a Pyrex in your pocket, this recipe is the excuse for you to get one.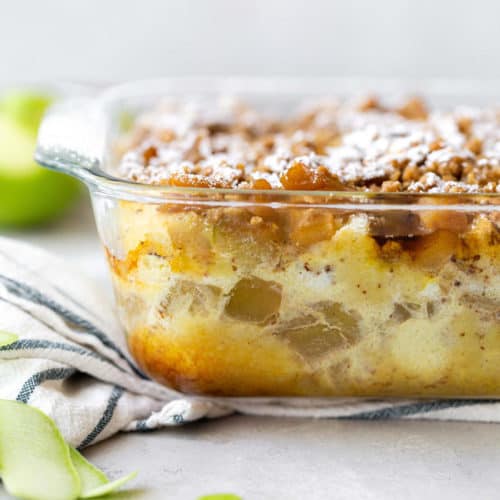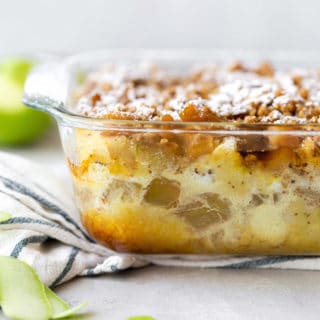 Apple Crisp French Toast
This Apple Crisp French Toast has decadent layers of moist French bread, rich creamy custard, buttery spiced apples and crumbly streusel that bake together to perfection taking your breakfast game up a notch!
Print
Pin
Rate
Ingredients
For the Apples
1/3

cup

brown sugar

3

tbsp

unsalted butter

1/4

cup

apple cider

1

tsp

ground cinnamon

1/4

tsp

ground nutmeg

6

cups

peeled and chopped Granny Smith Apples
For the French Toast
8

large eggs

1

cup

whole milk

1

cup

half and half

3

tbsp

light brown sugar

1 1/2

tsp

ground cinnamon

1/2

tsp

ground nutmeg

2

tbsp

vanilla extract

1

14-15 oz loaf French bread

cut into cubes or whole and stacked up against the baking dish
For the Streusel Topping
1/3

cup

quick cooking oats

1/3

cup

light brown sugar

1/3

cup

all purpose flour

3/4

tsp

ground cinnamon

pinch of salt

3

tbsp

unsalted butter

melted1/3

1/3

cup

caramel sauce

optional
Instructions
For the Apples
In a large saucepan over medium heat, combine brown sugar, butter and apple cider. Stir until combined.

Once the mixture comes to a simmer add the cinnamon, nutmeg and apples. Cook, partially covered, stirring occasionally, until the apples are tender and the liquid has thickened, about 15 minutes.

Set aside to cool to room temp.
For the French Toast
In a large bowl, whisk eggs, milk, half and half, brown sugar, cinnamon, nutmeg, and vanilla extract.

Grease a 9x13 Pyrex deep. Place half the bread cubes into the casserole dish.

Top with half the apples. Place the remaining bread cubes on top and pour the egg mixture evenly over the top.

Spoon the remaining apple mixture over the top. Allow everything to soak together overnight in the refrigerator.  Continue with the topping.
For the Topping
In a medium bowl combine oats, flour, brown sugar, cinnamon, nutmeg and salt. Add melted butter and stir until well combined.
To Bake
Remove french toast dish from refrigerator and allow to come to room temperature for about 30 minutes.

Preheat oven to 350°F. Crumble the topping over the top of the French toast and bake uncovered for 40-50 minutes or until the center is completely set.

Optional: Drizzle with caramel sauce then sprinkle with powdered sugar.

Serve warm with maple syrup and/or whipped cream.
Notes
This recipe can be doubled or halved based on needs.  If you select to double the recipe to completely fill the Pyrex Deep Dish as shown here, make sure to double all things except the streusel topping and use 10 cups of apples (about 8 apples).  You will also need to bake an additional 30-40 minutes because it is much thicker.
Remember to bring french toast casserole back to room temperature before baking if stored in refrigerator overnight.
Nutrition
Calories:
365
kcal
|
Carbohydrates:
54
g
|
Protein:
10
g
|
Fat:
12
g
|
Saturated Fat:
7
g
|
Cholesterol:
134
mg
|
Sodium:
258
mg
|
Potassium:
248
mg
|
Fiber:
3
g
|
Sugar:
24
g
|
Vitamin A:
477
IU
|
Vitamin C:
3
mg
|
Calcium:
103
mg
|
Iron:
2
mg