This Bacon Cheddar Biscuits recipe are perfectly flaky, fluffy and filled with cheesy, buttery, and bacon flavor. Different from these 7 Up Biscuits and Cheddar Bay Biscuits, and Sour Cream Biscuits, they will become your favorite quick bread for breakfast and dinner alike. Serve these biscuits with Salmon Croquettes, Grits and Hash Browns for a down home Southern breakfast.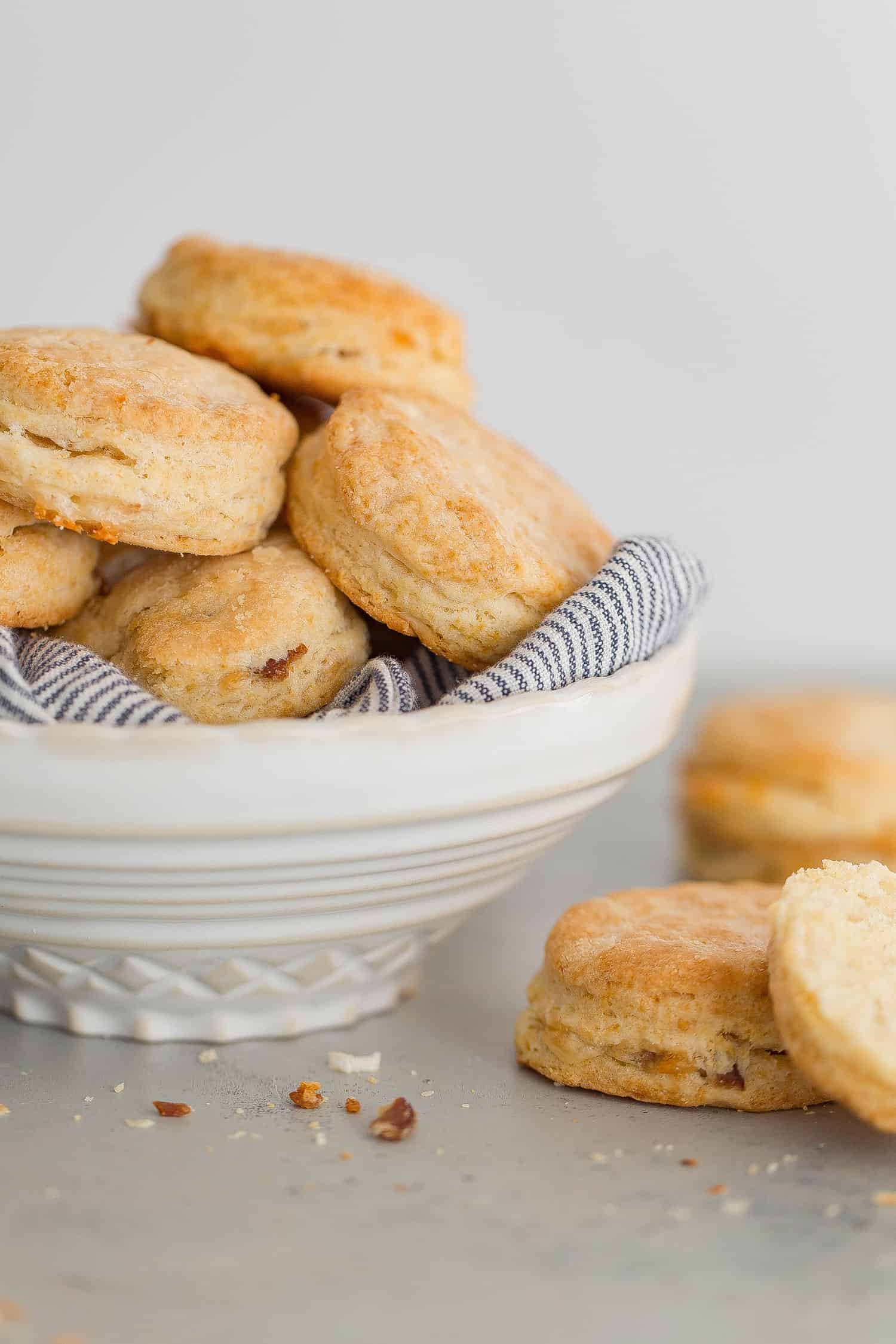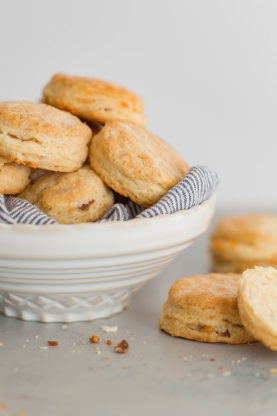 Perfect Cheddar Biscuits with Bacon!
My love affair with biscuits has been a long one. I would probably even consider it a marriage. We have been in this thang going steady for as long as I can remember.
Watching my big mama make biscuits over and over again was one of my favorite past times growing up. She literally made them every single day and just recently stopped making them for my big daddy's breakfast at the age of 91. I can't imagine making biscuits every single day for that many years but she did it without complaint and with every ounce of love she had.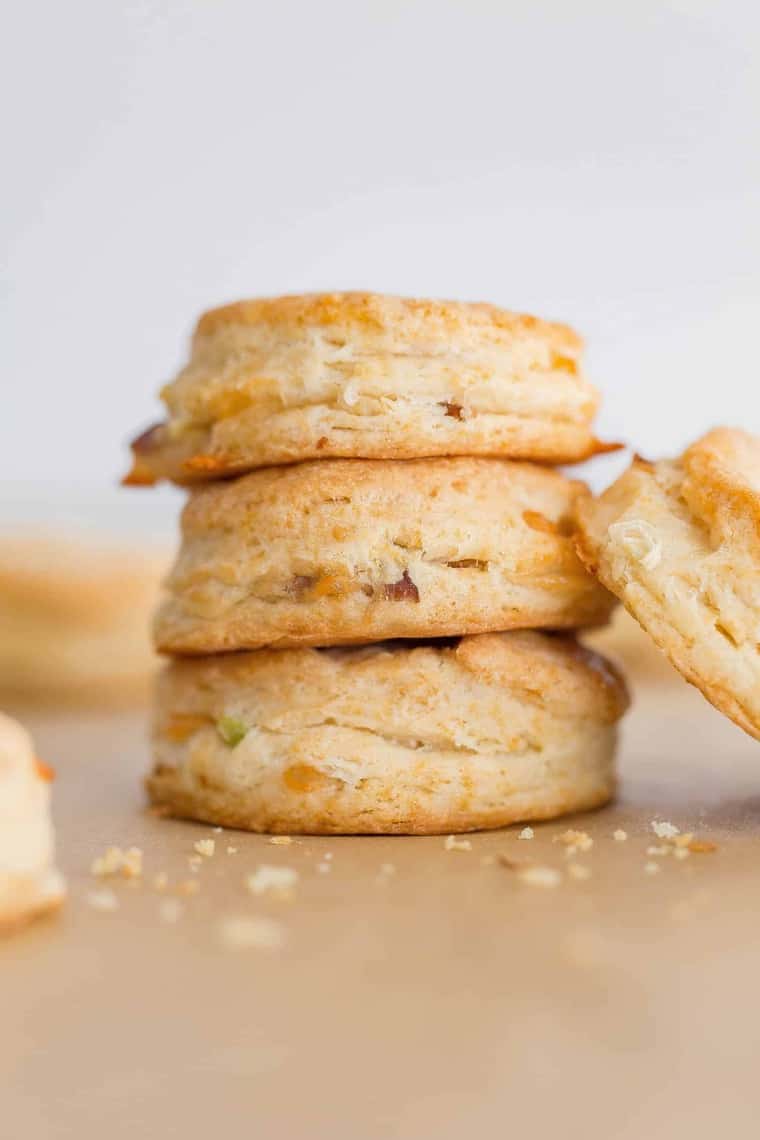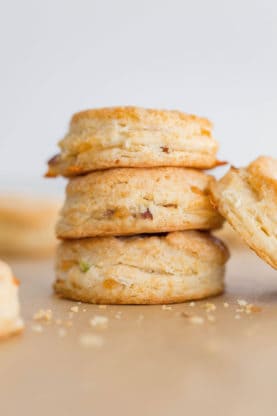 Ingredients for Cheddar Biscuit Recipe with Bacon
I'm always drawn to trying new biscuit recipes for this very reason. I love being connected to my past memories in that way. This Bacon Cheddar Biscuits recipe with Green Onions drew me in from the very moment I saw them in the Brown Sugar Kitchen Cookbook.
Here are some of the key ingredients in her biscuits that make them taste irresistible!
Flour
Leavening
Butter
Buttermilk
Cheese
Bacon
Onions
You will hear a lot of Southerners talk about what flours to use for biscuit making. My grandmother used Martha White and White Lily so you can use those if you wish. For this recipe, it requires both baking soda and baking powder to give it a beautiful lift.
Butter is essential for biscuit making. This recipe already contains salt so make sure your butter is high quality and unsalted.
A liquid element is always needed for biscuit making. Most people use milk or of course buttermilk. Buttermilk is special because it adds tang and additional flavor. Because of its additional acid, you must not fool around with the leavening amounts. They are perfect as is.
This recipe contains sharp cheddar cheese which really elevates the flavor so you really taste the cheese. However I really feel like you could change this cheese to a milder or medium of sharp is too heavy or intense for you.
Finally the bacon and chopped green onions add additional salty flavor and also a nice change in texture! You will love them here.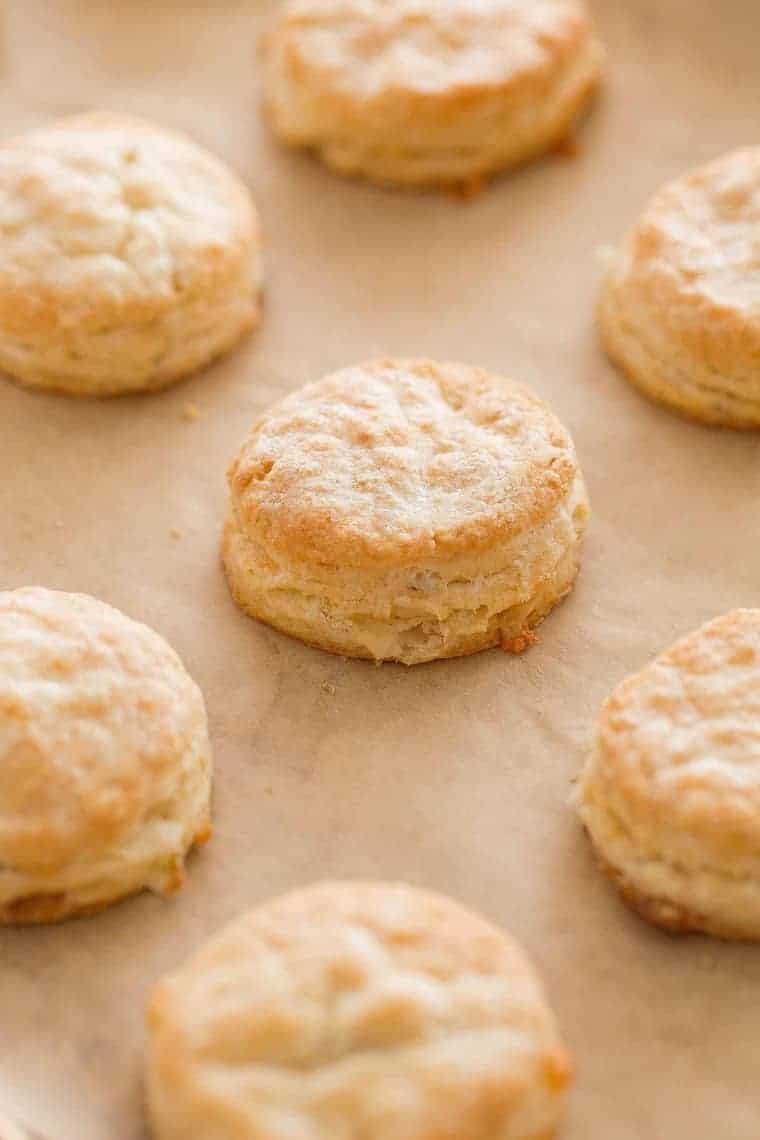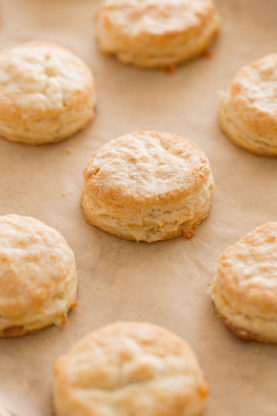 Tips For How To Make Cheddar Biscuit Recipe
Here are some tips to make sure that your biscuits turn out perfectly! You can also apply these tips to any biscuit making you do in the future.
Tip 1: Use Cold Ingredients
Cold ingredients are super key in making perfectly flaky biscuits. Cold butter is essential and so is cold buttermilk. You want to make sure that once your biscuit dough comes together, it is still cold. If not, put it in the refrigerator to let it firm back up a bit!
Tip 2: Don't Overhandle The Dough
People have a tendency to overwork biscuit dough and it doesn't need it. Once ingredients come together, form it into a ball and let it be.
Tip 3: Laminate the Dough for Extra Flakiness
In this recipe, you will roll out dough and stack it. This creates additional pockets of air and butter creating the most flaky biscuits ever. It is a fun and more new aged trick that works great! Basically my Big Mama never did this in these Biscuits but it is a great tip!
Tip 4: Brush Tops Before Baking For Golden Brown Color
This will give a gorgeous golden color. You can use an egg wash or cream which is used here.
Finally these biscuits come from Tanya Holland, the mastermind behind the famous Oakland eatery Brown Sugar Kitchen.
You may have also recently seen her killing it on Top Chef. I still haven't been there to eat, and cannot wait until I can try it when I finally visit! I hear it is absolute perfection.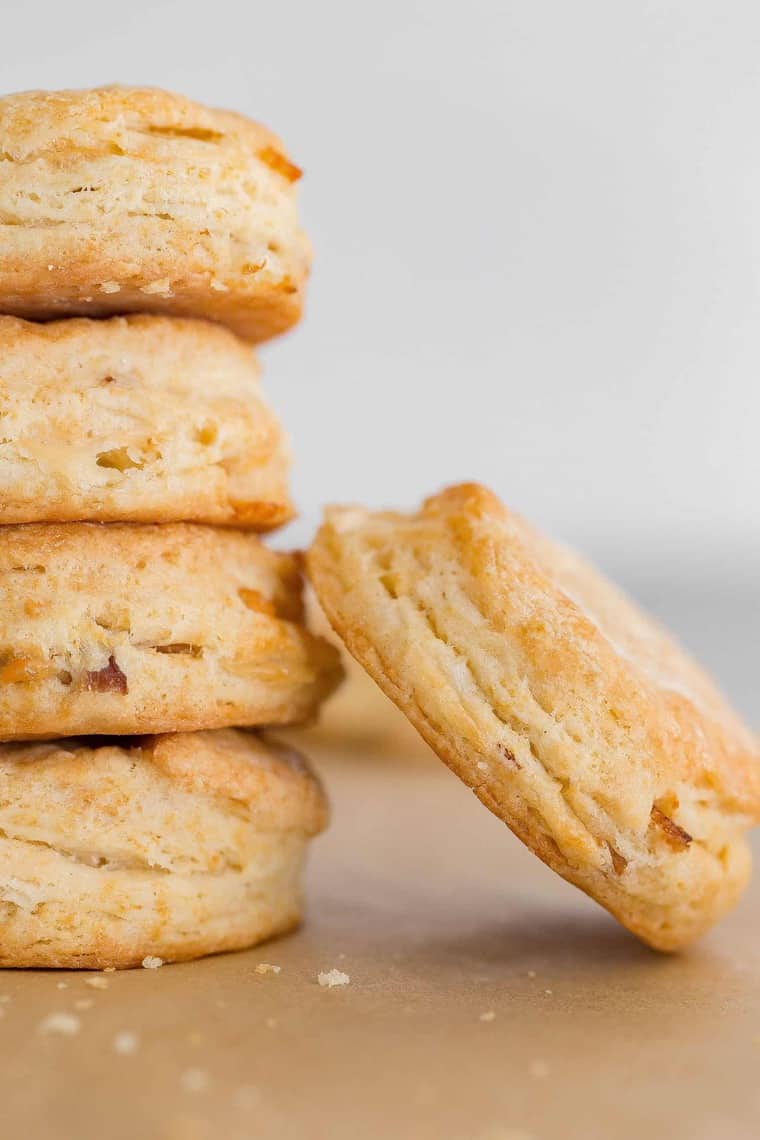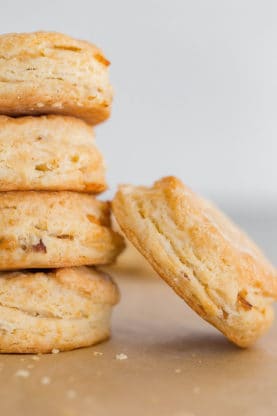 If this bacon cheddar biscuits recipe are any indication of how amazing my visit will finally be, I can't wait to get there! These biscuits are really incredible. So flaky, buttery, and fluffy just like biscuits should be. The process for rolling out the dough into separate rectangles and layering with the cheddar, bacon and onion combo was so unique and really made all the difference.
Give this Bacon Cheddar Biscuits recipe a try because they are sensational. Even if you don't have the biscuit memories I have, it can definitely be time to create some of your own.
For more incredible breakfast ideas, check out these posts: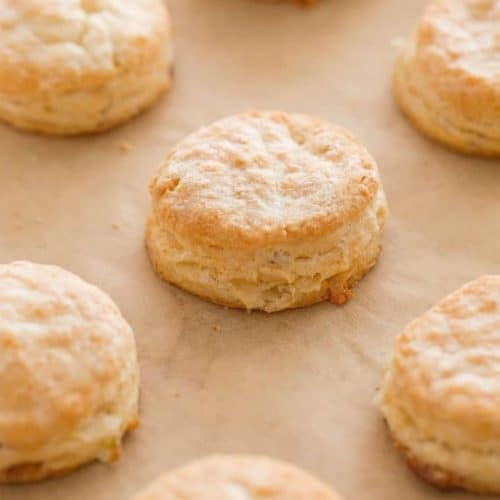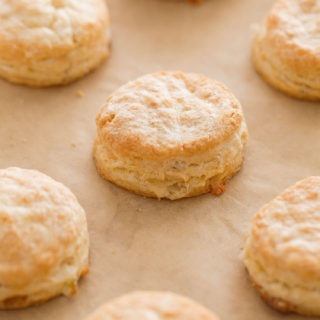 Bacon Cheddar Biscuits Recipe
This Bacon Cheddar Biscuits are perfectly flaky, fluffy and filled with cheesy, buttery, and bacon flavor!  
Print
Pin
Rate
Ingredients
3 ½

cups

all-purpose flour

1

tablespoon

baking powder

2

teaspoons

kosher salt

1

teaspoon

baking soda

1 ¼

cup

unsalted butter

cut into cubes and chilled

1 ½

cups

buttermilk

2

ounces

sharp cheddar

grated

2

slices

cooked bacon

chopped

2

green onions

white parts only, chopped

Heavy cream for brushing
Instructions
Preheat the oven to 425. Line two baking sheets with parchment paper.

Using a stand mixer fitted with a paddle attachment, combine the flour, baking powder, salt and baking soda and mix briefly on low speed just to combine. Add the chilled butter and continue mixing on low speed until the butter is cut into pea-sized pieces. Drizzle in the buttermilk and mix just until the dough forms a ball. Divide the dough into thirds.

In a small bowl, combine the cheddar, bacon and green onions. On a lightly floured surface and with a lightly floured rolling pin, roll out one piece of dough to an 11-by-8 1/2 -in/28-by-21.5 cm rectangle and layer on top of the dough with the cheddar mixture. Sprinkle the second layer of dough with the remaining half of the cheddar mixture. Roll out the remaining piece of dough and layer it on top. Gently roll out the dough layers to make a 12-by-10-in/30.5-by-25-cm rectangle.

Using a 2-in/3-cm biscuit cutter, stamp out 18 biscuits and put them on the prepared baking sheets. Brush the tops with cream. Bake until just starting to turn golden but before the bottoms begin to brown, about 15 minutes. Let cool slightly and serve warm.

(To make ahead, store in an airtight container at room temperature for up to 1 day in a toaster oven).
Notes
Make sure your ingredients are cold.  Your butter and buttermilk must be cold and if your dough warms up, put it in the refrigerator for a few minutes to ensure flaky biscuits.
Nutrition
Calories:
237
kcal
|
Carbohydrates:
20
g
|
Protein:
4
g
|
Fat:
15
g
|
Saturated Fat:
9
g
|
Cholesterol:
41
mg
|
Sodium:
378
mg
|
Potassium:
135
mg
|
Sugar:
1
g
|
Vitamin A:
470
IU
|
Vitamin C:
0.2
mg
|
Calcium:
83
mg
|
Iron:
1.2
mg