Super moist, tender, and loaded with fresh zucchini and melty chocolate chips, this is the BEST Chocolate Chip Zucchini Bread Ever! It's a great way to use up leftover zucchini from your garden and it doubles as breakfast or dessert!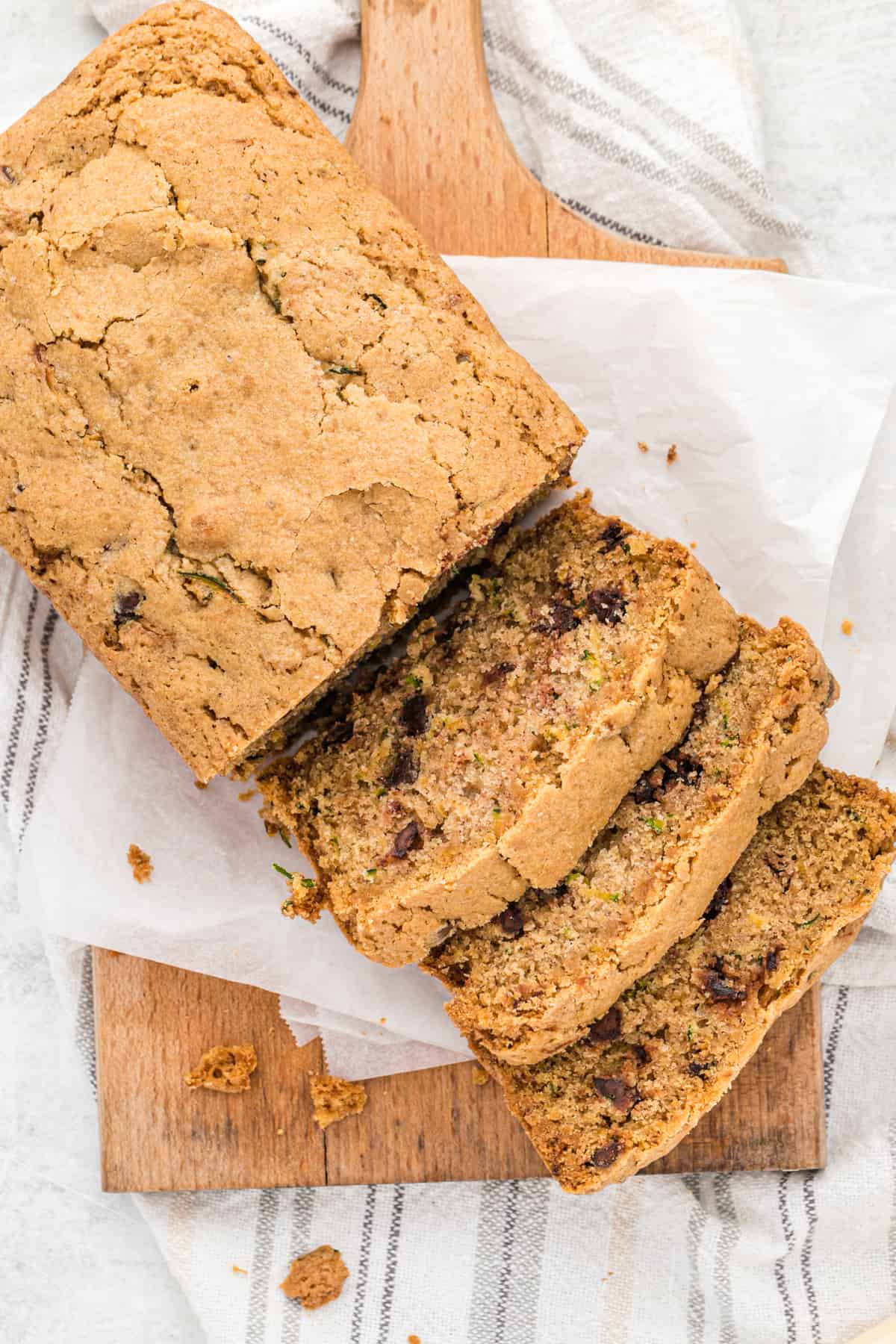 All my fellow moms out there know the struggle of trying to fit veggies into your toddlers' diet. Harmony is a girl who knows what she wants and what she wants has got nothing to do with broccoli or carrots.
So, it's my job as momma to find the best methods of sneaking fibrous, nutrient-rich fruits and vegetables into her everyday routine! One of the easiest ways I do this is by making recipes just like this one.
Chocolate Chip Zucchini Bread is an easy way to disguise a veggie while still feeding my daughter something she loves to eat! Zucchini Bread has a similar consistency to banana bread with an earthier, more natural sweetness embedded into it. Every bite is moist and chock full of delicious chocolate chips.
You and your little ones are gonna love this one, trust me y'all!
Ingredients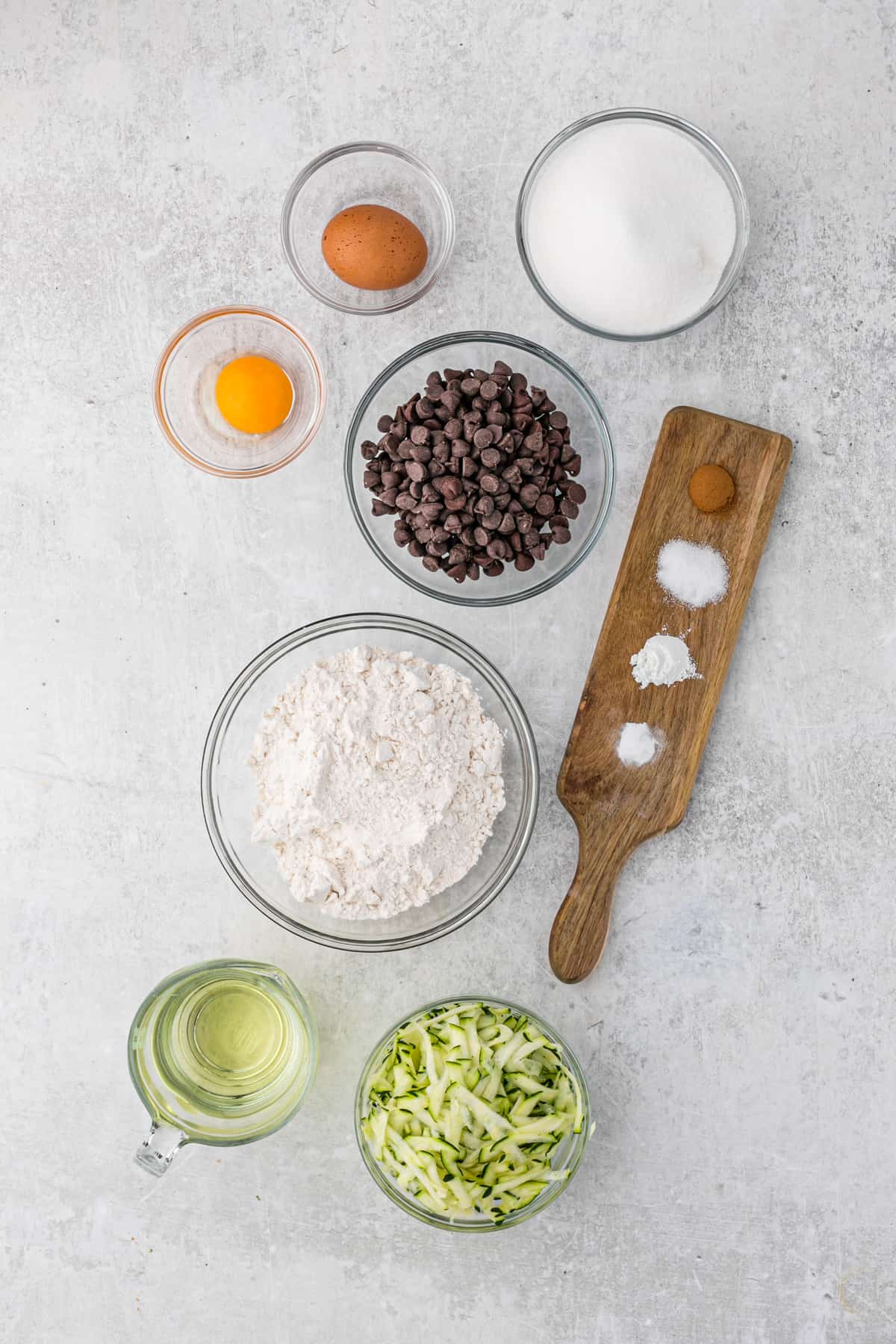 Grated Zucchini – zucchini has a mild, slightly-sweet yet slightly bitter flavor. When cooked, this rich, moist summer squash releases water and becomes sweeter. Look for 6-8 inch, relatively thin zucchini with dark green, smooth skin. Most people are used to shredding zucchini for recipes like Fried Zucchini as well.
Vegetable Oil– oil is responsible for that crisp top and that melt-in-your-mouth inner texture. Feel free to use any neutral-flavored oil.
Granulated Sugar- this bread isn't meant to be very sweet; if it's too sweet, the zucchini can't be tasted. Just a bit of sugar sweetens the bread while also drawing out zucchini's natural sugar.
Eggs– eggs provide structure and help bind the ingredients together. Eggs also act as an emulsifier that makes for a smoother batter.
Baking Powder + Baking Soda- both act together to leaven the bread and neutralize acid for a moister result.
Salt- salt draws out moisture from the zucchini and balances out flavor.
Ground Cinnamon– woodsy, earthy, and warm, cinnamon is a perfect addition to this bread. Spice just adds that much-needed kick.
Chocolate Chips- chocolate is rich, smooth, and such a welcome complimentary flavor to this recipe. I like to use semi-sweet chips or chunks but you're welcome to use your preferred type or chop up a fresh bar! The healthiest option would be a dark variety.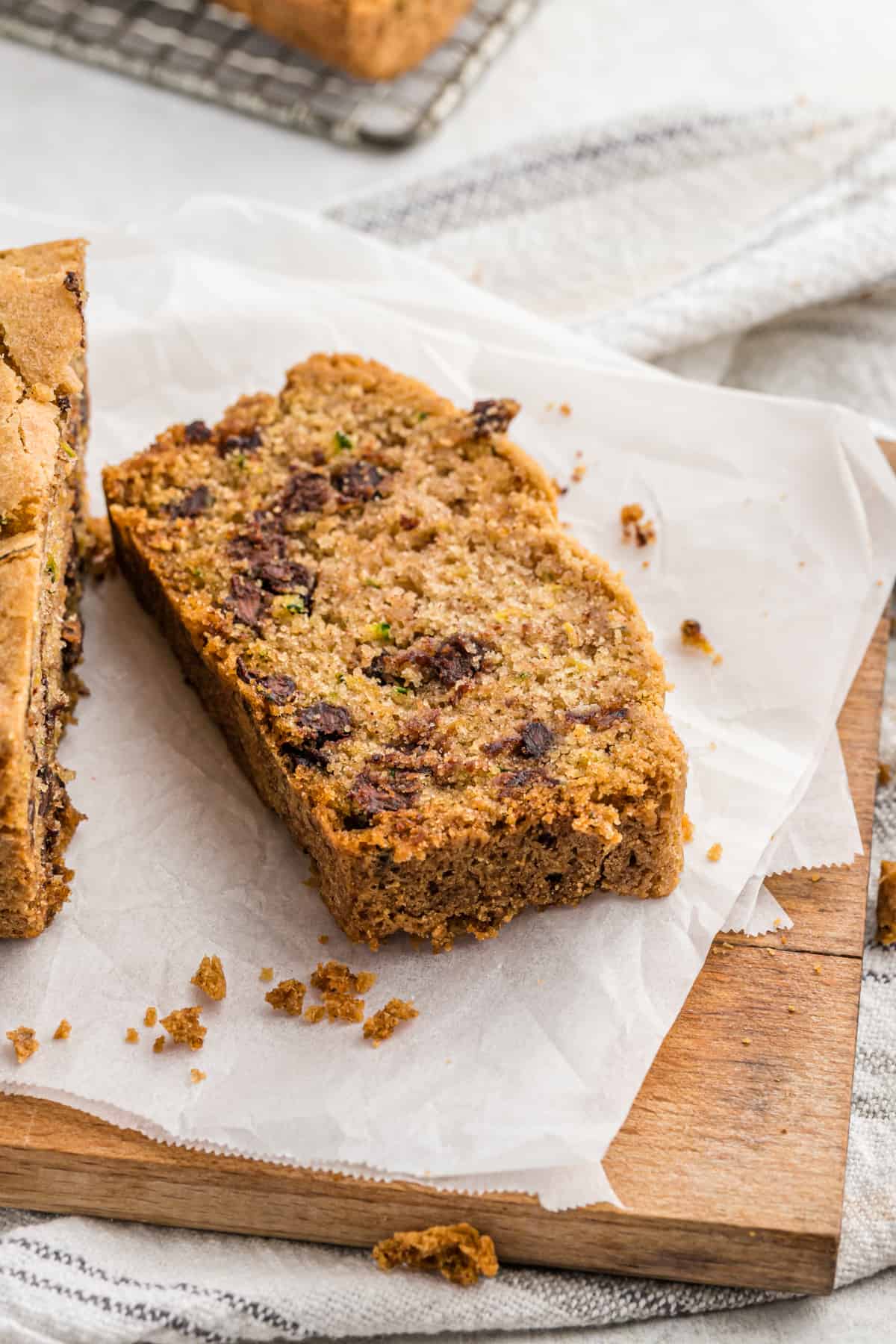 How to Make Chocolate Chip Zucchini Bread
I often make this recipe on a Sunday night or Monday morning. It's a great way to start the week on a healthy, delicious note! This chocolatey loaf provides a quick breakfast or snack the whole family will love.
Here's what you're gonna need to do to pull it off:
Prepare the Pan- You'll want to make sure the zucchini bread comes out of the pan as cleanly as possible. To do that, either liberally spray the loaf pan with non-stick spray or grease it with cake release. For extra insurance, use parchment paper to create two side flaps on the sides (it'll help lift the loaf out of the pan).
Whisk Together the Dry Ingredients- I don't really feel the need to sift for this recipe but you're always welcome to go the extra mile. Just be sure to mix very well.
Beat the Eggs + Sugar- To incorporate the lift that will make this recipe nice and fluffy, you need to beat the eggs and sugar together until light and fluffy. I suggest using a stand or hand mixer for this part.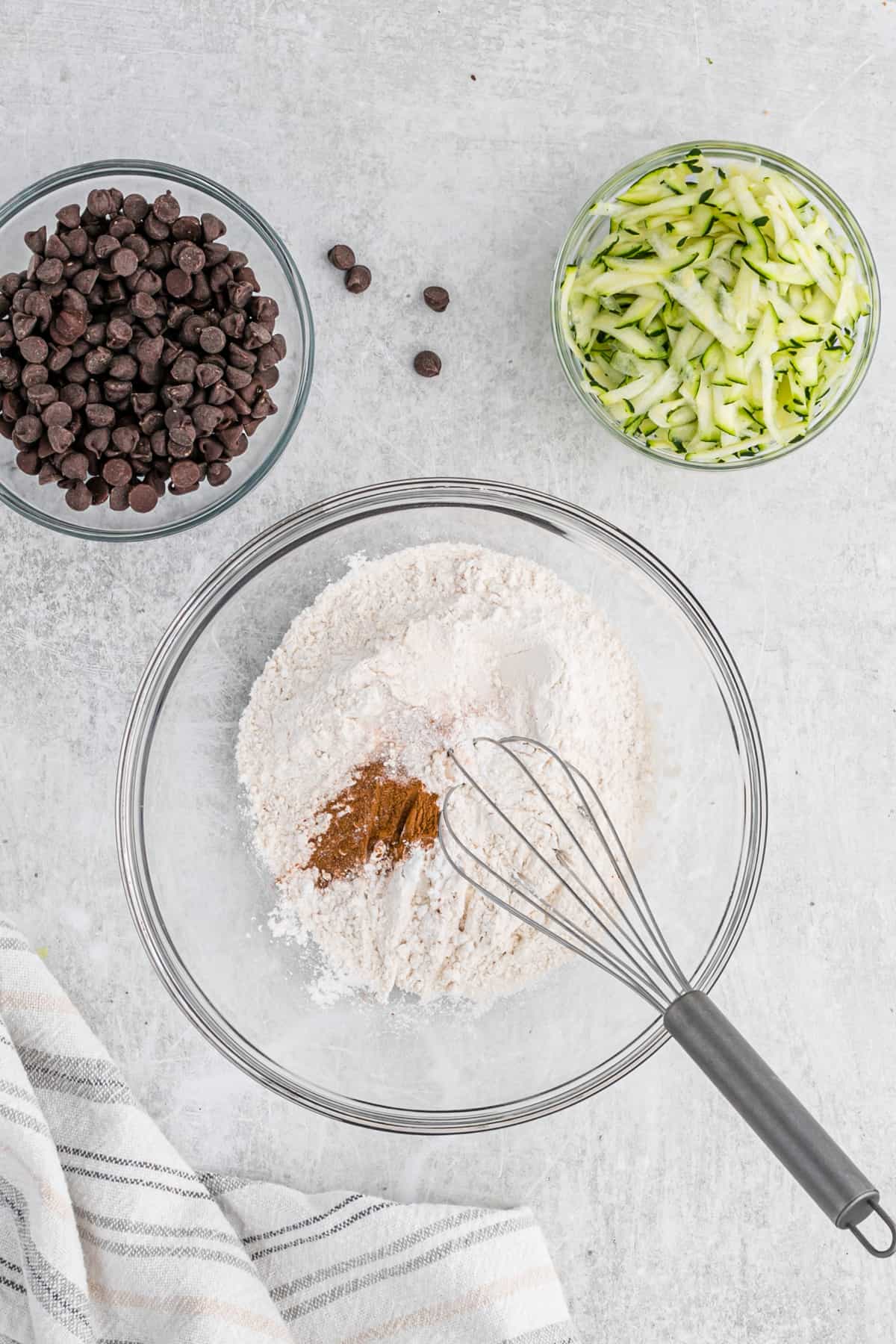 Add the Oil + Zucchini- Mix these two ingredients in at a low speed, stopping right when everything is just combined. Don't worry if there's some unincorporated flour around the edges of the bowl.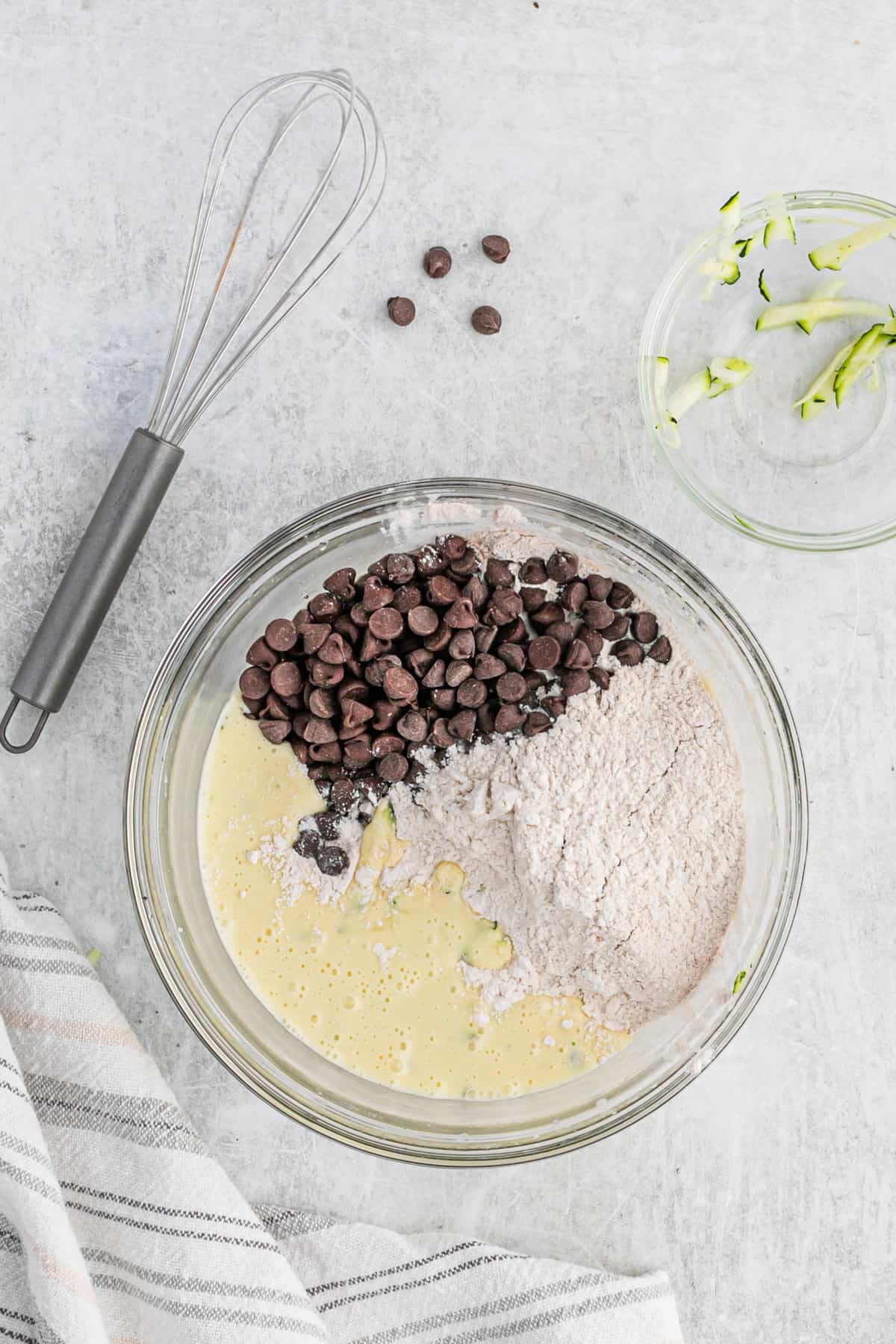 Bake + Serve- Start checking for doneness at 40 minutes, using a toothpick to check for moist crumbs in the center. Do not overbake. Once you've allowed the loaf to cool for a bit, go ahead and dig in!
Recipe Tips
Don't peel the zucchini! The vegetable peel contains a whole lot of healthy nutrients and fiber. You can use a cheese grater or food processor to grate the zucchini.
Make sure you really dry your zucchini super well. Use paper towels to dry them completely.
If you don't like chocolate chips, or you'd simply like to skip them, they can be completely omitted from this recipe and use my traditional zucchini bread recipe. Alternatively, you can replace them with chopped nuts or dried fruit.
Want to prevent the chocolate chips from sinking to the bottom of the loaf? Toss them in a couple tablespoons of flour first!
Try not to over-mix the batter. Overmixing leads to a tough, dense bread.
To prevent the bread from sinking in the middle, do not open the oven door while baking.
Allow zucchini bread to cool before slicing. I know that's hard but if you cut into a hot loaf you'll release all the moisture and dry out the bread.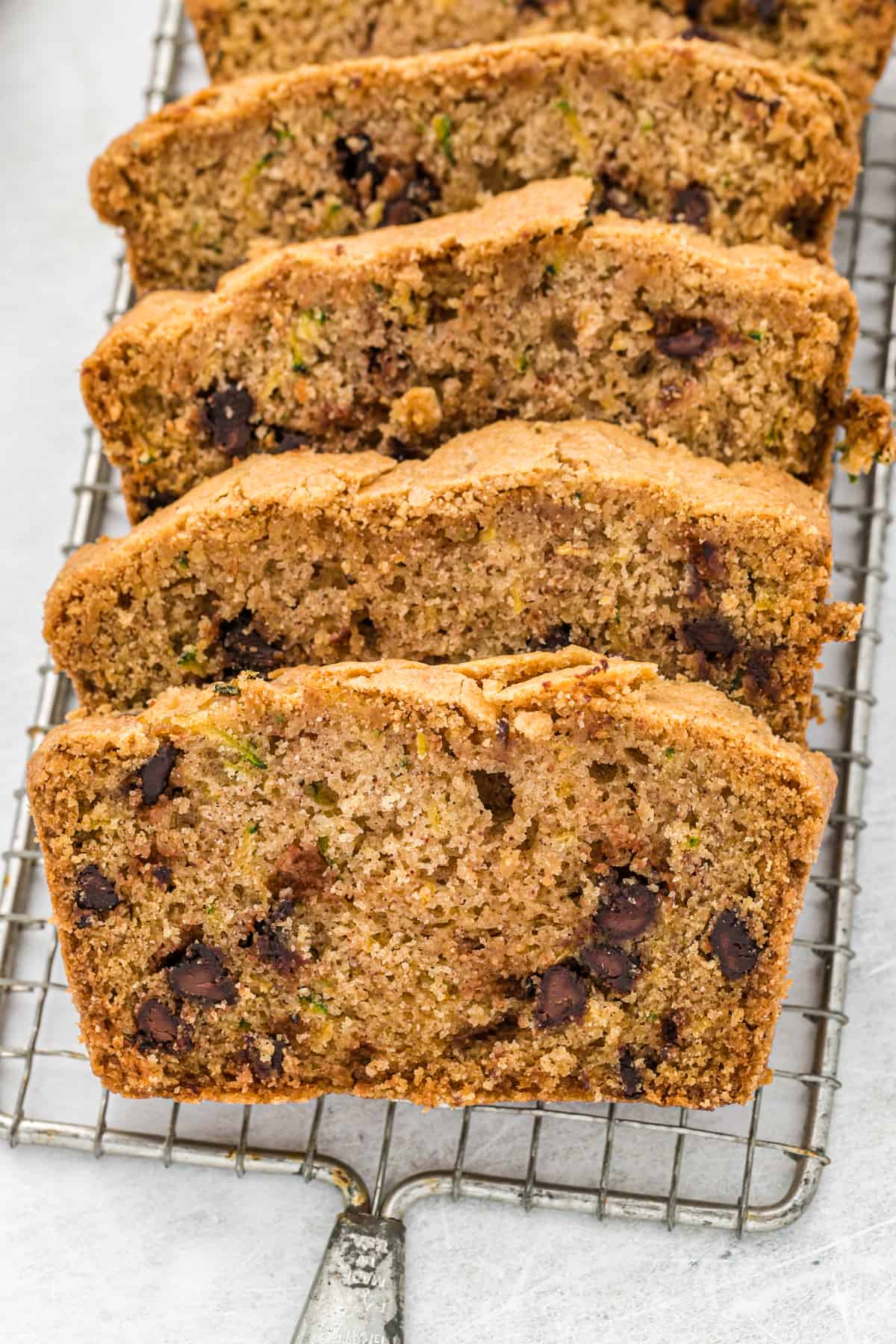 How to Store
Homemade Chocolate Chip Zucchini Bread should be wrapped tightly in plastic and kept at room temperature for up to 4 days. I love warming up leftover slices in the toaster oven or microwave and smothering them in salted butter!
Can I Freeze it?
Yes! Zucchini bread can be frozen for up to 3 months. To freeze, wrap the loaf (or slices) in two layers of plastic wrap and place it in an airtight container or food storage bag. Label the container to be sure it's eaten while still fresh.
Thaw the bread overnight in the fridge or at room temperature for a couple hours.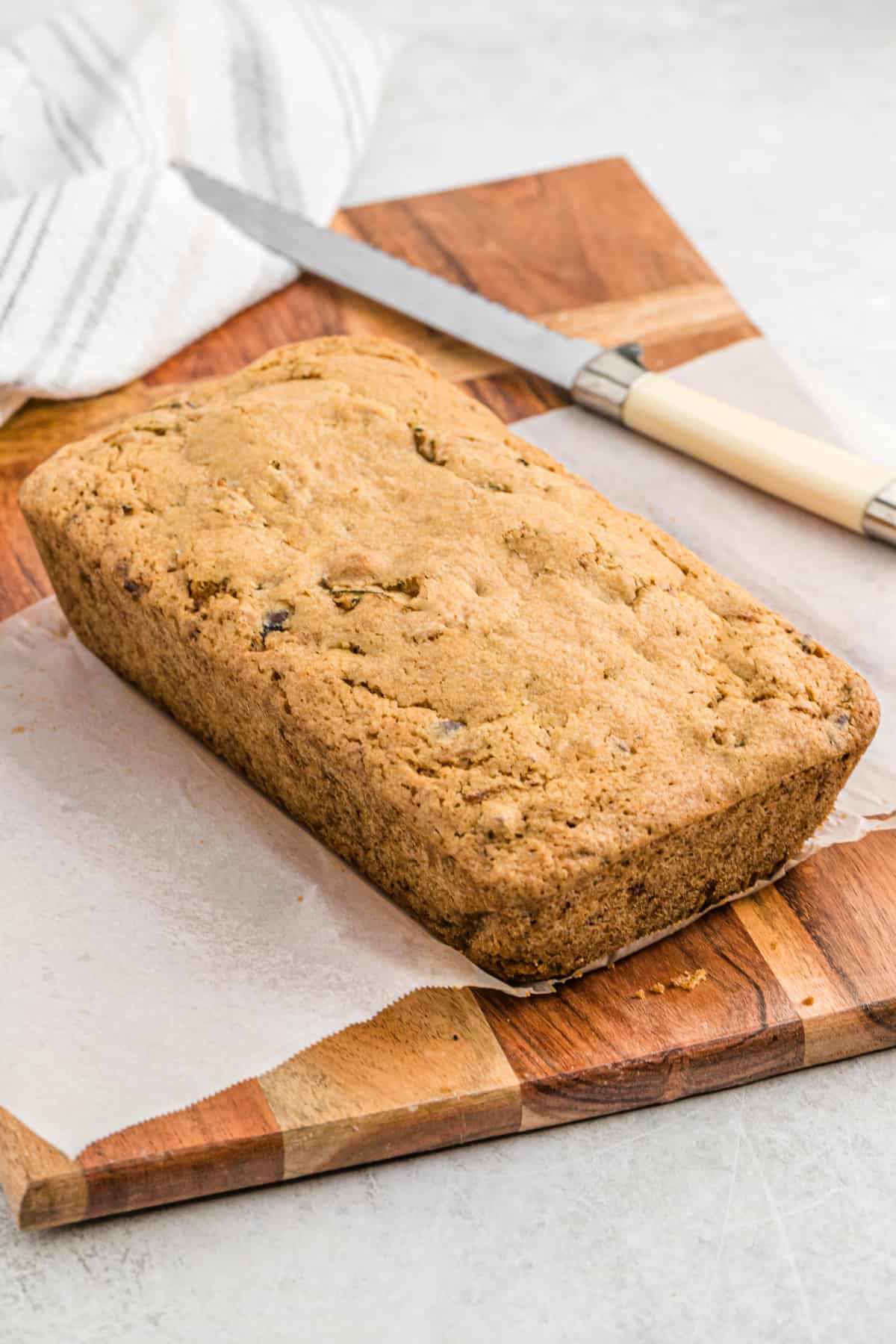 Grandbaby Cakes' Best Breads and More
Want more rave-worthy breakfast breads and snacks? Check out the recipes below: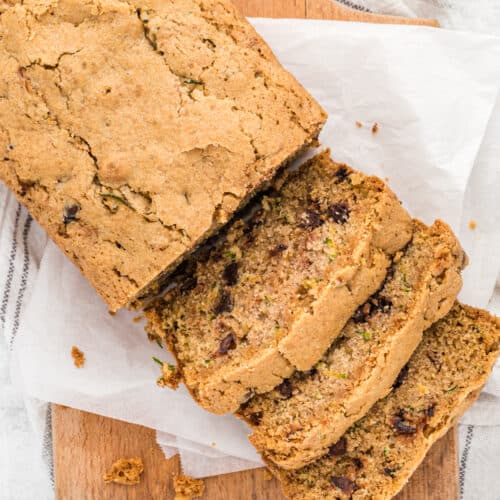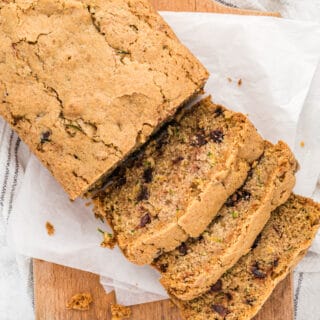 Chocolate Chip Zucchini Bread
Super moist, tender, and loaded with fresh zucchini and melty chocolate chips, this is the BEST Chocolate Chip Zucchini Bread Ever!
Print
Pin
Rate
Ingredients
1 1/2

cups

all-purpose flour

1 /2

teaspoons

ground cinnamon

1/2

teaspoon

salt

1/2

teaspoon

baking powder

1/2

teaspoon

baking soda

1

large egg

1

large egg yolk

1

cup

granulated sugar

3/4

cup

vegetable oil

1

cup

grated zucchini

with as much liquid removed as possible

1

cup

semisweet chocolate chips
Instructions
Preheat the oven to 325 degrees. Prepare loaf pan with non-stick baking spray then add parchment paper with flaps to the side to easily remove loaf once baked.

In a medium sized bowl, whisk together flour, ground cinnamon, salt, baking powder, and baking soda.

In the bowl of your mixer, beat egg and egg yolk on high speed then add in granulated sugar and beat for 4 minutes.

Next slow down the mixer to slow speed and add flour mixture then vegetable oil, very dry grated zucchini and chocolate chips. Mix until combined. The batter is super thick but this is ok.

Add batter to loaf pan and bake for 40-50 minutes or until a toothpick inserted into the center of the loaf comes out clean.

Cool for 10 minutes then remove from the pan. Cool completely and serve.
Notes
For easy removal from the pan, I like to use parchment paper with flaps on the sides to ensure it comes out clean once baked.
Homemade Chocolate Chip Zucchini Bread should be tightly wrapped in plastic wrap and kept at room temperature for up to 4 days. I love warming up leftover slices in the toaster oven or microwave and smothering them in salted butter!
Nutrition
Serving:
1
slice
|
Calories:
341
kcal
|
Carbohydrates:
37
g
|
Protein:
3
g
|
Fat:
20
g
|
Saturated Fat:
6
g
|
Polyunsaturated Fat:
8
g
|
Monounsaturated Fat:
5
g
|
Trans Fat:
0.1
g
|
Cholesterol:
31
mg
|
Sodium:
169
mg
|
Potassium:
137
mg
|
Fiber:
2
g
|
Sugar:
22
g
|
Vitamin A:
70
IU
|
Vitamin C:
2
mg
|
Calcium:
29
mg
|
Iron:
2
mg