This classic Easy Banana Bread Recipe is so simple to make, tender, moist and perfectly sweet!! It is the perfect start to any morning or enjoy as an indulgent snack. If you love all things bread, try my Zucchini Bread and Chocolate Chip Zucchini Bread next. If you love all things banana, try this Apple Fritter Bread, Chocolate Chip Banana Bread, Banana Bread French Toast, Banana Cake, Bananas Foster Bread Pudding, and Banana Pudding Tiramisu.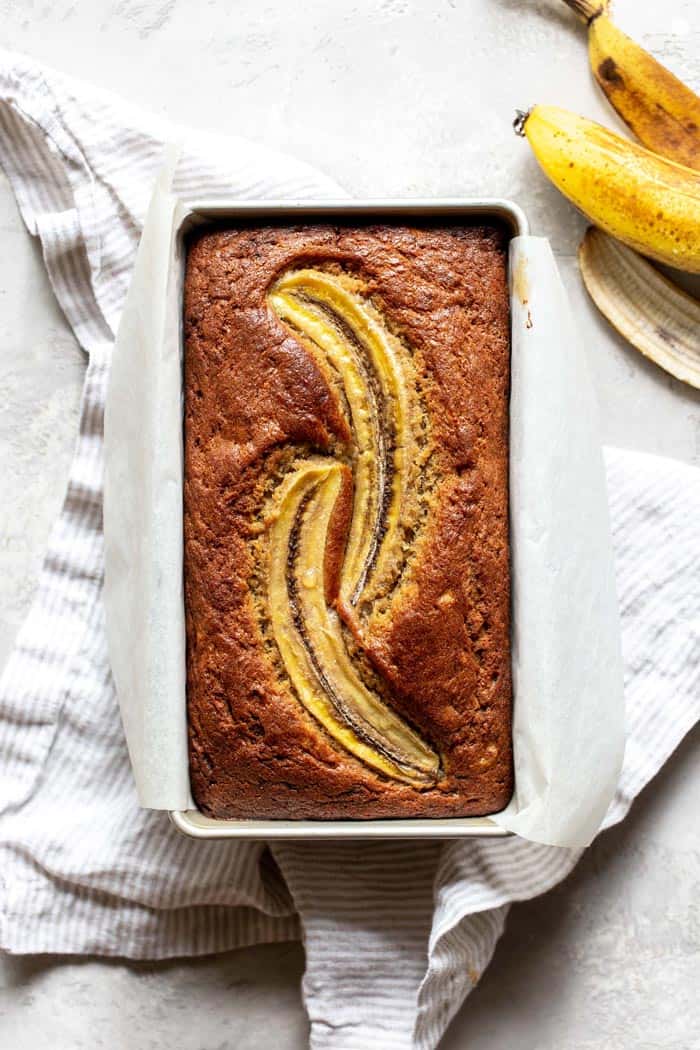 The BEST Classic Easy Banana Bread Recipe
Most mornings, I don't have much time to make and enjoy a full breakfast. Instead, Harmony and I will drink a quick smoothie together and go about the day. But every now and then I stumble across a little extra time in my day to make something special.
We've all bought a bunch of bananas at the beginning of a week just to let them sit on the counter for too long. Suddenly, they're spotted and on the way to fully brown. But let me tell you, those bananas are gold.
I'm a very enthusiastic banana bread lover. Everything from homemade to Starbucks slices is like heaven to me. So when I find those brown bananas I make it a priority to spend an hour or so whipping up a batch of this bread. Nothing beats a morning that begins with a cup of coffee and a warm slice of buttered banana bread. My mouth is already watering.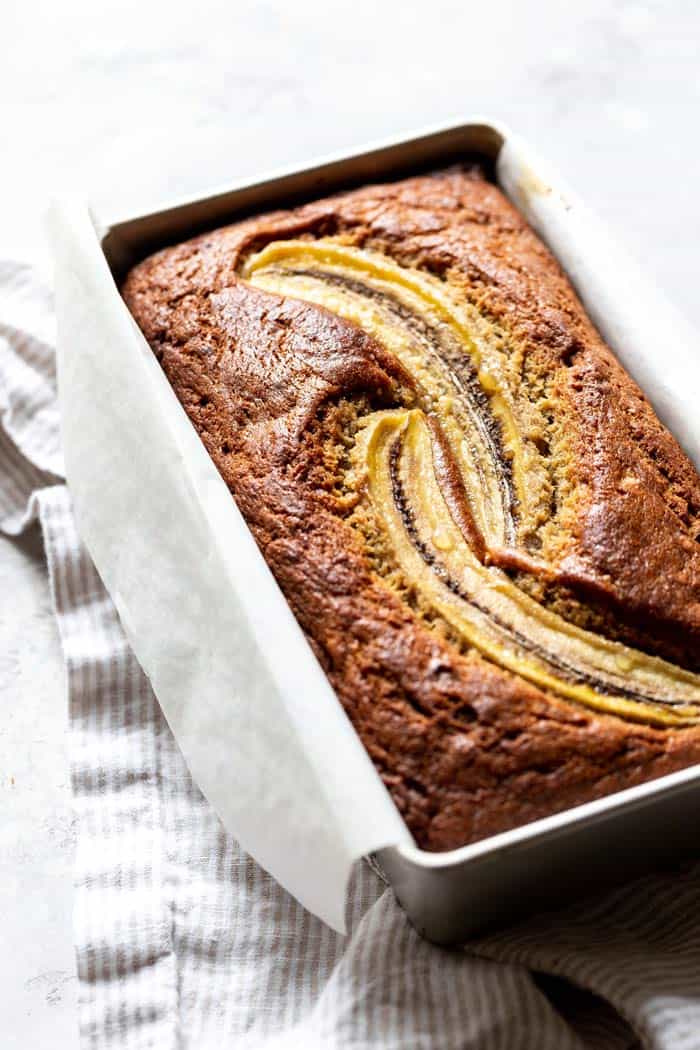 By now, you should all know how much I absolutely love to bake; Grandbaby Cakes is a testament to that. I've been blessed to be surrounded by talented individuals who share the same love I do. Michelle Lopez is one of those individuals.
Michelle is an incredible baker who has found a way to balance a baking obsession with her hectic life. Her latest cookbook Weeknight Baking is full of showstopping desserts and time-saving tips.
If you're anything like Michelle and I, this book is a necessity. Each recipe caters to those like me who are always in need of just a little more time in the day. If you don't believe me, I'll let this recipe speak for itself.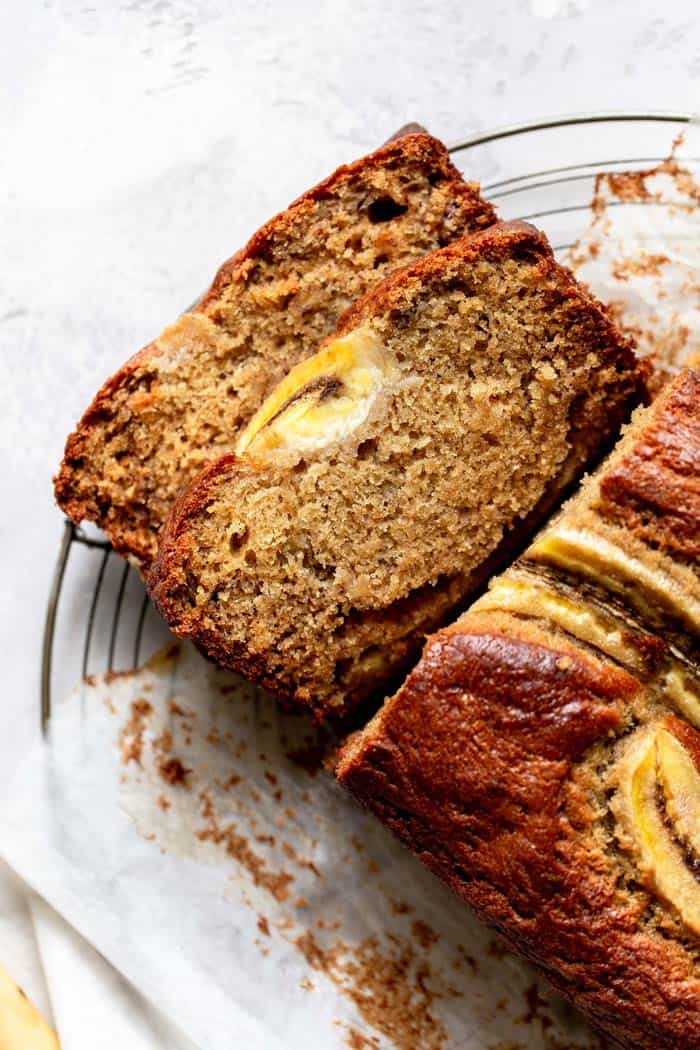 Easy Banana Bread Recipe Ingredients
To make this incredibly easy banana bread recipe, you need a few key ingredients. These are the ones that truly make a difference in this recipe:
Very Ripe Bananas
Butter
Dark Brown Sugar
Baking Soda
Sour Cream
This recipe of course starts with bananas. The darker the banana, the better! As a banana ripens it develops brown spots and eventually becomes fully browned. The fruit itself softens and becomes sweeter because of the starches that are breaking down into sugars.
The color of the bananas you use will not only affect the sweetness of your bread but also the texture. The moisture from your "mushy" bananas helps to keep your bread from being crumbly and dry.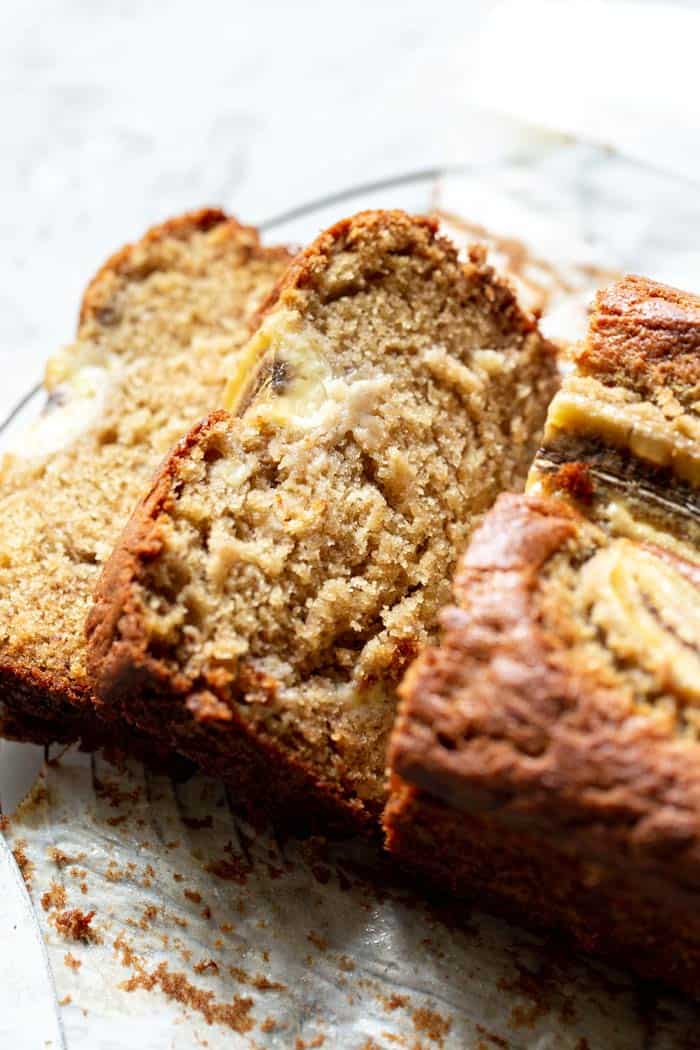 Butter of course is crucial for this bread as it adds such richness and flavor to the recipe. The brown sugar here adds that wonderful sweetness. I love that Michelle uses dark brown sugar because the molasses really adds additional moistness and intense flavor.
Baking soda is a wonderful leavening that gives this bread a nice lift. And finally, the sour cream is is crucial. We all love a very moist banana bread and that of course starts with bananas but the sour cream here adds such a lovely tang and even more moistness than you can imagine. You will want to put it in everything. This is exactly why I bake so much with it from adding to this Sour Cream Pound Cake and adding to this Sweet Potato Sour Cream Coffee Cake.
How to Ripen Bananas Quickly
If you need to ripen your bananas quite quickly, here is a quick trick:
Add unpeeled bananas to a foil lined baking sheet pan, and bake at 300 degrees F for 15-20 minutes until banana skins turn black.
How to Make Easy Banana Bread
I love a recipe that uses ingredients we already have stocked and ready. There's no need to make a trip to the store just to make it home and find out you forgot something. Nobody got time for that y'all.
Each element of this recipe from the ingredients to the preparation is super simple. But just to ensure the best result possible, here's a couple pointers.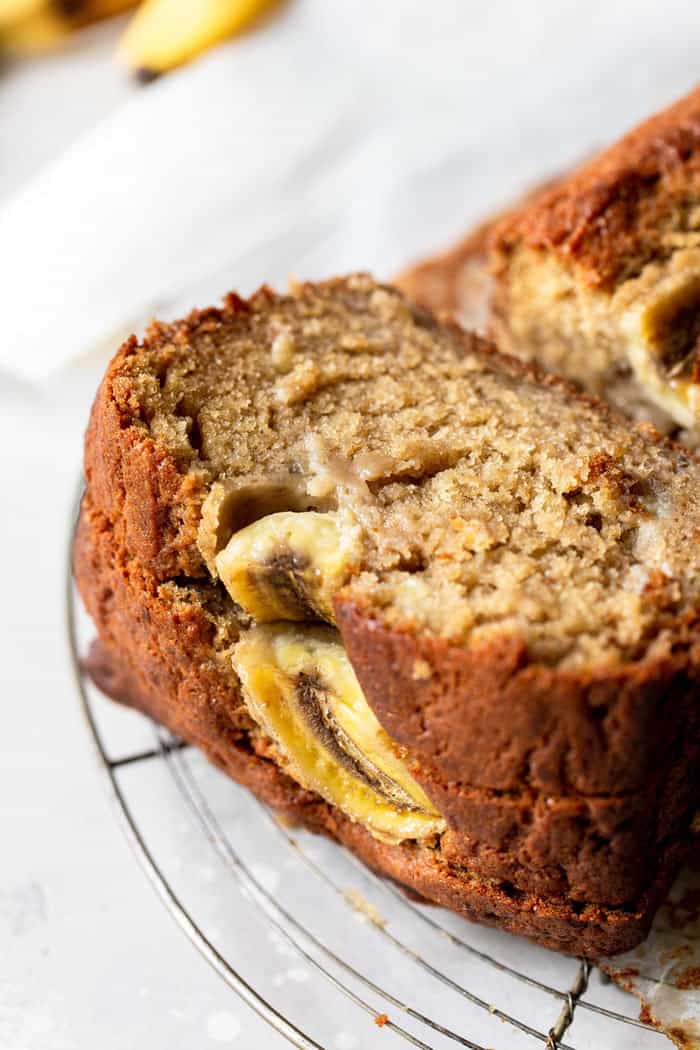 Don't Over Bake It
Banana bread goes from moist to dry in just a few minutes so you gotta be ready. Start to check your bread at about 50 minutes. Insert a toothpick to test the bread in three different places: left, right and center.
When a few moist crumbs cling to the toothpick, take it out of the oven. If it's not ready, place it back in the oven and continue to check in 5 minute increments.
Be Patient, Let It Cool Down.
I'm the first one to admit that banana bread straight out of the oven is incredible. But, not allowing your bread to cool a bit is a mistake. If you cut into hot banana bread it releases too much steam and moisture. No amount of butter will fix a dry banana bread.
Allow your bread to cool in the pan for about 10 minutes then remove from the pan. Let your bread to continue to cool on a rack for another 10-20 minutes before cutting into it.
MAKE IT YOUR OWN
There are a million recipes out there for banana bread because the varieties are truly endless. You can have it nutella swirled, studded with blueberries, lemon glazed or coffee infused! Each version is more unique and delicious than the last.
Think of this banana bread recipe as a base for your newest creation. Search the pantry and get creative! I love adding in my own twists like orange extract, toasted pecans or a peanut butter icing. It might take a few tries to find your signature recipe but it's worth it. The taste testing ain't so bad either.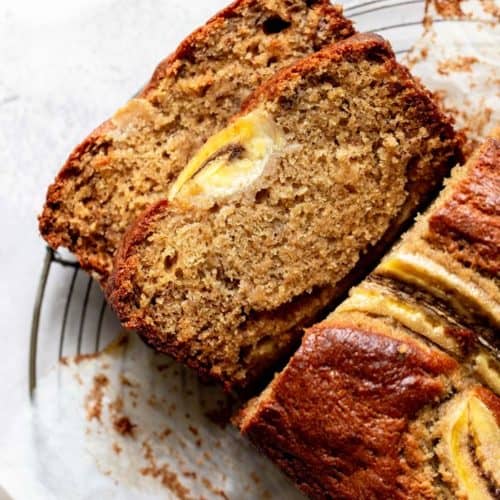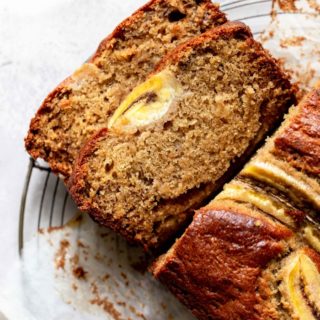 Easy Banana Bread Recipe
This classic Easy Banana Bread Recipe is so simple to make, tender, moist and perfectly sweet.  It is the perfect start to any morning or enjoy as an indulgent snack. 
Print
Pin
Rate
Ingredients
2

cups

all purpose flour

1

tsp

baking soda

1

tsp

kosher salt

1/2

cup

unsalted butter

room temperature

1

cup

dark brown sugar

tightly packed

2

large eggs

1/2

cup

sour cream

1

tbsp

pure vanilla extract

12

oz

very ripe peeled bananas

This is about 1 1/2 cups or around 3 large bananas
Instructions
Position a rack in the center of the oven and preheat the oven to 350 F. Spray a 9x5 inch loaf pan with cooking spray and line in a parchment paper, leaving a 2-inch overhang on the long sides. Spray with parchment paper.

In a medium bowl, whisk together the flour, baking soda, and salt. Set aside these dry ingredients.

In the bowl of a stand mixer with the paddle attachment, combine the butter and sugar. Beat on medium-high until light, fluffy, and doubled in volume, 3 to 5 minutes, using a rubber spatula to scrape down the bottom and sides of the bowl as necessary.

Reduce the mixer to low and add the eggs, one at a time, adding the next egg only after the previous one has been fully incorporated, scraping down the bottom and sides of the bowl after each addition.

Add the sour cream and vanilla all at once and beat on low until combined. Gradually add the dry ingredients and beat until just combined. Add the bananas a handful at a time and beat until broken into pieces and distributed evenly throughout the batter, about 1 minute. Scrape down the bottom and sides of the bowl once more, and beat on low for an additional 30 seconds.

Pour the batter into the prepared pan and use an offset spatula to smooth the top. Set the loaf pan on a sheet pan and bake for 60 to 65 minutes, or until a skewer inserted into the center of the banana bread comes out with a few crumbs attached. Cool on a wire rack. Serve warm or at room temperature. The banana bread can be stored at room temperature, wrapped tightly in plastic wrap, for up to 3 days.
Notes
Make sure these bananas are incredibly ripe, spotted and almost black bananas.  
To make the beautiful design on the top, use a sharp knife to slice an extra peeled banana to half lengthwise.  Pour the batter into the prepared loaf pan and place the banana halves, cut side up, on top.  Bake as directed.
Nutrition
Calories:
3248
kcal
|
Carbohydrates:
490
g
|
Protein:
44
g
|
Fat:
127
g
|
Saturated Fat:
75
g
|
Cholesterol:
631
mg
|
Sodium:
3721
mg
|
Potassium:
2062
mg
|
Fiber:
16
g
|
Sugar:
261
g
|
Vitamin A:
4246
IU
|
Vitamin C:
31
mg
|
Calcium:
440
mg
|
Iron:
16
mg