Learn how to make the perfect Chocolate Frosting recipe with this easy, 5-ingredient recipe! Creamy, fluffy, and full of chocolatey goodness, this icing is the best topping for cupcakes or layered cakes! If you love this, you will also love the more complex Chocolate Swiss Meringue Buttercream, Cream Cheese Frosting, Seven Minute Frosting, the classic Swiss Meringue Buttercream or the classic vanilla flavored American Buttercream Frosting recipe.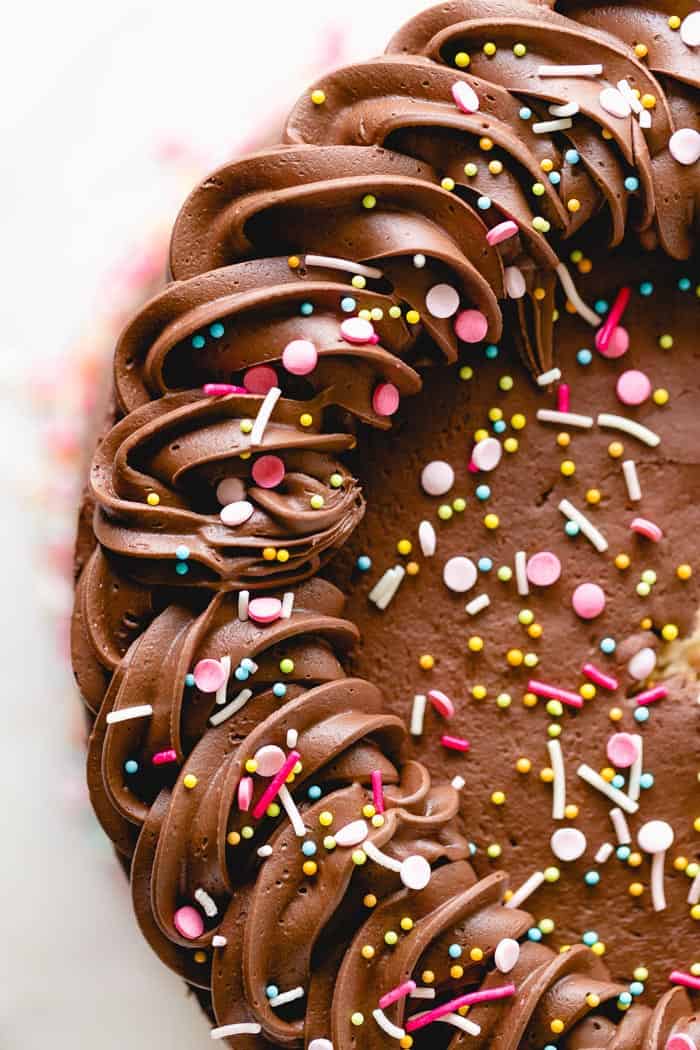 I'll be honest, for the better part of my life I was a store-bought frosting kind of gal. I didn't have anything against homemade icing (I've actually always preferred it), I just assumed it was more work than it was. Little did I know, there are few things easier to make than buttercream!
I've already written an entire post on American Buttercream Frosting, but I felt like it's fraternal twin deserved it's own post. Chocolate frosting is classic, indulgent, and versatile. No matter how you spread it, it's gonna be good.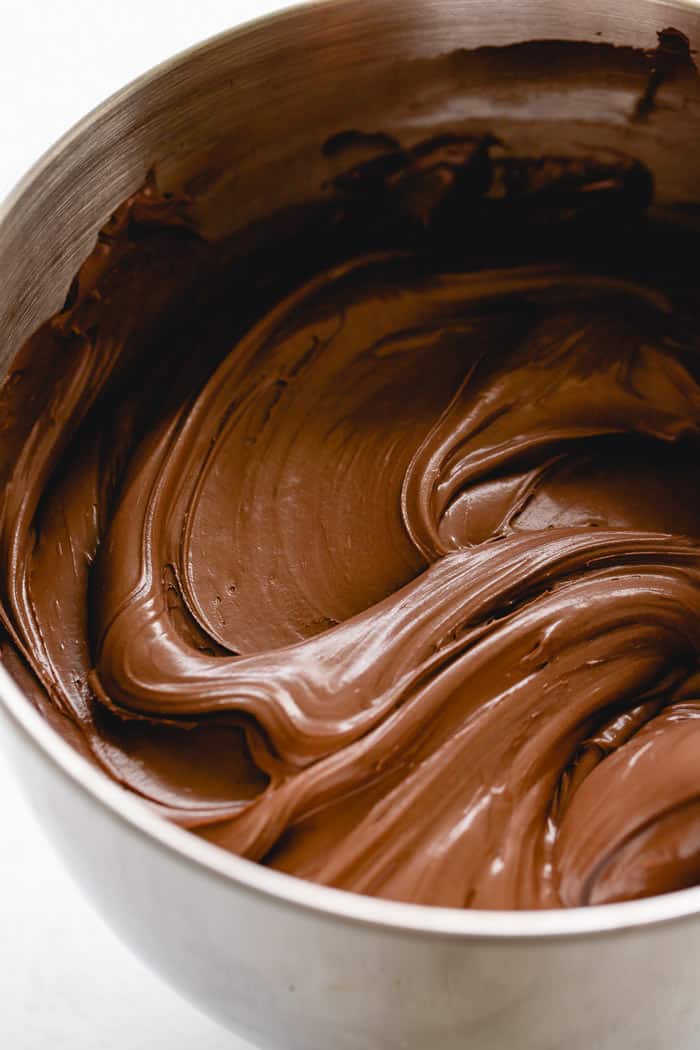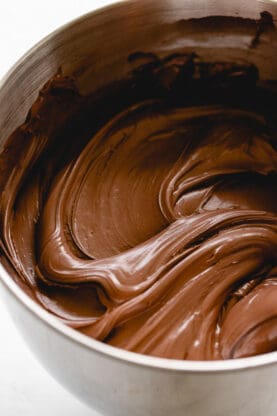 CHOCOLATE FROSTING INGREDIENTS
A recipe that uses only 5 ingredients? Count me in!
Butter- Use unsalted, room temperature butter. I'd recommend staying away from spreadable tub butters for this one; they often don't whip up properly.
Powdered Sugar- Also known as confectioner's sugar, this super-fine, sugary powder is a frosting necessity. Sift the sugar! It makes all the difference.
Cocoa Powder- Unsweetened, good-quality cocoa butter is a MUST. Cocoa powder determines flavor here.
Vanilla Extract- Vanilla enhances flavor and pairs perfectly with the rich chocolate.
Heavy Cream- Cream helps to thin out the frosting, while still keeping it rich and airy. If you don't have any cream on hand, a bit of room temperature whole milk will work.
HOW TO MAKE CHOCOLATE FROSTING
Homemade Chocolate Buttercream frosting takes less than 10 minutes to make from start to finish. Seriously, it takes me longer to get out of bed in the morning!
This is how it goes:
In the bowl of a stand mixer (or with a large bowl and a hand mixer), whip the butter until pale and very fluffy.

Sift in the confectioner's sugar one cup at a time, mixing until fully combined before adding another cup. Stop the mixer intermittently to scrape down the sides of the bowl.

Add in the vanilla and, if necessary, the heavy cream. Only add the cream one tablespoon at a time!

Whip the chocolate icing until light, fluffy, and fully combined. Refrigerate until ready to use, and re-whip if necessary.

TIPS FOR MAKING THE BEST AMERICAN FROSTING
Use smooth, room temperature butter for a lump-free result. The colder the butter, the harder it will be to incorporate air and achieve a fluffy frosting. By using room temperature butter, this will ensure that the butter is whipped into fluffy perfection, while also allowing the sugar to dissolve without the risk of major clumps.
Sift both the cocoa powder and the powdered sugar. Again, we want a smooth buttercream so any kind of lump or bump should be avoided.
Use a high quality, Dutch-processed cocoa powder; it'll have a deeper flavor and a gorgeous dark color.
Add in Liquid Slowly! If the frosting needs a little help thinning out, or you prefer a thinner texture yourself, heavy cream does just the trick. Be sure to slowly add 1 tablespoon at a time, too much liquid will make a runny frosting.
Be patient! Allow the mixing process to continue on high for a few minutes! Mixing not only helps to fully combine the butter and sugar, but it also incorporates more air. Air makes for a lighter, fluffier texture!
HOW MUCH FROSTING DOES THIS RECIPE YIELD?
Today's chocolate buttercream recipe will make enough for 24 cupcakes or a two-layered 8-9" cake. You can easily double or halve this recipe as needed.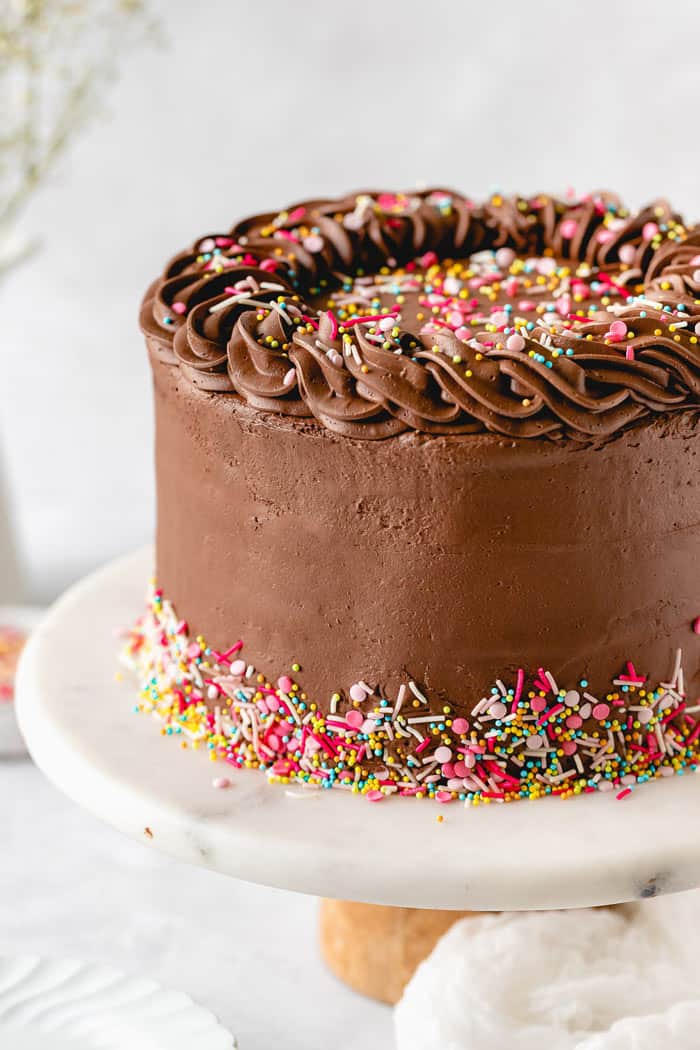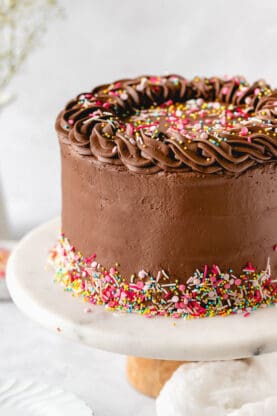 CAN CHOCOLATE FROSTING BE MADE IN ADVANCE?
Yes, this frosting can be made up to 4 days in advance. Store buttercream in an airtight container and refrigerate. When ready to use, bring the frosting back to room temperature and use a hand (or stand) mixer to whip it until light and fluffy again.
TO FREEZE: Store in an airtight freezer bag for up to 3 months. To use, defrost in the refrigerator overnight, then bring to room temperature before re-whipping.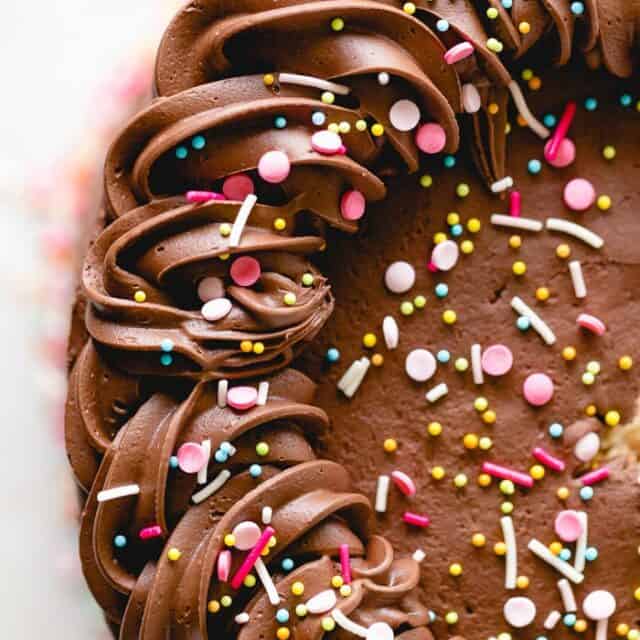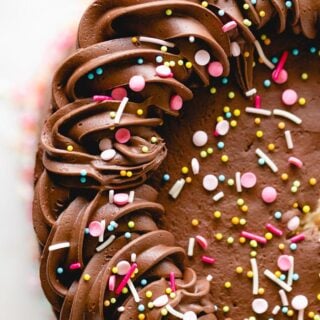 Chocolate Frosting
Learn how to make the perfect Chocolate Frosting recipe with this easy, 5-ingredient recipe! Creamy, fluffy, and full of chocolatey goodness, this icing is the best topping for cupcakes or layered cakes!
Print
Pin
Rate
Ingredients
4

cup

confectioner's sugar

1/2

cup

cocoa powder

1

cup

unsalted butter

room temperature

pinch of salt

1

tbsp

vanilla extract

1

tbsp

heavy cream

up to 2 tbsp/as needed to thin the frosting to consistency you like
Instructions
Sift together the confectioner's sugar and cocoa powder to eliminate any clumps.

In the bowl of your stand mixer, cream the room temperature butter and salt together at medium-low speed until smooth.

Stop the mixer and scrape down the bowl and paddle. With the mixer on low speed, add the sifted sugar-cocoa mixture to the bowl a cup at a time.

Once all sugar has been added, scrape down the bowl and paddle and whip the butter-sugar mixture on high for 3-4 minutes, or until light and fluffy.

Stop the mixer and add the vanilla extract, and 1 tbsp of the heavy cream to the bowl. Whip the frosting on medium-high speed for 2 minutes, stopping the mixer after 1 minute to scrape down the bowl and paddle. If you want a looser frosting, add the remaining heavy cream to the bowl and blend it in at low speed.

Once finished, your chocolate frosting will be a milk chocolatey color and will be light and fluffy in texture.

You can store the frosting at room temperature until you're ready to frost the cake, or covered in the refrigerator for up to 1 week.
Nutrition
Calories:
307
kcal
|
Carbohydrates:
42
g
|
Protein:
1
g
|
Fat:
16
g
|
Saturated Fat:
10
g
|
Polyunsaturated Fat:
1
g
|
Monounsaturated Fat:
4
g
|
Trans Fat:
1
g
|
Cholesterol:
42
mg
|
Sodium:
4
mg
|
Potassium:
63
mg
|
Fiber:
1
g
|
Sugar:
39
g
|
Vitamin A:
491
IU
|
Vitamin C:
0.01
mg
|
Calcium:
10
mg
|
Iron:
1
mg