Made with five simple ingredients, this silky, smooth, light, buttery and not too sweet Homemade Swiss Meringue Buttercream is the perfect topping for any dessert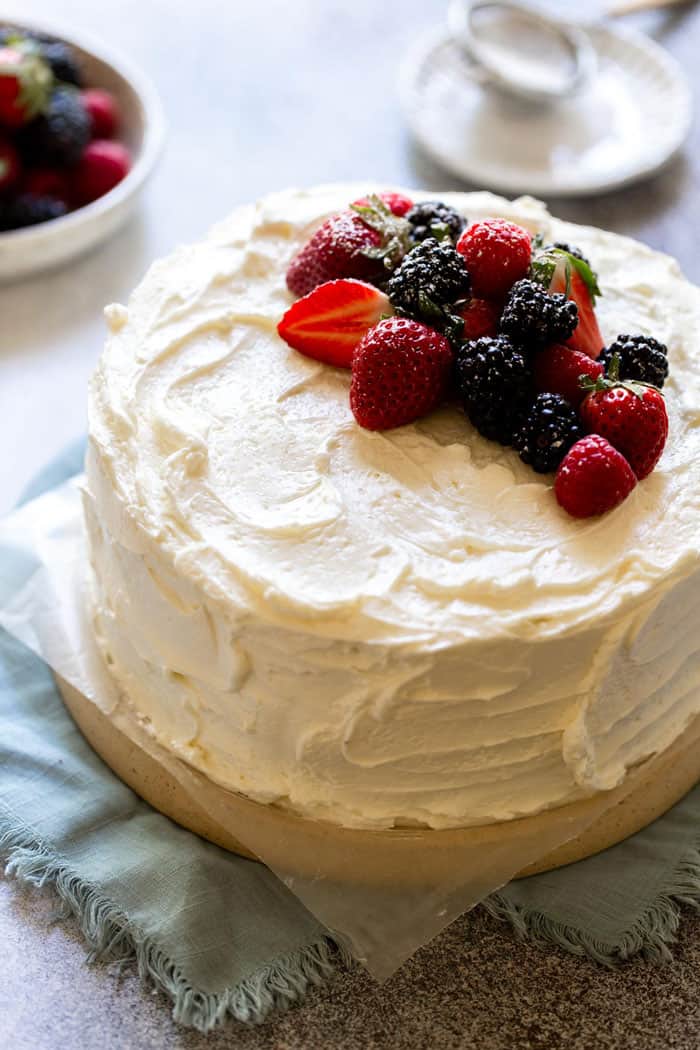 There are two kinds of people in this world: frosting folk and non-frosting folk. Wanna guess which one I am? Team sugary, creamy frosting all the way!
That's right, I'm the type to eat the frosting before it's on a cupcake. I love sneaking scoops of buttercream off the backside of a sheet cake with my finger (after I washed my hands of course). There is something about that melt-in-your-mouth mixture and the sugar rush that follows that makes me giddy.
Frosting comes in all colors, flavors and textures but, believe me when I say, I love them all! Each option lends its unique variations to whatever base it is applied to.
Today, we're talking about Swiss Meringue Buttercream: an airy, subtly sweet frosting! I've broken down just about everything you need to know including, how to make the BEST Swiss Meringue Buttercream EVER!
The Heart and Soul of the Best Swiss Meringue Buttercream Recipe
gluten-free, so it's perfect for slathering onto your gluten-free cakes and cupcakes. Just make sure the accompanying baked goodies are also gluten-free!
Key Flavor: Smooth Butter with a Hint of Sweetness What's the secret behind this buttercream's irresistible flavor? It's the silky smooth butter melded with a whisper of sweetness. It's not cloyingly sweet, but just right—perfect for enhancing the flavors of your baked masterpieces without overpowering them.
Skill Level: Intermediate Now, don't let the "intermediate" label scare you away! While this recipe might require a bit more finesse and patience than your run-of-the-mill frosting, the payoff is a buttercream with a texture so sublime, you'll want to slather it on everything!
Sweet Highlights:
Silky Smooth Texture: Thanks to the meringue base, this buttercream is smoother than a fresh jar of skippy! It spreads beautifully and is a dream to work with for cake decorating.
Not-Too-Sweet Taste: If you've got a subtle sweet tooth, this is your jam! It's rich and buttery, with a sweetness that's there but won't make your teeth ache.
Great for Decorating: Its stable structure makes it perfect for piping, creating those Instagram-worthy swirls, rosettes, and whatever your creative heart desires.
Versatile Flavor Pairing: The subtle flavor of this buttercream makes it a versatile companion for a variety of cakes, from rich chocolate to fruity flavors.
Longer-Lasting: Unlike many frostings, this one holds up longer at room temperature, making it great for events or just a long day of celebrating!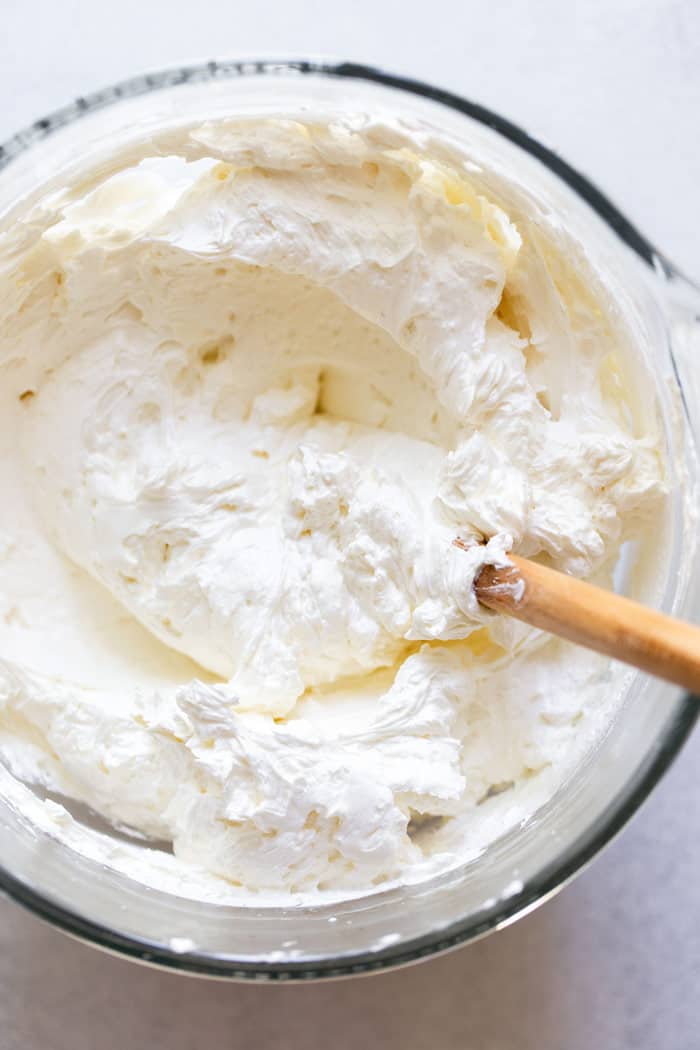 What is Swiss Meringue Buttercream?
Swiss Meringue Buttercream is a frosting made by combining granulated sugar and egg whites, warming them together over a water bath, then whipping them until stiff. The result is an incredibly airy yet decadent topping used for cakes, cupcakes, macarons and so much more!
Though I love a classic, sugar laden spread, this buttercream is one I love to trot out when I'm looking to elevate a dessert!
Swiss Meringue Vs. American Buttercream
Buttercream, in its simplest form, is a mixture of butter and sugar that has been creamed together to make a fluffy frosting. There are a variety of styles of buttercream that vary in difficulty to make, sweetness and texture.
American Buttercream, also known as simple buttercream, is the easiest to make and work with. The texture is quite thick and the flavor, very sweet.
Swiss Meringue Buttercream is a bit more difficult to make because it requires a double boiler. The texture is silky smooth and the flavor is buttery and much less sweet.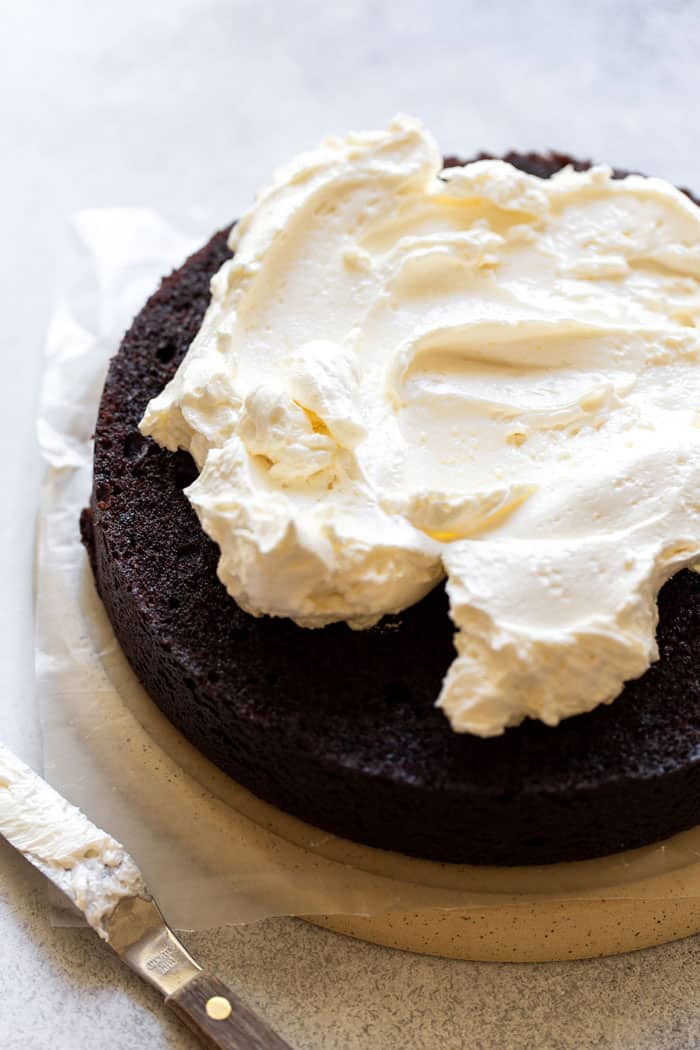 Ingredients
Large Egg Whites: The real MVPs in this recipe. They're the base of your meringue, giving it that fluffy, airy texture that we all love. Plus, they're a great source of protein; talk about a win-win!
Granulated Sugar: This sweet sensation does more than just tickle your taste buds; it's crucial for stabilizing the egg whites and giving your buttercream that silky-smooth finish. It's the sweet embrace your meringue needs!
Pinch of Salt: It might seem out of place in a sweet treat, but this underdog ingredient is a game-changer! A hint of salt cuts through the sweetness, balancing flavors and making the whole buttercream more complex and satisfying. It's all about that balance, baby!
Unsalted Butter (room temperature): The star of the show and the heart of any true buttercream! It whips up to creamy perfection, providing a rich, luxurious texture that makes your buttercream the belle of the ball. And remember, room temperature is key here for that perfectly smooth consistency.
Vanilla Extract (or another flavor of your choice): The classic! Vanilla adds a hint of warm, aromatic sweetness that complements the creamy butter. But don't be afraid to get adventurous with other extracts! Almond, lemon, coffee – the sky's the limit for customizing your flavor profile!
How to Make Swiss Meringue Buttercream
Water Bath Magic: Start by getting all sauna-like with a gentle boil in a medium saucepan. Just an inch of water needed – we're not making a swimming pool, folks!
Egg Whites, Sugar, and Salt, Oh My!: Next, it's bonding time for these three. In your stand mixer's bowl, stir them up until they're all friendly and combined.
Heat Things Up: Now, let's get steamy! Place that mixing bowl over your saucepan, but hey, no skinny-dipping! Keep the bowl from touching the water. You're going for a warm hug, not a hot date. Stir until the sugar dissolves and you hit that sweet 160 F spot. Keep an eye out for any sugar trying to hide on the bowl's sides – we're onto them!
Whisk It Real Good: Off the heat and onto the mixer with the whisk attachment. Whisk those glossy peaks on medium-high until they're stiff and proud, for about 10 minutes. Cool-down period included!
Butter Me Up: Slow it down to low speed and play it cool, adding your butter bit by bit. Patience is key, my friends. Let each butter bit blend in beautifully before you introduce the next.
Vanilla Vibes: Last but not least, it's vanilla's time to shine! Add it in, beat until it's all in the mix, and voilà! You've got yourself a bowl of the fluffiest, creamiest Swiss Meringue Buttercream.
Tips
There is slightly more to making Swiss Meringue Buttercream than just creaming butter and powdered sugar. But, you'll find that the extra effort is well-worth it.
With that being said, there are a couple downfalls that you should look out for. I've made all the mistakes so you don't have to!
Grainy Texture
During the double-boiling process, it's crucial that the sugar completely melts and combines with the egg whites. To achieve that, cook the mixture for around 10 minutes, whisking occasionally.
The mixture will go from thick and transparent, to thinner and more opaque. Dip a finger into the mixture and rub it together with your thumb. If you feel any grit, keep cooking.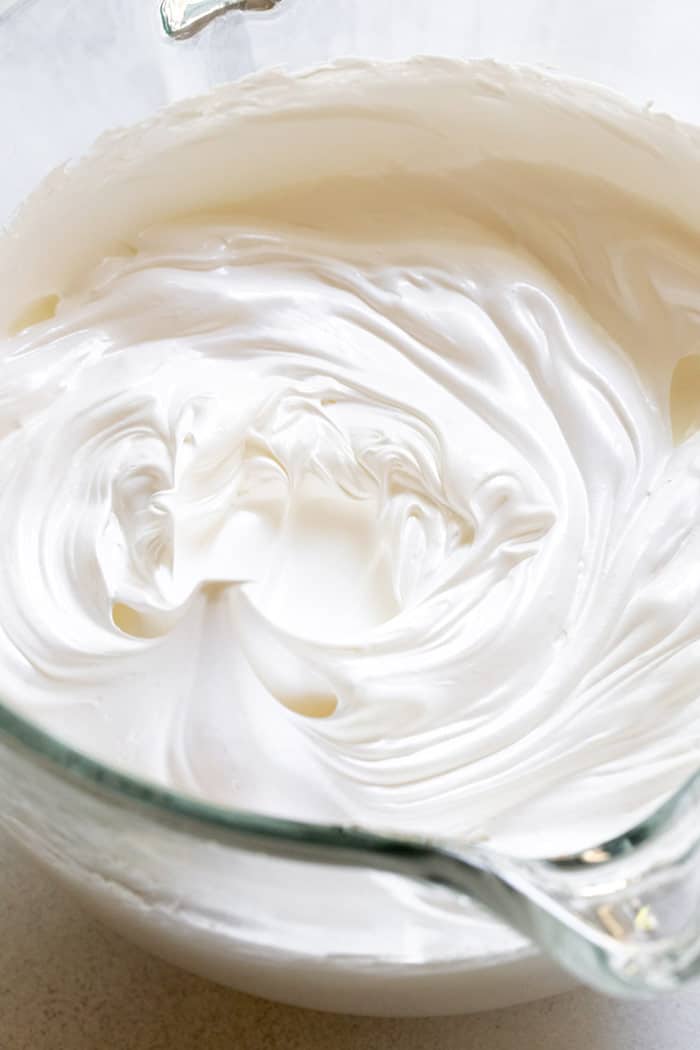 Curdled Buttercream
While whipping, the buttercream will go through a phase where it looks curdled but that's completely normal. This usually occurs right before the buttercream comes together and begins to thicken.
Be sure to add in the butter one tablespoon at a time, allowing each one to fully incorporate before adding the next one.
Runny Texture
Controlled temperature is the key to avoiding a runny texture. The butter needs to be softened but still slightly cool to the touch. The whites and sugar need to be hot enough to dissolve but then, properly cooled before adding the butter.
It's important to be patient. But, if you find that you've still wound up with a runny result, don't fret! Stick the bowl in the fridge (covered of course) for about 20 minutes and then re-whip it. It'll work like a charm, I promise!
Can It Be Flavored?
Absolutely! Swiss Meringue Buttercream is super versatile! Not only can it be colored (using gel paste food coloring) but it can also be flavored using a variety of ingredients.
Here are a few ideas:
Add the zest of an orange, lemon, or lime to create a citrusy buttercream.
Blend dried fruit in a food processor until a fine powder.
Add it to the buttercream for a fruity frosting.
Add melted chocolate of any kind (white, milk, dark) for a rich, chocolatey spin.
Try out a teaspoon of peppermint extract for a refreshing twist.
TIP: Just be sure not to add too much liquid or the buttercream will separate. It's best to add in the liquid slowly while whipping. Watch carefully!
How to Serve
Swiss Meringue Buttercream is light and silky yet, rich and buttery at the same time. With each bite there is a subtle sweetness that gives way to a melt-in-your-mouth experience.
I love spreading this buttercream on a decadent chocolate cake to add in an element of airiness. Whether it's a red velvet or Devil's Food Cake or of course cupcakes, the result is bound to be delicious!
This recipe can also be spread on Baked Alaskas, piled high on Lemon Pies or pavlovas. Don't forget to quality test the buttercream by eating a few spoonfuls straight out the bowl first!
Personally, I prefer to make my buttercream fresh but, there have been many occasions where I've had to make it ahead of time.
Storage
Swiss Meringue Buttercream can be made, stored in an air-tight container and kept in the refrigerator for up to a week. If you find that the buttercream has lost some of its airiness and hardened a bit, don't worry.
Simply scoop it out of the container, allow it to come to room temperature, re-whip it and watch it come back to life!
Best Frostings and Buttercreams
Got cake on the brain? Stumped on what to spread? Try out some of Grandbaby Cakes' Best cake recipes along with their sugary sweet counterparts. Get funky, mix n' match and create something all your own!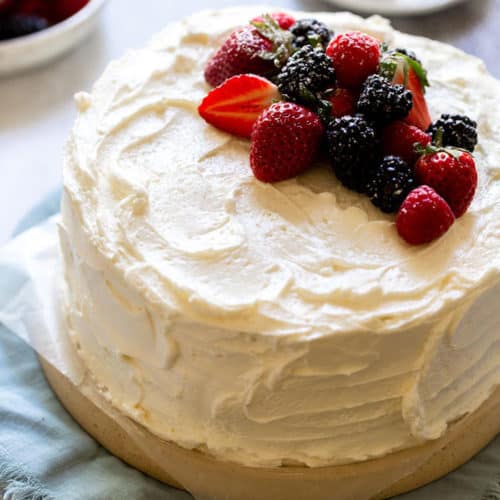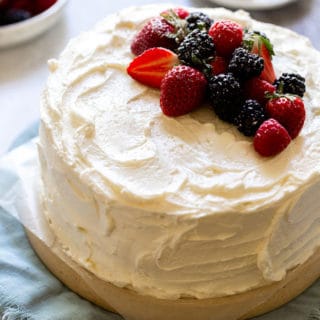 Swiss Meringue Buttercream
Made with five simple ingredients, this silky, smooth, light, buttery and not too sweet Homemade Swiss Meringue Buttercream is the perfect topping for any dessert!
Print
Pin
Rate
Ingredients
8

large egg whites

2 1/4

cup

granulated sugar

1/4

tsp

salt

1 1/2

lb

unsalted butter

6 sticks, room temperature

1

tbsp

vanilla extract

or another flavor of your choice
Instructions
Put an inch of water in a medium saucepan and bring to a gentle boil. In the bowl of your stand mixer, stir egg whites, sugar and salt until combined.

Place mixing bowl over saucepan but be careful not to let the water touch the bottom of the mixing bowl. Stir with a spatula until the sugar dissolves and reaches a temp of 160 F, about 5 minutes. While you stir, scrap the sides of the bowl to ensure no sugar grains are lurking on the sides.

Remove mixing bowl from heat and add to stand mixer with whisk attachment. Whisk on medium high speed until stiff peaks form. They will be glossy. This can take up to 10 minutes. The bowl will continue to cool down in the process as well.

Reduce the speed to low and add 1 to 2 tablespoons of butter at a time making sure to mix in thoroughly after each addition. When butter is incorporated, add vanilla extract and beat on low until incorporated then frost or refrigerate until ready to frost.
Notes
During the double-boiling process, it's crucial that the sugar completely melts and combines with the egg whites. 
To test, dip a finger into the mixture and rub it together with your thumb. If you feel any grit, keep cooking.
Nutrition
Calories:
1130
kcal
|
Carbohydrates:
76
g
|
Protein:
5
g
|
Fat:
92
g
|
Saturated Fat:
58
g
|
Cholesterol:
244
mg
|
Sodium:
177
mg
|
Potassium:
92
mg
|
Sugar:
75
g
|
Vitamin A:
2834
IU
|
Calcium:
30
mg
|
Iron:
1
mg