This is the BEST Chocolate Buttercream! Chocolate Swiss Meringue Buttercream is beyond airy and silky-smooth, with a rich chocolate flavor and a subtle hint of sweetness! Forget that plain 'ole chocolate frosting and welcome in your new favorite flavorful whip! If you love this, you will also love this Seven Minute Frosting, American Buttercream and Original Swiss Meringue Buttercream.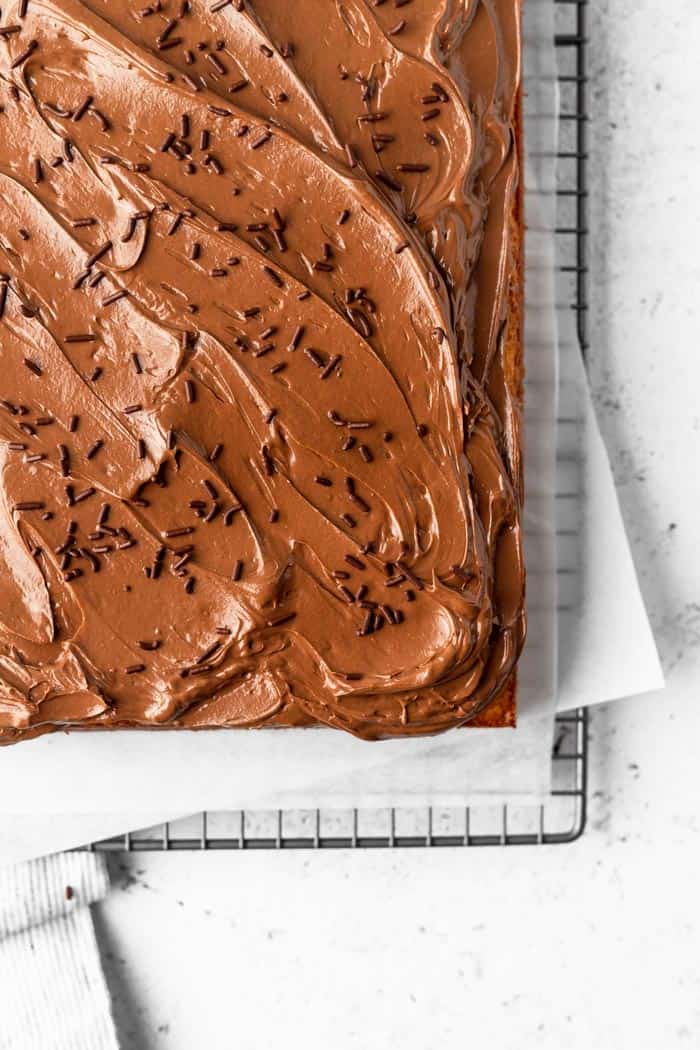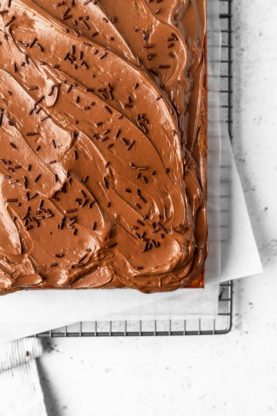 Today, we're making the BEST frosting you have ever tasted! Not gonna lie to ya, it does require a little extra work but I've outlined a few of my greatest tips and tricks so you can make perfect Chocolate Swiss Meringue Buttercream.
I've said this before, but I'm team frosting all the way. Frosting comes in all colors, flavors and textures but, believe me when I say, I love them all! Each option lends its unique variations to whatever base it is applied to.
Today, we're talking about Chocolate Swiss Meringue Buttercream: an airy, subtly-sweet and delectably chocolate-filled frosting. Get your spoons ready y'all, you're gonna want to dig into this over and over again!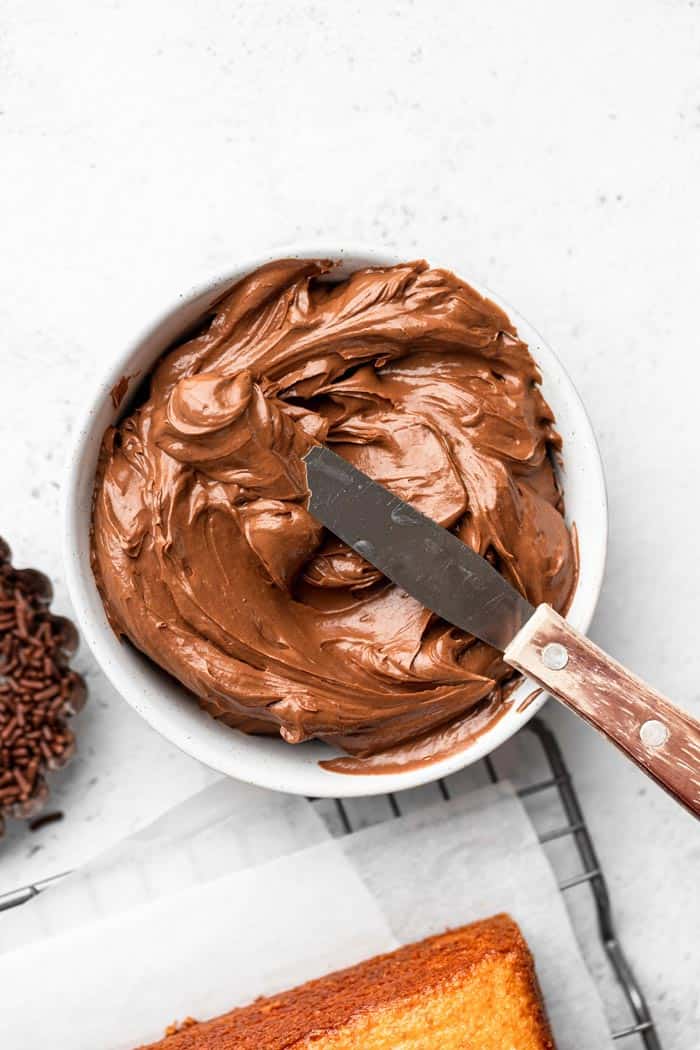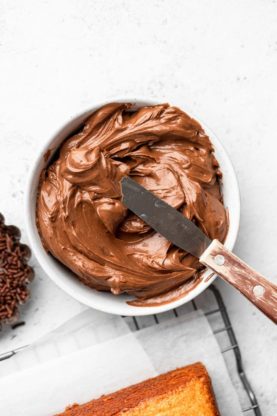 WHAT IS SWISS MERINGUE BUTTERCREAM?
Swiss Meringue Buttercream is a frosting made by combining granulated sugar and egg whites, warming them together over a water bath, then whipping them until stiff. The result is an incredibly airy yet decadent topping used for cakes, cupcakes, macarons and so much more!
Though I love a classic, sugar laden spread, this buttercream is one I love to trot out when I'm looking to elevate a dessert!
SWISS MERINGUE VS. AMERICAN BUTTERCREAM
Buttercream, in its simplest form, is a mixture of butter and sugar that has been creamed together to make a fluffy frosting. There are a variety of styles of buttercream that vary in difficulty to make, sweetness and texture.
American Buttercream, also known as simple buttercream, is the easiest to make and work with. The texture is quite thick and the flavor, very sweet.
Swiss Meringue Buttercream is a bit more difficult to make because it requires a double boiler. The texture is silky smooth and the flavor is buttery and much less sweet.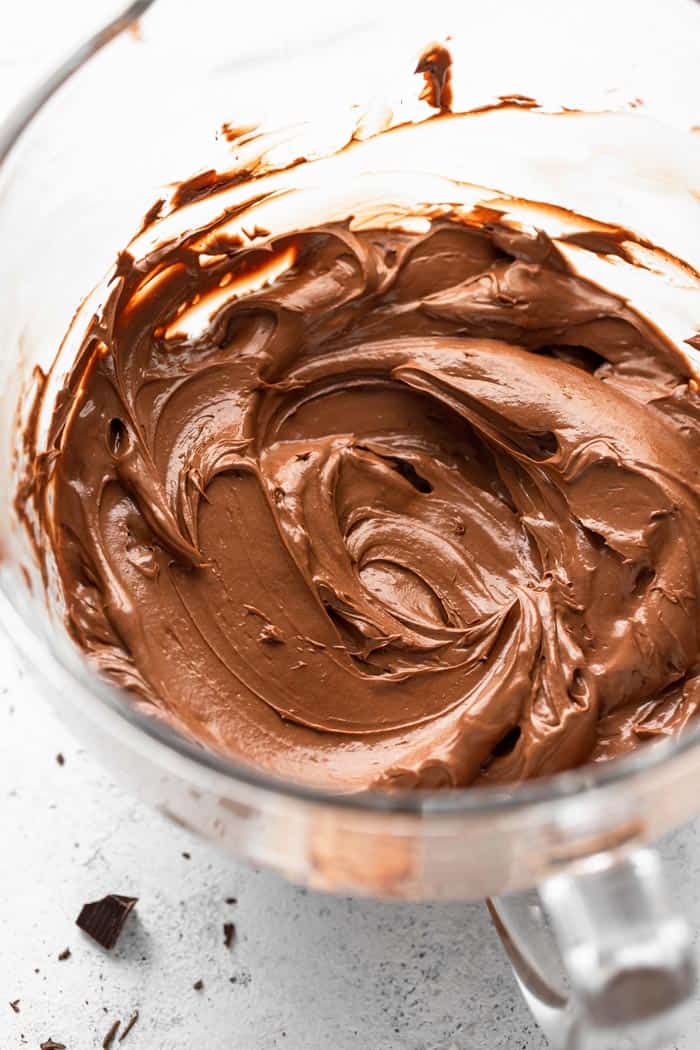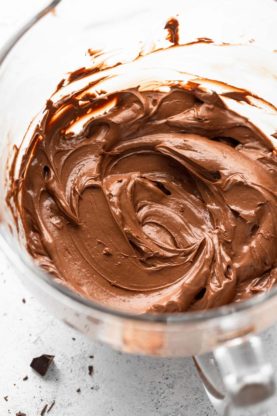 HOW TO MAKE CHOCOLATE SWISS MERINGUE BUTTERCREAM
There is slightly more to making Chocolate Swiss Meringue Buttercream than just creaming butter and powdered sugar. But, you'll find that the extra effort is well-worth it.
With that being said, there are a couple downfalls that you should look out for. I've made all the mistakes so you don't have to!
Troubleshooting Your Chocolate Buttercream
GRAINY TEXTURE
During the double-boiling process, it's crucial that the sugar completely melts and combines with the egg whites. To achieve that, cook the mixture for around 10 minutes, whisking occasionally.
The mixture will go from thick and transparent, to thinner and more opaque. Dip a finger into the mixture and rub it together with your thumb. If you feel any grit, keep cooking.
CURDLED BUTTERCREAM
While whipping, the buttercream will go through a phase where it looks curdled but that's completely normal. This usually occurs right before the buttercream comes together and begins to thicken.
Be sure to add in the butter one tablespoon at a time, allowing each one to fully incorporate before adding the next one.
RUNNY TEXTURE
Controlled temperature is the key to avoiding a runny texture. The butter needs to be softened but still slightly cool to the touch. The whites and sugar need to be hot enough to dissolve but then, properly cooled before adding the butter.
It's important to be patient. But, if you find that you've still wound up with a runny result, don't fret! Stick the bowl in the fridge (covered of course) for about 20 minutes and then re-whip it. It'll work like a charm, I promise!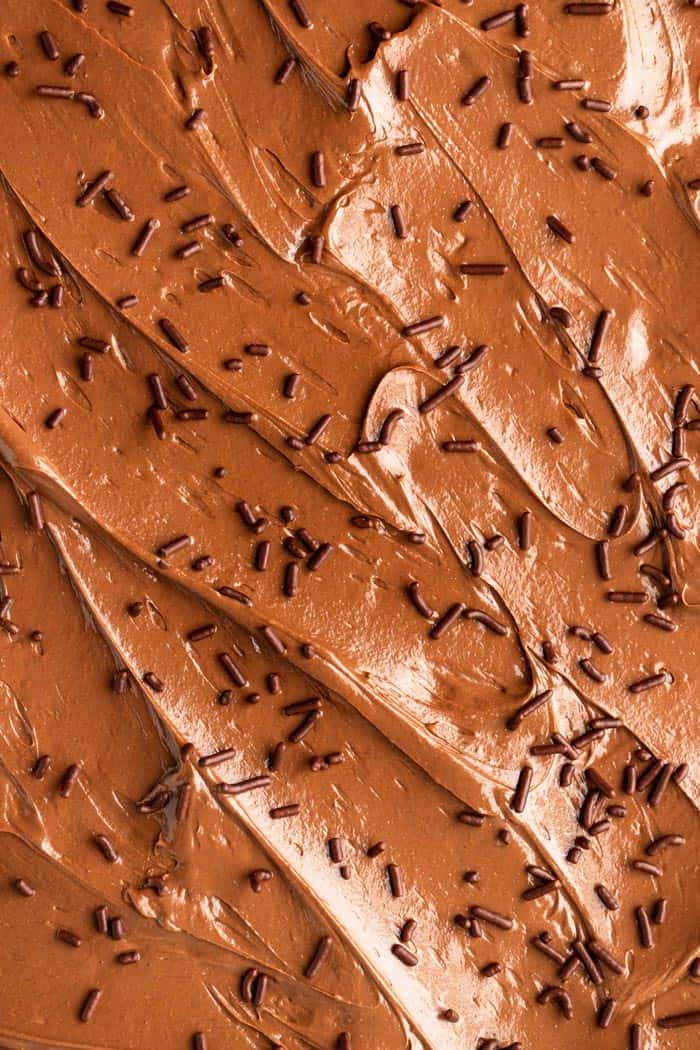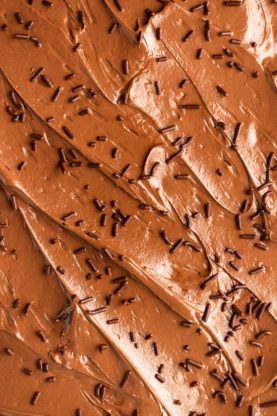 WHAT KIND OF CHOCOLATE CAN I USE?
This recipe calls for semi-sweet chocolate: a balanced, not-too-sweet and not-too-bitter option. If you prefer, milk chocolate, white chocolate or dark chocolate can be used! No matter the choice, be sure to use a high-quality chocolate for the best result. I love using Ghiradelli, Lindt or Baker's chocolate!
TIP: Be sure to properly cool your chocolate before adding it to the meringue! Hot chocolate will cause the meringue to melt and lose its airy texture. I suggest melting the chocolate first and setting it aside while you prepare the base.
CAN IT BE FLAVORED?
Absolutely! Swiss Meringue Buttercream is super versatile! This recipe uses my base Swiss Meringue Buttercream and upgrades it by adding in rich chocolate. If you'd like to take it up a notch from there, I'm in full support; there are a few classic chocolate combinations that I highly recommend trying out.
Here are a few:
Add the zest of an orange to create something decadent yet citrusy.
Blend dried fruit in a food processor until a fine powder and add it to the buttercream for a fruity frosting! Strawberry and raspberry are both great options.
Try out a teaspoon of peppermint extract for a refreshing twist.
Powdered Peanut Butter (it can be found at most grocery stores with all the other nutty products).
TIP: Just be sure not to add too much liquid or the buttercream will separate. It's best to add in the liquid slowly while whipping. Watch carefully!
WHAT CAN I SPREAD CHOCOLATE BUTTERCREAM ON?
Chocolate Swiss Meringue Buttercream is light and silky yet, rich and buttery at the same time. With each bite there is a subtle sweetness that gives way to a melt-in-your-mouth experience. They are wonderful on cupcakes for sure like these Vanilla Cupcakes.
I love spreading this buttercream on a decadent chocolate cake to add in an element of airiness. Whether it's a Red Velvet or Devil's Food Cake, the result is bound to be delicious!
This recipe can also be spread on Baked Alaskas, piled high on Chiffon Pies or Pavlovas. Don't forget to quality test the buttercream by eating a few spoonfuls straight out the bowl first!
CAN IT BE MADE IN ADVANCE?
Personally, I prefer to make my buttercream fresh but, there have been many occasions where I've had to make it ahead of time.
Swiss Meringue Buttercream can be made, stored in an air-tight container and kept in the refrigerator for up to a week. If you find that the buttercream has lost some of its airiness and hardened a bit, don't worry. Simply scoop it out of the container, allow it to come to room temperature, re-whip it and watch it come back to life!
GRANDBABY CAKES' BEST FROSTINGS
Got cake on the brain? Stumped on what to spread? Try out some of Grandbaby Cakes' BEST cake recipes along with their sugary sweet counterparts. Get funky, mix n' match and create something all your own!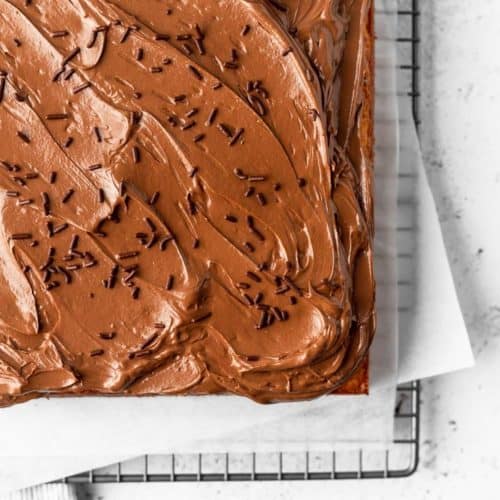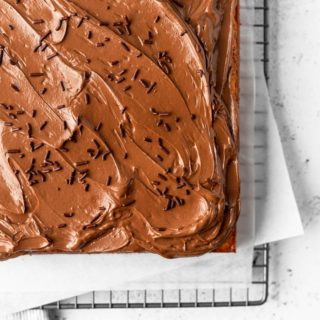 Chocolate Swiss Meringue Buttercream
Chocolate Swiss Meringue Buttercream: beyond airy and silky-smooth, with a rich chocolate flavor and a subtle hint of sweetness! Forget that plain 'ole chocolate frosting and welcome in your new favorite flavorful whip!
Print
Pin
Rate
Ingredients
8

large egg whites

2 1/4

cup

granulated sugar

1/4

tsp

salt

1 1/2

lb

unsalted butter

6 sticks, room temperature

1

tbsp

vanilla extract

or another flavor of your choice

10

oz

chocolate

melted but cooled to room temperature (check notes below)
Instructions
Put an inch of water in a medium saucepan and bring to a gentle boil. In the bowl of your stand mixer, stir egg whites, sugar and salt until combined.

Place mixing bowl over saucepan but be careful not to let the water touch the bottom of the mixing bowl. Stir with a spatula until the sugar dissolves and reaches a temp of 160 F, about 5 minutes. While you stir, scrap the sides of the bowl to ensure no sugar grains are lurking on the sides.

Remove mixing bowl from heat and add to stand mixer with whisk attachment. Whisk on medium high speed until stiff peaks form. They will be glossy. This can take up to 10 minutes. The bowl will continue to cool down in the process as well.

Reduce the speed to low and add 1 to 2 tablespoons of butter at a time making sure to mix in thoroughly after each addition. When butter is incorporated, add vanilla extract and melted chocolate and beat on low until incorporated then frost or refrigerate until ready to frost.
Notes
During the double-boiling process, it's crucial that the sugar completely melts and combines with the egg whites. 
To test, dip a finger into the mixture and rub it together with your thumb. If you feel any grit, keep cooking.
I used a chocolate bar instead of chocolate chips to make sure the texture remains smooth.  Also to melt, you can either use a double broiler method or you can microwave in increments of 30 seconds and stir until smooth and melted down.
Nutrition
Calories:
1130
kcal
|
Carbohydrates:
76
g
|
Protein:
5
g
|
Fat:
92
g
|
Saturated Fat:
58
g
|
Cholesterol:
244
mg
|
Sodium:
177
mg
|
Potassium:
92
mg
|
Sugar:
75
g
|
Vitamin A:
2834
IU
|
Calcium:
30
mg
|
Iron:
1
mg